1. 6 Must-Know Corporate Retreat Locations in Wisconsin
1.1 Wingspread Retreat & Executive Conference Center

Location: Racine, Wisconsin
Capacity: 50 to 100 people
The quiet, private setting of the Wingspread Retreat & Executive Conference Center provides the ideal setting for your company to retreat away from the noise.The conference center takes immense pride in fostering an environment that promotes the free flow of information and sparks creative ideas, ultimately enhancing productivity for all guests.
Whether it's a brief one-day meeting, an extended retreat, or a week-long seminar, they offer an all-inclusive package allowing you to focus on what truly matters: a successful and memorable event making it one of the best corporate retreat locations in Wisconsin.
From guided nature walks and architectural tours to exciting golf outings and relaxing sailboat excursions on Lake Michigan, this corporate retreat location in Wisconsin offers you several attractive activities to ensure you and your team members have fun.
1.2 St. Iakovos Retreat Center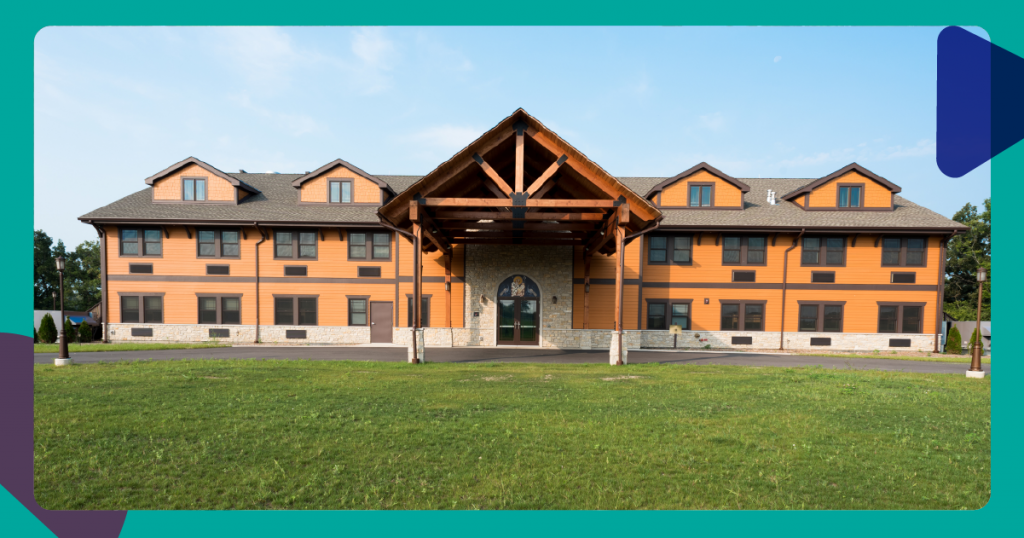 Location: Kansasville, Wisconsin
Capacity: 100 to 200 people
As one of the top corporate retreat locations in Wisconsin, St. Iakovos Retreat Center, a retreat destination in Kansasville offers a wide range of creative pursuits for your corporate retreats.
The 137-acre St. Iakovos facility is surrounded by Friendship Lake and 50 acres of pinewood forest helps to transport you from the hustle and bustle of city life to a more peaceful and serene country-like environment.Of course, it is no surprise that the retreat center focuses on providing a unique and quiet setting for overnight retreats and camps, making it the perfect spot for your team to bond and create lasting memories.
From cozy cabins to well-appointed lodges, the center can host up to 100 people, ensuring that your team can bond and collaborate without feeling crowded.
You also have the option of going on outdoor adventures, such as hiking, team-building ropes courses, and opportunities for canoeing and fishing on Friendship Lake. Indoors, you'll find spacious meeting rooms and state-of-the-art facilities to ensure a productive and engaging corporate retreat, whether you're brainstorming or planning for the next lap.
1.3 Durward's Glen Retreat & Conference Center

Location: Baraboo, Wisconsin
Capacity: 50 to 100 people
In the heart of Baraboo, Durward's Glen Retreat & Conference Center offers its guests a beautiful, serene retreat environment with tastefully designed meeting spaces and cozy accommodations.
The glen's serene ambiance fosters creativity and open conversations, making it an ideal location for team building and strategy sessions. In addition to its indoor amenities, you can also explore the grounds and picturesque trails year-round, offering you and your team members the opportunity to immerse yourself in the beauty of nature.
Accommodations at Durward's Glen Retreat Center are as diverse as they are charming. You get to choose from a variety of lodging options — from cozy dormitory-style rooms to the inviting haven of Charles Durward's Artist's Cottage — based on your preferences.
1.4 Minnesuing Acres

Location: Lake Nebagamon
Capacity: Hosts one group at a time
Next on our list of top corporate retreat locations in Wisconsin is Minnesuing Acres.
Located along the scenic shores of Lake Nebagamon, Minnesuing Acres offers a retreat experience that combines luxury and natural beauty. This expansive corporate retreat location in Wisconsin provides a tranquil setting for team bonding, strategic planning, and relaxation.
With a range of accommodations, including charming cottages and spacious lodges, Minnesuing Acres can comfortably host your corporate retreat.
At Wingspread, no detail is overlooked. From special dietary requirements to transportation and team-building activities, everything is carefully planned and scheduled, ensuring a seamless and worry-free experience for you and your team.
1.5 Redemptorist Retreat Center

Location: Oconomowoc, Wisconsin
Capacity: 50 to 100 people
The Redemptorist Retreat Center is a cherished sanctuary dating back to 1961. You'll find this retreat destination along the tranquil shores of Crooked Lake and it's quite the sight to see.
This idyllic corporate retreat location in Wisconsin beckons guests to seek rest from life's complexities and renew their spiritual connections. So, yoga and meditation sessions are on your retreat itinerary, the Redemptorist Retreat Center is a good place to be.
Amidst the serene landscape, you can stroll along the picturesque lake shore, find solace in one of the hermitages, or partake in various group retreat experiences. The Redemptorist Retreat Center offers a respite from the daily whirlwind, providing a space to reclaim inner peace and dedicate time to prayer.
Surrounded by the lush woods and the soothing embrace of nature, this retreat center invites you to take a step back and immerse yourself in divine contemplation.
1.6 Willow Ledge Retreat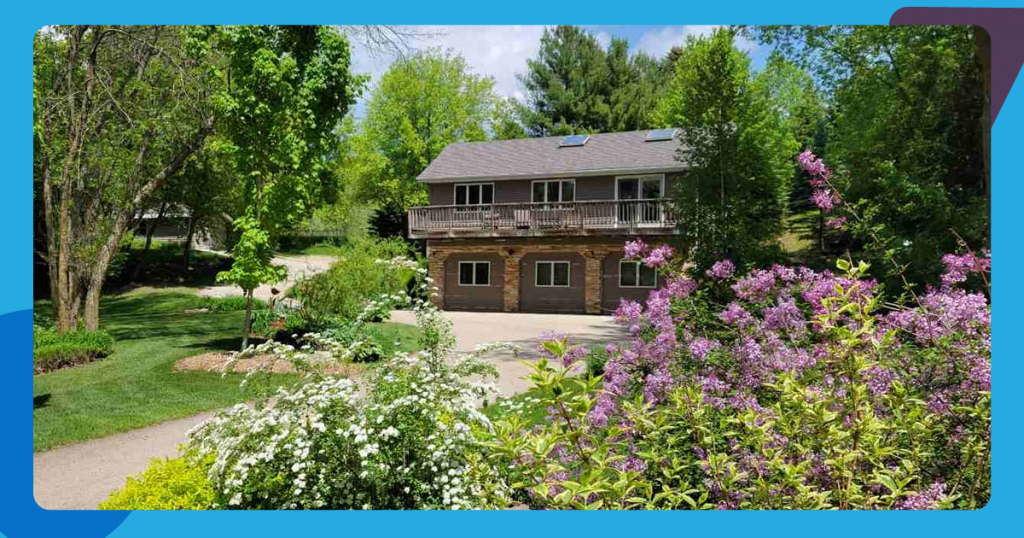 Location: Fontana-on-Geneva Lake
Capacity: 50 to 100 people
Located just 15 minutes from Fond du Lac, an hour north of Milwaukee, and an hour south of Green Bay, the Willow Ledge Retreat Center in Wisconsin offers its guests a blend of relaxation and creativity.
Designed with crafters and groups in mind, this retreat center caters to scrapbooking enthusiasts, quilting connoisseurs, and anyone seeking a peaceful escape.
However, the homes are fully stocked with modern amenities, and the spacious workrooms provide 800 square feet of crafting bliss. With 15 well-lit tables, you'll have all the space you need to spread out your supplies and indulge in your creative pursuits.
The workroom is thoughtfully equipped, offering a six-foot wood table with an adjustable rolling chair along with a functional cup holder and a handy waste paper basket for each guest.
You can take a break on the deck, admire the scenic view, gather around the fire pit, or explore the picturesque trails of Kiekhaefer Park nearby.
Whether you're a morning bird or a night owl, Willow Ledge Retreat offers the ideal setting for a memorable and rejuvenating crafting adventure.
2. FAQs
What are the benefits of corporate retreats?
Corporate retreats offer numerous benefits, from fostering team bonding and enhancing communication to promoting creativity and problem-solving.
How to select a good location for a corporate retreat?
Choosing the right location for a corporate retreat involves considering several factors, including the objective of the retreat, number of attendees, and more. Then, you can consider the preferences and interests of your team members before deciding on a location.