1. Comparisons of Features: Deel vs Remote
1.1 Payroll Management and Reporting
From processing contracts and benefits, making contractor payments, tax calculations, expense management, and other computations for employee payroll, Deel does it all across 150 countries. The platform makes it easy by enabling you to process bulk payments on a monthly basis quickly and easily in around 120 currencies. This is also one of the first platforms that uses wire transfer and crypto for payments.
Remote as a payroll platform facilitates payments in over 100 currencies through different methods. The system provides global employment services, local payroll services, and contractor payment services besides international hiring and onboarding tools.
Our Verdict: Compared to Deel, Remote gets a 1+ vote because we love how it's simplified and can be processed in a single click.
1.2 Deel vs Remote - Analytics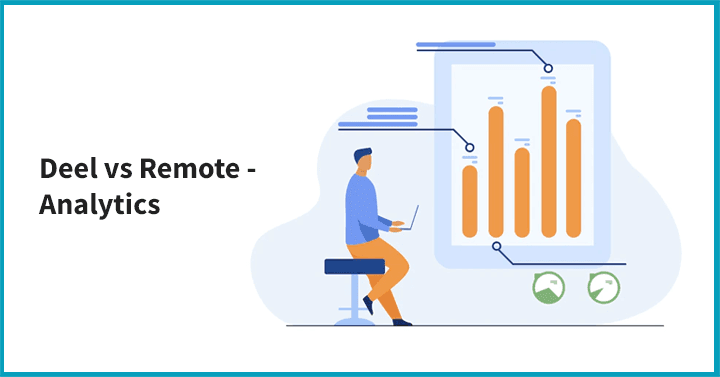 While Deel does not have an individual analytics dashboard that provides detailed reports currently, its soon-to-come API can be integrated to generate custom reports and workflows
Remote API offers an integrated suite of tools that provides integrated and streamlined data on global employees that can be shared.
Our Verdict: Remote takes the lead here with its wide range of analytic tools that can provide vital data-driven information to make well-informed decisions.
1.3 Deel vs Remote - Benefits Management
Deel - payroll for remote teams offers a suite of benefits management tools that entail creating, evaluating, and monitoring a list of applicable benefits. Benefits are provided based on country-specific parameters and the nature of employment. For instance, this platform offers attractive 401(K) benefits for full-time employees.
This payroll software offers country-centric benefits such as life insurance, medical insurance, pension scheme, and 401(k) besides a suite of other related features that include benefits administration outsourcing, benefits dashboard, health insurance administration, retirement plan management, and disability insurance administration, and employee benefits administration.
Our Verdict: Remote presents a winning case here with its comprehensive lineup of benefits that are geographically aligned to doing away with a common yardstick that may not suit all types of employees.
1.4 Deel vs Remote - Time Tracking and Management
While Deel uses an employee onboarding tracker to keep a record of all employees, this platform does not have time tracking and management software as a separate module. Booking time-off can be done with HRIS integrations.
Remote offers the benefit of being able to track and manage remote employee time anywhere in the world.
Our Verdict: Remote yet again takes the upper hand here since it has advanced integration to track and manage time efficiencies. Being a remote, distributed team ourselves, time is a common denominator and a parameter that needs to factor in any good payroll system
1.5 Deel vs Remote - Compensation Management
This software tool executes payroll on a monthly basis. It covers all applicable benefits and taxes as per local regulations. Compensation is provided directly to the specified bank account, and payslips are distributed within 1 to 3 days post payment.
Remote maintains a market standard that stands at the 65th percentile for different types of positions in relevance to the current cost of living and industry standards.
Our Verdict: Deel does a good job of covering compensation processes and payments in accordance with the prevailing rules of each location.
1.6 Deel vs Remote - Employee Onboarding
Deel has a comprehensive global hiring kit that makes it easy and quick to complete onboarding. The kit comprises all essential tools that need to be used to recruit, onboard, and create local-compliant contracts.
Remote has a streamlined international hiring and self-service onboarding process that uses 100% compliant hiring and contractual procedures to onboard employees from anywhere across the globe.
Our Verdict: What swayed us to Remote was the array of self-serve onboarding tools that work for both employers and employees in ensuring a quick and seamless onboarding experience.
1.7 Deel vs Remote - Self-Service Portal
The platform has all that's needed to access services in one place. You can track contracts, legal papers, compliance documents and payments easily. Use the dashboard to modify contracts, file taxes, and generate reports.
Remote's easy-to-use platform makes it easy to sanction contractor invoices and employee expenses, and lots more.
Our Verdict: While it could have been a tie, Remote steals the limelight here for us since its integrated model of self-service is not just restricted to the portal or user interface but also for onboarding and payroll making it a flexible and accessible system.
1.8 Deel vs Remote - Direct Deposit
Clients can choose to pay through various methods including card (credit/debit) payments in USD, EUR, GBP, Direct Debit payments, bank transfers, Mercury account transfers, Brex account transfers and one of the first in cryptocurrency Coinbase transfers.
Payroll approvals and invoices are approved on the platform and international payments can be done directly using the interface.
Our Verdict: We place our money on Remote here. The payroll has a single-click payment system for direct deposits in over 100 different currencies.
1.9 Deel vs Remote - HR Management
Deel remote platform has a comprehensive set of tools to manage international hiring in over 80 countries while maintaining compliance with updated local laws and market rates
Remote facilitates global hiring across multiple industries and company sizes without a middleman. The platform sets up subsidiaries in the hiring country for global team onboarding while the global hiring team provided support for automated and seamless workflows.
Our Verdict: With more to offer in terms of services, Remote wins brownie points from us. Not just focussed on hiring and onboarding, this all-rounder also has a bouquet of verticals in the offing that includes trip and time-off monitoring, HR planning, and more.
1.10 Deel vs Remote - Time-Off
Time-off track records can be accessed, tracked, and updated easily on Deel remote team platform. Time-off requests for any period less than eight hours is counted by Deel as a half day. Deel cannot support half days in the middle of the time-off period.
Remote has a simple interface with a Time-off tab that lets employees request a full-day, half-day, or unpaid leave as needed.
Our Verdict: We believe Remote has the upper hand here with its easy-to-access time-off module that records leaves taken, sends out email notifications and updates the overview on the dashboard of your profile to keep you in the loop.
1.11 Deel vs Remote - IP protection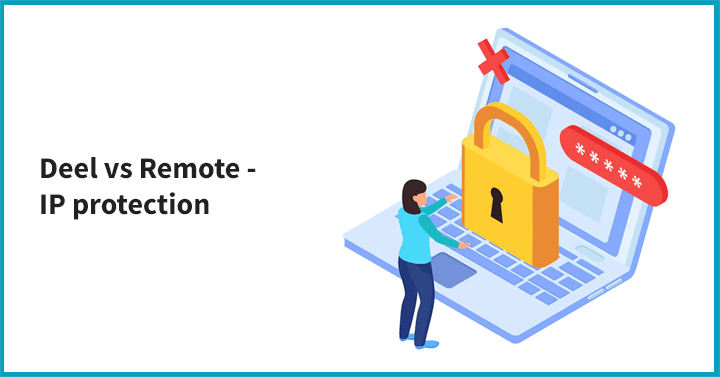 The entire system is based on the ISO 27001 framework. All the access can be authenticated to your Deel account using the Single Sign-On feature. Deel's components are SOC 2 Type 2 compliant as well for enhanced security.
Remote's IP Guard follows a three-stage method to provide the maximum level of protection. The platform uses isolated networks with restricted, fully auditable access and mechanisms for security threat detection and prevention through advanced firewalls. Remote is SOC 1, 2, and 3 compliant and ISO 27001 certified.
Our Verdict: Remote scores on the board here with its advanced security measures. Taking it a notch higher, Remote provides an indemnity to cover all potential risks as well.
1.12 Deel vs Remote - Pricing
Deel remote team platform adopts a subscription-based pricing model that begins from $49.00 every month, per contractor in any affiliated country. For $499 per month onwards, you can also engage full-time remote employees abroad without setting up a legal entity in the host country. Deel's price point for employees starts from 500 dollars per employee on a monthly basis and goes up to 800 dollars based on the country.
The system provides three packages that are contractor management, employer of record (global employment), and global payroll and benefits. While the contractor management package is free to use, the global employment package begins at $349 per employee/month or $299 per employee/month on an annual basis.
Our Verdict: Remote wins this round with its attractive pricing and packages, especially for small businesses. With a free trial and entry-level pricing that starts at $0.00 and $29.00 for contractors, it has a clear edge over Deel.
1.13 Deel vs Remote - Integrations with Other Systems
Deel has system integrations with QuickBooks, QuickBooks Online, Hibob, Lever, and Wurkr to further streamline the gamut of HR processes including hiring, onboarding to team management, and payroll.
The payroll system integrates with leading HR systems and API for efficient and seamless processes. Some of their partner integrations include BambooHR, Greenhouse, Bob, and Personio/
Our Verdict: Deel has recently revamped the integrations with a slew of updates in HRIS, accounting, or applicant tracking platforms that makes it so much easier to scale up
1.14 Deel vs Remote - Customer Support
Deel - payroll for remote teams has a robust support module that comprises email support, 24 x 7 chat for queries and support blogs and resources
As standard practice, Remote provides email support and 24 x 7 chat besides forum questions and resources. The payroll system also has a panel of local HR experts to help resolve all kinds of employment challenges.
Our Verdict: Remote wins here in our opinion. While both payroll systems have efficient customer support frameworks, Deel does not offer phone support. While we are all for digitalization, human interaction is important to make that real connection.
2. SIWOM's Verdict - Remote!
When it comes to Deel vs Remote, our team made a sound evaluation of Deel benefits and Remote benefits along with their range of functionalities to decide which payroll system holds its ground and the scales for us clearly tip in Remote's favor.
While Deel as a payroll system provides all the necessary solutions for organizations, it just does that when compared to Remote goes over and above. Remote provides global hiring services along with payroll solutions. An easy-to-use interface, more feature updates, and excellent customer support add to its functionality making it the best payroll system.