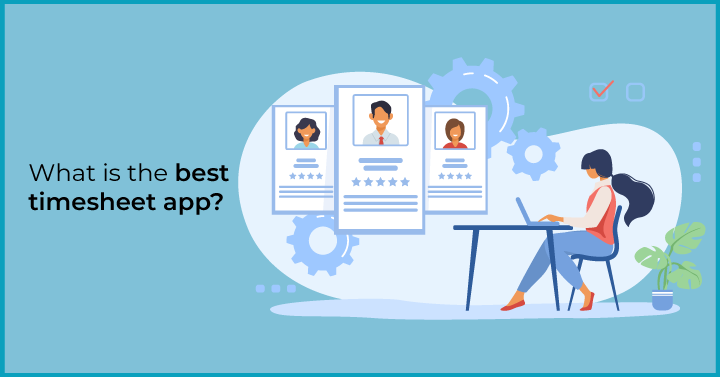 When you're a small business, you're still figuring out processes and relying on a team that is growing at-scale. You're going to need something a little more sophisticated, and this is where the best timesheet apps for small businesses come into play. No matter how tightly-knit your team is, you'll struggle with information regarding their effort hours during the work window if they're entering it on spreadsheet trackers.
Time, as they say, is money. Time theft costs employers in the U.S alone $400 billion in lost productivity. What's even more alarming is an American Payroll Association study that states that time theft can cost businesses up to 7% of their total payroll annually. Statistic Brain estimates that employee time theft costs businesses $50 billion every year.
I could go on, but the message is clear. Overlooking the high costs of stolen time eats into your budget. Without a timesheet app, you're continuing to pay for unproductivity.
I had previously written about construction timesheet apps. This post, however, is intended to reveal the best timesheet apps for small businesses. So here it goes.
"To explore various kinds of remote team management software that can serve as catalysts to boost organizational efficiency at the workplace, read our informative article that covers it all here."
1. How do I keep track of my employee hours?
Employee hours have a direct correlation with labor costs to the company. Keeping track of everyone's hours,(including paid and permitted overtime) ensures that your budget doesn't stretch into an overhead.
Some ways to keep track of employee hours include digital attendance systems, employee monitoring software, timesheeting and time tracking software and biometric clock ins.
These tools match employee records against digital signatures and entries to maintain attendance and punch lists.
Biometric devices are usually mounted on walls or doors at an office. Such tools scan fingerprints and faces to determine that the person checking in is a confirmed employee signing in within the work hours he, or she is contracted for.
While such devices can't be actively used by remote offices, they rely more on time tracking and timesheeting applications. The software includes clocks, selfie-check ins and website blockers to deter employees from wasting time on websites and applications deemed irrelevant to the work they are doing.
Timesheet app
Price
1. Connect team
$3   Free For upto 200 users
Basic $29
Advanced $59
Expert $119
Enterprise (contact)
2. TogglTrack 
Free for upto 5 users
Starter $9
Premium $18
3. Harvest
Free N/A
$12 one plan with a slider to enter the number of prospective users.
4. ActiTime
$6 per user per month with the option to enter the number of users.
4. ActiTime
$6 per user per month with the option to enter the number of users.
5. Jibble
Free for unlimited users
$37.5 Premium, with time approvals
$75 Ultimate for desktop teams and productivity tracking
6. HoursTracker
Downloadable in the Apple Store
7. Clockify
Free
8. TimeCamp
Solo 0
Basic $ 5.25
Pro $7.5
Enterprise (contact sales)
9. Apploye
STimeTrack $4
FieldTrack $5
RemoteTrack $6
Enterprise (contact for details)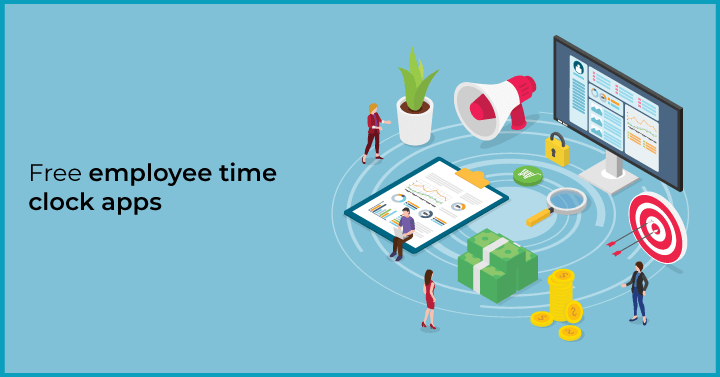 2. Free employee time clock apps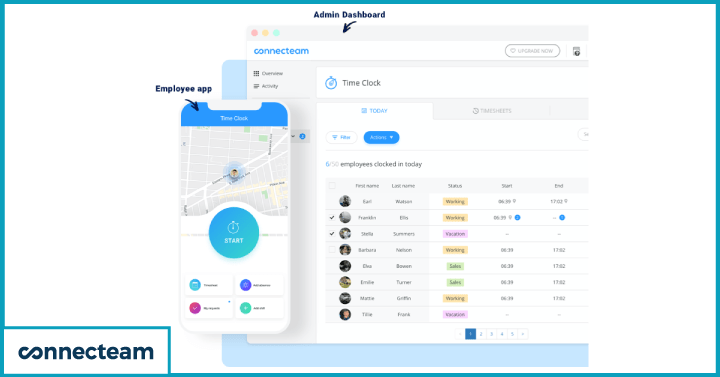 2.1 Connectteam
About
Connectteam is an all-in-one employee management solution. It was founded in 2014 and is based out of New York. The platform comprises employee communication, time clock, digital forms and checklisting, employee training and scheduling. Only 6 years in, their client base includes EY, Sodexo and American Eagle Outfitters.
Timekeeping features
The time clock feature tracks work hours on internal jobs and external projects. It lets you collaborate with employees who are always on the move. It includes GPS locating based on the job, client and number of staff released. Connectteam also has the provision for visual flags based on what you wish to track; such as auto-calculated breaks, overtime, absences and bulk-shifts… Add shifts in bulk, accommodate multiple shifts in a day, add absences, notes, reminders
Why we think it's worth considering
The setup and implementation are easy, and the interface is simple to navigate. What's more, the on-site kiosk station within time tracking lets the team log in and log out from one centralized hub using personalized pin codes. This reinforces secure access and makes it easier for your staff to punch in and out. Connecteam is supported on both iOS and Android.
2.2 TogglTrack
About
Toggl is a time tracking software headquartered in Tallinn, Estonia. Their products are Toggl hire, Toggl track and Toggl plan. Of these, the track app makes time tracking effortless. Toggl was launched in 2006, and is used by over 5 million users, with clients like Perception Engineering, 3angleTech and Fullstack Labs.
Timekeeping features
The Toggl track started out as an internal tool for Toggl engineers to keep track of the time they spent on projects back in the early 2000s. It now includes background clocks that run without interrupting workflows, billable hours tracking, and custom reporting. Toggl's browser extensions come with timer reminders and features such as the Pomodoro, and detects idle time.
Why we think it's worth considering
What we liked best about TogglTrack is its tried and tested robustness. The Timeline feature tracks applications and websites in use based on the timer triggers you set, in seconds, minutes or hours. It then turns this data into time-entries. TogglTrack lets you use your time data to track project completion and avoid scope creep. You can track project hours and invoice clients according to the data on rates and hours.
2.3 Harvest
About
Harvest is a time tracking application that is trusted by 60,000+ businesses. Based in New York, USA, Getharvest has been in the market for the last 14 years. Dell, Amnesty International and Area 17 are some of their famed clients.
Timekeeping features
Harvest time tracker keeps track of both time and expenses. The timesheeting feature converts time data into visually interactive reports that sum up where your team spends their time.
Why we think it's worth considering
The timesheet reports are very informative and detailed. The forecast app lets you enter team time in the future that is required for projects so that time constraints can be borne in mind.
2.4 ActiTime
About
ActiTime is one of the oldest and best timesheet apps for small businesses. Since 2004, ActiTime has been used by non-profit centers, schools, and small businesses like Cline Architects, Decipher Networks and the IRcenter.
Timekeeping features
Time tracking, reports, accounting and work scope management are primary features. Of these, ActiTime's time tracking lets managers track time spent on work assignments and time-off requests. You can check hours distributed across clients, meetings and projects and compare them against the hours scheduled to assess team productivity and adherence to work policies.
Why we think it's worth considering
ActiTime is affordable and usable. We like the accuracy with which it's easy to fill out timesheets. Not to mention email reminders to alert you staff to update their timesheets and process payroll faster. Many customers report being able to better define their pricing strategies, thanks to ActiTime.
2.5 Jibble
About
Jibble is a free time clock app that records employee attendance, hours spent on jobs and project times. It has been headquartered in Kuala Lumpur, Malaysia, since 2016. Several sectors use Jibble, such as construction, F&B, education, entertainment and retail. Users include Airbus, Pepsi and SteelSolutions.
Timekeeping features
Selfie clock-ins, timesheet for payroll and automatic overtime all are measures instituted to prevent the aforementioned time theft. You can look at the daily timesheets submitted by employees and verify hours for overtime, work times and effort hours all add up.
Why we think it's worth considering
Jibble's geolocation and facial recognition features eliminate the chances of buddy punching where coworkers stand in for each other. Rest assured that the right person is on site for the job! It's also fun to take work selfies as you dial in or log out! Customers report the versatility and usability of the web dashboard as key reasons to switch to Jibble from other timesheeting apps.
2.6 HoursTracker
About
HoursTracker is an Apple product that lets you clock in time anyplace, anytime.
Timekeeping features
Hours tracker groups entries by day, week, or month to help you see how your work week was spent on various jobs. Pay is automatically calculated and includes overtime.
Why we think it's worth considering
HoursTracker is mobile-friendly and has the facility to alert you with 15 minute reminders before log off time so that you can find a stopping spot for the work you're doing. It also lets you set an expected number of hours per day, and notifies you when you meet those hours or fall short or stretch the hours.
2.7 Clockify
About
Clockify is a free time tracker and the best timesheeting app for small businesses. It keeps your team on track across work hours. Although the company started out with development back in 2009, Clockify entered the market in 2017. Siemens, Uber, Atlassian and Cisco use it.
Timekeeping features
Clockify's core timekeeping and timesheeting features include an automatic start and stop timer, calendar timelines and dashboards to track all time-sensitive and intensive activities. You can review reports to see who worked on what, and how much money they make you.
Why we think it's worth considering
Besides being free forever for unlimited users? The Clockify app lets you see time logged per day for every week. From here, you can determine overtime, time off and planned (and approved) leaves. The time card calculator lets you enter break times, and hours of work for a complete picture of the actual time spent on the activity, task or function.
2.8 Timecamp
About
Timecamp is a web application developed by Time Solutions in 2009. Industries that use it include attorneys and law firms, architects and construction. The newer, better version of Timecamp (i.e. Timecamp 2.0) came out in 2012, and as of 2018, features over 30 integrations. Clients include Grupa Tense, Havas Media and RainDrop.
Timekeeping features
Timecamp has team performance tracking, proof of work and budgeting and billing. It even scans the apps you use and groups them by importance and relevance to work, thereby ensuring time wasting applications don't run in the periphery to break your focus.
Why we think it's worth considering
Besides the grouping facility, what we liked best about Timecamp was their billing and invoicing features. It matches records of the time tracked and recognizes them as billable or non-billable. This way, there are fewer disputes with more precise evidence of how much time was spent on activities.
2.9 Apploye
About
Apploye is a time tracking tool for mobile, remote and at-desk teams. It features online timesheeting, employee monitoring, GPS location tracking and productivity level tracking. Apploye is based in Pleasanton, California, U.S and is used by small and mid-sized businesses.
Timekeeping features
With Apploye, you can keep track of your employee's attendance via daily timesheet. You can see when they are working, on breaks, frequency of such breaks and time spent on projects. These hours help you track progress and provide status updates automatically if you're behind, on schedule or finishing up ahead of time.
Why we think it's worth considering
The price is within the budget of small businesses, with a 14- day free trial. Users report unconditional visibility into hours logged as its biggest selling point, with the facility to compare them against scheduled hours.
3. What is the best timesheet apps for small businesses?
From what we could explore and experiment with, my top three picks for the best timesheet apps for small businesses would be Clockify, Jibble and Harvest. If you're an Apple user, HoursTracker is worth using, too.
These timesheet apps are not only affordable but help prevent time entries from being fudged, thereby keeping your payroll in line.
What have you tried out in the past, and which of these timesheet apps for small businesses will you consider switching to?