The outbreak of the global pandemic COVID-19 disrupted every industry, and the mandated lockdown shifted offices to home. Though the sudden shift of work policies was a breeze for many, it became an unforeseen challenge for others, especially architects. After a brief study of the remote working effects on different industries, I decided to elucidate how remote working for architects will look like in the future.
This read will emphasize everything from using technology for structure modelling and blueprinting to managing client expectations remotely. In addition, I will also shed some light on remote architecture firms already having a virtual work model.
Let's begin with answering the first question,
1. What remote working for architects look like in virtual architectural firms?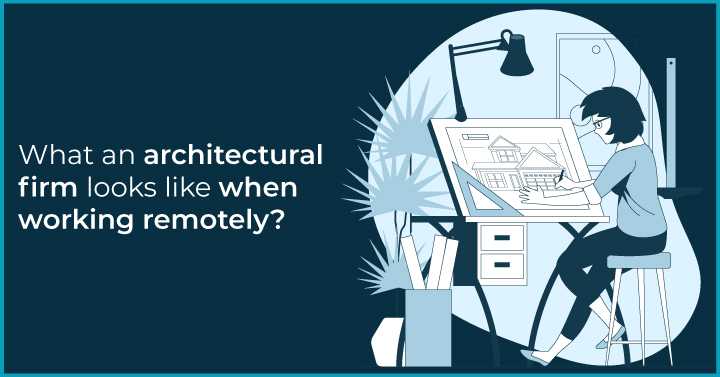 If it were not for emerging technological advancements, we could say architects cannot work from home. However, when there's a tool for everything that you do, remote work can be managed without a hitch. Examples of such tools are- Slack for collaboration, Zoom, or Microsoft Teams for video conferencing, BIM and CAD for designing with appropriate remote sharing facilities, project management tools for real-time updates on projects, and so on.
Perhaps, it's better to learn this with real-life scenarios of architecture firms working remotely even before the outbreak. Here is the list of remote architecture firms I will be covering in-depth:
2. Remote Architecture firms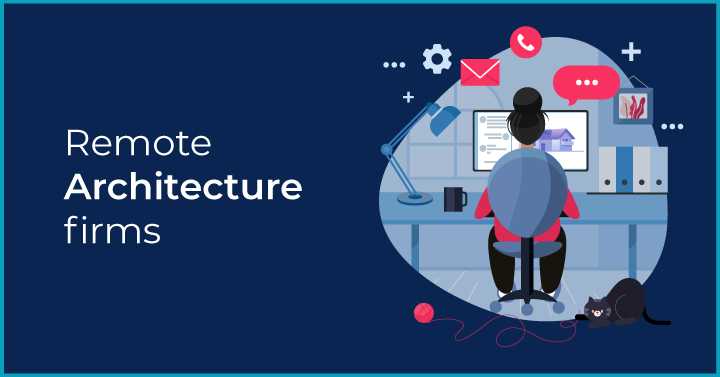 2.1 J Kretschmer Architect (JKA)
Headquartered in California, and founded by Jennifer Kretschmer, this firm is a unique 'virtual office'. Jennifer hired her first remote worker in 2005 and introduced remote work strategies into her firm 15 years back. The firm has taken this step towards green, sustainable environmental practice by ending car-commutes.
Remote working for architects became a breeze in her firm. How? With the adoption of several tech tools for designing, video conferencing, file sharing, and communication. Apart from the tools, instilling trust in her workforce and setting work standards helped her sail through this transition. She believes self-motivation is the critical driver to get things done and take accountability.
When it comes to communicating with the team, Jennifer has set some standard protocols. They have set-timings to reach out to the workers who are working in different time-zones and use Zoom, phone, or Podio to talk.
These practices have kept the team up and running even when the team members are dispersed across geographical boundaries.


Read More
Remote Working For Lawyers: Trends In The Legal Profession
2.2 Margulies Perruzzi Architects (MP)
Margulies Perruzzi, based in Boston, is an innovative architectural firm catering to the clients in Science, Workplace, healthcare, and real estate development industries. Even before COVID-19 necessitated remote work, MP was practicing it at their workplace.
They had set up a Virtual Private Network to create a secure connection and had installed the same security software in every employees' home computer. To bring life to their presentations and enhance the client experience, they use 3D design, visioneering, virtual reality, and other technologies.
They initially faced a challenge of adoption to advanced tech tools as they are a cross-generational firm. To tackle that, they began using simple collaborative and video conferencing tools like Skype. MP also has an internal message board for seamless communication about success and challenges. Along with tools and private networks, they reinforce their culture amongst their workforce to continue working in harmony and make remote working for architects easy.
2.3 Saam Architecture
Founded in 2014 and based in Boston, Saam Architecture was built on the foundation of the ability to work remotely. The goal was to give leeway to employees to pursue their personal goals along with their professional ones. To set up a remote office, they started with providing large-screen laptops and VPN-enabled servers to allow employees to work seamlessly even when scattered.
Slack, GoToMeeting, ToDoist, Microsoft, Adobe, Bluebeam, Revit Server, and BIM 360 are some of the tools they rely on to collaborate and design effectively. Besides these enablers, strong communication and work/life balance skills, and trust amongst team members have helped them practice 'radical flexibility'.
In a nutshell, with the presence of the right technological tools and transparent communication between the team members and managers, architectural firms can work remotely with ease.
3. Remote working for architects: tips & tricks
However, there are some underlying details and tips to consider when moving to a company-wide remote work approach They are:
Maintaining routine
Using noise blockers
Backing up designs on cloud storage
Managing resources and projects virtually.
Conducting daily check-ins
Reassess work value during business hours
3.1 Maintaining routine
There's a thin line between work flexibility and indiscipline. Often when work flexibility is taken for granted, productivity comes to a grinding halt and it may cause delays in deliverables. Thus, sticking to a routine even when you are working from home is vital to check those tasks from your to-do lists.
Apart from enhancing your productivity, it will keep you stress-free and ensure your mental wellbeing. It's natural when you have everything in place, your work and personal life, all you need to worry about is getting work done. You can leverage the benefits of the myriad of technology tools and apps that help you focus on your work, create to-do lists, track work hours, and so on. Sticking to your routine and keeping track of your tasks will enable you to meet your deadlines.


Read More
Miro Review-The Collaborative Whiteboard For Remote Teams
3.2 Using noise blockers/distraction blockers
Work from home has its own challenges. Distraction from family members, disturbance from constant notifications on your smartphones, and so on can disrupt your work hours and decline your performance. To mitigate these distractions, you can opt for different time management techniques like Pomodoro and Pareto analysis.
These techniques are described below:
I. Pomodoro technique
Pomodoro is one of the most effective and popular time management techniques. You work for 25 minutes, take a short break of 5 minutes to let your mind rest, and continue this for 4-5 cycles until you take a long break of 15-20 minutes. This helps you keep the distractions at bay during and accomplish the tasks in hand.
II. Pareto analysis
Also known as the 80-20 rule, Pareto analysis helps you prioritize your work better. Talking about the algorithm, 20% of tasks take up 80% of your time and the other 80% can be completed in the remaining 20% of the time. Therefore, one must focus on the latter and complete the maximum and leave the rest for the remaining time.
Along with utilizing these techniques, you can use certain features like zen mode in your smartphones to mute the notifications or make use of other apps that help you do so. These distraction blockers are great productivity-enhancers.
3.3 Backing up designs on cloud storage
For every architect, designs are his/her bread and butter. It takes a tremendous amount of concentration, brainstorming, and creativity to meet your client's expectations. When doing hard paper, you can just treasure them in your closet. However, when you are working with multiple tools and software, you need to take that extra step towards securing them.
Creating a backup of these designs is therefore extremely important. You can use a drive or dropbox to store all your valuable designs on cloud storage. An important thing to note here is that one should take a back-up of their file inventory every day to avoid any potential risks of losing it altogether, This way you are sure you will not lose them.
3.4 Managing resources and projects virtually
When you are managing a remote team of architects and catering to several projects to be sent to clients, it's critical to have centralized visibility of your team's and project's progress. One is preparing a design, the other is creating a blueprint, and so on. You need to keep a tab on each one to streamline the tasks. It's always easy when you are set up in your brick-and-mortar offices but it becomes a challenge when working remotely.
Again, the presence of smart tools does not disappoint us in any way. Intuitive project and resource management tools like Saviom, Avaza, Scoro, and others can help you manage your teams and projects effortlessly. These tools maintain transparency and give you real-time updates to stay on course with the progress and eliminate any unnecessary bottlenecks.
3.5 Conducting daily check-ins
Communication is the key to keep the work going and help your remote team stay on the same page. Daily check-in is a vital element of any remote work set-up. Managers can convey their daily goals, check on their employees' progress, update them of ad hoc requirements, if any, clarify the priorities, and help them structure their schedule accordingly.
Managers must, therefore, make it a practice of conducting daily-check ins before the day begins to set the tone and hit the ground running. These check-ins also enhance employee engagement and improve productivity.
3.6 Reassess work value during business hours
Introspection is key to improvement. A shift in work-habit causes a shift in your schedule, productivity, and the way you work. Therefore, assessing your value-addition at the end of the day is extremely important. For instance, now that the commuting hours, strict break hours are eliminated, you could potentially complete an 8-hour day within 6.5 to 7 hours.
When you have those extra hours in hand, you can spend time on training courses and upskilling competencies. This will not only help you grow professionally but give you an edge to take up highly-specialized projects. Reassessment of work value is, therefore, an important part that helps you grow and enhance your skillset.
If you leverage these above-mentioned tips, work from home will become a breeze for architects and the architectural firms down the line. A perfect blend of soft skills and tech tools will smoothen this transition and let you build a successful virtual firm.
All said and done, the new normal is here to stay. Let's evaluate how the effects of COVID-19 will change the structure of architectural firms.


Read More
The History Of Remote Work: How It Came To Be What It Is Today
4. Architecture and COVID-19
From a design standpoint, workspaces will focus on more remote-first and ergonomic spaces beating the necessities of a physical workspace. With emerging tools and technology, architects will find it easy to design and create blueprints using different software. These designs, with the help of 3D-imaging and virtual reality, will give a real-life experience to clients, eliminating the need for physical one-on-ones.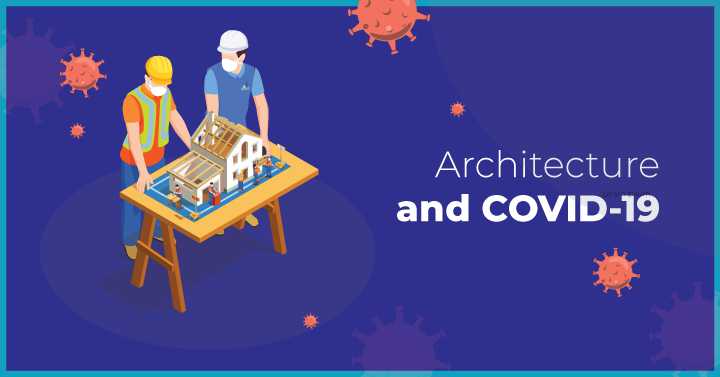 The bright side is that architectural firms will be able to sign deals beyond geographical peripheries and enhance their clientele. In addition to this, onboarding a highly-specialized talent pool dispersed across nations will become easy.
5. Remote working for architects: Conclusion
Remote work is the new normal regardless of the nature of the business. Advanced supportive tools have made the transition easier than one would have expected. Architects have therefore been able to work remotely without lowering their productivity.
This article entailed some top-notch remote architecture firms that are running smoothly and carrying out their projects successfully in a virtual-work set-up. However, this shift cannot be easy for all. Managers and firms who leverage these above-mentioned tips will be able to unleash the true potential of their employees. Once they succeed in doing so, remote working for architects will be carried out in a systematic and structured pattern.