Can you imagine going all your life without a single trip to the salon? Personal grooming services have mushroomed over the years and are now offered both in-stores as well as at home. While examining the best salon software that businesses love and endorse, it's important for Florida-based entrepreneurs to be aware of their state-specific requirements. Founding an LLC in Florida comes with its own set of guidelines, which can be seamlessly incorporated into the operational framework of your salon business. All customers need to do is phone in or use an app to confirm appointments. These appointments are then recorded into a salon management software to make it easier to manage bookings. The best salon software helps businesses connect with, grow and delight their customers. A salon software enables beauty and self-care experts to keep track of all appointments and prevents double bookings or schedule conflicts. It even lets businesses understand those services that are most, and least frequently used which lets businesses market and relaunch them. In this post we'll go into the salon software best suited for pop-up booths, small, medium and large-scale salons. Let's start with defining salon software.
1. What is Salon Software?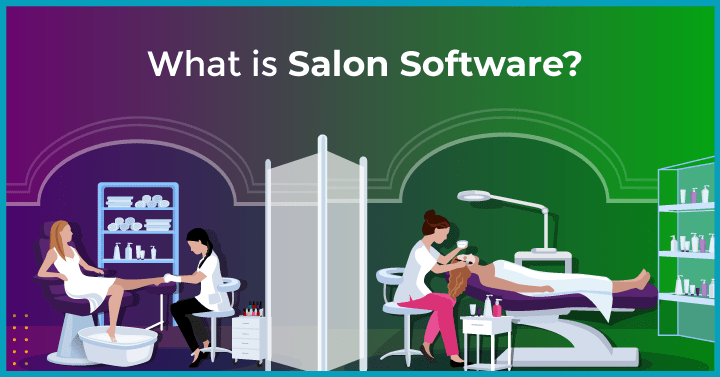 Salon software is an online tool designed to automate the day-to-day activities of a salon or spa. It enables salon managers or businesses to manage their daily schedules, staff and inventory with ease. You can edit existing bookings, create new appointments and set reminders and alerts. It makes use of automation to personalize services and notify customers of free slots, cashbacks, discounts and gift cards that they can cash in. Appointment management is designed to give salon managers access to bookings, manage resources and staff and organize shifts and timeoffs. The platform also lets businesses reach out to clients for feedback on services and stores various payment options to simplify and reconcile transactions.
2. What are the Features of Salon Software?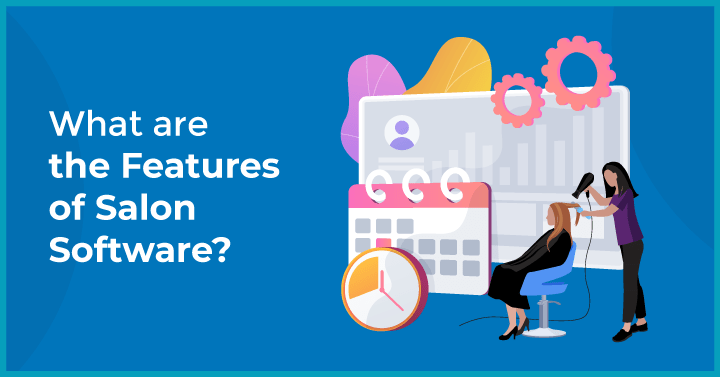 The core features of the best salon software include appointment management, marketing and lead generation, point of sale and reports. The features you will find in most of the best salon software are
Online scheduling
Cancelation management
Point-Of-Sale with integrated payment processing and suggestive selling
Automated confirmations
Reporting on client activities, booking histories and employee schedules.
Inventory management
Automated Email and Mass marketing capabilities
Integrated eCommerce for selling salon products online.
Built-in ticketing system that facilitates prompt and responsive customer service.
3. Why is Salon Management Software Important?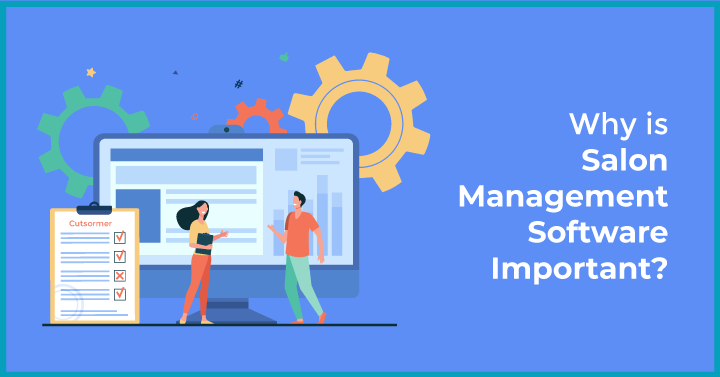 Considering the hours you save (not to mention the tedium of manually reconciling records), businesses are now replacing manual paperwork with salon software. Besides preventing appointment overlaps, the best salon software even maps customer details to the services they request for regularly. The more personal the marketing, the easier it will be for salons to attract and retain their clientele. The benefits of a salon software include:
Filling up no-shows.
Reassigning canceled appointments.
Ensuring service personnel availability for requested services.
Reduced queuing and wait-time.
Increases customer satisfaction.
4. How Much Does Salon Software Cost?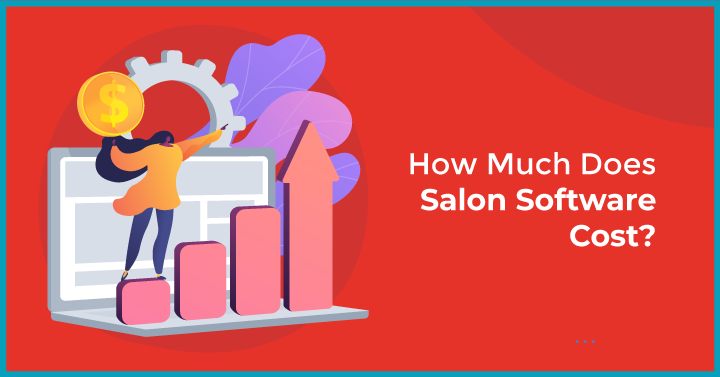 If you're looking for a ballpark figure, salon software costs between $15 to $395 per month. The best salon software has pricing slabs based on the size of your business and number of users who'll require access to the platform. There are monthly and annual packages. If you opt for yearly plans, it works out to be cheaper, not to mention that you won't have to worry about missing a payment. Phorest, for example, offers quotes based on the features that come with their plans which are broadly called Starter,Grow and Ultimate. The website does not list any particular pricing range, but instead offers prospects the option to book a demo. Feedback and review engines have mentioned that the starter plan costs $79 per month.
5. The Best Salon Software for Small Businesses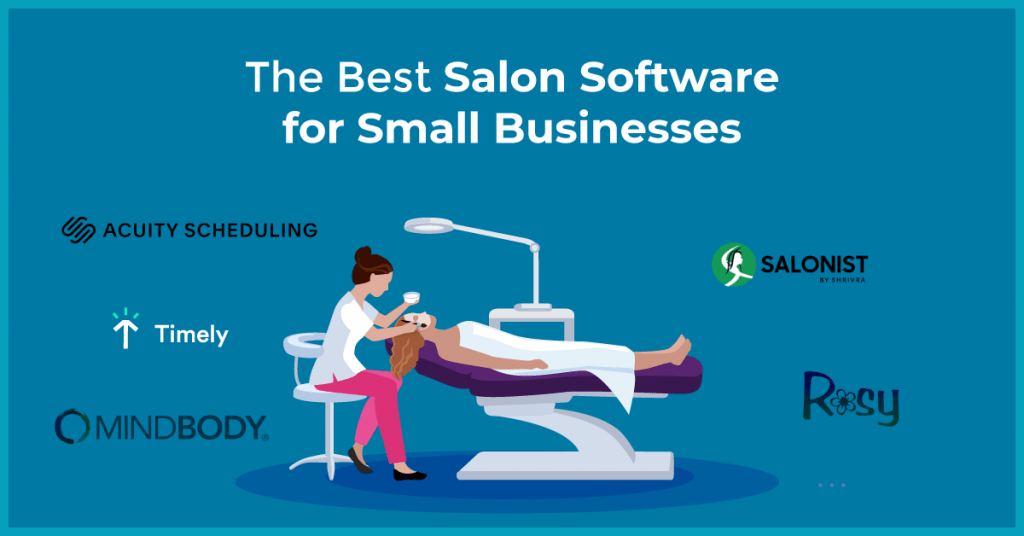 1.Timely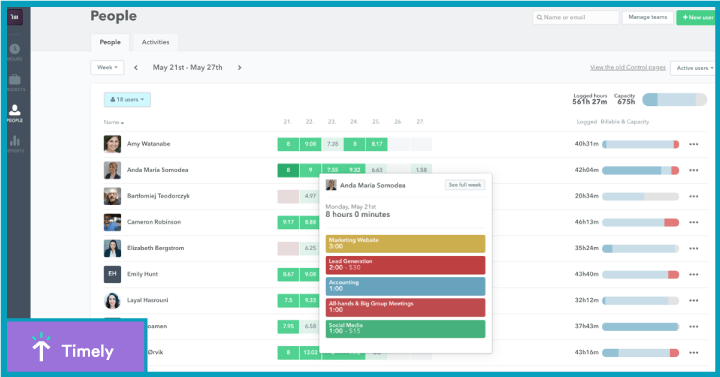 About: Timely is a salon software launched by Andrew Schofield, Ryan Baker and William Berger in December 2011. It is headquartered in New Zealand with offices in Australia and the United Kingdom. Customers on Timely include Green Butterfly, Manscape and Stevie Vincent. Timely Features at a glance:
Appointments
Client Management
Sales and Payments
Marketing
Inventory
Reports and analytics
TimelyPay
Weighing the Pros and Cons of Timely
The TimelyPay app makes online payments easy for customers.
The Facebook integration accepts bookings made via Facebook.
Users report the customer support to be responsive and helpful in providing timely assistance. It's also device-friendly, meaning you can access your calendar anywhere, anytime and on any device.
It's easy to generate email campaigns and maintain a customizable contacts database.
A few cons observed were that
The booking process is lengthy and requests a lot of user information before revealing the price at the end. Some businesses report that clients prefer phoning in over using the tool app because it saves more time.
The facility for daily financial reconciliation is missing.
Email options for follow-ups and rebooking reminders are limited.
Pricing Timely offers a 14-day free trial. The plans start from $15 (solo or Just-Me package), $30 for 2-7 member teams,$200 for 8-20 teams and custom pricing for 20+ staff.
2. Salonist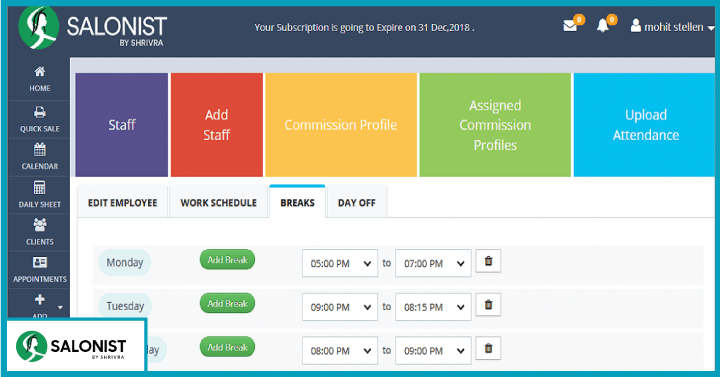 About Launched in 2016 in Singapore, Salonist offers optimized salon software in 60 countries and supports 8 languages.It is used by over 1000 small to medium clients worldwide, including Sketchers,DHL and Abila Beauty Salon. Salonist Features at a glance:
Payroll & Employee Management
Appointment Management
Customer management
Reward/Loyalty System
Salon Management
Billing & Invoicing
Branch and Location Management
Prepaid and credit
Weighing the Pros and Cons of Salonist
The API is device-compatible which offers customers options to access the app and make bookings from any device.
End-to-end data security.
It has live support with a very responsive customer service team.
The downside is that:
The Reports could be made better for advanced calculations and help in auditing aspects.
Price Salonist offers a 14 day free trial to check the fitment. The free version offers unlimited appointments, while the starter, business and enterprise cost $29, $69 and $129 respectively. These packages offer priority support, membership, package and expense management.
3. Rosy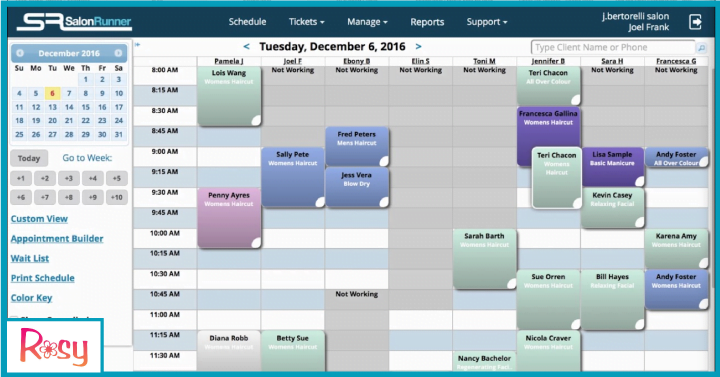 About Rosy Salon Software was launched in 2009 by Floydware Software in the USA. It was one of the first cloud based softwares designed by Salon professionals for efficient business scheduling. Happy customers include Lux Lashes, Duke the Studio and TrenaKaye SkinSpa. Rosy Salon Software Features at a Glance
Curbside check in- contactless check-in for customers from their car to alert staff.
Email Marketing / SMS Marketing
Inventory Control & Management
Appointment Management - with client images
Credit Card & Gift Card Processing
Client Management & Credit Control
Employee Management
Point of Sale (POS) option- Billing & Invoicing
Weighing the Pros & Cons of Rosy Salon software
The application is accessible on any device and sends out reminders automatically.
The placeholder for appointments changes colors as and when clients confirm, cancel or request rescheduling, meaning that you don't have to repeatedly chase customers.
Reports are customizable and has a SWOT identifier for a stylist's competencies.
A Few Downside include:
Some customers complain that the scheduling feature is difficult to use.
This is not a con if you have prior CRM experience or use other mail building and campaign creation tools, but the email Builder within the CRM could evolve better. The software handles automated emails once it has been set up.
Price: Rosy's plan starts at $29 per month. There's the option to pick the number of employees who will need the software.
4. Mindbody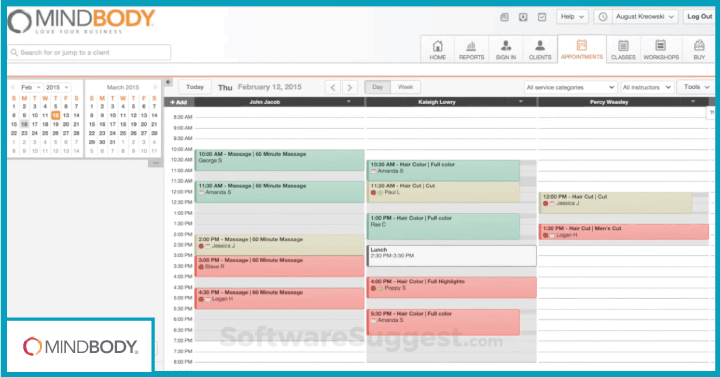 About Mindbody was founded in 2001 in California,U.S. This is the best salon software for small businesses that offer beauty spa and wellness treatments. It caters to over 35 million customers in over 130 countries & territories worldwide. Mindbody Features at a Glance:
Financial, inventory and employee Management
Point of Sale (POS)- Billing & Invoicing
Time & Expense Monitoring
Client Management
eCommerce Management- social media integrations
Marketing Management
Workflows Management
Weighing the Pros & Cons for Mindbody
It has an API - so it can be seamlessly integrated.
The business intelligence suite helps you analyze customer data and improve or revise your marketing tactics.
There's a livestream option for Yoga and wellness classes. Mindbody is the first of its kind to offer workout sessions besides salon management. One downside to Mindbody's salon software is that it's a bit expensive, and some users have reported the customer service to plummet from its initial responsiveness and helpfulness.
Pricing Mindbody salon software's Price Slabs divide the packages into Starter, Pro and Accelerate which costs $72, $121 and $190 respectively.
5. Acuity Scheduling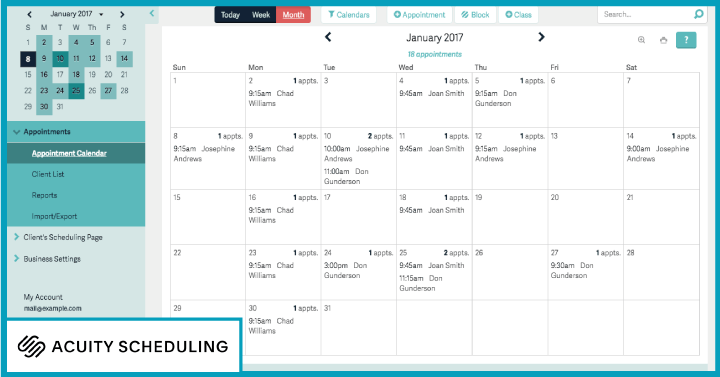 About Acuity Scheduling is a Squarespace product offering and is an online salon management assistant. Acuity Features At a Glance
Appointment Scheduling
Client Information Organizer
Social media calendar sharing
HIPAA compliance
Custom reminder mail and texting
Two-way API integration
Weighing the Pros and Cons of Acuity
It's a simple organizer that is easy to set up.

The tool sends out text message notifications when appointments are booked/rescheduled/canceled. The mobile app sees to it that customers never miss your reminders.

Two way API integration with Google Calendar avoids double bookings
There's just one minor flaw in Accuity which is that its mobile responsiveness could be improved. Users report that the calendar function doesn't resize to fit based on the device width being used,i.e. From mobile to desktop, or vice versa.
Pricing
Pricing plans
are categorized as Emerging, Growing and Powerhouse. These each cost $14, $23 and $45 per month
.
6. And the Winner Is
Salonist
!This Singapore-based software has it all covered for a smaller segment of Salons. It is cost-effective and provides excellent customer support, even for startups to get on with the game.
6. Salon software for Mid-sized Businesses
1. Meevo 2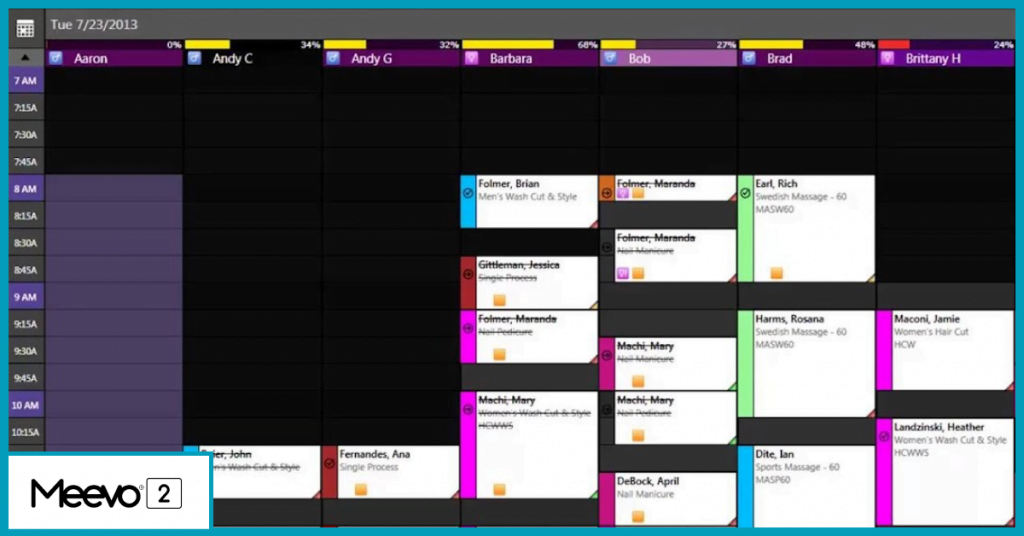 About Meevo 2 is a recent entrant to the array of cloud-based salon software available in the market. It is designed for all types and sizes of salons, and is based in Lombard, USA. Meevo was developed by Millennium Systems International and is used by the Florida Spa Association, Intercoiffure and iSpa. Meevo 2 Features at a Glance

Appointment management
Before & After Picture Gallery
Client Database management & profiling
Customer Mobile Apps & Surveys
Email Marketing
Gift Card & membership Management
Point of Sale (POS)

Weighing the Pros & Cons of Meevo Salon Software

It has adequate customer support to set up and train the staff on the usage.
Ease of use web interface with Pop-ups that give you all client data.
A smart center and Dashboard.

Downside includes

Printing reports comes out to be cumbersome.
Filters can be made better to sort the data.

Pricing Meevo salon software's pricing for Solo, Grow, Pro and Powerhouse are $47 / month, $ 97/ month, $197/month and $ 297/month

2. Vagaro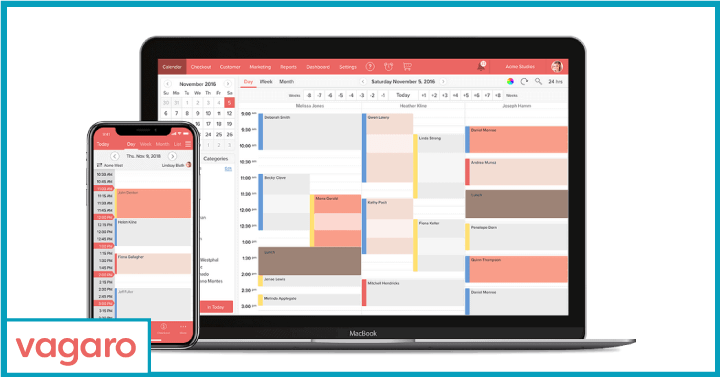 About Launched in 2009 by Fred Helou in California, USA., Vagaro is a web-based solution for all sizes of Salon and wellness businesses. It helps in carrying marketing campaigns, fixing appointments, and conducting all services via the application. Vagaro Features at a Glance

Appointment Scheduling
Client & employee Management
Email & social media Marketing
Inventory Management
Loyalty & gift card Program
Payroll & Commissions
Point of Sale (POS)

Weighing the Pros & Cons of Vagaro Salon Software

This web-based application offers users access from Multiple locations and
Booth rentals as a unique feature to vagaro
Users report the tool's marketing automation to be helpful in expanding the business.

Some downsides include

Difficulty in booking multiple services at once.
Navigation is not easy, with many customers reporting that they tend to get lost once they're in.

Pricing Vagaro offers a free trial period and post that it costs USD 25/ month/user.

3. Zenoti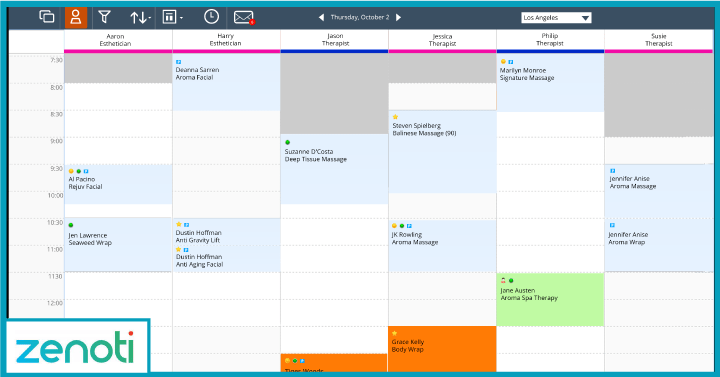 About Founded in 2010 by brothers Sudheer and Dheeraj Koneru, Zenoti is an all-in-one enterprise management software exclusively made for Spas, Salons, popularly used in over 50 countries. Engineered for reliability and scalability, the cloud-based enterprise-level software Zenoti has a centralized platform that provides access across multiple locations. Clients include Boardroom Salon For Men,Gene Juarez and Tricoci Salon & Spa. Zenoti Features at a Glance

Inventory & Locker management
Custom& Ad hoc reporting
Calendar management with reminders
HIPAA compliance
Sales statistics, analytics & reports
Automate- Task scheduling
Activity dashboard with Drag & drop interface
Loyalty program & gift card systems with POS
Social network and Email marketing

Weighing the Pros & Cons of Zenoti

Digital consultation forms are very innovative and helpful for businesses.
Centralized inventory checking makes it easy to manage.
Marketing activities are easy as uploading offers and sending promotional messages are simple.

Downside includes

Reporting packages could be useful
There is scope for improvement in the marketing feature, particularly in targeting a demographic section. Pricing Zenoti works completely on a subscription model; contact Zenoti for prices.

4. Phorest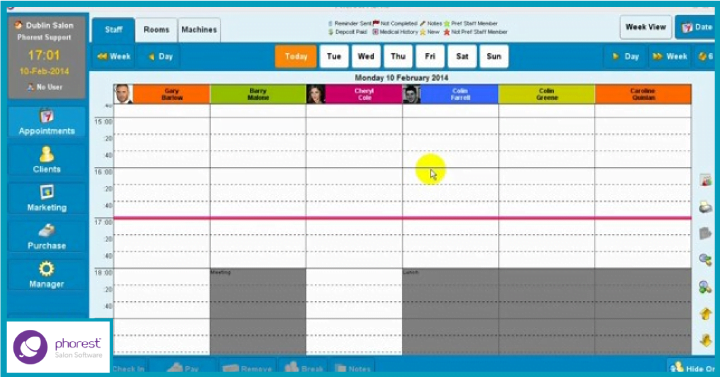 About Founded in 2002 in Dublin Ireland, by Ronan Perceval, Phorest is a comprehensive cloud-based salon management tool. It's used by over 7000 salons. Phorest Features at a Glance

TreatCard Loyalty Program that rewards clients & increases retention.
Salon-branded App & Online Bookings: Allows users to book appointments - 24/7
Email Marketing: sort & send by client type & service history
SMS Appointment Reminders that cut down "no-shows" by 70%
Reviews: get vital feedback from clients - review on every appointment
Selfie rewards: clients can share a selfie for extra loyalty points
Phorest Go: view, change & manage bookings on any device
Automate: & personalized thank you/birthday emails to client

Weighing the Pros & Cons of Phorest

The support of reports is very commendable.
Users can access software across devices.
Loyalty schemes on social media are good.
Online bookings are direct.

Downside includes:

Integrations with merchant services units could be an issue with some specific customers, but customers can solve it with the help of customer support.
Social media review integration could be helpful to promote better.
Employee handling, such as new employee addition in a new category, takes time- could improvise this feature.

Pricing Phorest has different plans to suit customer needs. Contact the Phorest team to know more.

5. Fresha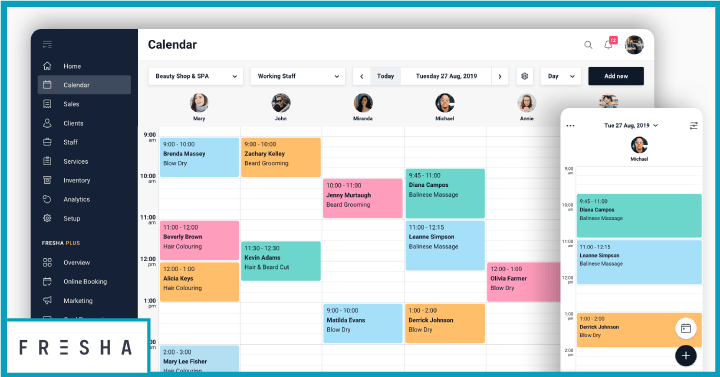 About Fresha (formerly,Shedul) was launched in 2015 by William Zeqiri and Nick Miller. It is one of the best salon software that's cloud-based and has a free version. It is well suited for med-spas, health clinics, Salons, massage centers, and wellness centers. Fresha Features at a Glance

Calendar-based scheduling
Powerful and flexible
Online bookings & Activity dashboard
Automatic reminders & Custom messages
Built-in POS
Invoicing
Receipts, taxes, calculations

Weighing the Pros & Cons of Fresha

Shedul has Robust appointment scheduling with calendar displays.
Available in free and premium options so small organizations or freelancers can benefit from the free version.
Reliable and secure, and widely used

The cons observed are:

User experience could be made better.
A mobile app could make it more accessible.

Price: Free Free Free!

6. And the Winner is

Phorest. It was a choice between Phorest and Fresha, with the latter being free. But after careful deliberation over the facilities available, we think Phorest is best suited to mid-sized businesses. Besides which, Phorest is also committed to volunteering and fundraising, and operates on strong ethics.

7. The Best Salon Software for Large Establishments
[caption id="attachment_3860" align="aligncenter" width="720"]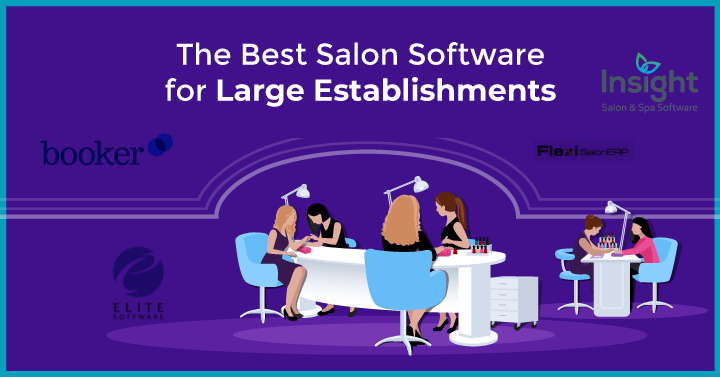 best salon software[/caption]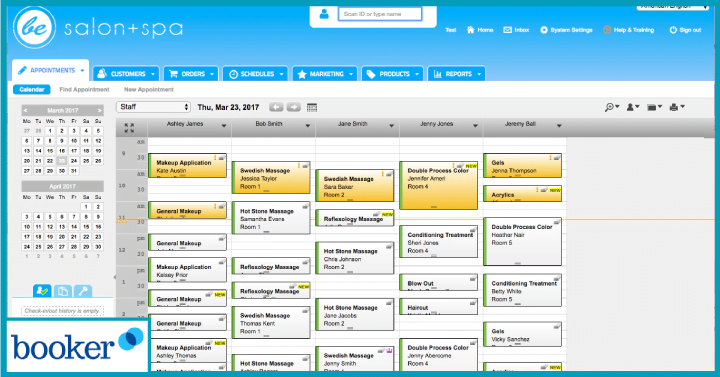 About Founded in 2010, Booker is another Mindbody offering that serves over 10,000 high end salons and spas. It is an online 24/7 booking software that has earned over USD. 25 million in subscriptions and payment revenues as of 2017. Booker Spa's clients include Jbe Beauty, Barbers of the lowcountry and Oak Haven. Booker Spa Features At a Glance

Booker Marketing Network: Allows booking on partner websites
Social media integrations & email promotions
Customized gift certificates & booking packages
Integrated point-of-sale (POS) system
Special offers, loyalty rewards programs & membership plans
Built-in CRM with Appointment reminders to clients
Customer feedback surveys
3rd party API integration
2-Way SMS Texting

Weighing the Pros & Cons of Booker Spa

Scheduling staff and juggling appointments are straightforward.
Training videos for each feature make it easy to learn.
It has various tools, including time-clock, inventory management, etc., and easily compatible with other devices.

Downside includes:

Since it's web-based software, you'll need steady connectivity to enter, access and modify appointments.
Adding special deals or offers needs to be made easier.

Pricing Booker Spa Software comes in 3 monthly subscription-based packages: Essential $129: Manages schedule and streamline everyday tasks. Accelerate $195: carry out email campaigns and send text confirmations to clients. Ultimate $395: Grow your business with advanced marketing tools, automation & analytics.

2. Insight Spa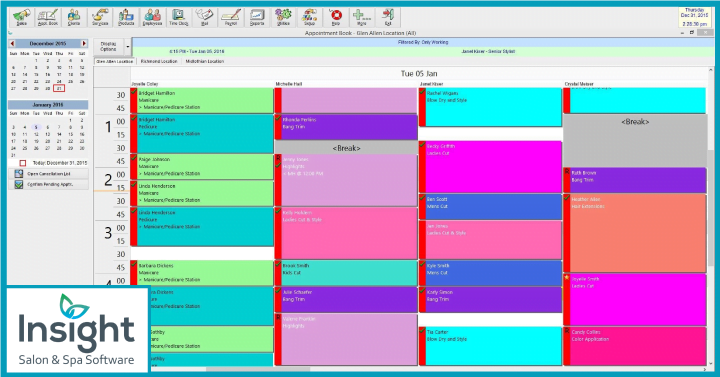 About Founded by Ajay Aggarwal in 1995, Insight Spa serves over 25,000 users in 28 countries. Insight spa is a cloud-based software in use by clients such as the Michael Anthony Salon. Insight Spa Features at a Glance

Appointment booking & reminders
Client management & Inventory management
Employee management
Shift scheduling
Loyalty program & Gift card system
Social marketing & Email marketing
API Integrations across devices

Weighing the Pros & Cons of Insight Spa

It comes in bold colors and easy to use.
It is an excellent value for money as you can access it across devices.
Good customer support
Has both cloud version and the installed version

Downside includes:

Too many features which most enterprises may not fully use.
SMS bundle costs extra and may burn a hole if not cautious.
Errors while generating reports which need fixing.

Price: Insight Spa's pricing tiers are intended for all types of customers and are as follows; Solo edition - USD 35/month (for single employee) Partner edition - USD 55/month (for 2-3 employees) Growth edition - USD 70/month (for 4-6 employees) Small business edition - USD 85/month (for 7–12 employees) Enterprise edition - USD 125/month (Unlimited employees)

3. FlexiSalon ERP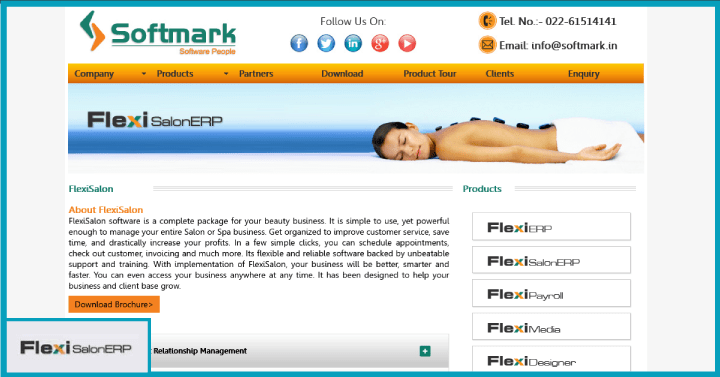 About Founded by Softmark in 1993, FlexiSalon ERP has a rich history of innovation in the salon industry. It comprises a wholesome package to grow your beauty business. Clients using FlexiSalon ERP include Sarla's, nVi and Mudd Salon & Day Spa. FlexiSalon Features at a Glance

Email Marketing / SMS Marketing
Inventory Management
Reminders
Appointment Management
Credit Card & Gift Card Processing
Client Management & Credit Control
Online Booking

Weighing the Pros & Cons of Flexi Salon ERP:

From wastage and consumption tracking to employee management, the tool lets you monitor activities across the enterprise.
Quick, friendly and helpful customer support.

Downside includes: As a unified software, allied devices compatibility needs checking as Printer, and biometric devices can request for access too. Pricing Flexi Salon is a product of the company - Softmark. Since there is no free trial version, contact Softmark to get detailed pricing.

4. eLite Spa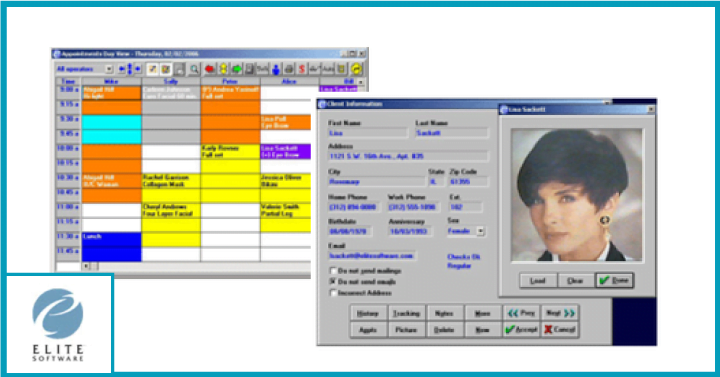 About The eLite Spa was founded by Claire Hardwick in 2006, although the company's history dates back to 1986. It is a simplified salon management system to streamline salon activities, improve productivity and boost sales. Customers include Myra and company, Oasis Day Spa & Salon and Fusion Spa. eLite Spa Features at a Glance

E-mail & SMS Marketing
Inventory Administration
Appointment Management
Referral schemes integration & Loyalty Management
Membership handling
Employee Management
Point of Sale (POS) & Cash Flow monitoring

Weighing the Pros & Cons of eLite Spa

Reports and bookkeeping activities are hassle-free.
Users can carry out tracking clients and gift card status with this tool.

Downside includes: Scope of overall improvement like user experience, reports, etc., needs to be intuitive in the application. Pricing eLite Spa's pricing starts from USD 89 per month without a free trial version

5. And the Winner Is

Insight Spa.With both cloud and the downloadable version, large salons can use whichever works best for them. Ease of access via multi-location and varying price range all make it fit the big brand just right.

8. What is the Best Salon Software?

Our five picks to treat yourself or a loved one to a Spa day would be Rosy Salon Software Acuity Scheduling Fresha Timely and Insight Spa While Acuity is great for basic scheduling and appointment management, Rosy's interface, customer support and features make it one of the best salon software there is for beauty, wellness and grooming services. When selecting tools for your business, think long-term and go for one that offers a trial period. The learning curve should be easy so that your staff can also familiarize themselves with how the tool's features work. The best salon software is one that streamlines schedules for customers and employees alike, reconciles payments and enables you to know what your customers like (or dislike). Which one are you thinking of getting?