Teamwork and collaboration are key to business success, no matter the size and composition of your team. It is their ability to work together that determines timeliness, organization, and task completion.
This is all the more essential for remote teams who are dependent on digital tools to replicate the interactions they would have had back at the office.
While collaboration commonly features in most work management tools out there in the marketplace today, the best remote collaboration tools are what truly help your team converse on a myriad of work and non-work-related topics, no matter where they are located. It should enable coworkers to communicate updates pertaining to the status of the work assigned to them.
Having had to manage teams who are largely remote now thanks to the ongoing COVID-19 pandemic, I experimented with many tools. We ended up using a system where one tool was used for meetings, another for task and time-tracking, and so on.
Predictably, things quickly fell out of place because the collaboration functionality in each of these tools worked differently, sometimes in a limited capacity. Despite our best efforts to keep everyone on the same page, it simply wasn't enough. And that's when I decided to look more closely at the features within virtual team collaboration that I'd want myself and the team to get onto.
Confused about which collaboration tools to use? We have a deep dive into Miro, a leading collaborative whiteboard software. Not sure about Miro? Have a look at our list of the best alternatives to Miro. 
For a more comparative look at collaborative tools, read through our analysis of Miro vs Mural & Stormboard.
Tool

Pricing Plans

Glip

Free
USD 5 -Standard

Otter.ai

Free




USD 30- Team




Custom- Enterprise

Toggl Plan

5 Users- Free




USD 8(Annual) USD 9(Monthly)

Podio

5 Users- Free




Basic - USD 7.2




Plus-   USD 11.20




Premium- USD 19.20

Flock

Free




Pro-     USD 2.72




Enterprise- USD 4.75

Chanty

10 Users- Free




Business- USD 3

Hipchat

Free with Atlassian 

Bannersnack

Individual Plans (Freelancer,Single User)




Free




Starter- USD 7




Pro    -USD  18




Plus -USD 36




Team Plans (Business)




USD 5




Enterprise- Custom

Iovox

Free and Custom (For Enterprise)

Cage

1 User- Free




Standard - USD 8




Professional- USD 14
Let's now take a look at the best remote collaboration tools that transform your team into one collaborative and lean machine!
Virtual collaboration tools your team will love
1. Glip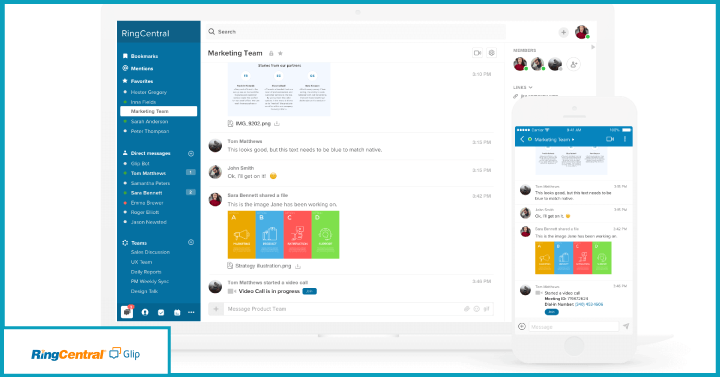 About
Glip is a team collaboration tool with file sharing, video calling, and task management capabilities. It was founded in November 2012 and was acquired by Ringcentral shortly after. It boasts around 3,50,000+ users, a few of which include Yellowfin and Hawk Ridge systems.
Collaboration features
Glip's team collaboration features include screen sharing, file sharing, real-time chat, and task management. Glip is designed to work as a digital treehouse, where members can convene in a single place no matter where they are actually based. The free version includes 500 minutes of video calling while the standard has twice the number of minutes per user per month.
Chats, file links, and comments are stored automatically, making it easy to trace conversations by date and project. 
Pricing
 There's a free version, and the Standard plan is just USD 5 and has unlimited chats, storage, and integrations. 
What we like about it 
Glip has accurately captured the pain point of work. i.e., tracking it after kick-off. To that end, its chat history retrieval and simple Slack-like interface that lets you tag coworkers with mentions make it easy to stay on top of who said what and when.
2. Otter
.
ai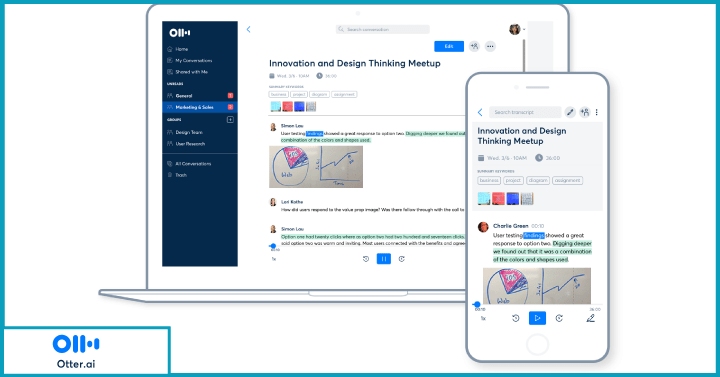 About
Otter.ai is a team conversation tool that lets you generate meeting notes and voice conversation records. Launched in 2016, Otter.ai uses Artificial intelligence and machine learning to decode speech transcripts. It is in active use by companies like Accenture, IBM, Marketplace, and Dropbox. 
Collaboration features
Otter.ai has products targeting individuals, teams, and education. The team collaboration within team packages features captioning for interviews, podcasts, and videos. It also lets you share notes and search conversations. You can transcribe in real-time, identify speakers in meetings, generate a keyword word cloud to simplify searches, and sync Zoom cloud to go back to previous group calls.
Pricing
There are a free trial and demo. The team edition is priced at USD 30, while custom pricing applies for the enterprise edition. 
What we like about it
I like how easy it is to get started. Otter has a downloadable guidebook to help you figure out how to access recordings, replay meetings, and share Otter notes.
3. Toggl Plan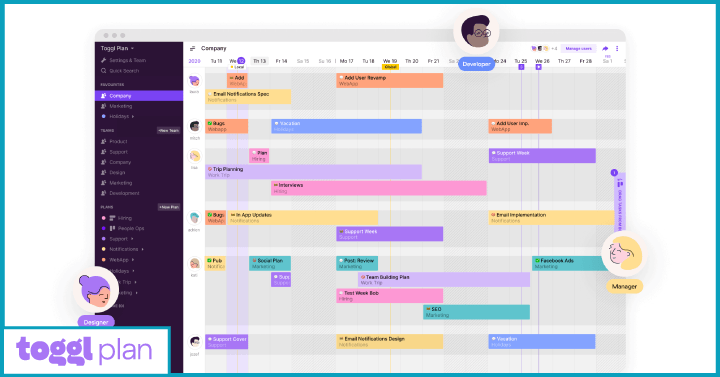 About
Toggl Plan is a project management software for the ever-busy remote team project manager. It started out as a side tool for internal use before launching in the market in 2017. The company has a fully remote team and is headquartered in Tallinn, Estonia. Over 4000 users trust TogglePlan, including Airbnb, Amazon, Stripe, and Netflix. 
Collaboration features
Toggl Plan is divided into project management, team planning, and task management. The Plan view feature within project management gives you a  visual dashboard of project deadlines. It gets the team involved in planning and scheduling tasks while reacting to changes with drag and drop interface. 
Pricing
5 users can get on to the free version, while the annual and monthly billing comes out to be USD 8 and 9, respectively.
What we like about it
What makes Toggl Plan one of the best remote collaboration tools is its Zoom levels. It lets you view and change up your meeting schedules such that others are notified when times are moved up or pushed back.
4. Podio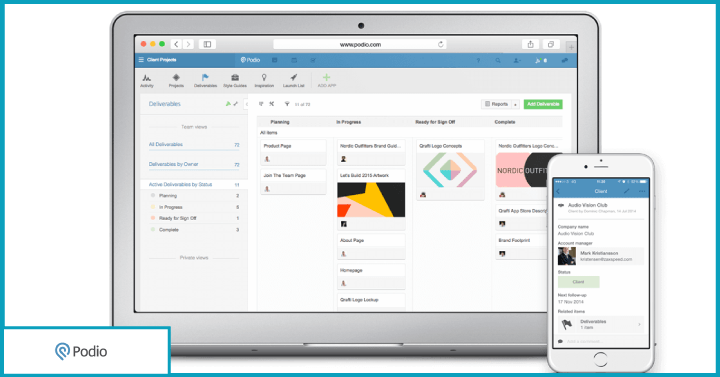 About
Citrix Podio is a social collaboration tool founded in Denmark in 2009. Citrix acquired the company in 2012. It was voted 2016's best online collaboration tool by PCMagazine. Clients include Hootsuite, Go shopping, Alcatel-Lucent, and Mapspeople.
Collaboration features
Podio's client project dashboard opens up to give conversations about the context its user is looking for. You can add deliverables and sort them according to their status, ownership, and deadline. The visual cues accompanying workflows make it easier for teams to organize their tasks and create subtasks within it that they'll need help with. Consequently, other members tagged to a task are aware of dependencies and can rearrange their schedules accordingly.
Pricing
Podio is free for 5 users, beyond which the basic, plus, and premium plans apply, priced at USD 7.20,USD 11.20, and USD 19.20, respectively. The remaining three options offer automated workflows and sales dashboards. 
What we like about it
Besides the usual applications to integrate with, Podio also has plug-in extensions for Gantt charts and time-based activity tracking. This ensures teams can stay up-to-date with what's going on without repeatedly having to switch between windows. 
5. Flock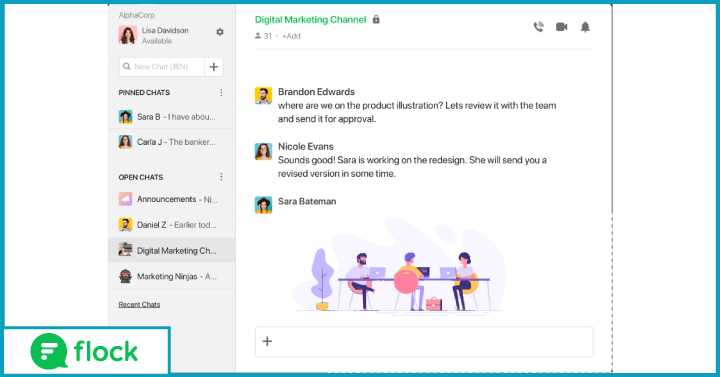 About
Flock is one of the best communication and collaboration tools in the market. It has a team messenger and an online collaboration platform founded in 2014. It operates on a freemium model and caters to over 30,000 customers globally. A few recognizable names include Namecheap, Tim Hortons, Sodexo, and Drivezy.
Collaboration features
Flock features a robust video conferencing feature within it, besides screen sharing, and Flock's core features fall into three main categories, which are communication, productivity, and security. Video conferencing, voice notes, and integrated searches fall under communication, while file-sharing, To-do lists, polls, and reminder alerts can be found under productivity management.  
Pricing
There's a free version, which offers up to 10,000 searchable messages. The enterprise and pro versions cost USD 4.75 and USD 2.72. The pro version is great for mid-sized teams and comes with unlimited searchable messages, video calling, and screen sharing options.
What we like about it
Flock lets you organize the team directory with customized conversation channels. With conversations that team members can track and traceback by date and who it was said to, not only do you retrieve relevant threads, but you can also align your progress with what was discussed!
6. Chanty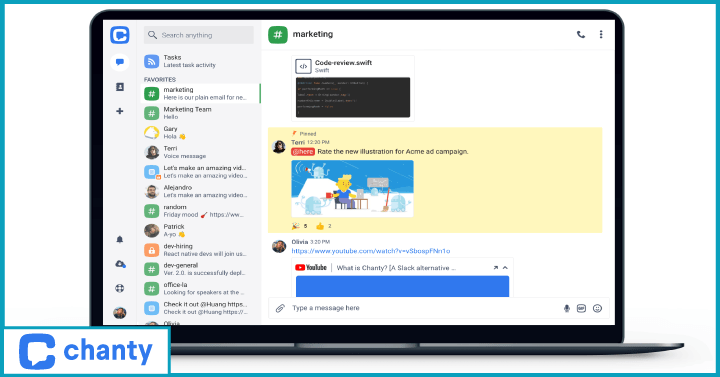 About
Chanty has secured itself a spot on the best remote collaboration tools in the market. Developed in 2017 and based in New York, U.S.A, Chanty is considered a powerful and sleek Slack alternative. The tool is used by.
Collaboration features
Chanty's Teambook helps remote teams stay organized. It is a central hub for conversations, content, task schedules, and messages. You can mention members in posted messages and save ideas using pins. Tagged members can view and respond to ideas with timer reminders so that they can mark it as complete after going through all the pinned discussions.
Pricing
 Free for 10-member teams, and just USD 3 per user month if you opt for the business plan. The latter comes with built-in task management, 20GB of file storage, and unlimited integrations. 
What we like about it
The conversation actions hamburger icon on the top right lets you rename and update chats. We also liked that you can share and view social media content from GIFS, YouTube, and Coub directly on Chanty.
7. Hipchat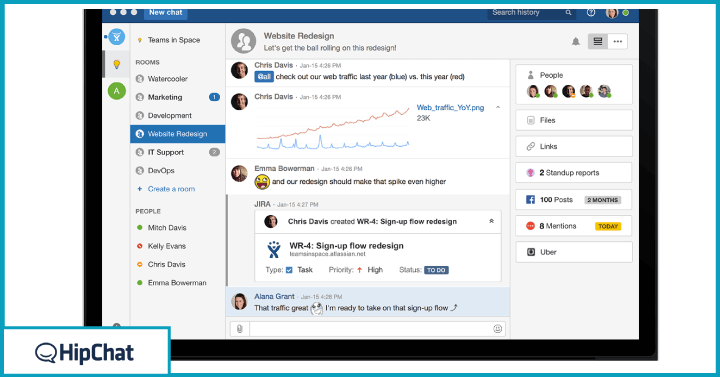 About
Hipchat is an instant messaging and online chat platform developed by Atlassian. It integrates with existing Atlassian tools such as Confluence and JIRA and is primarily beneficial to developer teams for sharing code updates. 
Collaboration features
Hipchat has file sharing, searchable message histories, and code snippets that can be shared within sub-teams. You can assign priority pins to projects and rearrange your schedule to ensure top comments are seen and resolved first.
Pricing
 Free with Atlassian products.
What we like about it
Hipchat is great for software teams because it declutters code logs on the console without removing the important bits on it. 
8. Bannersnack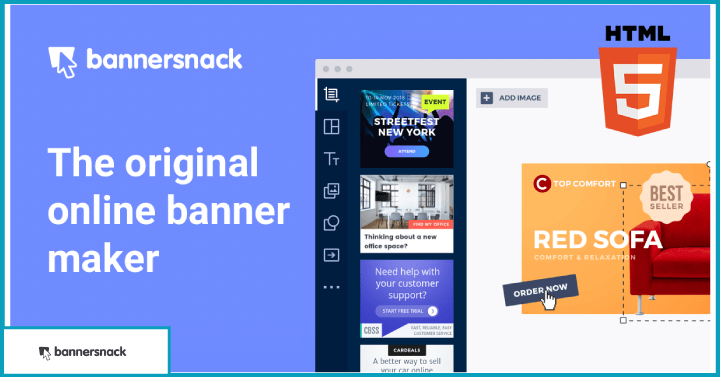 About
Bannersnack is primarily an online banner maker but also contains team collaboration capabilities that benefit design teams. Released in 2008, Bannersnack is used by designers working for companies such as Moz, Joomla! And GlaxoSmithKline (GSK). 
Collaboration features
The products are both desktop and mobile-friendly, enabling you to create banners for social media such as Youtube, Twitter, and Ads. What qualifies Bannersnack to this list of best remote collaboration tools is that it simplifies discussions by putting graphic design work in a single place. It lets teams go from creating design templates to collaborating on it dynamically. The final drafts are built on the feedback incorporated before being rendered production-ready. 
Pricing
There are individual and team-based plans. Individual plans are suitable for freelancers and one-time users and are categorized as free, starter, pro, and plus. The last three packages cost USD 7, 18, and 36, respectively. The team plans contain reporting analytics and an integrated content library. If you opt for a team plan, you'll have to request a quote. The standard plan is just USD 5 and has unlimited chats, storage, and integrations. 
What we like about it
It's a highly visual tool and makes editing and collaborating quite easy for the team as a whole. Changes are trackable by all users.
9. Iovox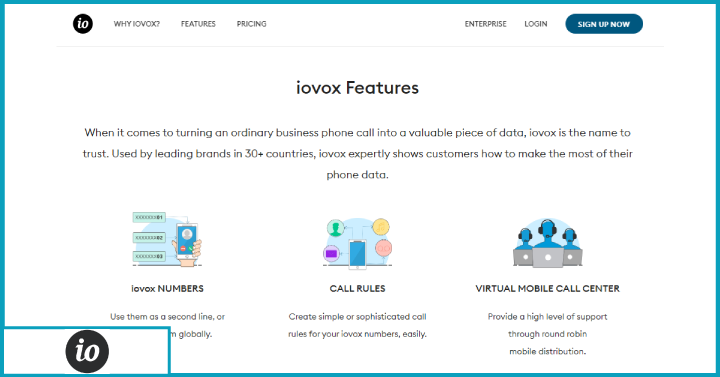 About
Iovox is a call tracking application that is accessible via mobile, online portals, or APIs. It's a popular tool with restaurants, call centres, and marketing departments for maintaining call logs for quality compliance. It was founded in 2007 in Scotland, with offices in London, San Francisco, and Paris. Users who trust and love Iovox include Zoopla, OpenTable, Autotrader UK, and OVHcloud.
Collaboration features
Iovox features call tagging, which takes just seconds to set up but saves companies hours. It also contains speech analytics, web callbacks for reverting to customer queries, lead tracking, and note-taking on all calls. 
Pricing
 The free plan comes with 30-day call history. The enterprise plan is competitively priced. Get in touch with an Iovox expert for a plan tailored to your needs.
What we like about it
We liked how Iovox keeps teams informed of the buyer journey by recording, transcribing, and creating rules for calls for appropriate follow-ups and reassignments. In particular, the dedicated virtual call center lets you field and separate inbound calls by priority and department. It should be rerouted.
10. Cage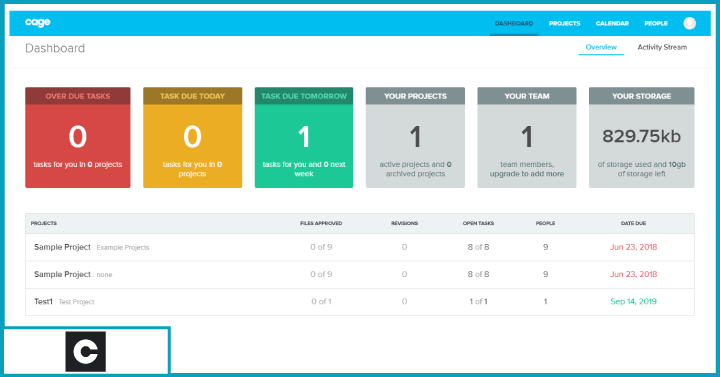 About
Cage is a media collaboration toolkit for creative teams. It also doubles as a project management software for designers to proofread, review, and move projects forward. Launched in 2012, Cageapp is used by Up Entertainment, Creative Vega, Bitly, and Staplegun.
Collaboration features
The best remote collaboration tools within Cageapp include file annotations, history retrieval, and visitation, presentation, and approval workflows. The activity stream feature updates you on the progress individual members within a team make. Timestamps and dates make the approvals process easy. 
Pricing
The Standard and Professional pricing plans cost USD 8 and 14, respectively, while the free version limits media collaboration to a single user.
What we like about it
You are not locked in for a time period as a user. There are the freedom and flexibility to downgrade or upgrade as your needs change. The approvals process is what ticked the box for us.
What are the best remote work tools for teamwork?
In my opinion, the best fuss-free tool to get started on was definitely Chanty. It felt like a lighter model of Slack.
The other remote collaboration tools from this list that make it effortless include Iovox, Toggl Plan, and Glip. 
My advice is to get as much use as possible out of the free versions of each tool so that you have a feel of what you're getting into.  On that note, which one do you know you want to try out first before taking out a subscription?