Businesses building a brand isn't uncommon. Substitute a business for your own identity, and you've got personal branding as a career! Personal branding is the practice of marketing and positioning yourself to a target audience. It's used by influencers, social media moguls, leadership, and life coaches to establish credibility, expertise, and trustworthiness in a particular field. Personal branding depends on the effort and time you're willing to invest in your online presence. Consistency is key so that people looking for you know that they've hit the right profile. More importantly, the nature and content of service you're offering should be of actual value to your followers. As the term would indicate, personal branding requires strong people skills in order to build and sustain a rapport. This part is hard now with most offices shifting to a remote work setup. The absence of in-person interactions has to be compensated for somehow. And this is where the complete guide to building your personal brand when working remotely comes in handy. In this post, I'll go into the need to stay consistent, communicative, and constant when building a personal brand remotely, and how to improve your existing persona in the long run as a remote worker.
Why build a personal brand?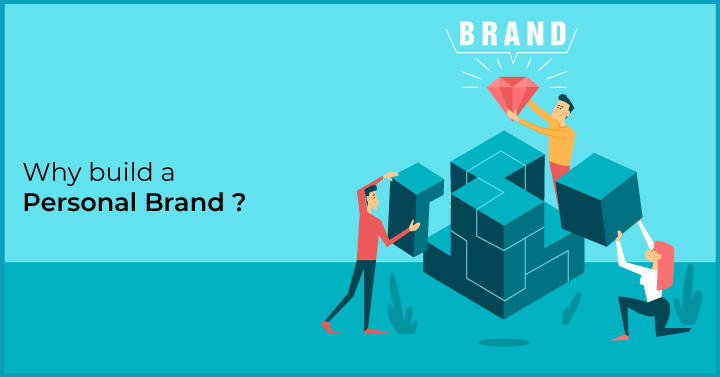 Building a personal brand should not be taken up as a frivolous pursuit, particularly in this digital age of people screening you. It has to be intentional and consistent in the purpose it serves. Building a strong personal brand lets you
Showcase your skills, expertise, and knowledge, and why you stand out from the crowd
Provide a service that people were looking for that aligns with their rationale.
Seize opportunities to network and go viral.
Enter into partnerships for services that complement your strategy.
Gain the trust of socially-savvy users who can promote you with referrals.
Most businesses that use traditional advertising fail to make their product or service appealing to the majority of their audience. And this is where personal branding can be a differentiator. Employees who work for a business can even leverage their own brand to promote the business they work for. A good narrative can open up a channel for you to diversify your services or reach numbers beyond vanity metrics (i.e. number of likes, shares and comments). The advantage of personal branding is that you can run your business while maintaining a personal front. The reason people follow influencers with strong personal branding is that their life experiences resonate with their audience. If they're marketing a brand, it's because they endorse those products or services that they themselves have benefited or profited from. This makes them more relatable and their word in turn, more trustworthy. User reviews left on public platforms can make or break a brand. More positive (and verified) reviews can encourage buying decisions, while negative or unresolved complaints can cause a prospect to steer clear of your brand. Here are a few tips to help you improve your remote personal branding strategy
How to improve your personal brand when working remotely
Believe in your idea

This may sound as if it doesn't need saying, but self-belief and confidence in one's own abilities are very important when branding yourself There can be times and circumstantial changes that cause you to doubt yourself, which impacts your brand. The first when you doubt yourself, which impacts the person creating the brand, you should believe in your idea. Self-belief instills confidence in your own ability to take this forward.

Set goals

You know the intent behind your idea, but how will you measure its reception by your audience? By creating realistic goals for yourself, taking into account potential constraints and benefits. Start with the big picture and then go backward, creating smaller goals that help you identify the measurable dimensions of your brand, such as people's response to the name, logo, and navigation, etc.

Investigate and leverage remote communication tools

The right remote communication tools help you locate your audience and be one with them. Whether it's through a personal blog, social media profile, or voice and video content, the right tools not only help you upload and update your content but also pave the way for your followers and visitors to interact with you, the person behind the brand.

Research your audience

A rookie mistake is to have your idea at the ready without knowing who your audience is. Researching your audience involves setting a purpose for positioning your brand by age, affordability, longevity, and adaptability. If you're looking to be recruited, your profile should highlight and summarize your core skills and strengths in order to appeal to hiring managers. If you are launching a product or service in a market that is volatile, the demand and supply redistribute to accommodate an altered or new requirement. The more you know about your audience, the better able you will be to cater to them both in the present and future.

Establish a tone of voice

As mentioned earlier, consistency is key everywhere, especially in your tone of voice. When someone looks up your public profile, they should immediately recognize you and your brand by the way information is presented. Remember to audit your content periodically on all the platforms you're using. You can then change and update what needs changing when required.

Network professionally

Now is not the time to be camera-shy. Building your brand at work remotely requires you to fire up your online game. While most networking events are on the floor, you still have the option to be active on professional networks relevant to the nature of the business brand you're running. Keep an eye out for virtual networking events with keynote speakers that would be of use to you and enter them into your professional calendar. Snapshots of such events are heavily featured online and if you are visible and present, your followers can also get updates as to what your recent activities have been. It also doubles up as great content to share on your own site!

Create a community

While you should strive to stand out from the crowd, the crowd themselves have to be in a central place for conversation! Creating a community helps you bring users with similar interests together and the more active and diverse the thread of topics, the more involved your community will be. They can even link you to other communities so that your brand goes viral in a different space.

Sign up for relevant events

When working remotely, your means of interactions and marketing are mostly online and should therefore be leveraged to the best possible extent. Besides networking, events such as virtual career fairs, open mic events and webinars covering topics of interest to you can not only mold your learning curve but can also raise awareness about the existence of your brand.

Brand emails responsibly

The regularity, frequency and usefulness of your emails establish you as a conscientious business owner. Having identified your audience as the first step, the next step is to segment them by their area(s) of interest and mail-in preferences so that the content they get notify them of what you are up to without the information overload. The visual aesthetics and copy should be conversational, simple and loophole-free so that your brand thrives.
How do you build your personal brand at work?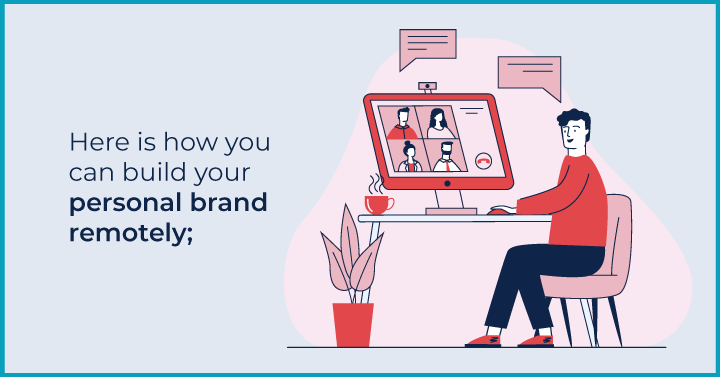 Building your brand at work means taking a harder and closer look at your long-term priorities. As a remote business, the personal brand you build is your calling card, so what do you hope to get out of it? Do you have the means to maintain it in terms of a team of dedicated staff to man different virtual departments? Is there a handover process in the event that you're moving on to something else and that your interests change over time? Given how personal it is, establishing a brand under your name or something you are associated with requires you to act responsibly, and give your audience precise information that meets, or on occasion, even exceeds their expectations. Here is how you can build your personal brand remotely;
Create a brand framework:

A framework helps you become self-aware of where you stand today and where you want to be later. Consequently, you can identify the means of achieving your goals.

Strategize your scenarios:

Formulate responses for scenarios that are likely to pop up in your line of work. Being prepared is key to improved personal branding.

Analyze your current position:

how active are you on professional and social networks? What kind of content are you subscribed to and does your list need updating? Are you using the right platforms and are you as good a social listener as you are a participant?

Update your marketing portfolio:

create guidebooks for yourself to define the content properties you're taking ownership of. The complete guide to building your personal brand can be updated into remote-first work culture policies. It is helpful in the event you're hiring more people to help you run your brand.

Seek feedback:

knowing what impression your audience has of you can help you develop success metrics for performance benchmarking.

Regularize posting frequency:

draw up a schedule for posting content and where you'll be posting it. Follow it through for consistency. For example, posting on social media twice a week and blogging thrice a week. Making a habit of it gives your channel subscribers and users something to look forward to. Users can even modify their content preferences for alerts on a particular activity, as opposed to all activities.
The takeaway
Personal branding is a reflection of what you believe in, and how that belief benefits your target group. As such you should be deliberate in the content you create and push out for viewing. Your positioning and ranking as a subject matter expert in the service your offering should only rise from here on which requires you to be socially responsible and diligent in your follow-up.