In this post, we'll go back in time, run through interesting events, and explore how the software and information technology, finance, and healthcare sectors work remotely.  Let's chart the working from home history. Starting with;

1. Evolution of Remote Work
Work in itself was remote for a long time. Skilled  workers like leather workers, blacksmiths, potters, and carpenters would set up shop in their own houses and operate from there. The evolution of remote work began hundreds of years before.  
But all of this changed after the Industrial Revolution.  With the arrival of industries came the need for employees to be on-site to overlook and aid in the large-scale production lines.  This is also when the concept of  " commuting to work " came into being.  
While modern-day remote work policies were formulated and adopted by companies after 1999, it predates even the personal computer. In 1979 five IBM employees were allowed to work from home as an experiment. By 1983, the count rose to 2000. I, JC Penny gave its call center staff the option to work from home.
1.1 The History of Telecommuting
In the history of remote working, the term telecommuting was coined in 1973 by Jack Nilles, a NASA engineer in his book, the Telecommunications-Transportation Tradeoff.
By 1999, garage startups began to emerge. Most of the entrepreneurs behind such startups were struggling college students or former corporate employees who wanted to branch out on their own. As such, they were on a shoestring budget and couldn't afford to rent an office, hire more people, or set up an administration.
The forerunners of today's entrepreneurs worked out of their homes, lofts, and garages until their cash flow stabilized by getting the backing of investors. The green movement supported the concept of remote working because with fewer vehicles on the road, air, and noise pollution levels dipped noticeably. By 2000, the need for remote work guidelines for employers and employees alike was recognized. In the next section, we'll go into significant legislation in the history of remote working.
2. What legislation was a significant milestone in the history of telework?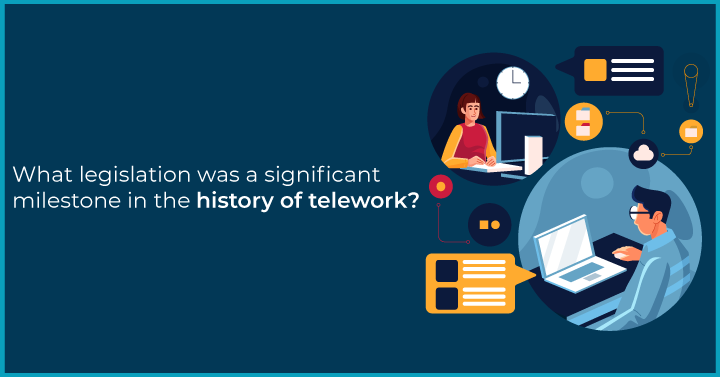 In 2000, the DOT Appropriations Act was enacted, which legitimized remote work and mandated companies to create telecommuting policies which was a big step in the evolution of remote work.
Fast-forward to a decade later, and over 59% of remote workers were working for private firms. From all this, we can safely say that remote work is here to stay. Companies that previously expressed concerns over diminished employee performance are now reconsidering their stance on the subject.
In fact, over 74% of business leaders polled in a Gartner survey announced their plan to move employees to remote positions post COVID-19. Over the last decade, telecommuting has risen by 115%. Let us look at the upheavals in the remote work industry between 2010 to present.
3. Remote Work Industry From 2010-2023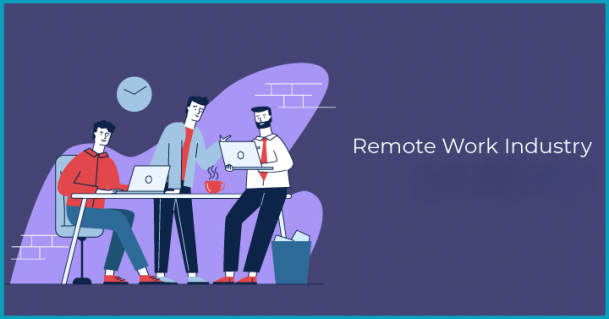 According to software reviewer giant Getapp, the number of people working from home has risen by 400%  since 2010. In fact, 78% of respondents work remotely some of the time. There are remote-first companies like Zapier, Gitlab, and Toptal, and remote-friendly companies like Microsoft and Google. So,
What's the main difference between remote-first and remote-friendly companies?
A remote-first company runs its operations on a fully remote set up. They are also called distributed companies. The work culture is more intentional, and employee wellness is weaved into the core. Teams can work from anywhere and carry out any service, from registering the business to launching products to the market.
A remote-friendly company, however, is one that not only has physical offices in different locations but also allows its workforce to work remotely according to company policy as well as individual preferences. Remote-friendly companies aim to strike a balance between in-person and virtual facetime, which usually means organizing yearly retreats and other team bonding activities for a distributed team.

4. Remote work practices in IT companies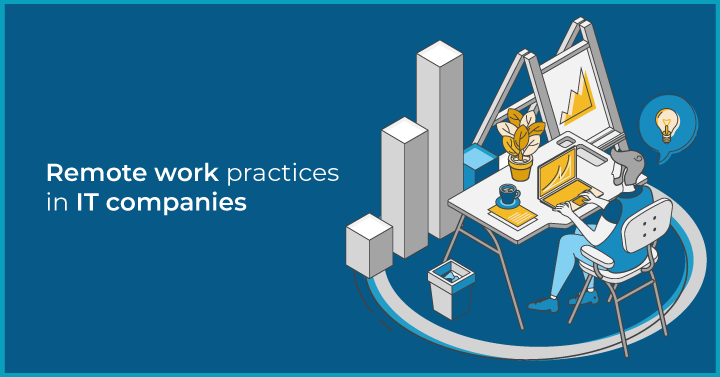 Remember me mentioning Google and Facebook earlier above? These tech giants have announced their decision to allow their employees to work from home till Dec 2020. Meanwhile, social media sites like Twitter have allowed their staff to work remotely forever, following an announcement in early May this year. This echoes the sentiment of 25% of the technology workforce who want to move permanently to remote work.
However, in the history of remote working, this wasn't always the case. In 2018, a Facebook official was quoted saying that the company wanted as few employees as possible to work from home, amongst concerns of lapsed productivity and lack of accountability.
Thanks to the pandemic, Facebook has had a shift in its philosophy and is expecting over half of its workforce to go remote by 2025.
To use technology industry parlance, remote work is disrupting their labor market. While it's common knowledge that technology professionals are one of the most highly-paid workers, the consolidation of talent into a global base means that there will be a drop in median salaries.
Most software developers, coders, and testers have been able to recreate their workstation at home and regain control over their work-life balance, signifying that preparations for continued remote work practices are underway.
Companies like Automattic (better known by their product WordPress) and Gitlab have been remote for years on end. These are the practices they have followed to remain successful;
Create a workspace:

The first step to staying productive is to get into the right mindset. And creating a dedicated station for it at home can help set the tone. Position your devices close to your broadband or hotspot and make use of ergonomic adjustments to ensure you're working comfortably.

Secure your network:

Using personal devices for work is a gateway for hackers to get sensitive business information. A virtual private network (VPN) can connect remote workers to an organization's internal network while keeping remote attacks out.

Distributed team telephony:

A Voice Over Internet Protocol (VOIP) can route calls and forward them. It logs call traffic and helps you track devices from where people make calls. VOIP systems also have the option for callers to leave voicemails, making it essentially a platform for unified communication. All you need is a normal business phone number to plug VOIP into! 

Make use of the Cloud:

Upload files to the cloud to avoid losing or misplacing information. When it's up there, you know it stays there and can be retrieved anytime. It also helps people work offline on documents with limited capabilities until they're back online in full strength.

Password Management:

Tighten Bring Your Own Device (BYOD) measures by monitoring access controls, securing devices with two-factor authentication, and password managers. You can routinely change passwords across devices to prevent unauthorized login attempts.
Up next, are the mindset and practices in the financial industry. Keep reading!

5. Teleworking history in the financial sector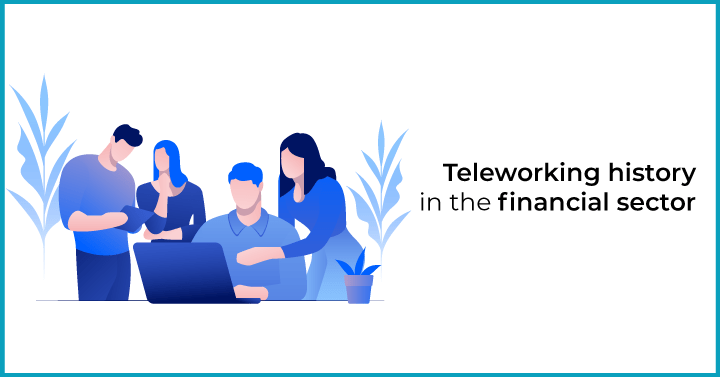 Despite the variety of roles that can be done remotely, the idea takes some getting used to. Though the majority of today's remote workforce comprises millennials, the few straggling baby boomers nearing retirement oppose the idea because of security and trust concerns over carrying out client interactions on the web. As a generation that preceded most modern-day product innovation, they prefer the comfort of in-person exchanges and heading over to a co-worker's cubicle for a second opinion. Moreover, those with family commitments fear increased distractions will derail their productivity.
Today, the most-posted jobs by employers on platforms like Flexjobs are in the accounting and finance field. These came in as the sixth most popular field for remote work.  Roles that are remote-friendly include accounting, bookkeeping payroll advisory, and financial analysts.
As an industry that revolves around client satisfaction, the biggest challenge lies in replicating that trust in a virtual environment. Now, there is a noticeable shift in the perception of remote work. And with it,  the number of online consultative services. The Bureau of Labor Statistics (BLS) reported that 14 million finance professionals worked remotely, in 2018.
The future will see fully remote firms that offer value-based and fixed-fee consultation online. The workforce will be taken over by millennials and Gen Z who are already adopting work-life integration strategies rather than mentally switching off at a certain hour.

6. History of remote work in health care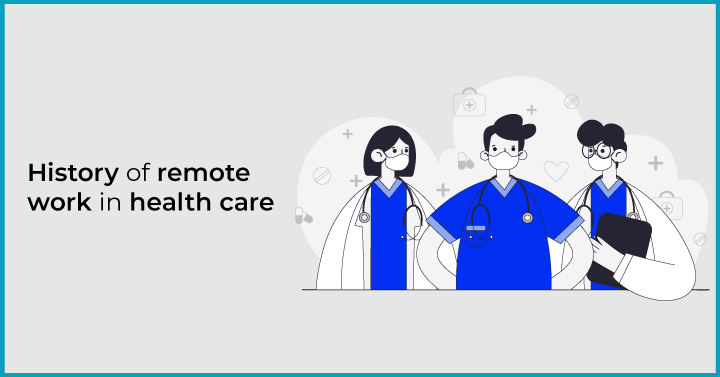 Did you know doctors paid routine house calls for complex procedures such as birthing? In the history of remote working, medical practitioners in the late 1700s and 1900s practiced remote work even before it became official like today.
With the advent of technology and medical breakthroughs, health centers began to expand. Different branches of medicine housed specialists, which created an order for in-person consultations and record keeping. Healthcare became fully digitized, with wearable devices, and online reports that could be uploaded by labs and looked at by both doctor and patient.
Health warnings issued in the public interest has seen the situation going into reverse again! Many clinical and non-clinical roles, such as occupational therapy, sports physiotherapy, and administrative recordkeeping have been taken up remotely.
The foreseeable future will see steady growth in virtual healthcare, with doctor-patient interactions taking place over a distributed working environment.
7. The future of remote work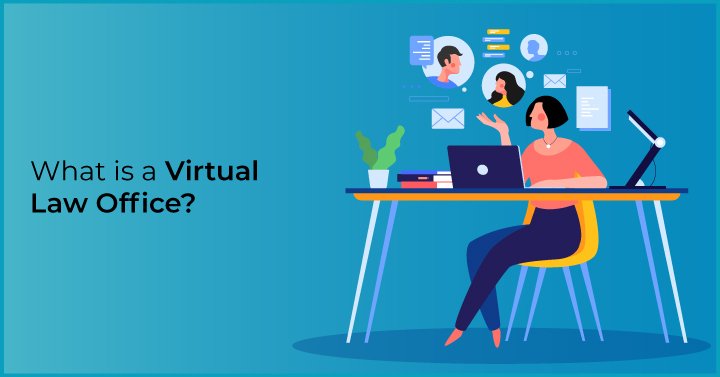 At the height of the environmental movement, telecommuting has picked up. From an ecological perspective, it reportedly contributes to reduced carbon emissions since people don't have to commute that often to and fro.
In a post-pandemic world, more professions will hop aboard the remote work train. Many are considering making it a permanent option and are preparing to sign their workforce up for enterprise-wide collaboration platforms. Technology and remote work are knit together. The right tech stack keeps the physical and digital worlds connected, ensuring that dispersed teams never miss out on office catch-ups, work-related discussions, and everything in between. This is with the view to keeping teams visible and accountable from the moment they log in to the moment they logout.
From an employee's standpoint, remote work can have numerous benefits. For example, workers with disabilities can work unbothered.  Or those with caregiving commitments can continue to have a career. Building up teleworking experience can help your employees remain proactive, improve their time management, and self-organizing ability. It equips them with the tools they need to keep up their performance.
Which part of the history of remote working did you like reading about best?