I know there are several millennials like me out there who are social-media savvy and have accounts on every site and app imaginable, such as Facebook, Twitter, Instagram, YouTube and WhatsApp. Twitter, the microblogging website was founded in 2006 by software entrepreneurs Jack Dorsey, Noah Glass, Evan Williams, and Christopher 'Biz' Stone. According to Twitter, as of 2019, there are 330 million users, and about 145 million of them are on the platform daily. While the statistics pale by comparison to Facebook, which continues to boast 1.5 billion users, Twitter is one of the social media tools in the kit that start-up entrepreneurs and socially-savvy influencers use to promote their business. In the interest of wanting to show that you're not alone in battling remote work-related problems, I thought now is a good time to point you towards a few Twitter accounts to follow whose advice on telework is sure to help. For some businesses, remote work is overtaking the need to maintain a physical office. The logic being, that if the work can be delivered just as efficiently as it would have been in person, why not? Unfortunately, not everyone has taken to remote work the way their employers hoped they would. Insufficient resources have thrown some off track, leaving them unprepared for a future of permanent work-from-home. Reading about these frontrunners in remote work is sure to give you a boost, and help you stay disciplined as you navigate your new lifestyle. Here goes!
Remote work thought leaders
Sococo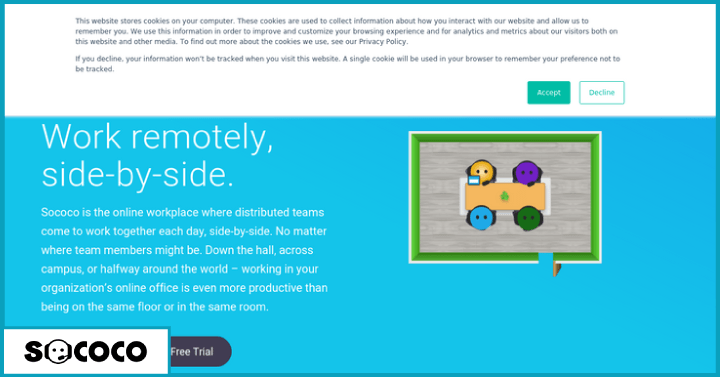 About Sococo is a virtual workspace that mimics the cubicle set up digitally. You can ping your coworkers to check if they're busy or available, know which meeting room they're using and visually see which rooms are available calls of your own. It's one of the tools I enjoyed exploring back when I was on the lookout for project management tools for remote teams! It was launched in 2007 and joined the Twittersphere in 2009. My three favorite work tweets:
Eating right and healthy is the key to productivity.
How work from anywhere represents a future that transforms the way we work. #WorkFromAnywhere
Consider the ergonomics of #RemoteWork to improve how you #WorkFromHome.
What I like about them I'd written about superfoods for work from home before, and the fast company article they tweeted about was one of my research sources! Workplace ergonomics is also something else that I'd written about and I'm glad this tweet echoes how important workplace ergonomics is, now that most of us are in a semi-permanent state of remote work.
Yonder.io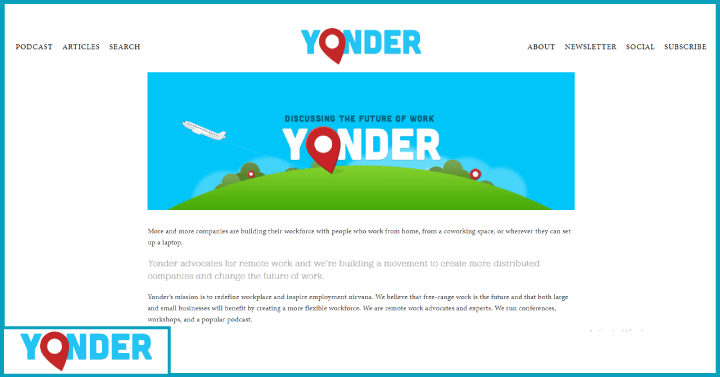 About Yonder.io is a platform that brings the remote work community together to share their ideas and expertise. Jeff Robins began Yonder in 2013, and since then has curated resources to help experienced and new remote workers alike to work better. My three favorite work tweets:
What are the top CEOs saying about #RemoteWork? The @WSJ asked these leaders.
How do you foster trust in dispersed teams? There's an ongoing debate that trust happens if the employee is nearby, but did you know that lack of confidence can also occur in a brick and mortar setting? Jennifer Newbill of Dell provides her viewshttps://bit.ly/2QlG8cj #trust.
While it's valuable to have employees from multiple countries, communication may be at stake without a uniform timezone. Alternative strategies to create a consistent schedule should be adopted for a balanced team environment. https://bit.ly/32qZsau #timezone #team.
What I like about them A company's transition to a new way of working, which in this case is remote work, is made possible only by the actions of its management. There's also the added task of cultivating a culture of trust where staff are accountable for their work, collaborate better with their colleagues and support one another. Communication should be all the more deliberate when workers are remote, to compensate for the absence of actual facetime. Strategies to involve everyone help keep remote communication clear, concise and on-time.
SaraSutton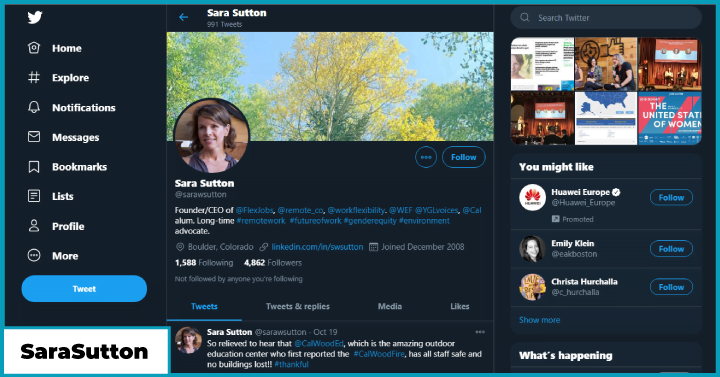 About Sara Sutton is the founder of Flexjobs, a jobsite for remote work from home opportunities. An advocate for long-term remote work, Sara has launched movements such as a million for work flexibility, and Remote.co as a resource center for remote work best practices. My three favorite work tweets:
Thanks @ForbesLeaders for highlighting my hugely positive experience leading a #remotecompany: The Perks Of Being A 100% Remote CEO? Cycling, Yoga, And Gardening
https://forbes.com/sites/nigeldavies/2019/12/17/the-perks-of-being-a-100-remote-ceo-cycling-yoga--gardening/… via @forbes @flexjobs #remotework
Highly encourage anyone interested in learning from some of the masters or #remotework culture to join this webinar with two of my favorite people! @CarolC_FJ @flexjobs and @joelgascoigne @buffer
Happy to answer the question, "Is It Possible to Be a Leader and Work From Home?" Yes, yes, it is! by @anbfisher via @fortunemagazine
What I like about them Sara's tweets about her experience leading the remote work movement and providing employment opportunities by connecting millions to recruiters speaks for itself. This is one of the twitter accounts to follow to see how it's possible to lead and maintain a work-life balance for the time and energy to love your work and do what you love outside of it.
Runningremote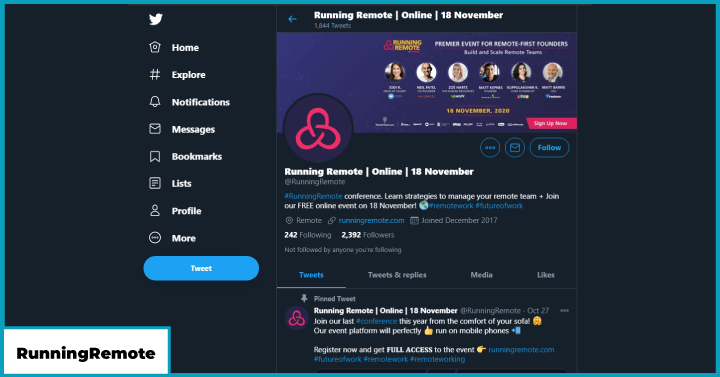 About Running Remote offers free events on remote work that attendees can benefit from. It features over 30 speakers,22 sessions, 2500+ attendees in 60 countries, making it the world's largest remote work conference. It'll interest you to know that Sara Sutton spoke at an earlier event, alongside other well-known speakers! My favorite three remote work tweets:
Learn the lessons that @jeckman, CEO @10up learned while growing a distributed agency in his talk at #RunningRemoteOnline on Nov 18. Link to registration herehttps://runningremote.com
???? #remotework isolation Start building meaningful relationships with other remote work professionals at @remotelyone.Apply now https://remotelyone.com/apply #remoteworking #futureofwork
Inspire your employees for better performance and more #productivity. http://Withlocals.tv provides highly engaging and interactive virtual experiences for companies that aim to build great cultures.Sign up ???https://withlocals.tv
What I Like about them Running Remote features stories from remote work experts who talk about the setbacks they've faced and measures they took to make a distributed remote work culture successful. Their tweets are about inspiring better performance. If you are looking to drive a culture that connects and engages workers anywhere they are located, this is definitely one of the twitter accounts to follow!
Remoteyear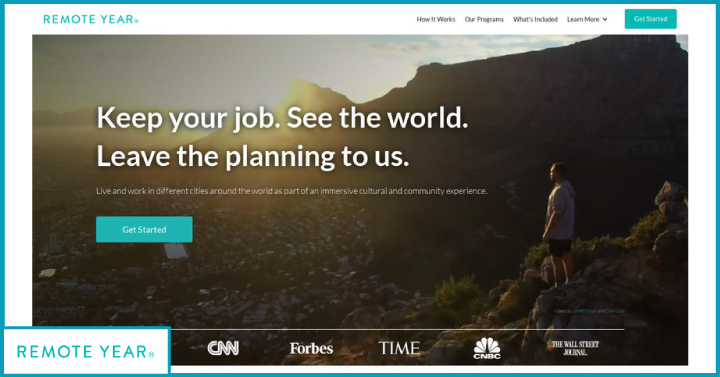 About Remoteyear is a site that plans out your work schedule based on your request to live and work in different countries. You can sign up for itinerary programs to follow communities you want to be part of. Remoteyear arranges for transportation, 24/7 workplace access and events that help you e-meet other participants. My Favorite three remote work tweets: So much fun talking about working remotely while traveling the world via @remoteyear with @JennValentyne on @globalnewsto in partnership with @SimpliiFin New #RemoteWork Interview: We chatted with Greg Caplan, the founder and CEO of @remoteyear, about how Remote Year brings together groups of inspiring professionals to travel, live, and #WorkFromAnywhere. Read the full interview now >> https://hubs.ly/H0lHFJ20 It's Possible To Remote Work And Jet Set Around The World: Here's How What I like about them Remote year is one of the twitter accounts to follow, that makes remote work fun and hassle-free. This is something every digital nomad should check out! It explains how the programs work and lets you meet people from all over the world without disrupting existing work commitments! As CEO Greg Caplan puts it, it's possible to work, travel and immerse yourself in a different culture!
Remote.co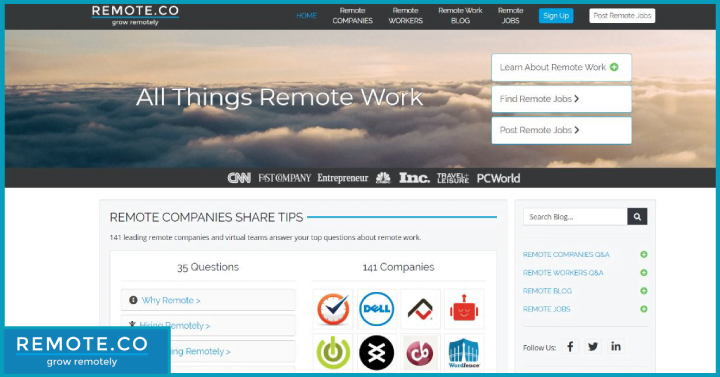 About Remote.co is a one-stop center featuring over 140 remote companies who answer questions you have on remote work. Sara Sutto and Stephen Marcu manage it together. There are also job posts across several fields, from entry-level work to accounting, QA, writing, data entry and data science. My favorite three remote work tweets Remote workers are sharing their answers with youhttps://bit.ly/2yTiVb5 "What traits do you look for in candidates for a remote job?" The leading remote companies and virtual teams answer your #remotework questionshttps://bit.ly/3apSNS#WFH #workfromhome #workfromhomelife #workfromhomejobs #jobs #remotejobs As the definitive resource on #remotework, http://Remote.co offers insight and advice on critical topics and challenges that businesses transitioning some or all of its workforce to a remote environment may facehttp://bit.ly/3baov6K What I like about them Remote.Co's tweets promote remote jobs and simplify the hunt by making communities and opportunities available on a single platform. It offers views on topics related to remote work, such as combating alienation, uplifting morale, reengagement measures for employees and how management should be more closely involved.
KnowyourteamHQ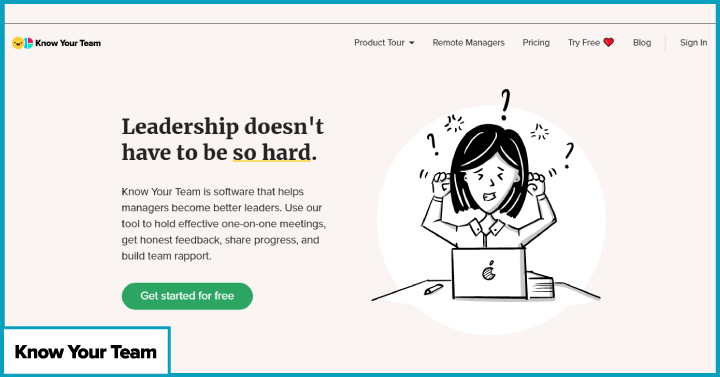 About KnowyourteamHQ is a toolkit for remote managers. The software includes one-on-one meetings, plan and preparations, employee recognition, status updates to align remote and distributed teams, icebreakers and team rapport forums. My Favorite three remote work tweets
What to do when a remote employee is underperforming? In a brand new piece, our CEO Claire Lew shares how you can approach the situation with care, positivity, and thoughtfulness – and in fact, help that person change their behavior for the better.
You want your team to feel connected remotely… but how do you do it without cheesy games and activities? Here are 8 ways to get virtual team building right.
Why does our CEO illustrate all our blog posts herself?
It's a small way we try to show we care as a company + value genuine leadership. Doing something yourself — whether or not you have to — shows you care. How do you show customers you care? https://knowyourteam.com/blog/2017/11/2 What I like about them Often, remote workers are left to their own devices, and managers have a hard time trying to keep track of individual accountability. In their tweets, knowyourteam shows how involved members, keeping their contributions visible. They also promote the best practices to get remote teams to open up in discussions, the importance of recognition and feedback as well as how to help struggling employees start over.
PilarOrti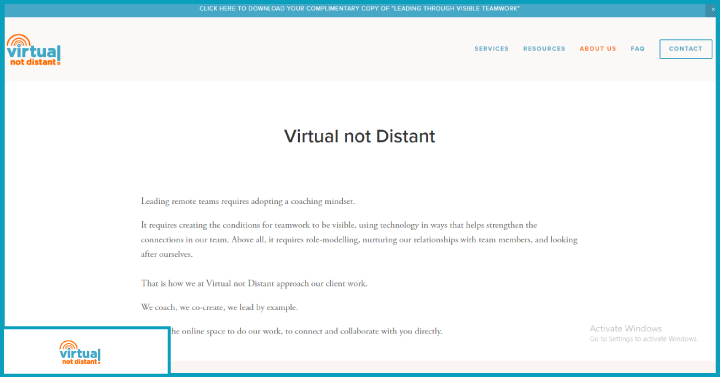 About Pilar Orti is the director of Virtual not distant, a site with the tagline, relationships fuel a team, not physical proximity. She provides consulting, self-study, coaching and meeting facilitation services for remote teams, and has been active on Twitter for the last decade. My favorite three remote work tweets
Thanks to @Gallup for the reminder that we also need to plan recognition in the remote workplace - it's one of those things that will easily take second place. Some simple suggestions in the article.
If you are new to leading remote teams, and your online meetings keep growing, this might be for you. Delivered in classic webinar style. Visible Teamwork: How to Sustainably Support Your Remote Team , Tue 27 Oct 2020 at 12:00 GMT #leadership #remoteTeams
Visible Teamwork: How to Sustainably Support Your #Remote Team | FREE webinar with the amazing @PilarOrti - book now! Tue 27 Oct 2020 at 12:00 | Eventbrite https://bit.ly/341cf7L #remotework #remoteleadership.
What I like about them Pilar is directly involved in the everyday management of workshops, webinars and conferences remotely. Her tweets focus on making teamwork visible, with ways to support distributed members. Virtual not distant believes in making offices optional and dispels myths about remote work with real-life examples of people dialing in from anywhere in the world.
Lucidmeetings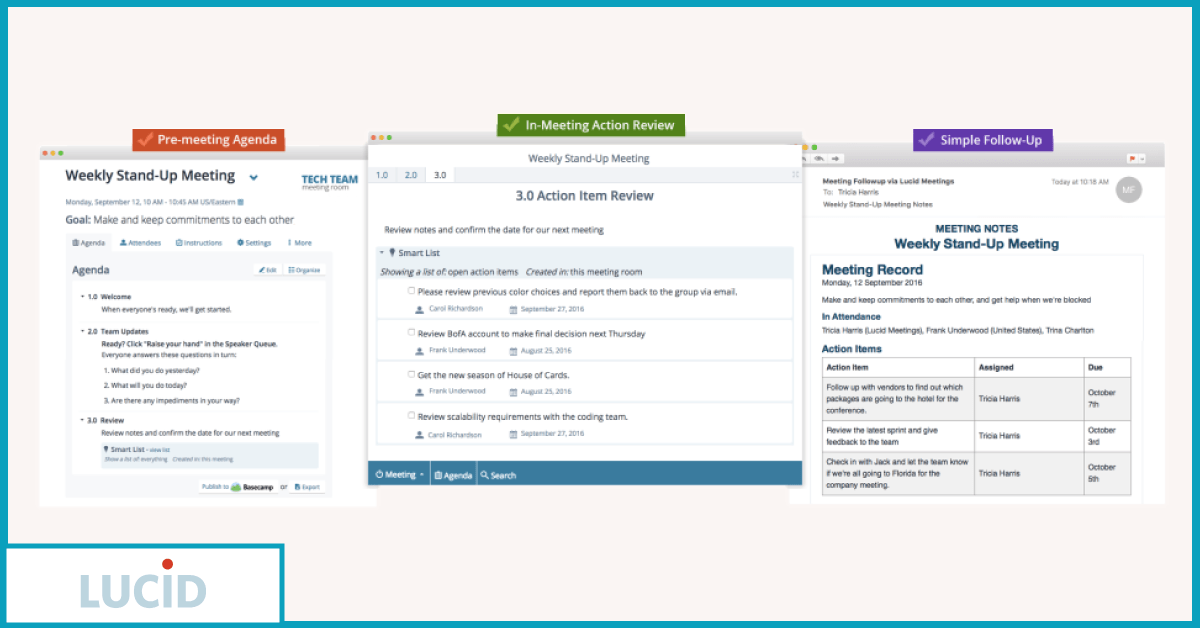 About Lucidmeetings is a software to run everyday meetings and standups, ensuring no remote worker falls through the cracks. Over 7000 companies use it to organize their in-person and virtual calls. Lucid meetings was founded by the dynamic duo Elise and John Keith, who are based in Portland, Oregon and are lifelong remote work practitioners themselves. My three favorite remote work tweets
Choose how to structure your meetings to accomplish real work together http://bit.ly/1WM6qyH #bettermeetings #leadership
Need a way to get your new team acquainted with each other? Try an ice breaker! http://bit.ly/1zuVSgw #bettermeetings #remoteteams
5 Important Meetings For Distributed Customer Support Teams https://blog.lucidmeetings.com/blog/the-5-best-meetings-for-distributed-customer-support-teams… #bettermeetings
What I like about them Clearly, husband and wife are on the same page regarding the importance of communication and coordination! All their tweets support effecting introductions. This is one of those twitter accounts to follow that encourage remote teams to speak up and converse, ensuring every minute of a meeting facilitated does not go to waste.
Mikehostetler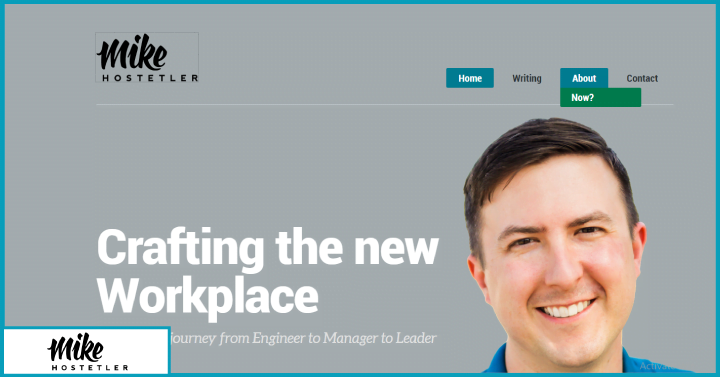 About Mike Hostetler is an engineer-turned-leader, based in Chicago, Illinois. He writes about technology, balancing remote work and mentoring duties. My three favorite remote work tweets
When it comes to delegating, you need to control the process by taking ownership and managing it. https://buff.ly/2UqBtXm#leadership #entrepreneur #businessstips
'We tend to be in autopilot state when we're on our daily grind, but we have to work on your presence. Know where you dropped the ball and pick up from there' @HRBoostLLC @flyingvgroup #Leadership #BusinessStrategy
Emotional responses to #uncertainty: What to look for in your #team right now via @2to3days #Leaders
What I like about them Mike has got one thing right; there's a difference between being present and establishing one's presence when teleworking. His handle remains one of my preferred Twitter accounts to follow, because often we're just Zoom zombies that wish for meetings to end quickly. As a result, we miss out on actual cues from coworkers when they speak. Follow Mike to know how to make the daily grind seem less arduous!
Lightling (Lisette Sutherland)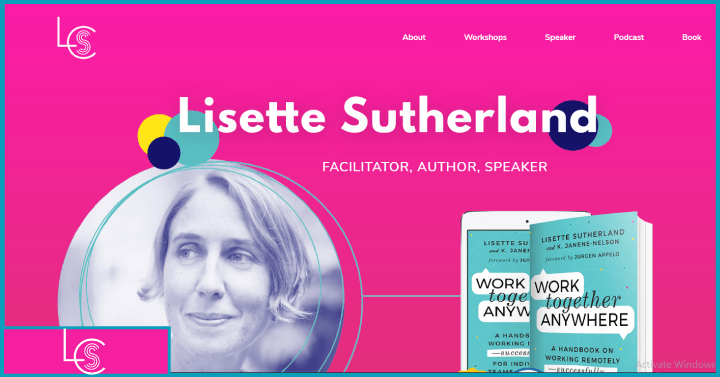 About Lisette Sutherland founded collaborationsuperpowers, a portal for workshops, podcasts and resources on remote work. The best part is they cover meeting etiquette for hybrid teams (i.e. a mix of in-office and virtual team meets), virtual workspaces and delivering online events. Lisette is also the best-selling author of work together anywhere, and is based in the Netherlands. Favorite remote work tweets:
Want to work from home forever? Here's what you need to know.https://ed.gr/czu49 via @CNNBusiness
Technology Matters, but How Real Are Our Virtual Lives at Work and Play? @usnews https://ed.gr/cx5cf
Team agreements help avoid misunderstandings and help guard our own boundaries https://collaborationsuperpowers.com/42-how-to-create-a-team-agreement-for-your-remote-team/
What I like about them Lisette tweets about safeguarding remote teams' interests and to create a culture that recognizes and resolves disputes rather than overlooking them. Interestingly, a lot of retweets support other virtual and distributed companies such as Sococo! And there you have it, a compilation of twitter accounts to follow. Which of these remote work thought leaders' tweets will you like, share and retweet?