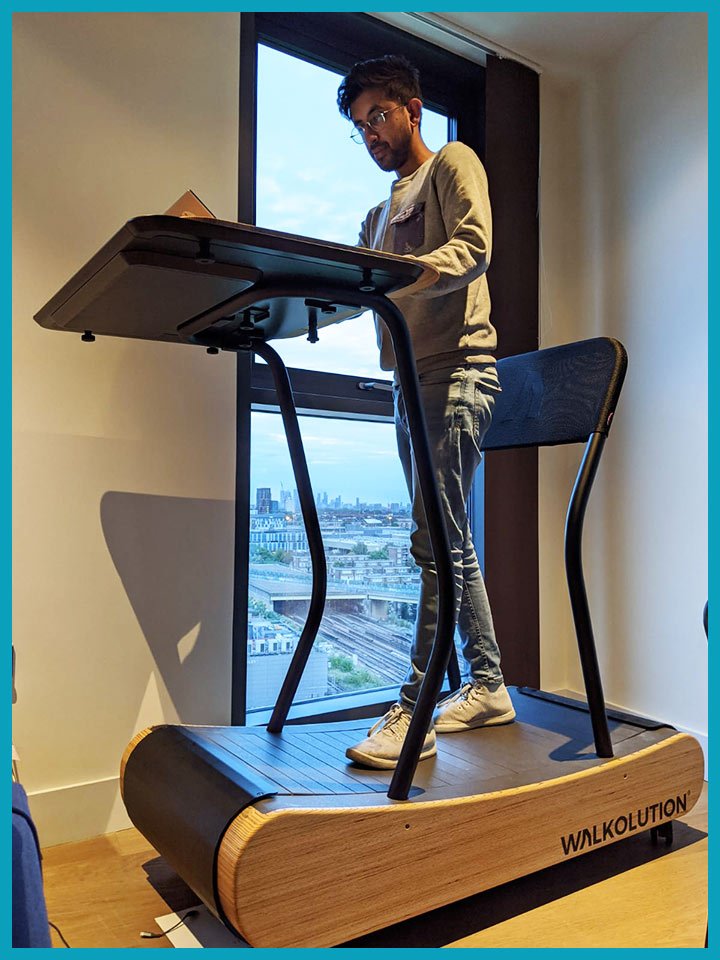 Walkolution Review: Suggestions and Feedback
The human body is conditioned to always be on the move. In recent times, however, we've become more sedentary, partly due to digital conveniences and partly due to the work-life integration. It's a fact that we're spending disproportionate amounts of time hunched over a desk rather than being physically active. And in doing so, we're neglecting our duty towards ourselves in leading a healthier and balanced life. Enter Dr. Eric SÖehngen, an acclaimed physician-turned-entrepreneur with the goal to change that. Eric's decade-long experience as a medical practitioner and diagnostician has shown that sitting is in itself, a disease. I had the chance to speak to him, where he told me about his research revealing that our ancestors walked more than today's daily recommended 10,000 steps. As part of my research, I watched several Walkolution videos, as well as a video featuring BusinessInsider employees trying out Lifespan's electric treadmill. I knew that the opportunity to test out the Walkolution manual treadmill at home was one that I simply couldn't pass up. I brought it in a few weeks back to see what is different about it, and how it works. The cubicle setup has us sitting more, foregoing workouts, and snacking mindlessly. All of these contribute to the risk of chronic back pain, heart disease, diabetes, and obesity. Recognizing the dangers of people falling into such a lifestyle long-term, Dr.SÖehngen left his lucrative medical practice to pursue his entrepreneurial goal of changing and positively impacting the way people work. The Walkolution (walk+ revolution) was born out of this goal. In this post, I'll be reviewing the Walkolution machine's features and benefits, based on my experience these past few weeks. Keep reading!
What is the Walkolution Treadmill?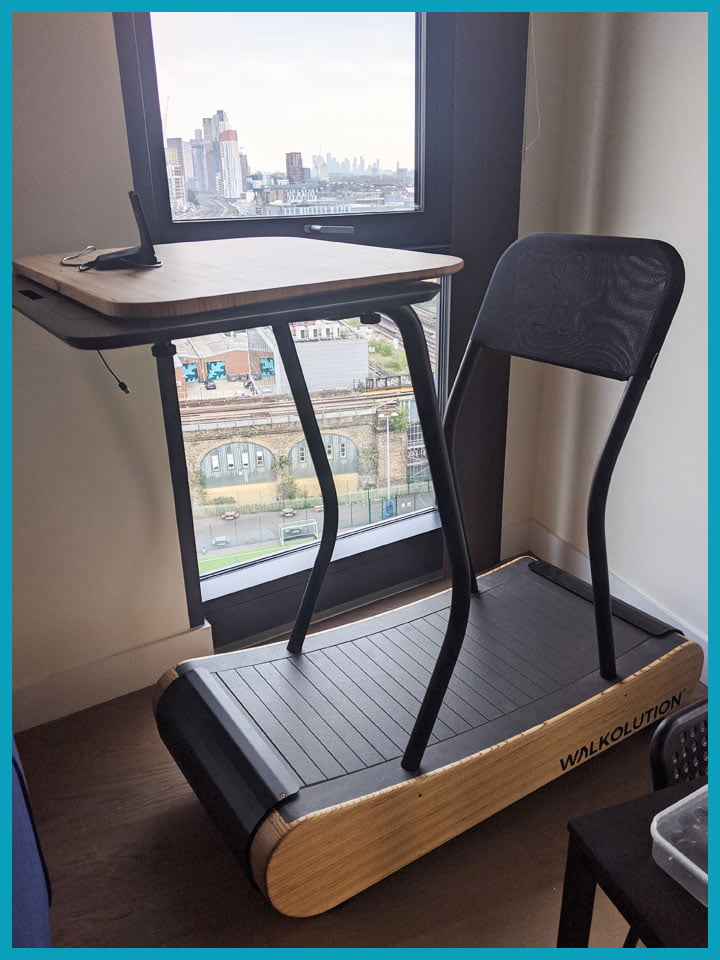 Walkolution Review: Suggestions and Feedback
The walkolution is a sleek, economically engineered treadmill that is manually powered by steps. It comes with a desktop and optional lean back stand. The idea behind this treadmill is simple- to walk as you work and to reduce the sitdown time for office workers and home users. It features a base made of wood sourced from locally available foresters. The desktop treadmill has an arched smoothened surface at the top-half, where the rolling action is similar to that of an airport conveyor belt. It is fitted with desk support nailed to the side panels of the machine, and a backrest to lean on at an optimal distance from the desk. The backrest is meant to help you take breaks between a walking workout, or to slow down before coming to a complete rest. The current treadmill has been in production since 2018, after 50 previous attempts. Dr. SÖehngen built the first prototype in 2002 while he was still a medical student. I'll now elaborate on my experience using the treadmill desk. It'll be followed by a review of the features it came with that I liked best, and the benefits that I got out of it the longer I used it. Read on!
Walkolution's Features
1. Walking and working
The treadmill is whisper-quiet and unmotorized. You can use it anywhere without attracting undue attention to yourself when work-walking. The gravity-powered design grounds you and prevents slippage. I set it up in a discrete corner of the hall. I admit there was a little trepidation when I stepped on it the first time. It took a few minutes to ease into a comfortable pace. As with any new equipment or furniture, it can take a little getting used to, particularly if you're intending to use it when you work and have concerns over how well you can multitask.
2. Having a conversation
Once I got used to the orientation of the treadmill, I was able to adjust the desk support at a comfortable screen-viewing height and distance while I work-walked. The desk is wide enough to accommodate a desktop computer or laptop, landline phones and mobiles, which you can pull towards you or push back according to your need. At first, talking can seem like a balancing act between breath control and keeping track of both your walking pace and the contents of the discussion. However, this is something you'll quickly ease into the longer you walk and get accustomed to the machine's aesthetics. I tend to power walk all around the house when I'm on a call so for me it was just a question of getting used to walking in place.
3. Lean back support for Walkolution
The lean backrest is a standing aid and is one of my favorite features of the walkolution. The treadmill varieties without it are about €220 less. While it's not a recliner to sink into after you finish walking, it still lets you take a breather. It's hard to walk all day but you don't want all that effort that went into walking to go into sitting or lying down somewhere immediately. The lean back allows you to hit a middle point and work while taking a bit of a rest.
4. Table pullback and adjustment
The desktop width is between 110 to 140 cm. The board atop it is adjustable and can be pushed back or pulled forward depending on your viewing distance, height and posture. The pullback option is convenient if you want to tilt your device at an angle. Designers in particular will find this feature useful when they work on sketches, prototypes, wireframes, or even a little bit of doodling. If you want to lean back and work or walk and work you can do so.
5. Internal Storage Compartment
There's a mini-storage compartment that can hold your device chargers. I didn't need to use it but it's an option if you need to stow your earphones and charger nearby and plug them in without getting your wires tangled up.
6. Moving Walkolution around and ease of transport
One of the things I struggled with the most with the Walkolution was bringing it up into the apartment. It's a bit heavy and is a two-person job easily. I thought it would be an issue moving it around the house but the four lockable wheels make it easy to transfer around. On certain days, I used to turn the Walkolution around to face the sun. Unhinging and locking the wheels was really straight forward as well. The setup was also straight forward. It essentially comes in 4 separate parts and you just need to assemble them together. No screwdriver, motor or tools needed.
Walkolution Design and Aesthetics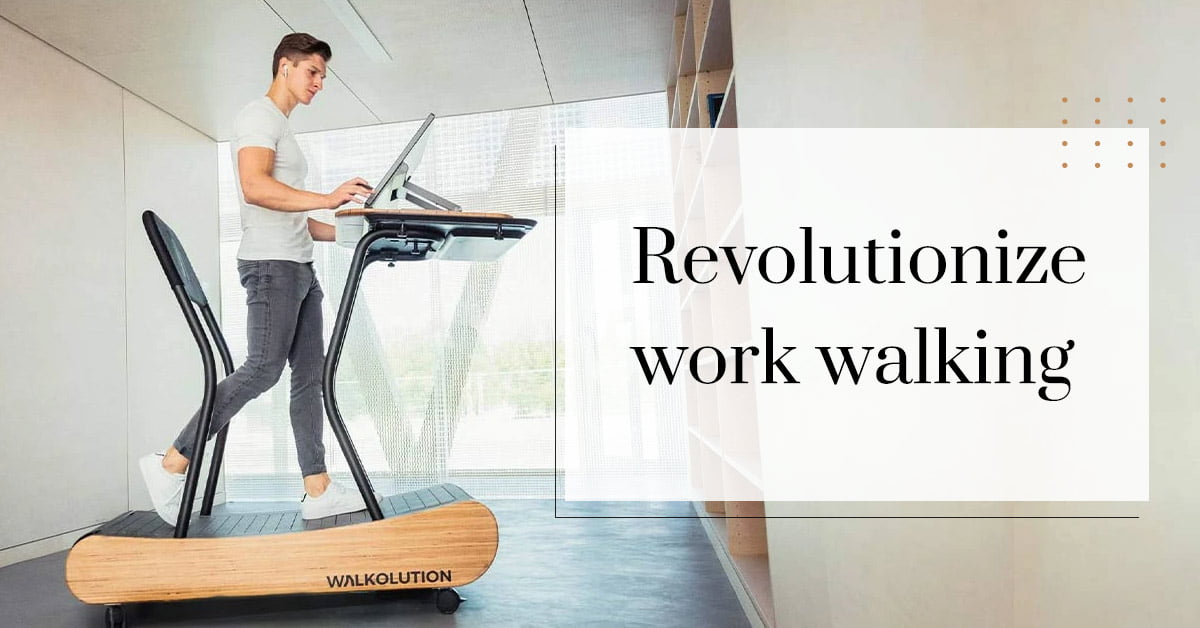 There are primarily three treadmill desks, which are
MT300 Manual "new work"
MT500R Manual " campus"
MT700R Manual "wanderlust"
All the raw material is sourced from production houses in Germany, with a commitment to plant 10 trees for each one that goes into the making. The wood is from beech trees and has a solid finish, helping it blend well with the interiors. At least, it did for me since I have mainly wooden floors. From a visual perspective, it looks more like a furniture piece than an exercise machine, which means it doesn't stick out like most electrically powered bulky machines. I could use it in the presence of my other housemates without worrying about it disturbing them when they work since it's noiseless. You can even wear any shoes when you're on it since the surface is designed to be non-slip and sweat-absorbent. If you prefer to walk in privacy, you can easily transport it elsewhere and lock in the wheels once you've decided where you want it to go.
Usability and Best Practices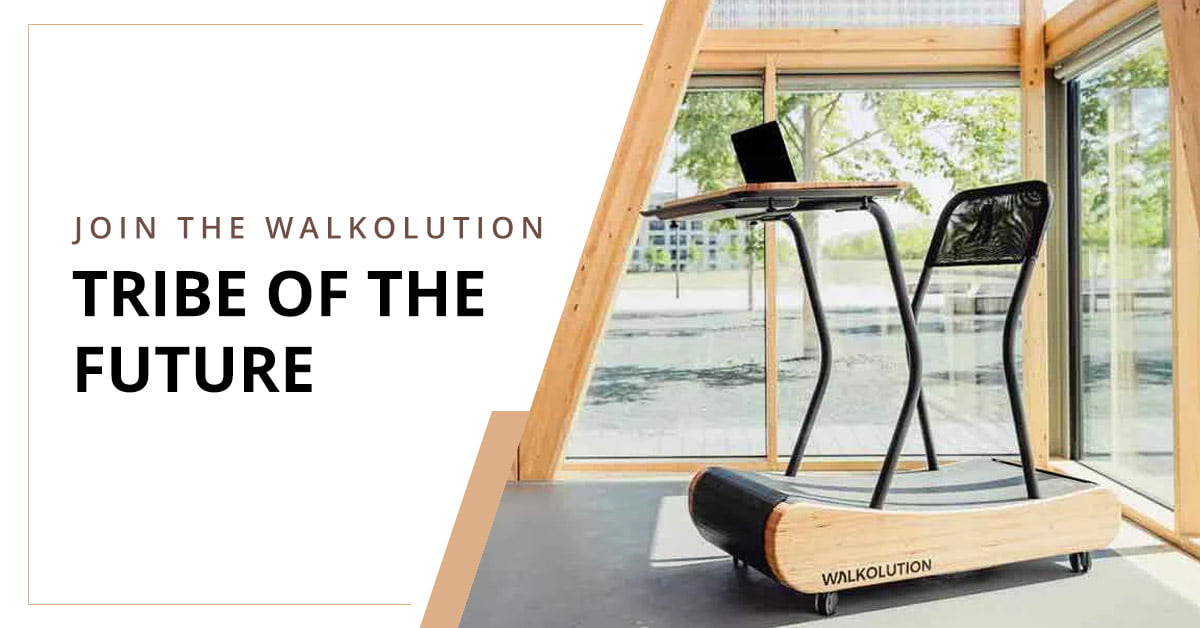 I've said it once, and I'll say it again. Any new exercise equipment takes getting used to. And everyone's standing and walking capacities differ. People who exercise regularly will have more stamina and breath control, while those whose existing physical exertion is moderate will require more time to get used to walking and typing on their device. I'm generally someone who avoids standing desks. I feel my concentration fluctuating as I recognize the strain my legs are taking. It distracts me from what I'm doing. I prefer being seated at my workstation and then taking walking breaks every hour or so to break the monotony of sitting in one place for too long. I occasionally work from the couch and balance my laptop precariously on its armrest- a practice I'm discarding now that I have a walking alternative! The Walkolution for me is definitely a more attractive option than a standing desk, because a) I find standing idle for long periods of time actually makes me more tired than being able to walk and b)The lean back feature I believe really helps the ability to stand and walk for longer periods of time. And it's super easy to switch between the two. For reference, with a standing desk, the maximum I could stand was roughly 1 to 1.5 hours. But with the Walkolution, I was able to do it for 2.5 to 3 hours. In terms of the length of time per day that I spent working on it, it was about two-thirds of the time in the morning and about an hour and a half after lunch to drive away the post-meal drowsiness. It took considerable time for me to get used to the idea of working and walking at the same time, because my attention was divided between tracking work and matching my pace so that I'm neither going too fast or turtle-crawling. Phone calls were easier, but typing took more time for me. You'll usually get the hang of it in a few hours Here's a snapshot of me trying it out! My overall feedback is that the walk is smooth and completely controllable. Unlike electrically powered machines with complicated knobs for speed-setting and heart rate monitoring, the walkolution is simple and easy to use. I like the fact that it doesn't even feel like you're using a machine when you're deeply absorbed in work. It also blends in well with the rest of the room. A few of my friends who came over didn't even notice it was there, so it is not a major eye-sore. A few things to bear in mind are that
It's heavy and requires sufficient room for set up and storage.
Typing while walking takes a little getting used to.
Buying one with the leaning aid is recommended so that you can rest at an inclined position rather than quickly sit somewhere when you feel yourself tiring out.
Final Recommendations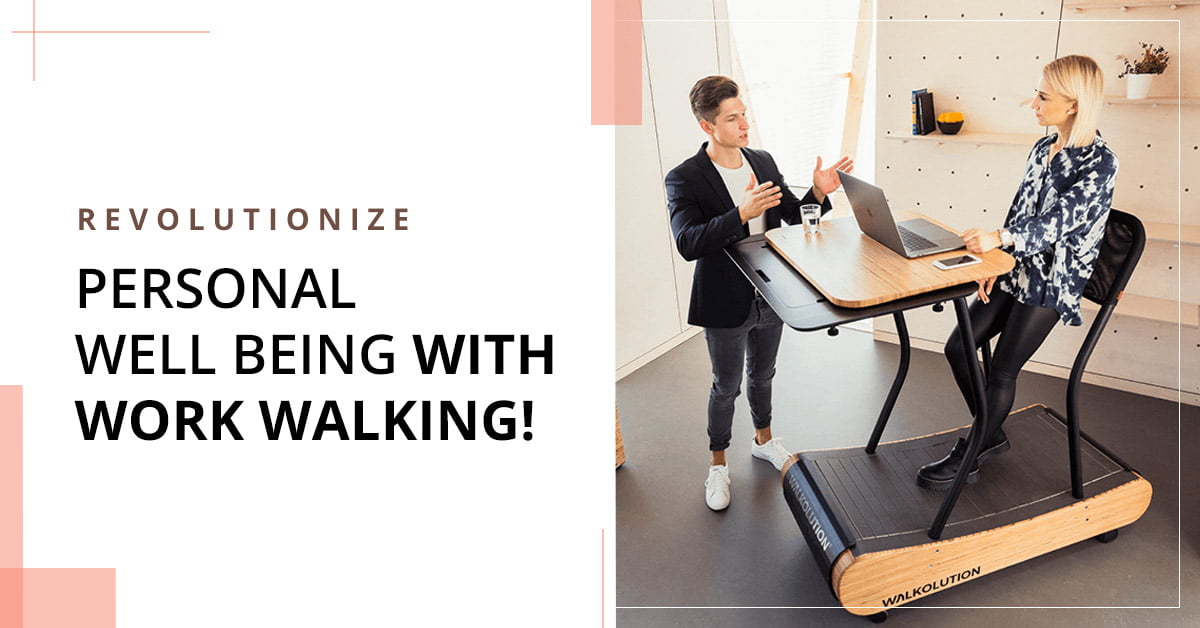 Workplace ergonomics are very important now that most of us are working from home. Investing in the right technology, office furniture and equipment can correct your posture. It can sustain comfort when working for extended periods of time and even boost your energy levels. I would highly recommend a manually-powered treadmill over its electric option, especially if you're just getting used to exercise machines and like to go at your own pace. The more I used it, the more benefits I noticed. For instance, my posture improved vastly, and I stopped experiencing neck pain from hunching at my desk. I also found that my focus at work sharpened. I was able to spin out more creative ideas during brainstorming sessions with the team online. It could have something to do with the fact that my posture got self-corrected, which in turn boosted my mood. And finally, my endurance built up the longer I used it. It motivated me to stay on and extend my walking time! If you're interested in exploring treadmill desks for both office and home, head over to Walkolution's website and enter SORRYONMUTE at checkout for a 10% discount on your purchase. Happy work-walking!