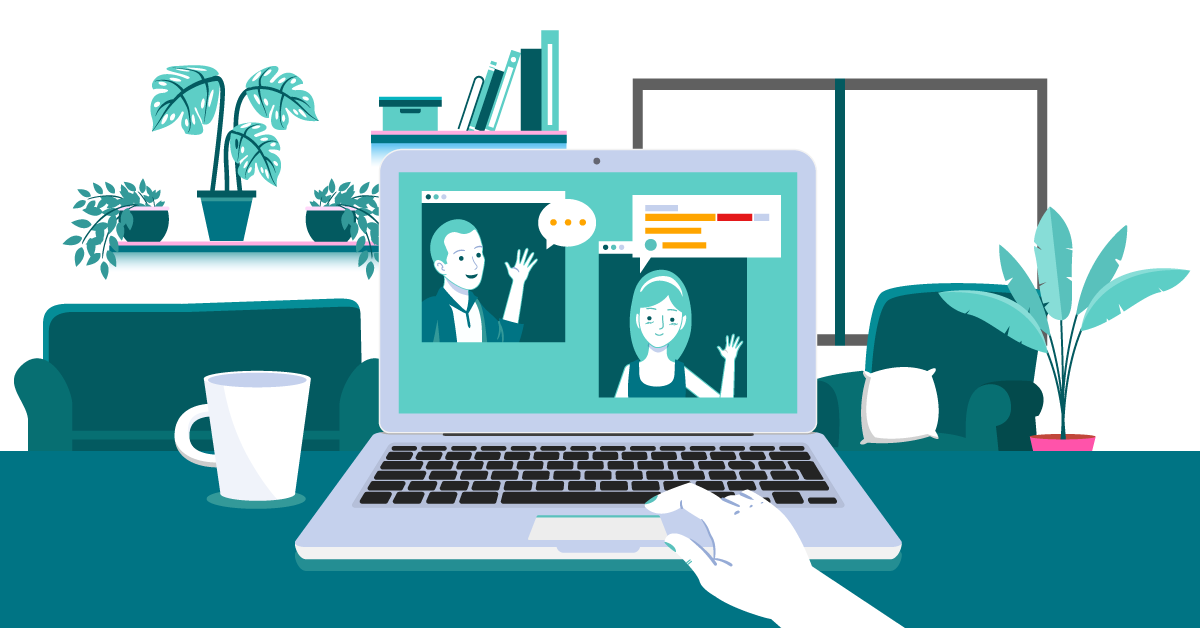 Over the last two months, we've seen a frenzy of SAAS companies rushing to adapt their software solutions to work for the new and modern remote manager and worker. While some solutions are natural fits to manage remote employees, others are a bit of a stretch. So we decided to separate the wheat from the chaff and focus our attention on remote team management tools that are ACTUALLY built for workers within the virtual offices.
Don't worry, we're not going to include the obvious solutions- looking at you Zoom, MS teams and Slack. But solutions that are unique and have a specific approach to resolving the often specific problems that remote team working causes.
All these tools have been tried and tested by myself with my own distributed team or have come as heavy recommendations from friends and industry professionals.
Enjoy and let me know of any that you think I should add to my list!
Tool Category
Tool Name
Pricing
Workflow Management
1.Friday
2.Process.St
3.Scoro
Friday
1. Free (limited workflows,unlimited users)
2. pro:USD 6
3. Business: USD 9 per month per person.
Process.St.
1. Basic :USD 12.5
2. Standard USD 25.
Scoro
$26/month/user
$49/month/user
Remote Planning
4. Snello
Custom
Digital Whiteboards
5. Mixed.Io
6. Flatfrog
Mixed.Io
Free.
Flatfrog
90-day free trial.
Pro: USD 30
Business: USD 50
Enterprise: Custom
Decision,Performance and Milestone Tracking
7. CloverPop
8. Mindful.
9. Weekdone
10. Pukkateam
CloverPop
Free
Mindful.
Premium: GBP 2 per user per month.
Weekdone
1. Free for 3 users and USD 9 per user per month after.
2. Use the slider
Pukkateam
1. Crowd: USD 12,
2. Party: USD 9
3. Group: USD 7 per user per month
Team Productivity and Employee Engagement
11. Quip
12. Blink
Quip
1. Starter:USD 10
2. Enterprise:USd 25
per user per month.
Blink
1. Business: USD 3.4
2. Enterprise: Custom
Team Collaboration
13. Twist
USD 5 per user per month
Voice and Video Conferencing
14. Yac
15. Troop Messenger
Yac
Pro: Free
Plus: USD 5 per user per month.
TroopMessenger
Premium: USD 1
Enterprise: USD 2.5
Self-hosting:USD 2.5 per user per month
Virtual Standup Facilitator
16. Standuply
StandupBot: USD 5
Scrum Master : USD 10
Program Manager: USD 17
Time Management and Tracking
17. Rescuetime
USD 72 after the standard 14-day free trial.
Distraction Blocker
18. Krisp.ai
19. Freedom
Krisp.ai
The Pro and Team plans both cost USD 3.333 per user month.
Freedom
The monthly and yearly versions cost USD 6.99 and USD 2.42 respectively
Content and Design
20. Visme
21. Sprintbase
22. Screenflow
Visme
USD 50
Sprintbase
Custom
Screenflow
USD 129
Superpak: USD 175
Support: USD 209
Here goes the List of Remote Team Management Tools
A. WorkFlow Management Apps
1. Friday: Workflow Management App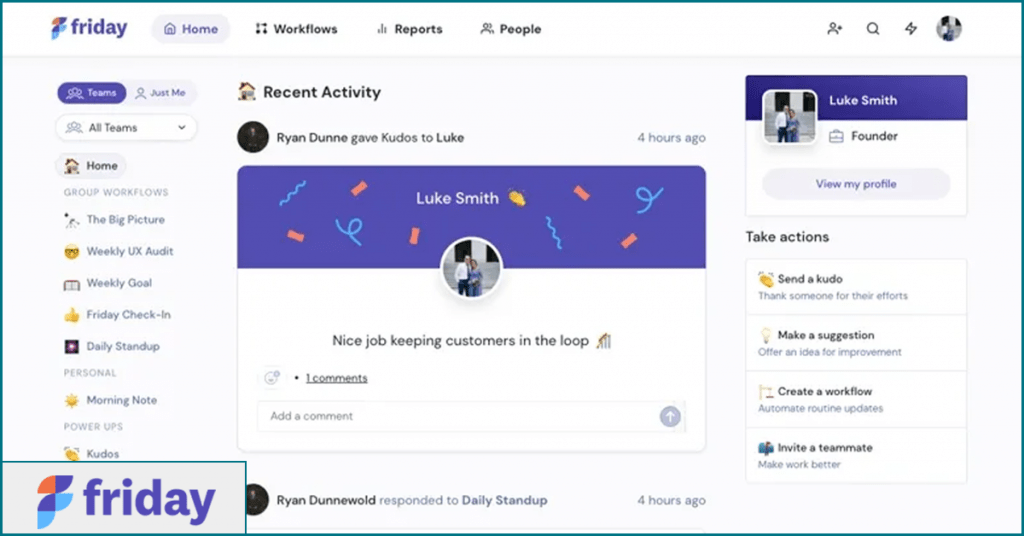 About them: Friday first came into the market in 2016 and tags itself as a tool that helps move work forward with everyone in different places. Maersk,, Radiant solutions and Vero software are some clients who report increased employee engagement and team recognition.
Why 'Sorry I was on Mute' likes them- Easy to adapt templates and workflows are imperative to smoothen the often clunky communication rituals for remote teams. We predict such remote team management tools to be increasingly popular especially in distributed team setups.
Pricing: Friday's pro and business editions are priced at $6 and $9 per month per person. The free version lets you try it out with limited workflows, and unlimited users.
2. Process.St: Workflow Management App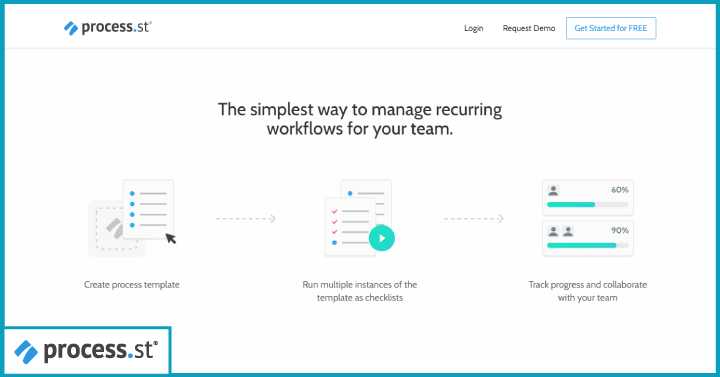 What problem do they solve for remote teams: Process.St is built for non-technical teams. It helps members manage recurring checklists and workflows.
About them: Process St was founded in 2014 and operates as a 40+ distributed team. Clients include Airbnb, Spotify, GAP and Accenture.
Why 'Sorry I was on Mute' likes them– Its interface is simple and structured, enabling easy document creation. We quite liked the activity tracker that lets you know as and when a task is finished. It also displays who was on it. It supports dynamic needs and lets remote teams adapt to changes made to the existing workflows and checklists.
Pricing: The basic version is priced at USD 12.5 per user per month, Standard at USD 25 and custom pricing if you're on the lookout for more programmable flexibility.
3. Scoro: The Work Management Software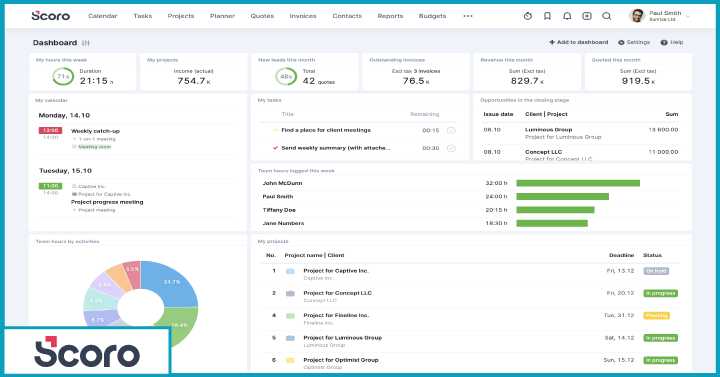 What problem do they solve for remote teams: Scoro is a remote employee management software that offers time-tracking and an overview of teamwork.
About them: Scoro was founded in 2013 and is an all-in-one solution for business management. It helps managers track progress from the first interaction to the final invoicing. The client base includes Sothebys, Grant Thornton and Mediacom.
Why 'Sorry I was on Mute' likes them– It keeps the buyer journey interactive even when sales teams work remotely. Apart from the Sales CRM,we liked the finances feature that lets you compare budget scenarios to actual revenue, costs and profits. I liked how customizable roles and permissions are, which restricts information to concerned members from different teams.
Pricing: Scoro's four pricing packages are Essential, Work hub, Sales hub, and Ultimate. The pricing ranges between $26/month/user to $49/month/user. I would recommend going for the work hub that has a dedicated project management tool. You can also try it out for a fortnight, for free before deciding on the package that's best for your business.
B. Remote Planning
4. Snello -Remote Work Planning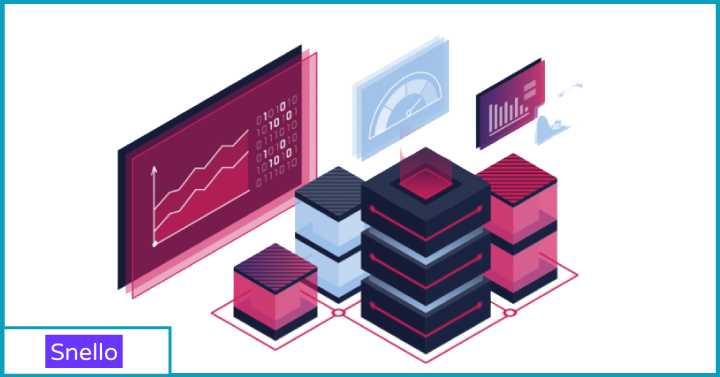 What problem do they solve for remote teams: Snello schedules remote work, creating a framework for continued and improved team productivity.
About them: Snello is a fairly recent entrant into the remote work market and has an active waitlist. It uses AI technology to take any constraints into consideration before automating work schedules.
Why 'Sorry I was on Mute' likes them– Unlike some of the more popular remote team management software tools out there, Snello's focus is optimizing office occupancy. By 70% according to their research. Thanks to the health and personal safety concerns brought on by the Covid-19 pandemic, most offices have upped the number of days of remote work. This means that a lot of office space has undersized capacity and remains unused. What I liked was the freedom to create your very own remote work policies based on constraints, such as in-person hours, onsite presence etc.
Pricing: Book a Snello Demo for a preview and all the applicable pricing plans.
C. Digital Whiteboards
5. Mixed.Io:  Virtual Whiteboard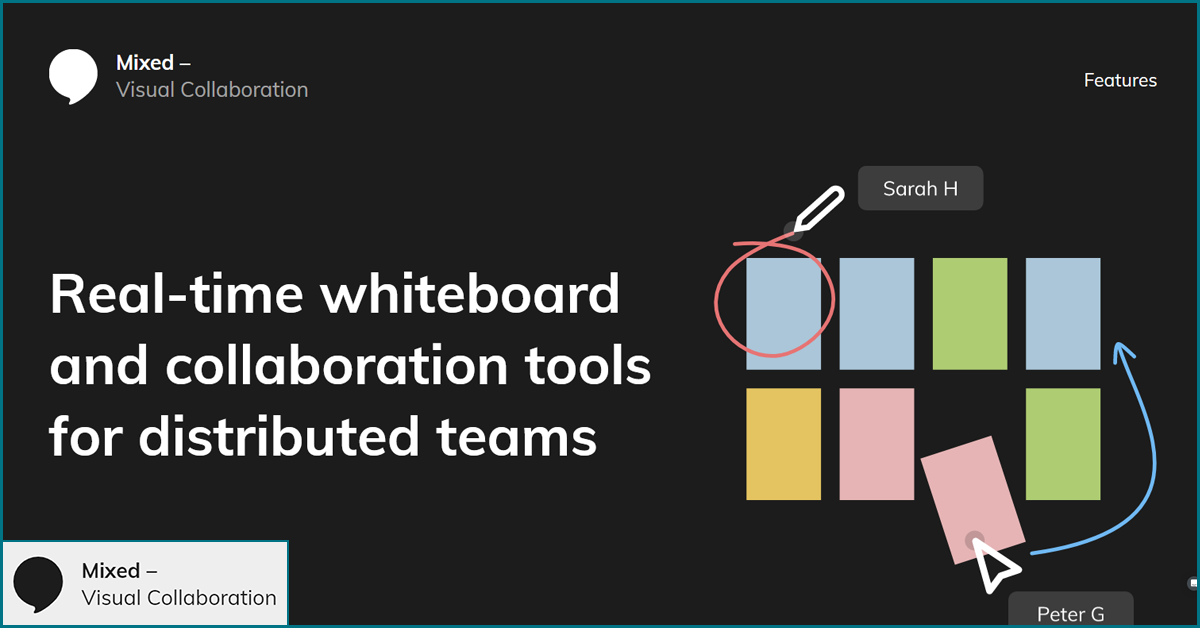 What problem do they solve for remote teams: MixedIo lets remote teams present ideas synchronously with visual storyboards and workflows.
About them:  Founded in 2015, Mixed was an experiment by the creators of marked.ai. Deliveroo and DigitasLBi are some well-known names, but the list keeps growing. You'll see why when you get to the pricing bit!
Why 'Sorry I was on Mute' likes them-  No signup hassles. You just need a Gmail or Slack ID and you're good to start showing off your artistic skills! You can even turn on your mic to present to the team, stick Notes, and upload files for the rest of the team to look at.
Pricing: One of the Free, Free, FREE remote team management tools out there!
6. Flatfrog: Virtual Whiteboard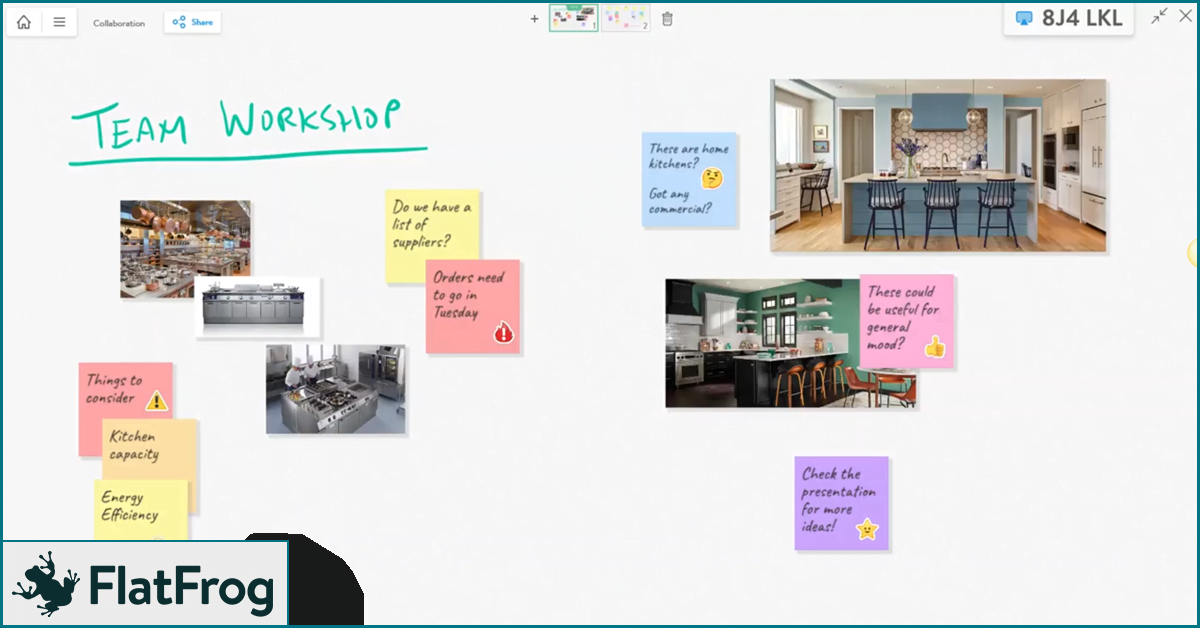 What problem do they solve for remote teams- Another great virtual whiteboard tool that we couldn't not add. Flatfrog manages virtual teams by turning meetings into productive discussions with built-in templates, workflows and sticky notes.
About them: Founded in 2007, Flatfrog is the pioneer of high resolution in-glass displays. Rolex,Tenet Health and Ikea are some notable users of the digital whiteboard!
Why 'Sorry I was on Mute' likes them- Flatfrog lets remote users dial in from anywhere to share ideas onto the workflow. We think this is a great way to move discussions ahead!
Pricing: There's a 90-day free trial, after which the pro edition costs $30 per month per room, business edition $50 per month and for more custom pricing, you might want to check out the Enterprise edition that allows managing remote worker's toolkit.
D. Decision,Performance and MilestoneTracking Apps
7. Cloverpop- Decision Tracking App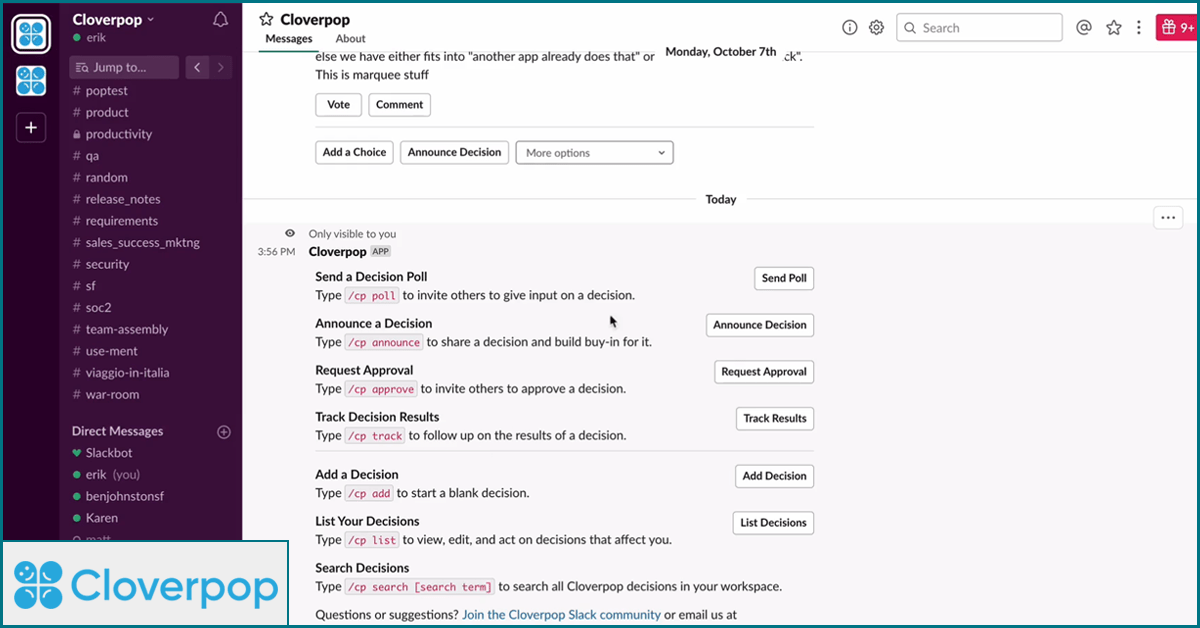 What problem do they solve for teams– Cloverpop for Slack which lets remote teams find, track and weigh in on decisions. This means creating polls and announcements to get faster approvals.
About them: Started in 2012 with the mission to transform decision practices. Dell, Rakuten and WordPress are a few of the notable users already on Cloverpop
Why 'Sorry I was on Mute' likes them-  Decisions are easy to lose track of, more so when the majority of the workforce is remote. We like how simple it is to get started on. No one can miss any important work update ever thanks to the visibility boost.
Pricing: free with Slack.
8. Mindful: Team Performance Tracking app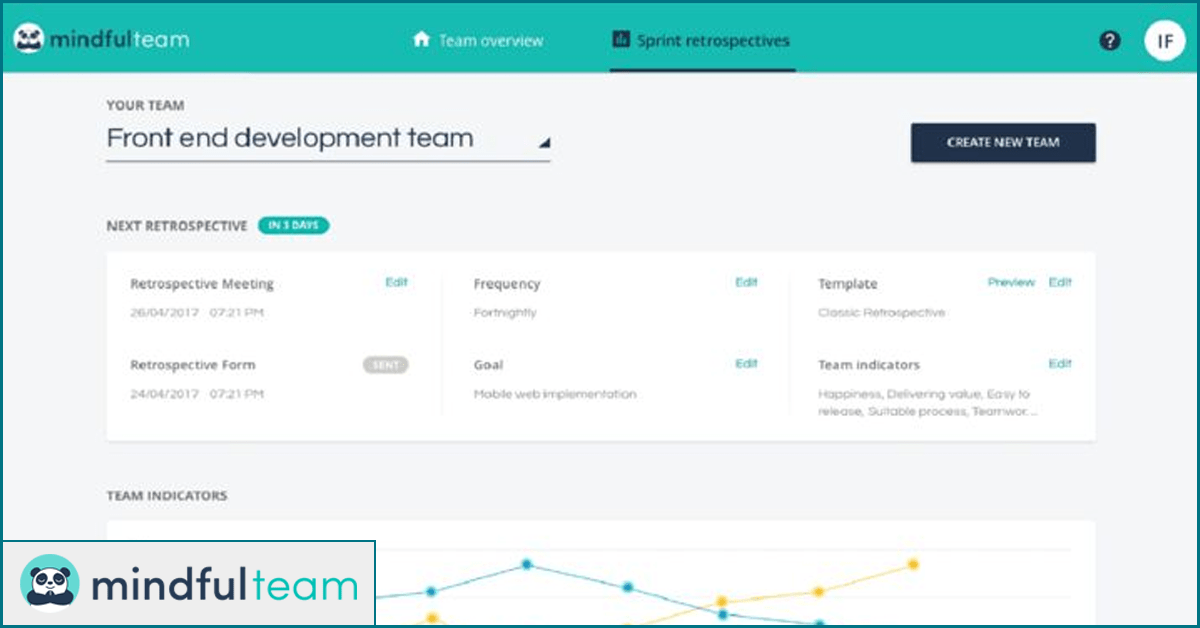 What problem do they solve for teams– Mindful keeps sprint retrospectives in one place, letting remote teams maintain accountability and run different scenarios with pre-built and custom templates.
About them: Mindful's first prototype came out in 2017 on a flight its two women entrepreneurs were on. If you're in search of simple remote team management tools with performance tracking indicators, this is a good starting point! How cool is it that Financial Times, Sky, and Wunderman Thompson use Mindful?
Why 'Sorry I was on Mute' likes them- We like how easy it is to collect feedback before a meeting session starts. If something doesn't make sense, you can set up a video call and quickly run through your doubts.
Pricing: GBP 2 per user per month for a premium license. Request for the enterprise edition to explore with a greater degree of freedom.
9. Weekdone: Milestone Tracking app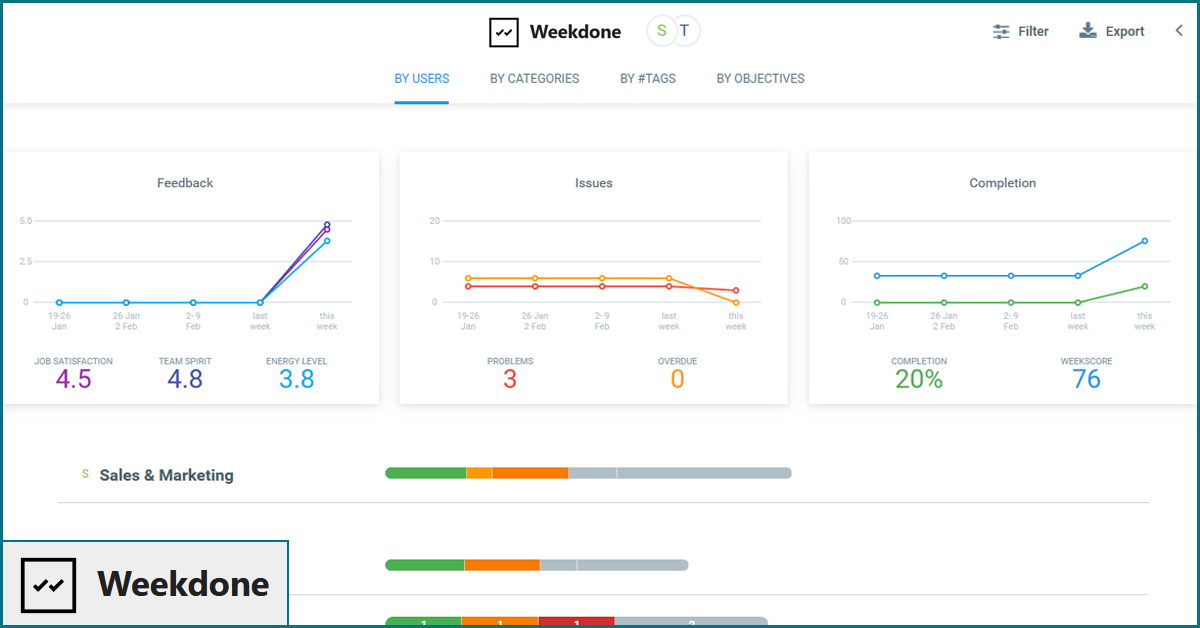 What problem do they solve for teams–Weekdone is a remote workforce management software that rolls goal-tracker and status reporter into one solution. It helps remote teams move in the same direction.
About them-Weekdone was developed in 2009 and features visual reports to track statuses, performances and utilization. BMAT, Deverus and Whole Foods supermarket used and gave  Weekdone review and vouch for Weekdone's role in improving meeting productivity.
Why 'Sorry I was on Mute' likes them– Weekdone makes it easy to do a health check on weekly activities so that plans are set. We think it's an absolute must if you want to know how many milestones your teams hit!
Pricing:Free for 3 users and $9 per user per month after. Use the slider to check the Weekdone pricing according to the number of users added.
10. PukkaTeam: Remote Team Tracking App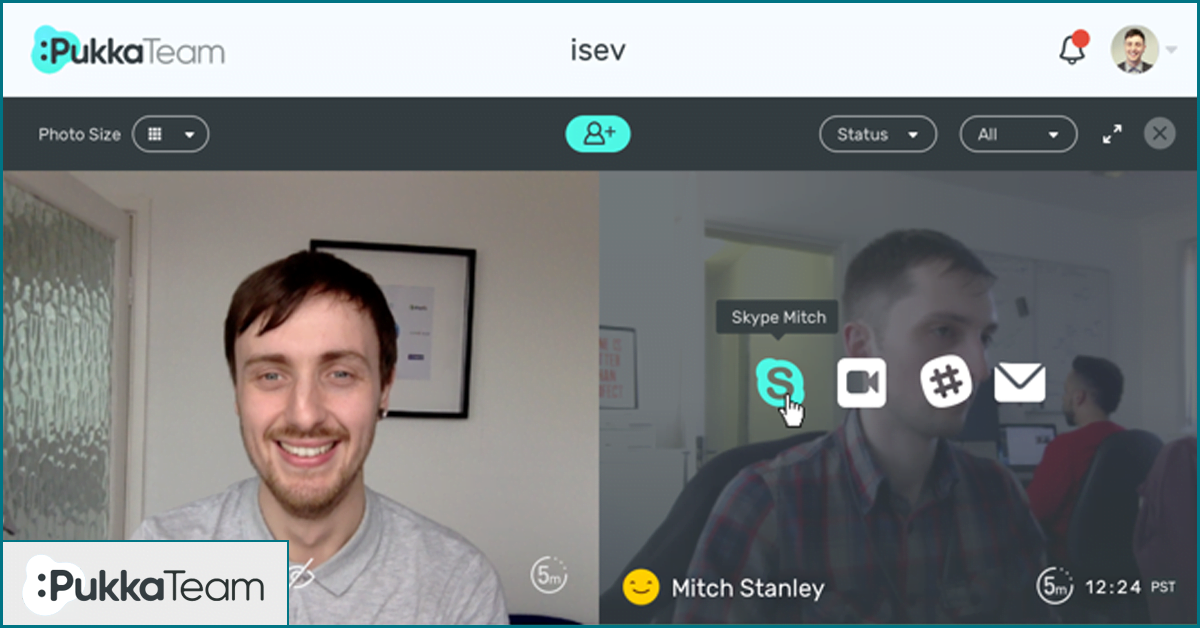 What problem do they solve for teams–  Pukkateam keeps remote teams connected throughout the workday with snapshots to see who is available and working at their desk
About them- Founded in 2016, Pukka Team is one of the few remote team management tools that uses face recognition to confirm member presence and prevents any work-related call from going unanswered. It'll interest you to know that it's a favorite with Tesco, Nokia and RyanAir!
Why 'Sorry I was on Mute' likes them- This one only works if there is already an inbuilt culture of remote team tracking. The conversation of staff tracking can be a tricky one and can often impede trust between managers and staff. But if this is ok, PukkaTeam is one of the better ones. It's a lightweight platform and easy to implement.
Pricing- The crowd, party and group packages are priced at $12, $9 and $7 per user per month. The Video conferencing feature is included in all plans.
E. Team Productivity and Engagement Apps
11. Quip: Productivity Management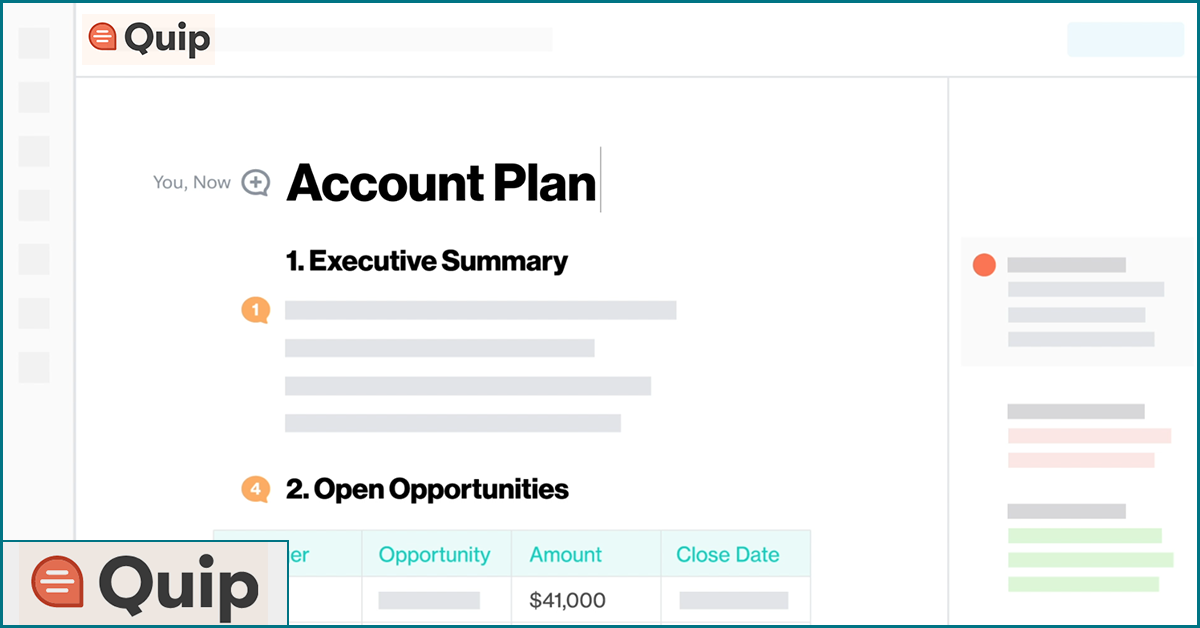 What problem do they solve for teams– Quip brings transparency into sales planning and account management for service and sales teams working remotely.
About them-Quip has been around since 2012 and markets itself as one of those remote team management tools that improve productivity. Following its Salesforce integration 4 years back, clientele includes the likes of Amazon, Facebook and Cisco, making it one of the best technologies for working remotely.
Why 'Sorry I was on Mute' likes them-  We like the case swarm feature which lets remote teams work together on building cases and running scenario analyses. It's a great way to prioritize leads and enhance sales enablement!
Pricing: The starter pack costs $10 while the enterprise edition is $25 per user per month. For a more custom quote, you can get in touch with the experts for Quip for Customer 360.
12. Blink : The Employee Engagement App for Frontliners
What problem do they solve for remote teams: Blink is a mobile employee management application that keeps remote workers connected and engaged.
About them: Blink first made its appearance in 2014 and was launched by English entrepreneur Sean Nolan. It digitizes physical workspaces for formerly frontline workers. Blink has offices in the U.K, U.S and Australia, with clients like Stagecoach, Metroline and Calder Stewart on its roll-call!
Why 'Sorry I was on Mute' likes them– Blink makes remote work seem less remote with its own BlindFeed, theming and people directory features. I liked the intranet-based content management feature, simply called 'hub', where remote employees can find documentation such as work policies and guides. The platform is great for keeping the distractions to a minimum while enabling you to maintain your comradery.
Pricing: The business version is priced at USD 3.4 per user per month. For a more custom quote, you can opt for the Enterprise edition which comes with premium support and more features than the one in the business package.
F. Team Collaboration
13. Twist: Collaboration Hub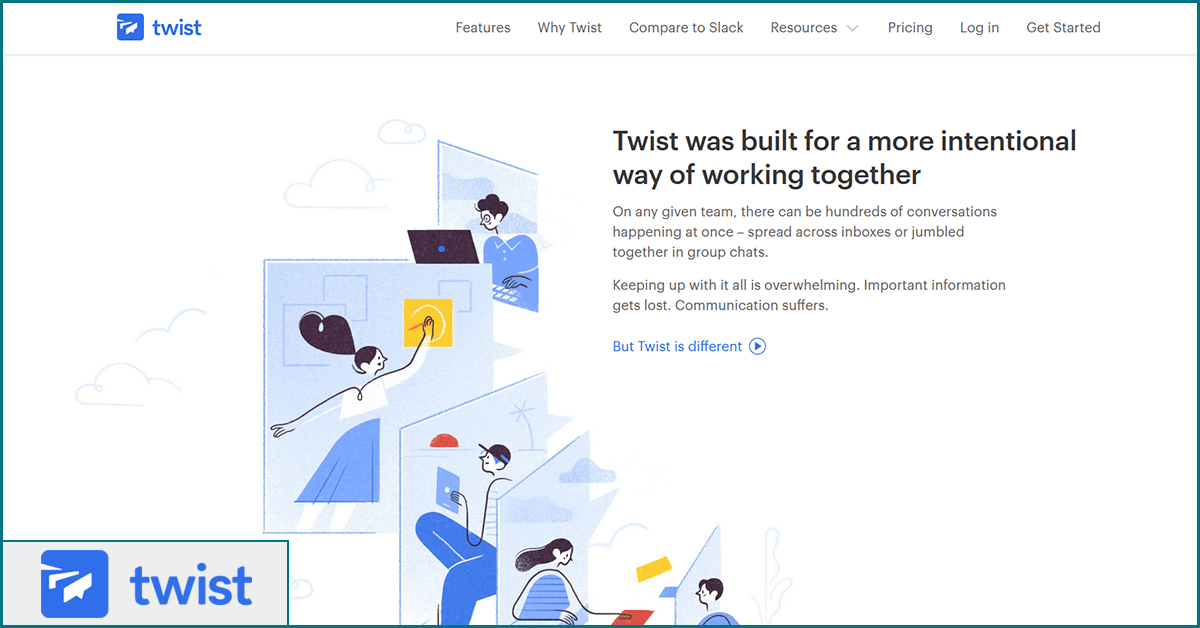 What problem do they solve for teams-A distraction-free space for focused work and structured communication, Twist is a favorite alternative to Slack for remote teams. It is time zone inclusive, and keeps conversations trackable and transparent
About them-Twist is Doist's offspring, which came into force in 2007, with customers like Shopify, Starbucks and GameStop actively on it!
Why 'Sorry I was on Mute' likes them- I've been using doists action item tracking app, 'ToDoist' over the last 4 years which is one of the best task tracking apps I've used.  Twist is the same remote team management software, it's all about doing away with micromanagement. It organizes communications and eliminates the need to switch between multiple messaging platforms.
Pricing– At just $5 per user per month with unlimited storage, integrations and priority tech support Twist is definitely a bang for the buck!
H. Voice and Video Group Conferencing Apps
14. Yac: Voice Messaging app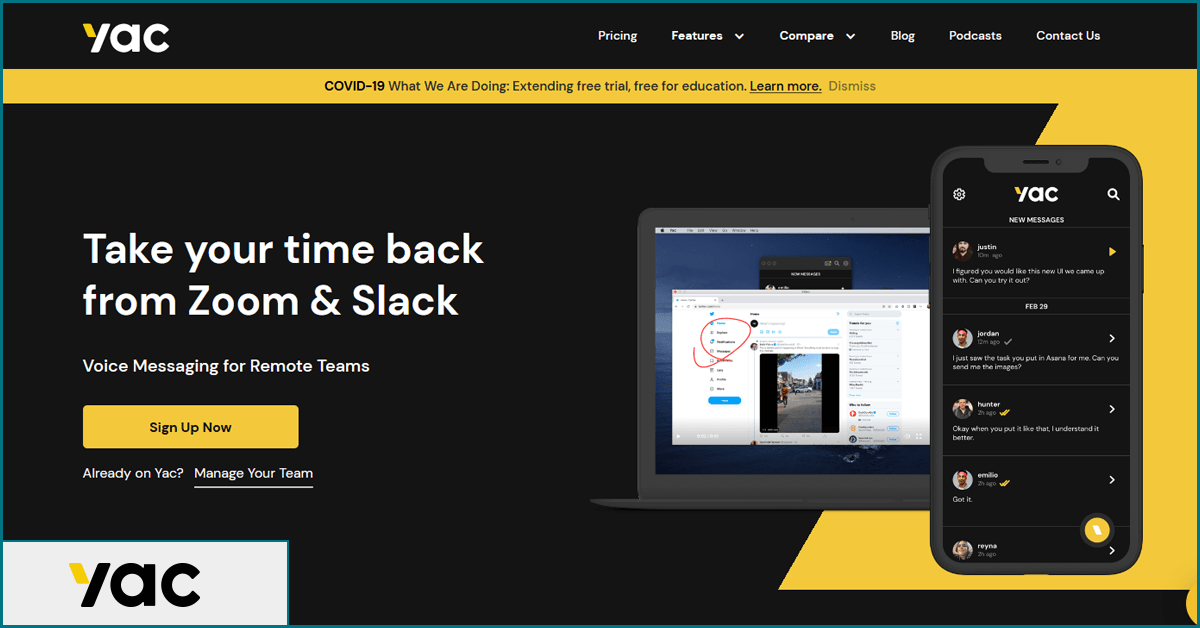 What problem do they solve for teams– Yac keeps its word and simplifies conversations amongst remote teams. It is a voice messenger application that enables asynchronous meetings and screen sharing for private teams
About them: Only 2 years young, Yac accommodates any team size, integrations, insights and unlimited searches for audio transcripts, letting you focus on your work. Adobe, Voice Punch and Bose use Yac.
Why 'Sorry I was on Mute' likes them – Yac is a great replacement for traditional voice calls like Zoom and Skype, with voice recordings often being the only things you need instead of long drawn out meetings. Asynchronous communication is a key tool to manage remote teams and these guys really embrace that which is awesome!
Pricing– Yac's got two plans, of which the Pro edition is free, while the Plus edition, like Twist, costs just $5 per user per month.
15. Troop Messenger: Remote Messaging application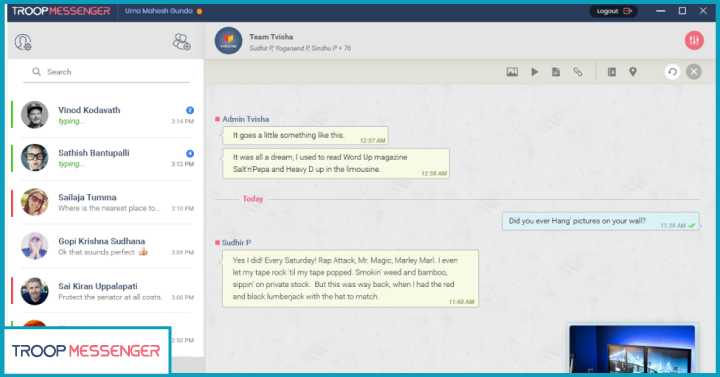 What problem do they solve for teams–Troop messenger is an audio and video calling tool that simplifies one-on-one and group meetings for remote teams.
About them-Launched in 2017, Troop Messenger was developed by Indian-based engineer, Sudhir Naidu. Despite being new to the market, it has made waves across the globe, with users liking the burnout and splashboard features.
Why 'Sorry I was on Mute' likes them– Besides enabling people to schedule meeting calls, Troop messenger also lets you enable read receipts to your messages so that the member you're messaging knows it's important. I liked the orange member feature which lets you add members and collaborate with vendors and clients alike.
Pricing: The Premium costs you just USD 1, while the enterprise and self-hosting options are priced at USD 2.5 per user per month. Quite a steal for the features it comes with!
H. Virtual Stand Up Facilitator
16. Standuply: Digital Project Assistant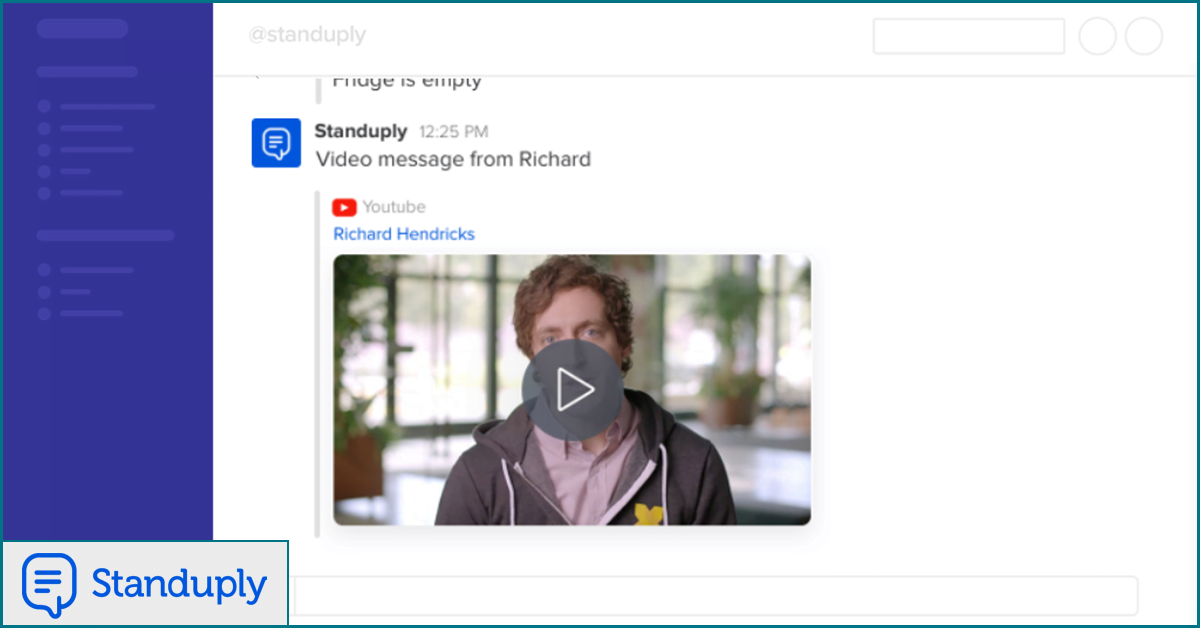 What problem do they solve for teams– Standuply automates Agile processes via team surveys in Slack, letting you run standup reports on schedule, or asynchronously.
About them: Standuply is a play on the word 'stand up' and made its entry into the market in 2016.  Google, IBM and Intel are a few recognizable clients who use Standuply!
Why 'Sorry I was on Mute' likes them- This is one of our favorite remote team management tools. Think of it as a mix of a few standuply alternatives like Yac, CloverPop and FlatFrog all in one!  
Pricing: Ready to see project terms dropped in a pricing plan? The Scrum Master and Program Manager versions cost $10 and $17 per user per month. If basic meetings and integrations is more your speed, start with Stand up Bot at $5 per user per month!
J. Time Tracking
17. Rescuetime: Time Management app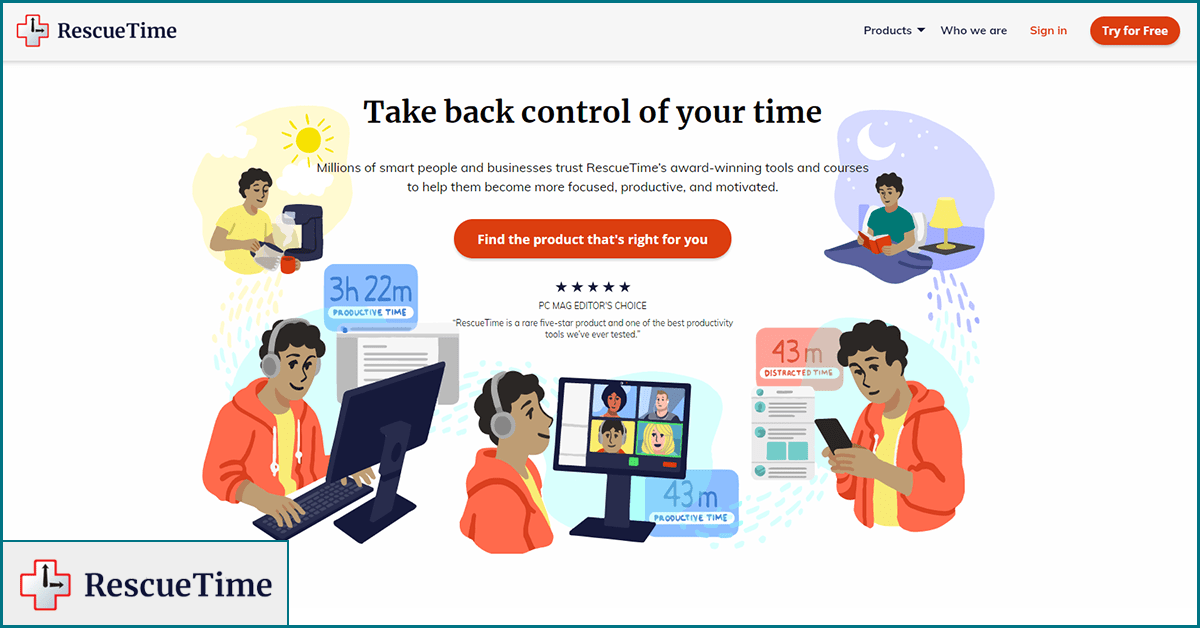 What problem do they solve for teams–Rescuetime is a time management platform for remote teams that lets them stay focused on the priorities while on the clock.
About them: Developed in 2008, Rescuetime has been in business for 12 years and automates time tracking. It boasts of a recognizable pool of clients, including Wired, the Guardian and Lifehacker
Why 'Sorry I was on Mute' likes them-We like how you can pick up even if you were briefly offline with a one-click feature that catches you up.
Pricing–  $72 after the standard 14-day free trial.
K. Distraction Blocker
18. Krisp :The Noise Cancelation app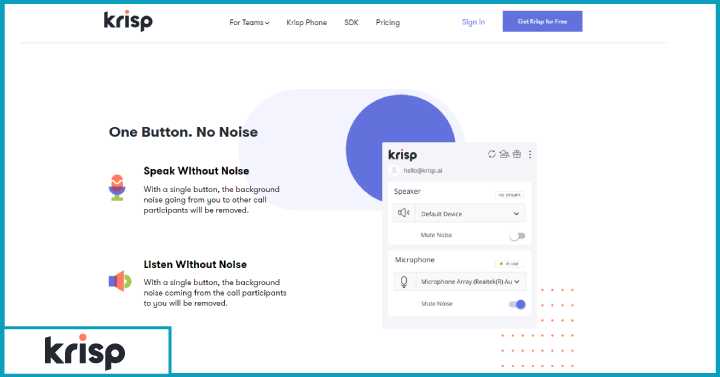 What problem do they solve for teams–Krisp.ai keeps your remote teams focused on work better by canceling out background noise.
About them– 2017 seems to be the lucky year to launch remote-friendly applications, for that's when Krisp.ai debuted! There's a chrome browser extension and desktop application. It is endorsed and used by technology giants like Github, Zapier and Intel.
Why 'Sorry I was on Mute' likes them– It's a fact that background distractors are a source of annoyance for speakers on a call. What I like about Krisp was that you can take meetings anywhere without the worry of background noise drowning out your words. Besides being compatible with any audio equipment, Krisp features an ios-platform mobile dialer for Iphone users.
Pricing: The Pro and Team plans both cost USD 3.333 per user month. The Enterprise plan is applicable to call centers. You can download it for free if you plan to work remotely only occasionally.
19. Freedom -The Website Blocker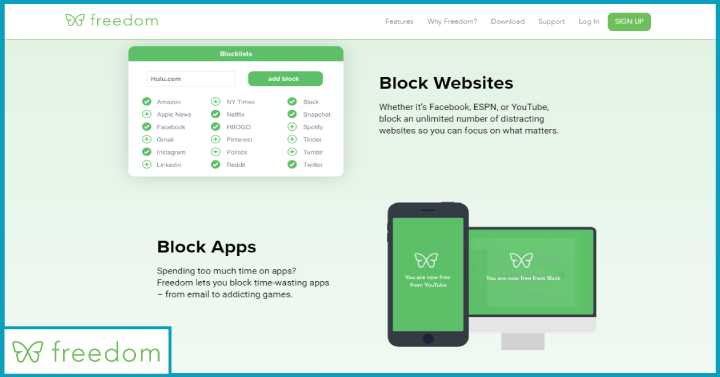 What problem do they solve for teams–Freedom is a website and app blocker that prevents your remote team from spending too much time on unproductive pursuits.
About them– Freedom was founded by UNC professor-turned-entrepreneur Fred Stutzman in 2011. It blocks social media,additive applications and games, freeing your remote teams to focus on work. Users include.
Why 'Sorry I was on Mute' likes them– Like Krisp, Freedom's intent is to make sure you're making good use of the work hours you're logged in for. It is multi-device and cross-browser friendly. Freedom even lets you block the internet if you need a break to refocus.
Pricing: The monthly and yearly versions cost USD 6.99 and USD 2.42 respectively. (that's right, you save more on the annual plan). If you foresee being a forever user, they are running an August special that lets you save up by 50%. Hurry up though before the clock runs out!
G: Content and Design Apps
20. Visme:  Content Creation Tool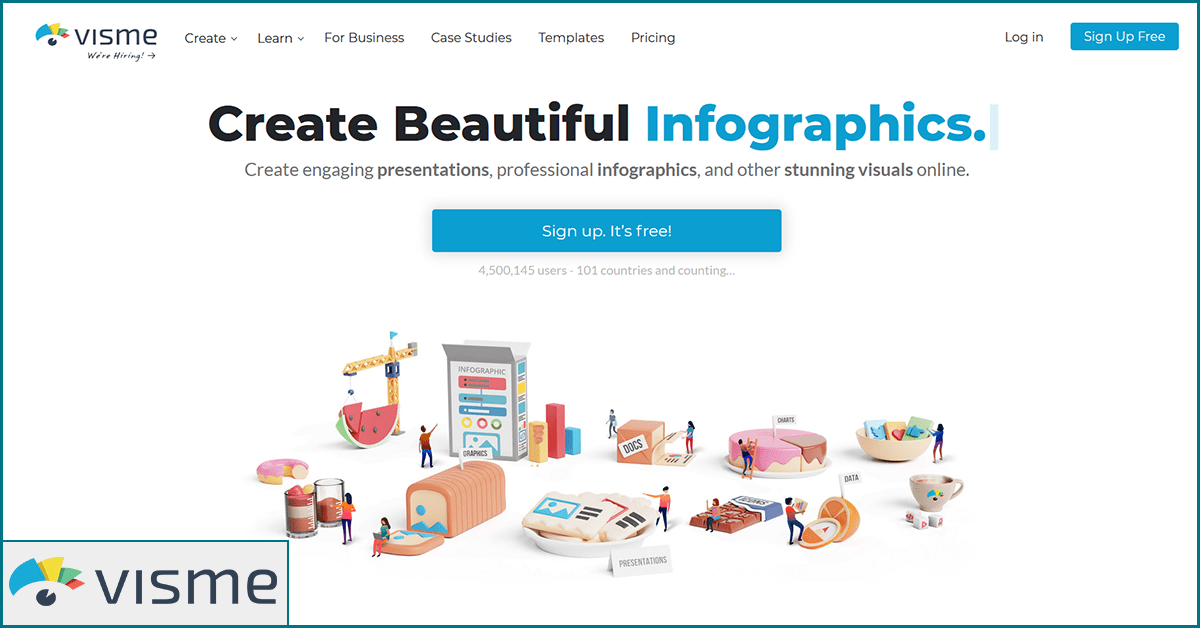 What problem do they solve for teams–Visme helps remote teams create a visually appealing content deck comprising infographics, presentations and storyboards.
About them: Visme is a self-funded venture which started out in 2013.  Users who have unbundled this tool include UberFreight, Paypal and IBM!
Why 'Sorry I was on Mute' likes them- Visme keeps the creative juices flowing by managing remote workers toolkit when teams work apart. It's easy to pool in ideas and take them to action.
Pricing-Visme's business plans are billed per user on an individual or team basis. You can figure out how much a team-pack (starts at $50)will cost you by adding the number of members.
21. Sprintbase: Design and innovation management app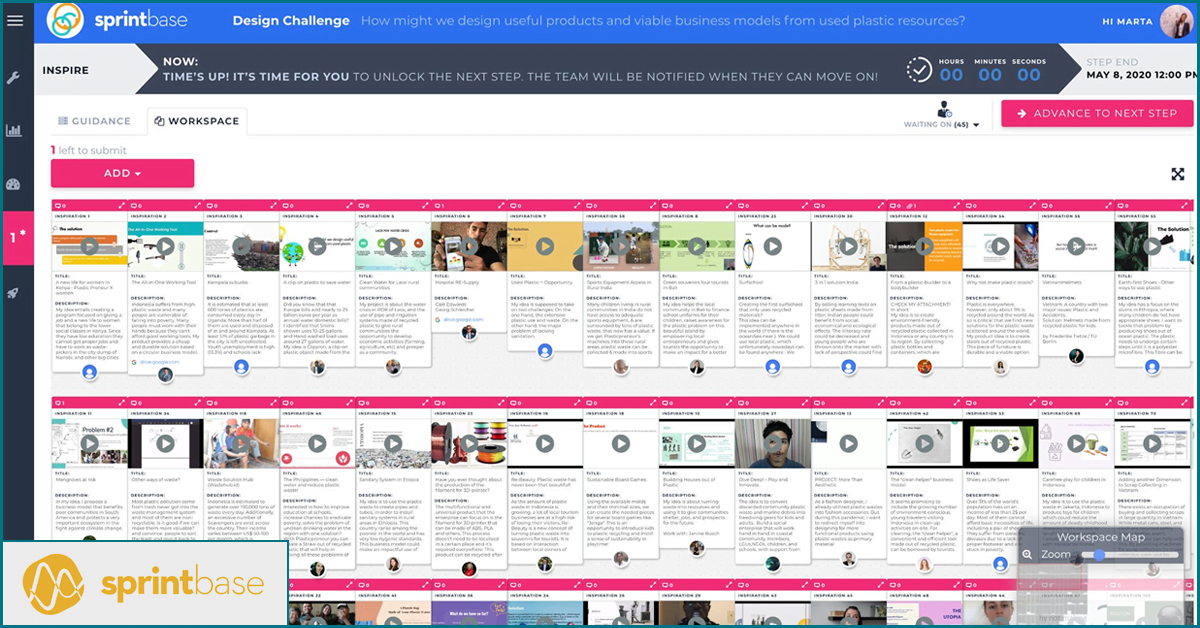 What problem do they solve for teams–Sprintbase lets remote attendees engage in product innovation online with high-impact workshops.
About them-Launched in 2017, Sprintbase helps struggling workers solve strategic challenges with virtual perspectives. It aligns outcomes with analytics, ensuring consistency across all channels.  Purdue University, Deloitte and Capgemini are active on Sprintbase.
Why 'Sorry I was on Mute' likes them- We love how Sprintbase has tackled change management by involving everyone, from practitioners to thinkers in the design phase.
Pricing: Custom and varies according to organizational needs.
22. Screenflow: Screen Recording Software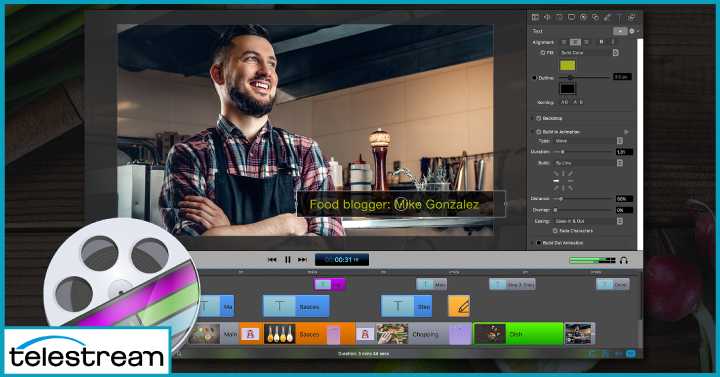 What problem do they solve for teams–Screenflow by Telestream is a video editing and screen recording tool that lets remote teams capture recordings and create video content for work and personal purposes.
About them– Telestream has been around for 22 years,which is why it's #22 on this list. Coincidence much? They have developed Cloud, video editing and assurance systems. Screenflow is its desktop video editing application. It is used by Founders Space, TeacherCast and SoftwareHow.
Why 'Sorry I was on Mute' likes them– I like how so many diverse businesses can use Screenflow, from teachers for e-learning delivery to marketers for quality video production. It has multi screen recording options,click effects and an extensive timeline palette for some creative editing!
Pricing: Screenflow's pricing starts at USD 129, while the Superpak and its support versions cost USD 175 and USD 209 respectively.You can explore Screenflow's free trial that features all the functionalities with a watermark on exported videos.
Over to you
The tidal wave of remote workers indicates the need for a technology stack that champions productivity, self-discipline and dexterity.  Your job is a lot easier with a catalog that lists each tool's unique proposition for remote teams.
When browsing for remote team management tools, narrow it down to the ones that are cost-effective. Make it easier to keep a watch on the clock rather than on the worker.
What has your experience been like using some of these remote management tools?  I would be interested to know which one you'd want to pick from this list!