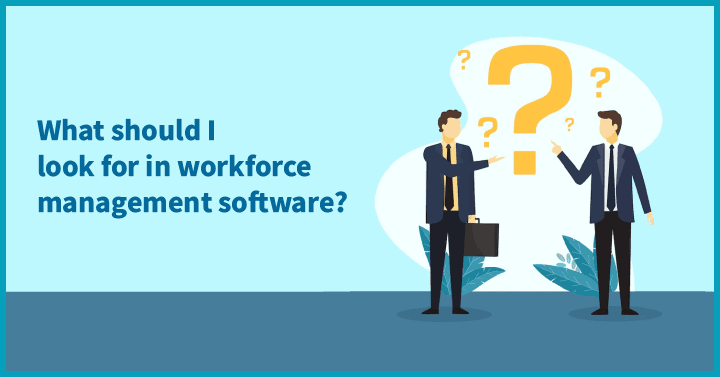 Workforce management (also known as WFM) allows you to optimize your staffing needs through programs that target scheduling and timesheets, absence management and payroll. The best workforce management software improves efficiency and reduces manual inputs by simplifying and automating common human resources operations via a holistic solution.
Read on to find out more on 20 of the best workforce management software that can be leveraged to meet your organization's staff scheduling needs.
1. What is workforce management software?
Workforce management (WFM) software essentially comprises a unified set of programs that can be used to oversee staff scheduling for an organization. It's an excellent way to evaluate labor requirements, automate processes to manage staff schedules and enhance productivity.
2. What should I look for in workforce management software?
2.1 WFM software comparison criteria:
The user interface should be as intuitive as possible and easy to understand, so that managers and employers can navigate the platform with ease.
Though workforce management software often encompasses multiple features, it needs to be as simple to use as possible, so that time isn't wasted constantly contacting customer service.
The program should be easy to integrate with other software, so that it can be incorporated as part of a company's wider suite of solutions.
The cost should be affordable based on the size of an organization and related to the depth of features and sophistication of the software.
2.2 WFM tools key features:
Forecasting and budgeting
One of the most essential aspects of a workforce management solution is that it allows a company to forecast staff availability for particular projects and budget accordingly.
Technology today allows for reports to be regularly generated on specific factors, such as employee utilization and performance. These can then be automatically emailed out to relevant members of staff.
Tracking key performance indicators for individual members of a team as well as wider departments can be simplified with the right piece of WFM software.
Time and attendance tracking
In addition to enabling performance assessment and forecasting availability, workforce management solutions should help companies track employee attendance and hours worked.
Most modern WFM tools should update in real time, so that there's no lag in determining availability and staff can be assigned to tasks with greater flexibility.
As more companies move to varying degrees of hybrid or remote working, the ability to track employees in different locations is becoming increasingly key, with more advanced technology closing up time theft loopholes.
3. 20 Best workforce management software list
3.1 Oracle – Best for global businesses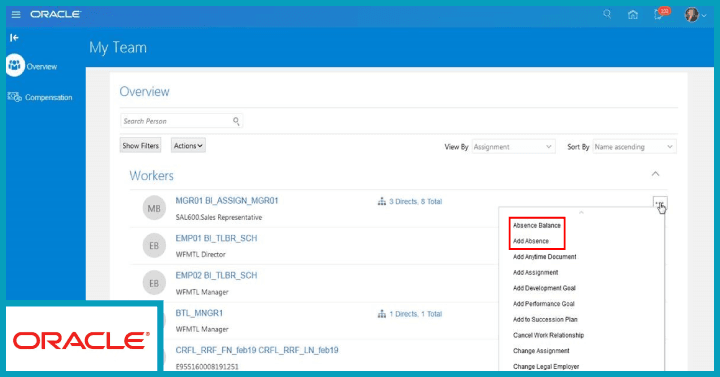 Oracle is the world's third-largest software house, selling a range of different products, from cloud engineering to database management. Their workforce management solution is one of the most popular on the market.
Oracle's WFM solution allows for global tracking of absence with the option for local customizations, flexible scheduling, easy data entry, and integrated health and safety incident reporting and management.
Though the user interface can be unwieldy and old fashioned, the overall usability of the product and the depth of features is solid.
Oracle does not officially release their prices, but recent estimates suggest the software costs around $13 per user per month for teams of 1,000.
3.2 UKG – Best for workers in rotational shifts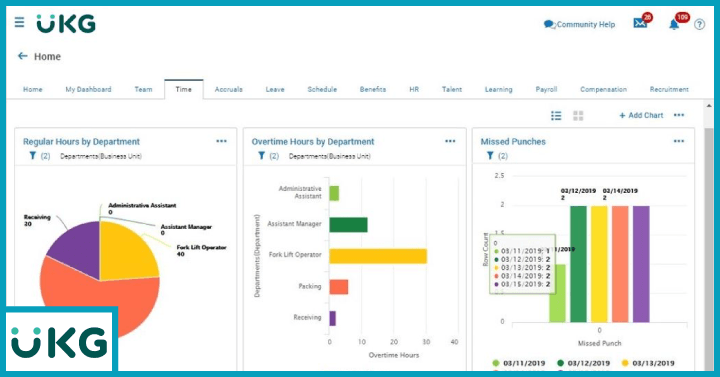 UKG specializes in human capital management (HCM) solutions. In particular, their software is designed to work with companies in the manufacturing, retail and distribution industries.
Scheduling and costing labor, flexible payroll and automatic tax calculation are some of the core capabilities, with the added benefit of compliance features like automated break-time alerts.
UKG's workforce management solution also offers shift-swapping tools and scheduling information for employees that make it particularly suited for shift workers.
UKG do not officially release their prices, but recent estimates are around $600 per 5 users per year, the equivalent of $10 per user per month.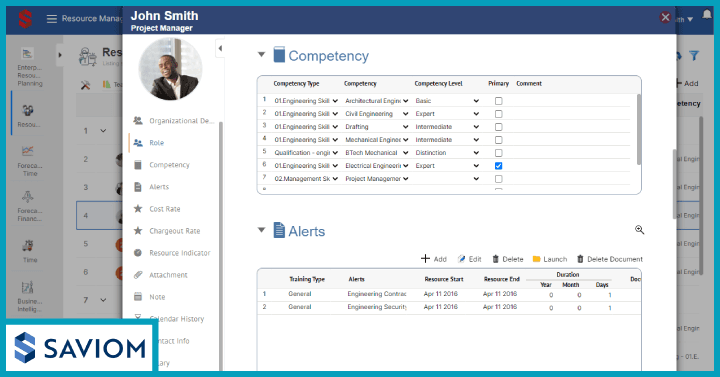 Working with multinational companies like Siemens, Honeywell and Fujitsu, Saviom offers resource management and workforce planning solutions.
Their Enterprise Workforce Planning software abets projection of staff utilization and can be customized to show what skills, experience and qualifications individuals have, so they can be matched to particular projects.
One of the most useful features of the interface is the clean way it displays capacity versus demand, so a company can avoid overstaffing or understaffing.
Saviom prices their software along different licensing lines: Power for full access, Lite for view only access and ability to receive reports, and Non User for those that don't require direct access to the system.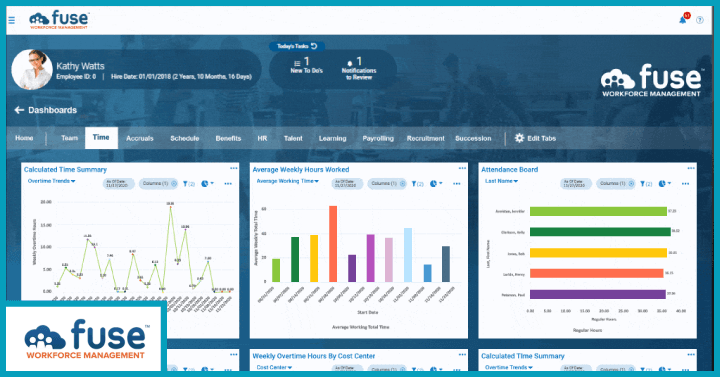 Fuse has been working in the payroll industry for over 30 years but has transitioned in recent times to becoming a fully cloud-based solution.
The software's modules are sold separately and include time and attendance (manage work schedules and employee absences), payroll (including real-time calculations of staff pay and tax tables) and HR analytics (using employee data to create reports on trends in hiring, pay and career development), which can be deployed individually or as a complete package.
As a cloud-based system, Fuse keeps sensitive data more secure than on-prem options, as well as making the WFM easy to access from anywhere.
Fuse do not officially release their prices, but recent estimates are $18 per user per month.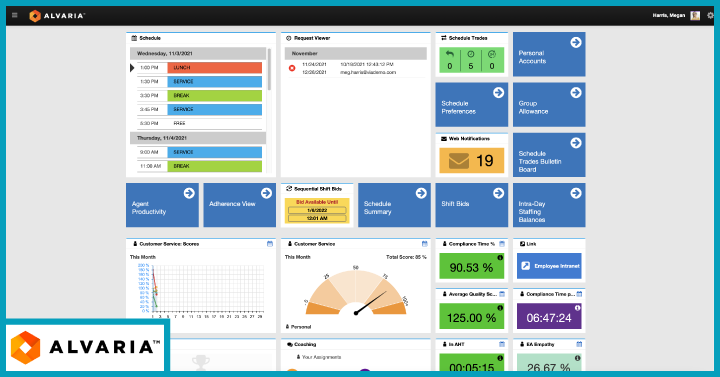 Alvaria have their foundation in call center management, which is still where their specialism lies today. Now, however, it offers on premise, cloud or hybrid solutions for greater flexibility.
The Workforce Engagement Management Suite can be utilized for both office and remote workers. For employees, it incorporates game mechanics and automated coaching workflows to create a better working experience.
For managers, there's a nifty dashboard where you can monitor agent availability and make adjustments to schedules to account for high or low volumes of calls.
Alvaria can be contacted for a quote based on number of users and company size.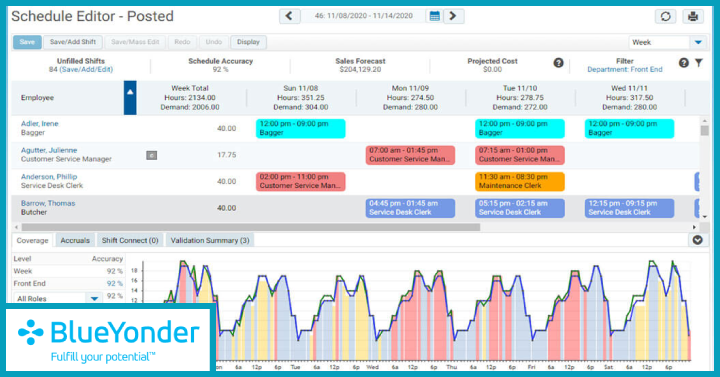 Owned by Panasonic, Blue Yonder are principally a supply chain management business. As part of their wider offering, they have also developed a workforce management solution that has been designed around retail and warehousing needs.
The software allows for site-by-site forecasting of staff availability, as well as easy schedule adjustment due to sick leave or increased/reduced demand. There are in-built compliance features to ensure companies are giving employees legally required breaks. Plus, it can all be accessed through mobile devices to allow for real-time changes.
Blue Yonder's WFM is powered by the Microsoft Azure cloud, which means greater data security and faster remote access.
Blue Yonder can be contacted for a quote based on number of users and company size.
3.7 SAP SuccessFactors – Best for integrating into a complete solution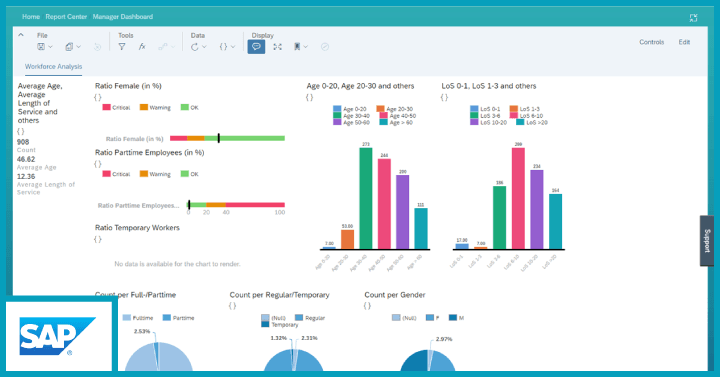 Part of multinational software giant SAP, SAP SuccessFactors is the subsidiary that focuses specifically on human capital management, including products for core HR and payroll, talent management, employee experience management and sales performance management.
Looking specifically at workforce management, the HR analytics and workforce planning module is designed to help managers assess and analyze their staff needs and costs. At the heart of the offering is the SAP Analytics Cloud, which allows companies to assess the best ways to retain key talent.
Machine learning helps to provide better predictions about staff scheduling and supply-demand to make workforce planning much easier. Additionally, SuccessFactors can be seamlessly integrated into SAP's wider software offering.
Pricing for the entire HCM suite starts at $8 per user per month, or $85 per user per year.
3.8 SumTotal – Best for mobile workforces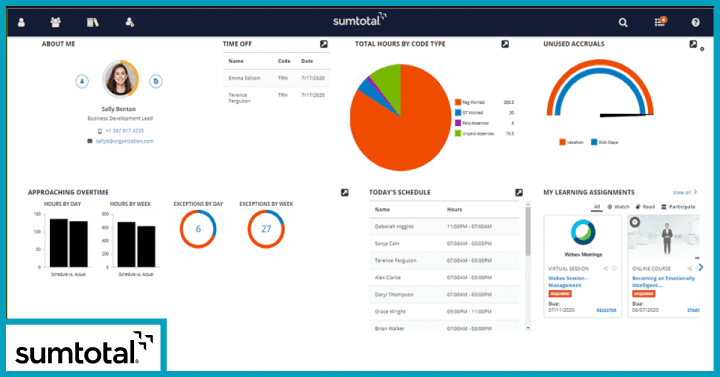 Offering HCM solutions for finance, healthcare, manufacturing and the public sector, SumTotal's products include talent management (recruiting, onboarding and learning development) and payroll.
Their workforce management platform covers time and attendance (boasting multiple timesheet templates), scheduling (utilizing a drag-and-drop dashboard) and absence management.
The company have also developed a mobile app that allows employees to easily update their status or request leave, while managers can use it to track performance data and use gamification features to increase productivity.
SumTotal can be contacted for a quote based on number of users and company size.
3.9 Paylocity – Best for automation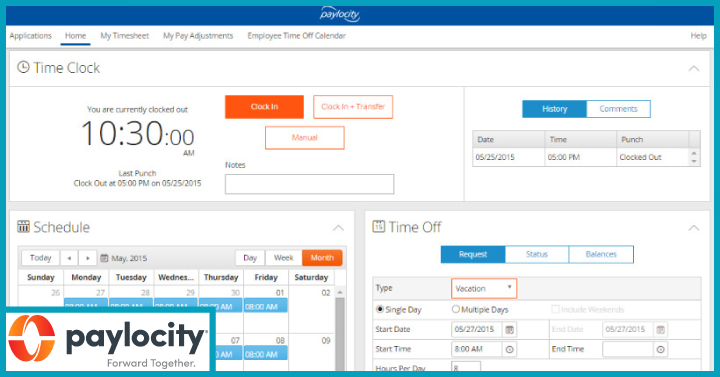 As the name suggests, Paylocity originally specialized in payroll services, but has since branched out into other areas like talent management, benefits administration and core HR tools.
Their workforce management solution can automate scheduling, tracking and managing of worked hours to reduce manual workload and mitigate compliance risks. This all feeds into a payroll system so that salaries are automatically calculated based on employees clocking in via mobile, web or kiosks.
The key feature of this clocking-in system is the geofencing Paylocity can help put in place to avoid time theft, backed up by fingerprint scans, facial recognition and photo capture to verify identity.
Paylocity can be contacted for a quote based on number of users and company size.
3.10 Calabrio – Best for employee retention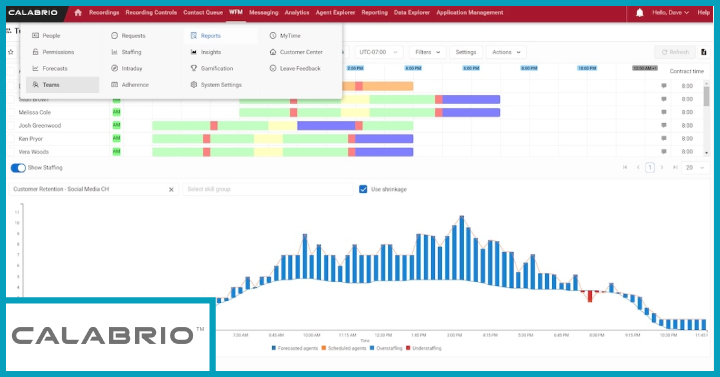 Calabrio's cloud-based platform is primarily targeted at contact center operations for both in-office and remote workers. The suite includes employee engagement, call recording, quality management and data analytics modules.
In the workforce management arena, managers can build schedules according to parameters such as skills, employee availability and customer demand. The tool is designed to automate forecasting and suggest scheduling based on data from previous months.
Maintaining the 'human' element is one of the core mantras of Calabrio, which is why their WFM solution makes it easier for staff to build their own schedules, trade shifts and stay on top of changes through a workforce management app – the overall goal being increased employee retention.
Pricing is based upon a minimum per seat fee, with the option to scale or reduce as needed.
3.11 BambooHR – Best for SMBs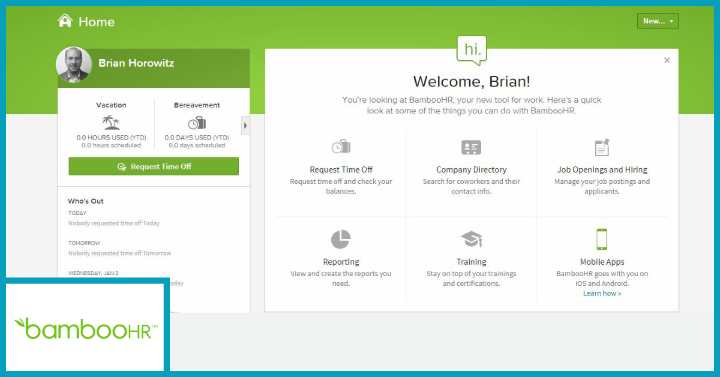 Where many of the other WFM providers on this list only deal with larger corporates, BambooHR is a workforce management software for the small business and medium business segment. Their complete human resources information system (HRIS) ranges from secure digital employee records storage to standardized workflows for enhanced efficiency.
BambooHR makes it easy to manage time worked as well as paid time off, in order to simplify payroll and compliance issues.
One of the company's most admired aspects is the reporting function, which ticks all the UI boxes while providing strategic insights on workforce planning and employee turnover.
Pricing is broadly divided into two levels: Essentials, which includes all the HR management and employee self-service features, and Advantage, which adds on hiring and onboarding, as well as advanced reporting and integration options.
3.12 Planday – Best for employee communication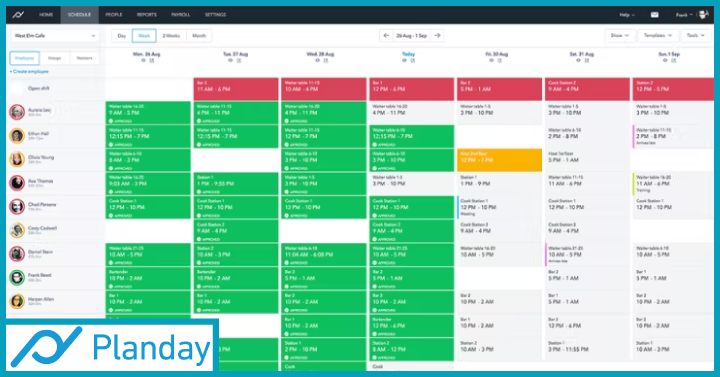 Planday was acquired by cloud-based accounting software provider Xero last year and is now fully integrated into the parent company's offering, which also includes e-invoicing from Tickstar and data capture from Hubdoc.
With payroll principally handled by Xero, Planday focuses purely on WFM aspects like scheduling and time tracking, with reporting features to track staff performance and productivity.
The business offers an app that allows for mobile shift scheduling and staff rota creation. It also includes an inbuilt messaging system to make contacting employees in different locations easier.
Pricing per user for small businesses starts from $1.99 per month (minimum five users), rising to $2.99 for businesses of 20-50 employees across multiple locations. Larger companies should expect to pay more.
3.13 Workday – Best for enterprise businesses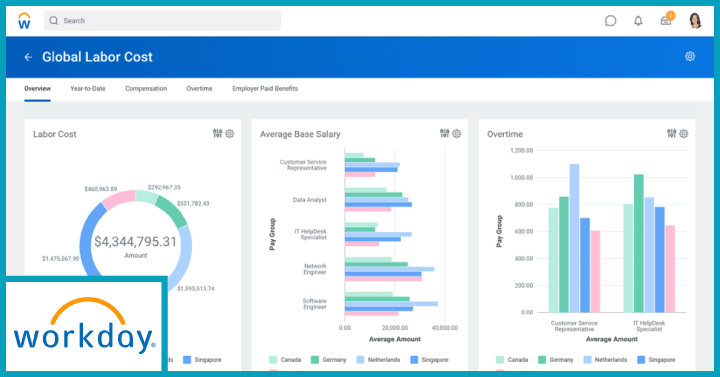 Offering financial management, HR systems and planning tools for companies with more than 2,000 employees, Workday has a broad set of cloud-based human capital management products.
Their HCM features include talent training, customizable incentive schemes and detailed analytics reports that turn complex raw data into digestible reports.
Intelligent automation reduces manual man hours but still allows for flexibility if you want to tailor your processes or scheduling.
Workday does not share pricing details publicly but is generally one of the more expensive options on the market.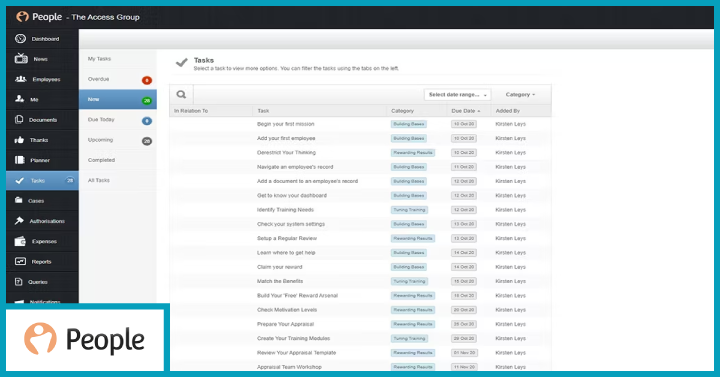 Based out of the UK and part of business management software organization The Access Group, People HR's HRIS is used in the IT, finance, manufacturing, non-profit and retail sectors.
The web-based software allows companies to automate workflows for repetitive tasks, centralize employee records, keep tabs on absences, track worked hours via a mobile app or the automatic Geo Sensing capability, and automate expense reporting.
Additional benefits include integrations with common payroll software like Xero and Sage, as well as performance management review templates.
People HR offers three broad bands of pricing: Professional for core HR and WFM features (£5), Enterprise for the additional recruitment and talent management modules (£7), and Elite for customization across the entire system (£9).
3.15 NICE – Best for machine learning and AI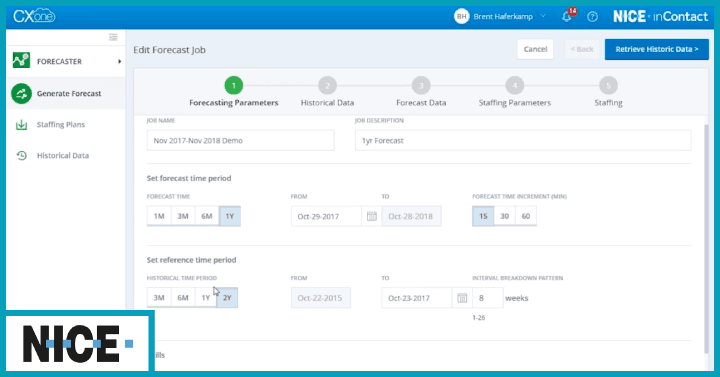 An Israeli software outfit focused on the contact center market, NICE's customer experience services range from journey orchestration (i.e., optimizing the customer journey) to providing virtual bots to solve common problems, freeing up agents for more complex issues.
The workforce management aspect focuses on improving employee engagement, minimizing manual administration and agile scheduling using machine learning via the cloud.
NICE's golden promise is that it helps companies fulfill service-level agreements through improved employee utilization, scheduling efficiency and forecasting.
NICE can be contacted for a quote based on number of users and company size.
3.16 Verint – Best for managing both customer-facing and back-office employees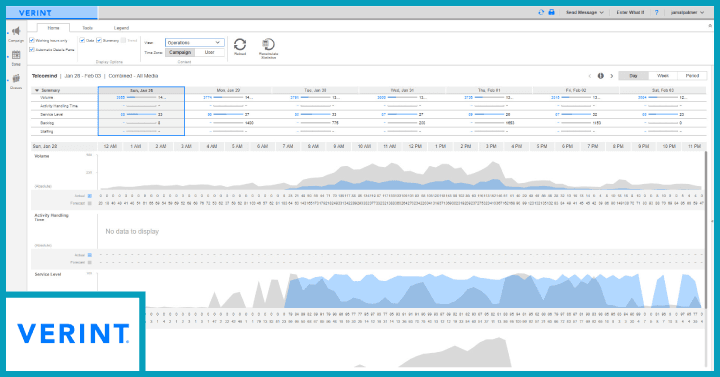 Tools to improve customer engagement and agent management are at the heart of Verint's offering. The software provider has worked with more than 85 of the Fortune 100 companies.
Their workforce management solution includes forecasting and scheduling to lessen overstaffing and overtime, employee engagement features to reduce absence and increase retention, and tools to analyze the quality of employee-customer interactions.
While Verint has traditionally focused primarily on agents in branch centers, recent years have seen them extending their software to optimize the scheduling and task automation for back-office staff as well, with additional features developed to support distributed working.
Pricing is not publicly available for Verint, though they can be contacted for a quote.
3.17 Humanity – Best for shift scheduling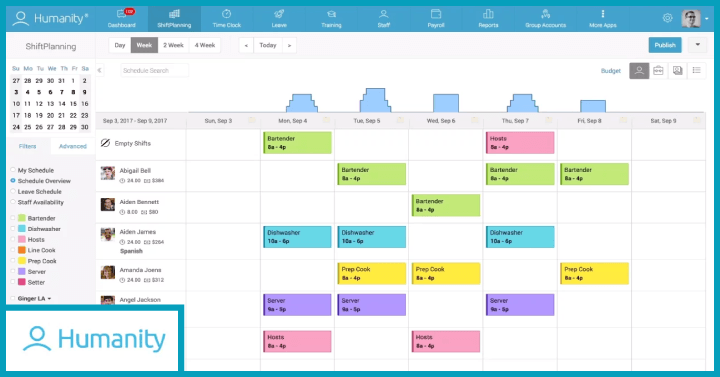 Humanity is one of the best workforce management software for pure WFM. Focusing on doing one thing right, the platform can be integrated with wider HCM platforms and payroll infrastructures if you want to include it as part of a seamless suite.
For employees, the solution makes it easy to monitor work hours, trade shifts and request days off in real time. For managers, the solution makes it easy to forecast staff availability, track costs and ensure compliance with local laws.
Humanity allows companies to create customizable rules to suit the peaks and ebbs of their particular business model, as well as compliance issues for specific regions or countries.
Pricing is broadly divided into three groupings: Starter for teams (including basic scheduling and availability management), Classic for mid-sized companies (including analytics, payroll exporting and budgeting) and Enterprise for large businesses (including custom HCM integration and open API).
3.18 Reflexis – Best for accurate time tracking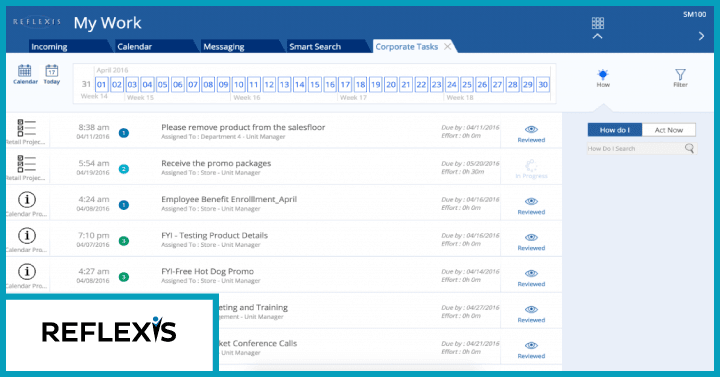 Mobile computing company Zebra Technologies snapped up Reflexis a couple of years ago to expand their reach into workforce management.
Reflexis's scheduling facility utilizes AI to optimize and automate employee workloads through real-time data capture and analysis, while its employee self-service features improve employee engagement by making it simple to view accrual balances, request leave and adjust availability.
One of Reflexis' greatest strengths is its time and attendance tech, which offers the option for companies to track staff hours via facial recognition, voice control or QR codes. The company has designed their time clocks for improved accuracy, minimizing errors around shift breaks and reducing the complexity of reporting processes.
Reflexis can be contacted for a quote based on number of users and company size.
3.19 Ceridian Dayforce – Best for complex workforces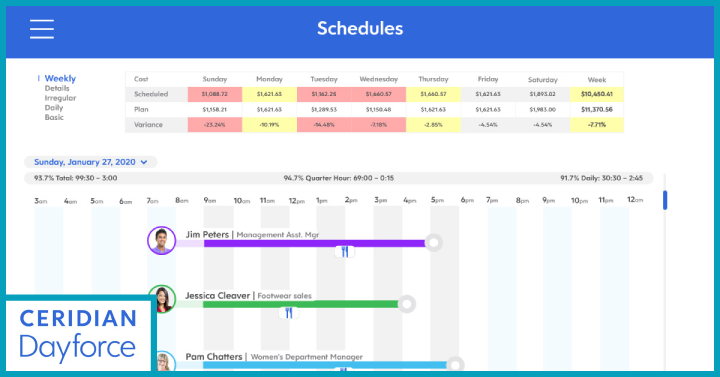 Workforce management, payroll, HR, and talent development all feature in Ceridian's Dayforce HCM software, which is a cloud-based solution.
Strategic scheduling based on data analysis, location-based timekeeping with geofencing capabilities and absence management assessments are all part of the core functionality, which also aims to ensure compliance with local labor laws.
The platform is capable of collecting and digesting complex shift information and employee data to create actionable reports for companies to better utilize their workforce.
Pricing of the Dayforce platform is based upon what modules a company chooses to incorporate, whether that be purely core HR, workforce management or talent acquisition. Ceridian offers the option to purchase this as an enterprise license or on a pe user basis.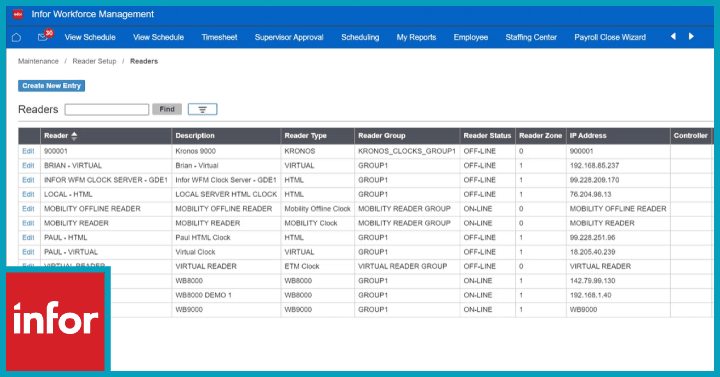 Infor has a broad portfolio of software for enterprise-sized companies, having originally started out as an enterprise resource planning specialist.
Their workforce management platform has such time and attendance capabilities as automated tracking of employee time and real-time pay categorization, meaning the system can apply rules for different pay brackets by itself.
Other key features include the multi-view scheduler, which can be customized for different industries to forecast and track staff availability, machine learning algorithms to turn previous data into WFM models for the future.
Pricing is not publicly available for Infor, though they can be contacted for a quote.
4. FAQs
What should I look for in workforce management software?
Determining the best workforce management software for you depends on factors like the size of your organization and the level of sophistication you desire. There's no point in spending lots of money on a WFM solution that has advanced data analytics capabilities if you're only using it for a team of 10 or 20 people, for example.
What is a good workforce management?
The best workforce management software incorporates automated scheduling, forecasting and performance management with usability and easily navigable UI. After all, it doesn't matter how sophisticated a product's machine learning capabilities are if the interface requires intensive, time-costly training to comprehend.