Over the last two decades, there has been a shift in the construction landscape. Manually intensive project processes have been digitized for both convenience and efficiency, leading to the proliferation of construction project management software.
Construction management platforms play a pivotal role in kicking off and delivering construction projects. It helps both the construction project manager in charge and the team responsible for each phase to stay on track.
Construction managers experience challenges when overseeing a live project, from getting a bird's eye-view of inflight activities to ensuring the budget is accounted for in terms of where it is being spent.
Having explored a few construction project management software platforms over the last week, I decided to dedicate a post to my research that will help you lock down on a tool for your business. Let's begin with choosing the best construction project management software;
1. Project management software for a small construction company


When selecting a construction project management software, go for one that makes the process of bid management, quality, scheduling and task management both visible and transparent.

If you're looking for something basic and simple to get onto, consider Knowify LetsBuild and Procore. If a time-tested tool is what you're after, you might want to consider Procore, Knowify or even PlanGrid. From a pricing perspective, Fieldwire's basic and pro plans can get you in on the core features without emptying your wallet.

In the last section of this post, we'll list the plans available for each tool so that you can choose one that offers you actual value while remaining affordable in the long haul!
2. Pricing Plans and Packages

Each construction project management management platform we looked at has a variety of pricing plans based on the size of your business and requirements. They are as follows;
Tool Category
Pricing Options (Per Month)
PlanGrid
Autodesk Build

BIMCollaborate $2655

BIMCollaborate Pro $3540

Fieldwire
Procore
Contact Sales for demo
BuilderTrend
GenieBelt
Flexible Pricing
[Slider Option to enter number of active projects + subcontractors]

AccuBuild
Contact Sales for demo or schedule a discovery call.
CoConstruct
RedTeam
$3,500 (Per Year)
Knowify
3. The Best Construction Project Management Software in 2023

3.1 PlanGrid
About
PlanGrid is a construction productivity software developed by Autodesk. The idea for a mobile-friendly construction productivity software came about in 2010 after the iPad was unveiled. Plangrid is based out of California, US and is in use by firms such as CoveKinloch, The Raymond Group and Charles Pankow Builders.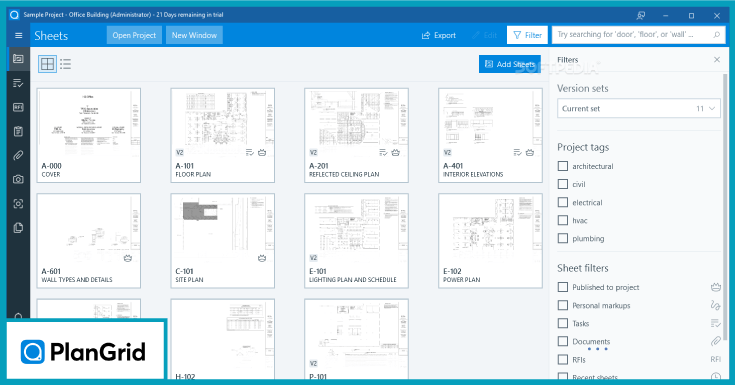 Features
PlanGrid's core features are divided into four categories- documents, progress, reports and enterprise. While the enterprise edition contains a master dashboard known as the admin console, all documentation is distributed into smart drawings, building information management, workflows, submittals, automatic submittal logs and Request for Information (RFI). The Autodesk construction cloud further groups features as follows
AutoDesk Build:

AutoDesk Build is a field and project management software for builders, and features workflows on project management,cost management, field collaboration, safety and quality management.

BIM Collaborate:

BIM Collaborate lets project teams collaborate and coordinate construction design using clash detection, connected issue management, status transparency and federated model coordination. The tool uses machine learning to automate modeling uploads and empowers project teams to make insight-led decisions regarding constructability.

TakeOff:

AutoDesk TakeOff quantifies 2D and 3D modeling and simplifies the estimation process. Teams get access to relevant documents, and can capture the project scope using linear, count and area takeoff techniques.

BuildingConnected:

Connected is a bid management system that lets you track bid invites. It helps you review proposals, manage subcontractors,update vendor information and plan outreaches. You can subsequently choose the best bidder and prepare accurate bids using the integrated takeoff tool.
How it benefits small businesses?
Construction Productivity Software such as Autodesk's PlanGrid allows both managers and building estimators to collaborate at-scale during the project. It replaces endless siloes of manual blueprints and designs. PlanGrid lets you standardize the process and makes bid management, quality compliance and team progress visible and trackable.
What SIWOM Thinks
I liked the takeoff, connected and build management features within PlanGrid. It is easy to send out bid invites and connect RFIs to the project lifecycle.
The secondary benefit is that you can track and resolve potential change orders. That being said, i did feel that the information on site is a bit all over the place,so narrowing down the features to how they add value to the construction design and modeling took a bit of time.
3.2 Fieldwire
About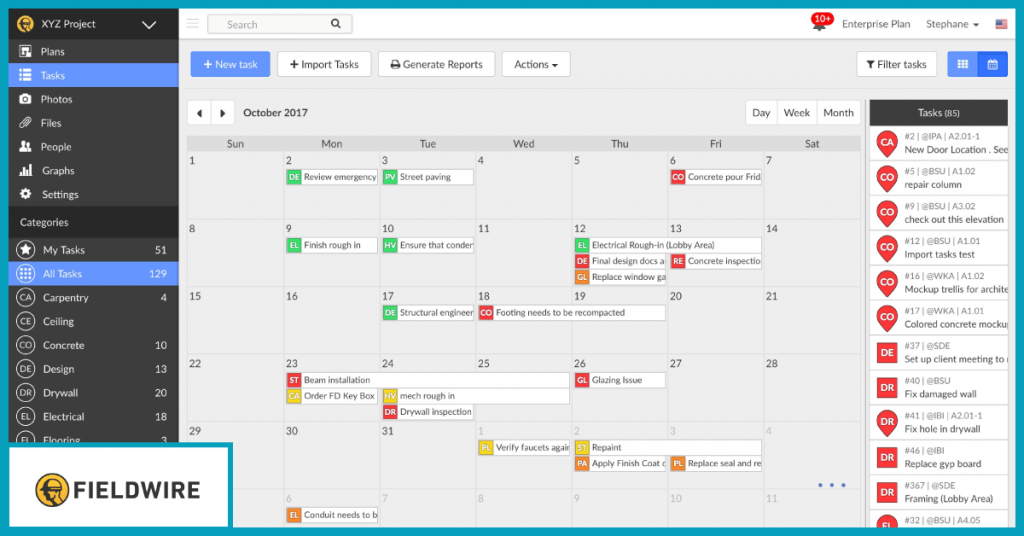 Fieldwire is a jobsite management tool for construction teams. Launched in 2013, it's headquartered in San Francisco and branched out to cater to the European market in 2017. Powering over 100,000 job sites, Fieldwire's customer base includes Webcor builders, Eagle Excavation and Bear Construction.

Features
Fieldwire's core features are plan viewing, as-built drawing, task management, scheduling, punch lists, inspection, BIM viewer, reports and forms. The solutions cater to general and speciality contractors, owners and architects and designers.

You can view blueprints on-app using Fieldwire's free blueprint management system. It enables you to add markups, annotations, and progress photos directly on your drawings while you're in the field. Contractors can attach cost and labor estimates directly onto the punch list. Given that this is entirely online, you save considerable time updating everyone of progress and dependencies even if they're dispersed.
How it benefits small businesses?
With Fieldwire's blueprint management system you can import and manage construction prints such that everyone, from the foreman to the architect has access to the latest information. The tool also extracts numbers and informs you of a version conflict so that you know whether you're looking at an older or recently updated version.
What SIWOM Thinks
The punch list feature was my favorite, because it runs on a simple interface and makes walkthroughs and task assignments transparent. It reports deficiencies backed up by photographic evidence,checklists and due dates. The best-selling feature, however, is the task management because it ties plan viewing, punch lists, blueprint management, scheduling and reporting. The fact that Fieldwire's mobile and web versions sync automatically is something the team and I think makes it an easy-to-use tool.
3.3 Procore
About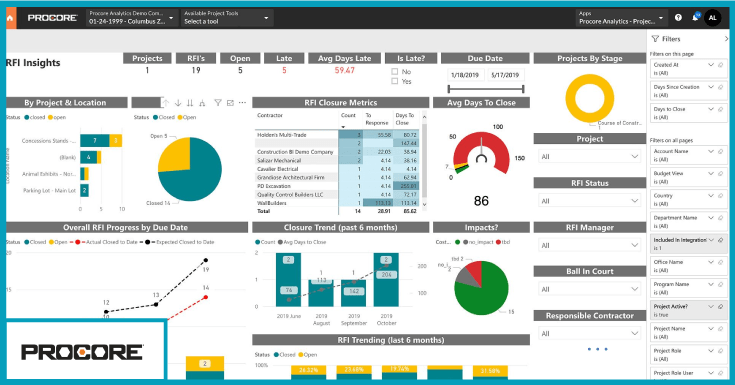 Procore is a construction management software founded by Tooey Courtemanche. Tooey dabbled in start-ups prior to founding Procore in 2002. Procore is based in the U.S with offices in London, Sydney, Mexico City and Toronto. There are 1 million+ users in 125 different countries who use Procore, with some clients including Balfour Beatty, Turner Construction and Great Eagle Holdings Limited.
Features
Procore's features are Accounting Integrations, Analytics,App Marketplace,BIM, design Coordination, field productivity, invoice management,project management, quality & safety, security and tender Management. The real-time labour costing provides updated costing data by connecting labour hours and material installed to your budgets in real time.
How it benefits small businesses?
The Procore platform is robust and accommodates project management,custom workflows, analytics, resource management and financial management. The ROI report reveals that companies get 84% increased visibility and save an average of 11 hours every week with the consolidation of project inputs.
What SIWOM Thinks
I liked the correspondence history (similar to bid invite logs) that let you manage the conversations between different teams and roles. Procore is customizable, with the facility for users to add or modify workflows as per how the business works. The Homepage opens up a project overview dashboard that reveals the work that's overdue or due in the next few days. The historic analysis makes it easier to extract and study trends.
3.4 BuilderTrend
About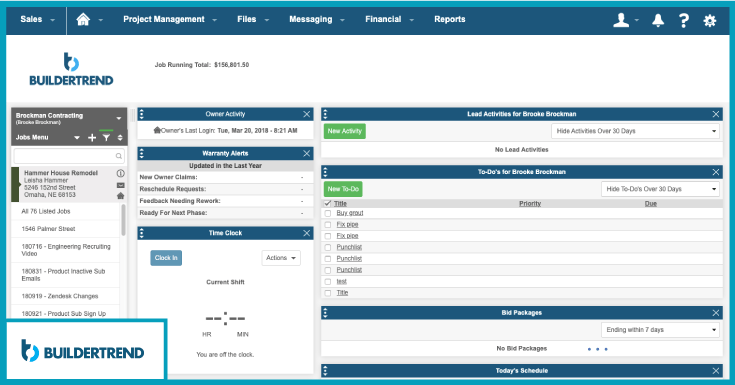 BuilderTrend is a construction project management software that endeavors to keep project teams connected and improve efficiency. As per a website update, BuilderTrend and CoConstruct (another tool listed in this post) will merge and work together. BuilderTrend was founded in 2008 by the Dugger brothers, Jeff and Steve with their friend Dan Houghton. As of 2019, BuilderTrend is used by 1 million+ users in 100 countries and employs 540 employees. Clients include ShaneCon Construction and RSG construction management.
Features
BuilderTrend's features are financial management, project management, customer management,pre-sales and integrations. The project management section contains a scheduling feature on Gantt charts, making it easier to assign tasks, reshuffle teams, update To-Dos and sync calendars. You can even record weather updates prior to reporting on-site to decide if you need to come in to work.
How it benefits small businesses
BuildTrend creates WIP reports(work-in-progress) that give you insight into how much is getting done and whether it matches upto the original time and cost estimates. It also gives businesses a bird's eye-view of over and under-billings that you can correct prior to invoicing clients.
What SIWOM Thinks
The team and I liked how communication is centralized, with users having the option to leave job-specific comments. The e-warranty facility within the tool lets you track claims, submit issues and reschedule appointments. The feature within project management that I liked best was the scheduling as it allows users to reshuffle teams according to the task's priority.
3.5 GenieBelt by LetsBuild
About
LetsBuild is a construction management tool born out of a merger between GenieBelt and Aproplan in 2019. It has headquarters in both Belgium and Denmark with offices in London and Poland. They have 10,000+ active users.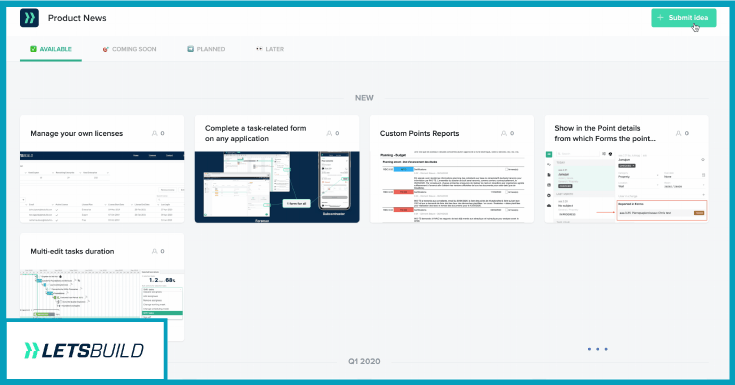 Features
LetsBuild's project management features comprise scheduling, communication,delay prevention,claims tracking and protection and real-time site visibility. You can create a 3 to 6 week plan, sync it with the master project and import data from other planning tools.

How it benefits small businesses?
The 360-degree visibility into project work ensures that you're able to know if subcontractors are arriving on-time or are held up. Teams can keep each other informed, while managers can oversee the timely delivery of material and respond to RFIs.
What SIWOM Thinks
Compared to the other tools we looked at, LetsBuild has given communication equal importance as task management. The team liked the way checklists can be connected to the tasks scheduled, and I liked the safety dashboard that highlights issues needing attention immediately or later. All in all, the tool was interactive without confusing the person on the dashboard.
3.6 AccuBuild
About
AccuBuild is a construction software that was developed in the early 90s by Mike, who previously worked as a Controller in Georgetown, Texas, U.S. AccuBuild became a family-owned business with Mike's son Josh coming onboard in the 2000's. Clients include Kana Pipeline and TCC MultiFamily Interiors.

Features
AccuBuild (A/B)'s key features are project management, document management, workforce management, business intelligence and accounting. The tool can be hosted on the Cloud. Within project management, you'll find the certified payroll,union reporting, retain age(retention tracking), committed cost, over and under-billing and work-in-progress schedule.

How it benefits small businesses?
Construction businesses can track daily tasks,RFIs, change orders, submittals and meeting notes. You can also see the daily field reports on-mobile and manage this documentation out of one location.
What SIWOM Thinks
AccuBuild has an extensive reporting suite that generates data on RFIS, project status, contact lists and outstanding submittals. Although we did not see each report in-detail, what stood out was the unlimited folder facility to store file versions. You can even create job templates for new projects, and access the dashboard for a visual representation of the items that are overdue for a single or all projects.
3.7 CoConstruct
About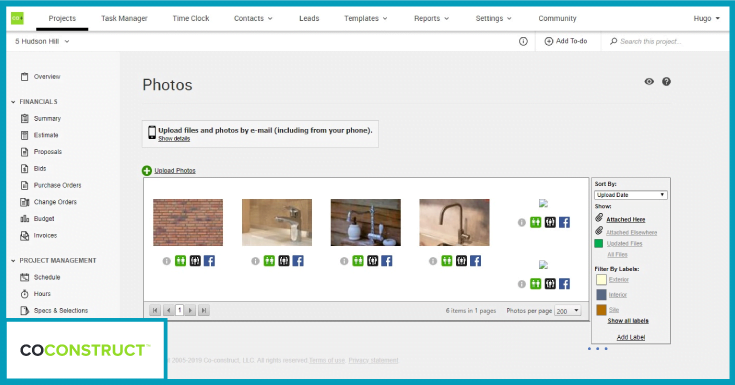 CoConstruct is a construction management software launched in 2004 by Donny Wyatt. The company is based out of Charlottesville, U.S and serves 100,000+ users.

Features
Coconstruct's features include single-entry estimation,timesheet management,accounting, jobsite activity tracking,budget and cost forecasting, lead tracking and management,invoicing, purchase order control and field scheduling.
How it benefits small businesses?
Estimation is more accurate via the template library. Businesses can also manage the margin by looking at the projected cost-to-complete construction work. What's more, you can shift a task and know that others are informed automatically. The baseline view shows you all changes made over time. The tool sends out alerts and reminders to make sure the team stays on track.
What SIWOM Thinks
Through CoConstruct, clients too know what your schedule looks like, and what they are paying for. We liked how the costs for both fixed-price and open-book projects can be generated beforehand. But for me, the timeclock feature really cinched it because you can match effort hours to costs, and pay teams based on the activities that get logged.
3.8 RedTeam
About
RedTeam is a construction collaboration software built by contractors. Released twenty years ago, RedTeam is headed by Michael Wright who serves as its CEO, along with Eduardo Loayza and Frédéric Guitton. RedTeam is based out of Florida, U.S and features clients such as Remsing Construction Co,38 North and Chinburg properties.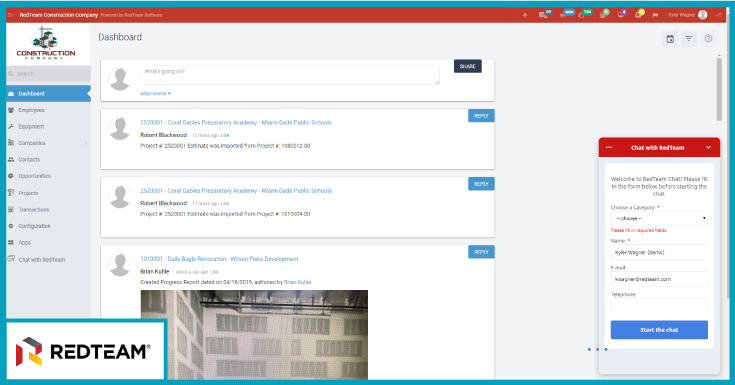 Features
Core features include project management, field management and finance. RedTeam also has preconstruction and business development modules. You can manage drawing versions, use the submittal workflow to track the stages within the submittal process and manage milestones and tasks on a Gantt Schedule.

How it benefits small businesses?
The Drag and Drop interface makes it easy to see how your project's timelines are impacted if you move tasks or resources around. Furthermore, it's easy to manage and control all documents with Dialog, RedTeam's built-in document handler which compiles RFIs, meeting minutes and agendas.

What SIWOM Thinks
A feature unique to RedTeam is its Optical Character Recognition tool, which helps in planning. The team and I also looked at the budget and equipment tracking,incident reporting, change orders and contract management. Of these, we liked the ability to track how many and what type of construction equipment has been checked out and returned, as well as changes to bids made.
3.9 Knowify
About
Knowify is a construction management tool that streamlines jobsite costing,estimation, bids, contracts and project time. Founded in 2012 by Marc Visent and Dan de Roulet Jr.in New York,U.S, Knowify has clients such as Chaney Mechanical,Safe Harbor Commercial Roofing and Polson Painting.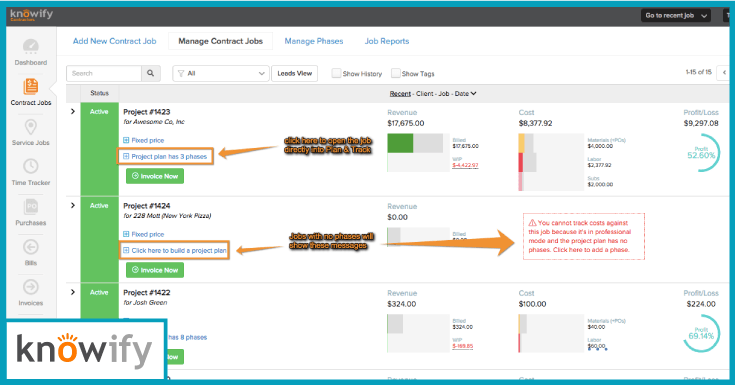 Features
Knowify's key features are job costing, time tracking,profitability and reporting, lead management and quoting. The time tracking feature captures employee labor costs with a built-in clock in and clockout system, while job costing tells you which projects are more or less profitable and whether you're consistently under-bidding projects.
How it benefits small businesses?
Construction firms can measure progress against labor, materials and budgets, thereby managing incoming and outgoings. Interestingly, Knowify also streamlines the sales pipeline with just a simple drag-and-drop functionality. You can see which stage in the pipeline a project lead is in, and track the performance of sales teams. In other words, managing projects from lead to closing is smoother.
What SIWOM Thinks
The feature I really liked was within quoting, and it's an e-signature facility. It simplifies approval requests and RFIs by obtaining the signatures necessary to kick off the next phases. It pools in information on quotes received such that other team members can take over even if your estimator is unavailable.
What is the Best Construction Project Management Software?

The vote for the best online construction project management software goes to PlanGrid. From what we researched, this Autodesk product covers everything a construction project manager will need, from managing bids and contractors to assessing the milestones reached.

That being said, this question does depend on your criteria for defining construction project success.
When managing projects, the focus is on seeing that the plan is on-track so that you are able to provide your client with accurate updates. As a construction project manager, you'll be touching base with the material and supply vendors, contractors and compliance auditors involved in the project.
Having the right construction project management software makes your job of coordinating and tying up loose ends a lot easier. It can streamline workflows and inform you of what's happening right now. Some tools also feature construction timesheet apps that help you verify the identity of the team member logging in or logging out. To make it simpler to recognize the tool that checks all the right boxes; here are some questions you should ask yourself;
How many project management-related features does the tool need to have?
Does the tool integrate with your existing systems?
Are the reports detailed and helpful to making informed decisions?
Will the software improve tracking and accountability?
What's the extent of customization that helps you benefit from additional features?
How reputed is the tool provider?
How responsive is their customer support?
Is there both a web and mobile version?
Is the tool's security options robust enough to safeguard data?