When it comes to teams working remotely, businesses are concerned that company time is at risk of being mismanaged. This has led to the quest for productivity tracking software such as Hubstaff v Timedoctor. The truth is, reporting to work in person and in an officeless environment differ. When you're surrounded by the hubbub of people and activity, you are more conscious of what's distracting you. Online, however, interruptions, glitches and diversions are more unpredictable and therefore, harder to overcome. In this post, I'll be comparing both Hubstaff and Timedoctor to give you the facts to decide on the tool that's right for you.

Looking for more options to help boost productivity? Check out our deep dive into

effective productivity tools

for remote work to optimize your virtual work environments.
1. What are Hubstaff and Timedoctor?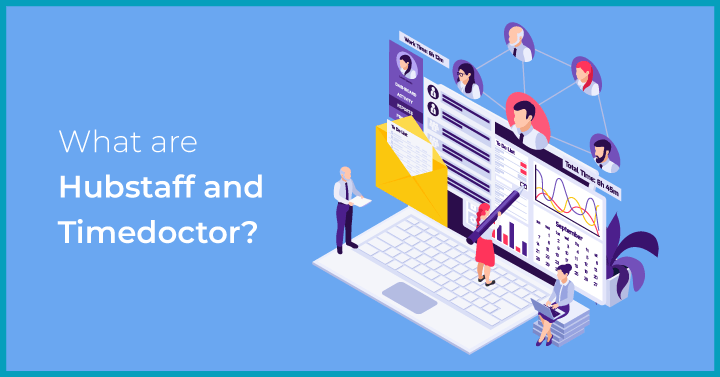 Hubstaff and Timedoctor would know a thing or two about what it's like to work remotely, considering that they're both staffed by a fully remote team. Hubstaff was founded in 2012 by Dave Nevogt. It's a platform for time and team management, with product offerings in time tracking, task management and remote hiring. As of 2021, Hubstaff has 34,000+ clients including Groupon, Clippers and Kurve. Timedoctor is a productivity and time tracking software founded by Liam Martin and Rob Rawson in 2012. The tool was developed to help companies set up remote and distributed teams while being able to keep efforts and contributions on a visibly unified scale. Timedoctor's employee monitoring and time tracking capabilities are loved by nearly 83,000 users worldwide, with names such as Verizon, BoostMedia and Ericsson in the list.
2. Hubstaff V TimeDoctor Feature Analysis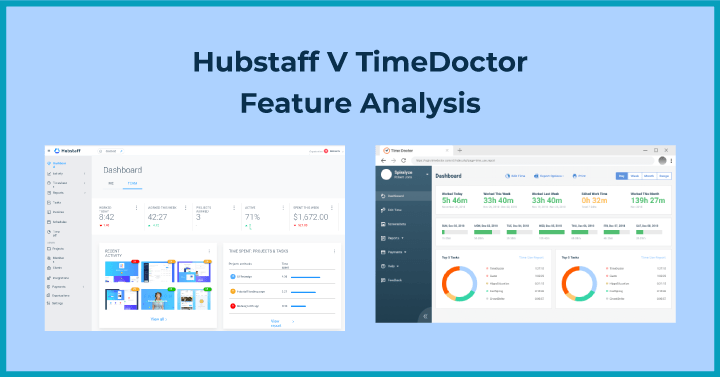 2.1 Time tracking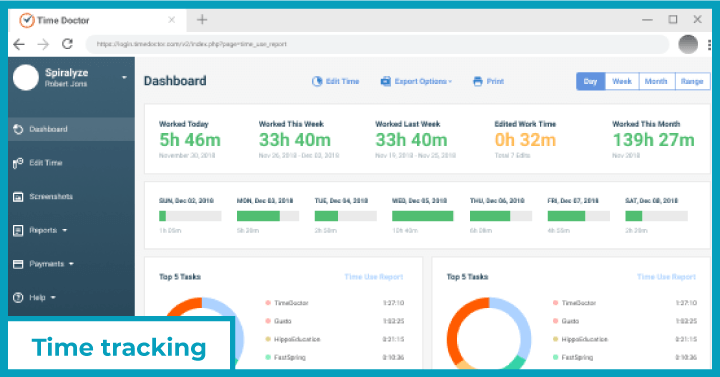 Overview Hubstaff's employee time tracking software can be accessed directly from Chrome or through the web dashboard. It breaks down everyone's hours by client. Time tracking tacks work hours allows your team to track work hours spent on every single project and task. What is tracked gets entered into timesheets. Feature Analysis
On Hubstaff, the two options to see the total hours worked for a day are "me" and "team". On the team dashboard, you'll see the team's activity levels, who all are online and a graph indicating hours worked per week. You can also view timesheets to see the time spent across different projects and whether they match the activity level.
Like Hubstaff, you'll need to download the desktop app for Timedoctor and track time by logging in. You can create tasks against which there's a start-and-stop timer. Once you click "play", the timer starts. It logs how many hours are spent per task.
Hubstaff detects mouse movements and keystrokes and marks it as an activity. The time reports help you see the percentage of time that a task consumes.
Both Hubstaff and Timedoctor's desktop timer detect idle time, the difference is that the detector is a lot more interactive and bolder on Timedoctor! A pop up appears on both tools to ask the user if they're still active or need to extend. Additionally, hubstaff users can check the Keep Idle Time, which adds to their tracked time log. The Reassign Idle Time option causes a new screen to appear which reassigns the project.
Verdict: Timedoctor While both desktop time trackers work great, I liked Timedoctor better because it locks down on the time spent. It also sends out website visit reports for the time that employees are logged in, making them more accountable and aware of how they're utilizing time.
2.2 Geofencing and GPS tracking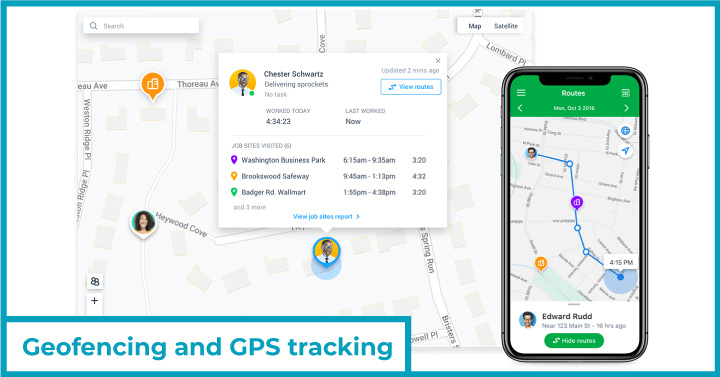 Overview The geofence and GPS tracking are features unique to Hubstaff. We did not find location-based tracking in Timedoctor while exploring the software. Features Analysis
Once you login, you can access the geofence through the job site located on the bottom left of the admin panel on the Hubstaff dashboard. There is an auto-start and stop timer that can be activated based on the location. You'll need to download the geofencing time clock app on your device. The app is compatible with both Android and iOS and automatically clocks people in and out.
The geofences also remind workers to clock in if they forge. This information forms location-based records of the work hours which lets shift managers determine if a scheduled shift started and ended on time.
The geotracking helps build up the timesheet to the employee's tracked hours. Push notifications can be set to alert you to no shows or habitual late comers.
Verdict: Hubstaff While many companies are remote and distributed for now, Hubstaff's geo tracking capabilities are useful to offices that are collocated with plans to reopen at hybrid and staggered capacities. It's also useful to construction, architecturing and engineering consultancies where work is on-site 80% of the time.
2.3 Employee monitoring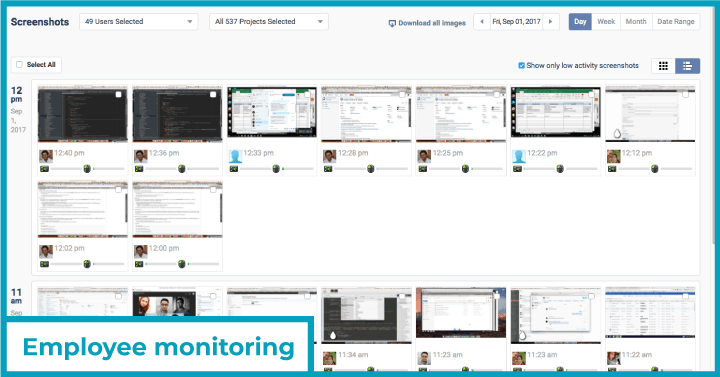 Overview Hubstaff's employee monitoring feature is available as either a Chrome extension or downloadable on Mac, Windows, or Linux. They can then track their work time & activities to generate a proof of work. Project managers can make use of the screenshot option to capture screens, but the good news is that this can be customized and timed or even completely turned off if not required. Timedoctor's screen grab feature is also customizable and can be disabled for individual employees. Features Analysis
Screenshots are randomized on Hubstaff which captures work screens. You can set the feature to capture frames a certain number of times per ten seconds. This can also be turned off. Time doctor's screenshot capturing feature is optional and can be enabled and disabled as per the manager's requirement.
Both Hubstaff and Timedoctor offer web and app tracking. Hubstaff tracks URLS being visited and then displays this on a screen in analytics. You can see the time spent on a website and the percentage of usage. On Timedoctor, there's a single screen for websites and applications accessed, which lets you see where maximum and minimum time is being spent.
Verdict: It's a draw I find that the feature works equally well on both the platforms, the screenshot ON/OFF option in particular.
2.4 Project budgeting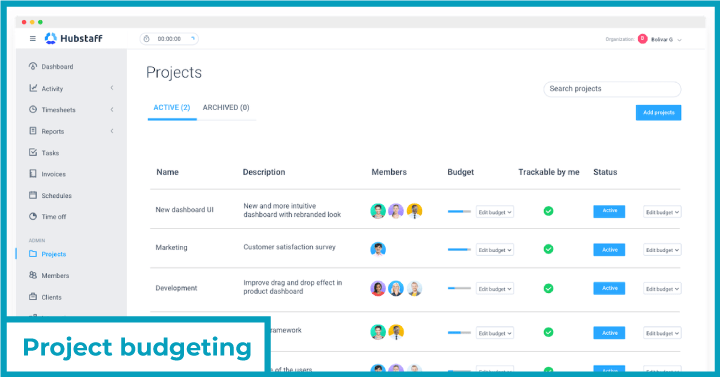 Overview The project panel on Hubstaff is by far my favorite in the admin dashboard! It opens up to a list of active and archived projects. Under it, you'll find project budgets which assign costs to tasks. You can then allocate these as To dos to team members and track and control costs throughout the duration of the project. What's more, you can see the cost of the efforts and pay employees accordingly. While Timedoctor contains project, attendance and budgeting reports, it is missing a dedicated space to projects and is presented differently. Features Analysis
On Hubstaff, you can set a time or cost limit to projects to minimize the risk of it going over the limit or from being unused. There are Kanban boards to help you prioritize tasks within the project selected.
On Timedoctor, you can access project reports under reports on the left hand side of the dashboard, which shows you the time spent on different projects.
The smart budget settings within Hubstaff ensure that you are able to track budgets against weekly hours in real-time. You get alerts as the budget nears its limit in order to make necessary adjustments.
Verdict: Hubstaff I find the cost data on Hubstaff's project budgeting feature to be more all-rounded than the information presented on the Timedoctor project report. You can also look back on project tasks through the time and activities report to make accurate estimates for the future.
2.5 Online timesheets and reporting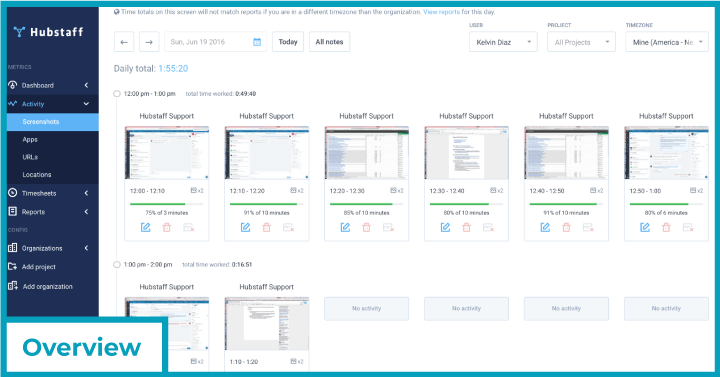 Overview Both Hubstaff and Timedoctor offer a digitized timesheeting facility along with a range of time reports. Features Analysis
Timedoctor's time-centric reports are synced to the timesheet to display the total amount of accountable time for users on a daily and weekly basis. The timeline report is visually indicative for the spread of activities on a selected date. Hubstaff's time and activity report matches the entries on timesheets.
The time off report on Hubstaff is further segmented into leave balance and time off transactions. The former tells team members how much leave they have left (if applicable) to plan out absences, while the latter indicates leaves taken in the pat that have been approved by managers.
Timedoctor additionally shows a report of websites and applications accessed during work hours according to the employee's geographic timezone. Additionally, the time spent on non-work sites such as YouTube or social media, which is classified and compiled into poor time use reports. Hubstaff too, has an apps and URL report indicating the time spent visiting websites.
Hubstaff allows entries to be manually edited to reflect a change in activities or a difference in the length of time spent on a task.
Timesheets can be accessed on any device on both the platforms, or be viewed from the dashboard.
Verdict: Hubstaff While the reports are expansive on both the tools, I personally liked the way the data was arranged on Hubstaff, particularly the Time and Activity report. It was easy to access and interpret and was overall more comfortable navigating.
2.6 Payroll software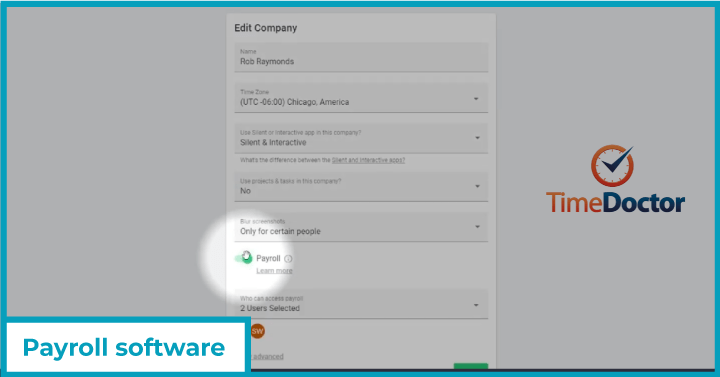 Overview Hubstaff payrolling also includes an automatic invoicing feature for accurate billing. You can sync timesheets with your payroll to create time cards. On Timedoctor the timesheets can be automated to facilitate batched payments. Features Analysis
Both Hubstaff and Timedoctor integrate with Quickbooks, making it possible to automatically export the time tracked.
On Timedoctor, you can set up payroll for salaries and hourly employees and set timesheets for automatic approval, or manually approve them.
Hubstaff lets you set hourly or fixed pay rates per team member to streamline payouts. You can set the pay period to week, fortnightly or monthly which automatically gets pulled and calculated.
Verdict: Timedoctor The Timedoctor payroll software lets you transact in batches and set pay periods with ease. While it's easy to send out payments on Hubstaff based on hourly or fixed rates, the same feature is more intuitive and quicker on Timedoctor.
2.7 Productivity measurement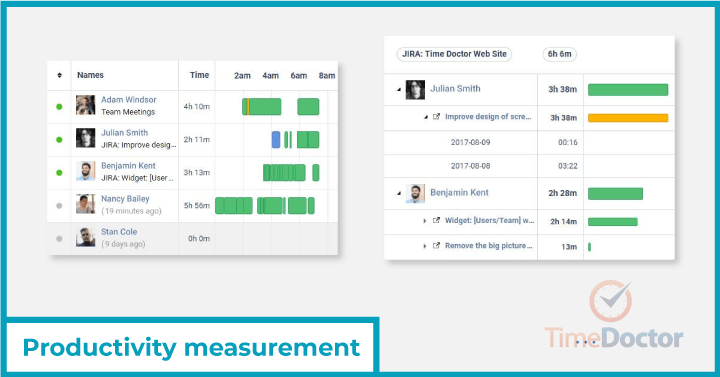 Overview The productivity measurement on Hubstaff and distraction management on Timedoctor are similar. The feature is designed to identify and separate work from non-work and to track hours spent on both. This helps managers determine who all are staying productive when logged in. Features Analysis
Once you download either the Timedoctor or Hubstaff app, you'll get an automatic start and top time tracker that follows URL activities, mouse clicks and keystrokes. Teams can access this data and clarify whether the information is correct or requires modifying before generating reports.
The Hubstaff and Timedoctor dashboard display different information regarding your team's time. The former shows location-based team, time and project information which is customizable to show you individual member timesheets, project budget spent and how much of it is left unspent, and the total number of hours tracked. Timedoctor shows you the total hours tracked, the top websites and apps frequented and tasks that your teams spent the least and most time on.
While the Hubstaff User Interface is intuitive, Timedoctor's UI is a bit outdated but still offers more integrations with 3P apps besides payroll and invoicing. I was surprised to find that it also syncs with G-suite and Github to see how much time your employees spend on individual and custom apps.
Verdict: Timedoctor I liked the fact that you can track time spent on individual apps on Timedoctor which is compiled into the web and app summary reports. This ensures members remain accountable for what they do on company time while giving them gentle nudges based on the software detecting idle time exceeding the limit set.
2.8 Employee scheduling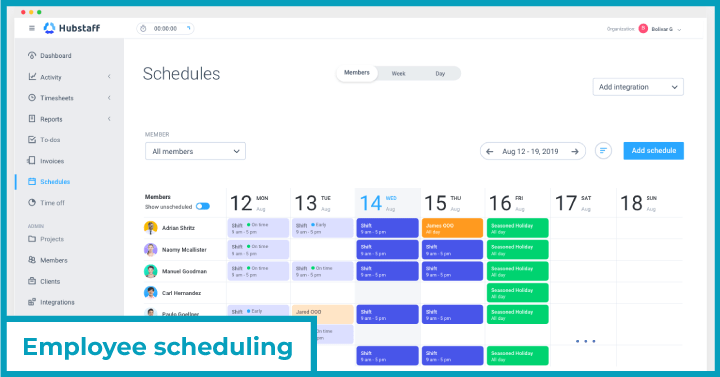 Overview Employee scheduling lets managers allocate the tasks created to available and competent workers. Features Analysis
Hubstaff has a feature called Work orders which lets you fill out project details specific to each client. You can schedule employees to a work order and know how they're getting on.
Timedoctor lets both managers and employees analyze work patterns to remove tasks that come under busywork. Even better, both employees and employers have a record of the activities that they've been working on which can be set to a daily, weekly or monthly format.
Both Hubstaff and Timedoctor have offline tracking capabilities. If you get disconnected in the middle of work, the tracking saves your work and continues until you're back online. Your progress is synced to your account.
Verdict: Hubstaff Between Hubstaff v Timedoctor, I prefer Hubstaff because of how easy it is to create work orders and reassign them if the priority or availability shifts.
3. Pricing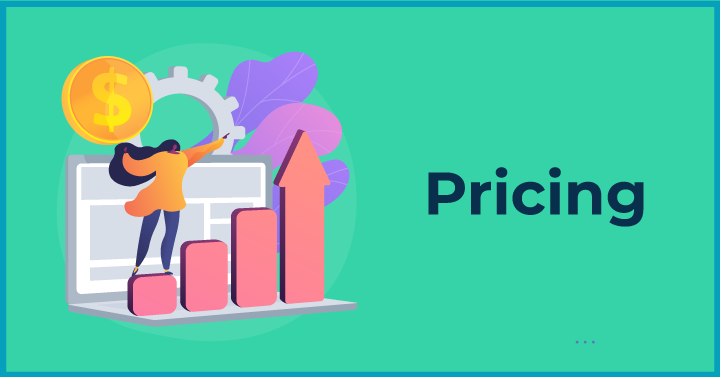 Hubstaff offers a free plan which Timedoctor does not. The free plan is applicable to a single user. The plans cost the same for both the tools but go by different names, which are as follows;
Hubstaff

Timedoctor

Currency (USD) Per user per Month

 

Basic

 

Basic

 

7

 

Premium

 

Premium

 10
 

Enterprise

 

Enterprise

 20
4. Which is better: Hubstaff or Timedoctor?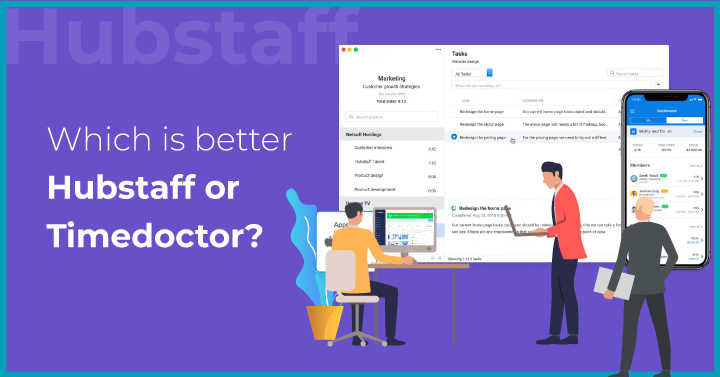 Hubstaff. My own experience trying out both the employee monitoring and time tracking software is making me lean towards Hubstaff. This sentiment is echoed by users who reviewed the tools on Getapp and found that Hubstaff's ongoing product support is more preferable and accessible. They also felt that Hubstaff was more responsive to updating its features and informing existing users of the roadmap in terms of new features that are being rolled out. What decided me was Hubstaff's geofencing capabilities which help you record location and routes on the mobile app for fleet tracking. This feature isn't on Timedoctor, but I'm hoping it's something they're considering including for manual and automatic location-based tracking. The only downside to the free plan Hubstaff offers individuals is that there are no integrations and the payments and screenshot features are limited. But if you're only exploring it or intending it for brief use, it should suffice to help you see how the time tracking and monitoring works inside. So there you go, a Hubstaff v Timedoctor analysis where Hubstaff came out on top!