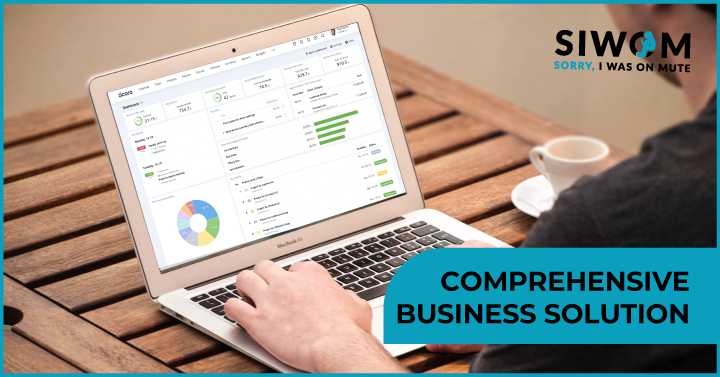 Being a tech enthusiast, I like to explore the features, nitty-gritty of several tools to figure out which one will work best for my remote team. I mean, we all know managing business, projects, and resources is not a piece of cake, right? So, why not reap the benefits of the digital world that can help us work smarter. During this expedition, I came across Scoro- an all-in-one solution for firms, and decided to elucidate an unbiased
Scoro Review.
Scoro is a business management software that caters to project management to sales & CRM (Customer Relationship Management). It also has several useful integrations to enhance the users' experience.  
I explored every feature that Scoro has in-store for users and analyzed how it simplifies tedious tasks for managers. This detailed Scoro review will emphasize every functionality and its benefits, along with a brief comparison with its competitors through a remote manager's perspective. 
1. Scoro Overview 
Started with a simple idea, 'there's always a smarter way to get work done,' Scoro began its journey in 2013. Fred Krieger and Priit Matiisen are the cofounders, who, along with their team, are focused on providing the most comprehensive business management solution to the firms. Their dedication has led to over 30,000 users across the globe. 
Scoro is an all-inclusive SaaS-based software that helps managers monitor the project's progress, resources' performance, sales, project's finances, and also provides intuitive insights into project metrics.
Since Scoro covers everything under one umbrella, managers need not switch to multiple platforms. It eliminates the hassle and reduces the efforts of double-downing the data on different platforms. To help you understand the product better, I will cover the following features in this Scoro review: 
Work management

Sales and CRM

Finances

Reporting and Dashboards

Integrations 
Before we begin the in-depth analysis, let's first know Scoro review and rating from the users' lens: 
2. Scoro Review & Rating
139 and 165 users have given a robust average rating of 4.6/5 and positive Scoro review on
Capterra
and
G2,
respectively. Its seamless project management feature, automation, and billing have received considerable appreciation from users leading to a powerful score.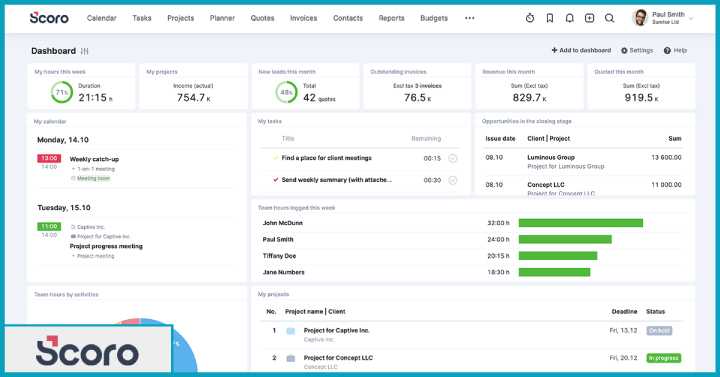 However, users expect a better user interface in mobile apps and face trouble while working on the task element while scheduling projects. The Scoro team could work on these shortcomings to enhance the product further. 
Overall, it's a refined solution for managers to work smarter and not harder. 
It's time to delve into the features: 
3. Scoro Review: Its' Features
Scoro's project management feature entails everything from customized planning and scheduling to dynamic reports for a granular overview. It lets the project managers plan, schedule, and track the project's progress in one place. That means 360-degree visibility across all projects with their essential KPIs, which is excellent.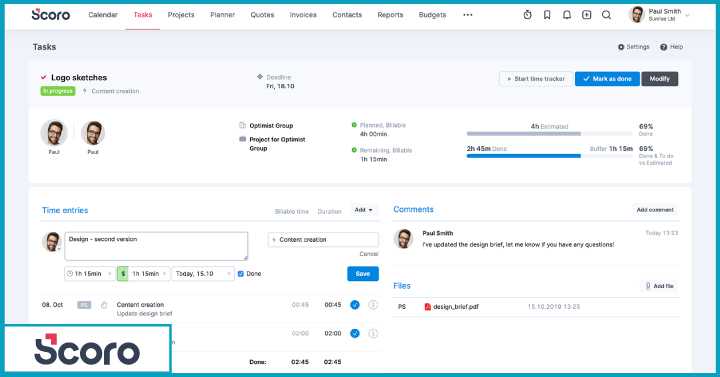 Wait, there's more to it. Project managers can seamlessly create project portfolio plans well in advance with simple drag and drop functionality. Users are given the liberty to customize their plans as to what fits best with their firms.
Automation of repetitive tasks is an add-on to other benefits you can avail using the project management feature. 
How does it add value to the remote team?
Centralized visibility of all the critical project KPIs like estimated and actual time spent, billing, project's progress, labor cost, and incidental expenses against every task and resource is the best benefit for a remote project manager. My team and I could control and maintain the project's health with these real-time updates. 
Their automation feature reduced our manual efforts of creating reports and also facilitated the automated generation of invoices, which enhanced the accuracy and precision of billing. The next best thing is the range of templates you can use to create plans, schedule tasks, WBS (work breakdown structures), and more. It helped our team stay in sync while we were working remotely. 
Possible improvements
Although I love every bit of this feature, the automation element wasn't on par. It creates individual tasks in the timesheet, which disturbs my original timesheet and schedule.
The work management feature is Scoro's holistic toolset that lets you manage time, prioritize tasks, schedule them to resources based on their availability, monitor their progress with real-time time tracking, and create tasks using dynamic kanban boards. 
It also enables you to create systematic workflows and logs the time spent on every project by each resource. This not only helps you in tracking your remote workforces' progress but enables you to generate accurate invoices without missing out on any hour spent. 
Managers can bridge the capacity vs. demand gap with real-time visibility into resources' schedules and forecasting reports. It provides enough leeway to employees to plan their days ahead of the curve. 
How does it add value to the remote team?
My primary concern as a remote project manager has always been employee burnout, especially when you don't have all the physical signals and cues in an in-person setup.  Because of this, real-time visibility of the team's workload and their progress helped me allocate tasks uniformly, avoiding over- or under-utilization. 
We could finally bid farewell to the scattered data and kept it in one place. The seamless generation of tasks from quotes and invoices from the locked time hours made our work a whole lot easy. The customized views of workflows added that missing piece to the puzzle. 
Possible improvements
The Scoro Work Management feature can be limited based on the level of complexity you're looking for. Having experience with a lot of different resources and work management tools (i.e., Saviom and Float), Scoro tends to limit your allocation ability as well as provide only a few reports. But if you are only looking for a high-level view, then this one should work fine. 
The sales and CRM portal provides a unified view of every customer, including contact details, communication history, projects, files, quotes, and invoices. You can also stay on the course of your sales funnel with unmatched visibility into the sales process at every stage. This avoids the risk of missing out on any opportunity which can turn into a client down the line.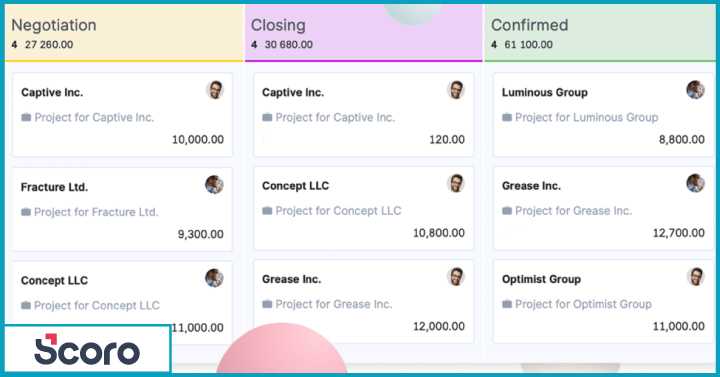 What's more? Users can create customized quotes based on client profiles and custom currency rate cards. Along with taking care of the clients, it also lets you stay in-line with your sales targets by giving you accurate stats on probability, weighted values, and estimated closing dates. 
Managers can take charge and improve the performance of their sales team with useful insights into every sales activity and time spent. 
How does it add value to the remote team?
Managing the sales process from co-located offices is one thing and from a distributed set-up another. But with Scoro, the sales team was in complete sync with visibility of each activity and followed through with potential clients to sail through the sales funnel and achieve their monthly targets. 
The generation of quotes for the clients became a whole lot easier with the Sales and CRM portal. Our clients were happy with the customized invoices that well-suited their needs and requirements. It's a win-win for both. 
Possible improvements
The addition of more intuitive invoicing and billing templates would enhance the client's experience and fill the existing gap in customization. 
A project manager is always wary of budget overruns causing project bottlenecks. Hence staying constantly updated with project expenses is imperative to avoid future roadblocks. The finances feature of Scoro covers it for you. How? You get a comprehensive view of your entire business, helping you keep track of your purchases, orders, and costs.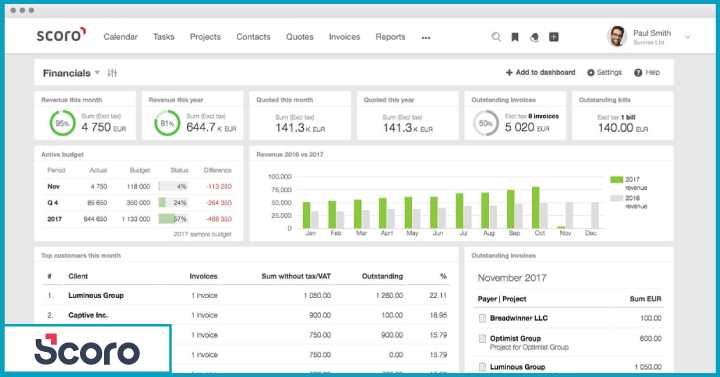 Not just that, you can compare budget scenarios by comparing the estimated vs. actual project costs. Users can weigh the budgeted forecasts with the substantive and scheduled invoices, and take corrective actions well in advance. 
If you are managing different firms, you can centrally manage all the accounts in one page using additional company accounts. Managers can stay forewarned about the profitability of the ongoing projects using WIP (Work in Progress) reports. 
How does it add value to the remote team?
The tool is highly beneficial for teams working in a distributed set-up. Every critical aspect of project finances is taken care of. From forecasting budgets and profitability to comparing them with the actual expenses to calculate billability, every process can be done seamlessly with enterprise-wide visibility. 
We could also automate our recurring invoices and send them across to clients on designated dates. This reduced the frequency of delayed payments and enhanced our financial management process. 
Possible improvements 
Overall, it's a great feature. However, if we could digitize our receipts and upload them on cloud software to report the expenses, it would become a whole lot better. 
Customized, auto-generated reports of critical project metrics are a boon for project managers. These reports give you a granular view of every project activity, summarizes the goals and targets, and can also give you an overview of the projects.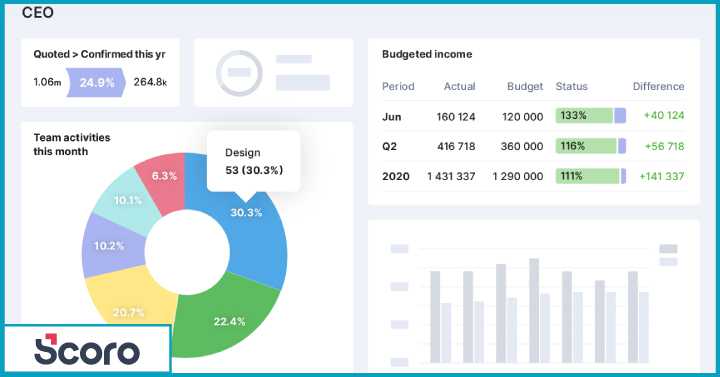 Managers can maintain their data-hygiene by filtering unnecessary information off the reports and share these insights with team members and external stakeholders. 
Moreover, you can also set alerts and notifications to avoid missing out on critical deadlines. With detailed, informative data, managers can keep tab resources' utilization and enhance their productivity and performance. 
How does it add value to the remote team?
The data-driven reports provided me with a comprehensive overview of firms' day-to-day activities, expenses, projects, ' and resources' progress. We could track profitability ahead of time and take necessary actions well in advance in case of budget overruns. 
Not only that, but bench-time for resources also reduced substantially with utilization reports and, in fact, enhanced billability. Centralized visibility and quick drag and drop helped me mobilize the resources to billable projects. 
Our teams' performance and productivity grew considerably with the help of these reports. 
Possible improvements 
Although the toolkit has got everything covered, adding what-if reports to compare different project KPIs before creating a detailed plan would take project planning to another level. 
It's obvious that project managers already have a tool inventory of multiple management and collaboration tools, and it's arduous and time-consuming to feed data to every new tool manually. That's the reason integrations exist. You can integrate your existing tools using API and make data transfer quick and straightforward.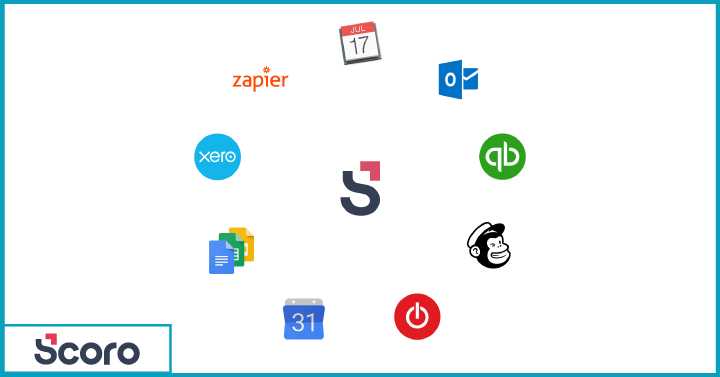 For instance, existing integrations like Slack, Trello, and Evernote will enhance collaboration and will let you create tasks from messages and notes. 
Integrations with iCal Calendar and google Calendar will sync all your events with Scoro and vice versa. You can create Automated workflows while integrating with Zapier. Integration with Asana, Basecamp, and JIRA will take your project management to a better level of efficiency. 
More such integrations will help you keep your files, documents, and data on one platform. 
How does it add value to the remote team?
As already mentioned, being a tech-savvy, I already had a toolkit in place for my team. These integrations helped me and my team to gather data in one place and eliminated the need to switch to different platforms to create tasks or schedule or create events, and so on. 
Integration with Slack was of great help as our team's conversations were stored there. So the collaboration and task management became better with it. 
Possible improvements
Even though Scoro has gone the extra mile to cover most of the crucial integrations, I think integrating with third-party video conferencing apps will become the game-changer for Scoro. 
4. Scoro Review with Competitors
After a thorough analysis of every feature in the Scoro review, let's see how it compares with its competitors. Below is the list of competitors I would be covering in detail:
4.1 Scoro vs. Asana
Both of these tools are known for extensive and efficient project management. However, Scoro stands out due to its CRM, Sales, and reporting features. Although Asana has got project management, task management, and collaboration covered, it lacks in providing users with financial and expense management, and useful insights with custom reporting.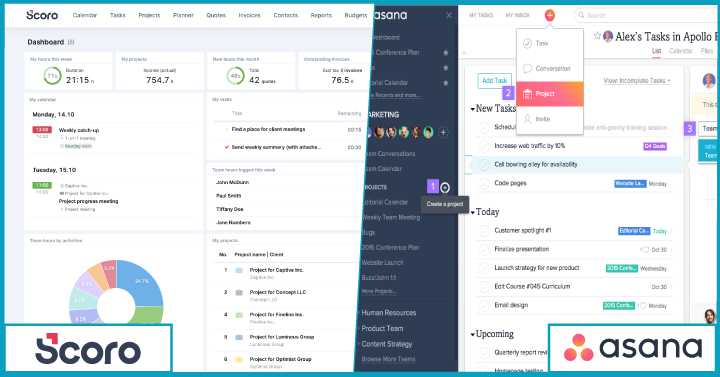 Comparing the pricing, Asana starts with $10.99/ month, and Scoro begins $26/month, which is considerably high, which is justified by the broader array of features present. If you are looking for a comprehensive business management solution, Scoro is the right choice. 
4.2 Scoro vs. Monday.com
When you compare Scoro and monday.com, you are comparing two similar tools that can be a great alternative to each other. They both are product management tools that are all-inclusive of project management, work management, sales, expenses, and reporting.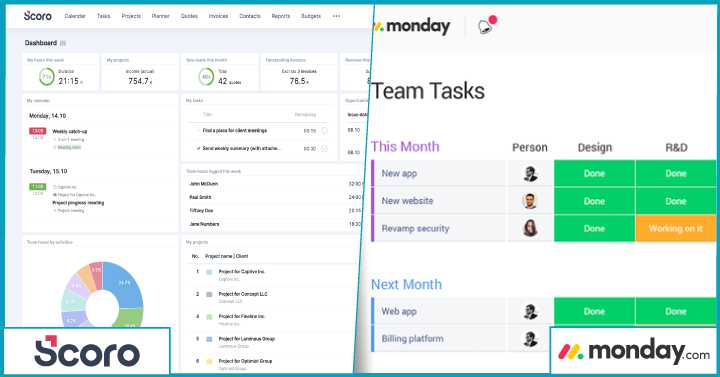 However, Monday.com excels in providing an additional feature of Gantt charts, which is an integral and pivotal part of project planning. Integrations wise, both tools have similar capabilities except one notable difference of the G-drive. Monday.com has G-drive, while Scoro doesn't. When we talk about pricing, the difference is huge. Monday.com starts from $7.8/month/user, while Scoro begins with $26/month/user. Given these benefits, Monday.com can opt against Scoro. 
4.3 Scoro vs. JIRA
Jira is more of an employee management and marketing management software, while Scoro is a comprehensive business solution. It lacks project management, project metrics comparison, and Scheduling, which are strong suits of Scoro. However, Scoro does not have training management, which gives JIRA the upper hand.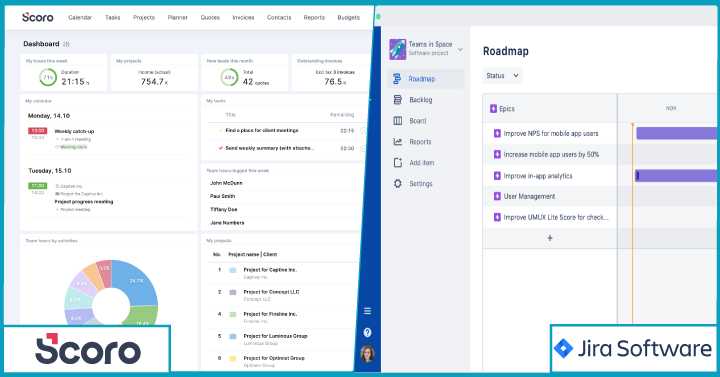 Pricing wise, JIRA costs $10/month, while Scoro costs $26/month. Considering the features, I would go for Scoro. 
4.4 Scoro vs. Zoho
Scoro and Zoho can be great alternatives to each other. However, Scoro would excel in some parts like providing granular level permissions to share sensitive information only with relevant members, thus increasing security. It has an award-winning UI/UX while Zoho doesn't.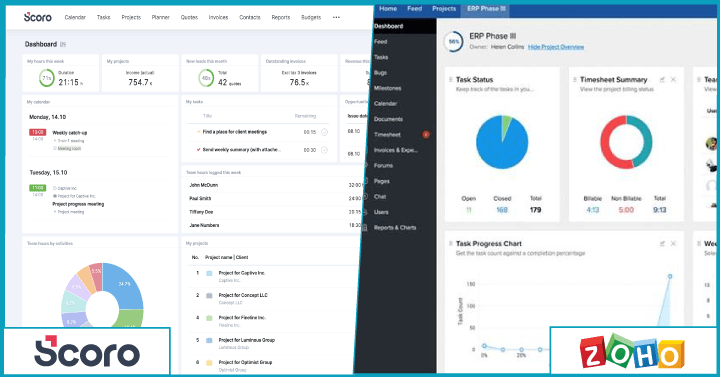 Moreover, Scoro has customizable dashboards to provide actionable insights to managers, while Zoho lacks this feature. The price difference is not high here with Zoho beginning from $25/month and Scoro at $26/month. So given the pricing and benefits that come along with each tool, I would prefer Scoro over Zoho. 
5. Final Verdict 
After perusing every feature in detail and comparing several other tools, Scoro has proved to be an excellent tool for business management. Right from project management and resourcing planning to data-driven insights, Scoro provides users with every aspect that leads to the project's success. 
Work management is my personal favorite, and I found all the integrations useful and great time-savers. However, Scoro can up their game with more combinations and provide certain necessary features like what-if scenarios, amongst others. 
Let's look at the pricing and packages:
6. Scoro Pricing
Scoro provides four different packages, namely Essential, Work hub, Sales hub, and Ultimate for different users based on their requirements. Essential is for smaller teams coming for $26/month/user and covers only necessities charging extra for additional needs. The work hub is vital for firms looking for dedicated project management and resource management tool. The standard version costs $37/month, and the pro version is for $49/month. 
The Sales hub caters to the need of a sales team who are looking to streamline their sales and CRM activities. It costs the same as the Work hub plan. The ultimate package is for the firms that are looking for an all-inclusive solution. This plan can be customized, and the pricing is based on the same. 
Though I find the price a little higher than other tools, the benefits, and features that come with it justify it. One can use the 14 days trial to choose if they want to go forward or not. 
7. The Round-up 
With firms shifting to a remote-work set-up, an advanced tool that can empower a manager's strategic decision-making, enhance productivity and performance, manager projects at ease, track expenses, and provides alerts is a must-have. One such tool is Scoro that will not disappoint the users with its toolkit and benefits. 
I had a great experience while going through every feature in detail, and writing a full-fledged Scoro review. I am looking forward to more updates in the future. Let's see how Scoro enhances the user-experience down the line. Stay tuned to know more!