Businesses have been operating against a backdrop of uncertainty brought on by the Covid-19 pandemic. Faced with the risk of ramping down projects, companies have become more creative. They now rely on work-from-home marketing teams to cement their visibility and attract and grow their customer base. In 2021, there has been a change in perspective. Small businesses as well as those with deeper pockets are leveraging technology today. Be it to hire, onboard, or create and retain a remote marketing team to thereby fulfill their business goals. Consequently, the goal for managers is to learn how to manage and lead their remote marketing team to succeed. If you are looking to build and nurture a virtual marketing team, here is an overview to get you started. Let us start with the basics;
1. What is a remote marketing team?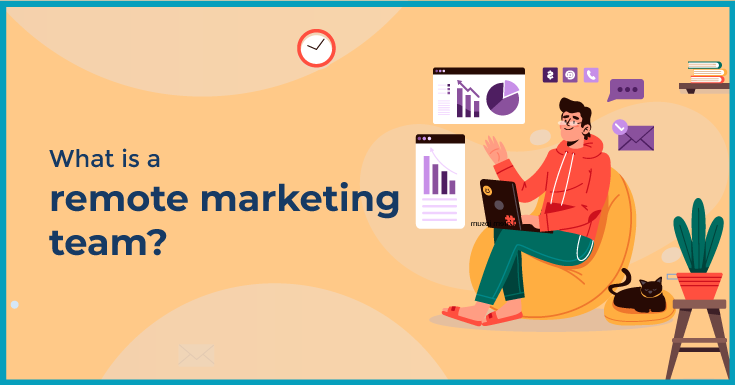 A remote marketing team is a group of individuals who are geographically dispersed. Yet they work towards achieving the marketing goals of the organizations by relying on tools and technology. The teams need to be rightly recruited, mentored, motivated, and persuaded to reach the set quarterly/yearly target- All on a virtual setup! There are managerial principles to drive a marketing team in a physical setup. It seems effortless as there is an inbuilt trust in marketers approaching face to face with their prospective customers. There is a personal approach and marketers are the torchbearer of their brand. On the contrary, the success strategies for remote marketing teams vary. To bridge these gaps from physical marketing on a virtual level, marketing teams have to make deliberate and affirmative communications. More so, to bring about a healthy influence on the clients and customers. While doing so on an online platform, they face various issues like the availability of the decision-makers, communication gaps, budget issues, and many more. Further, constraints like time delay and denied access could lead to a sense of isolation and unworthiness. In this article, we share tips on ways to enable your marketing teams to succeed.
2. How to nurture successful marketing teams remotely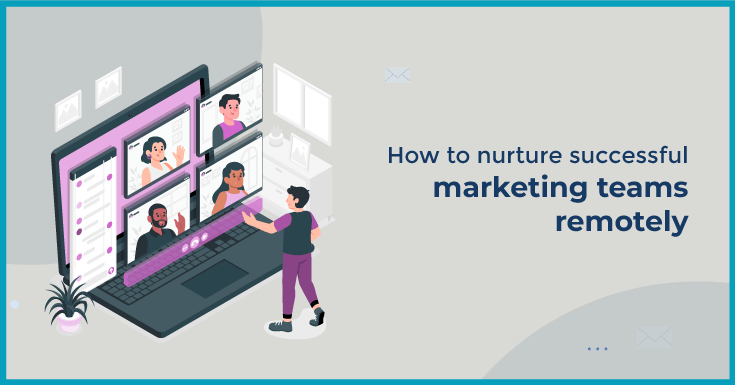 The key to fostering a successful remote marketing team is to align the team's strengths to the company's goals and vision. Here are some useful tips are proven to create successful virtual marketing teams:
2.1. Hire the right candidate
According to 
Manpower
, it is challenging to attract and retain the right talent. You can combat this by sizing up expectations and requirements from a marketing perspective. This makes it easier to create the criteria that the candidate must meet to get through your screening. Here are a few vital cues to look for when interviewing from skill sets :
The skillset of a marketing professional is a blend of various qualities. These determine the success of a newly recruited marketing executive to become an influential contributor: Here are a few attributes marketing personnel must have:
1.
 Communication skills
- good interpersonal skills, oral and written communication, influencing skills.
2.
 Organizational ability
- negotiation skills, networking, IT skills, numeric & analytical thinking
3. 
Attitude
- ambitious, business-driven, influencing ability and has commercial acumen, creative in putting across thoughts & ideas.
Once you have these in place, you can employ the best remote hiring practices to scrutinize further and choose the desired candidate. Let us explore them below;
Plan your hiring process- your hiring process needs to have a clear-cut projection for yourself, such as
the kind of role,

the number of positions,

salary budget, etc.
Establish Job descriptions- clarity on what needs to be the new employee's job responsibilities.
Invest in tools- a recruitment tool such as an Application Tracking System (ATS). It alerts you when candidates apply to a role, enabling you to filter them by relevance. It reduces the lead time to find the right candidate for the position.
Have a detailed interview- get a thorough insight into the skill sets and report where the candidate stands compared to expectations.
Consider alternatives- there's always the chance that the candidate you have in mind may backout or accept another offer. Such uncertainties mean that you should not end the process without a backup. To this end, you can lean on
employee referrals,

professional networking sites, and

social media platforms
To advertise the role you're hiring for more widely. After all, there's more than one credible source to help you curate the talent pipeline!
2.2. Implement Comprehensive Onboarding
Now that you have chosen candidates that check all the right boxes, it's time to make them an offer. Do it in a way that they can't refuse and welcome them on board. It helps to have an 
onboarding checklist
 so that their entry and transition to your organization is seamless. It would be best if you considered that virtual onboarding is quite different from physical onboarding.
Managers need to communicate accurately with their team and specify what or how it needs to be done. Here are some tips:
Have a checklist of all the employee contracts, various agreements to be scanned and sent to sign digitally.
Share a list of policies or HR manuals and details of tools if working on a particular project.
Assign a buddy to fill the new joiner in on company culture and guide them through administrative issues and meeting mandates
Training with the IT department could help remote workers create strong passwords, manage collaboration tools and file-sharing practices online.
Now that you have successfully onboarded, let us take further steps.
2.3. Create Value Driven Company Culture
Marketing executives are primarily on client-facing calls and represent the organization to the external world. They need to be well educated about the company's values, and their words or actions must reflect the same. Also, to build a culture, leaders need to share those values and practice them before processing them to a new employee.
For example, if "quality" is one of the values, having an ISO certification or similar accreditation brings about quality awareness. These set standards can help the new hire to align with the value-driven culture.
Not everyone can get onboard with values, and the key is to develop a consistent schedule. One such activity is the daily brief call-in the mornings that translates into weekly- status update on tools or spreadsheets. It can be a classic system that guides the newbie into productivity.
Parallelly, a call over the day to check in and see if the employee is at ease with the process can go a long way in building rapport. Also, it is imperative to highlight a positive outlook. With no other employment perquisites such as a team luncheon or day outs, it is in the mentor's hands or to upkeep the employee morale.
The onus is on the managers to look after their remote marketing team's mental and professional well-being. Because it is the employee's contributions that add value to your services and raise your business's visibility.
2.4. Communicate business goals with a vision
A vision is nothing but your view of the future. It indicates the direction of growth for the company to steer towards. A company's goals should guide the team towards growth and ensure the employees adhere to the vision and relate to mission statements.
Managers can implement this by creating a road map for the new marketing team in line with its goals. It shows them a career path and makes them work towards it. Enabling new members to see their growth trajectory helps to utilize their potential and fulfill the requirements of their role.
A marketing executive's job role will be to sell or market a company to a client or an external agent. Thereby he/she needs a thorough understanding of the products or services offered in the company. Communicating business goals with a futuristic perspective to accomplish the marketing goals can drive an employee's efforts in the desired direction.
How to set marketing goals?
You can start setting the goals of your marketing team using the SMART tool. SMART is an acronym that stands for:
Specific-
 Industry-specific, for example, if it is in the manufacturing industry, set a particular purchase order or bring leads that are sure of conversions.
Measurable-
The goals should be measurable, such as 50 POs/month or 100 leads/week.
Achievable -
 the goal should be attainable and well within the capabilities of an individual.
Realistic-
 it has to be reality-driven- it could be in comparison to one of the competitors.
Time-bound-
 set a deadline or completion date for the goal.
By keeping your goals SMART, there are quantifiable expectations and a sense of direction for the virtual marketing endeavor.
Following closely with the goals are the ways and means to measure them.
2.5. Track the hours and measure results
Objective measurement of the goal accomplished translates into the assessment of the results. A manager has to choose appropriate marketing metrics to measure the critical responsibilities of a remote team. To facilitate this, we need to define the key responsibility areas (KRA) of a marketing team. It can be measured through:
Number of leads generated in the month/quarter

Net Revenue generated in the month/quarter

Number of New customers acquired/month/quarter

Number of Brand awareness activities/campaigns

Customer engagement & loyalty programs
To quantify where you stand in comparison to your goals - you can derive key performance indicators (KPI) from measuring and comparing this data over time.
Here are a few:
Conversion rate - this goes to measure the number of leads generated or the number of new customers.

Funnel Metrics- to see how many are in the pipeline or yet to convert

Campaign originated customers- customers that are signing up for the product or service via the campaign.

Average time spent on the website- this determines the success of customer engagement and loyalty programs.

Customer attrition - the capacity to retain customers is another essential aspect that defines a marketing professional's success.

ROI- Return on the marketing investment measures the ability of the marketing campaign in generating new Revenue.
Now that we have an idea of what to measure and how to measure. Let us explore the ways to make it happen.
2.6. Equip the right collaboration & communication tools
Aligning your new joiners with the rest of your team is essential. Today with the help of telecommunication, virtual teams are able to collate their efforts virtually. A marketing team must have the intel to navigate across multiple communication platforms and applications. With remote work, it has come in as an integral part of their KRA to connect with a larger audience. Here are some reasons to equip better:
Technology creates an online communication platform to connect and exchange ideas
It helps for the team members to collaborate better
Follow up and status can be collected on the same platform
Project management software adds tremendous value to track employee performance and monitor progress and get maximum benefits. However, free online tools need to be vetted and validated to ensure they are spam and virus-free. Companies can invest in the right collaboration products to encompass several technical/technological aspects in one. Such as seamless video conference tools and cloud-based calling to connect employees or clients across geographic barriers. By choosing agile and evolved project management applications, clearer, and uninterrupted communication can be achieved.
2.7. Invest in healthy team dynamics
Now that the tech platforms are familiar and newly hired marketers are well connected and integrated into the company, managers must employ the following:
Establish trust in the remote employees and a sense of belongingness.
Clear inter-team communication and feedback system for healthy knowledge exchange via responsive channels.
Offer continued training and development to avoid being stagnant.
Having a virtual open-door policy- to open up and speak about any issues at all.
Lastly, recognize each one's effort and celebrate together on video calls.
The sooner you invest in your marketing team, the faster your business can benefit from it.
3. Key takeaways on building Remote Marketing Team: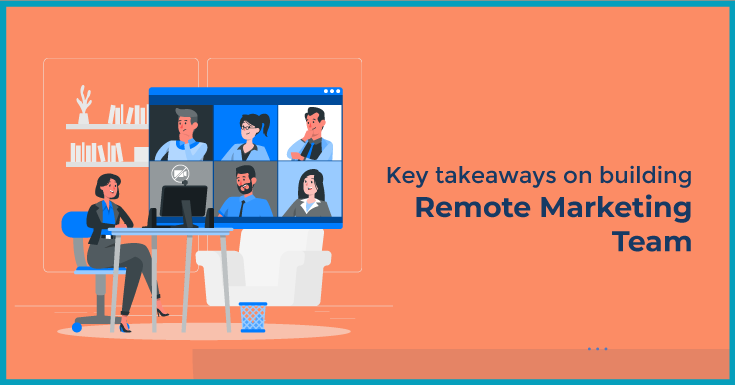 While managing remote marketing can be highly challenging, it can be equally rewarding to have highly contributing professionals! From having an early impromptu video call to set the expectations right at the beginning and appreciate their efforts your remote teams can vastly benefit. If you want to have virtual or digital marketing employees, plan and follow proper hiring, onboarding, connecting protocols. In conclusion, remote team models unify a pool of talented employees beyond geographic barriers. To bring the best out of your virtual teams, you can follow the tips shared in this article and create productive virtual marketing.