Thanks to businesses embracing a distributed and hybrid workforce, in-person interactions are being substituted by online collaboration. Companies are now assessing tools that help their distributed team stay connected and capable of brainstorming and ideating.
We've all been in meetings where the team members use whiteboards to list out ideas, To-Dos, or even a diagram to make their point. So whiteboarding isn't new in itself. But having to recreate the energy and creativity for such presentations and brainstorming sessions online can take some getting used to.
Want to elevate your team's creativity and productivity? Delve into our articles to explore alternatives to Miro, an in-depth review of Miro's collaborative whiteboard.
Miro, Stormboard, and Mural are virtual collaboration workspaces for modern teams. The Miro review I did last year took me through the tool's inner workings. So in this post, we'll see how Miro Vs Mural Vs Stormboard will fare each other and lockdown on a winner. Whether you want to compare Stormboard vs Miro, Mural vs Miro, or Miro vs Mural, this post will help!

1. What Are Miro, Mural and Stormboard?





Miro, Mural, and Stormboard are online whiteboards or collaboration software for digital workspaces.
Miro is intended for use by collocated, remote, and distributed colleagues. The name Miro is inspired by celebrated artist Joan Miro, whose abstract work was distinct. And unique canvases are what Miro strives for through digital whiteboarding. Miro's head office is in San Francisco, U.S, and was developed by Daniel Dines and Andrew Filev in 2011.
Their customer base comprises 15 million users, which include Upwork, Skyscanner, and Cisco.
Mural was founded in 2011 and was worked on by its CEO, CTO, and Head of Product,i.e Mariano Battan, Pato Jutard, and Agus Soler. Mural has dual headquarters located in Buenos Aires, Argentina, and San Francisco, the U.S. Their customer base includes Thoughtworks, Atlassian, and IDEO.
Stormboard is a shared workspace for digital meetings. Companies use it to conduct all projects, ideation, and brainstorming sessions. Stormboard app was founded by Reg Cheramy and Michael Bollman in 2009 in Edmonton, Canada.
The tool has over a million users from 10,000+ companies. Happy clients include Microsoft, Accenture, and the Lonely Planet.
It's now time to dive right into the features within Miro vs Mural vs Stormboard. Let us see what they have in common, how they differentiate themselves from each other, and what feature works better.


Miro vs Mural vs Stormboard Review

2. Layout and Interface

Overview
The Miro whiteboard opens up to an infinite scroll canvas with options to brainstorm, ideate, and plan for projects. Users (guests or members) can take notes, conference in, and share screens by turning on the presentation mode. The icon library pops up to the left of the board with options for sticking notes, entering text inputs, or freehand sketching and writing.
The Mural board opens up to a blank canvas called the Facilitator. It is fitted with an icon library, text blocks, design, link-sharing, sticky notes, shapes and connectors, gifs and images, plus freehand drawing, writing, and sketching.
On Stormboard, the canvas layout is an infinite scroll similar to the Miro board. The template library, board-sharing, reports, importing files, and set up is located at the bottom half of the screen.

Feature Comparison and Analysis
In terms of how the features are stacked, Mural offers a cleaner visual. You can group sticky notes into a grid to avoid confusing viewers. Since Stormboard is designed for sticky notes, you can add ideas onto notes which then form into a Storm (the brainstorming board).

Miro lets you add stickies in bulk which saves time. You can zoom in or out using the CTRL+ or CTRL- options. Miro lets users change their post-its shape, colour, and size n times

.

On Stormboard, participants can drag notes around, and vote on them for further action. Storm boards integrate with Zapier and sync comments and dues onto the whiteboard so that they aren't lost in the flurry of ideation.

On all three tools, you can comment on notes. Mural, however, additionally offers the option to start voice calls, while Miro offers cards for mind mapping, user stories, and kanbanize tasks.

Verdict- Stormboard and Mural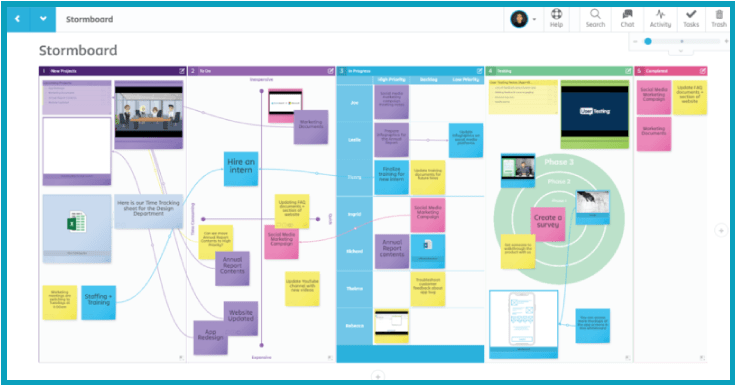 It's a tie between Stormboard and Mural. Mural is more organized and lets you conduct both impromptu and scheduled ideation. We felt that the Miro board is feature-rich but has a steep learning curve in order to get the hang of it.

3. Template Library
Overview
Miro's template library has templates based on use cases. They are categorized as strategy planning, remote meetings, brainstorming, insight gathering, decision-making, prioritization, Workshops & Facilitation, Retrospectives & Feedback, and Metrics & Measurement.
Mural's templates cross 200+ and feature product road mapping, reality trees, feedback grids, innovator's compass, stakeholder management, customer journey maps, remote sprints, and much more.
Stormboard app too has 200+ templates to choose from and can be found in the Gallery section.

Feature Comparison and Analysis
Miro has a dedicated corner called the

Miroverse

, which also doubles up as an online community. Here you can use more pre-built templates or create your very own! You can also reuse what others have created. Space is organized by templates that are newly-added, themes, teams, and workflows, to name a few.

The template gallery within Stormboard is categorized by use cases, teams, and frameworks to meet specific design requirements.

On Mural, you can enter the type of template you're looking for, and the search results return only those relevant templates. Broadly speaking, the templates available are for teams, workflow type, project methodology, and activity.

Verdict- Miro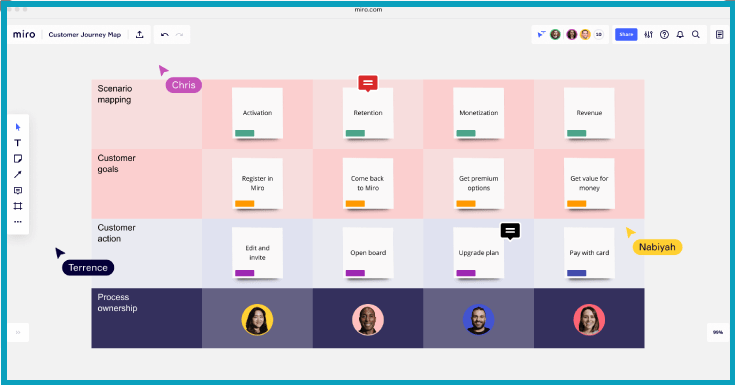 Miro. It would have been a tie between Mural and Miro in terms of the design and functionality. But the Miroverse tipped the scales in Miro's favor! The community and template options within allow you to connect, network, and engage with other Miro users other than the ones in your organization.

4. Collaboration

Overview
On Miro, you can see when collaborators join a board, and the actions they take in real-time. The options for the timer, video chat, voting, and presentation mode are next to the Avatars.
Mural lets you set the stage for collaboration by adding frameworks and boards up ahead of meetings.
Collaborating on Stormboard starts by clicking on the "+" sign to add digital Sticky Notes, documents, and video sketches. These can be moved around using your cursor.

Feature Comparison and Analysis
The export options on Miro lets you collaborate outside the tool. You just need to select any portion of the board and choose the quality level, which is great for photos and documents. The tool also generates PDFs by turning each frame on a board into a PDF page. There's also an asynchronous communication option to comment on, gather feedback and mention specific users, project members, or the whole team. The notifications go out via email, Slack, or MS-Teams.

On Mural, you can zoom in and out of a chosen template (or blank canvas). If the framework is off-canvas, you can drag and drop it to where you want it to go. You can even lock it in place by right-clicking on the board and selecting the 'Lock' option. This is great when facilitating meetings where you don't want multiple users to keep moving the board around and out of sight.

On all three whiteboard tools, you can export to PDF, Word, PowerPoint, or excel and send reports to coworkers.

You can live-edit on the Stormboard. The Storm board lets you assign sticky notes to members of the team and select a due date to keep track of ongoing projects. Contributors get full access to the board while guests get View-only mode. Anyone can join a board either from the dashboard or through an email meeting-invite issued.

Verdict- Mural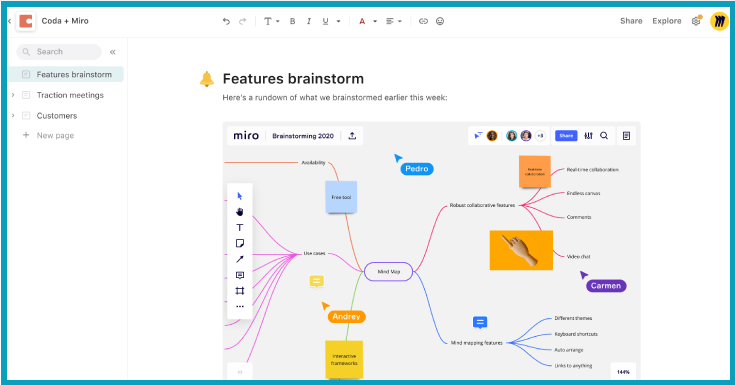 Mural. Though both Miro and Stormboard both let users collaborate from anywhere Mural has the lock-in option. It ensures your board stays in place and doesn't keep getting dragged all over the canvas. On Stormboard, notes tend to crowd and it takes time to plow through them to find where a member is mentioned.

5. Integrations and Apps
Miro vs Mural vs Stormboard all come with an extensive (and expansive) stack of integrations.
Miro's integrations are within the Marketplace and are filtered by use case and type of tool. Featured apps include Whereby video meetings and Miro for Google, which lets you share and attach boards ahead of meetings.

Mural syncs with Slack, MS-teams, GitHub, JIRA, Google Calendar, and LUMA Workplace. It also maps records for insights using Airtable.

Of the three, Stormboard has limited integrations, which include the same stack as Mural, along with custom integrations depending on your requirement.
Verdict- Miro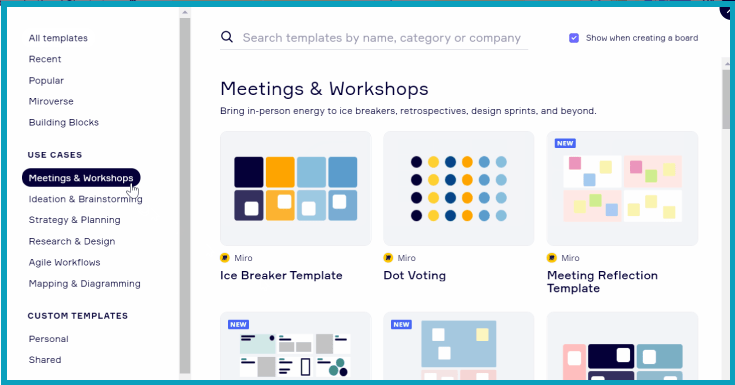 Miro is the clear winner here for integrations due to the library of use cases.

6. Mapping and Diagramming

Overview
Miro and Mural have mindmaps, whereas Stormboard doesn't. It has a remote work feature instead which is intended for agile planning.

Feature Comparison and Analysis
On Miro, you can start the mind map within the Miro board by clicking anywhere. Add nodes and connect the two or more mind maps using connectors. There's also the option to add a child node to the parent node to establish a hierarchy for the map. You can change the direction of arrows according to the flow of the storyboard.

You can sync the remote feature within Stormboard to planning tools like Jira or Azure DevOps and then convert the sticky notes on Stormboard. It can be directed as action items or issues. No need to separately transcribe.

Creating a storm on Stormboard is easy. You just need to click anywhere, name it after a team, project, or business process. Next, choose a template button with the filter option located on the left-side panel. Click twice or on the "Add" button to open a Sticky note and drop it where you need it to go.

Miro has hotkeys to save time creating mind maps. The finished product can be exported as a vector or embedded in real-time into a presentation. You can further divide these mind maps into frames so as to prevent a visual information overload on meeting attendees.

Feature Update: As of 17 March 2021, Mural has announced the release of a diagramming and mapping feature that comes with pre-built templates. The canvas is resizable and can be embedded as a workflow into Confluence or Coda.

Verdict- Miro

It's Miro. The hotkeys shortcuts make it simple to get a mindmap up and running. Although this feature is absent on the other two platforms, they balance out by having guides and resources for remote-specific ready-to-use templates.

7. Brainstorming and Ideation

Overview

Mural has a Facilitator Superpower feature which lets you run workshops and meetings. Miro's brainstorming can be done on a mindmap, retrospective meetings and workshops, concept mapping, and design thinking. There's the option to comment on and assign specific notes to the team.
The Stormboard's home page is called the Dashboard. From here you can create a new storm or join one. You can set filters to see recent storms.

Feature Comparison and Analysis
You can bring forward ideas through anonymized votes on Mural.

On Stormboard you can vote on content and prioritize or assign tasks. The voting option on the Storm board is limited to 10 votes per user by default.

Miro's voting option has a timer function by which time all meeting members should input their votes. This ensures that everyone on the team gets a say and the team can move forward on a decision in sync.

With a Mural membership, you can choose from 100+ frameworks and templates to create and design instruction-led boards. It lets you make suggestions for recommended time frames per session and features icebreakers to break the monotony of work discussions.
Verdict- Miro and Mural Draw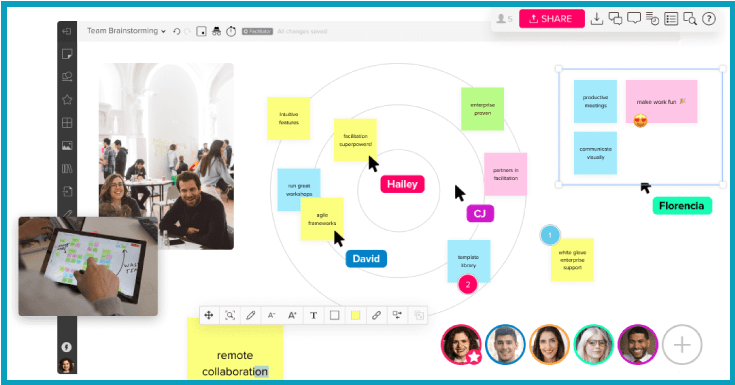 It's a tie between Miro and Mural. The Mural board's facilitator feature ensures master control to one person who can keep track of all changes and revisions. However, Miro's timer function for voting ensures that the overall project's design ideation doesn't roll over and extend deadlines.
8. Assistive Support

Overview
All three boards can be downloaded and are multi-device compatible. Although, a few users report that Mural's option+click menu does not work that well on Safari.

Feature Comparison and Analysis
1. Miro has email and phone support. There are also helpful guides on running retrospectives that direct you to the templates you could pick from the library.
2. Stormboard support is more accessible. Besides email and phone, they also do live support, training, and ticketing for service requests.
3. Mural's help centre is open 24/7 and is a self-service knowledge base. Besides this, they have live chat, email, and phone support.

Verdict- Mural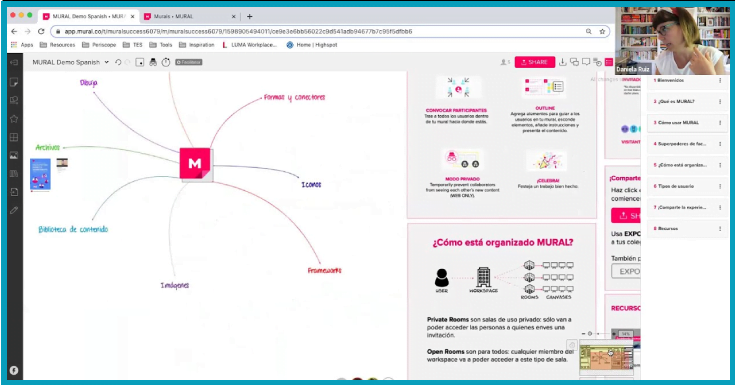 Mural. If you like your independence and prefer looking things up on your own before calling support, a great place to start would be the help centre.

9. Price Plans


Overview
Miro and Stormboard both offer free plans but limit the number of users and features on them. At present Mural's free plan is individualistic and does not specify how many users can be on it. Professional services consultants can apply for Mural's Consultant Network which currently has over 7,200 members and offers 10 free workspaces.

Feature Comparison and Analysis
Miro and Stormboard offer 3 and 5 editable boards on the free plan.
Miro's monthly pricing starts at $8 for Team and $16 for Business. The Enterprise plan is on a per-business requirement, which you'll get from the sales team.
Mural's monthly pricing costs $12 for the starter plan and allows between 1-50 members. The plus plan costs $20 and suffices for 10-50 members. The Enterprise plan is for 50+ members, and you can reach out to the sales team for a quote.
Stormboard's monthly pricing has two categories based on the size of the organization. For small and medium-sized businesses, the business plan suits, and it costs $10. The Enterprise, which costs $16.67 is for larger organizations. Stormboard is free for educational institutions up to June 30 2021 so long as you meet the criteria.

Verdict - Miro or Stormboard
Pricing varies from business to business and depends on the features you'll use regularly and of course, the number of users. If you're an individual or a small team, you could go for any of the free plans and experiment with how the whiteboard works. For larger teams and enterprises, you can consider either Miro or Stormboard's enterprise plan.

10. Miro v Mural v. Stormboard- Which is the best?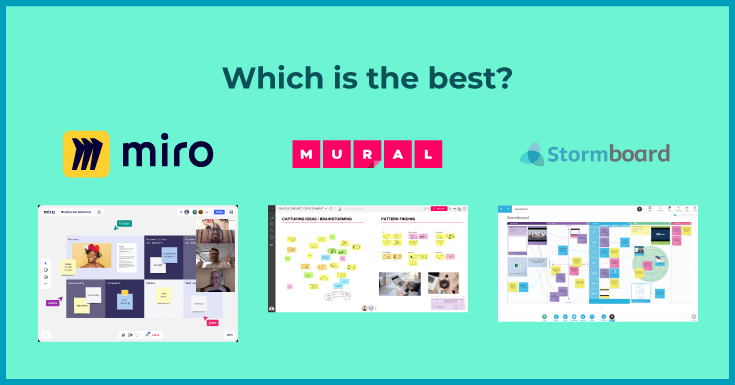 Miro is the best tool! It was a tough call to make, given how feature-rich, interactive and immersive the experience on Miro vs Mural vs Stormboard is. And Miro and Mural were almost neck-to-neck in many of these comparisons. But from the point of view of simplifying remote onboarding for virtual teams, facilitating, and extensibility, Miro has the edge over both Mural and Stormboard.

11. Is Miro or Mural Better?



Read our full review here for Miro v. Mural.

This question depends on the size of your organization, the number of teams you have, and the nature of collaboration. Do you run cross-functional, interlinked projects often which require members in different locations and departments?
You're going to need a tool that brings (and keeps) everyone on the same page. Although Miro has a slightly lower starter plan than Mural, Mural's capabilities at the pricing are more straightforward than Miro's. You'll have to consider the extent to which your budget can stretch before locking down a tool.
Note: some users have reported that Mural does not work that well on Safari. No such issue for Miro so far.
In a nutshell, both Miro and Mural work great and have a lot to offer. The platforms make the transition from in-person brainstorming to digital workspaces easier and do not take a lot of time for novice users to get onto.
If you work in the education sector, you should opt for the Stormboard which is currently free for the next three months. However, it is subject to submitting valid credentials and meeting the set criteria.
Did this review help you know Miro vs Mural vs Stormboard better? Let us know which tools you'd like us to get into for the next comparison!