We've come to a stage where we express ourselves more freely on a digital platform than in-person. And two such digital whiteboards that are competing for the affections of remote teams are Miro vs Mural. The last time I reviewed collaborative canvases, I looked up Miro, Stormboard and Mural's Youtube tutorials and couldn't resist checking out the features they have in common and what's different about them. For the sake of avoiding confusion, alas, there can only be one tool everyone can get on. In this post, the SorryonMute team will be exploring Miro and Mural and give you the information you need to decide what's best for your remote team!

Confused about which collaboration tools fit your needs? Have a look at the compiled list of the

best remote collaboration tools

. 

Check out our

deep dive into Miro

, a leading collaborative whiteboard software. Not sure about Miro? We have

alternatives to Miro.

 

For a more comparative look at collaborative tools, have a read through our analysis of

Miro vs Mural & Stormboard
1. What are Miro and Mural?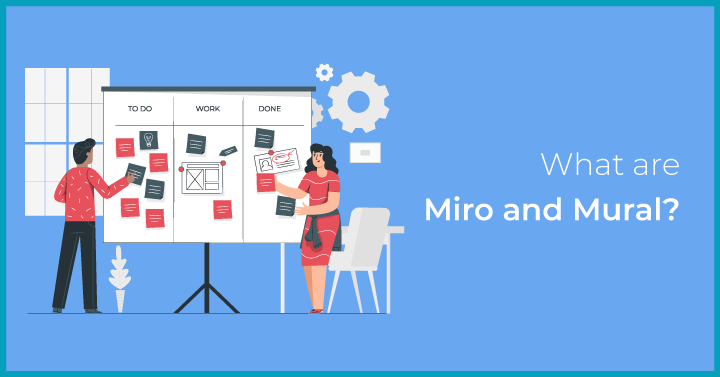 Miro and Mural are online whiteboard software for virtual offices. Both companies were founded in 2011. Miro is named after Spanish abstract artist Joan Miro. Miro's mission is to enable remote, collocated and distributed teams to collaborate, brainstorm and present on unique canvases. Miro was formerly known as Realtimeboard and is headed by Daniel Dines and Andrew Filev. The company's headquarters are in San Francisco, U.S. Mural was developed by Mariano Battan, Pato Jutard, and Agus Soler. The trio currently serve as CEO, CTO, and Head of Product respectively. Mural has dual headquarters located in Buenos Aires, Argentina, and San Francisco, the U.S. Their customer base includes Thoughtworks, Atlassian, and IDEO.
2. Are Miro and Mural the Same?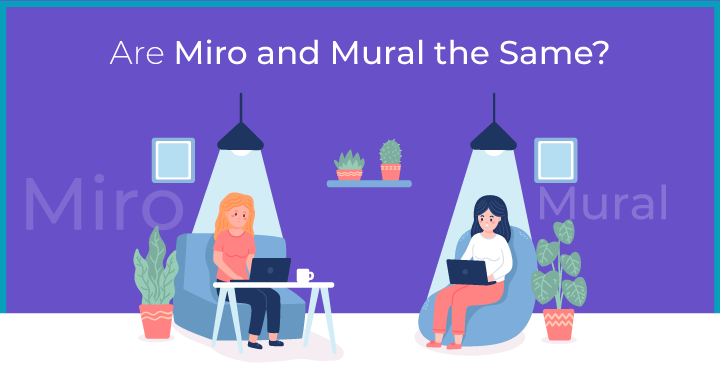 Broadly speaking, both Miro and Mural are digital whiteboard tools that let teams collaborate and ideate on canvases. Although they have similar features, there are differences in how these features appear on the interface that determines its navigation and subsequent usage. Some differences are as follows
Miro
Mural
1. Basics

On Miro, users move boards to the facilitator's location. It has a screen sharing option to make it easier to discern who all are on the board of use, it truly depends on user preference. While MURAL's design is more simplistic, if you are looking for quick access to tools, you'll want to go with Miro.

1. Basics Mural lets facilitators adjust screens to guide participants to a certain space, using the "Take Control" feature. The lock option lets facilitators have more control over the meeting.
2. Integrations Miro has an open API architecture that lets developers integrate their own apps into it.
2. Integrations Mural is less extensive and has fewer integrations in its list.
3. Templates

Miro's templates have helpful texts and tips. There is a starter view on the board that eases you into creating and using templates. This is a feature that isn't currently available on Mural.

3. Templates Mural offers simpler templates. You can set the board to "private" mode so that the template is only visible to the facilitator.
4. 

Video Calling

Miro's video chat feature accommodates a few participants at a time but lacks breakout rooms for smaller teams or individuals.  You'll need to use Zoom in parallel.

4. Video Calling Mural offers the Quick Talk feature to get onto voice calls, but there is presently no video calling capabilities. You can react to messages and notes using emojis.
3. Miro Vs Mural: Which one is better?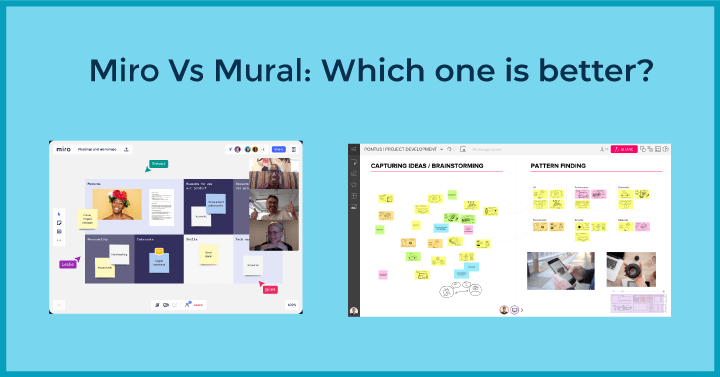 3.1 Layout and Interface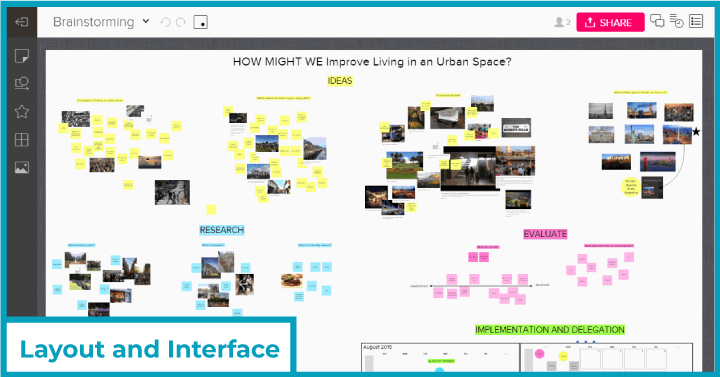 Overview The Miro whiteboard is laid out as an infinite-scroll canvas. You have options to brainstorm at-scale for projects. Guest users have limited collaboration options while members get full-access to take notes, conference in and share screens by turning on the presentation mode. The icon tray is located to the left of the board, with sticky notes, text inputs and freehand and stylus sketching. The Mural board's first blank project canvas is called the Facilitator. It is fitted with an icon library, text blocks, design, link-sharing, sticky notes, shapes and connectors, gifs and images and freehand drawing, writing and sketching. Feature Comparison and Analysis
Mural's features are visually more organized and spaced out. You can box notes into grids and lock them so that that particular note does not get lost when members move around the board.
On Miro, you can add sticky notes in bulk, zoom in and out using the CTRL and +/- options. Teams are sure to find it fun to change their Post Its shape, color and size (picture your note inflated to twice its size with vibrant colors!).
Miro cards are specific to product or project use cases. You can create user stories, mind maps or use the template library.
Mural offers users the option to make voice calls.
Verdict- Mural Mural, because the whiteboard is better organized and easier for facilitators or individual contributors to take over. Miro is feature-rich, no doubt, but you'll need several walkthroughs before you get the hang of it, unlike Mural which has a shorter learning curve.
3.2 Meetings and Workshops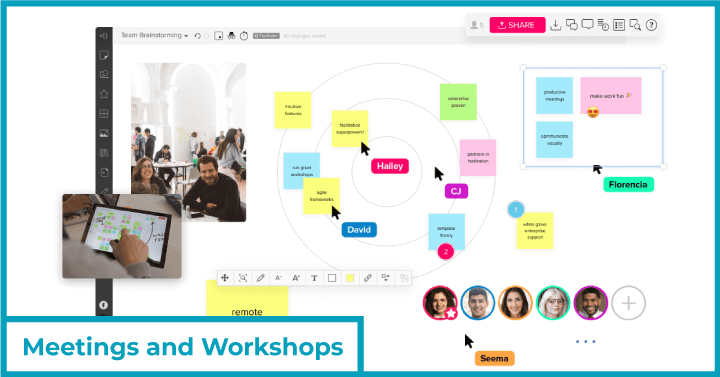 Overview Mural has a meeting and workshop facilitator known as the Facilitation Superpowers, while remote meetings can be conducted on Miro by starting a whiteboard. Feature Comparison and Analysis
I liked the Facilitator within Mural because it is interactive. If you move your cursor or pointer over the top of the page, it'll make the sample names in the block move as well. This gives you a taster of how the feature works on the actual Mural board.
Each Mural session is customizable, with controllable virtual rooms. There are meeting notes and ice breaking kits to help teams kick off meetings.
On Miro, the meeting facilitation and online meetings help you conference in with remote teams. The workshop facilitation comes with tools and cues for facilitators to read the room better.
Verdict- Mural I'd have to say it's Mural again for me, because the feature is more striking, playful and fun than on Miro, which takes just a bit of getting used to.
3.3 Template Library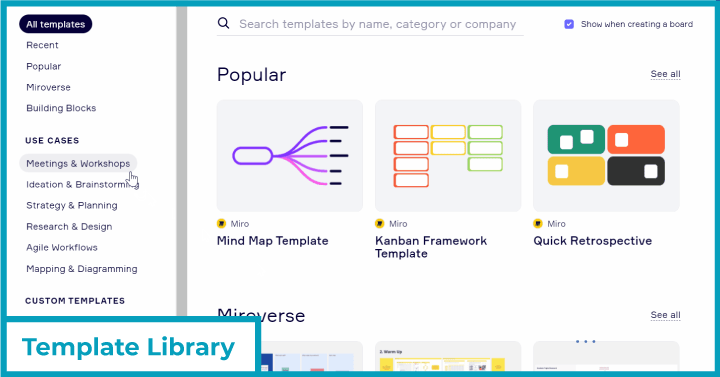 Miro's template library has templates based on use cases, which are categorized as strategy planning, remote meetings, brainstorming, insight gathering, decision-making, prioritization, Workshops & Facilitation, Retrospectives & Feedback, and Metrics & Measurement. Mural has over 200+ templates, featuring Facebook toolkits, road mapping, reality trees, feedback grids, innovator's compass, stakeholder management, customer journey maps, and remote sprints. Feature Comparison and Analysis
The

Miroverse

is Miro's built-in library for templates and is also a community you can sign up for to participate in discussions.  There are dozens of reusable templates or new ones that you can create. This mini-universe is categorized according to themes, teams, workflows and date of being added, from latest to oldest.

On Mural, you can enter the type of template you're looking for, and the search results return only those relevant templates. Broadly speaking, the templates available are for teams, workflow type, project methodology and activity.
Verdict -Miro
 Miro, hands down. The Miroverse is packed with interesting, beautiful and detailed templates which can be applied to any project, be it a wireframe for design or a coding and testing project. You can even follow other users and establish a network.
3.4 Collaboration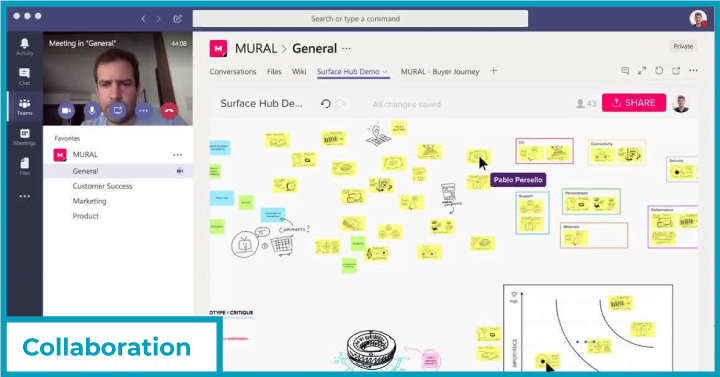 Overview
Miro
lets you see the collaborators joining a board in real-time, and the subsequent actions they take. An Avatar is created each time someone joins in, and the interaction options for timers, video and voice chats, voting and entering presentation mode are located next to the Avatar image.
On Mura
l, you can set boards up ahead of meetings to reduce the time to jump into it and collaborate. There's also the option to add frameworks to the board so that everyone is aware of the discussion and can track conversations.
Both tools have a zoomable canvas to adjust the view to scale.
Feature Comparison and Analysis
You can collaborate both inside and out of the Miro board. All you need to do is select any portion of the board and choose the quality level, which is great for photos and documents. The tool also generates PDFs by turning each frame on a board into a PDF page.There's also an asynchronous communication option to comment on, gather feedback and mention specific users, project members or the whole team. The notifications go out via email, Slack or MS-Teams. 

On Mural, you can zoom in and out of a chosen template (or blank canvas). Even if you go off-canvas, it's easy to drag back and drop the frame to the originally intended space. I liked that you can lock it down by right-clicking on the board and selecting the 'Lock' option. This is great when facilitating meetings where you don't want multiple users to keep moving the board around and out of sight.

Both the whiteboard tools offer a range of export options (PDF, .Docx or .Xls) for offline viewing, editing and fixing. 
Verdict - Miro and Mural It's a tie between Miro and Mural, although I personally found Mural easier to work with thanks to the Lock-in option. The board stayed in place and was easier to control and manage.
3.5 Integrations and Apps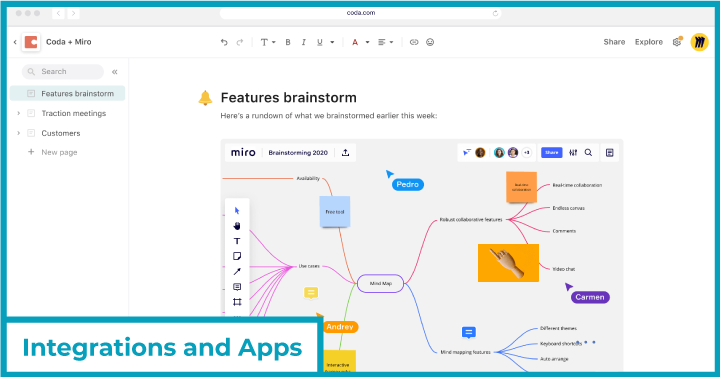 Miro vs Mural all come with an extensive and growing stack of integrations.
Feature Comparison and Analysis
You'll find Miro's integrations within the Marketplace. The apps are filtered by use case and type of tool. Featured apps include Whereby video meetings and Miro for Google, which you can use to present boards during meetings.

Mural syncs with Slack, MS-teams, GitHub, JIRA, Google Calendar and LUMA Workplace..
Verdict- Miro
Miro
is the clear winner here for integrations due to the library of use cases.
3.6 Mapping and Diagramming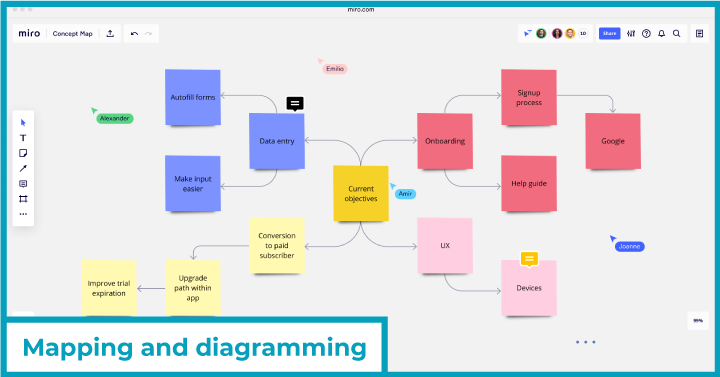 Overview Miro was the first to offer mindmaps, and Mural followed suit from March 2021 onwards. It has announced the release of a diagramming and mapping feature that comes with pre-built templates. The canvas is resizable and can be embedded as a workflow into Confluence or Coda. Feature Comparison and Analysis
On Miro, you can start the mind map within the Miro board by clicking anywhere. Use the connectors to add nodes joining two or more mind maps. You can also create a hierarchy by attaching child nodes to the parent node. This creates a tree-like effect. The direction of arrows can be changed in accordance with the storyboard.
Miro has hotkeys to save time creating mind maps. The finished product can be exported as a vector or embedded real-time into a presentation. These mind maps can further be divided into frames so as to not be a visual overload on meeting attendees.
Verdict- Miro It's Miro. The hotkeys shortcuts make it simple to get a mindmap up and running.
3.7 Assistive Support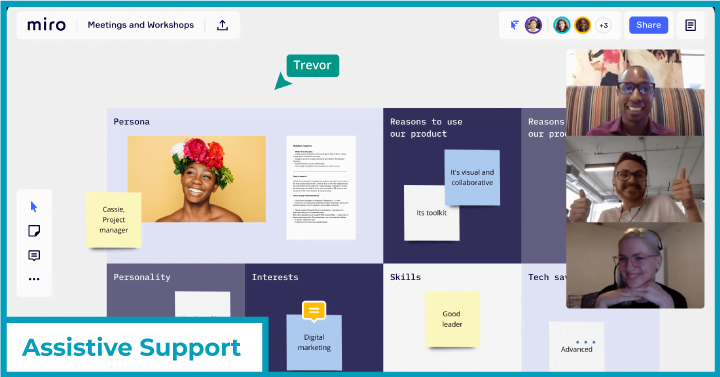 Overview
Both Miro vs Mural can be downloaded and are multi-device compatible. Although, the bug for Mural's option+ click menu is now fixed and running on Safari.
Feature Comparison and Analysis
Miro has email and phone support. There are also helpful guides on running retrospectives which direct you to the templates you could pick from the library.

Mural's help center is open 24/7 and is a self-service knowledge base. Besides this, they have live chat, email and phone support.
Verdict-Miro
Miro.
They have lots of resources such as blogs, templates, eBooks and discussion groups with most of the answers one would typically have. 
3.8 Pricing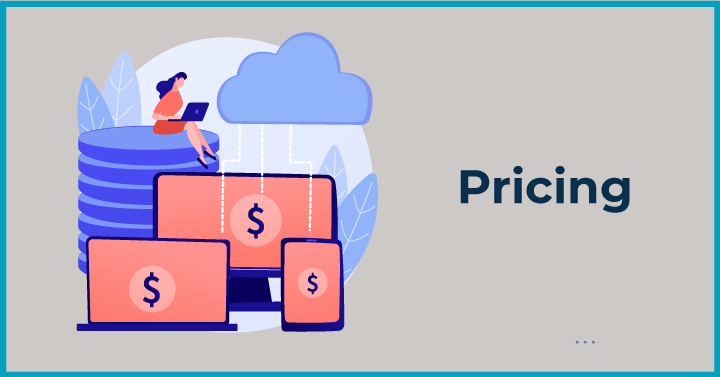 Overview
Miro
offers free plans but there are limitations to the number of users and features on them. At present Mural's free plan is individualistic and does not specify how many users can be on it. Professional services consultants can apply for Mural's Consultant Network which currently has over 7,200 members and offers 10 free workspaces.
Feature Comparison and Analysis
Miro offers 3 and 5 editable boards on the free plan.

Miro's monthly pricing starts at $8 for Team and $16 for Business. The Enterprise plan is quoted on a per-business requirement, which you'll get after getting in touch with their sales team.  

Mural's monthly pricing costs $12 for the starter plan and allows between 1-50 members. The plus plan costs $20 and is intended for 10-50 members. The Enterprise plan is for 50+ members, and you can reach out to the sales team for a quote.
Verdict- Miro and Mural
Consider your business requirements and number of users within departments who will be expected to cross-collaborate. Individual contributors and small teams can get onto a free plan, but mid, large and enterprise-wide teams could go for either tool's paid plans.
4. Miro v Mural: Which is the best?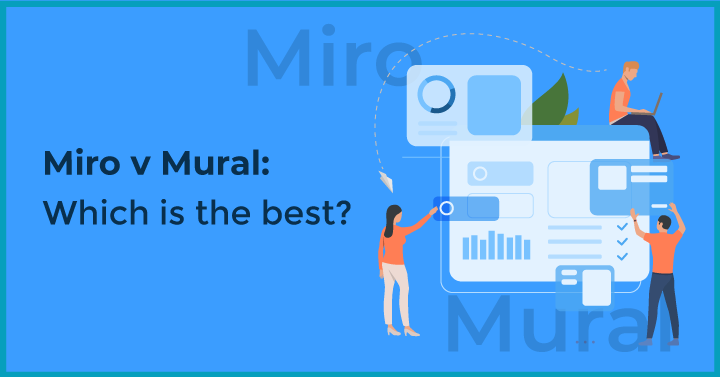 Miro is the best tool!
Mural comes a close second. Both digital whiteboard platforms are feature-rich, interactive and immersive and in many of the features, Miro vs Mural are neck-to-neck. Why Miro beats Mural is because it contains resources besides just whiteboard and the infinite scroll canvas is full of possibilities. It also simplifies
remote onboarding
for virtual teams by making free resources easily accessible.