Everyone loves a good party, even those of you who claim your wild partying days are behind you (cue eye-roll). And don't think working in a virtual office will excuse you from being in the center of some creative virtual office party ideas.
Sure, you probably won't be doing a keg stand with your fellow coworkers and managers in attendance, but there's nothing to stop your imagination from taking over in other ways!
As Gloria Estefan put it, it's party time! So I'm going to go into a few great virtual office party ideas for you to try out at your next meet up. Keep calm and party ON!
1. Virtual holiday Party Ideas for Work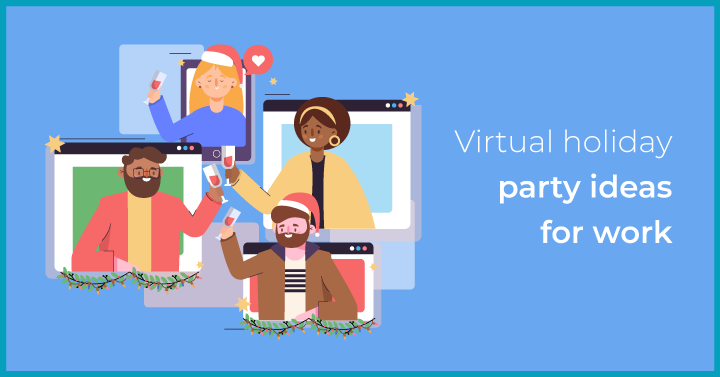 The only rule to trying out virtual holiday party ideas is to follow the 3 I's: inform, include and involve everyone! Here are a few ideas;
1.1 Virtual amazing escape
The amazing escape sends your team on an adventure to solve a timed mystery or puzzle. Amazing escapes feature themed rooms. Guests can make their selection. The session is initiated and moderated by a session facilitator, who will provide instructions on call before sending the team to the room. There are usually clues or riddles to get you closer to the finish line. The best part about escape adventures, is that they're designed for large teams, and several such teams can play separate themes at once!
1.2 Paired potluck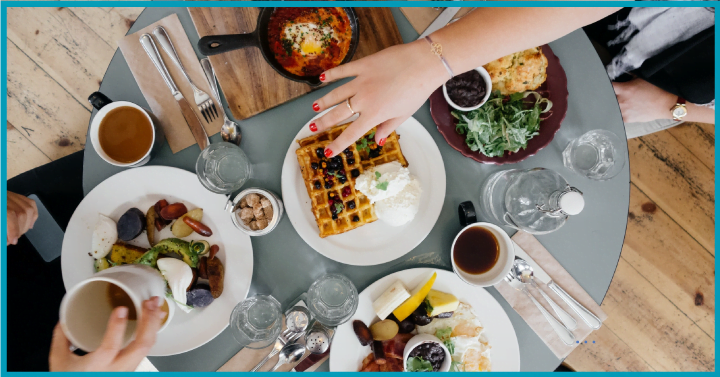 In a paired potluck, you can opt to assign co workers based on their relationship or at random. The latter would be a better option if you want to turn this party into an opportunity for them to get to know each other better. Citybrewtours do wine and cheese pairings which are live, virtual guided tours. The events include custom tasting boxes that participants receive before the event. If you want to start small and keep this within the team, you can instead have the assigned pair exchange their recipes. Once everyone has their recipes, they will need to recreate it in their kitchens and present it as a group on a call!
1.3 Virtual scavenger hunt
You cannot go wrong organizing a virtual scavenger hunt, because everyone likes that Aha! Moment when you find a hidden item from the list. You can play themed scavenger hunts, where everyone has to find an item related to a certain theme. For example, if you're playing a beach scavenger hunt, the items to find before the timer's up can include a pail, sand, swimsuits or sun hats!
1.4 Netflix Series Party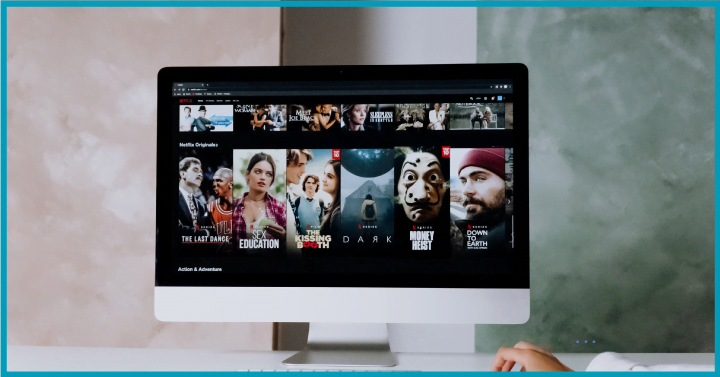 All of us have a Netflix series favorite. You could do a cosplay party where everyone dresses up as a character from their show. To play, select the top 5 series all or some are watching or are familiar with. You can either announce who you're going as, or unveil it on the day of the party where your coworkers have to guess who you're supposed to be.
1.5 Dance/ Nightclub Party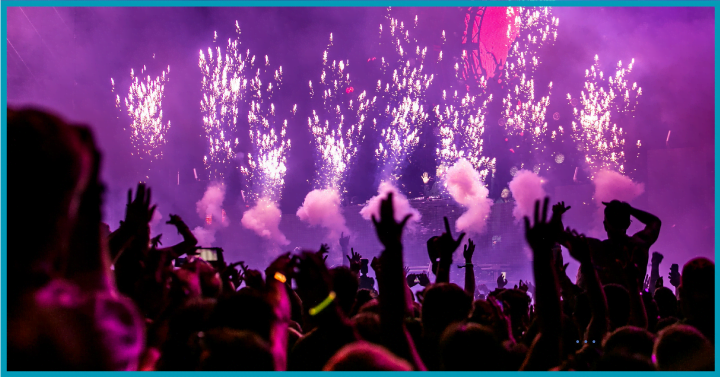 Turn your virtual office into a dance floor with a DJ. You can even hang a fake disco ball and dim the lights to create the nightclub ambience. Have everyone turn their camera on and step away from their desk as the DJ begins the countdown to the first song. Family members or housemates too can join in on the fun!
1.6 Halloween Costume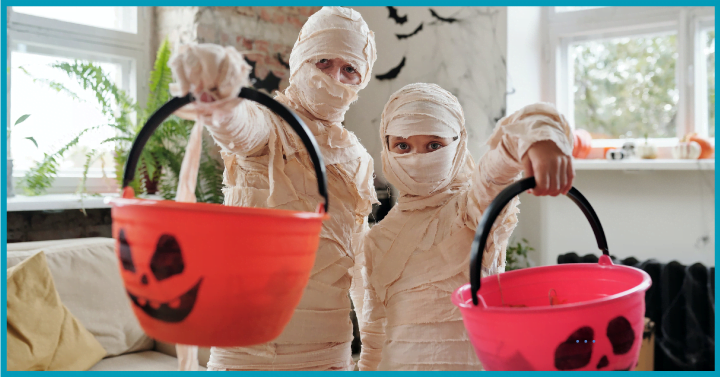 This is one of the best virtual office party ideas to bring out people's creativity. Have everyone dress up in spooky costumes and announce a prize for the most terrifying costume ever. The prize can be a gift receipt or voucher that they can redeem at online stores. Remote employees can dress up as mummies, Frankenstein, Annabelle or any other character. Bonus points if they can also fashion props such as paper skulls, black cat drawings and pumpkin cut outs to set the mood. Conduct a round-the-circle storytime where everyone shares creepy stories, or play a round of trick-or-treat.
1.7 Secret Santa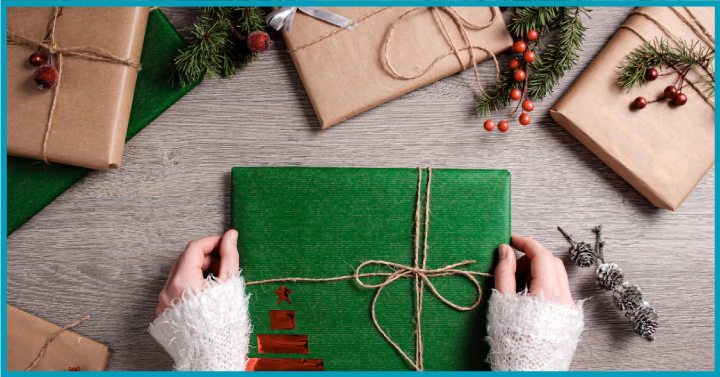 Secret Santa office parties are just as fun online as they are in-person! Set a budget for gifts and use sites like Elfster to draw names. I like what Arcanis has come up with, though, because it does not collect and store names forever like other applications. It's a random name generator that lets you enter your team's name and copy the links over to send to them (don't worry, the others won't be able to find out pairings or swap for someone else).
1.8 Socialbooth
Social booth is a photobooth software that you can install on your machine to snap crazy, clownish photos of the team. Have everyone make silly faces at each other or at the camera and let the software do the rest!
1.9 Spymaster Party
The Sorry,On Mute team clued me in on a Spymaster game they recently stumbled played. It's conducted by codenames and splits teams into two. Each team has a spymaster. The person who elects themselves to be the Spymaster has to give their team a one-word clue and the team has to guess which tile matches the clue. You have to manually end the guessing to let the next team's turn. The first team to get all the tiles right wins!
1.10 Werewolf
The Werewolf game assigns 4 roles to players at random. The choices are werewolf, villager, medic and seer. A random generator tool can facilitate the game's online version. The werewolf eats other players, villagers vote on who they think the werewolf is, medics rescue the player and seers can reveal if the player guessed to be the werewolf really is one.
This game works better if you set the right scene for it. You can use sound effects such as a wolf howl, thunder or crickets chirping. The game master calls the werewolf to select a victim. The medic has to point to a person to save and the seer reveals whether the person is a werewolf or not, which the game master confirms with a nod or a shake. Then, the game master announces whether the werewolf successfully ate a villager. This is a party game that will keep everyone debating and guessing!
1.11 Puppet theater
This is one of the virtual office party ideas I can't wait to try out myself! A puppet theater set has a plot, character and voices. It is a team building activity that relies on teamwork. Just as you would a real play, each person can be in charge of something. For example, someone from the marketing team can write the story, while the creative team can design puppets out of socks or gloves. As fun as it is, it's a great way to bring everybody together.
1.12 Cards against humanity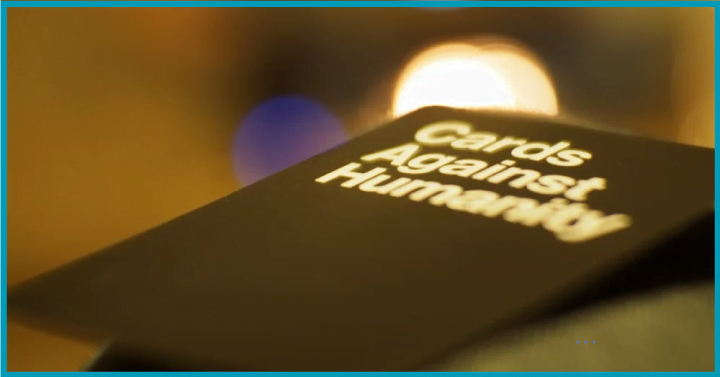 Want to make everyone laugh till their sides hurt? Why not download the cards against humanity pack and see just how rude and sarcastic everyone's sentences get?
1.13 Caroling Karaoke party
A virtual karaoke party is a great way to help everyone let go of any inhibition. You can start with either a Christmas carol list of songs, if you want easily accessible lyrics. If the team wants to select jazz, blues, country or pop, let them! The only rule is that everyone has access to the lyrics and video or audio to know how the song goes.
1.14 Holiday in Hawaii
You know those animated background options that appear on Zoom or Skype? You could have everyone set their background to the palm beach theme and dress in loud colors. Participants to this virtual office party can also mix their own drinks, wear Hawaiin floral garland (known as Lei) and start a discussion. If you really want to get into the beach mood,I recommend checking out Neal's deep-sea project!
1.15 Boozy Pictionary
If you want to see who can keep a clear head even with a few drinks in them, Boozy Pictionary is the way to go! Split teams as you would in an actual pictionary game, and whoever guesses wrong has to take a sip of their alcoholic drink. The team that ends up drinking the most is the losing team (sorry, guys, we didn't specify who Boozy Pictionary would be more fun for!)
2. Tips to Make Virtual Holiday Parties Even More Fun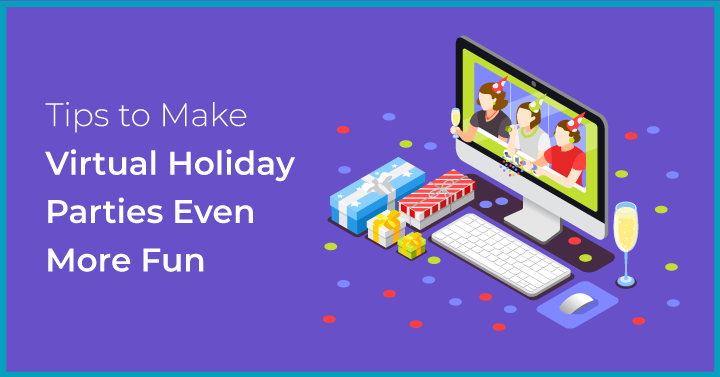 2.1 Institute a suggestion box
Suggestions should be welcome and everyone should have a say in what they'd like to see at the party. Websites like the custominsight or suggestionox can help users anonymously enter ideas. To make the process of deciding on the games and activities fair, let everyone vote on the top 3 or 5 games that sound interesting and fun to them. The games that get maximum votes get picked!
2.2 Decide on a theme
A theme helps everyone get into the mood to party, be it a scavenger hunt, holiday party or attire. When everyone complies, it is also a show of a united front!
2.3 Set a budget for gifting options
Always, ALWAYS ask what amount employees would be comfortable spending out of their pockets before deciding on a budget. Stick to a safe lower and upper limit so that no one goes overboard or spends too little.
2.4 Let Loose!
It's not a party if you're still having some hang ups, is it? Remember, the reasons to have a party are threefold: to get everyone to mingle, take a well-deserved break from work-related discussions, and to give you a high from the fun!
3. Virtual Office Party Ideas for Your Boss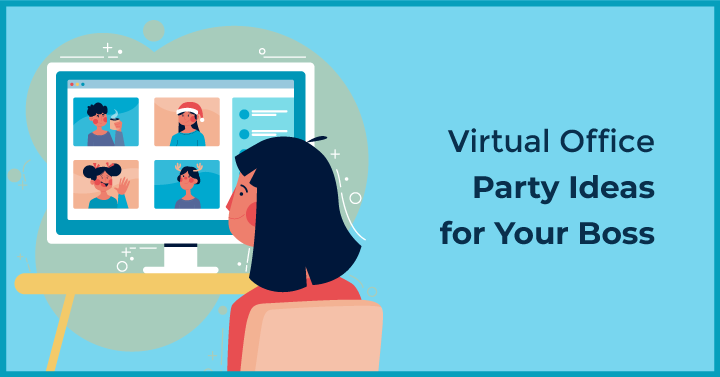 3.1 Online birthday party
If your boss or manager has a birthday coming up, gather the team together to spring a surprise for him or her on their special day! If you don't already know when it is, you'll need to be crafty about extracting this information out of them without rousing their suspicions! Start a group call, and then message your boss about a pretend work-emergency. Add them to it so that everyone else can shout their greeting!
3.2 Gratitude party
Thank your boss for being supportive and for having your back with a gratitude party. Come up with a list of things they'd like and set a budget. If the entire team reports to the same boss, you can split expenses amongst members so that everyone gets a specific item. Put together a basket and ship it to your boss. You can hint to them to expect a delivery so that they'll be home when it reaches their door.
3.3 Milestone party
Thank your boss on a call by reading out loud what you're grateful for about having them on your side. You can either do this privately or on a group-call with everyone else taking turns to recall a memorable time or goal that your boss was part of. Fair warning, it may turn on the waterworks, so you'll be glad you can always excuse yourself by turning your camera off.
4. How to Establish a Socially Distant Office Party Plan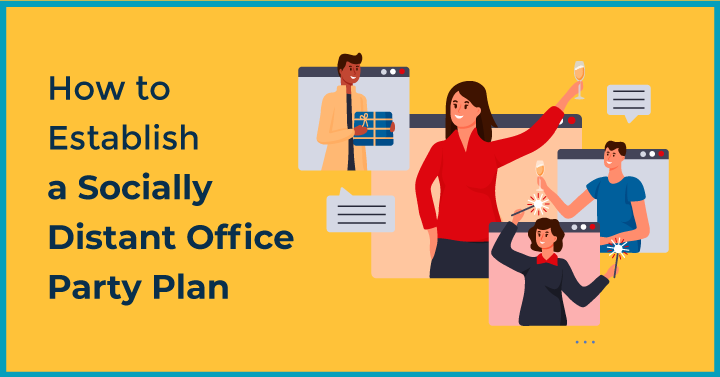 How regularly you communicate indicates how involved and informed everyone else feels. It's easy to miss out on remote workers because they're not in your direct line of sight, but it's all the more reason to make sure noone misses important announcements, updates and changes to activity. If you're moving a party up, or postponing it, it needs to be conveyed so that no one is caught unawares (this is literally the worst kind of surprise to spring on someone, so don't unconsciously do it!).
These virtual office party ideas are a great way to help you and your team relax and engage. If you're not the games facilitator, don't be afraid to get in there and compete with your team members. So, which idea are you excited to try out?