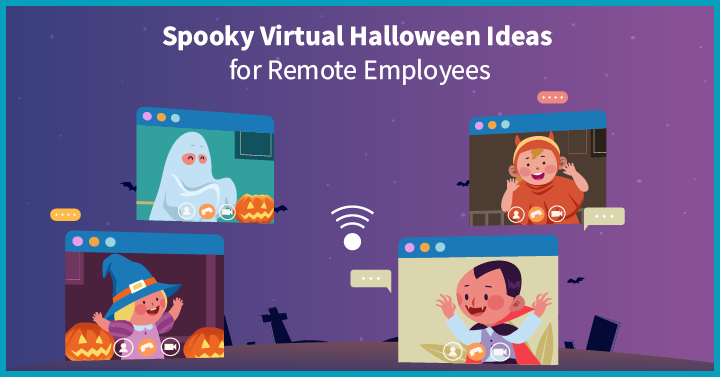 Time to get spooky! It's that time of year again when Halloween is fast approaching. We've all adapted to working remotely and in the swing of things, but with major holidays and celebrations upcoming, how can we celebrate like we used to?
Host a virtual Halloween party to liven up remote working and spread spooky cheer amongst your colleagues. Celebrations and holidays are a great way to boost employee morale and promote excellent team building. There are no limits for virtual Halloween games for work., expect your imagination.
Read on to find the best virtual Halloween party ideas that won't disappoint.
1. What is a virtual Halloween party?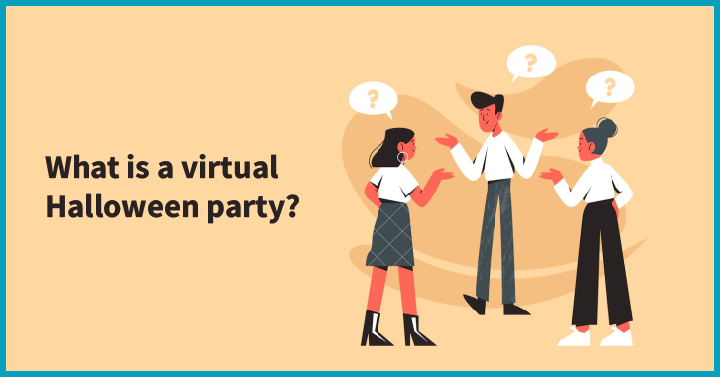 A virtual Halloween party is an online get-together celebrating one of the most popular holidays- Halloween! Every 31st October marks All Saint's Eve, commonly known as Halloween. With the growth of remote working, virtual Halloween party ideas are quite popular. Typically everyone is invited to attend a party like this through a video conferencing tool such as Zoom or Teams and wear their scariest costumes and make-up.  During your virtual Halloween party, you can host games and virtual Halloween activities and give awards to the best-dressed categories – even try out pumpkin carving for a fun activity in which everyone can get involved!
2. Benefits of celebrating virtual Halloween with co-workers
There are many benefits to hosting a virtual Halloween party with your co-workers such as
Working parents can also join in and enjoy the office night out without considering child care expenses.
No extra costs to bear in comparison to an in-person party which usually cover venue booking , food, or drinks.
Fun activities you can enjoy from the comfort of your own home
Inspires creativity so employees can dress up in the craziest costumes ·    
3. How do you host a virtual Halloween party??
3.1 Send scary invites for the party
Virtual Halloween activities for work can keep your team entertained during your online party.  Get creative with your invites and add some spooky details to entice your colleagues to attend!  Try out Canva to design some 'spook-tacular' invites that will get your co-workers in the mood to celebrate Halloween!
3.2 Decide on themes and costumes
Pick a theme for your virtual Halloween party to build excitement amongst your colleagues. Some fun themes and costume ideas could be witches & wizards, ghosts & ghouls, zombie apocalypse, or angels & devils. Picking a theme can be helpful as it eliminates any worry about what to wear or who to dress up as! Choose a theme that sparks the Halloween spirit in you, and make sure to include the theme or dress code on your invites!
3.3 Select a video conferencing platform
Zoom is an excellent choice for your virtual Halloween party if you have a large team of 20 or more; it is easy to navigate, and sending the meeting link by bulk over email is very easy. Other platforms you can use for any team size are Microsoft Teams, Loom, or Skype. Choose whichever platform is most accessible and straightforward for your team.
3.4 Choose an activity to do together
Chat with your co-workers, discuss about virtual halloween party ideas for work, and consider all their activity suggestions. Getting opinions from your co-workers is the best way to ensure you pick activities that everyone will enjoy.
3.5 Have themed snacks and drinks
Halloween means candy, and lots of it! Don't hold back on your candy treats for this virtual Halloween party. You could set a budget to deliver a snack box to your employees before the date of the party or encourage them to bring their sweet treats. Try out some classic Halloween candies such as jelly worms, chocolate eyeballs, or jelly babies!   
4. Spooky Virtual Halloween Party Ideas for Work
4.1 Halloween Bingo
Bingo is one of the most popular virtual Halloween games for work. In fact, it is a go-to party game for all occasions. Create your own Halloween bingo cards using a free online template, such as myfreebingocards, to create a themed bingo card with spooky squares that your co-workers can tick off as the night goes on. Use cues such as "someone dressed as a ghost," "someone makes a Halloween joke," etc. 
4.2 Costume Contest
Host a virtual costume contest for all of your employees to participate in. The spookiest and scariest costumes win at Halloween! Give virtual trophies to your 1st, 2nd, and 3rd costume contest winners for a fun and interactive activity.
4.3 Virtual Trick or Treat
Trick or treating is one of the most beloved Halloween traditions, and you can still enjoy it virtually! Prepare a few jokes and riddles; whoever answers correctly can receive a virtual coupon by email.
4.4 Virtual Halloween Pictionary
Play Halloween Pictionary for a fun and competitive activity that encourages your team to bond! Split into teams and use an on-screen whiteboard or pen and paper; hold up your drawings to the camera. Give each team a list of spooky Halloween keywords and phrases to use, and let the games begin!
4.5 Virtual House of Horrors
Take a virtual tour together through a haunted house of horrors! Thanks to modern technology, you can visit haunted houses from your own home. What better way to celebrate Halloween than bringing the scariest haunted mansion into your home? Try a virtual tour of a haunted house such as the Winchester Mystery House for a 'spook-tacular' evening!
4.6 Movie Marathon
Nothing says "Halloween" quite like a scary movie, all the candy you can eat, and your friends all watching it together. Gather your co-workers for a scary movie marathon this Halloween for a fun and thrilling bonding experience.
Our top picks are:
The Shining
The Ring
The Exorcist
The Conjuring
4.7 Pumpkin Carvings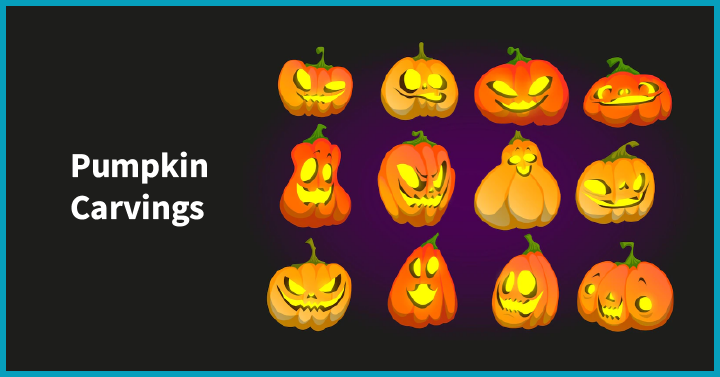 Pumpkin carvings are a great all-around Halloween activity; even those who aren't fans of anything too scary will enjoy getting creative with their pumpkin. Make sure to let your colleagues know beforehand so they can get all their pumpkin carving equipment ready. Set a timer and challenge your co-workers to create the best-carved pumpkin. To keep the competitive spirit alive, hand out awards for the funniest pumpkin, the most creative pumpkin, and the most life-like pumpkin carvings.
4.8 Murder Mystery
Virtual murder mysteries are a trending activity that everyone loves to get involved in. This virtual Halloween party activity is the perfect way to involve every team member in a fun, team-building activity. Try out Master of Mystery for a fun-filled night of spooky celebrations.
4.9 Zombie Mode
Zombie mode activated. What makes a zombie? In this fun virtual Halloween party activity, you can decide who your team's "zombie "is. This game works similarly to "never have I ever," where a person reads out a statement, and if it applies to you, you tick off the box. Whoever has the most boxes ticked at the end of the game is your zombie for the night! You can include statements like:
Never arrives to work on time
Loves to hit the snooze button
Missed an important meeting
Forgot about a deadline
Wore the wrong shoes to work
4.10 Guess Whoooo?
Guess whoooo? is a virtual Halloween party game where your team of co-workers will only have to identify a mystery person by asking 'yes' or 'no' questions. Split your co-workers into teams, and allow each team endless questions with only three final guesses. Whoever guesses correctly first wins!
4.11 Make Some Magic Potions (Mocktail/Cocktail recipe)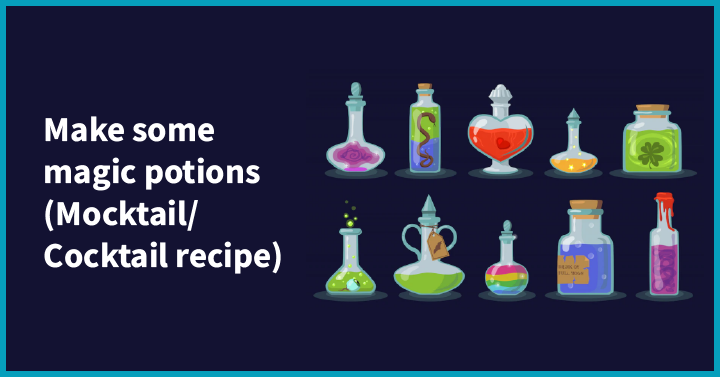 It wouldn't be a work night party without drinks! For your virtual Halloween party, host an online mocktail/cocktail masterclass for everyone to get involved in. This could be a ten-minute activity followed by more games, or it could be the main event of your evening! There are many Halloween-themed drinks you could create, such as Boozy Screamsicle Shakes or Poison Apple Cocktails. Make sure to mail the ingredients to your colleagues, so they are prepared for your spooky cocktail masterclass!
4.12 Virtual Escape Room
Escape rooms are a scary, exciting, and fun activity for any team. For an added thrill, set the tone with some spooky music or a scary story before you begin. Try out The Escape Game for a guaranteed night of fun frights for all!
4.13 Scary Movie Trivia
This virtual Halloween party activity is for all the movie buffs and scary story lovers. Test your knowledge by hosting a Halloween-themed trivia night based on the best scary movies. You can create a virtual trivia quiz using bigthingquiz; all you need to do is create a document with all the questions, email them to your co-workers, and get started quizzing. When all the questions have been answered, refer to your answer sheet and ask everyone to grade their trivia tests!
4.14 Decorating the Home Workspace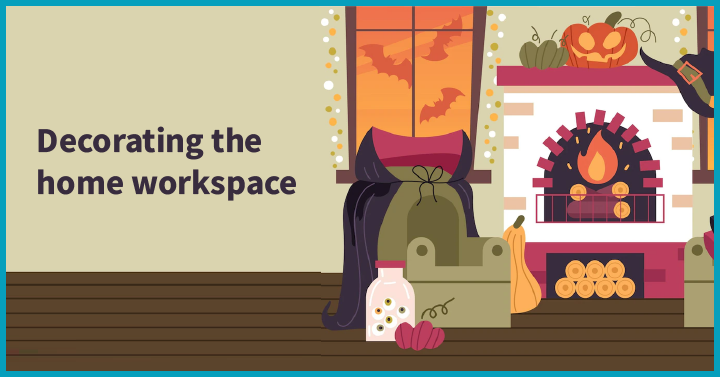 A simple yet effective way to celebrate Halloween virtually is to decorate your home workspace. A bit of themed decoration can liven up any space. Try out fake cobwebs, spooky fake spiders, or snakes, or add a scary miniature skeleton to your desk side. Encourage your co-workers to do the same and share photos of your 'frightfully fun' workspaces!
4.15 Virtual Magic Show
If you want to impress your employees or co-workers this Halloween, organize a virtual Halloween party featuring a magic show! Now available virtually, magic shows are one of the most entertaining and exciting events. Try out Chris Fleming for your virtual magic show to wow your colleagues!
5. FAQs
What are some virtual Halloween activities?
To throw a killer virtual Halloween party that everyone will enjoy, try pumpkin carving, virtual Halloween Pictionary, or a scary movie trivia quiz!
How do you throw a Zoom Halloween party?
If you are throwing a virtual Halloween party over Zoom, make sure everyone is aware of the time and date you are meeting, e-mail an invitation with the theme and costume requirements, then send them a link to the meeting room. Once everyone has arrived, you can start the party by taking part in a virtual escape room such as The Escape Game. You can take your pick from some of the cool games and virtual Halloween activities for work shared above to enjoy the event.