As a small business owner, there is tremendous pressure to ensure that employee schedules are being managed in an efficient manner to ensure your business stays organized.While exploring the best scheduling apps for more efficient business management, you might also consider checking out resources for legal support, such as LegalZoom. You can read this insightful LegalZoom review to understand how it could benefit your small business, especially in handling legal paperwork and documentation.
Since you are operating with a limited number of people, the onus usually lies with the owner to come up with a solution. One way you can streamline the organization of different aspects of your workflow is with the deployment of the best scheduling app for small business. 
Luckily, there are a number of activity scheduling apps in the market that you can pick from for your business. 
You can also explore our articles on the best timesheet apps and top HR software solutions for small businesses to gain a comprehensive look into ways you can streamline your small business. 
1. What Is a Scheduling App for Small Businesses?
A scheduling app for small businesses is one that manages appointments. As a small business, it can often be very tedious to book appointments. There is a lot of back and forth that takes place not just with clients but even with employees and other partners. A scheduling app goes a long way in helping manage the redundant tasks that lead up to the final call. It does so by automating processes like creating meeting links, sending out invites, and checking the schedules of everyone involved.
Scheduling software helps you carry out these processes and free up time to concentrate on the larger business objectives.
2. Overview Of The 20 Best Scheduling App for Small Businesses
3. Comparison Criteria
3.1 User Interface:
The user interface (UI) is everything that a user interacts with in the program. The goal is to keep the UI extremely simple so that one can easily navigate the platform. A good UI is intuitive, clear and consistent.
3.2 Usability:
Usability refers to the ease with which one can use the program. There should not be much of a learning curve involved with the usage of the program as that will significantly hamper productivity.
3.3 Integrations with other apps
It is important that your chosen online booking system for small business supports integrations with other applications. To leverage the full scope of your scheduling software it is important that it works in tandem with other programs like the human resource management system, time and attendance, and more. This way users do not have to jump between multiple platforms to get the work done.
3.4 Value for money:
Budget is always an important consideration irrespective of what the size of the organization. The aim is to choose a program that not only has the ability to serve your needs right at this moment, but also one that scales up with your company.
4. Features of the Best Scheduling App for Small Businesses to Consider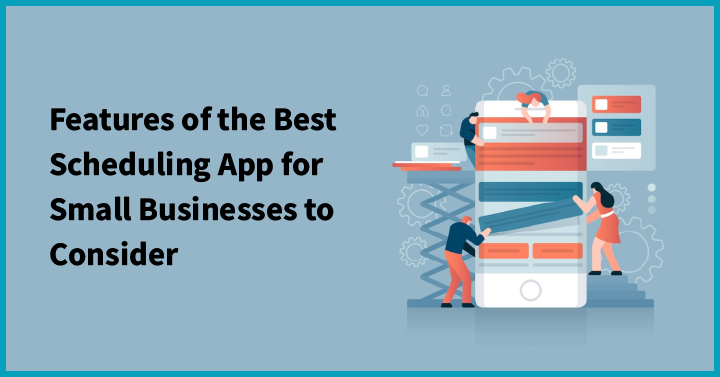 4.1 Provides real-time data
Real-time data is the ability to see what your resources are doing at this very moment. As a small business, it is important that your scheduling software shows you real-time data, especially since chances are you pay on an hourly scale. Another important aspect of scheduling software is the ability to sync across devices i.e. desktop and mobile. Synchronization ensures that there is no lag in the information being passed.
4.2 Has alerts and notification system:
A robust alerts and notifications system decreases the chances of any kind of miscommunication or confusion within the team. Implementation of scheduling software allows for better coordination between the team, irrespective of where they are working from.
4.3 Can be used as a tracking tool
As a functionality, time tracking is essential because it shows you how long it takes for an employee to complete a certain task. This allows you to improve the overall productivity of your employees. You can detect any lags and compare data with previous timesheets, this will help you take the necessary actions to optimize your resources.
4.4 It can shift swap and shuffle
Shift swapping and shuffling refers to whether the software has the ability to inform you about employees schedules and then accordingly assist in changing the shift. It should also additionally have the capability to inform everyone concerned with the swap about it. In case someone from your team is sick or unavailable, does the program assign the shift to someone else? Also, does it allow employees to have a discussion with each other and accordingly swap shifts amongst themselves?
4.5 It has timesheet reporting and analytics:
Timesheet reporting refers to the calculation of billable hours, overtime and logged time. Based on this report you can calculate the payroll as well. The analytics will give you information about the output of your team.
5. The Best Scheduling Apps for Small Businesses
5.1 Monday.com - Best Scheduling App For Small Businesses to Create Custom Workflows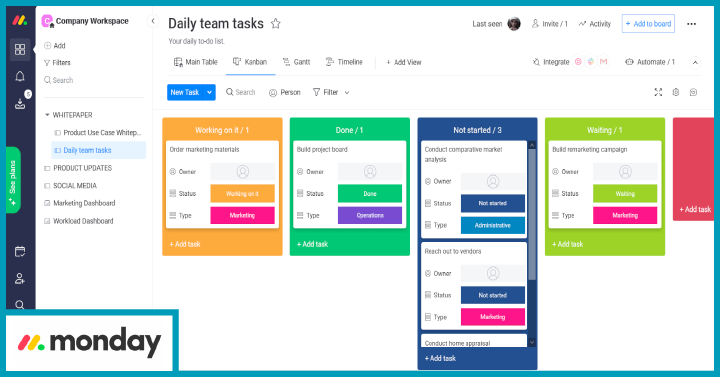 Monday helps you bring all relevant staff in your company on one unified platform. Their OS is designed in a manner that makes it easy for users to navigate. There is a very minimal learning curve involved. You can easily create any custom functionality that your team requires.
The program comes with a number of templates for you to get started to help you set up your project management system. There are instances where you can even give access to your clients and company executives, though their involvement is limited to asking general questions like - "Are we on schedule?"
SIWOM's take - We like Monday's boards that are designed to be interactive and make management of work easier. You can visualize your work through one of the many views available like the kanban board, calendar, timeline and Gantt chart, all of which make it easier for you to assimilate everyone's schedule and allocate better moving forward.
Price: Monday has plans starting from $8 seat/month for the Basic plan to custom pricing for larger organizations.
5.2 Calendly - Best Automated Scheduling App for Small Businesses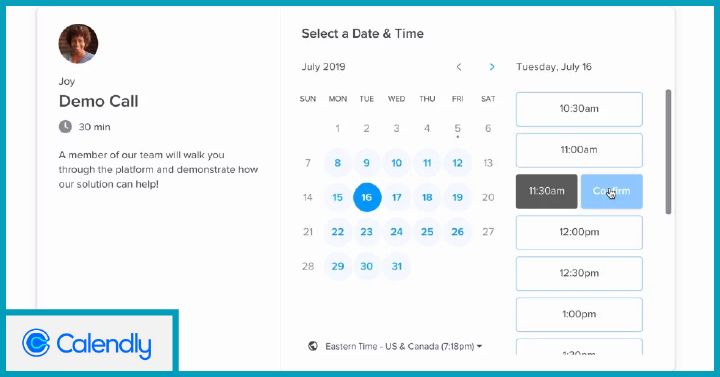 Calendly is one of the best applications if you are looking for a simple application to be able to manage your schedule. As an employee scheduling software for small businesses, it has no feature bloating and is just a great appointment booking tool. It has the ability to sync and check calendars like Outlook, Google and more to help you avoid any kinds of double booking situations.
This automated solution enables users who have access to your Calendly calendar to book meetings and cross-check everything else on its own. This includes sending out the required reminders, generating a meeting link and finally even thank you notes once the meeting is done.
The software is both mobile as well as a browser compatible, ensuring you can check in wherever you are as long as you have a working internet connection. It is simple to use and also supports integration with a number of other applications like Google, Slack, Microsoft Teams and more making it a great addition to your existing suite of products,
SIWOM's take - Calendly is universally adored and for good reason. We really like how easy it is to navigate and integrate it with existing systems.
Price: The Basic Plan is free forever. An upgraded tier called Essentials starts at $8/seat/ month and offers added scheduling automation. The Professional tier starts at $12/seat/month and provides customizations and integrations.
5.3 EZClocker- Best Scheduling App For Employees Spread Over Multiple Locations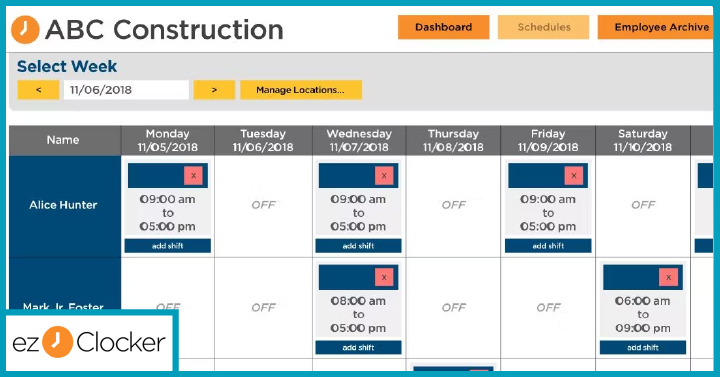 EzClocker is an employee time tracking and scheduling software. It comes with GPS support as well to make it simpler for you to verify whether your employees have clocked in at the right location or not.
EZclocker comes with the best scheduling app for business which makes it easy for employees to clock in. It is designed for smaller teams and does not have any complicated options that require extensive training.
SIWOM's take - We like the program's interface which is straightforward and can be easily adopted by the whole team. The GPS tracking feature allows business owners to verify the clock-in location to ensure that the employee is at the correct job site.
Price: The application is free for the first 30 days after which you have a choice between 3 options. Basics is $10/month for 15 employees, Standard is $25/month for 30 employees and Premium is $50/month for up to 100 employees.
5.4 Zoho People- Best Employee Centric Scheduling App For Small Business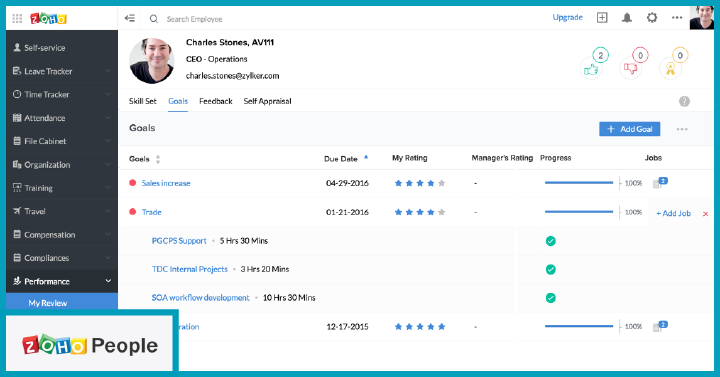 If you are looking for a program that provides you with a unified solution for all your employee scheduling and project management needs, then Zoho People is a good option. This cloud-based HR software is easy to use and can be adapted for any organization. It has every feature that a good employee scheduling software should have.
It has features like leave management, performance management, attendance management, real-time collaboration and more, which help remove any tedious and repetitive HR tasks and simplify the workflow for small business owners. The program also comes with a number of integration options to help fully customize your experience.
SIWOM's take - We found the shift scheduling feature to be very handy. The employee scheduling software has the option to automate shift rotation that configures shifts automatically saving time and energy that goes behind changing shifts manually.
Price: You have a 30-day trial period after which you can either choose to pay monthly or yearly.
5.5 Acuity- Best Scheduling App to Manage Client Bookings for Small Businesses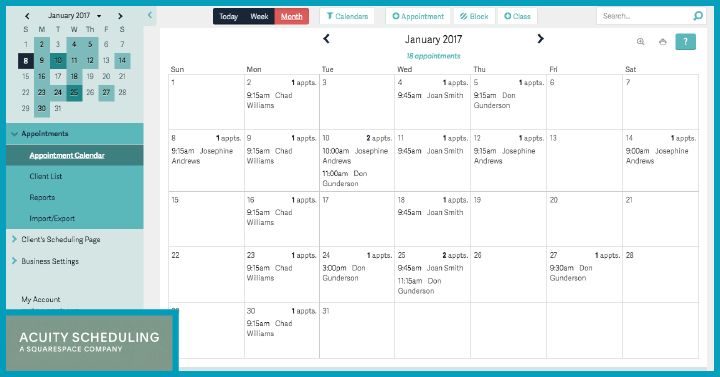 If your work involves client bookings, then Acuity is the software for you. It is actually an amalgamation of two different applications; one for your clients and the other one for you to manage your appointments. The clients on their application can see your real-time availability and then pick the slot most conducive to them. While on your end you can see not only appointments but any other work that you might have throughout the day.
The interface is simple to use and boasts management features like the ability to collect payments via integrations, the ability to send out customized reminder emails and texts.
SIWOM's take- What we really like about this application is how simple it is to use. It offers seamless integration across devices ensuring that you can make changes in your schedule on the fly.
Price: The first 14 days are free after which you have the choice to pick from their options. Emerging at $14/month, Growing at $23/month and Powerhouse at $45/month.
5.6 Hubstaff: Best Scheduling App for Small Businesses to Schedule Activities and Tasks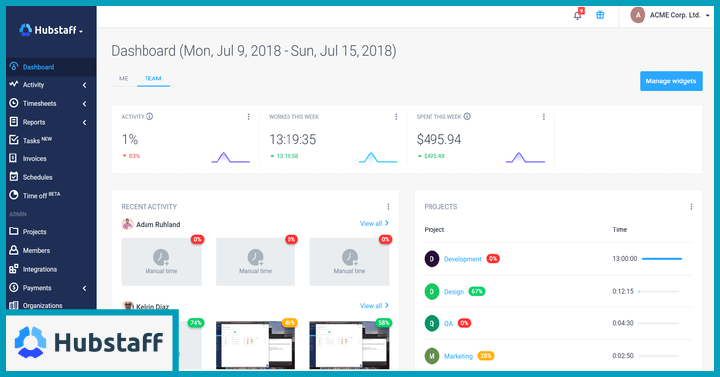 Hubstaff is a time-tracking app with scheduling features that allows you to look at what your employees are working on and for how much time. This is carried out through applications on the desktop, web, mobile and chrome. You can view all the reports on Hubstaff's dashboard that shows you the screenshots and activity levels of every employee.
This allows managers to understand where the lags are happening in real-time and make the required changes. Hubstaff has the features in place for integration with a number of applications like Xero, QuickBooks and more making it easy for you to run your business operations on a day-to-day basis.
SIWOM's take- This program is a good fit for small business owners as it allows for time tracking, workforce and project management, all on the same platform.
Price: After the 14 days you can pick from annual or monthly pricing options. The basic plan starts at $5.83/user/month.
5.7 SageHR: Best Employee Scheduling App for Small Businesses with Shift Planning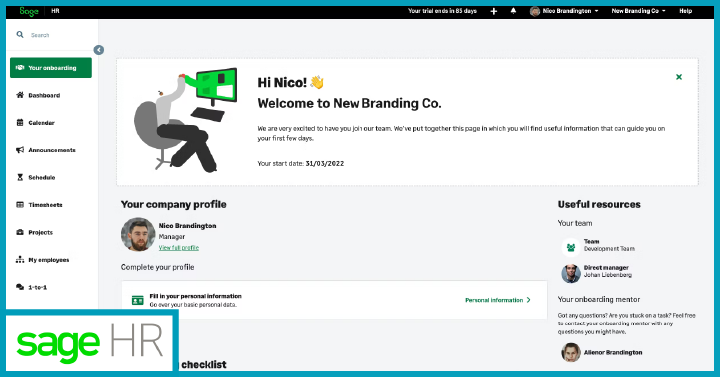 SageHR is an easy-to-use comprehensive HR software which manages everything from payroll to performance management. The application has a user-friendly interface and implementing it is also simple. As an end-to-end software, you can hire, train, onboard, and manage your staff with ease.
For small businesses, this software has filters that allow you to create custom reports which can then be transformed into graphs.
This is an employee-centric app so employees can easily carry out tasks like applying for leave through the dedicated SageHR portal.
SIWOM's take - SageHR is a good fit for small businesses because there are plenty of features within the program to store information and provide status and look-ups. This makes administration very easy.
Price: You get a 30-day free trial beyond which you will receive custom prices depending on the module selected and the number of employees.
5.8 ABC Roster- Best Free Employee Scheduling App for Small Businesses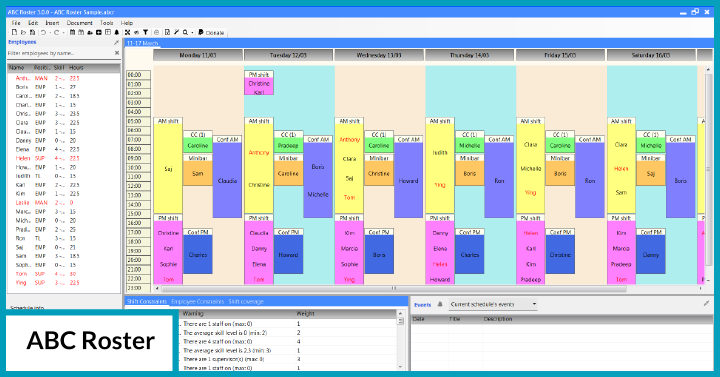 If you are looking for a free employee scheduling app then ABC Roster is a good option. This app makes the complicated task of organizing employee shift schedules much easier. This app is geared towards small businesses specifically and so you will see a number of features like managing all aspects of employees' schedules like days off, leaves, bookings etc.
The software is easy to use and includes features like employee profiles so you know who is available, availability tracking to allocate work better, file exports to Excel, PDF, or HTML to make it easy for everyone to share schedules and staff & shift constraints rules to ensure that resources are being properly utilized.
SIWOM's take - We liked that the software is free and has a very clean interface in place to ensure that everyone understands it easily and can integrate it as part of their suite of applications.
Price: Free
5.9 Skedulo- Best Scheduling App For Small Businesses With a Workforce Management System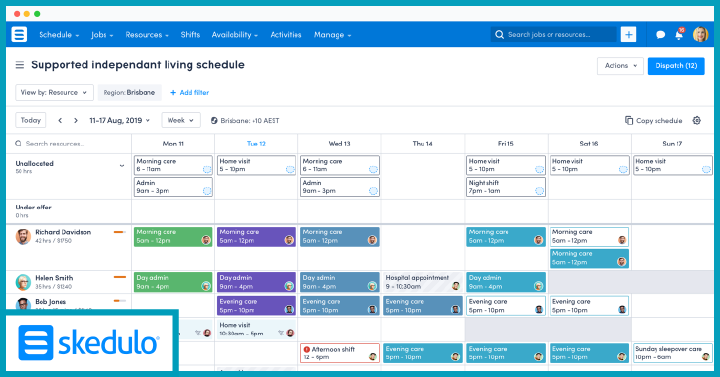 As we move toward a more decentralized world, planning schedules become more complicated. Skedulo understands that and aims to simplify the complicated task of managing employee schedules. Their platform helps automate the process and manages schedules through their clean real-time interface.
This software is easy to navigate, one which brings both mobile as well as static teams all on the same page and increases the overall productivity as everybody knows what the other person is working on even when they are not physically in the same space.
SIWOM's take -
What makes Skedulo an attractive option for small businesses is the fact that all their tools are made to scale with you. So, instead of migrating to different applications as you grow, you can just work with this software as this particular application is customizable to what you need at this time.
Price: Available on Request.
5.10 When I Work- Best Scheduling App for Small Businesses with Time Tracking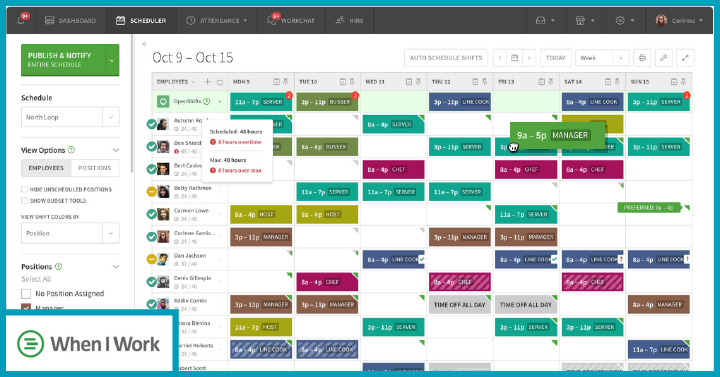 When I Work helps small business owners create schedules and manage their resources effectively through their employee scheduling features. These include the ability to manage time off through the application. So, with a touch of a button, you can fill shifts, trade shifts, and approve leaves. The software is loaded with all kinds of features like a calendar to manage appointments, a time tracker to manage timelines and in-app messaging to make communication between teams easier. The dashboard is customisable to whatever your company's needs are at the moment.
This software also offers easy integration with a number of HR and payroll applications helping reduce the chaos that takes place when you have to compile data for payroll purposes. Everything you need to do is in one application.
SIWOM's take - For small business owners, this app is a great option as it not only helps cut down on time spent scheduling but also helps improve communication, increase accountability within the team through task allocation and grow your business through streamlining operations
Price: You can schedule a demo. Pricing starts at $2.50 / user for the Standard plan.
5.11 7Shifts: Best Scheduling App For Small Businesses in the Restaurant Industry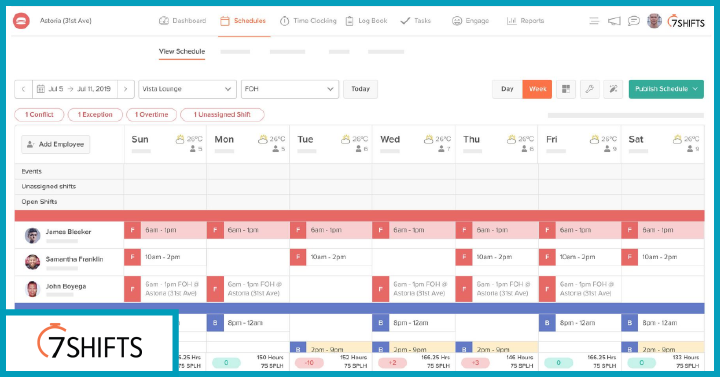 7Shifts is an employee scheduling software created specifically for the restaurant industry. It is a complete team management toolkit for restaurants to make it easier to manage operations. 7Shifts provides users with easy scheduling for better work management. A messaging feature to aid in team communication. Labor optimization through easy reporting. Time clock for employees to manage attendance. Team engagement activities to facilitate better a working environment,
This software offers integration with leading POS and payroll systems to make it easier to run payroll as well.
SIWOM's take - 7shifts is an all-in-one system. You do not have to work on different platforms for employee management and operations. All of it can be brought under one umbrella with this application.
Price: Available on Request.
5.12 Doodle: Best Scheduling App Small Business with Micro Teams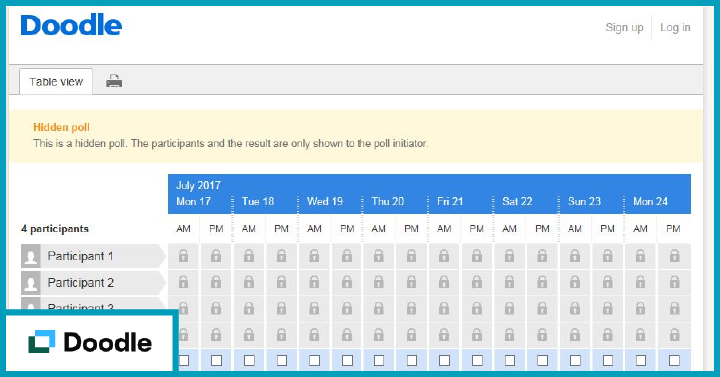 Doodle is a scheduling software, one that makes it easier for smaller groups of people to be on the same page to have meetings. The software is simple to navigate.Its leading feature is the removal of the guesswork behind setting an appointment. Doodle just starts with a poll which is sent out in the email with different time slots. Everyone chooses a time and the most convenient time for the majority becomes the time for the meeting. It really is very simple.
Most aspects of running a meeting are automatically taken care of by the software like video conferencing links, calendar invites and more.
SIWOM's take - Doodle works best with a small group of people, making it perfect for small business owners. We loved how streamlined every aspect of appointment scheduling was helping save time and focus on the meeting agenda instead of the process.
Price: Starts at $6.95/user/month.
5.13 Schedule it: Best Scheduling App for Small Business With Remote Teams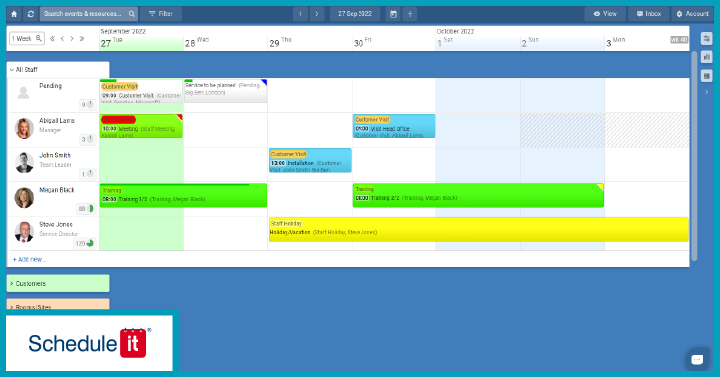 If you are looking to bring all your people, resources and assets on one platform then you should check out Schedule it. This software shows you everyone's schedule on a single page, making it easier to track and plan work, meetings, jobs, appointments, projects and more.
The time feature is designed so that there is no overlap in the assigned duties. You get to see every employee's schedule in the form of a table which also highlights who is working on the same thing and how resources can be better distributed. The software has both a cloud as well as an on-premise version, for people who do not want to work on the cloud.
SIWOM's take - We like that this software comes with two distinctive versions, one with cloud support and one that can be used on-premise on a local server. So, if you are a business that works with sensitive data you can still use Scheduleit.
Price: Plans start at $ 37.32 per month
5.14 Bookafy: Best Real-Time Booking App For Small Businesses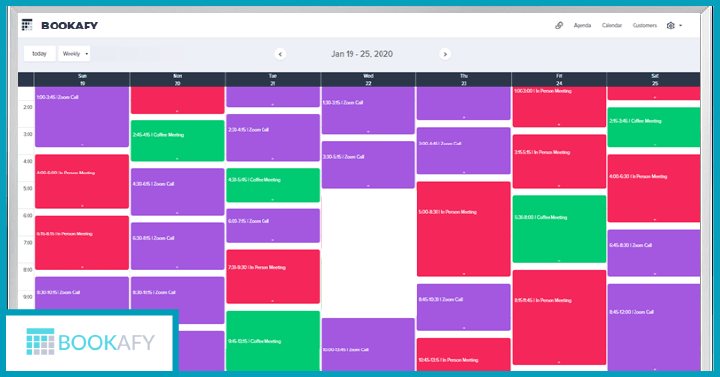 Bookafy is an online booking platform to help book meetings, demos and schedule appointments for your company. Some of its more well-known features include automated calendar syncing across devices, text reminders and the ability to receive payments with the help of third-party integration.
Bookafy does not have too many bells or whistles attached to it, but the one feature that makes it stand out from the crowd is the functionality to assign meetings to specific team members. So, if you have a client meeting coming up you can streamline the process and ensure that the call is set up with the right person. You also gain access to custom templates that are designed using your company's colors to help you begin.
SIWOM's take - This software provides a streamlined journey for small business owners to create schedules that take into account the skills of every employee. Round robin routing is another feature that we found extremely helpful.
Price: You get a 7-day free pro trial after which you can stick to the free plan or get a pro plan for $9/month/user.
5.15 Honeybook: Best Employee Scheduling App For Freelancers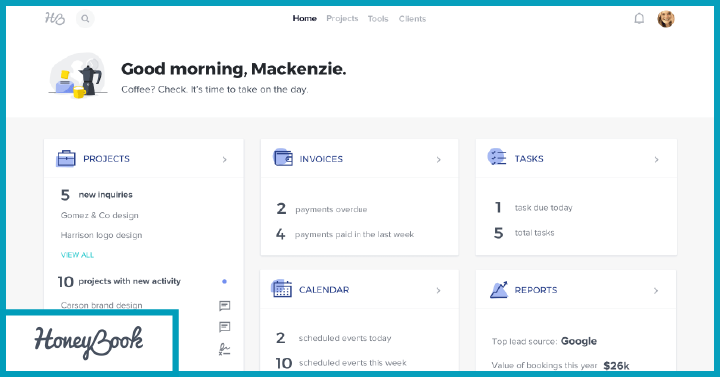 Honeybook is not only an appointment management tool, it has a number of project management and internal meeting features. With this platform, you can have a look at your entire day just from the dashboard which includes all your tasks, meetings, projects and appointments on one unified platform.
There are also a number of customer management tools at your disposal with this platform. All you need to do is send your customers your personal schedule link and they make their appointments, no going back and forth.
SIWOM's Take-- This application is great for Freelancers because it also has the option to help you create invoices directly and then send it to the clients in question.
Price: A 7-day free trial after which there is a monthly plan for $39 or an annual plan for $390.
5.16 Setmore: Best Scheduling App for Small Businesses to Manage Client Bookings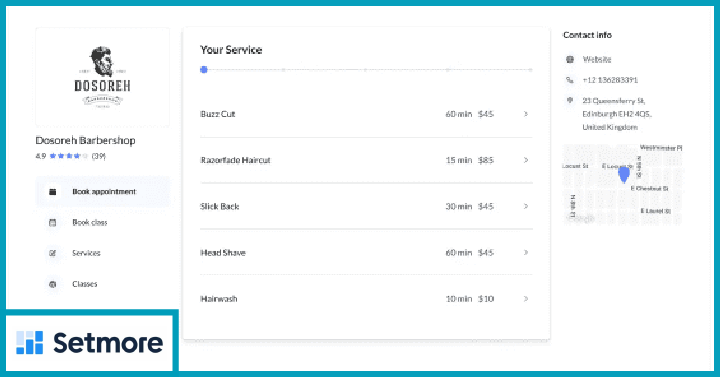 Setmore is free scheduling software that provides automated online booking, payment reminders and an all-in one calendar that showcases your entire schedule The reason why it is so popular is that it allows for up to four team members and an unlimited number of appointments, all on its free plan.
One difference that this software has from the rest is that you do not share your calendar with the client. You set up a booking page which allows them to book appointments and make payments as well.
SIWOM's take - We really enjoyed the entire layout of the platform as well as the automatic confirmations and email reminders that ensure that your customers and team do not miss out on any meetings.
Pricing: Free plan available.Premium starts $5/user/month.
5.17 Vagaro: Best Scheduling App For Appointment Based Businesses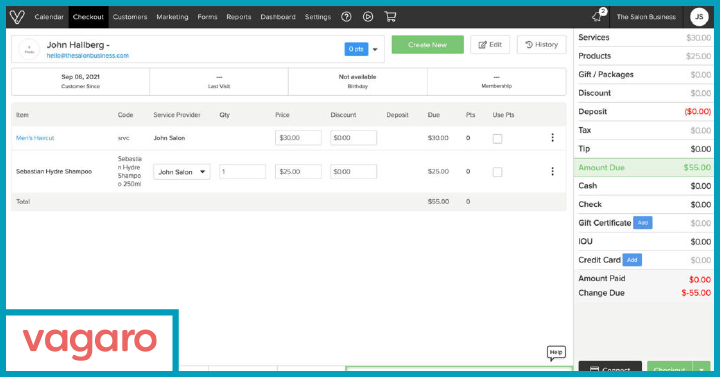 Vagro is a scheduling and management software that is geared primarily towards businesses that work on appointments like salons, spas and fitness centers. The app allows customers to make appointments which is then reflected on your application as well. You can also customize the calendars and set up cancellation windows and charge fees for people who cancel at the last moment.
Vargo allows for some powerful integration that includes your website, all social media sites and Yelp as well. Other features include reporting for better data visualization. App branding to ensure personalisation and help your application stand out. Additional customisations on both your app as well your customer's application to fit with your business model. All of this makes Vargo a great long-term investment for your small business.
SIWOM's take -Vargo is a highly customisable software allowing businesses to create a more personalized experience for clients and differentiate themselves from the crowd to create a better identity.
Pricing: There is no free plan. The basic plan starts at $25.
5.18 Square Appointments: Best Scheduling App With Square Integration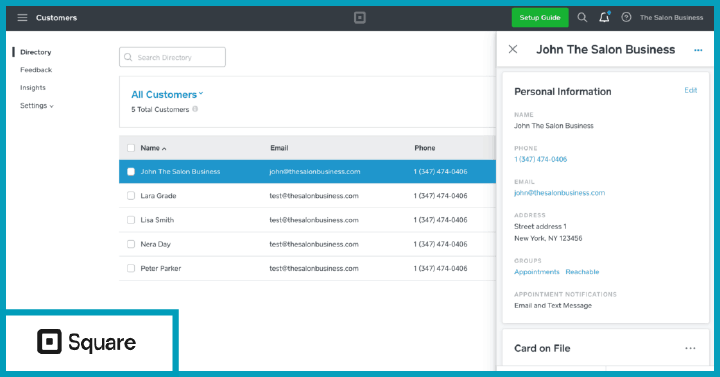 If you are already using Square then combining it with Square appointments can make it your one point of sale for all bookings, payments and other operations. The application is very user-friendly and even has the option to allow you to charge no-show fees in case of any last-minute cancellations.
The biggest advantage of this particular program is its seamless integration with Square (they are from the same company). Other features include a custom branded booking website, email appointment reminders and automated text reminders as well.
SIWOM's Take-- This is an easy to use software and even though it does not offer too many customisations, it is effective and gets the work done efficiently thanks to its design.
Price: There is a Free plan available. The plus plan starts at $29/month
5.19 You can book.me: Best Scheduling App for Small Businesses with a Client Scheduler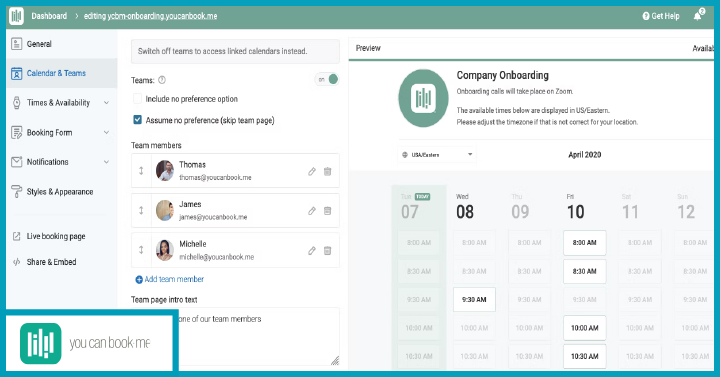 You can book.me is a great scheduler if you work with clients and across time zones. It features an automatic time zone detector that ensures that even though clients make the schedule as per their timezone, it features correctly on your calendar. You create a booking grid via this platform that can then be shared everywhere. From your website to social media, clients can then make appointments via this grid.
These are fully customisable grids that include a number of custom fields and integrate with both Apple as well as Google calendars. You also have an additional option to send out customized notifications and reminders.
SIWOM's take - What we really liked about this platform was the ease with which you could navigate it. There is not much of a learning curve and all the appointments are automatically reflected in the calendars associated.
Price: There is a free forever plan available. Paid plan starts at $10/calendar/month
5.20 Dubsado: Best Employee Scheduling App with Fully Integrated Small Business Platform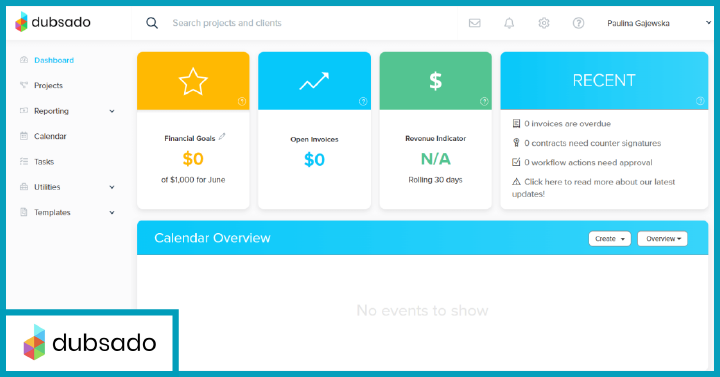 Dubsado is a comprehensive platform that has an entire suite of business tools designed to make it easier for small businesses to carry out their operations. One of these tools is their scheduler which lets clients book their appointments directly from your website.
With the integration of your payment processor, you can even process payments right at the time of appointment confirmation.
SIWOM's take - One feature that we liked in this scheduler for small businesses is the minimum notice setting that ensures that no appointment is fixed at the nth hour causing over-scheduling
Price: The Starter plan is priced $20//month
6. FAQs
What's the best appointment scheduling app?
There are a number of appointment scheduling apps available. Depending on what you are looking for, some of the best ones are Monday, Acuity and Honeybook.
What scheduling app is free?
ABC Rooster, Setmore & You can book.me are all free scheduling apps.
What is the best scheduling software for small businesses?
The best scheduling software for small business is 7shifts and Schedule It.