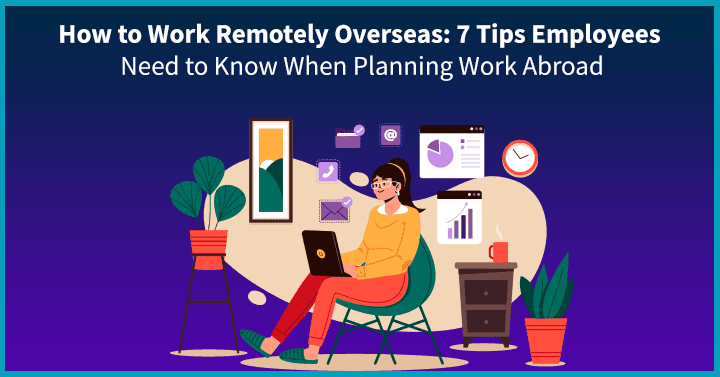 When you're no longer tied to an office, the world is your oyster for work. As more of us than ever before experimenting with new modes of employment, the question of how to work remotely overseas is becoming increasingly prevalent, especially for those who have always had a penchant for travel.
Working remotely from another country during COVID has been a popular option with those able to do so, and there are some obvious reasons to make the move.
1. What Are The Benefits of Working Remotely Abroad?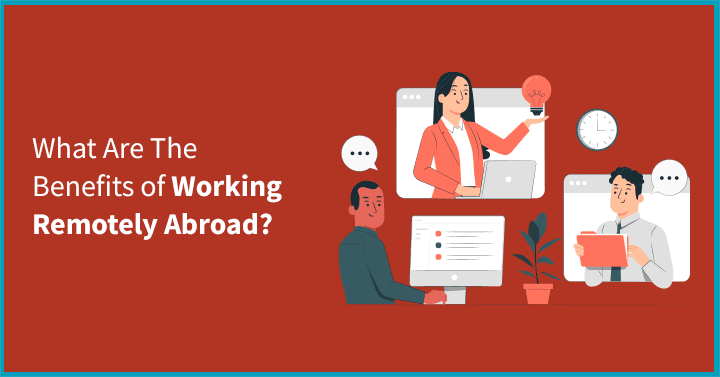 1.1 Better work-life balance 
Rather than ending the workday with a cramped commute home, you can step out of your accommodation and into the bustling streets of Bangkok or onto a paradisiacal beach in Antigua. Research by insurance company Axa suggests that even though people tend to work more hours abroad, they still feel they have a better work-life balance overall. 
For people who like to travel, the positives are obvious: working overseas offers the opportunity to explore foreign cultures, taste new foods and generally get a fresh perspective on the world. Simply put, there's more incentive to make time for life when you're in a different country.
1.2 Enhanced productivity and engagement 
Global nonprofit Catalyst found that remote workers tend to over-index when it comes to feeling innovative, engaged and organized. Some people find it easier to concentrate when they are outside of a busy workplace, while others are energized by being in different environments.
Happier employees generally report correlated increases in productivity. A study by the University of Warwick, for example, found happiness made people work 12% harder. And who wouldn't be happier when their afterwork drinks can take place on a tropical beach or beneath a breathtaking mountain vista?
1.3 Help attract global talent 
With unemployment in a number of countries at record lows, being able to draw from a broader talent pool can be an enormous help with recruitment. Global talent can also help increase diversity in an organization, opening the door to a more inclusive company.
Both SMEs and larger businesses like Salesforce, Spotify and Dropbox have implemented work-from-anywhere policies, in order to attract skilled talent and make roles attractive for a potential employee working remotely from another country.
1.4 Strengthen your expansion strategy
Having employees in diverse locations around the world can help to promote a brand abroad. This might be done in a targeted way, with an organization hiring specifically to establish a test presence in another country, or it might happen organically, as people working remotely in other nations report back opportunities for growth.
There are companies today founded with an eye to helping entities get a foothold on foreign soil without having to initially commit to a fully-fledged office. This way, a business can confirm there is truly demand for their services, before undergoing the expensive process of setting up a subsidiary overseas. Remote workers are an integral part of this strategy.
2. 7 Things You Should Know While Working Remotely Overseas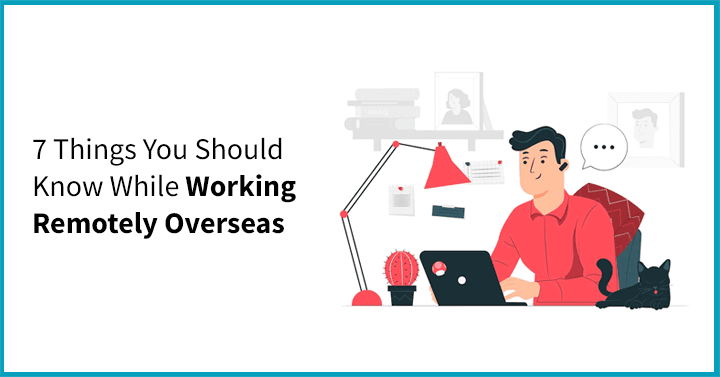 2.1 Communicate with your employer before applying 
Before you consider how to work remotely overseas, make sure your manager is okay with the idea. Even though your company might offer the option, your boss might not believe it's appropriate for your role or have reservations about efficacy. Make sure you have already thought about the logistics of the transition, so that you can assuage any concerns up front.
You might already be remote working, but that doesn't necessarily mean that your company will agree to let you work in a different time zone where your hours do not sync with those at headquarters. As with buying a house, how to work remotely overseas is often linked to location, location, and  location.
2.2 Pay attention to every detail on the application 
If you're thinking of throwing your hat in the ring for a new job that advertises the option to work remotely, make sure you read the application carefully. While employment websites saw an uptick in remote job postings last year, some of those postings specified that people needed to work in particular countries for tax compliance purposes. 
Other companies, meanwhile, offer employees the opportunity to work a certain number of days in another country, but expect the remote worker to be in their home nation for the rest of the time. 
2.3 Identify the visa requirements 
'Can I work remotely from another country for a week?' Yes, you can, and normally this won't require you to apply for a work visa. Having said that, always double-check the official guidelines, as each country will have different rules.
Providing you are visiting somewhere for recreation, most of the time working from overseas for seven days visa-free shouldn't be a problem. For longer periods, some nations have started offering a so-called 'digital nomad visa,' including many Caribbean islands as well as European states like Estonia, Iceland and Croatia. These visas are specifically designed to allow remote workers to stay in a nation for upwards of six months.
2.4 Learn about the tax requirements 
Again, if you're remotely working in a country for a week or so, you're unlikely to need to worry about additional tax requirements. You'll still just be paying tax in whatever nation you are officially resident in. This becomes more complicated, however, if you are remotely working overseas for longer periods of time.
Since the world is still adjusting to the idea of employees working remotely from another country for full time, the rules can be opaque, but a general rule of thumb is that if you work in a country for more than 183 days, i.e., more than half the year, then you will probably be liable to pay tax in that country and might even be subject to double taxation. Some digital nomad visas have been designed to allow people to pay less tax than they would under a normal work visa. If you're self-employed and working out of Georgia, for example, you can stay up to a year and pay just 1% tax.
2.5 Check your worker classification 
Due to the special allowances made for digital nomads in numerous countries, companies are sometimes tempted to reclassify overseas workers as contractors, thereby skirting labor laws and taxes incurred for full-time employees (FTE). However, this can get both the individual and the company in legal hot water. It also means that an employee will not necessarily be entitled to any healthcare benefits or paid leave. 
If you work on a project-by-project basis for multiple companies, you are technically classed as an international contractor, meaning your pay won't be taxed at source and you'll normally have to ensure you're personally on top of your liabilities. If you are an FTE for a single company which has you on a conventional contract, you will need to have a discussion with your employer about your remote working plans, as they may become subject to taxation in other countries under permanent establishment laws.
2.6 Consider your living arrangements at home before leaving 
When you're considering how to work remotely overseas, you need to think about how to handle your current living arrangements. Do you want to continue to maintain a residence in your home nation? If you own a property, are you going to rent it out or sell it? If you're on long-term rental contract, are you going to sublet the place during the weeks or months you're overseas?
The answers will obviously vary depending on whether you're working from overseas for extended periods of time, or just every few weeks or so. If the intention is to nation hop, then you might want a base to come back to in between trips, but bear in mind that may lead to you paying rent (or mortgage and rent) on two separate properties at the same time.
2.7 Consider child-care responsibilities
Childcare responsibilities are something parents stationed abroad have had to consider long before remote working became a possibility. The crux of the matter comes down to whether you will enroll your children in a local school, or whether they will be home-schooled. If it's the latter, will it be you, your partner or someone else who will be in charge of making sure your offspring get a proper education?
While working from overseas generally does mean a great deal more flexibility when it comes to childcare, bear in mind that just because you're not in an office doesn't mean you'll be able to drop everything every time your kids need something. The only efficient way to make remote working function is to have a clear structure to the day, such as what times are set aside for you to focus on occupational tasks and what times are dedicated to your children.
3. FAQs
● Can you work remotely in another country without a visa?
This visa situation is one of the most important questions to consider if you're wondering 'How can I remotely work in another country?' As discussed above, the answer will depend on the length of your stay in the country and what the country's regulations are, so make sure to check what applies in your specific case.
● Can you work remotely from another country temporarily? 
Yes, absolutely. Just make sure to check with your manager if you're a full-time employee that they are OK with you remotely working overseas, particularly if time zones are going to enter the equation. Some businesses have certain months of the year when they are more accommodating of remote working requests, while others will simply want to know that your productivity can be maintained. Another great way to work from another country is by opening your own remote business. That way even if you are an LLC in Georgia, you can work from wherever you want as you will be your own boss.
● Can I work from home abroad during lockdown?
Again, this is a conversation that should be had with your company and will depend on your living situation, but hypothetically, yes, of course. How to work remotely overseas is something a lot of people began to consider during pandemic and related lockdowns, so rest assured you're not alone in mooting the idea and should not feel uncomfortable about addressing the subject with a manager.
How to work remotely for companies abroad?
If you want to work for companies abroad, you need to understand what you are really getting into. Firstly, you need to evaluate your remote working skills and apply to suitable positions overseas. Prepare well for your virtual interview and ace it. These steps help you find a job and work remotely for companies abroad.