Being conscious of the environment is more than just a state of mind, it has to reflect in the things we use in our day-to-day activities. Minimizing waste and reducing the usage of harmful products can be a good place to start. By sending sustainable swag gifts, you can promote your company's climate-conscious values and take a step in spreading awareness and cultivating sustainable habits.
By replacing many things in our kitchen, home products, decor, cleaning supplies, and more with eco-friendly products, we can impact the people around us - be it clients, employees, or customers - in bigger ways. Here are 15 sustainable swag gift ideas for making the world a healthier and happier place to live in!
1. What is Sustainable Swag?
Sustainable swag involves sending out eco-friendly promotional merchandise, gifts, or souvenirs to your consumers. This shows that your company values something bigger than its brand and it is one of the best ways to connect with customers today.
Sending sustainable swag products to customers promotes the idea of being concerned with protecting the planet and covering our present needs without compromising resources for future generations. Some examples of sustainability swag are bamboo cutlery, reusable straws, recycled bags, and more. We have compiled a list of some sustainable swag ideas to help you begin your eco friendly swag ideas journey.
2. 15 Eco-Friendly Sustainable Swag Gift Ideas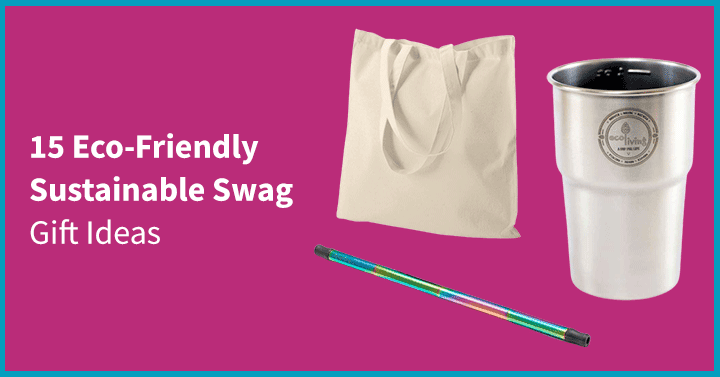 2.1 Stainless Steel Pint Cup
Stainless steel pint cups make for a perfect sustainable swag gift as it eliminates our reliance on single-use throwaway plastic cups or even paper cups, for that matter. It is 100% recyclable and reusable. People can even carry these to coffee shops to avoid using their cups and reuse their own steel cups. As far as sustainable swag ideas go, these steel cups are perfect. It even makes for the perfect sustainable freebies to add to your kit.
The steel cups are made from food-safe grade stainless steel, and are toxic-free and odorless. These cups can be used for hot and cold beverages, and are easy to clean and maintain. They are quite durable, and thus can be used for a long period of time. Get your logo printed on the cup, and get started on this cool eco-friendly swag gift!
2.2 Reusable Tote Bags
Reusable tote bags are trendy, useful, and a great way to promote your company's brand. Tote bags are great sustainable freebies as they are made of natural cotton, are environment-friendly, and are quite economical. They are convenient to carry, durable, and can be used for multiple purposes. You could add a zipper to the tote bag, if needed for extra security.
People can carry their own reusable cloth tote bags to shops or marketplaces and avoid taking plastic bags upon purchase. This will reduce litter and minimize the circulation of plastic and paper bags, making this item one of the best sustainable merchandise ideas.
2.3 Reusable Straws
Reusable straws are slowly becoming a must-have item on the go for people as hotels, restaurants, and coffee shops are eliminating the use of single-use plastic and paper straws making them an essential part of any sustainability swag bag. Metal, silicone, or eco-friendly straws such as bamboo straws or organic grass straws are quite useful to enjoy your beverage and it reduces litter.
Some of the reusable straws also come in collapsible or foldable options, so that it is easier for you to carry them on the go. They also come with a set of cleaning brushes and compact carrying cases for easy, long-term maintenance. Consider these for your next lineup of sustainable swag gifts so that your customers never end up stranded in coffee shops without straws again!
2.4 Face Mask
Face masks are an essential item to own in today's world, thanks to the pandemic. But, if it persists, you might want to invest in a mask that stays for long, as opposed to single-use disposable masks for your eco-friendly swag ideas. They aren't really good for the environment as they are made from meltblown plastic which is difficult to recycle and causes contamination.
Cloth-based reusable face masks are easy to clean and maintain. The masks' cotton blend fabric keeps them breathable in hot weather and is comfortable on the skin. A reusable face mask is certainly a useful eco-friendly sustainable swag gift! 
2.5 Growable Planter Gift Kit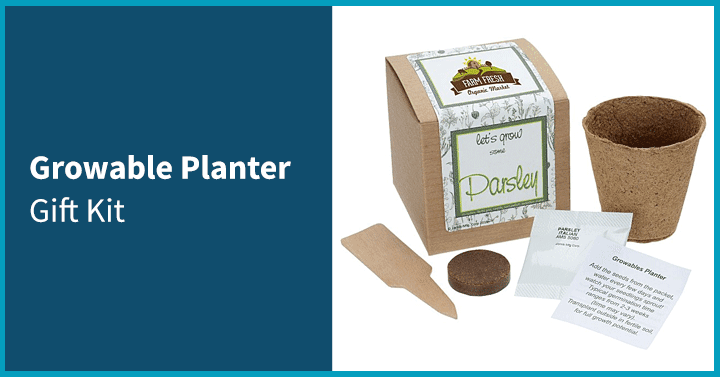 Is there such a thing as too many plants? Having plants in your living room,  workspace, or anywhere where you spend your time gives you a sense of calm. Gifting a growable planter kit will enable people to grow their own plants and learn the art with ease. These make for great eco-friendly sustainability swag and make your space quite lively.
The kit would include biodegradable pots for the plants, seeds, gardening tools, and mesh pads. They are great to grow indoor and outdoor plants, vegetables, flowers, herbs, succulents, and more. Customers can learn the planting process with their families and have lots of fun with these sustainable promotional products!
When considering sustainable swag ideas, this is one you should not miss out on. 
2.6 Eco-friendly Facial Tissues
Using eco-friendly facial tissues can eliminate the use of using paper tissues made from Virgin paper - which contains no recycled material. According to the Natural Resources Defense Council, nearly 15% of deforestation is caused by tree-cutting to produce paper products, including facial tissues.
Eco-friendly facial tissues are made from natural native bamboo pulp with no additives or bleach. They are recycled, biodegradable, and safe to use. The tissues are soft and gentle on the skin and absorb 30% more water than other unbleached tissues. Eco-friendly merchandise like these should always be encouraged. Also, they make for great sustainability swag.
2.7 Bamboo Tumbler
Switching to a Bamboo tumbler or flask for your daily beverage can do wonders. Plastic tumblers and bottles are non-biodegradable. Bamboo products are perfectly natural, and do not leave a carbon footprint. They make good eco-friendly promotional products. So, when looking at sustainable swag ideas do consider them as well.
Bamboo tumblers are often used for camping trips and commutes as they are durable, easy to maintain and super lightweight to carry on the go. Most of them are designed to keep your beverage hot or cold for hours. Start being environmentally aware, and include Bamboo tumblers in your sustainable swag gifts!
2.8 Eco-friendly Healthy Wheat Straw Biodegradable Plastic Cup
Cups made from wheat straw plastic are eco-friendly and are 100% biodegradable. Wheat straw is the leftover stalk from the grain harvesting process, and sustainable promotional products like these are the smart eco-friendly alternative to plastic.
The eco-friendly wheat straw cups are natural, durable, degradable, and safe to use. They come in variants such as travel mugs, protein shakers, thermos cups, straw cups, and more. Show off your cool sustainable swag gifts with the wheat straw cups!
2.9 Bamboo Tiffin Box
Bamboo tiffin boxes are made using good quality bamboo materials and can be used to store both hot and cold food. They are made to last up to three years. These eco-friendly bamboo lunch boxes are a good addition as sustainable freebies.
They usually come in a pack with three levels of storage, and they are securely locked with a placeholder that prevents any leakage. The tiffin boxes are quite useful, functional, and elegant. They are great sustainable corporate gifts!
2.10 Eco-friendly Reusable Storage Bag
Are you tired of using single-use disposable plastic bags to store your fruits and vegetables? Eco-friendly reusable storage bags made from silicone are a total game-changer. They also make great sustainability swag. These are cold and heat-resistant and can be used safely to store meat and vegetables in the refrigerator, freezer, and microwave safe.
They have a leak-proof design that keeps your food airtight and fresh for a longer duration. The bags are made from food-grade silicone, thus making it safe to reuse and recycle. They are also easy to clean and maintain, and make life easier! 
2.11 Reusable Paper Towels
According to the Environmental Protection Agency, paper and cardboard waste, including paper towels, make up for the highest amount of waste materials in the US. Go ahead and restock your cabinets with eco-friendly reusable paper towels. It minimizes the need to use paper. It is soft on the skin and light on your pockets, making it a good choice to use.
The reusable paper towels are highly absorbent and machine washable. These are multi-functional- can be used in the kitchen, as tissues, makeup removal, napkins, and more. Consider it as a part of your sustainable freebies next time. Here's to less paper, and more paperless towels!
2.12 Organic Scented Perfume
Traditional perfumes contain chemical ingredients that help in creating fragrance and extending the longevity of scents. Organic perfumes are made only with pure essential oils to provide fragrance. They do not contain any synthetic fragrances, additives, chemicals, or any other toxins.
Most of the organic perfumes are also free of parabens, phthalates, skin irritants, and are completely vegan and cruelty-free. They come in lovely natural scents that last long such as rose, vanilla, lemon, jasmine, etc. Add it to your list of sustainable freebies for the customers!
2.13 Handmade Beer Mug
It is time to send across some stylish, sustainable swag gifts that your customers will absolutely love. Handmade beer mugs made from natural wood and coated with non-toxic, hazard-free paint for long-term protection.
The mug is eco-friendly, and safe to use, and it contains a stainless steel cup inside the wooden casing to maintain the temperature of cool beer. It is a perfect gift for beer lovers, and also looks quirky on their shelf! Also has all the elements that make it sustainability swag.
2.14 Reusable Beeswax Food Wrap
Beeswax food wraps put an end to the use of single-use plastic food wraps. 
These wraps are made from organic cotton, responsibly sourced beeswax, organic plant oils, and tree resin. The food wrap is quite durable and can be used to store food conveniently, making it an environmentally smart alternative to plastic and paper wraps.
It is a thoughtful gift as it is economical, eco-friendly, and useful to pack food at home and outside. Maintaining the wraps is quite easy. You can simply rinse it with cool water and mild soap, and let it air dry before reusing it. They can be reused for up to a year. 
2.15 Eco-friendly Bamboo Cutlery Travel Set
In the majority of cases, people end up packing plastic cutlery for barbeques, camping trips, picnics, hikes, and more. To reduce the usage of single-use disposable plastic cutlery, a bamboo cutlery travel set is perfect to carry on the go. Each piece in the set is made from 100% high quality, durable bamboo fibre that won't break easily, and is completely recyclable.

The bamboo cutlery travel kit contains a spoon, fork, blade knife, handcrafted chopsticks, bamboo straw, a cleaning brush, an activated charcoal toothbrush, and a travel pouch. Making for great sustainable freebies. Go green and choose this to give away as sustainable corporate gifts!
3. FAQs
3.1 What is environmentally friendly swag?
Environmentally friendly swag ideas consist of products that are created using materials like bamboo, wheat, hemp, recycled water bottles, and more in a matter that causes minimum damage to the environment around them. Popular environmentally friendly swag ideas include products like upcycled furniture and countertop composters.
3.2 What are some cheap sustainable freebies to giveaway?
Some cheap sustainable freebies to giveaway include biodegradable cutlery, alternatives to paper, waterless laundry detergent strips, and stainless steel insulated water bottles.