1. What are Employee Team Gratitude Activities?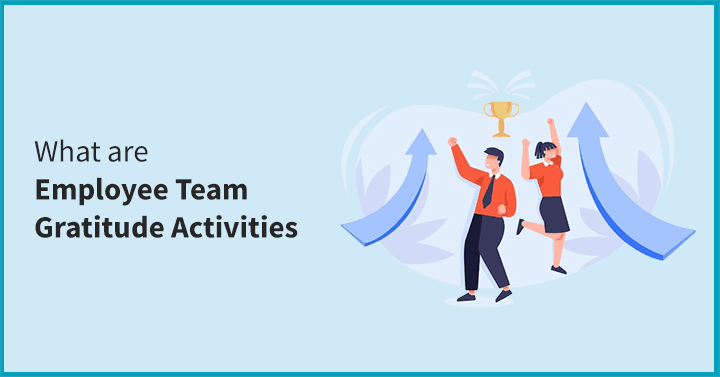 Employee gratitude activities are focused on engaging employees in activities that help them recognize and appreciate wins, and feel more positive and more productive. A few positive outcomes as a result of instituting  team gratitude activities are:  
2. 26 Team Gratitude Activities to Show Gratitude in the Workplace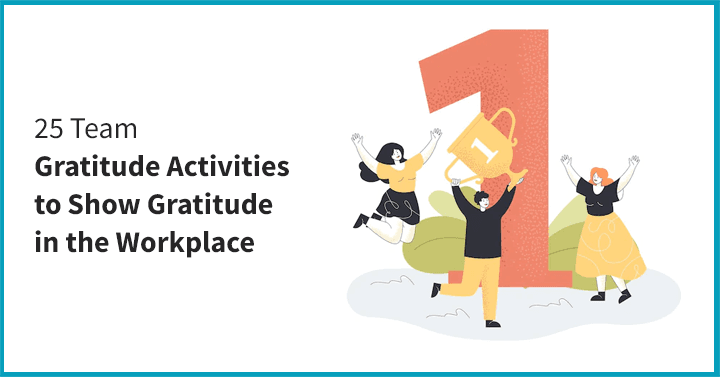 2.1 Personalize Thank You Emails
The perfect bow on a thank-you mail would be to add a personal touch to your message to show your care and that you're invested in your employees beyond the work. This could be as simple as mentioning their favourite event, item, pet or hobby to show that you're paying attention and that the employee as a person matters. 
2.2 Paid Breakfast/Lunch
Shared laughs and conversation over an impromptu breakfast or lunch are sure to pack a punch when it comes to employee engagement or appreciation. This one is a great way to help your employees save on expenses for a day and also express your appreciation. You can consider buffet menus for catering across a larger number of employees. Arrange for a video conference or slideshow presentation from a senior leader to convey well wishes on a team win or client testimonial.
The senior team member conducting the video conference or slideshow presentation should provide specific and detailed recognition, highlighting what truly stood out. It's essential to mention team members by name to personalize the acknowledgment and emphasize their individual contributions to the team win or client testimonial. This way team members or employees know how their contributions have made an impact. These types ofteam gratitude activities help in fostering team unity and company loyalty. 
2.3 Express Appreciation through an Employee Engagement Software
Everyone loves to have a bit of the limelight if they can, when it comes to expressing gratitude to your employees and you can't go wrong with an employee engagement software to do so. Plug in a robust rewards program that gives social recognition to an employee's dedication and achievements. Sorry, I was on Mute offers one such integrated platform that can be used to acknowledge and reward excellent work or contributions at an individual or team level across your organization. Make accurate data-driven decisions based on the in-depth reports and analytical information that this software provides to create customized rewards and recognitions. You can then take it one step further and align these with your company mission and value system to create a dynamic performance recognition center.
2.4 Give Complimentary Time-Off
It may seem contradictory but time away actually boosts productivity, , so complementary time-off is not only highly appreciated by employees but it also helps the team and business in the long run. Be it additional paid time-off, allowing the team to leave or sign-off early on a Friday, or an extra hour for lunchtime, time away helps employees recharge and is one of the most simple but impactful ways to show your team gratitude.
2.5 Celebrate Employee Appreciation Day
The first Friday of March is officially celebrated as Employee Appreciation Day annually in a bid to appreciate and reward employees for their exemplary work. Use this occasion to let your employees walk the hall of fame by celebrating their victories and let them bask in all the appreciation and feedback that's duly to be given. 
2.6 Surprise Present Delivery
Who doesn't love a surprise gift? Be it a bouquet of fresh blooms, box of decadent chocolates, gift cards or shopping coupons, this one's a winner on our list of team gratitude activities. Employees are sure to be beaming when they find one of these in their mailbox.. Tuck in a note that conveys why they are receiving this and how much their contribution is being valued to help make the gesture extra meaningful.
2.7 Flexible Workdays
Show your team members you really care by helping them maintain a healthy work-life balance. Incorporating flexible working hours on a regular basis is a great way to allow employees to work and yet complete that laundry list of non-work essentials that they must reserve for the weekends. This not only will help them de-stress, but maximise time on weekends so they can start on an energetic tone for the new week.
2.8 Revamp Office Equipment 
By upgrading office infrastructure or office equipment, employees will appreciate the efforts taken to ensure they can work comfortably. This need not be just limited to computer upgrades or standing desks. You can source lists of pet peeves that employees may have and work towards minimizing them. These could be anything from creaky office chairs, menu revamps, to creating more breakrooms, getting a state-of-the-art beverage vending machine or additional bean bags. 
2.9 Have a Snack Counter
Snacks are a sure-fire way to boost employees' mood and energy levels. Saving your employees time so they don't have to scout around on Zomato or local maps for snacks when they need a much-needed break is another benefit. Arrange for catered sweet treats, health munchies, beverages and quick snacks from popcorn, granola bars, muffins, to scones and lots more. You can involve your team by conducting a poll to determine their snack and beverage preferences for the office. Slaying hunger pangs is nothing short of noble, especially when employees clock in longer hours or have deadline crunches.
2.10 Milestone Celebrations
Milestone celebrations are a wonderful way to celebrate the small or big moments of life in your employees or coworkers lives. Create calendar alerts to mark one-year work anniversaries, birthdays, graduations, new parents and more so you don't miss out on wishing them with thoughtful messages or gifts to show them you care. You can send out virtual greetings or broadcast these milestones across common screen platforms so everyone else gets a chance to wish. 
2.11 Sponsor Luncheon 
As part of team gratitude activities, a day out for a luncheon with the CEO or senior management is a great team bonding opportunity besides being an exercise in gratitude. Share fun work anecdotes, discuss creative ideas and enjoy general work bonhomie while sharing positive feedback and interacting with the top brass.
2.12 Social Media Posts
Let well-deserving employees shine in the limelight by posting their pictures along with testimonies or thoughtful messages on your social media channels. Not only does it promote a great work practice of being grateful but also a positive brand image for the company. Employees can also share their reasons on why they love being a part of the company and reasons they are grateful to be part of the team.
2.13 Curate a Gratitude Tribute 
While there is no pressure to write ballads or go into prose, dedicating a heartfelt tribute with a sweet message, along with a short video compilation from colleagues and senior leaders alike will surely warm the cockles of their hearts. Choose to showcase personalised winning moments at work, team bonding activities and more to create something memorable that can be cherished. 
2.14 Compose a Song or Poem
There are many ways to go about this, each more innovative than the previous! You can either compose and perform a gratitude song, jingle, prayer or poem yourself, contract a performer externally or enlist the help of your artistic and creative employees. If it's the second option, the performer can make a surprise appearance mid-call and announce the dedication to the employees in question.
2.15 Host a Movie Night
This is a fun addition to the list of team gratitude activities that we have lined up. Treat your employees to a fun virtual or office screening of a trending movie, docuseries or anything that can help your employees relax. You could schedule this on a monthly or quarterly basis to ensure employees look forward to some R&R. Arrange for a projector, comfortable seating, popcorn and the works!
2.16 Professional-Based Rewards
Offering career-centric rewards as a token of your appreciation is a win-win for the employee and the company. As part of team gratitude activities, you can support their professional growth aspirations by signing them up for free online courses, seminars, training workshops and more to upskill.  For example, you can offer bonuses, promotions, certificates, or special recognition as a part of gratitude-focused program to boost morale and engagement. 
2.17 Wellness Programs
Mind over matter is an adage that holds it ground for a reason. For a happy and productive workforce, consider investing in your employees mental health through a range of wellness programs as part of team gratitude activities to express your care and gratitude. These could be lifestyle workshops, yoga sessions, Zumba or fitness classes, or guided meditation. 
2.18 Spotlight Wall 
Create your own hallmark wall of fame in the office to showcase engaging pictures of stalwart performers. You could replicate the fun element of Hollywood stars by asking them to add their handprints under respective pictures and add thank-you notes. 
2.19 'Bring a Pet' Workdays
Another great gratitude example would be to encourage employees who have pets to bring them in to work for a fun outing. These furry friends are sure to win smiles and also uplift the mood at work. You can create dedicated spaces outside work zones in the office for them to be let loose and convey your appreciation for workers and their pets. 
2.20 Lead for a Day
Take a leaf out of Boss Baby, and appoint a well-deserved employee to take over the reins for a day as a gesture of gratitude. The employee gets to lead the team, enjoy benefits that come with being a boss and access prime services, if any provided by the company. Not only does this help in promoting appreciation but also gives the employee a chance to know the other side of things, thereby developing a mutual sense of respect and gratitude. 
2.21 Gratitude Apparel
Personalised gratitude T-shirts are a good way to promote the positive culture of your workplace. Create different prints that symbolise values of the company, work award categories or team mottos. Employees can wear these to work on a dedicated day as a mark of gratitude for the company and by the company.  It also makes for great team conversations and boosts employee morale. 
2.22 Work Picnic or Field Trip
Field trips and picnics are not just for schools. These are also fun ways to get people out of the work environment and help them relax and get outdoors. Work picnics or field trips help in boosting team bonding and company loyalty. Consider a trip to a local resort, winery, adventure park or historical spot to help create fun memories and let employees unwind. 
2.23 Ice Cream Runs
Add dollops of sweetness to your gratitude gifts for employees with sponsored ice cream scoops on a monthly ice cream social. Let employees enjoy lip-smacking flavours and indulge in some fun conversations during a special break that's dedicated to appreciating employees or coworkers. 
2.24 Support a Charity
Co-support a worthy cause that an employee or coworker believes in through volunteership or donations to express gratitude. Not only does it show our appreciation but also promotes corporate social responsibility which goes a long way in building a more positive brand profile and credible reputation in the community.
2.25 Company Swag
Branded items that promote your organisation or company swag make for excellent gratitude gifts to your employees Choose from sippers, hoodies, Bluetooth speakers, cocktail kits and more that your employees can use while serving as reminders of a job done well. 
2.26 Create a Gratitude Wall
While building walls typically carries a negative connotation since it refers to creating defensive barriers; building a gratitude wall is diametrically the opposite since it's an excellent way to show your appreciation and recognize an employee's efforts socially. Use an office bulletin board or whiteboard as a dedicated space where coworkers can pin their positive notes, put up happy client testimonials, appreciation emails, and the likes to create a lovely gratitude wall that's perfect to cherish as a memorable keepsake.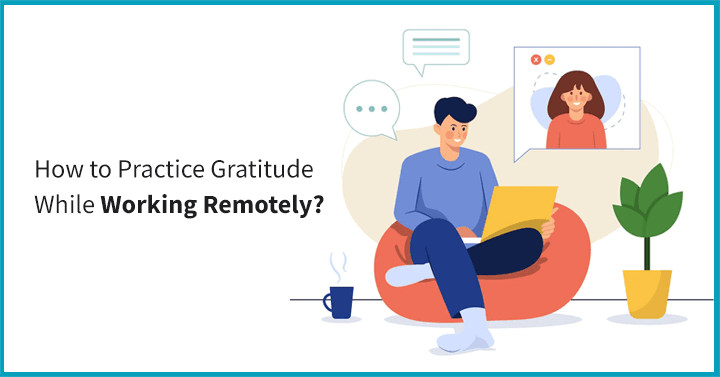 As part of virtual team gratitude activities, leverage the power of video conferencing platforms using Zoom, Google Meet or Webex to conduct a Virtual Happy Hour that's filled with games and fun designed to make employees happy and virtual team gratitude activities
Offer A Coupon To Local Services
For teams that are remotely run or operate on a hybrid model, you can consider emailing coupons or discount vouchers for local services such as spas, movies, fitness centres and more to show gratitude in the workplace.
To run an effective lunch or coffee session virtually, use conference platforms to create breakrooms and schedule some time-off for workers to take a break over meals. You could share coupons that they can use to order food online at a certain point and enjoy a 'remotely' held luncheon. 
Have Goodies/Meal Delivered
Deliver some sweet treats or hearty meals to the doorstep for remote employees as part of team gratitude activities to help them feel valued and express gratitude in the workplace.
Create A Collage/Custom Videos
Put together some great working pictures of employees or create video testimonials to share among your distributed teams to express your gratitude for their valuable work. 
4. FAQs
4.1 How do you create a virtual gratitude wall?
As part of virtual team gratitude activities, you can create a virtual gratitude wall using digital whiteboard, online templates and digital sticky notes or images, and text.