TeamViewer screen sharing is an extremely popular service from a company that specializes in remote desktop access. Whether used for client presentations, company meetings or simply personal communication, it makes it incredibly easy to share documents, images and videos via a secure channel.
While the basic function is pretty self-explanatory, what makes TeamViewer screen sharing so useful is the variety of intuitive features built into the platform.
1 What Is TeamViewer Screen Sharing?
From a technical standpoint, TeamViewer screen sharing works by breaking down information depicted on one device screen – whether a desktop or a mobile – and sends it over the Internet to another device screen, where it is reassembled. This is all done using the minimal bandwidth possible to create a stable, high-quality image.
From a practical standpoint, this means that TeamViewer screen sharing can enable webinars, virtual meetings and other occasions when presentations or demonstrations might be necessary. The result is a more concrete and comprehensible interaction facilitated by allowing participants to see what's happening on your device.
2 Key Features of TeamViewer
2.1 Administration
2.1.1 Usage information
Track and monitor how often your employees are using TeamViewer screen sharing software as well as the amount of office bandwidth this usage takes up. The information can also be used to detect security threats.
2.1.2 File sharing
Transfer files from your work computer to your home device or share files with your contacts via TeamViewer's portal, removing the hassle of attachments that are too large for emails.
2.1.3 Integrations
TeamViewer offers prebuilt plugins, APIs, and SDKs for lots of common programs, including strategic partner SAP, customer relationship management tools such as Salesforce and Zoho, IT service management solutions such as Atlassian and ServiceNow, and endpoint security from Sophos and EloView. 
2.1.4 Session recording
You can easily record both the audio and video content of meetings or presentations, whether to share the file with absent colleagues or save it for future usage.
2.1.5 Multi-monitor support
If the device you are connecting to has multiple monitors, TeamViewer screen sharing software allows you to access all of them and easily toggle between them via its menu. You can also mirror the monitors if you have the same number of monitors across both locations.
2.2 Platform
2.2.1 Mobile device access
Both Android and iOS phones can be accessed from desktops or other mobile screens via dedicated apps. This allows you to interact with both attended and unattended devices.
2.2.2 Cross-Platform access
TeamViewer's solutions are compatible with Windows, Mac, Linux, iOS, Android and Blackberry operating systems, making it incredibly flexible no matter what you are using.
2.3 Security
2.3.1 Remote lock
While accessing a remote desktop, you can opt for the remote computer's screen to become hidden by the TeamViewer security image. During this time, the input on the remote computer is disabled, so nobody can use it. There is also a setting that prompts the device to automatically lock when you disconnect.
2.3.2 Data encryption
All data is encrypted using 4096-bit RSA private-public keys and AES 256-bit encryption. This guarantees client-to-client data protection so that even routing servers cannot interpret the data stream.
2.3.3 Device enrollment
Easily assign new devices to your TeamViewer account via the platform. This essentially means you can readily onboard new hires and switch out devices that are no longer used to free up licenses.
2.4 Conferencing options
2.4.1 Group chat live
In-built real-time communication allows you to instant message colleagues in a group chat or speaks to an individual member of your team one on one. Like WhatsApp, there's also the ability to see when someone has read your message.
2.4.2 Audio conferencing
Providing you have a fast internet connection, TeamViewer's VoIP can deliver audio quality superior to a number of other networks via your Wi-Fi. Colleagues can join via emailed links or meeting ID.
2.4.3 Video conferencing
Regardless of their operating system, up to 100 people can participate in a video conference (depending on your license), meaning you can easily engage in small group meetings or department-wide presentations. Password access is optional but recommended.
2.5 Meeting coordination
2.5.1 Scheduling
Using the scheduler feature on TeamViewer screen sharing software, you can enter the start time, end time, and time zone for your meetings, as well as indicate the subject and create a password. You can then invite participants and specify whether the meeting is recurring or a one-off.
2.5.2 Recording
In addition to recording presentations and meetings, you can also record screen sharing and remote desktop access with TeamViewer. This is often useful for compliance, quality assurance, or training purposes.
2.5.3 One-click join
Even if the individuals you are arranging a meeting with don't have TeamViewer screen sharing software, they can join via a web browser using a meeting ID and password without downloading the software. If they do already have TeamViewer, it's as easy as clicking accepts on the invitation.
2.6 Software type
2.6.1 Mobile
TeamViewer screen sharing software has developed apps for Android, iOS, Windows, and Blackberry mobile phones, providing simple usability across a range of devices.
2.6.2 Browser app
Since last year, TeamViewer has been utilizing the power of HTML5 to supply remote access via Google Chrome, Mozilla Firefox, Opera, and Microsoft Edge. This means you can access the management console without installing software while still taking advantage of features like locking the computer and activating the security screen.
2.6.3 Desktop app
Naturally, if TeamViewer is available as a mobile and browser app, it has a fully functional desktop app, with versions for Windows, Mac, Linux, Raspberry Pi, and Chrome OS.
3 Key Benefits of TeamViewer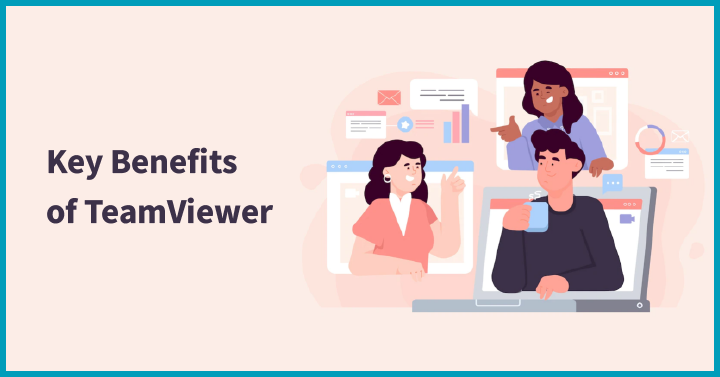 3.1 Better collaboration
With the rise of remote and hybrid working, screen-sharing tools are invaluable when it comes to improving communication and efficiency. From anywhere on the planet, TeamViewer screen sharing ensures teammates can have in-depth discussions about projects via shared documents and specifications so that everybody is on the same page right from the get-go. 
3.2 More effective training
Demonstrating new software to multiple employees or onboarding new hires remotely is far easier with TeamViewer screen sharing. With an in-built group chat standard as part of the suite, IT teams or third-party instructors can provide the most engaging and interactive training possible, with chat functions allowing for instantaneous but non-disruptive feedback and follow-up questions regarding any complex functionality.
3.3 Streamlined processes
 Rather than trying to organize in-person meetings or emailing out presentations, TeamViewer screen sharing enables real-time delivery and discussion, speeding up workflow processes, no matter if the focus is project collaboration or software training. Communication is simply easier when everything can be done via screen sharing, bolstered by in-built file sharing, communication channels, and full compatibility.
4 FAQs
4.1 How do I share my screen in TeamViewer?
While TeamViewer is primarily designed as a remote access service, its screen sharing function is fairly simple to initiate. Navigate to the 'Meeting' tab of the interface and click on the 'Presentation' option. A meeting ID will be automatically generated, which can be shared to allow others to access the meeting.
4.2 Does TeamViewer allow screenshare?
Yes, TeamViewer does allow screen share. This functionality can be used to host webinars, virtual meetings, or personal meetups, with text chat options built into the platform so that you can avoid disruption of your presentation from participants breaking in with vocal or video communication.