If you're looking for the best remote desktop software, look no further than this list. Designed to allow people to access specific PCs from another location, remote desktop software is principally used for two purposes: enabling secure work from home and facilitating IT support to fix issues.
Speed, security and simplicity are just some of the core features you need to consider when selecting the best remote desktop software for you. 
Take an in-depth look at one of the best screen-sharing software in the market through our review of TeamViewer.
1. Overview of Best Remote Desktop Software
Zoho Assist - Best for working with a complete cloud-based solution
Remote PC - Best for remote and hybrid workers
Anydesk - Best for high frame rate and low latency
GoToMyPC - Best for remote desktop beginners
Splashtop - Best for all-round remote desktop functionality
Chrome desktop - Best for ease of use
Connectwise - Best for pre-built integrations with other programs
Parallel Access Best for mobile access
Beyond Trust - Best for security features
GetScreen.me- Best for simple installation
Manage engine RAP - Best for IT administration
Ninja one - Best for user-friendly dashboard
VNC desktop connect tool - Best for multiple use cases
ISL light remote desktop software - Best for helps desks
2. Features of Best Remote Desktop Software
2.1 Integrated Cross-Platforms
With different operating systems available, everything is vastly simplified if your remote desktop software can work across such common platforms as Windows and macOS.
2.2 Enhanced Security
As cyber crime continues to get more sophisticated, it's important to ensure your solution has sufficient safety protocols in place.
2.3 Productivity Boosting Tools
Whether you want to fix a technical problem with a colleague's device or access files on another desktop, the best remote desktop software will help boost productivity..
2.4 Easy to Manage
A feature that's important for all software, ease of management means faster adoption and less time trawling through user guides to understand the interface.
2.5 High-Performance Connections
High frame rates and low latency mean you'll be able to sustain stable connections that don't lag when remote accessing another computer.
2.6 Manage Multiple Sessions
Remote desktop software that can manage multiple sessions leads to increased productivity, enabling you to multitask.
2.7 Built-in Chats
Having an integrated chat function as part of the package makes it easier to communicate with a customer as you help to solve any IT issues.
3. 15 best remote desktop software list:
3.1 Zoho Assist - Best for working with a complete cloud-based solution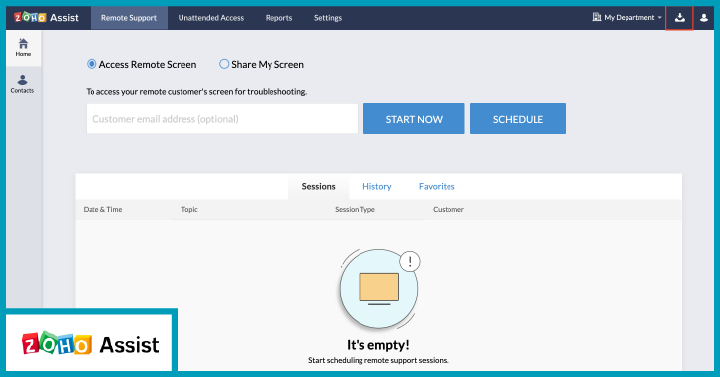 Available for Windows and Apple, Zoho Assist is mainly built to aid IT help desks. The company offers both remote support and unattended access options. Once the software is installed, technicians can solve problems for users that are sitting at their computers or that are away from their screens. Completely cloud based, it can send files of up to 2GB from PC to PC, as well as incorporating text, voice and video chat, screen sharing and custom features (e.g., widgets, white labeling).
Security is assured with end-to-end SSL and AES 256-bit encryption, in addition to two-factor authentication and an action log so you can flag any unusual activity.
Prices start from $10 per technician per month for either the remote support platform or the unattended access platform.
3.2 Remote PC - Best for remote and hybrid workers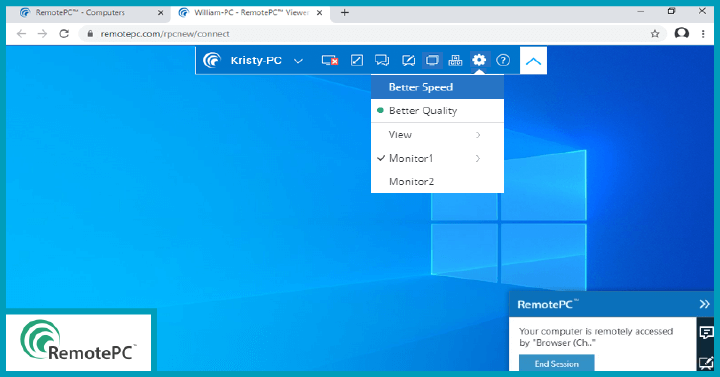 Whether you're looking for the best remote desktop software for Mac, the best remote desktop software for Windows or the best remote desktop software for Ubuntu, Remote PC is compatible. This solution is more focused on helping home workers access their office PCs, with options such as file transfer, remote reboot, remote printing and always-on remote access so you can take control anytime. Connecting at a frame rate of 60 FPS, it arguably has the fastest remote access for Windows computers on the market.
Remote PC is built for collaboration, so that you can invite others to connect to your computer, and multiple users can access one computer at the same time.
Prices start at $19.50 per year for independent consumers (one user license, one computer), rising to $79.50 for unlimited licenses across 10 computers.
3.3 AnyDesk - Best for high frame rate and low latency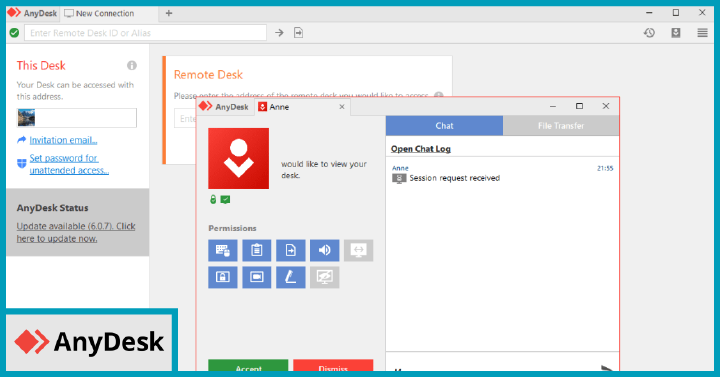 Founded in Germany in 2014, AnyDesk works across Windows, macOS and Linux, with mobile functionality for both iOS and Android. Promising a speedy experience right from the installation, AnyDesk has a frame rate of 60 FPS as well as low latency (below 16 milliseconds). It can be run via the cloud or hosted on premise.
Encrypted connections and data aim to keep you completely secure from breaches, with customizable permissions for both general usage and individual sessions.
Prices start at €9.90 per month per user, who can connect to unlimited attended devices and 1 unattended device, with additional benefits such as mobile device support and utilization of the help center.
3.4 GoToMyPC - Best for remote desktop beginners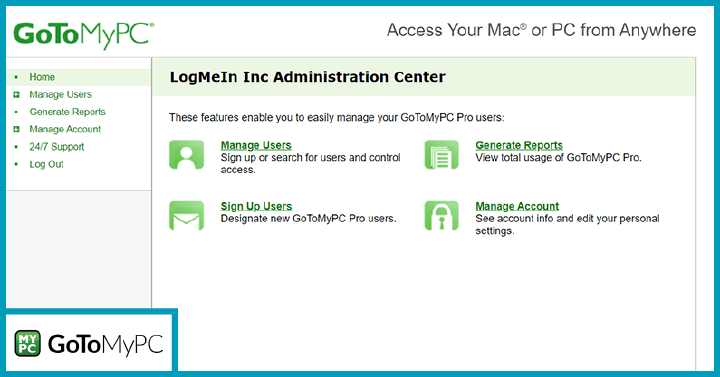 With automatic setup and 24/7 customer service, GoToMyPC might be one of the best remote desktop software with which to get started.
You can access both macOS and Windows operating systems from either another computer or your mobile device. File transfers, remote printing and multi-factor authentication come as standard, with end-to-end encryption and built-in antivirus software for added security. There's also a real-time diagnostics tool so you can monitor connectivity and receive in-dashboard suggestions on how to fix slow performance.
Prices start at $35 per computer per month for an individual license, rising to $75 per computer per month for up to 50 users.
3.5 Splashtop - Best for all-round remote desktop functionality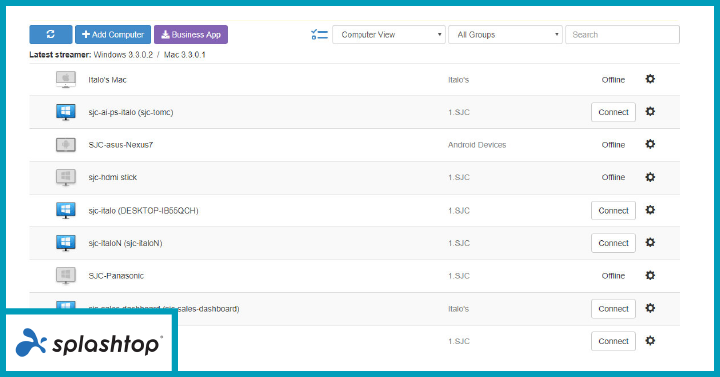 Splashtop has two main solutions, one for businesses and one for IT help desks. Both work across Windows, macOS and Linux computers, with mobile access built in for ease of connection.
Business Access comes with standard features like file transfer and remote print, as well as multiple layers of security. The Pro version also includes remote reboot, desktop sharing and session recording. SOS (for IT support) comes with the above-detailed capabilities plus mass deployment, user management, custom branding and chat, in addition to unattended remote access.
Prices for Splashtop Business Access start at €4.58 per month for individual users, rising to €7.50 for small businesses. Prices for Splashtop SOS start at €15 per month per technician, supporting unlimited devices.
3.6 Chrome Remote Desktop - Best for ease of use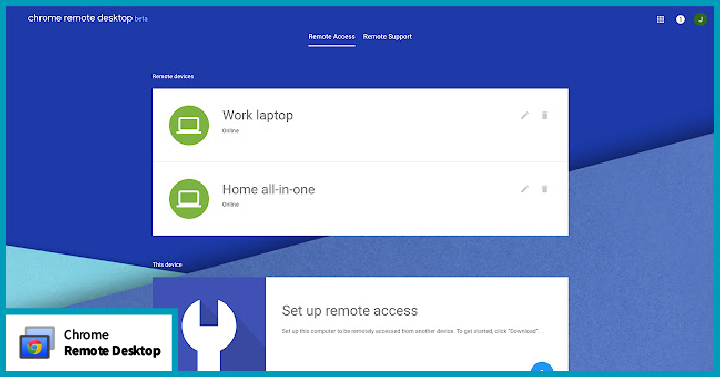 A clean, simple-to-use solution, Chrome Remote Desktop makes it easy for you to access another computer or receive remote support. Built on Google's secure infrastructure, it is utilizable for both Windows or macOS and functions using WebRTC for real-time communication between devices.
An extension of the Chrome browser, it can be downloaded and installed in minutes. While it isn't as feature rich as the other options on this list, it does provide the basics without any fuss.
Plus, it's completely free.
3.7 ConnectWise - Best for pre-built integrations with other programs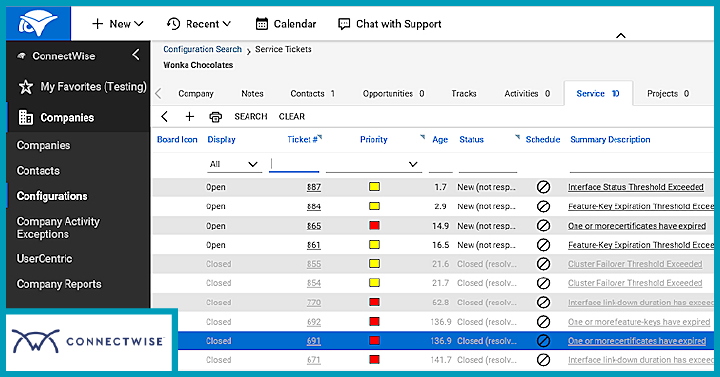 ConnectWise supplies a suite of products for managed service providers (MSPs), enabling third parties to deliver IT processes and functions for other companies.
It offers two options for remote access, both compatible with Windows, macOS and Linux: Control Access is designed for individuals, remote workers and office IT teams, while Control Support is for help desk teams. Both solutions come with security features like AES-256 encryption and two-factor authentication out of the box, as well as role-based architecture.
Advanced reporting capabilities mean you can track key metrics related to technician usage. Additionally, there are a host of ready-to-use integrations for added security and functionality, with the option to customize your own in collaboration with ConnectWise's product team.
Prices start from $24 per month for Control Access (1 user, 1 connection), while prices for Control Support start at $30 (25 unattended access agents).
3.8 Parallels Access - Best for mobile access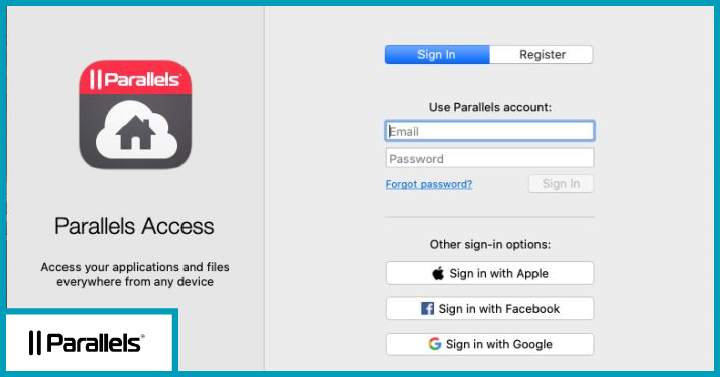 While Parallels Access works on Windows and macOS, it has extra functionality that makes it particularly useful for accessing computers via mobile devices, both iOS and Android based.
Its trademarked Applification technology enables you to use desktop applications as though they were native to smartphones and tablets, installing icons onto your devices for easy access. Plus, the built-in Lock'n'Go Magnifying Glass makes it easy to zoom in and do things like select, copy, and paste text precisely via a relatively small screen.
Another useful feature is the Parallels Access File Manager, which is a simple interface that allows you to copy files from a remote computer or the cloud to your mobile device.
Prices start at $19.99 per year for individual users (unlimited mobile devices, 5 computers), while businesses can get started for $49.99 (unlimited users, account administrator setup, unlimited mobile devices, 5 computers).
3.9 TeamViewer - Best for tried and tested remote desktop software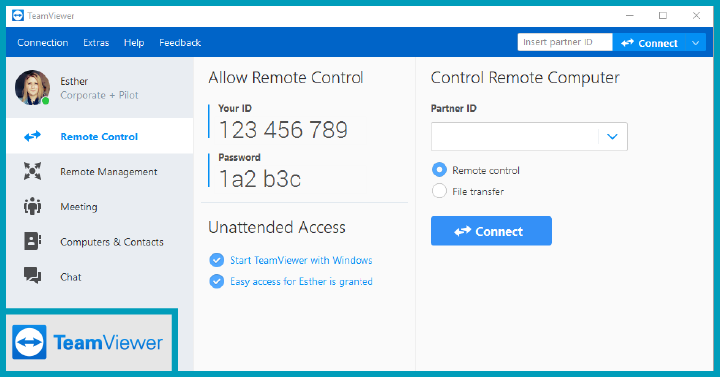 TeamViewer is a real specialist in the field and is certainly in contention for best remote desktop software. The German company has worked with a number of big brands, including Siemens and Philips.
Its core product supplies remote support and remote access for Windows, macOS, Android and iOS. Employees working from home or traveling can access unattended devices, file share and remote print, while IT help desks can offer ad-hoc services to clients with integrated service case management and custom branding for support applications. TeamViewer also has specific products for different use cases, including meetings, customer engagement and virtual classrooms.
Prices start from €29.90 per month for one licensed user with 3 devices, though non-commercial use is free.
3.10 BeyondTrust - Best for security features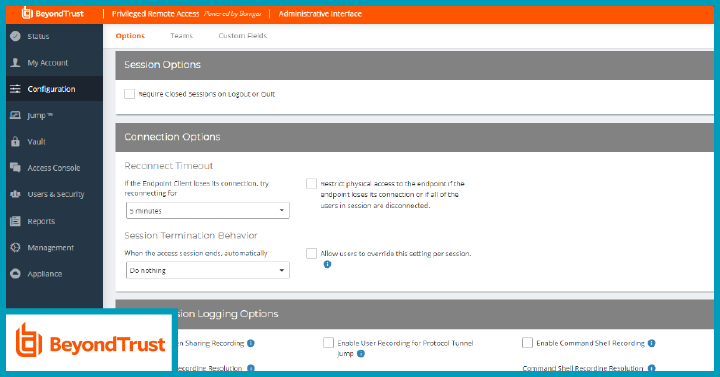 Specializing in security and ID access, BeyondTrust has a remote access product that works on the basis of zero trust, with audit controls for employees, vendors and service desks.
The software works across Windows, macOS and Linux, and can be deployed for both help desks and office workers. Both solutions rely on detailed privileged access options to ensure you have control over your access and security, with real-time and post-session monitoring and reporting data for efficiency and compliance purposes.
You can also download the Privileged Access Discovery Application to explore any vulnerabilities in your remote access processes that could be exploited.
Prices are customized and available on request.
3.11 Getscreen.me - Best for simple installation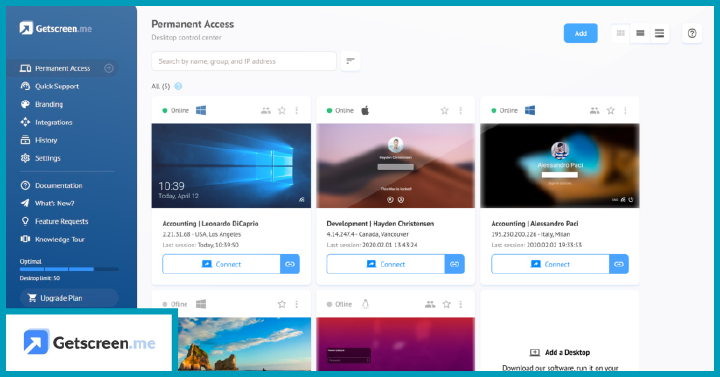 Compatible with Windows, macOS, Linux and Android, Getscreen.me is a cloud-based software for administration, technical support and remote work. Depending on your needs, it can offer automated continuous access, simultaneous connections, recording capabilities, custom branding and more. The software is fairly simple to use: Getscreen.me's so-called 'agent' can be installed with minimal fuss and takes up just 2MB. For technical support, you can send a link to customers to download the agent without any laborious explanation.
Ready-made plugins have been designed for common platforms like Chrome and Telegram, while the default security features include a 128-bit AES algorithm inside WebRTC and SSL protocols.
Prices start from $4 per month for permanent access to 10 devices and 3 clients per day, rising to $99 for unlimited devices and 100GB of recordings. Getscreen.me is arguably the best free remote desktop software because its individual license can be utilized for commercial purposes (unlike, for example, TeamViewer).
3.12 ManageEngine RAP - Best for IT administration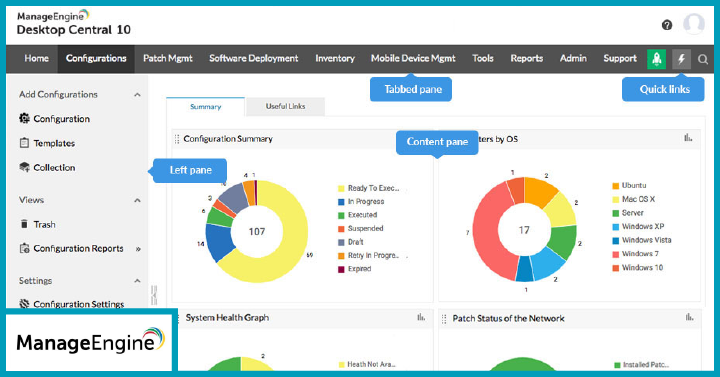 From ManageEngine's suite of IT management software, Remote Access Plus (RAP) was mainly designed with system administrators and IT help desk technicians in mind, though it is also perfectly suitable for home workers. The solution can be deployed either on the cloud or on premise, working across Windows, macOS and Linux computers. Its advanced remote control features mean you can easily access all computers in your office network regardless of location, which is particularly useful for administrators, though the built-in chat features will be most useful for help desks.
Remote file management, hardware and software management and task management are all available as standard, as is wake-on-LAN, remote command prompts and a full reporting service.
Prices are available on request.
3.13 NinjaOne - Best for user-friendly dashboard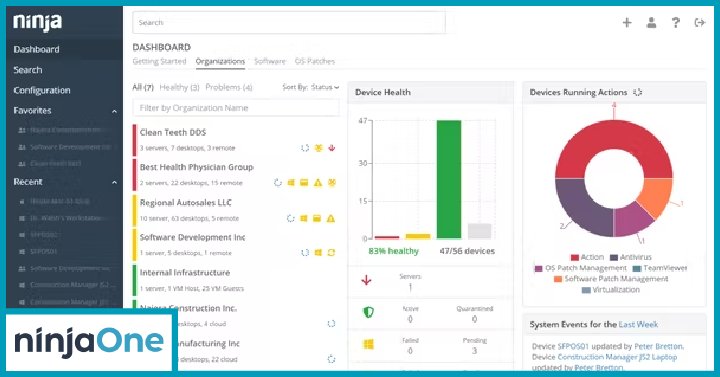 NinjaOne's most eye-catching feature is its attractive dashboard, through which its endpoint security and MSP solutions operate. Its remote monitoring and management (RMM) product makes it easy to resolve IT issues for Windows, macOS and Linux systems through a single pane of glass. Entirely cloud based, NinjaOne is network and domain agnostic, meaning it can work across computers regardless of location and IT infrastructure.
Plus, it has a built-in endpoint management tool and antivirus integrations for added security.
Prices are available on request.
3.14 VNC Connect - Best for multiple use cases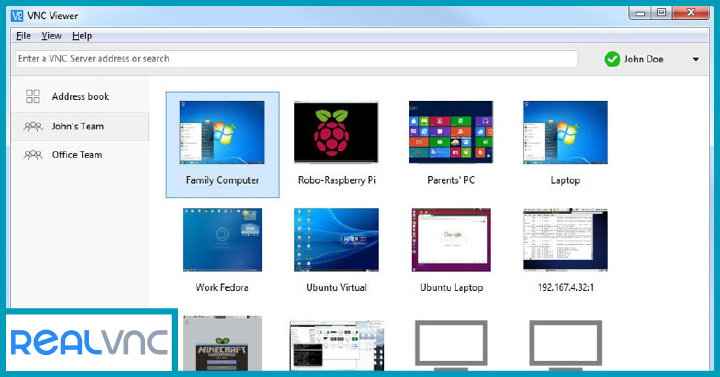 One of the most attractive features of VNC Connect's software is the granular control it allows during setup, which means you can configure it to your company needs – admittedly more useful for IT specialists than casual users. Built to encompass as many use cases as possible, the solution facilitates hybrid working, desktop maintenance and customer service. VNC Connect can be rolled out at scale using mass deployment, and once it has been installed can run multiple sessions at once across Windows, macOS, Linux and Raspberry Pi systems.
As for security, the software assumes every connection is made in a hostile environment, with customizable multi-factor authentication options and 256-bit-AES full session encryption.
Prices are €2.79 per managed device per month for the standard Device Access features (unlimited users, concurrent sessions and RealVNC support), while Instant Support is €13.99 per helpdesk technician per month (unlimited endpoints and secure cloud connectivity).
3.15 ISL Light - Best for helps desks
Microsoft, macOS, Linux, iOS and Android are all compatible with ISL Light, which is principally designed for help desk services. Clients can easily download the app for desktop or mobile devices. Once this is done, IT technicians can initiate unattended access to solve issues, with reports and logs to ensure full accountability and compliance. The dual-panel file manager, screen sharing and chat functions built into the interface make it incredibly easy to access multiple functions.
Industry-standard AES 256-bit end-to-end encryption secures the connection between operator and client, alongside two-factor authentication, user access management and several other security features for peace of mind. Custom-branded access points and a remote support button that can be added to your website complete the ISL Light experience.
Prices start at €95 for a pay per use license (includes 500 minutes per year), while a single license costs €339 per year (unlimited users).
4. FAQs
Which remote desktop software is the best?
What constitutes the best remote desktop software for you depends on if you are an individual user, a business looking to provide secure access for employees working out of the office or a customer service IT support team. As detailed above, different solutions have been designed with different use cases in mind. Some are incredibly simple to use, like Chrome Remote Desktop, while others require more time to get up and running.
Which remote desktop software is fastest?
The best remote desktop software in terms of speed is a highly contentious debate. Remote PC is often cited by users as being reliably fast, though other competitors claim to offer the same speed. There are a number of factors beyond the control of a solution provider that determine the quickness of the product, such as your local region, which is why it can be hard to speak with specificity.