The urge one has to meet their loved one, colleagues or best friends from school or university continues when everyone lives on different continents is tough. In a world that's adapting to everything going online, virtual family reunions provide a safe and convenient middle ground for everyone to meet. You don't have to let the distance stop you from getting together. We have some virtual family reunion ideas for you. 
In this article, you'll find some of the best and most entertaining games and activities to virtually celebrate the holiday season with your friends and family. 
If you are looking for games to celebrate other occasions remotely,  we have New Year's Eve and holiday party ideas for you. We also have the ultimate guide to hosting a virtual party for your friends and family. 
1 What Are Virtual Family Reunions?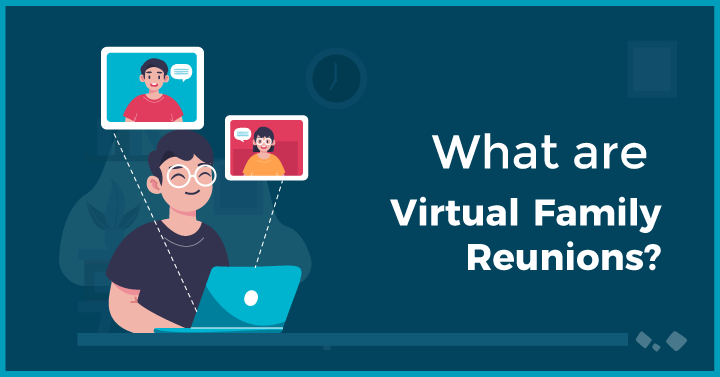 Virtual family reunions are held over online meeting platforms in situations where participants cannot convene in a common venue.  There are plenty of reasons for hosting virtual family reunions. 
You want to introduce your kids to extended family members who live in different parts of the world.
Travel is restricted, making you want to get into a group call whenever you miss talking to a particular relative.
You want to check-in and maintain contact with family members.
There are occasions that you can take part in-such as anniversaries, baby showers or even a memorial.
Virtual family reunions can make attendance more regular because joinees just need to set a reminder on their phone and open the meeting link to connect instantly.  Once everyone's in, you can start catching up on what everyone's been upto and fill them in on how your year has been or future plans. Members who moved to a new home can even give a guided tour virtually to those watching. 
At a set time, all family members get on a video call and play games or do virtual family reunion activities together. Virtual family reunions are a better alternative to a physical gathering and keeps everyone safe. You can bond together without the risk of spreading or contracting the virus. Online reunions are also a great way to stay in touch with loved ones who live abroad. You all can connect at the same time from all the different locations of the globe. 
2 Virtual Family Reunion Tools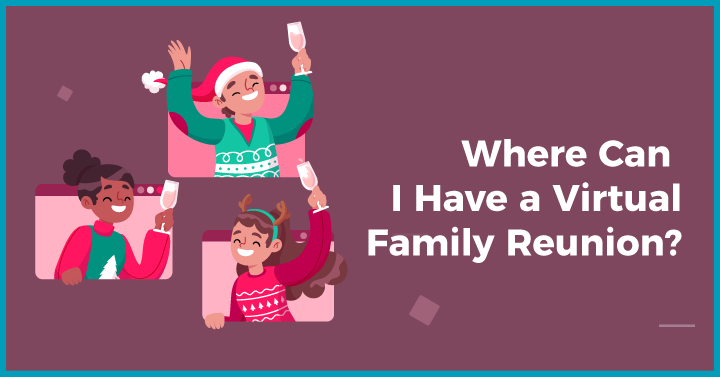 Hosting a virtual family reunion is a no brainer. You don't need any fancy equipment to attend an online gathering and participate in virtual family activities. Just a laptop/desktop or smartphone and a stable internet connection are enough to take part in a fun family party. 
There are many virtual meeting platforms that make work easier for you to host a virtual family get-together. The following are the most popular platforms to host your next online family reunion;
2.1. Google Duo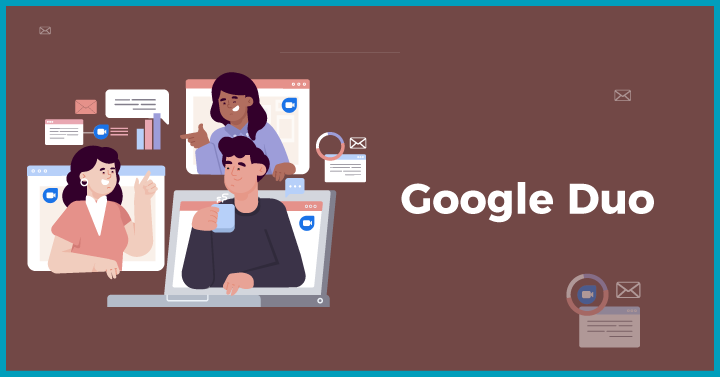 It is a video call mobile app that works smoothly on both Android and iOS operating systems. You just have to download the app and then sign in using your Google ID or phone number. It is also available to use from laptops and web browsers. Create a group with all your family members, and you are all set to enjoy some family reunion games . 
2.2. FaceTime
If all your family members are loyal users of Apple products then FaceTime is the handiest app for you to host a virtual family reunion. This app is already available on your iPhones, iPads and MacBooks, so no need to hassle with downloading any new app. In addition to being convenient, the app is also easy to navigate for your not so tech-savvy family members.
2.3. Facebook Messenger Rooms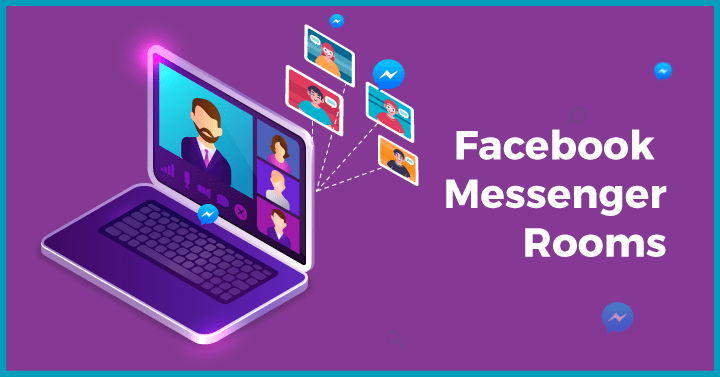 This brand new feature introduced by Facebook provides a convenient video chat room for your family members to catch up with each other and enjoy some virtual family activities. It is also possible to change the settings of your chat room and allow members to join the chat room without downloading the app or logging in. 
2.4. Zoom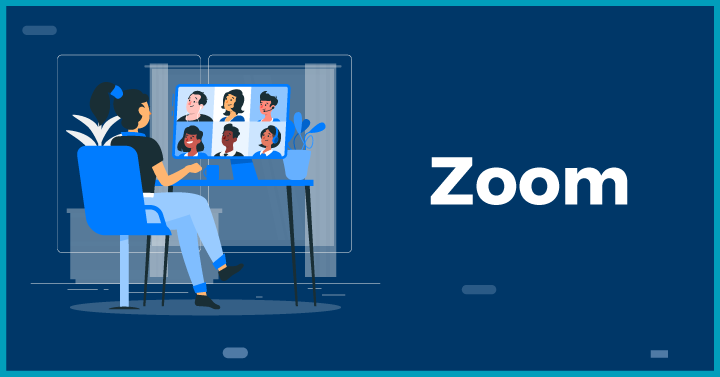 Zoom app is available to use on smartphones, laptops and tablets. It is a very popular platform and pretty easy to use for video conferences and to host your family reunion games. A free account on Zoom allows 40 minutes of video conferencing. To buy more time you can be a host and schedule a meeting ahead of your reunion day. Make sure to share the meeting details like meeting ID, password and link with your family members so dthey can join the virtual celebration on time without any struggle. 
2.5. House party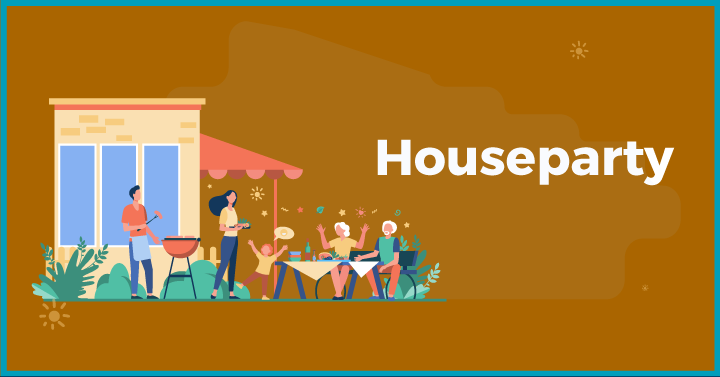 At the start of the pandemic and during lockdowns, this app became quite popular. This is a virtual gaming platform that also offers video calling. You can play virtual family reunion games like Pictionary, Heads Up, and Quick Draw together while having a video call with your loved ones. This app is available on Android, iOS and Chrome so everyone can access it from their devices. 
3 Virtual Family Reunion Ideas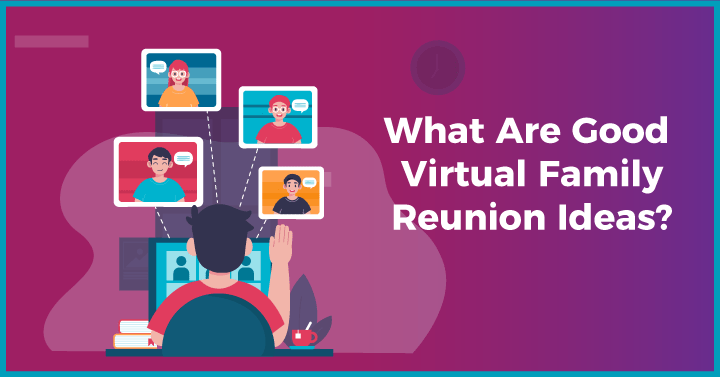 Here are a few virtual family reunion activities and games you can enjoy with all your family members if you want to make your virtual family reunion more happening and fun this year.
3.1. Virtual Coffee Meet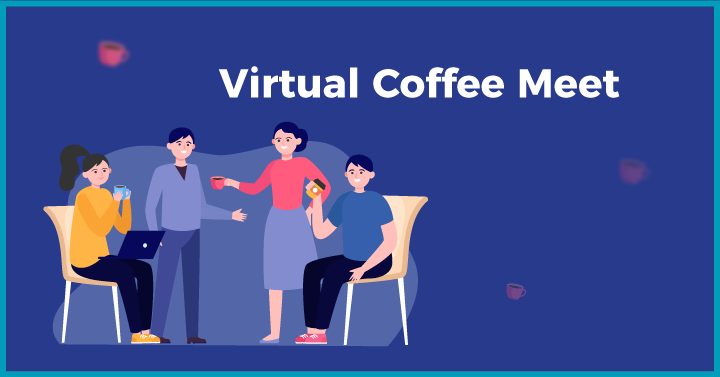 During a family reunion, you want to make sure that no one is left behind and that everyone is involved in the activities you plan. But when a lot of things are happening at once, there are chances that your introverted family members might getleft out. But with a virtual coffee meet, you can create a family party-like atmosphere with one-on-one interactions
Fix a time when everyone is available for a virtual meeting and send an invite for a video conference. Take the time to check on all your family members and have the kind of conversation you usually have at family gatherings.
3.2. Family Talent Show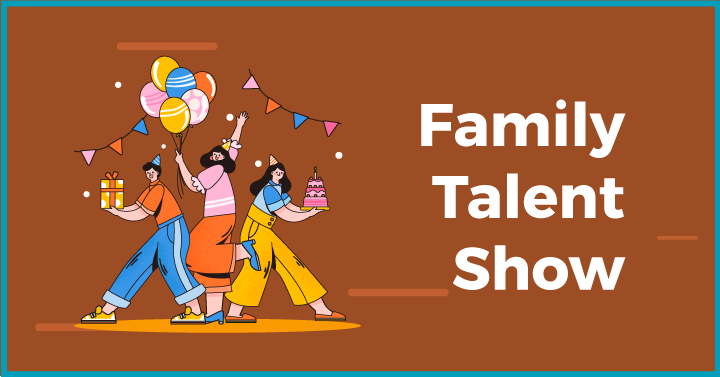 If you are looking for some virtual reunion ideas you don't have to think too hard. Remember how our parents used to tell us to recite a poem or dance in front of the family after a meal during family gatherings? By organizing an online talent show, you can also provide a platform for all your family members to showcase their special talent. 
Inform everyone in advance to prepare a short performance for the reunion. They can sing their favorite song, tell some dad jokes or show some magic tricks. Put all your family members in the spotlight one by one, and let them give the best performance of their lives. 
3.3. Virtual Cooking Party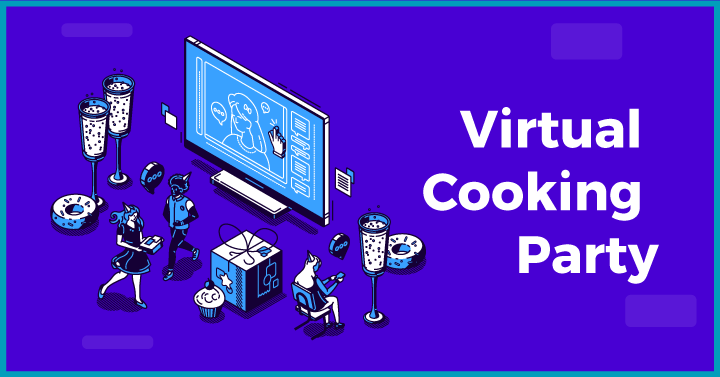 We all have that one special family recipe that is passed from generation to generation and is prepared at every family gathering. Even though you are celebrating your family reunion virtually this year, don't let it stop you from enjoying that lip-smacking dish together. 
Host a virtual cooking party at your online family reunion and cook together your traditional family recipe. Let everyone know about the ingredients and other requirements beforehand so they can be ready with all the necessary items on the day of the party. Everybody will follow the host's cooking instructions, and when everyone's dish is ready, they can enjoy it together over video conference.
3.4. Family Trivia Time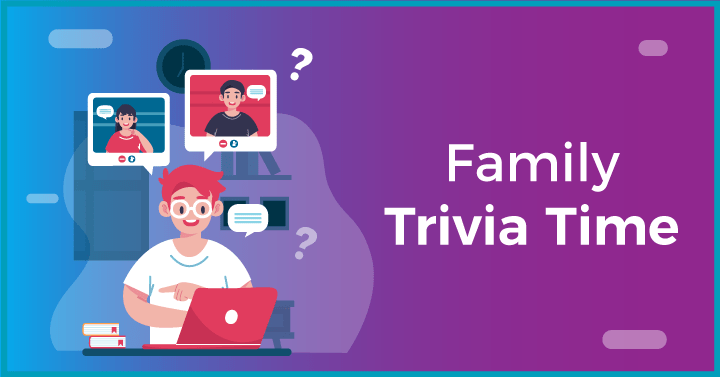 Do you know when your grandparents got married? Who was the first family member to get into the college? What was your uncle's nickname when he was in school? Prepare a list of all these interesting questions and organize a Family Trivia Time during your next virtual family reunion. 
This online trivia game will give new members and children a chance to learn more about the family. You can be a host and divide all your family members into three or four teams. Make sure someone keeps track of the points. The last round can be a buzzer round between the top two teams. Award a winning team with gift vouchers or e-gift cards. 
3.5. Virtual Gift Exchange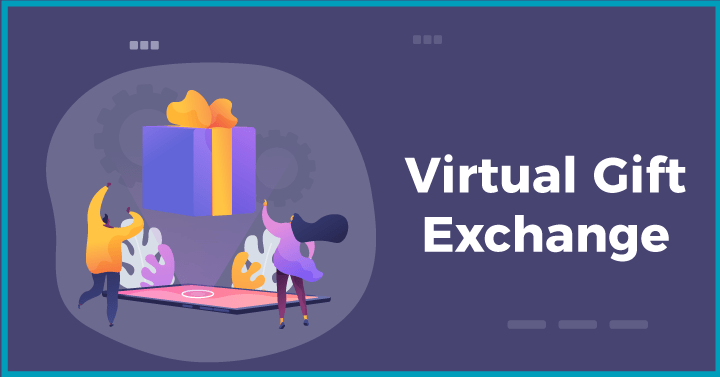 I still remember how my grandmother used to slip some money into my pocket during the family gathering. During the holiday season, everyone is excited about giving and receiving gifts. Even if you aren't getting together in person this year, you can still exchange presents with a virtual gift exchange.
Ask your family members to mail their gifts ahead of time so they can be delivered on time. Make the gift exchange more exciting by asking attendees to prepare an online wish list, and assigning one attendee to each family member. They can choose any gift from the attendee's wish list. Before everyone opens their gift at the virtual family reunion, they have to make a guess who sent it to them.
3.6. Virtual Theme Party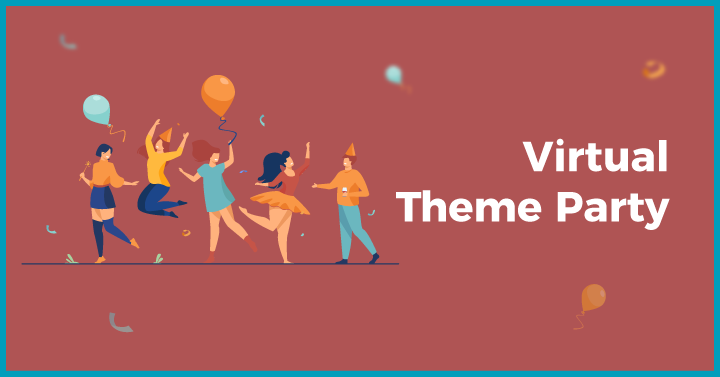 Theme parties are always fun to attend. You can also throw a virtual family reunion where everyone is dressed up as per pre decided family reunion themes. Plan the virtual family reunion games and activities around your theme to make the family reunion more lively. It might be helpful for you to follow these steps if you want to plan a theme-based family reunion; 
Decide a theme for the reunion party and design your invitations based on the theme
Don't forget to mention that everyone needs to dress up according to the theme in your invitation
If your virtual party is on Zoom, ask your family members to customize their background as per the theme to set the right mood
Gather a list of questions based on your theme and host a quiz
Prepare a theme-based recipe or cocktail over a video call
Organize a theme-based photo booth
Pre decide your family reunion themes 
3.7. Family Reunion Karaoke Party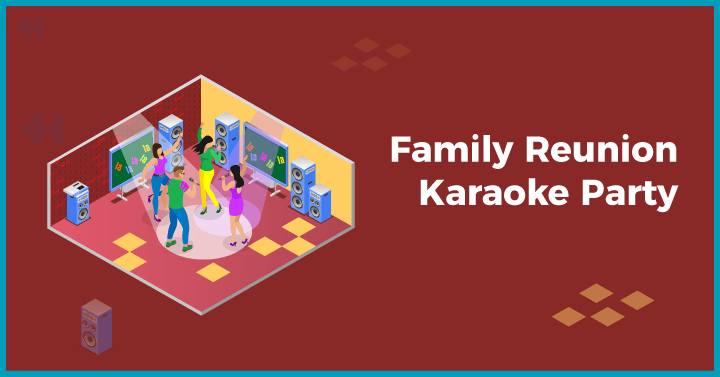 My family is very musical and we love to sing our hearts out whenever we get together. You can also enjoy your family musical number with your loved ones with a karaoke party during your virtual family reunion. 
Select songs you are planning to sing during the online karaoke party. You can also ask your family members for more suggestions. Now arrange lyrics for all the songs from the playlist. You can share these lyrics and the order of songs during your reunion. Make sure everyone gets a fair shot to showcase their singing talent. Don't forget to record the session so you can revisit the memories later. 
3.8. Virtual Scavenger Hunts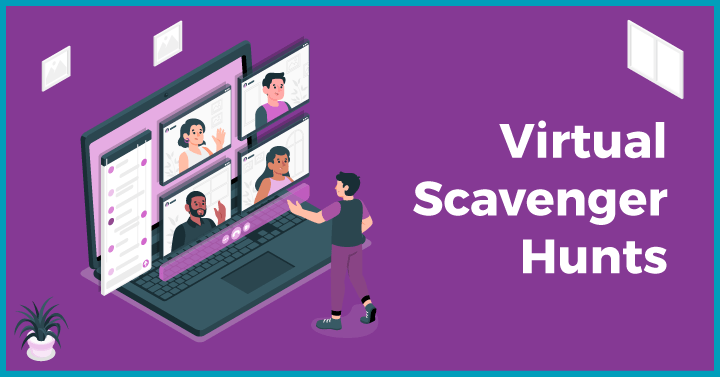 Virtual scavenger hunts are the best virtual family reunion activities, as it gives your family a chance to work and play together as a team. 
Be a gamemaster and divide your family into teams. Now as a game master, your task is to prepare a list of items your family members can find within a certain time limit. You can ask them to find objects they can look for around their house or online. It is the perfect activity to spend family time together because all ages can enjoy it!
3.9. Family Fame Night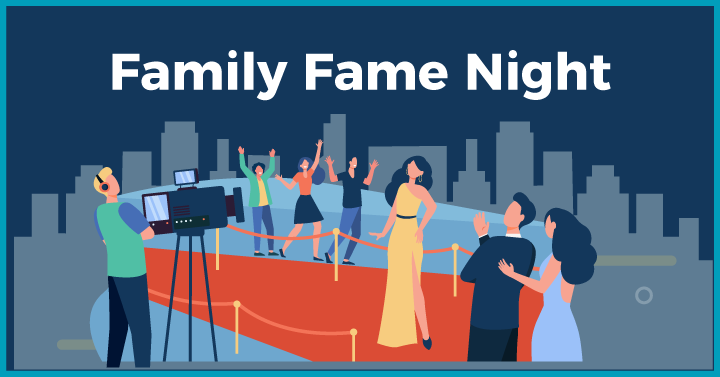 Online UNO: UNO is the perfect card game to enjoy with your whole family during the gathering. You can play online UNO on your tablets, laptops or even on your smartphones. You can create a room and play together and enjoy your family game night together. 
Family Feud: Family Feud is a popular game show and you can play it online also. Distribute your family into two teams, and they have to guess the most popular responses to public surveys. Prepare a list of questions and answers to create your own game or you can also play it online for free. 
Heads up!:  If you have seen TheEllenShow, you must be already familiar with this game. Heads up! is a word guessing game and is perfect for a family night. Just guess the word on your head before your time runs out from your family's clues. 
Pictionary: Online Pictionary game is very simple to play. You choose a word and scribble it, then your family members try to guess it. With every right guess, you will earn some points. The person with the most point at the end of the game will be the winner. 
Encore: Gather your family members on a video conference and split them into teams. The gamemaster will give a word to the first team and they have to sing a song with that word in the lyrics. Other teams can jump in and sing a different song but it has to have a common word with the previous song. This goes on until the timer goes off. Teams earn points for every successfully connected song. 
Minute to Win It: You can get creative with these Minute to Win It games and fit in as many games as you want, as it will take only a minute to play one game. Get innovative and create your own game or search online to look for some ideas. The person who wins the most Minute to Win It games will be the winner of the game night. 

Yahtzee

: The classic dice game is available online, making it the perfect game for virtual game night with the family. While the game can be played single-player, once a player creates their username, you can search it in multiplayer mode. Additionally, make the game night more fun by joining in on Zoom or Facetime!
4 . FAQs
4.1. How Do You Host a Virtual Family Reunion?
You can also host a successful virtual family reunion for your whole family by following these steps; 
Make creative invitations for your family reunion and include the time, date, online platform, link for the virtual meeting, and theme of the party on the invitation, then send it across to all of your family members
Plan some fun and creative party games and activities 
Host an online lunch or dinner so all the family members can enjoy a family meal together
Plan an online tour to a famous tourist place, zoo, museum or other attraction that all can enjoy together
4.2. How Do You Zoom-in a Family Reunion?
Here is how you can host a successful family reunion on Zoom;
Make a family group on any of the chat apps and decide the time and date for the reunion based on everyone's availability 
Schedule a Zoom meeting and send out a calendar invite; also inform them separately about the meeting details like meeting ID, password and link
Send detailed instructions to all your family member so it will be easier for those who are not so familiar with the latest technology
Send out a reminder one day before your virtual reunion
4.3.What are some fun virtual family day celebration ideas ?
Some fun virtual family day celebration ideas are family talent show, trivia, and scavenger hunt.