1. Best Virtual Games to Play On Zoom Marketplace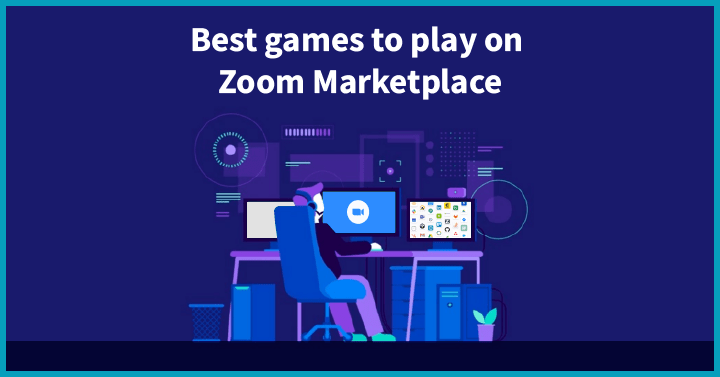 1.1 #AskAway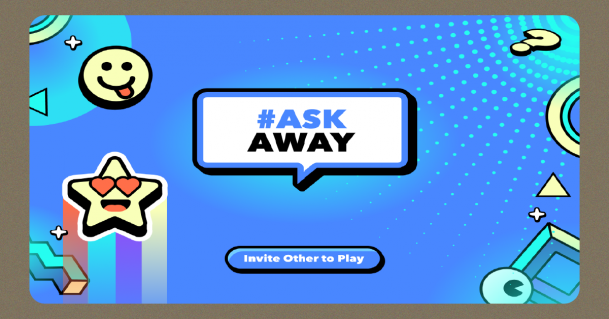 #AskAway works as a great icebreaker game to play on Zoom. It gives the participants fun and engaging questions that are randomly generated, and the players can answer that about each other. So, if you are looking for fun games to play over zoom give this a shot.
1.2 Hooray Teams 

We might be biased, but we think our sister site, Hooray Teams, is a great option for fun, diverse, and facilitated virtual games you can play on Zoom.
Hooray Teams is a virtual team games marketplace where you can pick a facilitated team building game for your team. Whether it's a virtual paint and sip, virtual chair yoga, origami, or a virtual cooking pasta session.
1.3 Heads Up!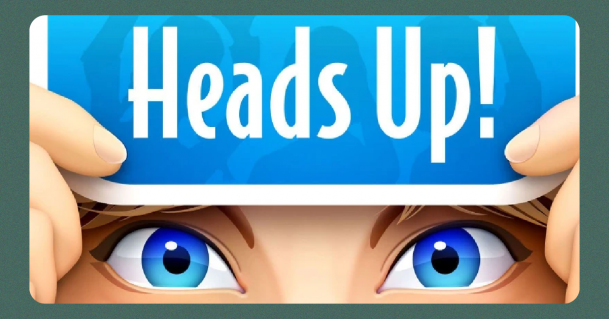 We have all tried replicating this dopamine-boosting game called Heads Up! from the Ellen DeGeneres show. The Zoom version of it involves one player guessing the words on the screen while the others shout out creative clues. The one with the most correct guesses wins this fun twist on the game of charades. If you are looking at virtual games to play on zoom with coworkers this one is fun and simple to play.
1.3 Gaggle Party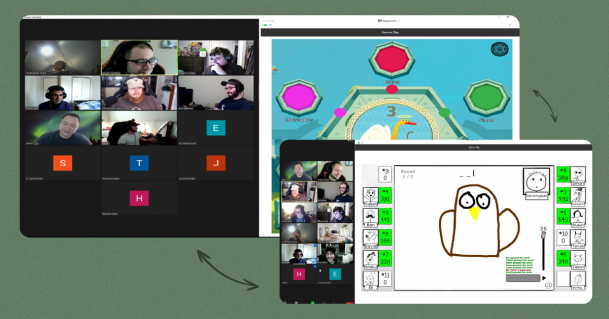 This is one of our favorite virtual games to play on Zoom Marketplace. It has multiple games within it like Drawtini classic, Flipping the bird, Crazy eights, and Swan. These are a fun mix of classic card games, drawing and acting, to bluffing and deception, all of them created to act as fun games to play over zoom.
1.4 Team Games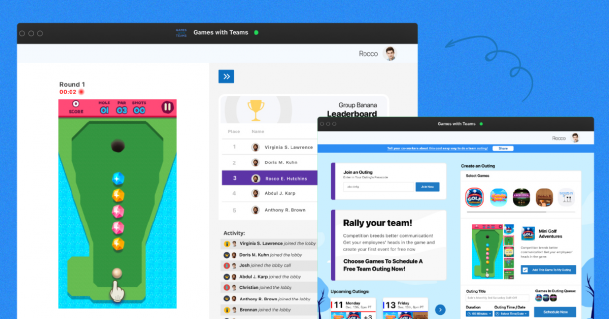 If you want to take your team out on a virtual team outing and are looking for fun virtual games to play on zoom, this is the game for you. Like Gaggle Party, it has fun mini-games like Mini Golf, 8-ball, Unblock It, Hangman, and Match 3. The participants are randomly assigned into teams, so it saves you the trouble of splitting the team.
1.5 Funtivity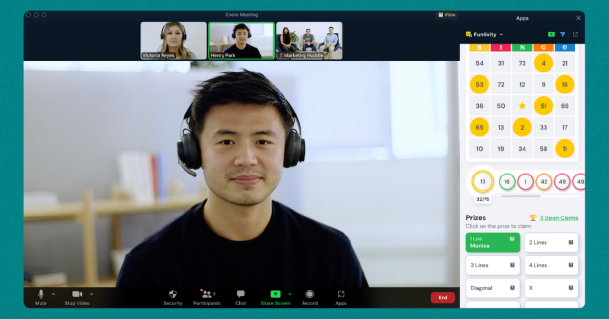 Funtivity by Hermis provides various activities and best games to play over Zoom. It provides specially curated activities for a wide variety of occasions, including Team building, Conference breakout sessions, Cultural events, and more. It also allows you to play online games to play on zoom with coworkers like Trivia, Bingo, and Escape Room.
1.6 Werewolf Friends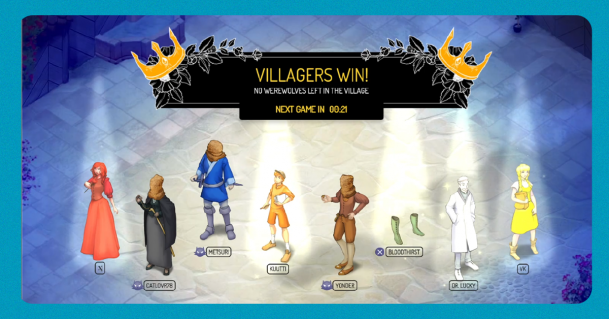 Werewolf Friends is a perfect game to play on Zoom for action and arcade lovers. The participants are split into werewolves and villagers anonymously. The werewolves must eat one villager per night, and the goal of the villagers is to find out who the werewolves are and vote them out. The zoom meeting games ends when the last werewolf or villager is eliminated. 
1.7 Dive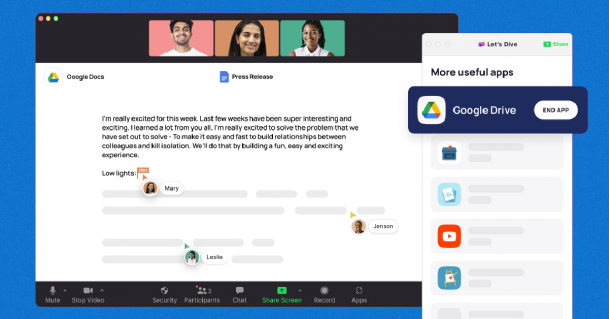 Dive is more like a fun place to hang out while conducting your meetings. You can add fun emojis and sounds to your video conferences, or play virtual zoom games online like Poker, Scattergories, Draw Party, etc.
1.8 Just Say The Word!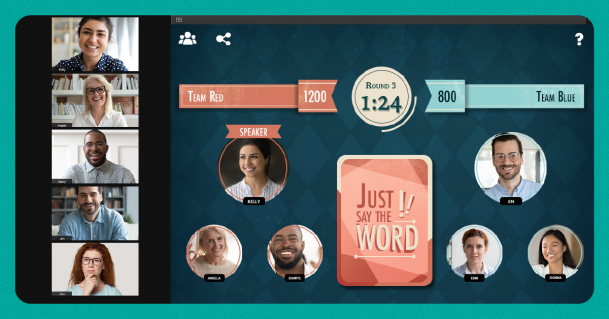 This is one of our family's favorite virtual games to play on Zoom but translates to equally fun online games to play on zoom with coworkers. Players have to get their team to guess the word as they describe it without using a few prohibited words, like "Describe a 'shark' without using the words jaw, bite, or tornado. 
1.9 Poker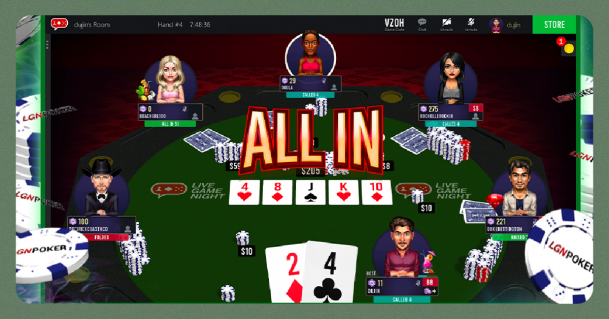 Bring in your poker nights with friends to your virtual workplace. Live Game Night (LGN) Poker is an online Texas Hold'em poker game to play on Zoom. You can play virtual zoom games online like poker, chat, bluff, and read their tell, all in one virtual place.
1.10 Meetings.fun - Party, Trivia, Games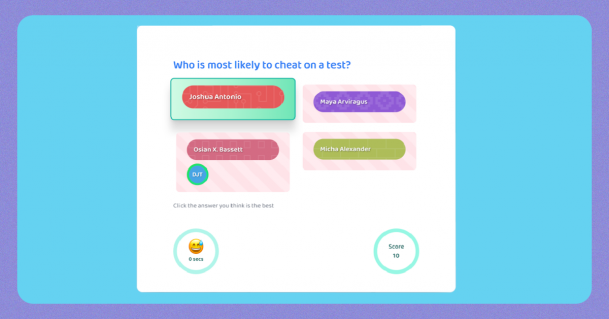 Zoom's own little water cooler place. Make your own question pack or pick from the default ones like logo quiz, marketing vs. sales, and many more in these online zoom games for team building.
2. Free Virtual Games to Play On Zoom With Your Co-workers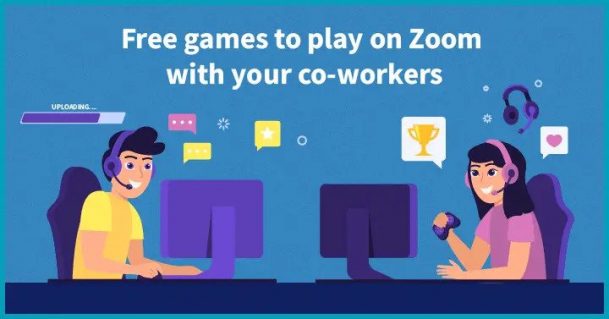 2.1 Online Jeopardy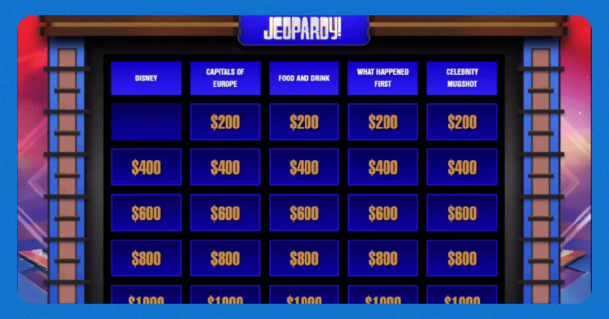 If you are looking for free virtual games to play on zoom the classic game of general knowledge can also be a game on Zoom. Just download a jeopardy template; add your questions and answers. You can either play individually or assign to groups. These groups can meet in individual breakout rooms to discuss. 
2.2 Co-worker Feud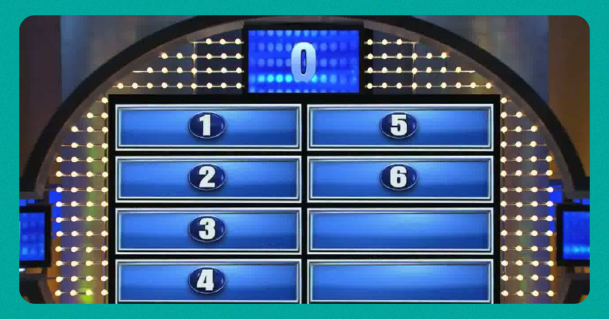 Yes, we transformed everyone's favorite game on TV – Steve Harvey's Family Feud as Co-worker Feud and added it to our list of zoom meeting games. Run a survey or multiple polls beforehand, including people outside your team to have a larger answer pool. Consolidate the answers, then split the team into two groups and ask the questions. Groups can use a private channel to discuss the answers. This is one of the greatest free virtual games to play on zoom with coworkers free.
2.3 Pictionary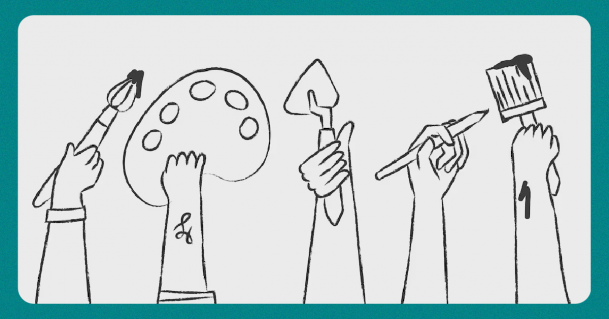 Bring out the artist that's sleeping in each of your teammates. Pictionary is a classic game to play on Zoom. Wondering how to play pictionary on zoom? You can do this easily with the help of its whiteboard feature. You can divide the team into groups or pairs, use this image generator and ask one player to draw and the rest can guess. This is one of tested and tried online zoom games for team building.
2.4 Scavenger Hunt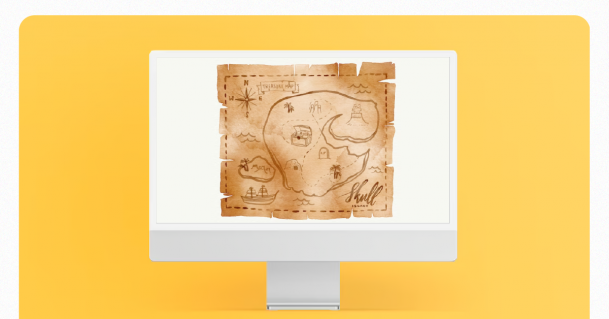 Virtual scavenger hunts are a fun way to bring out the competitive spirit within each team member and a constant on the list of games to play on zoom with coworkers free. You can give your team members an item to find or a challenge/puzzle to complete. The first one to get back with the correct item the most number of times wins.
Check out this article on traditional scavenger hunt ideas.
2.5 Murder Mystery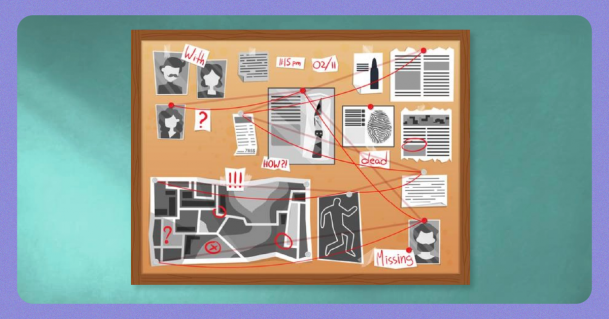 To say it in the words of Jake Peralta of Brooklyn 99, Murder Mysteries are our "classic Whodunnit" game to play on Zoom. So get inspired by these virtual murder mystery games and find that 'perp' in your team. If you have the time and are ready to put in the effort this is one of the most interesting free virtual games to play on zoom.
2.6 Cards Against Humanity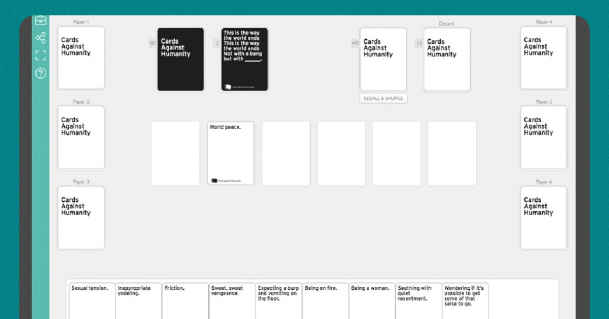 This is probably the wackiest yet funniest game to play on Zoom. Just go to Cards Against Humanity website, and download their free version or purchase it and you have another addition to your list of virtual games to play on zoom with coworkers free. Each player takes a turn to read out an incomplete statement from their cards while the others complete the statement from their card prompts.
2.7 Online Bingo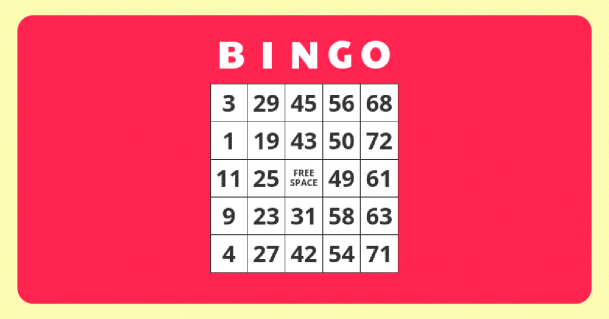 Online Bingo has become every virtual worker's go-to game. It is constantly featured on online zoom games for team building lists. Download a Bingo template and cards, distribute it among your team beforehand, then get on Zoom during your team building activity time and let the numbers roll!
3. Quick Games to Play On Zoom for Virtual Office Parties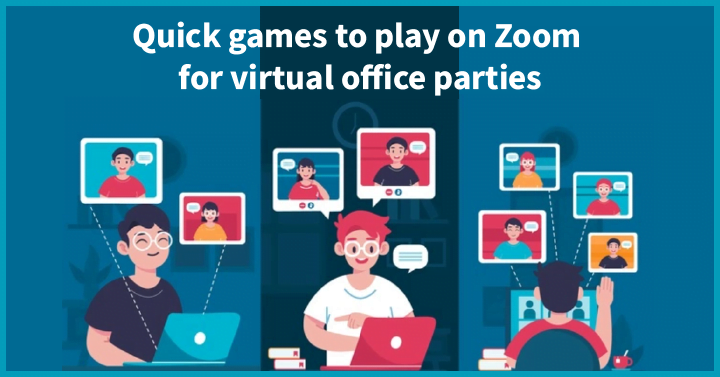 3.1 Minute to Win It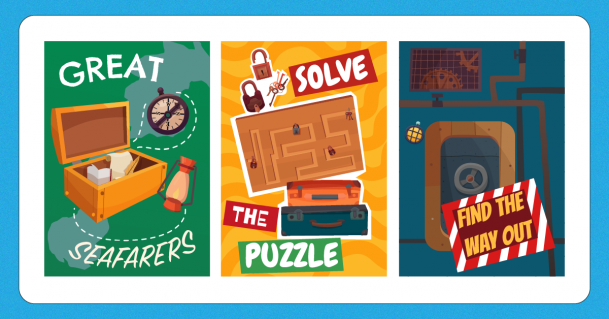 As the name suggests, virtual minute to win it games are challenges to complete in sixty seconds – like virtual snowball fights, chopsticks typing, the ol' fashioned flip the bottle, etc. Check out this list of Minute to Win it games to play on Zoom and get inspired!
3.2 Dungeons and Dragons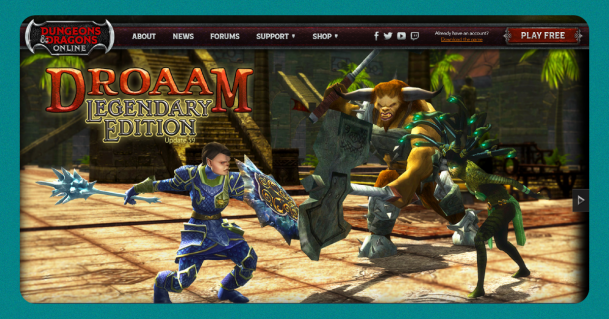 If you love role-playing games, then Dungeons and Dragons are favored by many. There are many online versions available like this DnD website. They have great simulations that will bring alive all your roles in the game - a perfect way to wind down a Friday evening.
3.3 Never Have I Ever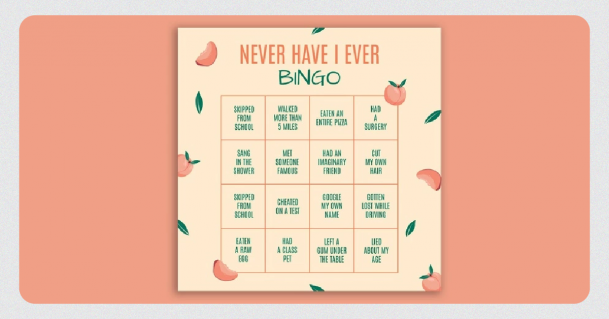 Virtual Never Have I Ever can easily be your very own Zoom Happy Hour. It's a classic drinking game wherein a player says "Never have I ever" and something they have not done before. If somebody else has done it, they take a sip. You can also play a non-drinking version of the game where you just put your hands up if you have done it or play with juice or mocktails.
3.4 Psych!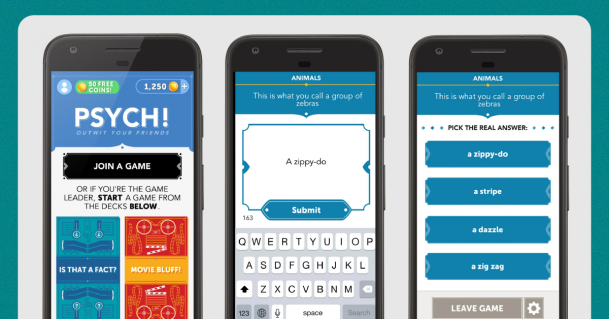 Psych! is a hilarious trivia game where you can choose from various fun categories in which each player makes up fake answers to real trivia questions. Free versions of the game are available on PlayStore and AppStore.
3.5 Two Truths and a Lie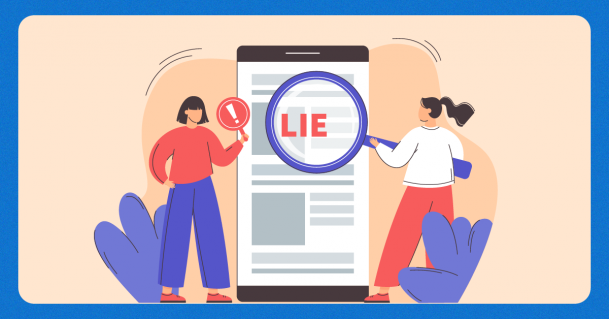 We love this free online games for Zoom as a team building exercise as well as an icebreaker. A player states 3 facts about themselves – 2 true statements and 1 lie. The others have to guess the lie correctly. The team gets the point if they guess correctly, and the player gets the point if they didn't guess correctly. The one with the most points at the end of the game wins.
4. 5 Minute Virtual Games to Play on Zoom
4.1. 20 Questions
In this classic virtual team games to play on zoom one participant secretly thinks of an object, person, or place while the others take turns asking yes-or-no questions to narrow down the possibilities. The guessing team has a maximum of 20 questions to guess what the secret item is, and they can also make a guess at any point. If they correctly guess within 20 questions or less, they win; otherwise, the player with the secret item reveals what it is, leading to engaging in deduction and teamwork. This is one of the best virtual games to play on zoom with coworkers.
4.2.Song Lyrics Challenge
This musical guessing game involves one participant sharing a few lines of lyrics from a song that are not the most recognizable part. The others must guess the song title and artist within a set time limit, typically 30 seconds to a minute. Correct guesses earn points, and you can keep track of scores for added competition.
4.3. 20-Second Show and Tell
In this virtual games for zoom meetings, each participant has 20 seconds to find and briefly showcase something interesting in their immediate surroundings. It could be anything, from a book or unique decoration to a pet or a quirky kitchen item. While presenting the item, participants can share a brief story or explanation about it. This game not only reveals fascinating aspects of participants' lives but also encourages creativity and quick thinking.
5. Zoom Game Ideas for Meetings
5.1.Name that Tune
In this list of music-themed group games for Zoom, this is right on top. Participants take turns guessing the title and artist of songs based on short audio clips played during the Zoom meeting. The host can use a music streaming platform like Spotify or share their screen to play the clips. Participants can use the Zoom chat or take turns unmuting themselves to make their guesses. 
5.2.Emoji Quiz
The Emoji Quiz is one of the most fun and visually engaging virtual games to play on Zoom. In this game, the host shares a sequence of emojis that represent a famous movie, book, phrase, or even a celebrity's name. Participants must decode the emojis to guess what they collectively symbolize. 
5.3.Zoom Karaoke
If you are looking for virtual games for Zoom meetings. Zoom Karaoke is a lively and interactive game where participants take turns showcasing their singing talents. They can sing short parts of songs, a cappella, or with instrumental backing tracks they provide themselves. If you are looking for best virtual games to play on Zoom, this is one of the best.
4. FAQs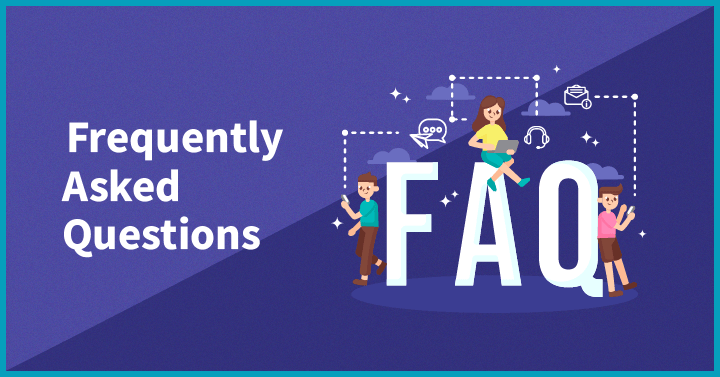 4.1 What games can I play using Zoom?
Depending on the time limit you have and the size of your group, you can choose the best games to play over Zoom. Quick games like Minute to Win it, 2 truths and a lie are great as a break in between long meetings, while games like murder mysteries and scavenger hunts work great for Friday evening fun.
4.2 How do you make a Zoom meeting fun?
The key is not to keep it monotonous. Have an interactive session and get every participant involved. You can also include icebreakers, team-building activities, and games to keep it lively.  Find something everyone in your group will like and incorporate that activity as part of your meeting.
4.3 How do I choose the right Zoom activity for team-building exercises?
 If you are used to a certain kind of team-building activity during in-person meetings, you might as well play the same virtually. Most of the games have gone virtual, and they can be adapted to be played over Zoom. Check out this list of virtual team-building activities for inspiration.
4.4 How to play Pictionary on Zoom?
To play Pictionary on Zoom all you need to do is hop onto the platform and then use the whiteboard to draw your word. The word/object can be decided with the help of a random word generator.