One of the important things that interviewers would like to know about you are your future plans in the professional space. This gives them an idea about whether or not you are a good fit for the role. It is presented in the form of the common question "what are your career goals?".
It is better to respond to this question with a well-prepared answer and to do that you must have a clear idea of your goals and stepping stones thoroughly. Here are some tips and examples to answer the question "what are your career goals?" like a pro!
Read more on 5 Ways to Answer "Tell Me About Yourself" in Your Interview here.
1. Why Do Interviewers Ask " What Are Your Career Goals?"
Hiring managers would want to know your career path and what goals you've set for yourself to head in this direction. They would like to analyze your ambitions, work ethics, and expectations for the position you are applying for to see if it aligns with the job and the company's goals.
The interviewer can also gain insights into how the company can help you achieve your career goals. Your response to this question would show that you are dedicated and have a positive attitude towards the job, and that they can invest in you.
2. How To Answer The Question "What Are Your Career Goals"?
2.1 Prepare Short-Term And Long-Term Career Goals
If you are wondering how to answer what are your career goals when you don't know, this is the first step. Talk about your short-term goals with relevance to your career path and the position that you are currently applying for. Explain how they would help you in developing your skills and grow in your field. You can mention how they eventually help you achieve your long-term goals.
2.2 Select A SMART Career Goal For Discussion
When it comes to discussing "what are your career goals?", prepare your goals using the SMART framework. SMART stands for Specific, Measurable, Action-oriented, Relevant, and Timeline-specific. Ensure your career goals have a specific result, the progress of the goals can be measured, each goal is attainable with your time, efforts, and resources, the goals are realistic and relevant to your path, and they can be accomplished within a fixed time frame.
Read our article on 10 Ways to Answer "Why Are You the Best Person for This Job? here.
2.3 Research About The Company And The Role
Study about the company and the job role you are interviewing for, well in advance. This would help you prepare your answers with relevance to the position, and structure your career goals in alignment with the role and the company's vision. For example, if the company is striving to become one of the top data analytics companies, then you can mention that you are interested in taking up an online course in advanced analytics.
2.4 Ensure To Quantify Your Career Goals
While explaining your goals, ensure that you make it measurable and specific so that it wouldn't seem vague and shows that you have planned it well. Explain how these would help you specifically in the job role. Keep track of the number of goals you've set, and make a roadmap of the goals in order of priority and with relevance to the job role.
2.5 Explain Your Plan For Achieving The Goal
Now that you've mentioned your goals, discuss what are your plans and methods to achieve them. For example, you want to take a course on web designing or learn about particular tools and software that would help in your job role through a mentor, etc. This is necessary when answering the question "What are your career goals?".
2.6 Emphasize On How Your Goal Can Help The Organization
Once you've discussed your career goals, specifically mention how they would help your coworkers, team, and the organization. For example, if you are learning a project management tool, or taking a course on business strategy, explain how it would help the company as a whole.
Read more on How to Answer "Why Do You Want to Work Remotely" here.
3. What Are Your Career Goals? Sample Answers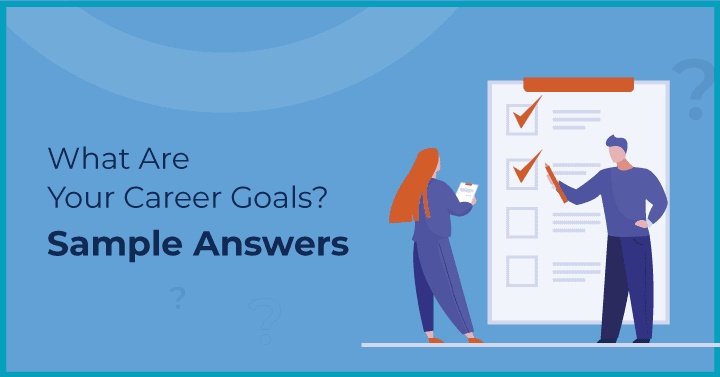 3.1 Sample Answer For Freshers
Another question that is often asked is "What are your career goals for freshers"?. Freshers need to understand their career roadmap and research what skills they want to hone, what career path to take, what are they interested in, etc. With so many opportunities out there, they need to set career goals to develop their professional experience.
Sample Answer:
"I just completed my Master's in Sales and Marketing. Currently, I am looking for a job role that will complement my experience and allow me to expand my potential with learning possibilities during the next few months. In the long run, I hope to become an expert in marketing techniques and earn an executive management position in the next 5 years."
3.2 Sample Answer For Mid-Senior Level Employees
These employees already have some work experience and are looking to start their leadership roles soon. They have gained good knowledge in their field, and are in charge of big projects. Their career goals must be aligned with enhancing their skills further and becoming an expert in their field. This is necessary when answering the question "What are your career goals?".
Sample Answer:
"I spent the last two years getting to know Digital Marketing inside out. By the end of this year, I want to improve my knowledge of SEO tactics and social media marketing. In terms of my long-term goals, I hope to establish myself as a content marketer in the next three years. Once I become an expert in my field, I look forward to working towards become a Digital Marketing Manager."
3.3 Sample Answer For Managers
Managers intend to learn to get better at managing, mentoring, and guiding. Their long-term plans typically include growth and stability at a C-level or senior management position.
Sample Answer:
"I achieved a managerial position six months ago. Now, I want to focus on developing my leadership qualities to guide teams through difficult tasks. I believe this position would be the ideal opportunity for me. In the long-term, I see myself as the VP-Growth & Strategy of the company. My goal is to take on this senior management position in the next five years and oversee the domestic and international business for your organization ."
Read our article on Best Possible Answers and Tips to the Interview Question "Describe Your Work Ethics" here.
4. Tips To Remember When Answering "What Are Your Career Goals?"
4.1 Provide A Specific And Focused Answer
Keep your answer short and to the point to ensure the interviewer gets a clear picture. Be clear about your goals and interests and make sure that the goals are aligned to the job role and the company's mission and objectives.
4.2 Be Honest
Interviewers would value you as a good candidate if you are honest about your likes, dislikes, goals, and interests. Be honest about your career goals and do not hesitate to ask any doubts about the job position and opportunities to achieve your goals.
4.3 Practice The Answer Ahead Of The Interview
It is always good to stay prepared well in advance as you do not want to seem unaware of your goals out of nervousness in the interview or forget to mention something important. Make a note of the things you'd want to say and utter them confidently in the interview.
Read more on How to Write Your Remote Job Resume With Templates here.
4.4 Focus On The Interviewer
Listen to all the questions by the interviewer carefully and try not to interrupt them when speaking. Keep your body language and verbal language professional and be confident and honest about what you know and what you don't. This is necessary when answering the question "What are your career goals?".
4.5 Avoid Asking About The Salary
Although salary is an important point to discuss, first check for the work opportunities, responsibilities, and tasks that are being offered with the role. If it aligns with your career goals, discuss the salary in the final step. Do not make it the first thing that you discuss with the interviewer, it may give them the vibe that you aren't too excited about the job role as a priority.
4.6 Don't Speak About Unrealistic Goals
Write down your goals that you'd want to discuss in the interview beforehand, and check if all of them are with respect to the SMART framework. Do not set unrealistic goals for yourself, set goals that can be achieved in a fixed time frame. This is necessary when answering the question "What are your career goals?".
Read more on How and Why to Write a Cover Letter With Templates here.
4.7 Avoid Divulging Into Too Many Details
Present clear career goals but don't get into too much of the specifics. Mention it in a brief, to-the-point manner. Ask as many questions as possible to clear any doubts regarding the role and possibilities to achieve your goals.
5. "What Are Your Career Goals?" Examples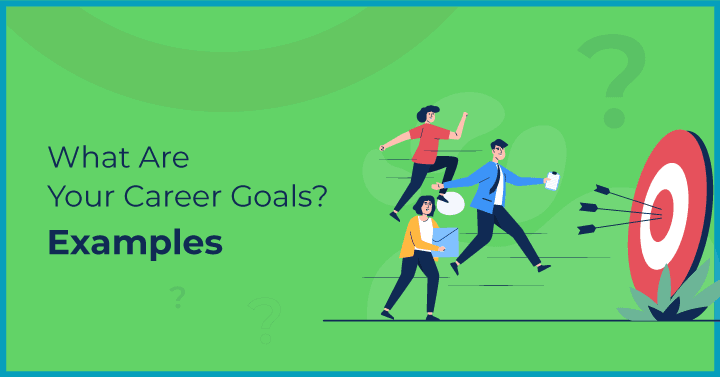 5.1 Marketing Manager
Gaining work experience in a global company and taking responsibility for a leading brand.
Generating a high volume of qualified leads.
Building brand awareness via campaigns to gain more leads.
Thought Leadership to manage teams and projects.
5.2 Content Writer
Writing concise and crisp marketing copy to promote our range of products and services.
Researching domain and industry-related topics.
Learn and prepare well-formatted drafts through various content management systems.
Social media content promotion and creative writing skills to create and promote quality copies and articles.
5.3 Technical Support Associate
Expert in diagnosing software problems for the company.
Develop skills to evaluate software and oversee computer system performance.
Gain experience in installing new software and troubleshooting performance issues.
Critical thinking and decision-making abilities to lead and manage teams.
5.4 Business Analyst
Well-equipped with data visualization tools, programming languages (R, Python), and core analytical concepts.
Good communication skills
Updating oneself with the trends and getting strong with the basics through continuous learning.
5.5 Graphic Designer
Hands-on experience in graphic designing tools and web designing.
Good creative, organization, and communication skills.
Build a good portfolio with a variety of projects.
Have a well-connected professional network.
5.6 Software Developer
Specialize in a specific programming language
Lead a software development project
Build a network
Pitch a project idea
Hone communication, teamwork, and leadership skills
Read our article on 20 Top Remote Job Interview Questions and Answers You Should Know here.
6. FAQs
6.1 What are some career goals examples?
If you are looking for what are your career goals examples, here are some listed below:
Leading and managing a team
Earning a professional degree
Learning a tool or software
Public speaking
Networking
Building a website