Before you apply for a job, you hopefully already have some pretty clear ideas about what about it has piqued your interest. Perhaps it is the opportunity to advance your career. Perhaps the company has an excellent reputation. Perhaps you just thought the job spec sounded really cool.
Before you go and blurt out any of these answers, however, consider what the interviewer really wants to know when they ask, "Why are you interested in this position?", and how you can frame your genuine reasons for interest so that they line up with a potential employer's expectations.
To read more articles on our interview preparing series, you can check them out below :-
Read our interview article on describing your work ethics here
Read our interview article on how to talk about yourself here
Read our interview article on how to follow up through an email here
Read our interview article on what makes you unique here
Read our interview article on why you are the best person for the job here
Read our interview article on what you can contribute to the company here
Read our interview article on crafting a winning resume using the STAR framework here
1. Why Do Interviewers Ask "Why Are You Interested in This Position?"
First and foremost, a hiring manager wants to make sure you actually understand what the job entails beyond broad strokes. Have you taken the time to do your research, carefully considered what will be required of you and ensured you have the qualifications to succeed?
Beyond this initial consideration, a business always wants to know what any applicant can actually bring to the table. A good response will showcase how a candidate can strengthen a company, while simultaneously fitting in with its existing values and company culture.
A further, secondary motivation behind the "Why are you interested in this position?" interview question is to see whether you are genuinely enthusiastic about taking on the role and joining the company, or if you are just applying for every job you see.
2. How to Answer "Why Are You Interested in This Position?"
Beyond just pondering over why are you interested in this position and working for this company, there are plenty of other preparations you can do to put yourself in good stead to impress an interviewer.
2.1 Understand the job profile
If you have a decent amount of experience under your belt, you probably have a lot of skills and previous jobs to reference. Detailing them all, however, is a terrible strategy for impressing a potential employer. Instead, you need to pick out a few things to highlight for each interview question you may be asked. In the case of explaining why you are interested in a role, the job description will be the first and most important place to look. What specific qualifications does it highlight and what parts of your CV could you reframe as an answer, e.g., "I'm interested in this job because of the opportunity it offers to diversify my project management experience, so that I can raise my existing capabilities, which I've developed over the past 5 years, to a new level."
2.2 Research about the organization and its values
The next place to turn after the job profile is the wider company. What are its values, and do any of those values align with things that you feel passionate about? There are several ways to go about discovering more information.
2.2.1 Check the company's website
The first port of call should obviously be the company's website, where you will often find a mission statement and blog posts detailing recent initiatives, as well as links to any social media platforms, where you can see what kind of messaging they have been keen to highlight.
2.2.2 Outside media coverage
A quick Google search is a good starting place to see what reportage on the company has been done over the past few months, both in terms of media coverage and press releases published by the business online.
2.2.3 Reach out to your networks
You may know someone who already works or has worked at the business where you are applying. Alternatively, you may have a cordial relationship with a person in the relevant industry that might be able to refer you to someone with inside knowledge. LinkedIn and other professional networks can be invaluable in this part of your research
2.3 Structure your answer
Once you've done your research, you can identify a few specific things that most interest you about the job, explaining how they align with your future ambitions and long-term career plans. Again, don't just think about what a company can do for you when you test out some hypothetical answers, but also what you can do for the company.
2.4. End your answer with a question
This is an optional addendum to your answer that can make the interview process a bit more conversational and keep the dialogue flowing seamlessly. For instance, you could ask about some of the greatest challenges of the role or what the day-to-day workload looks like – anything that you might be able to bring back to why you are a good fit for the role.
3. "Why Are You Interested in This Position" Sample Answers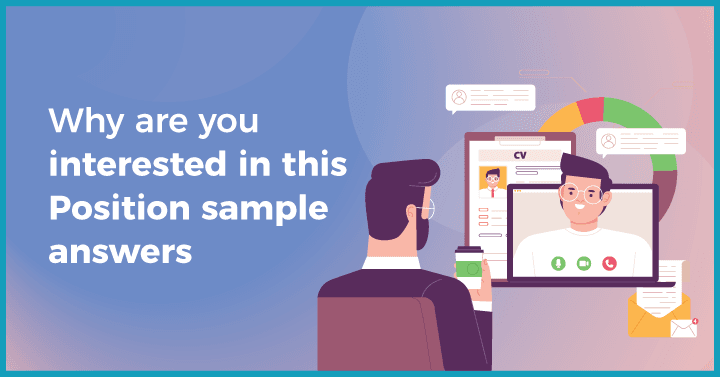 Here are a few "Why are you interested in this position?" sample answers to get you started on how to structure your responses.
Example.1: Content writer
"I am interested in this content writer position because it will continue to allow me to write on the food and beverage industry, a topic about which I'm extremely passionate and have almost two decades of previous experience writing on, both from the retail and hospitality sides. Can you tell me a little bit more about the general length and frequency of pieces that are expected for this role?"
This answer casually highlights how the candidate already knows the content writing topic well, while using emotive language to demonstrate genuine interest. It also includes a question at the end to progress the conversation, which will ideally lead to an opportunity to talk about the applicant's prior experience writing pieces of certain word counts over specific timeframes.
Example.2: Product manager
"One of my primary goals at the moment is to move from designing products into a product manager role. While I have a strong foundation in the design process thanks to my degree, the last few years have exposed me more to the business side of product management. I believe now is the time to take on more of a senior role and bring this acquired knowledge into a company that has strong growth goals, as detailed in your last quarterly report to the market."
This answer shows the candidate has taken the time to do some research on the company and has carefully aligned the business' goals with their own desire to advance their career, implying side-by-side growth. It also demonstrates a proactive, confident (but not cocky) attitude towards career advancement.
Example.3: Software developer
"Part of the reason I became a software developer is to be on the forefront of new technologies, and I can't imagine a better place to do that than at your company, which is well known and respected in the fintech sector. I was particularly interested to read about your recent announcement that you're planning to launch several new suites of products in the next few years and would really like to bring my past experience working on such fintech software as XYZ Finance and ABC Mobile Payment to bear on the latest innovations in the market."
As with the previous example, this answer highlights that the applicant has done their research on the company and used that information to make an informed decision about their candidacy. The answer also picks out a few pieces of past experience that are particularly relevant to the job.
Example.4: Graphic designer
"One of the things that interested me most about the job description was the way it detailed the opportunity to work more directly with clients, rather than through sales representatives. Interpersonal skills are such an underrated part of a graphic designer's role, and I think having that continuous communication channel with a customer often makes it easier to adjust expectations as well as my own designs in a productive and constructive way."
Referring directly to a specific aspect of the job description and how it fits with your own personal skills and preferences is a great way to emphasize to a hiring manager how your approach and the company's approach overlaps.
Example.5: Digital marketing manager
"What most attracted me to this role is the chance to use my digital marketing background in a company whose values I truly admire. I think what XYZ Business has done so far to highlight the homelessness crisis is really admirable, and I believe if I was offered the role that I could continue to bring greater awareness around the company's initiatives to the millennial and gen Z population segments you mentioned as specific targets in the job description, particularly as I've had success in reaching these age groups during previous campaigns, such as the ABC initiative I implemented last year."
Naturally, if you can find a company that shares your values around social or environmental issues, there's an easy affinity to be expressed. At the same time, you won't be the only person bringing this up as a reason for applying, so ensure you highlight the value you're bringing via past triumphs.
4. FAQs
Why are you interested in this position sample answers?
The sample answers above might be specific for particular roles, but they also show, in a straightforward way, how digesting the job specifications and researching the company make it much easier to structure a response that shows how your skills and ambitions align with a company's skills and ambitions in a constructive manner.