With the pandemic never seeming to end, work from home is no longer as glamorous as it was initially, and we all are starting to miss working together in the office. But thanks to technology and the delivery services, we can still get to be together while being away. It is during these times of virtual togetherness, do we appreciate human contact even more, especially if the reminders come in the form of work from home gifts.
When this happy team performs well in the office, the good old time-tested method of appreciating them is either through gifts or taking them out on a lunch or weekend outing.
But brightening these gems while they work in pajamas at home is a different ball game altogether.
Here is where thoughtfulness and creativity come to the rescue. Showing our appreciation to our remote employees with mindful gifts and appreciations instantly boosts their morale and makes them feel valued.
Here are some kickass gift ideas with which you can surprise your remote employees.
If you're looking to gift someone at the workplace for an occasion, don't miss our all-inclusive, fun article that covers different types of gift ideas for coworkers here.
1. Awesome work from home gifts for remote workers?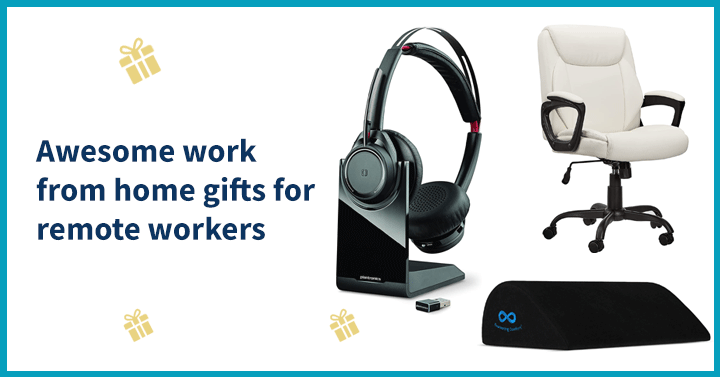 If your employees get back to you with the most enormous thank you that they have to offer, well, we can be held slightly responsible.
1.1 Wooden standing desk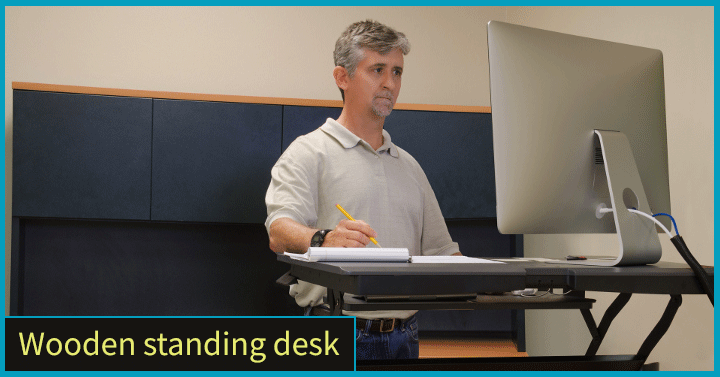 Get your remote employees literally off the couch, or their chair, by gifting them a standing desk. Not only does it help burn more calories than you would while sitting, a height-adjustable standing desk helps improve your back posture, improve your energy and productivity. We recommend you to use the standing desk for at least 50% of your work time.
Starting price: $38
Our recommendation: We like both a simple standing desk and a sophisticated one.
1.2 Ergonomic desk chair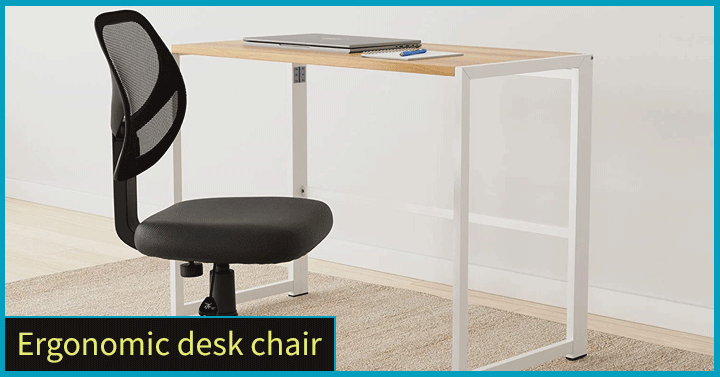 There are innumerable videos and articles that show you how to sit to maintain a healthy position while working. One thing they all have in common is that they recommend an ergonomic desk chair. Also famous for improving your posture by fixing your slouch, it supports your spine, neck, head, hip, and pelvis. Some of us chose this as a work from a home gift, and our productivity & focus has increased considerably.
Starting price: $13.80
Our recommendation: Those who do not want an armrest can go for a basic model, while the others can go for a more comfortable option.
1.3 Noise-canceling headsets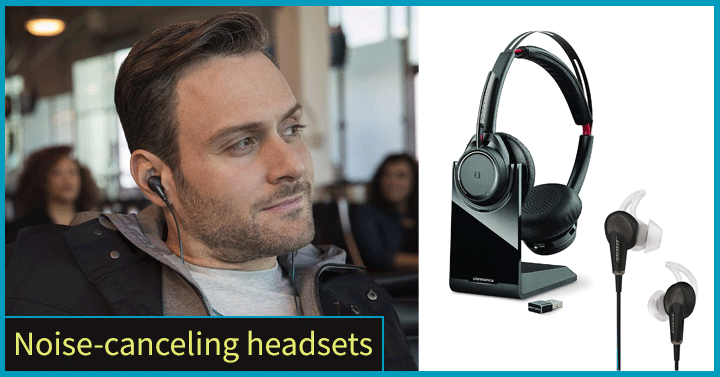 Is the blender from the kitchen or the high-powered game from the surround speakers in the living room not allowing you to concentrate on your presentation?
Noise-canceling and noise isolating headphones help drown out the background noise and make you more audible over the babble. Even if you are not on a call and just want to work in a quieter environment, these headphones help reduce the noise a little bit, helping you concentrate more.
Starting Price: $34.99
Our recommendation: We like the over-the-ear headphones as well as the in-ear models
1.4 Bonsai plants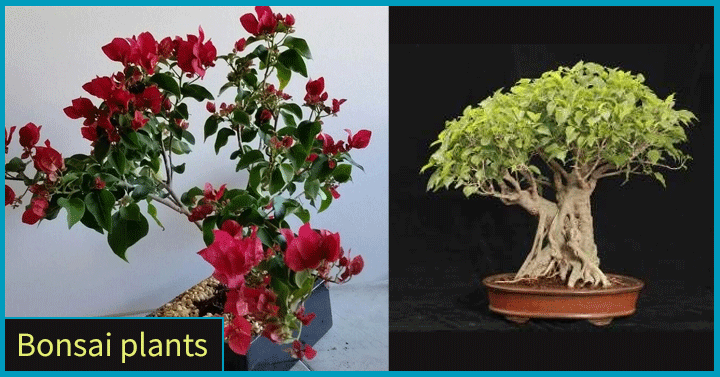 Plants instantly brighten up the atmosphere – be it inside or outside. Bonsai plants are great indoors or shaded outdoors, help purify the air and maintain the humidity. It also helps your remote employees develop a hobby, get closer to nature, and cultivate a massive amount of patience (Bonsai plants need a lot of care and grow slower than regular house plants). This, in our opinion, is one of the greatest work-from-home gifts you can give.
Starting price: $8.99
Our recommendation: Gift some wisdom with the Bodhi tree, a vibrant bougainvillea, or the complete bonsai starter & growing kit (which we are hooked to).
1.5 Footrest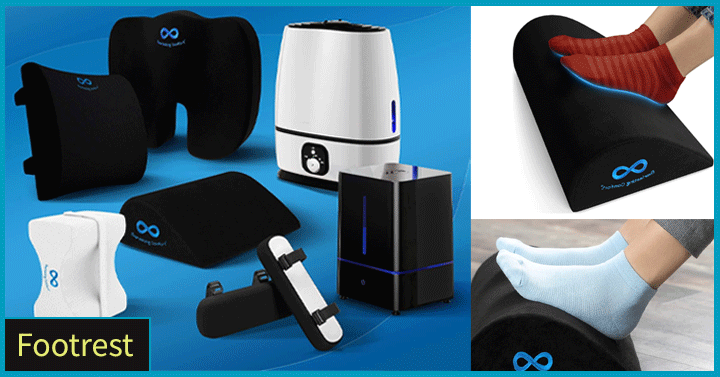 One thing that makes a standing desk and an ergonomic chair complete in a work from the home scenario is an adjustable footrest. Not only is it perfect for people of all heights, but it also helps you stay comfortable while encouraging active sitting/standing. In addition, we notice that a footrest (for chairs) or a foot bar (for standing desks) also helps support your feet and encourages active sitting/standing by guiding you to rock your feet on the spot.
Starting price: $9.99
Our recommendation: A couple of us are addicted to this memory foam footrest that we even carry it around wherever we go.
1.6 Webcam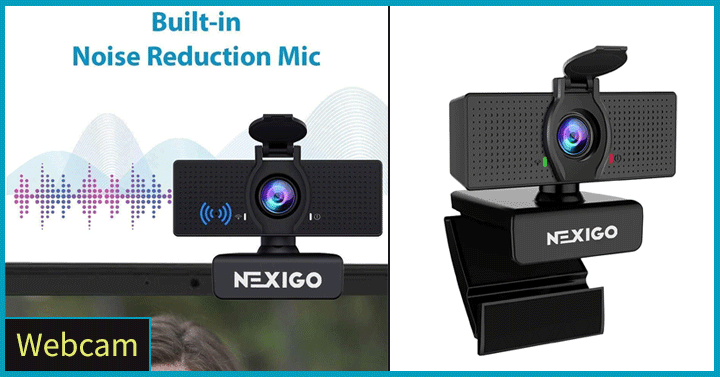 You have provided your remote employees with an office laptop, but we all can agree that it certainly is not the best for video conferencing. The built-in cameras of even the most high-end laptops do not possess great resolution (max being 720p). If your work demands considerable video conferencing or video training, then an ideal work from home gift for your employees would be a high-resolution webcam.
Starting price: $5.99
Our recommendation: We love this full HD, 1080p, noise-canceling webcam with a built-in mic.
1.7 Desk lamp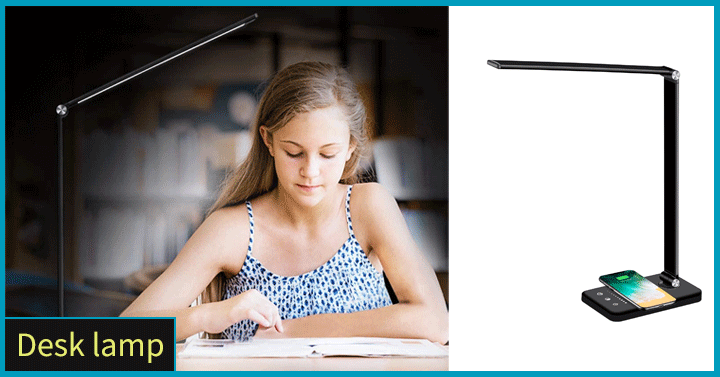 If your remote employees work night shifts, then it might not be possible for them to have a bright light on all the while, especially if they are sharing the room. Or simply if they have a power cut but need to finish that report within the next 30 minutes. Even if not faced with either of these situations, a nice battery-powered desk lamp is a welcome work from home gift for it is more versatile, smaller, and portable than an electric lamp.
Starting price: $0.89 + shipping
Our recommendation: Unanimous choice of our remote workers for a desk lamp was this foldable, 'eye caring' lamp with 5 lights and 5 levels of brightness, a wireless and USB charger ports
1.8 Temperature control smart mug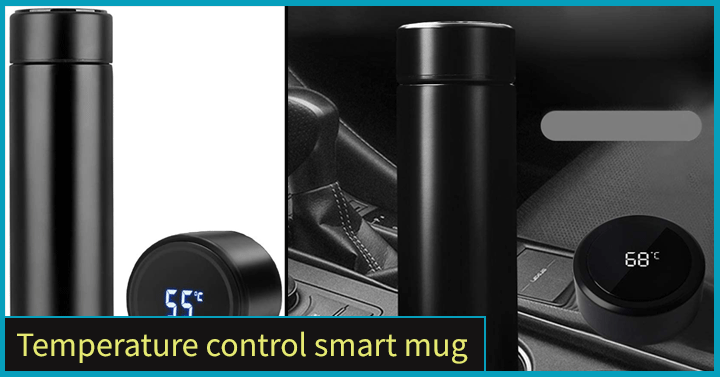 Coffee (or tea) is essential to get through the daily grind. Many of us remote workers would have made ourselves a strong cup o' joe and then got so engrossed in work that we let it go cold. A coffee mug warmer is a pocket-friendly option. Though aimed at commuters, a temperature control smart mug ensures every sip that you take remains the same temperature as the first one.
Starting price: Mug warmers start at $6.59, and smart mugs at $29.99
Our recommendation: This portable coffee mug with an LED display of the drink temperature. We tested it, and it kept cold drinks chilled for up to 24 hours and hot beverages for up to 12 hours.
1.9 Personalized desk calendar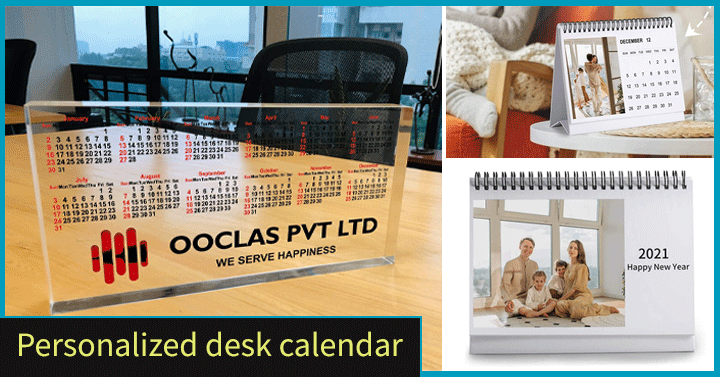 If your company follows a fiscal calendar different from the Gregorian calendar, and many can't keep track of it, a personalized desk calendar would be an ultimate work from the home gift. Add your company's branding or keep it more informal with a name and theme that depicts your team, add photos, earmarked events, and occasions, even start the calendar on the month your fiscal begins and ship it out. We believe it would be a gift worthy of any desk.
Starting price: $19.99
Our recommendation: This elegant acrylic desk calendar that literally everyone in our office loved. You can also go for this traditional custom desk calendar.
1.10 Under-desk elliptical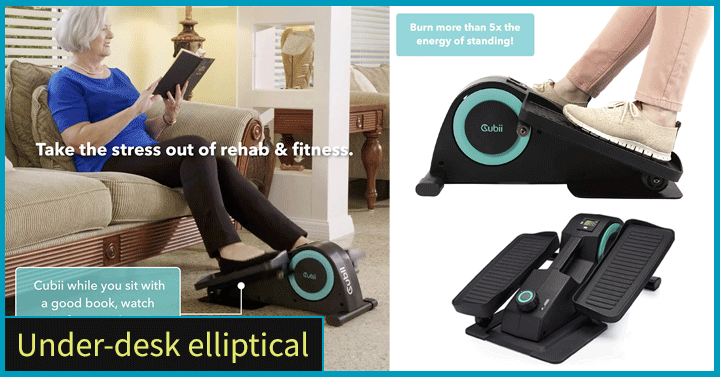 Amongst the various home workout options, an under-desk elliptical has gained enormous popularity for its cost and size. A full-sized elliptical is bulky and not a one-size-fits-all solution, but these ellipticals are durable, and easy on the joints. When sent as a work-from-home gift, you can have daily or alternate days of virtual workout sessions together.
Starting price: $45
Our recommendation: This under-desk elliptical has 8 levels of resistance. 5 of us from work who aren't fitness enthusiasts actually hold competitions on a weekly basis to see who exceeded.
1.11 Vacuum water bottle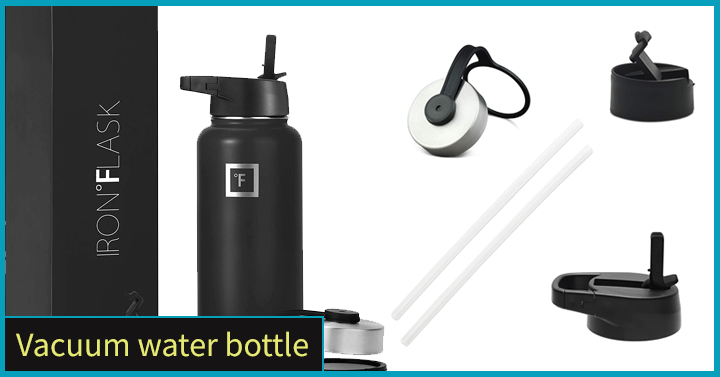 Do you have team members who prefer to drink their water hot? Or their coffee cold? Gift them with a vacuum water bottle that can keep their drinks hot or cold for hours. You can also personalize it with your organization's branding and help your remote workers stay hydrated
Starting price: $2.65
Our recommendation: There is no dearth of good models, but we are partial to this regal-looking 32oz. stainless steel thermo mug
1.12 Snacks subscription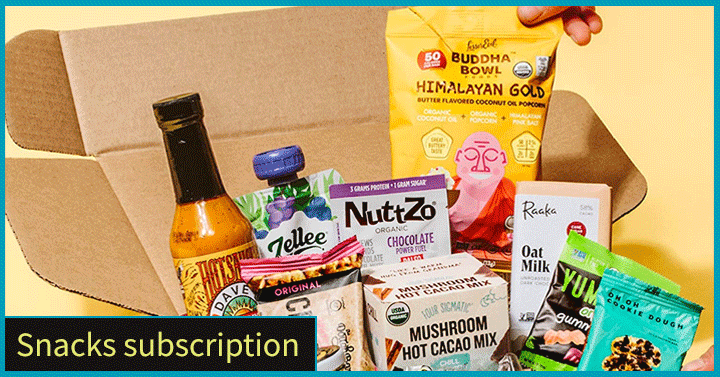 The best of us give in to cravings and indulge in snacks when left at home. You can aid your remote employees by gifting them a care-snack package or even sign them up for a healthy snacks plan that they can indulge in guilt free. indulge. Healthy snacks sent as part of a gift basket before festivals can be an excellent work-from-home gift option.
Starting price: $10.47
Our recommendation: Go animal-friendly with this vegan snacks subscription, or power the health-conscious with this keto snacks box. Heck, throw all caution to the winds and even gift your employees with this international snacks subscription.
1.13 Laptop cleaner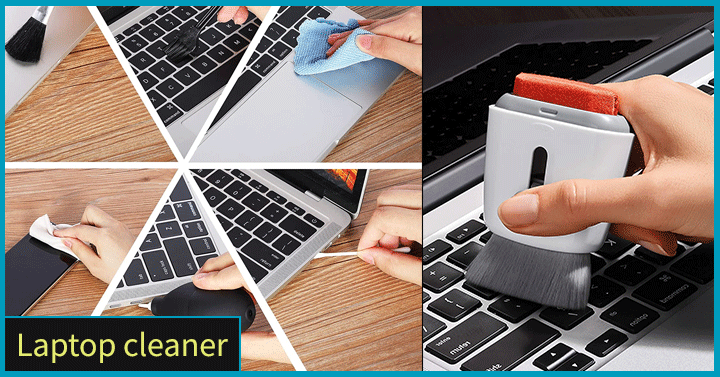 Our personal favorite – especially with those who are messy eaters. The broom part helps sweep away crumbs, and the other part has a microfiber pad that removes fingerprints and smudges off of the screen or keyboard. Some even come with a cleaning solution!.
Starting price: $0.19 + shipping
Our recommendation: This handy double-sided laptop cleaner, and this full-fledged laptop cleaner kit (for those deep cleaning days).
1.14 Weighted blanket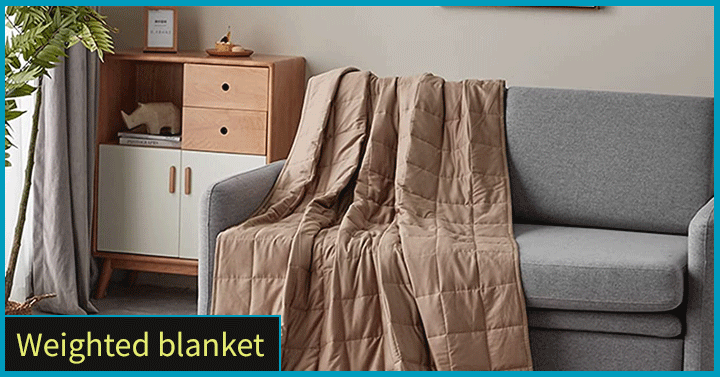 They are called comforters for a reason. Weighted blankets offer pressure that relaxes your whole body. We found that we sleep better and stay asleep longer when going to bed under one of these. Ease your employees' stress and anxiety with a plush weighted blanket, and they will appreciate your thoughtfulness before hitting the bed!
Starting price: $9.99
Our recommendation: This insanely comfy organic, 7 layered weighted blanket
1.15 Massage pillow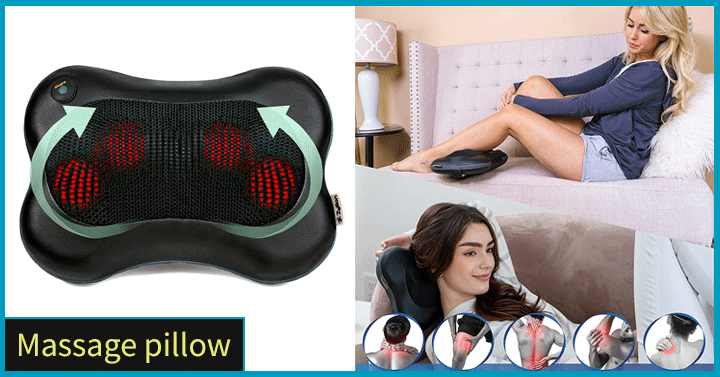 Been stressed out with all the targets and work? Yearning for a good ol massage but can't take the time out or risk going to a massage center? Neck massage pillows offer a similar effect in the comfort of your home.
We got one with a "deep kneading" technique and heat, fell asleep within the first two minutes, and woke up to a much-relaxed neck, shoulder, and spine.
Starting price: $9.98
Our recommendation: Hands down, this massage pillow with the famed deep kneading technique
1.16 Fitbit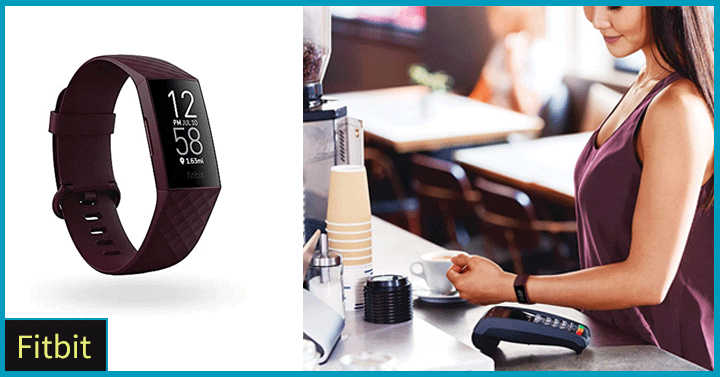 To those fitness enthusiasts in your team, or even those looking to start their fitness journey, a Fitbit would be one of the best (and practical) work from the home gifts. This, in fact, will go well with the under-desk elliptical or even the snacks subscription (as a reminder to start moving)
Starting price: $33.95
Our recommendation: This long-lasting Fitbit has built-in GPS and tracks heart rate, sleep & swim cycles, and skin temperature.
1.17 Book planner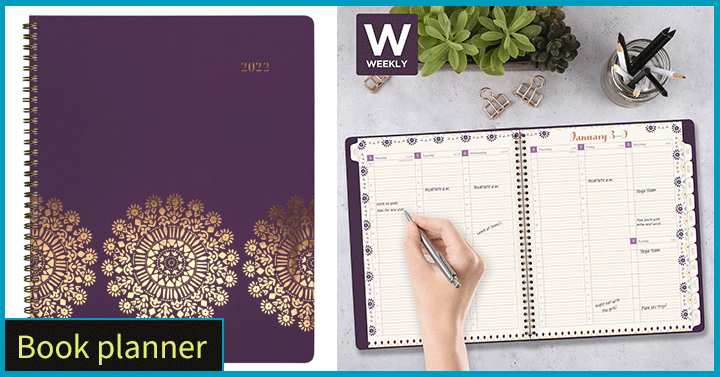 We are among those old-timers who are still not okay with digital calendars and prefer writing them down on a physical paper. We find that this helps us better with our productivity. Gift your remote employees with a snazzy book planner if you think they'd be better at getting organized while writing them down.
Starting price: $4.99
Our recommendation: This regal-looking sundance design book planner. The best part we like is that it lays flat, making it easier to write on both sides
1.18 Bookcase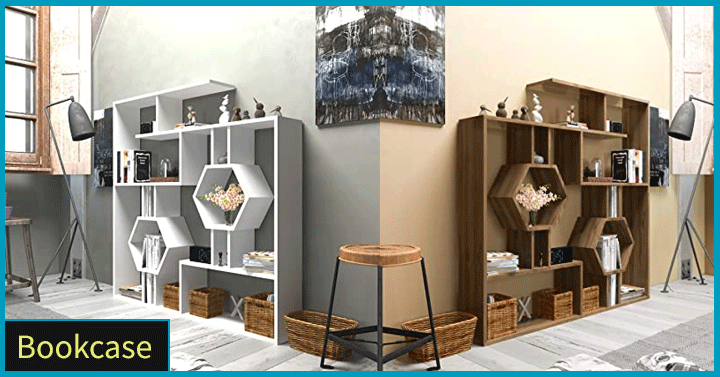 No amount of e-book readers will satisfy a bookworm. If your team has such voracious readers who have more books than clothes, gifting a bookcase would be the ultimate work from the home gift. Trust us when we say they will soon run out of space for books. Get them a full-length wall bookcase, or a crafty one that they can keep in the living room to show off some of their prized possessions.
Starting price: $9.68
Our recommendation: We love this geometric design bookcase for the wall and this revolving case for the living room.
1.19 Desk organizer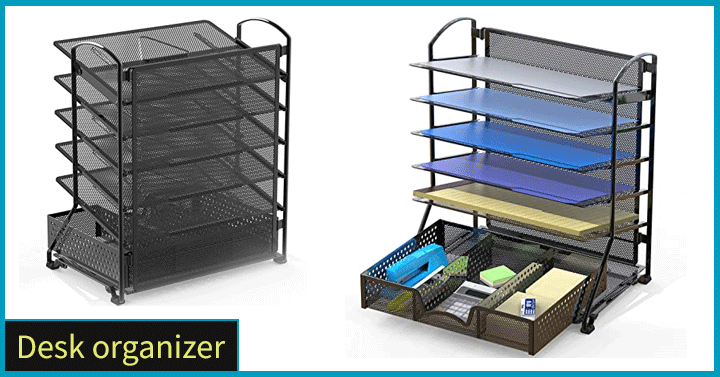 Are you among those who believe it is not mess and clutter that brings in creativity, but being neat and organized does? And does your team agree? Then they'll love this work-from-home gift. Desk organizers are a perfect gift for work from home accessories that will help move everything on the desk to one place, and no one will have to look for that lost pen anymore.
Starting price: $6.99
Our recommendation: This 6-tier organizer with a drawer for supplies have gotten us back to the old fashioned days of note-taking with pen and paper
1.20 Aromatic candles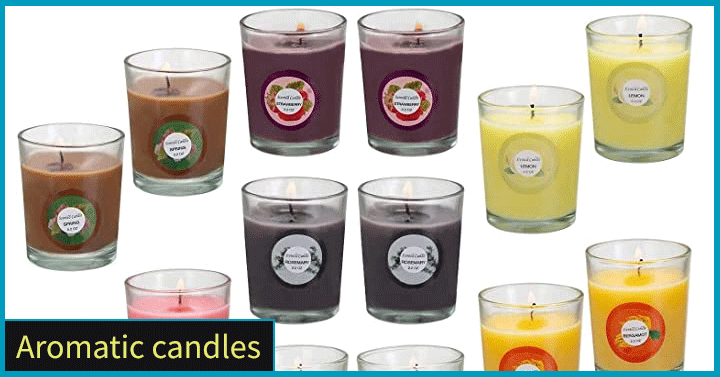 All said and done, we have reached the end of the workday, and it's time to relax. Why not call upon the old-fashioned aromatherapy to unwind? Scented candles alleviate stress and anxiety, are affordable, and also elevate your special energies. We like floral scents or even the food-scented ones (pumpkin spice, anyone?). Or go overboard and gift them a desktop diffuser set that works similar to aromatic candles with oil and electricity.
Starting price: $4.99
Our recommendation: These floral scented candles helped us relax and rejuvenate so well, that all of us went in for second and third purchases by ourselves
1.21 Self Care pamper gift box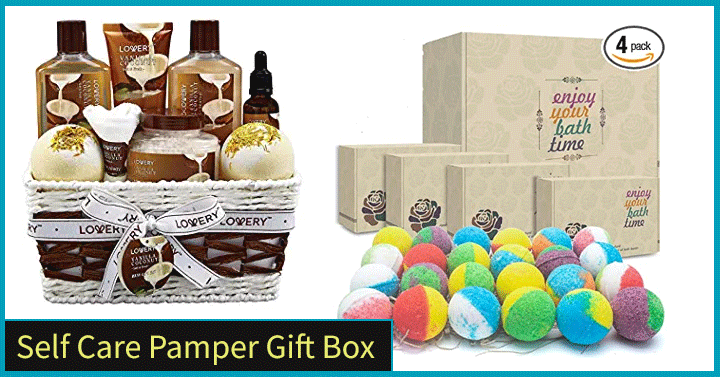 It is not without reason they say all work and no play is bad. With burnout rates 37% higher than pre-pandemic, taking care of oneself has started gaining utmost importance. We did not want to give spa discounts as we didn't want our team members to risk it. Be it bath bombs, sheet masks, or a full-fledged home spa kit, your remote employees are sure to return to work rejuvenated and refreshed after indulging in these over the weekend.
Starting price: $9.99
Our recommendation: Most of us found our inner zen with this tropical-themed home spa set. We also love these organic bath bombs and these hydrating sheet masks.
1.22 Gift cards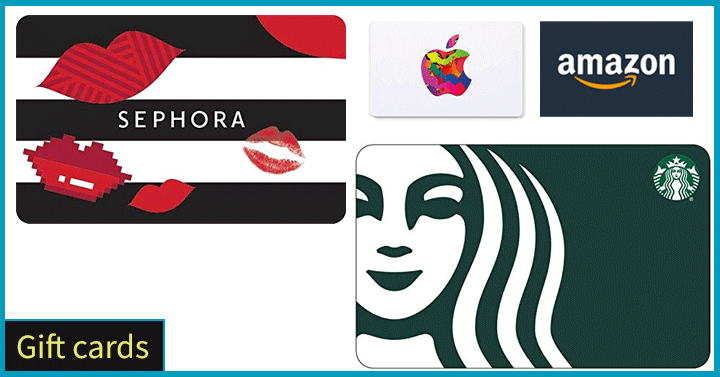 A gift that can never go wrong. Send your remote employees a gift card from a portal they love – Amazon, Uber, Kindle, DoorDash, anything. After all, the choice is never underrated.
Starting price: $25
Our recommendation: Amazon has a great collection across brands like itself, Apple, Starbucks, Sephora, etc.
2. FAQ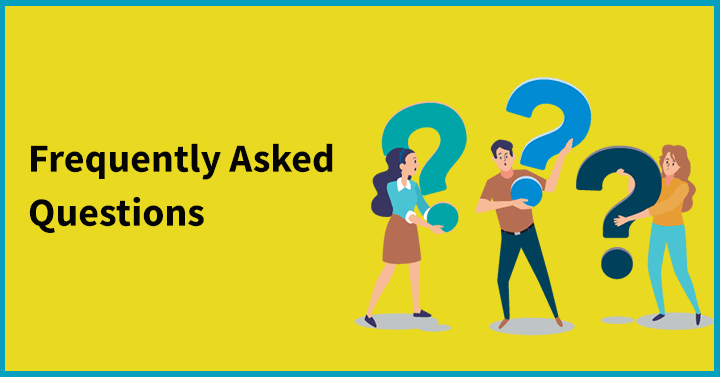 2.1 What gifts can you send virtually?
As a workplace, it is important to send gifts to your remote employees that are thoughtful, functional, and fun. Customized gifts show how well you know and care about your team. We suggest that you survey your employees and give them options to choose from for a gift, and send it to them when they are least expecting it.
2.2 What is a good gift for someone working from home?
A workstation in the office is designed for productivity, a home environment less so. Gifting an item that will enhance your remote employees' workspace at home will show them how well you appreciate their work and are ready to help them be more productive.
2.3 How can you give a gift card to an employee?
Cards for most work from home gifts are customizable with few simple steps.
Select the card
Choose a design
Add the company branding or custom photos (of your team or even the employee)
Add a personalized message
And your card is ready to be sent. You can either mail them a physical card or send a redeemable link for the card. The latter works best for remote employees and if you want to go green.
2.4 What are some ergonomic gifts for remote workers?
Ergonomic gifts are meant to make you more efficient while giving you comfort. Any item that works this way is a perfect ergonomic gift – ergonomic chairs top the list, followed by height-adjustable stand/table, back cushion, ergonomic keyboard, and wireless mouse.
2.5 What are the best gifts from Amazon for your virtual employees?
Amazon is a one-stop shop for literally all your work from home gifts. Its versatility helps you with innumerable choices to select from. With half the world still working remotely, choosing a thoughtful work from home gift for your employees would be highly appreciable. Popular options include -
Gift Cards
Ergonomic Furniture,
Snack Boxes,
Wellness Equipment And Subscription,
Personalized Stationery,
Plants,
Blankets