Ever played Solitaire? It's fun between you and… well yourself. The fun quotient will always be a tad pale in comparison to any game that includes a pair or a group. The same logic applies to engagement at the workplace. While you can interact and communicate with your employees in a fun manner, it's not the same unless you have employee interaction at the same level. That's why employee engagement is so important, so everyone feels like they are part of an extended family and invested in the success of the company. This is where the best employee engagement strategies come into play and yield great results. 
If you want to spark excitement and knowledge sharing among your team, explore our engaging articles virtual trivia games, energizing virtual team ice breakers, and interactive virtual team building activities to bring endless fun to your screen.
So how does one go about inspiring and motivating employees at the workplace? We share some of the best employee engagement strategies to help you get started.
1 What is Employee Engagement?
The degree of mental, emotional and physical commitment that an employee shows through his or her actions and behaviors towards an organization is known as employee engagement. There are a wide range of employee engagement initiatives that can be undertaken by companies to ensure that employees stay happy and positively engaged at the workplace. A well-structured employee engagement policy serves as the foundation for nurturing a vibrant and committed workforce.
2 Tips to Develop Employee Engagement Strategies
2.1 Create an employee engagement forum
It's a good idea to choose top-performing employees from across different levels of the organization and create a committee to help plan and formulate employee engagement initiatives. This works better since the staff can tap into the employee pulse and share creative inputs on what works and what won't. The efficacy of employee engagement techniques can be gauged by measuring factors like increased productivity, reduced turnover, and enhanced job satisfaction.
2.2 Set SMART goals
Setting SMART goals is one of the pivotal strategies to improve employee engagement in the long run. When it comes to setting goals, follow the smart, measurable, actionable, realistic and time-bound principle to create a successful employee engagement strategy framework. It is vital to set employee engagement goals that can be achieved and measured over a certain time frame to evaluate its success. For instance,  if the company has been seeing high attrition over the past year, it would make sense to set a reduction of that by a reasonable 20 to 25% within a year. 
2.3 Have a Plan B
While not all strategies will need a backup plan, you need to be prepared to tweak your current strategy and learn how to improve employee engagement if you don't see results. This calls for flexibility while planning and implementing employee engagement ideas across all levels in your organization. Implementing an employee engagement policy that prioritizes work-life balance and recognition can significantly boost morale and productivity.
3 15 Employee Engagement Strategies for a Better Workplace
3.1 Implement a flexible work policy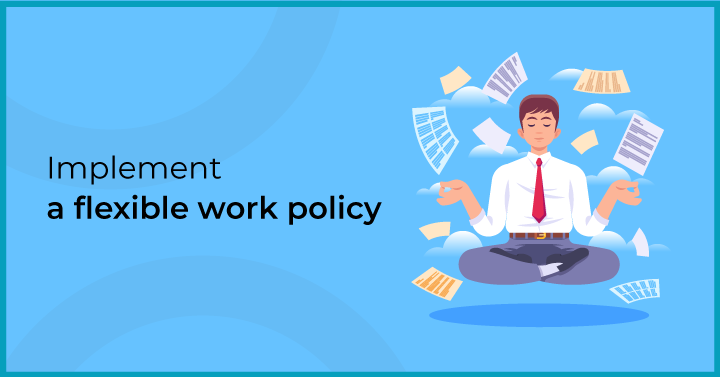 Flexible working takes into consideration that not all employees may be at their peak performance levels at 9 am in the morning and some may work better later through the day. By creating a flexible work policy, an organization can provide opportunities to help employees identify their strengths and use them for maximum output. This in turn has a domino effect on an employee's morale and productivity levels and results in more engagement to the organization.
Dell is one such company that has a great flexible working policy with plenty of options such as part time, flex time, compressed work week and remote working.
3.2 Encourage employees to take ownership of their work
When employees feel like they are being valued for their contributions and acknowledged for good work, they begin to take more ownership for the same. By creating a work culture built on trust and flexibility, where employees can be their creative best and explore different ways to get results, they are more likely to be satisfied in going over and beyond their line of duty. The core strategies of employee engagement often revolve around open communication, continuous feedback, and recognizing individual contributions.
Google has been ranked as one of the best companies with a positive work culture recently by Glassdoor's 100 Best Places to Work in 2023. By focusing on a range of the best employee engagement strategies such as diversity and inclusion, open communication and transparency, the company has managed to inspire its workforce to pursue excellence effortlessly. 
3.3 Offer professional development opportunities
Another winner on the list of best employment engagement strategies is to provide employees with opportunities to grow and develop their professional skills. A great way to begin is to have 1-on-1 sessions to understand their goals, offer feedback, create a system for rewards and recognitions.  
You can ask them to participate in industry trade conferences, training sessions, skill building workshops, take on new learning courses or sponsor course certifications to help them acquire new skills that can prepare them to take on new roles within the organization. Modern employee engagement techniques that offer professional development and growth opportunities are critical in retaining top talent. 
3.4 Celebrate employee successes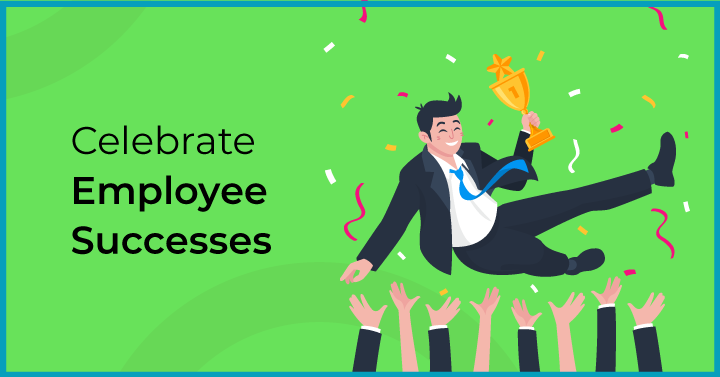 To see direct impact on an employee's engagement levels, consider regular celebrations for work accomplishments as part of the best employee engagement strategies. Won a sales deal, met a target, landed a new contract ? use these as opportunities to appreciate and acknowledge team successes and individual contributions where due credit needs to be given. Celebrating employee successes and recognizing hard work are timeless strategies for employee engagement, essential in any workplace.
At a smaller level, ensure that you share verbal praise or written appreciation consistently even if it's a simple "Thank You" or "Great Job" to keep them pepped up. Bigger wins call for financial rewards, celebratory trips, and more. These are surefire ways to ensure your employees keep performing at a high level. 
3.5 Facilitate team-building activities
The backbone of any organization is its workforce and so team-building activities can make all the difference when it comes to implementing the best employee engagement strategies. Considering that a team may comprise different types of individuals, these kinds of activities can cover the gaps when it comes to more team binding, communication and effective collaboration. 
Choose activities that cover various interests like funny games, nature treks, water sports, or simple DIY tasks such that promote team bonding. You can engage a corporate team-building company or professional who can help facilitate the entire process as well. On the other hand, you can source creative employee engagement ideas from the staff itself so they feel more involved in the process too.
3.6 Invest in technology that makes employees more productive
Technology is designed to simplify tasks and boost efficiency, so leveraging the power of the latest work software and tools in your workspace will help employees work more productively. Investing in technology that elevates employee productivity is among the top strategies for employee engagement in today's digital age. Ensure that you have a unified group messaging system with advanced features such as note-taking technology and other tools so employees can communicate and collaborate more easily. 
Consider secure file-sharing systems and project management apps that can help in the secure and seamless transfer or exchange of data and information at the workplace so employees do not have to experience bottlenecks. 
3.7 Implement regular communication and feedback mechanisms
Among the notable engagement tactics at the workplace, fostering regular communication and feedback mechanisms stands out, driving clarity and motivation. There are plenty of stats that point to the simple fact that motivated employees are the most productive. The best employee engagement strategies revolve around this principle since it contributes towards creating a strong work culture. By incorporating consistent feedback through regular communication, employees can self-evaluate their performance and work on their pros and cons.
Managers and seniors should make it a practice to actively engage employees in 1-on-1 feedback sessions, open group discussions, and frequent performance evaluations besides an annual appraisal so employees are well informed and updated. 
3.8 Offer competitive pay and benefits
Offering competitive pay and benefits remains one of the most effective engagement tactics at the workplace. Whether it is to incentivize new joiners or retain top performers, the best employee engagement strategies will consider benefits that are of value in the local country of operations. For instance, 401k dental and insurance in the U.S. is a given as part of the package, while in Europe paid leave up to 4- 5 weeks is considered a good option. Employee benefits can be just as important in persuading people to join your company and incentivizing them to stay. In case your firm is small sized, you could offer partial cover health insurance or reimburse some basic costs like travel or food. A holistic approach, encompassing benefits, flexibility, and recognition, is essential when formulating strategies to improve employee engagement.
Some other attractive choices are to provide subsidized meals, and freebies, sponsor employees' professional or degree course tuition fees if they are relevant to the work field, pay annual bonuses, offer health and welfare programs, and provide ownership rights to senior members through share of profits. 
3.9 Promote a healthy work-life balance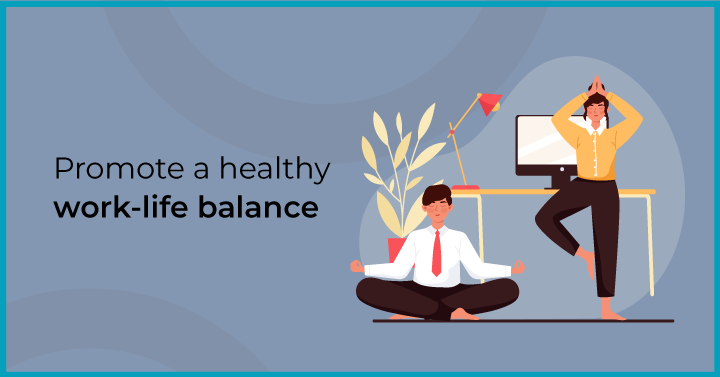 The best employee engagement strategies are those that promote a healthy work-life balance. This begins at the leadership level where seniors and managers should take steps to ensure that employees are given flexibility in their daily schedules to take short breaks, offer mental and physical well-being opportunities like fitness or meditation classes, quiet rooms, or loop-in remote work days on a weekly or monthly basis. 
A great way is to create a structured approach with a holistic employee well-being program that supports employees, helps minimize burnout, and positively impacts their productivity levels. In pursuit of a great work-life balance, Buffer offers a compressed work week, remote working arrangement, unlimited PTO, and paid sabbaticals to ensure its employees stay healthy and productive. In a nutshell, a vital element in the strategies of employee engagement is to promote a healthy work-life balance, ensuring employees feel valued both professionally and personally.
3.10 Recognize hard work
Acknowledging and recognizing great performance is what makes some of the best employee engagement strategies work well. It boosts morale, inspires excellence and creates a positive work culture, consequently enhancing the overall employee retention rate in your organization.
Recognition ideas for organizations need not be restricted to just awards or certificates. You can use the internal company platform, the company's social media handle, sponsor a paid trip, offer a raise or promotion where valid, or even provide further learning and development opportunities to convey appreciation and provide recognition. Full-contact, a cloud-based company offers paid vacation bonuses to ensure their employees take the time off to recharge and rejuvenate. 
3.11 Have an open-door policy
With an open-door policy, employees are encouraged to trust and express their views, opinions or issues easily with leaders or managers. The best employee engagement strategies should try and factor easy accessibility for employees to facilitate open communication on any job-related issues or work stressors. This way even managers can learn to handle workplace conflicts more easily.  To ensure consistent growth, strategies for employee engagement should also focus on diversity, inclusion, and promoting an open-door policy.
Since an open-door policy breaks the traditional barriers, employees are more motivated to offer feedback, and interact more effectively, and that ultimately helps them boost their performance at the workplace. IBM's Open Door or Speak-Up program encourages employees to express their opinions and resolve any issues while maintaining open channels of communication.
3.12 Revamp the office space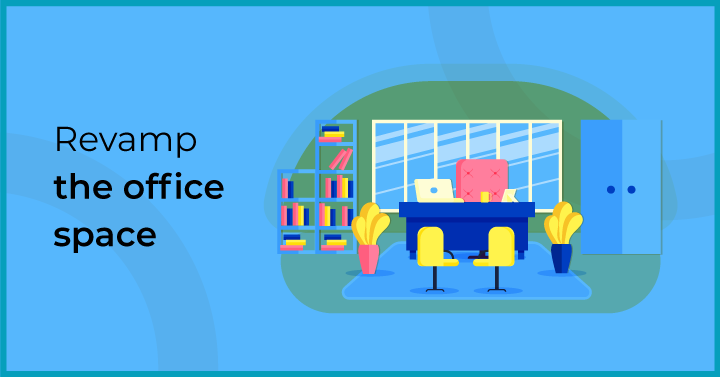 Depending on the nature of the work, opt for a color scheme that motivates and inspires creativity. Ensure there's plenty of lighting and well-ventilated spaces, ergonomic furniture, and the latest work technology and tools that can help simplify and boost work efficiency. Based on employee feedback, LinkedIn has redefined its office space to ensure employees can stay happily engaged and productive on the work floor. 
3.13 Promote transparency
For a positive employee experience, transparency with employees is vital in any organization. It's one of the best ways to foster trust and honest communication. Transparency at the workplace does not have a common yardstick, so you need to tailor different approaches and solutions to create the best strategy. 
Create open channels of 2-way communication so employees can convey their opinions and views. Communicate all relevant and important updates on a common platform so employees can stay updated with company happenings. Implement cloud collaboration to provide easy access to relevant data and files. Conduct employee surveys that help source real-time feedback so you can take timely action and address gaps. Mailchimp releases annual transparency reports to ensure employees stay updated on the latest happenings within the organization..
3.14 Focus on diversity and inclusion
Based on a 2017 study, at least 69% of executives would like to incorporate policies that promote inclusion and diversity at the workplace. Diversity and inclusion are now staples in some of the best employee engagement strategies to ensure a better workplace. Not only does having a diverse team with different backgrounds and experiences help in increased employee engagement, but also boosts creativity and productivity.
To successfully implement the concept, you can celebrate various holidays and cultural events at the workplace, promote multilingual workforces, ensure gender pay parity, minimize biases through hiring processes and identify inequities that can be addressed and resolved. General Motors, a leading global tech company has a comprehensive program based on diversity, equity, and inclusion that's vital in shaping its progressive culture. 
3.15 Engage remote and distributed teams
Post-pandemic, hybrid working is no longer a perk but a new normal for many companies around the world. The best employee engagement strategies now ensure that remote and distributed team management form a core part of the formulation process. Engaging remote and distributed teams is becoming a focal point in the strategies of employee engagement in the modern work environment.
Using unified employee engagement software is one of the easiest ways to engage and motivate remote employees. Online programs that provide digital badges, e-gift certificates, and virtual awards can be easily plugged into the system. If physical trips and events cannot be arranged, opt for virtual team bonding games and activities.
You can ensure that chat systems and channels of online communication stay active to keep all teams at par when it comes to company updates. Managers and team leaders should ensure regular feedback and interactions with their team members as well to keep the work momentum going on a daily basis.  Automattic, a leading remote software company with over 1,900 remote workers spread across 96 countries has successfully scaled its operations through its exemplary work culture and range of employee-centric benefits. 
4 FAQs
What is the best strategy for improving employee engagement?
The best employee engagement strategies are those that acknowledge and reward employees for their excellent performance and hard work, while simultaneously providing opportunities for growth and learning at the workplace. One of the key strategies for employee engagement is to facilitate team-building activities, fostering collaboration and team-spirit.
What are types of engagement strategies?
Different types of engagement strategies include rewards and recognition, regular feedback communication, financial perks and more. For a more detailed list, you can refer to the list above. 
How to develop an employee engagement strategy?
To develop an employee engagement strategy, you can start by surveying employees to understand their needs, preferences, and areas of dissatisfaction. Based on the feedback, you can create clear objectives and actionable plans that foster open communication, provide opportunities for professional growth, and promote a positive work culture. Regularly evaluate and adjust the strategy to ensure its effectiveness and relevance.