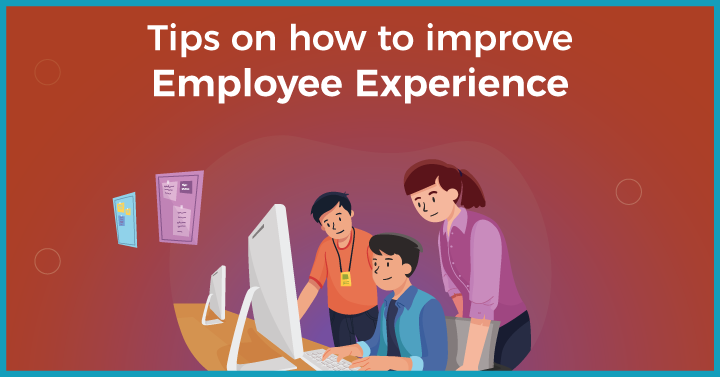 Today, companies are redefining what employee experience is and how it works – it definitely is more than just providing monetary benefits and health insurance. It is a combination of the work environment, interactions, technological tools, community culture, and more. Companies with higher engagement levels capture 2.5 times more revenue than companies with lower engagement levels.
Every organisation must invest in their employees' experience as they're valuable resources, and it ensures their longevity in the company. If you're looking to find out what employee experience is, read more to know and learn how to improve it!
1. What is Employee Experience & Why is it Important?
Employee experience is the journey that an employee takes with the organisation. It includes every interaction and observation that employees encounter in their role, workplace, with their colleagues, managers, etc. It encompasses the physical, cultural, and technological environment of a business.
With unpredictable changes occurring in society, economy, and businesses, employee experience is becoming increasingly crucial than before. As companies look at their employees as something beyond workers in the organisation, they're also investing in employee experience. This will help bring out the best in them and provide them job satisfaction which would create a positive impact on the company's and the employees' well-being.
2. Employee Engagement vs. Employee Experience
Employee engagement describes the level of dedication and enthusiasm that an employee feels towards their work. An engaged worker will be on their best performance which would be instrumental to the company's success. When their efforts are recognised, employees care about their role and contributions to the organisation.
Employee experience revolves around the employee life cycle of a person in the organisation. It takes into consideration how one perceives their journey and experience in the company- right from their hiring to their last day of service. It includes the facilities provided in the organisation, the conversations with the managers, the technology used at work, the culture, etc.
3. Stages of Employee Experience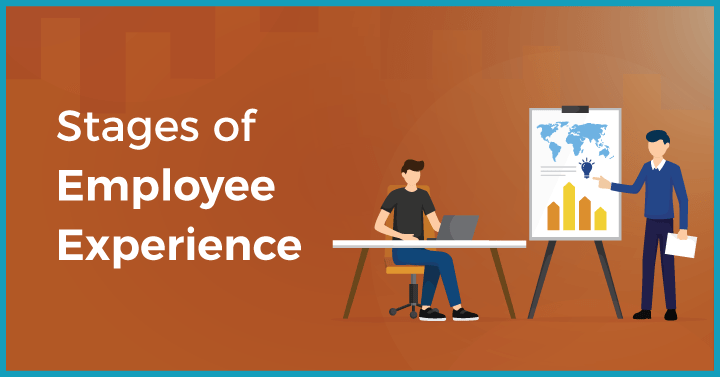 3.1 Attract
Attraction is a crucial stage as you have the opportunity to establish your company to a prospective hire and gain their trust. This gives you a chance to ensure that their perspective of the organisation is positive and spread the good word about it, regardless of whether they choose to join or not. Establish a great brand and build a great work culture to succeed in the attraction stage.
3.2 Recruit
In the recruitment stage, you seek out and recruit the best talent for your organisation. Make sure that the recruitment process is designed in a way to target specific applicants to save your and their time. Provide an optimal candidate experience and be open to feedback about the hiring process in order to improve results over time.
3.3 Onboard & Train
Onboarding typically ensures that the new hires are up and running smoothly in their initial weeks. This is a critical stage as it determines their interest in the organisation and can have an impact on their tenure. Getting feedback in this stage is helpful as it can improve the onboarding process and identify any gaps in the training.
3.4 Engage
Employee engagement is crucial to the company's success, as it is linked to the worker's job satisfaction and morale. Engaged employees are productive and higher performing. Engage them through effective communication, recognise their efforts through rewards and awards, discuss career advancements, offer skill development programs, and more.
3.5 Assess
Continuous improvement of employee satisfaction is vital to their performance in the company. Hence assessing their employee experience is an important step in getting a realistic picture of their journey. One of the standard methods to do so is by conducting engagement surveys and collecting their feedback. You could also arrange focus groups and elaborate on improvements and suggestions.
3.6 Develop
During this stage, you encourage professional development amongst the employees and provide skill-enhancing programs. This will also train them for leadership roles in the company, ensuring a longer tenure. You could arrange for group training programs or one-on-one mentor collaborations and encourage employees to participate in the initiatives.
3.7 Exit
As the average tenure at companies is on the decline, it is evident that employee experience is essential now more than ever. Employees may choose to leave the organisation at some point during their tenure. An exit survey helps you to understand the reasons behind their decision and ways to make necessary adjustments to reduce employee turnover. Treat the separation with equal importance as it can impact the other members.
4. How to Improve Employee Experience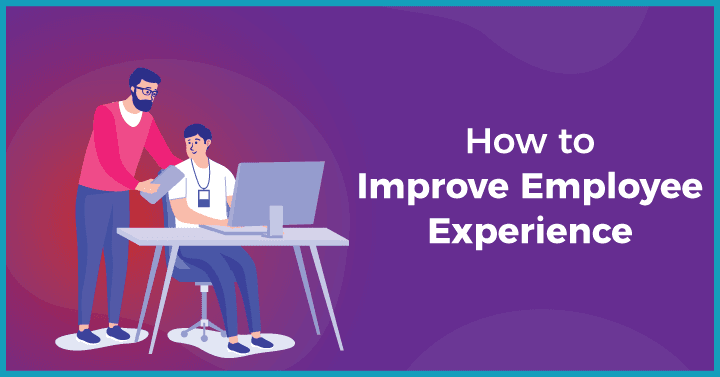 4.1 Adopt an Employee Engagement Software
Schedule a regular cycle of employee performance appreciation on an official platform using to boost employee morale and productivity at the workplace. As a dynamic employee engagement software, Sorry, I was on Mute offers one such integrated platform that can be used to acknowledge and reward excellent work or contributions at an individual or team level across your organization. Make accurate data-driven decisions based on the in-depth reports and analytical information that this software provides to create customized rewards and recognitions. You can then take it one step further and align these with your company mission and value system to create a dynamic performance recognition centre.
4.2 Assign the Employee Experience Under a Leader
To ensure the employee experience is being taken care of regularly and involves continuous improvement, assign a leader to be in charge of the process. They can look into the programs and establish a routine feedback process to collect feedback and implement the suggestions. This will make sure employees are engaged, are being heard, and have a good workplace environment.
4.3 Employ Easy Application & Interview Process
Keeping the application and interview process specific and straightforward ensures a smooth hiring process and minimises the chances of missing out on a potential candidate. Use tools like ZipRecruiter or DarwinBox for job posting, candidate sourcing, interview scheduling, and a hassle-free application process. This will also ensure a positive candidate experience which is vital for the employer's brand.
4.4 Design Effective Onboarding Programs
Some companies don't organise employee orientation programs, let alone provide an onboarding experience. 33 percent of new hires tend to switch jobs within their first six months, which is attributed to a poor onboarding experience. Design an effective onboarding plan with clear objectives and assistance for the new employees will ensure their initial weeks are smooth and hassle-free.
4.5 Stay Consciously Inclusive and Respectful
It is pertinent for the company's brand to ensure recruitment programs and work culture remain inclusive and embrace unique ideas, perspectives, experiences, and people. Every employee should feel included and valued in day-to-day interactions and gain a sense of belongingness. A collaborative environment can help break down silos and promote a sense of community and inclusion.
4.6 Deploy Employee Surveys Regularly & Implement Feedback
Employees are more likely to share their opinion and engage if they feel like they are being heard. So have routine follow-ups with employees, conduct surveys, and ensure the feedback is being implemented to improve the employee experience in the organisation. You could also organise focus groups to discuss the problems and suggestions and work on the feedback.
4.7 Conduct Real-time Performance Reviews
Real-time feedback keeps employees in the loop regarding their performance. Managers have one-on-one discussions with the employees to address their concerns and assist with possible solutions. This helps keep them engaged and feel valued, contributing to their overall productivity. This also allows for continuous improvement of the employee.
4.8 Invest in Programs That Help People Grow
Organise training programs, skill development programs, seminars, and other things that contribute to the overall development of the employees. This will prepare them for leadership roles and provide room for career advancement. As a result, employees tend to stay for a longer tenure in the company.
4.9 Give Importance to Team Building Activities
Team building programs involve group activities where people learn soft skills such as leadership, communication, collaboration, problem solving, decision-making, and more. This encourages employee bonding and trust, resulting in effective employee engagement and understanding between colleagues. For example, you could organise team building activities such as ice breaker games, trivia, escape room, etc.
4.10 Make Employee Wellbeing a part of the Business Strategy
Invest in employee wellness programs that encourage mental, emotional, and spiritual wellness. This assists in relieving the day-to-day work stress and helps employees feel more rested and productive at work. Make these programs a part of the business strategy and have regular feedback and suggestion sessions. Look into health and fitness programs, paid vacations, on-site clinics, care packages, etc.
4.11 Organise Comprehensive Exit Interviews
Conducting an exit interview is equally important as it has to be handled with great care and professionalism. Provide a comprehensive survey, collect the feedback from the departing employee, and ensure it is incorporated to improve the employee experience. Ensure the transition is smooth and you end on a positive note.
5. How to Measure Employee Experience
Employee experience helps boost the productivity of the staff and reduce employee turnover. To improve the employee's workplace satisfaction, some of the methods that can measure the experience are:
5.1 Employee Experience Surveys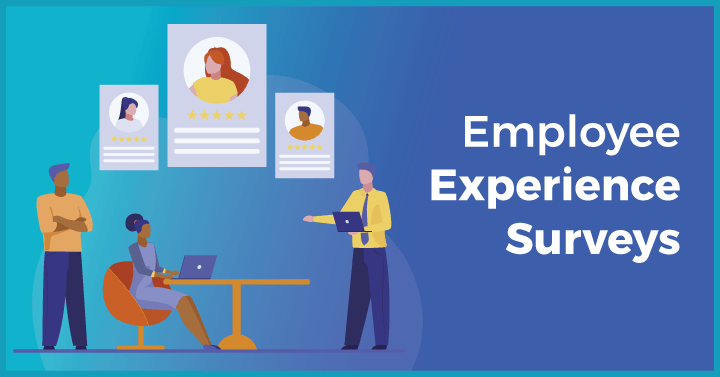 Feedback via surveys is easy to collect, analyse and implement in the organisation. They allow you to collect data even from remote employees and workers who aren't directly communicating with managers and supervisors. You can curate your own survey and circulate it amongst employees, use popular template forms, or use software tools- such as SurveySparrow, SurveyMonkey, Smarp, and BambooHR.
Some examples of the surveys are:
Candidate feedback survey– to collect feedback from applicants who have attended a job interview in your company and new hires. It measures the overall efficiency of the interview process, and the communication channels, and suggests possible improvements.
Onboarding survey– This directly affects a new hire's perception of the company and determines their willingness to continue. You can keep the survey results anonymous and work on implementing the feedback to improve the onboarding quality.
Exit survey– These are conducted to get more insights into reasons for the employee's departure and their feedback for areas of improvement. You can include questions about their overall experience in the company and use the data for retention purposes.
5.2 Focus Groups
While employee surveys are an excellent method to obtain quantitative data, a focus group helps capture in-depth information on how employees feel about the organisation and their overall experience. It gives them a space to discuss their concerns and provide possible suggestions to improve the experience. Collect actionable results that are measurable and can be implemented positively.
6. FAQs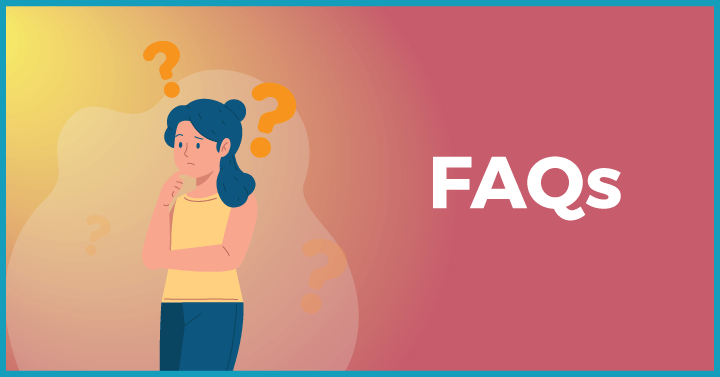 6.1 How are customer experience and employee engagement connected?
Employee engagement is necessary for a positive customer experience. A satisfied and engaged employee is productive and high-performing, compared to one with less attention. This will result in higher and consistent contribution towards their work, building a better customer experience.
6.2 What are some employee experience platforms?
Employee experience platforms should typically help employees collaborate better, improve their employee experience, and optimise work efficiency. Some examples of such tools are: