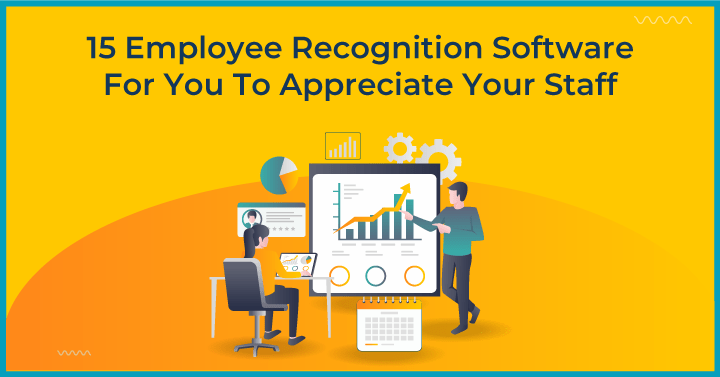 Have you noticed how upbeat you feel after someone compliments you for your hard work? Employee recognition software has made it possible to standardize this recognition, ensuring you don't unintentionally miss acknowledging any single team member.
63% of employees are more likely to stay if they're usually (rather, regularly) recognized. And if a gesture of recognition can encourage great people to stay, isn't that what you'd prefer over dealing with high turnover, a breakdown in the chain of command, increased staffing costs and process inefficiencies?
After realizing how employee recognition software would benefit businesses in the long run, I decided to dedicate a post to reviewing some of the top-rated ones used by companies worldwide. Read on!
"To explore various kinds of remote team management software that can serve as catalysts to boost organizational efficiency at the workplace, read our informative article that covers it all here."
1 What is Employee Recognition Software?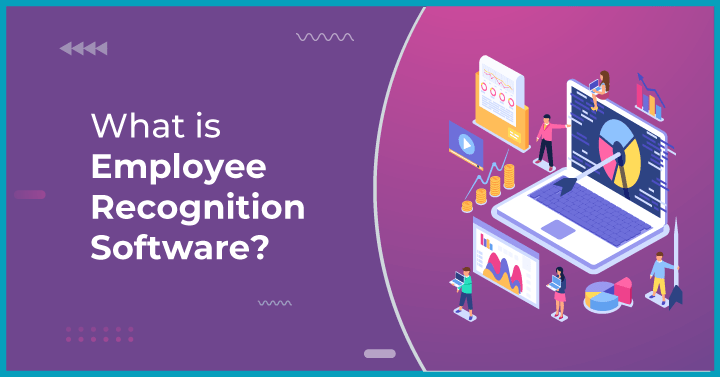 Employee recognition software is a digital platform that operationalizes rewards and recognition programs for businesses. Employers, team leads, and managers can access it via their desktops on a browser and offer both public and private recognition.
The software also facilitates monetary tokens of appreciation to employees to fund a particular interest the employee may have mentioned in conversations. Such gestures let the employee know how instrumental they've been to the business growth. Monetary awards such as profit-sharing and commissions apply to those who steer the business towards profitable and large accounts. 
Employee recognition software is also called peer recognition or P2P (peer-to-peer) tools that shine the spotlight on a particular contribution or person. It improves work relationships and creates an environment of trust, support and motivation that gives employees a reason to turn up for work and maintain their efforts.
2 Top-Rated employee recognition software to use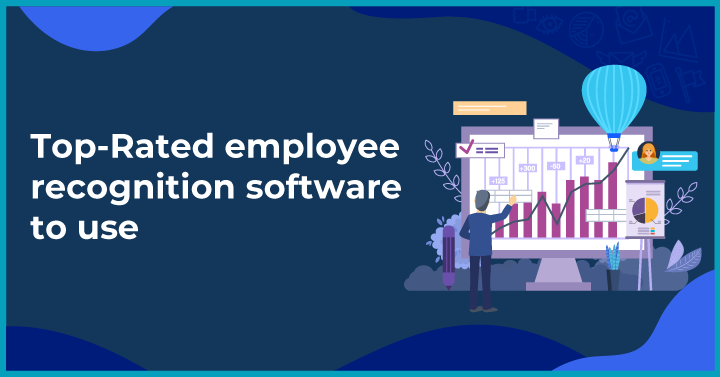 2.1. Nectar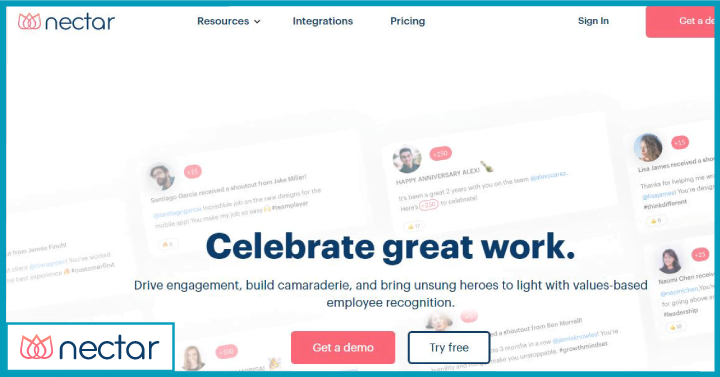 About
Nectar is an employee recognition software that in their words, "bring unsung heroes to the light". It was founded in 2015 and is based in Utah,US.
Features
Nectar has a 360 recognition and rewards platform that offers bottom-up and top-down recognition. You can centralize incentives and categorize them by department or unit to make the rewards more relevant to the employee's role and specific to their contribution. 
The feature that I liked best is their company branding customization which lets businesses create an assortment of company swag that gets shipped out within a timeframe. They also offer recognition tracking to stay on top of your rewards programs by when and whom you last recognized.
Pros
The interface is designed for simplicity and has a straightforward onboarding process.
You can use hashtags to link even a core company value to the recognition.
Peers can choose to cash in any applicable rewards from the dashboard.
Cons
The tool doesn't support GIFs yet. This could be a feature Nectar can work to add to the reactions panel next to the Emojis.
The leadership board encourages people to compete for points in order to stay in the Top 5. This can create unequal yardsticks for performance and push the focus more towards popularity than effort.  
Best for: small to mid-sized teams.
Pricing: Free for unlimited users with 100+ rewards options and participation analytics. For automated birthdays and anniversaries, special mentions and company-specific rewards, you can opt for the Standard package at just $2.50 or the Plus plan for $3.75.
2.2. Motivosity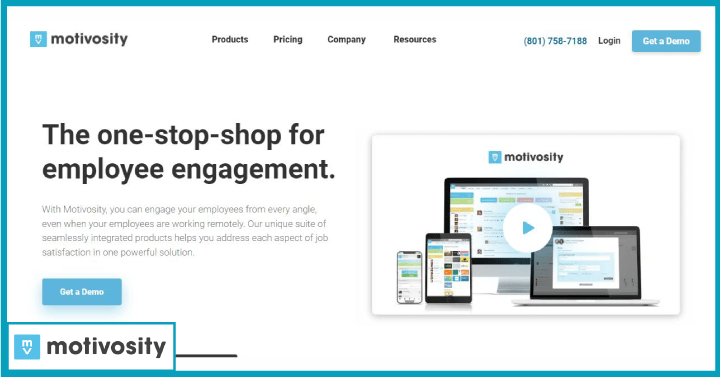 About
Motivosity is an employee recognition platform that Workfront's CEO and founder Scott Johnson launched in 2013. They even have a cute Yeti mascot that reminds me of the 2019 animated movie,Abominable! 
Features
Like Nectar, Motivosity offers companies the option to customize company branded items to gift away to employees when a rewards program is rolled out. Besides this, it comprises an activity dashboard to track rewards and recognition-related activities. It also has the features for self-service,rewards management,eCards,survey and poll management and skills management. 
Pros
Managers can link the kudos function to the company values.
The badges can be customized by achievement, highlighting how it has helped the company achieve a goal.
You can publicly or privately recognize peers using the messaging option.
Cons
The UI gets buggy at times and there are too many pop ups that appear in the center of the screen with constant reminders.
Best for: small to mid-sized teams.
Pricing:  The Connect plan is free and includes personality profiles and peer-to-peer recognition. The Recognize plan costs $5/month and includes service awards and spot bonus programs. The Lead plan costs $6.5/month and has everything in the connect plan plus 1:1s and performance coaching. If surveys are what you're after, then the Listen plan ($2) would be right for you.
2.3. Fond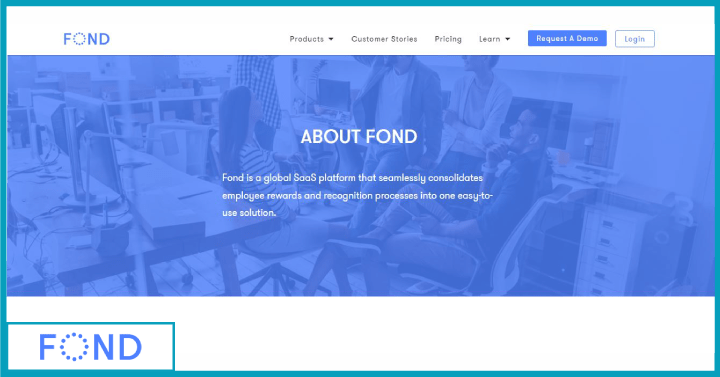 About
Fond is a saas software for recognizing and rewarding employees. It was founded by Taro Fukuyama and Sunny Tsang in 2011.
Features
Fond offers two products-Fond Rewards and Fond Perks. Fond lets employees send points to acknowledge accomplishments and milestones. The points can be used to redeem rewards and corporate perks. There's no expiry date. Instead, unused points can be returned to the company to be redistributed to someone else if an employee leaves.
Pros
There's a wide range of gift cards that users can purchase using their points.
The interface loads fast and makes it easy to send messages to acknowledge a coworker or manager to an employee.
Cons
The tool is missing custom branding options for companies to make their own swag.
Best for: small  teams.
Pricing: Quotes are offered based on team size. Fill out their form to specify your requirements.
2.4. Terryberry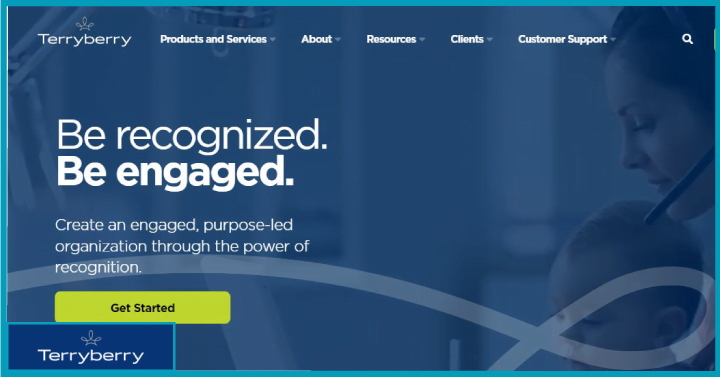 About
Terryberry is a platform with an unusual history. Founded in 1918 in Michigan, U.S, the company started out with selling high school class rings before creating a product line for web-based employee recognition in the early 2000s.
Features
The Terryberry virtual employee recognition software features a 360 recognition suite comprising  social recognition, milestones and service awards, feedback and communication and performance and incentive rewards. Terryberry awards are handed out based on the milestone, whether it's a year, or ten. 
The feature I like within is the Award your Team which lets managers provide rewards on the spot to members for their contributions.
Pros
The wellness portal can be enabled to track how peers feel about their rewards and recognition.
It's easy to issue company wide challenges that interested teams can participate in to accumulate credits.
Cons
This isn't really a con, but since many people use calorie counters and fitness trackers, plugins related to these items could help more coworkers access health-related rewards.
Best for: mid and large-sized teams.
Pricing: Pricing isn't explicitly mentioned on the website, but you can contact them for a quote
2.5. Preciate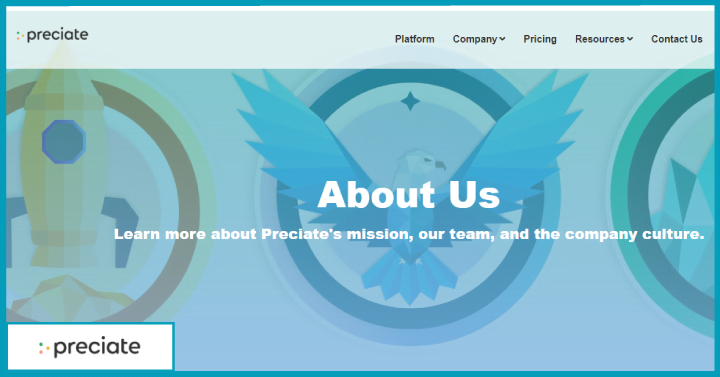 About
Preciate is a purpose-driven relationship building platform that was founded by Ed Stevens when he moved to Dallas, U.S in 2017. 
Features
Preciate derives 80% of its name from the word 'appreciate'. The tool offers members and participants virtual rooms to enter into to host events and meetings. These meetings can be used to reward teams, wow clients or even recruit talent, making it a more comprehensive and relationship-focused software than just merely recognizing efforts. What I like about Preciate is that you can use their library of playlists and activities to plan your rewards and recognition programs.
Pros
Inviting people to a room is easy. You just need to create a link and share it via email, text or via calendar invites.
Preciate integrates with Teams and Slack, making it easy to mention or tag colleagues to give them a shoutout. You can also view all recognitions given to any members in a particular team.
Cons
It's a little difficult to message a word of thanks because users will still need to embed a Preciate recognition
Best for: small to mid-sized teams.
Pricing: The free plan accommodates 100 users and opens up the room for 40 minutes. For longer room time and networking opportunities,opt for the Team and Business plans which cost $13.99and $18.99 respectively.
2.6. Bonusly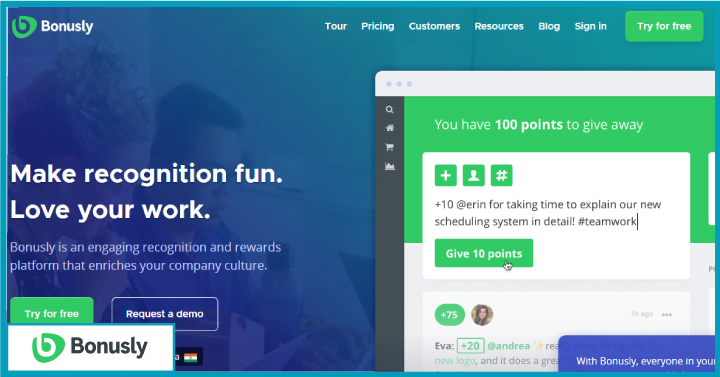 About
Bonusly is an employee rewards and recognition software. The company is based in Colorado, U.S and was launched by its CEO Raphael Crawford-Marks in 2012. 
Features
The Bonusly platform offers a global catalog for rewards, monthly allowances and a Bonus feed, all on an engaging interface. The monthly allowance is a small sum set aside for colleagues to give to each other in recognition of their contribution. This feature is great because it encourages coworkers to bond beyond just getting things done. The global catalog offers digitally available gift cards from brands across 122 countries, meaning that employees can shop to their hearts' content no matter where they are! 
Bonusly's newest feature is employee feedback, which lets you ask the right questions, get answers and build surveys to make rewards and recognition meaningful.
Pros
It's easy to use and requires nearly no administrator inputs. The platform is self-sustaining and completely automated.
You can customize rewards and/or have the option of using their extensive template library.
Affordable for small teams.
Cons
Bonus recommendations need slight improvement in terms of matching it to what users would like in their feed.
Constructive criticism through private channels is currently not in their list of features. It would be helpful to have this facility in order to create an impartial feedback process.
Best for: small, mid and large-sized teams.
Pricing: The core plan costs $2.70 while the pro plan costs $4.50. Mid and large organizations will benefit more from a custom suite of features and can reach out to the team for a quote. 
2.7. Kudos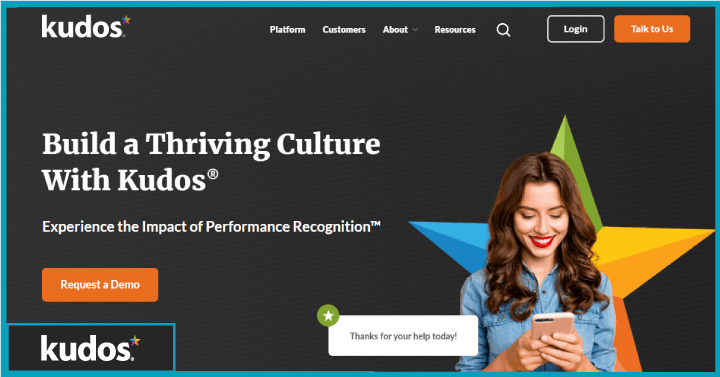 About
Kudos is an employee recognition software that lets businesses recognize and reward performance. The company was started by Muni Boga and Tom Short in 2010 and is based in Calgary, Canada.
Features
Kudos promotes a culture of meritocracy with different and distinct recognition levels. The Kudos wall is a peer-to-peer community recognition that celebrates achievements. The feature I found appealing was their culture reinforcement tools which are spaces and galleries in which colleagues and employees can share pictures and messages. The culture accelerator can align rewards with company values.
Pros
You can rack up points and use them to cash out rewards.
It looks and works like a social media platform, making onboarding and continued usage easy for individual users. 
You can see employee satisfaction and performance in one dashboard.
Cons
It could have some more HR and OKR integrations in order to make it more feedback oriented.
There's no pulse survey tool internally to send out polls and surveys.  
Best for: small to mid-sized teams.
Pricing: Kudos Basic costs $3 per user per month and the Plus plan costs $5. Enterprise invites custom quotes that the team can be contacted for to provide. 
2.8. Guusto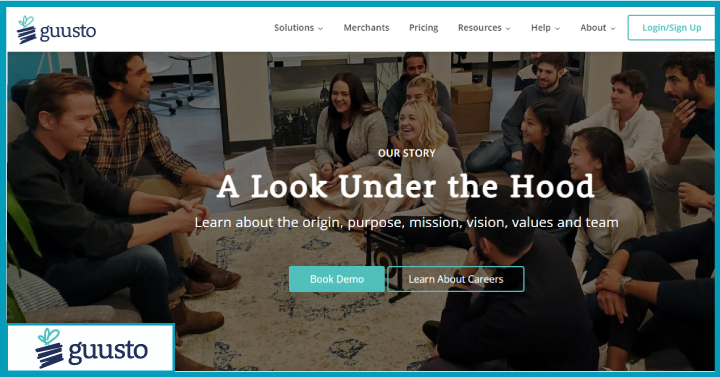 About
Guusto was founded by Canadians Skai and Joe in 2012 after working closely with HR leaders to build employee recognition tools.
Features
Guusto offers both employee recognition and customer rewards and incentives. The platform offers the following
Real-Time Recognition / Spot Bonuses
Peer-to-Peer Nominations
On-boarding Programs
Wellness Programs
Goals
Quarterly & Annual Performance Awards
Birthdays & Holidays
Any Gift Card Program
What's great about these incentives is that the recipient can choose from 60K+ merchants to redeem them.
Pros
The tool is user-friendly, with responsive customer support who are quick to determine problem areas and troubleshoot issues.
It's quick to send gift cards and unused ones can be returned rather than let it lapse.
Cons
No cons as such, except for the 3% additional service charge levied on credit card payments.  
Best for: mid and large-sized teams.
Pricing: Free for single user accounts where the user can schedule 1 to 1000 rewards.The Teams and Enterprise plans cost $1.5 and $2.5 respectively.
2.9. Kazoo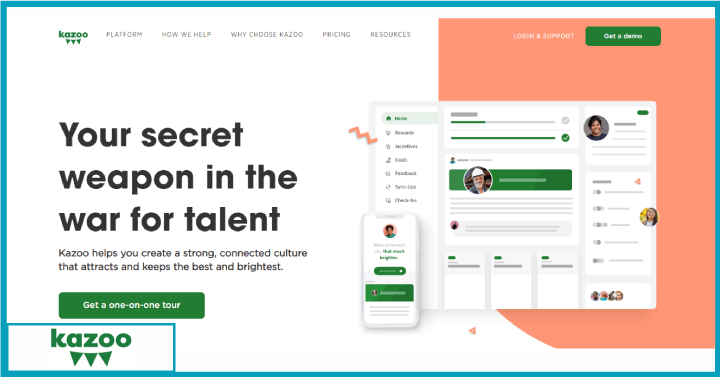 About
Kazoo is a talent onboarding and employee recognition software rolled into one that works for both collocated and remote teams. Kazoo was founded in 2013 and later acquired by Visa Equity Partners. The company has offices in Austin and Chicago, U.S.
Features
Besides the employee experience platform, the Kazoo tool also has recognitions, incentives, Goals and OKRs and feedback. You can use the social activity feed to engage with members. I particularly liked that you can manage nominations and awards through the portal and nominate a coworker for a reward that you feel aligns with their effort investments.
Pros
Employees can browse the rewards catalog to find and claim rewards that interest them- be it merch, gift cards, experiences or even a charitable contribution to virtual fundraisers.
Managing milestones and employee programs are easy with the Special catalogs.
Cons
Some users have commented on the analytics and reporting needing to be more intuitive and customizable.  
Best for: small and mid-sized teams.
Pricing: Kazoo offers three plans based on the team size. For 100-250 users, the growth plan would work,which costs $5 per month while it costs $4.25 for the standard plan (for 1000 users). You can request for a quote if you plan to get the team on to the Enterprise plan.
2.10. Cooleaf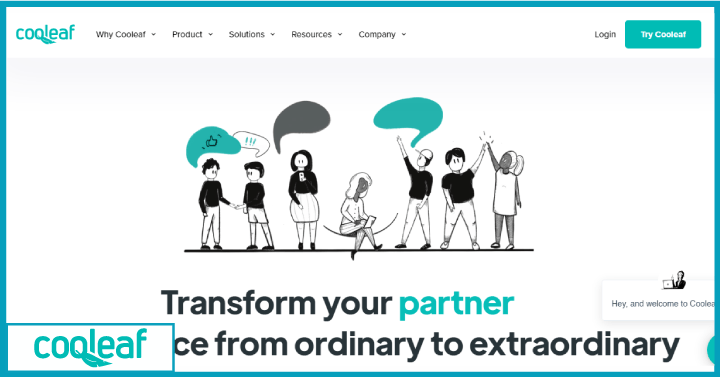 About
Cooleaf is an employee recognition software that was founded by Prem Bhatia, John Duisberg and Sarwar Bhuiyan in 2016. It gets its name from the phrase, "to turn over a new leaf". 
Features
The employee experience hub contains the recognition aspect, which lets companies recognize people by years of service,sales performance and incentives.  The employee programs have features for DEI (diversity, equity and inclusion),virtual team building, health and wellness, learning and development and employee incentives.
Pros
The UI is very clean and simple, making it easy to use.
The years of service feature is automated by pulling in an employees' date of joining and department, enabling everyone to publicly or privately drop a congratulatory message.
Integrates with many 3P applications including Zapier and Slack.
Cons
No cons as such, Cooleaf is great! I only wish the pricing was listed more clearly on the website. At present it's just a contact form to reach out to the team.
Best for: teams of any size, big or small. 
Pricing: not listed on the website.
2.11. Bucketlist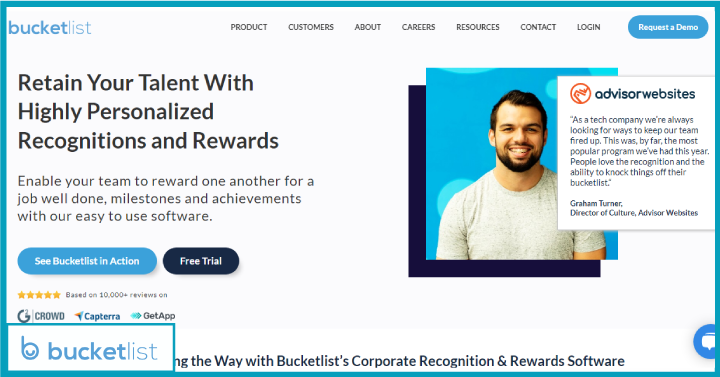 About
Bucketlist is a rewards and employee recognition software. The company is headquartered in Vancouver, Canada.
Features
Besides P2P recognition, Bucketlist features include Employee Management, manage employee profiles, reward programs, engagement tracking and manage-to-peer recognition.
The feature that I liked best in Bucketlist was engagement tracking because it generates reports to identify people who are at-risk of leaving the organization due to burnout and disengagement. By determining this percentage of employees.
Pros
Lots of redeemable options to choose from.
Peers can see how others are doing by going to specific individuals to see comments, and comment on achievements.
Cons
There presently isn't an option to nominate colleagues to gain credits in exchange. If this facility is enabled, people are more likely to utilize the tool frequently.
Best for: large sized teams.
Pricing: Quotes are available on request. You can also book a demo to see how Bucketlist works.
2.12. Snappy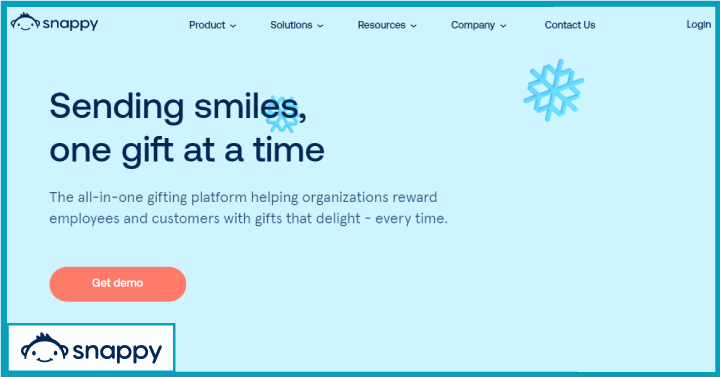 About
Snappy is a gifting platform founded in 2015 that rewards both employees and customers.the company is headquartered in New York with offices in Israel, United Kingdom and Russia.
Features
Snappy offers gifts in three categories- for employees, customers and branded items. Besides the bulk-gifting option, I found their reports and capacity for automated campaigns to be unmatched in terms of the information within. You can track popular gifts, nominations, customer accounts won and campaign budgets in one place. Recipients can choose gifts from Snappy to deliver to their shipping address, with collections ranging between $25 to $50.
Pros
Their in-store branded collection is diverse and constantly updated with new stock
Campaigns are easy to set up.
Responsive and friendly support team.
Cons
The tool is a gifting platform which means the features for employee recognition start and end with monetized rewards. Users with more needs will need to sync it with another employee recognition platform for engagement and rewards tracking.
Best for: small and mid-sized teams.
Pricing: Contact the team for a quote. You can also schedule a demo to see how Snappy's gifting option works.
2.13. Qarrot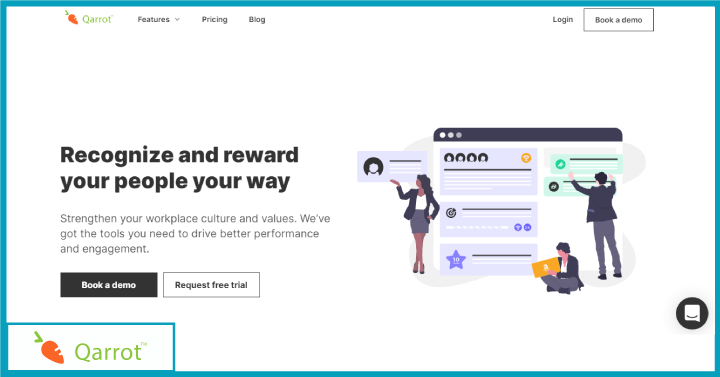 About
Qarrot is an employee recognition software that in their words, "rewards and recognizes your people your way". It was founded in 2016 and is based in Quebec, Canada.
Features
Qarrot promotes social recognition by allowing users to compliment and comment on the recognition. You can also give a birthday, milestone or work anniversary shoutout either to a group or individual. As part of meaningful recognition, you can send points or award badges. What I like is that you can pin important program-related announcements to keep either everyone or relevant individuals in the loop.
Pros
The interface is similar to Facebook or Instagram, allowing likes, shares and comments on a post.
The badges and awards can be awarded to top performers or those who reach their goals once or multiple times.
Once managers create measurable objectives on award campaigns, they can either upload results themselves or ask the team to do it to compare against the goals.
Cons 
Session tends to expire quickly which means you get logged out automatically if you're inactive for more than ten minutes
Best for: small, mid and large-sized teams.
Pricing: Free for 30 days for 10 employees (yourself and 9 others).  It costs just $3 per month. If the number of employees exceeds 200, you can contact the sales team for a custom quote.
2.14. Recognize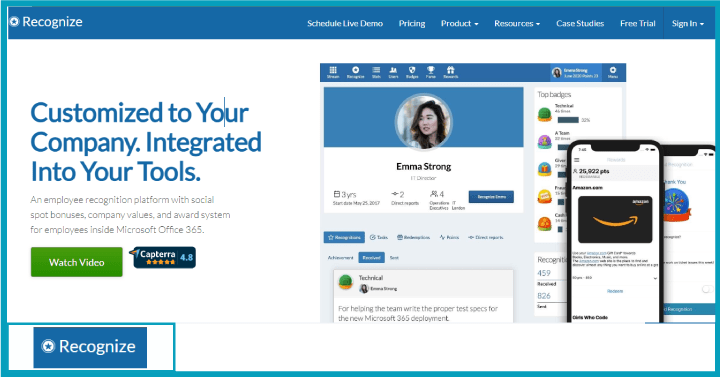 About
Recognize is an integrated employee recognition platform based out of Berkeley, California in the U.S.  Companies can leverage the platform to engage with their employees and recognize them for their contribution to the organization. 
Features
Recognize offers 5 different programs – Social employee recognition, Rewards, Nominations, Service anniversaries+birthday and Incentives. Recognize offers automatic employee anniversary recognition, on-the-spot social employee recognition, and nomination voting as part of these programs, delivering a smart employee recognition solution.
Pros
Easy to use and can be easily integrated with Office 365, Sharepoint, Workplace by Facebook, Outlook, Microsoft teams and Zapier
Supported on all three major platforms – Web, Android and iOS
Available as a mobile application for both Android and iOS
Employees can easily receive recognition through text messages 
With Staff leaderboards, users can get real-time performance insights of any individual or team
Cons
Targeted to small and medium size enterprises, not suitable for large organizations
Have to use browser extension to use it with Yammer
Mobile application is not smooth to work with
Best for: mid sized, large teams and enterprises.
Pricing:
Recognize offers 4 pricing plans, which are Bronze, Gold, Silver and Platinum. Since the platform runs discounts at different times along with custom quotes,the exact sum per month isn't specified, and will require you to enter your email to move forward.
2.15. Reward Gateway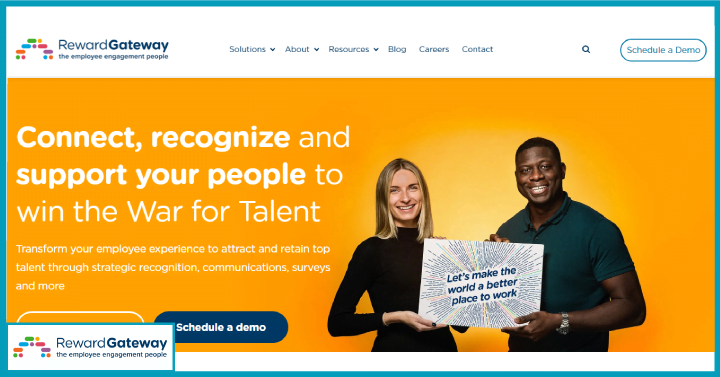 About
Reward Gateway is a cloud-based employee engagement and recognition platform that helps big enterprises with employee reward and recognition. 
Features: 
Reward Gateway's key features include peer-to-peer nominations, communications, survey creations, communications, benefits administration and live alerts. It shows individual's and team's achievements via a real-time feed and also allows employees to interact with others via comment and likes features. It also comes with pre-made survey templates to measure employee engagement and employee productivity. 
Pros:
Allows users to create videos and content pages, send push notifications and live alerts – to deliver company news and deliver messages
Employees can send customized eCards to celebrate important achievements and milestones
Survey templates are editable so it is possible to create custom surveys
Cons: 
Removing employee from the database is quite tricky
Discounts and recognitions are on two separate apps
Reports created by the app are sometimes hard to understand
Best for: mid, large- teams
Pricing
The pricing isn't mentioned on the website.You'll need to contact the team for a custom quote. Book a demo online to have a consultant walk you through the platform.
3 FAQs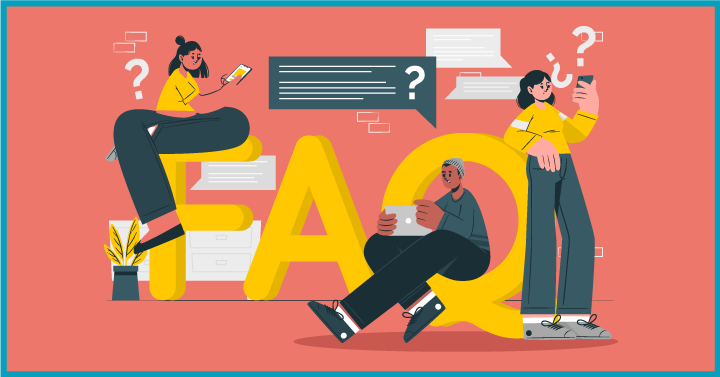 3.1. Who Uses Employee Recognition Software?
Companies with a strong work culture lean towards employee recognition in order to maintain a nurturing and supportive workplace for their staff. Some notable companies include Salesforce, Heineken, SHRM,Boeing, Coca-Cola and Visa.
3.2. What are the benefits to using employee recognition software?
Employee recognition software lets companies express their gratitude and support for an employee, which in turn motivates them and makes them happy. Happy employees are also less likely to leave firms that regularize appreciation. Besides retention, other benefits include
Attracting top talent down the line.
Creating a sense of belonging and job security,i.e. Employees aren't treated as dispensable.
Incentivizing teamwork and collaboration by strengthening existing work relationships between peers.
3.3. How do I get company buy-in for an employee recognition software?
Experiment with different employee recognition platform features. Some tools offer a trial with a limited selection of their features, while others ask to subscribe to a paid plan to unlock full access to all features. 
We suggest going for a free plan or trial at first to get familiar with the functions and create a test for rewards and recognition. This also lets you see if the tool can link messaging platforms such as Slack or its alternatives seamlessly to import message history and conversations revolving around recognition.
While most employee recognition software target the small to middle-sized market, go for a plan that accommodates as many team sizes within the organization. This ensures no one is accidentally left out of the rewards and recognition program you intend to deploy.