Don't you just love it when an all-hands meeting wraps up with your boss or manager appreciating the team? According to article on Business Insider, if employees don't feel appreciated for their work, they are 39% more likely to start looking for a new job. This explains why employee recognition ideas have become a hit at workplaces over the years.
Recognition of employee's contribution and impact is not only key to retaining talent but it is also vital to employee engagement. Picture it as a domino effect, where appreciation leads to motivation, which in turn leads to higher engagement and ultimately greater productivity. Having written about virtual employee recognition before, this  post is going to talk about employee recognition ideas that offices with any work arrangement can try out. 
If you need a bit more employee recognition inspiration, check out our posts on no-cost employee appreciation ideas, employee recognition for large companies, and employee appreciation for long service, as well as a how-to article on creating a well-rounded employee appreciation program. Consider hosting an employee appreciation day or an employee appreciation party to demonstrate how much you value your staff. Alternatively, boost morale with some well-chosen motivational quotations. We've also got a guide to penning a heartfelt employee appreciation letter, as well as a complementary post on how to write a note of appreciation to thank a boss for their support.
1 What is Employee Recognition?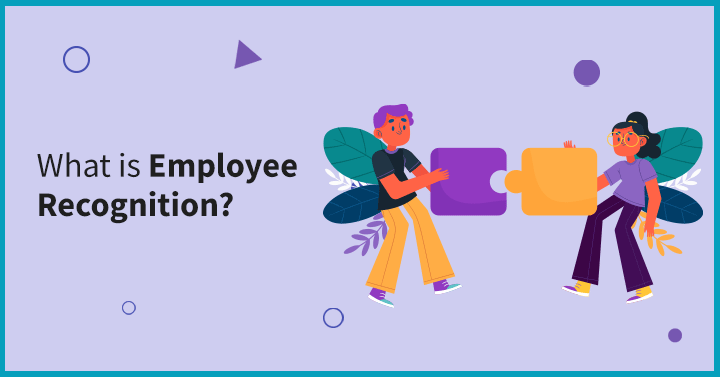 Employee recognition fills a basic need to feel both valued and appreciated.. It refers to those actions that observe and appraise individuals in a transparent and objective setting. Recognition is also closely linked to employee appreciation and employee engagement  
Employee recognition should follow the MUST rule, which stands for
1. Meaningful
The first rule of employee recognition is to make sure that you're rewarding and recognizing behaviors that align with your organization's values.. Explain why an individual deserves appreciation, using a concrete and detailed example. Meaningful recognition specifies what the employee did right, and establishes a direct connection between performance and objectives. This way, they know the impact or effect they have had on meeting goals and living the company's values.
2. Unified
No one should be forgotten or missed out. Creating a unified scale of recognition ensures that every member in every department within your organization gets noticed and commended.
3. Spotlight
Extra-mile employees deserve the spotlight as an example of the professional conduct and capabilities expected of each employee. While results are important and should be celebrated, recognizing and spotlighting the effort put in sends a clear message that hard work and dedication are valued within the organization. 
4. Timely
Giving timely recognition makes it easier to verify the quality of work and who was responsible for it. It demonstrates that the organization is attentive to employees' contributions and that their work matters. Timely recognition also conveys to employees the expectations and metrics that the business uses to consider them for future promotions, raises, and additional perks.
You can explore our articles for expert tips on crafting a standout employee of the month recognition letter and discover the companies with best employee recognition programs.
2 When Should You Recognize Employees?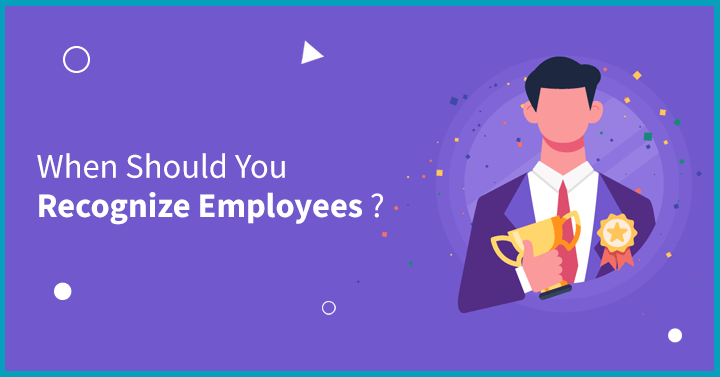 Different moments warrant a different timeline for recognition. For a job well done on a project or initiative, recognition in real time is ideal. The employee recognition ideas you wish to implement should takeinto account
The team member's skills, existing areas of knowledge and experience

Years of service with the firm

Achievements earnedup to date
The first step to recognizing employees in a timely manner is to establish clear and accessible channels for acknowledgment, such as implementing a structured recognition program or ensuring that regular one-on-one meetings between employees and managers are conducted.
Next, there should be levels to indicate consistency in performance, with those having a track record of being high performers bumped into the highest category. Creating tiers is at your discretion, but doing so also gives all employees a goal to aspire to. You can then finalize the employee recognition ideas suited for the occasion and employee. 
The other silent advantage to immediate recognition is that it increases an individual's awareness of their own worth. The fact that a company, no matter how large or small, is making the effort to acknowledge and recognize its workforce is a sign of progressive and encouraging work culture.
3 Innovative Employee Recognition Ideas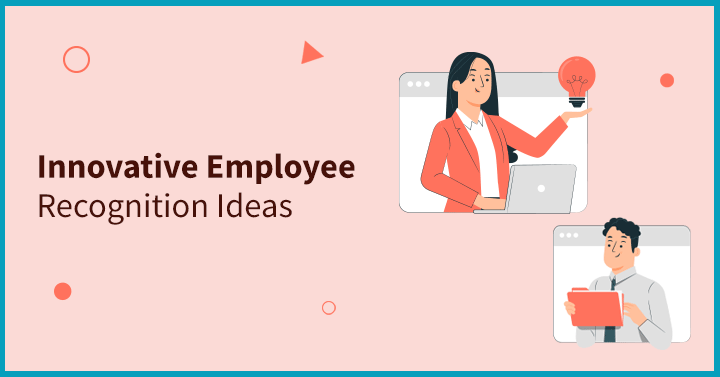 3.1 Formal/Traditional employee recognition ideas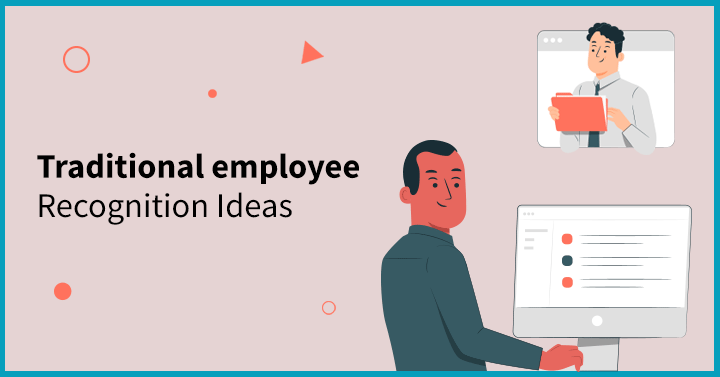 Tête-à-tête with the leadership
For many, the idea of conversing with leadership can be downright terrifying. However, we forget that those who came before us also had to start somewhere. Enter informal sit-downs, where employees of every experiential level convene at a common room. You can also achieve this virtually by hosting an "Ask Me Anything" session, where participants can submit questions in advance, either anonymously or openly, for discussion and answers. This approach facilitates informal interactions and knowledge-sharing among employees, regardless of their level of experience or location.
It's a learning opportunity for all involved because leaders can share their experiences (yes, even the rookie mistakes) and new hires can put forward suggestions to help the business grow or explore the market. 
1. Awards and rewards
Create awards for different categories. It can be something as informal as "Best dressed" or "Most winning smile" tomore work-specific awards, such as the 
Exceptional coach

The Marketing Genius

That-Extra-Mile 

The Growth driver

The Client Whisperer / Best in Customer Excellence
The best part about rewards is that they can be as specific to a department as need be. For example, the creative team can come up with their own set of awards, while sales can have a different nomenclature. The end result is the same- awards match with how a particular employee has contributed to the organization's growth.
2. Peer recognition programs
Peer recognition programs make mutual appreciation easier for coworkers. This is one of those ideas for employee recognition where the appreciation also tends to be more heartfelt and meaningful. This is because colleagues who work in the same team or collaborate on projects frequently would have a first-hand account of their colleague's expertise, approach to problem-solving, and attitude to work.
Peers can form a group on meeting platforms (if the colleagues are distributed) or conduct after-office hours or informal social meets. These programs strengthen the bond between colleagues.
3. Training and Upskilling
No one wants to be doing the same job for the entirety of their career. With training, employees will acquire skills in other knowledge areas that make them an asset to a different business unit or department within the organization. For example, a copywriter can move up and take over as a product marketing manager provided it aligns with their interest. 
Initiate a conversation with employees regarding their future goals and areas of interest. You can then recommend resources, materials, and people to keep in mind when the time is right. They can register their interests either through manual or digital means in order to reserve their place for appropriate study courses, classroom, or project-based training. Recognizing someone's potential down the line and taking measures to invest in their development makes employees feel more valued.
4. Reward ideas and suggestions
Welcoming suggestions from everyone at work can make the workplace better. The next idea could make internal processes more efficient, improve morale all-around and enable colleagues to do better at their respective jobs. 
You can place a suggestion box in the office for people to drop their suggestions into, or start an online thread to accept submissions. Once all ideas are submitted and reconciled, the best ones can be selected based on votes. After you experiment with the suggestions, The people who suggested them can be recognized and rewarded through special mentions in meetings.
5. Publicize and commemorate achievements
If you haven't considered running a company newsletter before, here's your chance! Giving a public shoutout to employees informs the entire business of what the achievement is/was. Teammates and departmental managers can accordingly offer their congratulations which provides the employees in question a confidence boost! If creating a full company newsletter seems like a daunting task, you can opt for a simpler approach by preparing a recognition slide for your all-hands meetings. This provides an opportunity to acknowledge and celebrate achievements without the need for a comprehensive newsletter.
This employee recognition idea hinges on cooperation from all business units or departments. Managers or team leads have to provide context to the achievement-based  on their progress report and which members achieved which key milestones. This information has to be compiled and provided to human resources in order to craft the employee recognition email.
3.2 Informal employee recognition ideas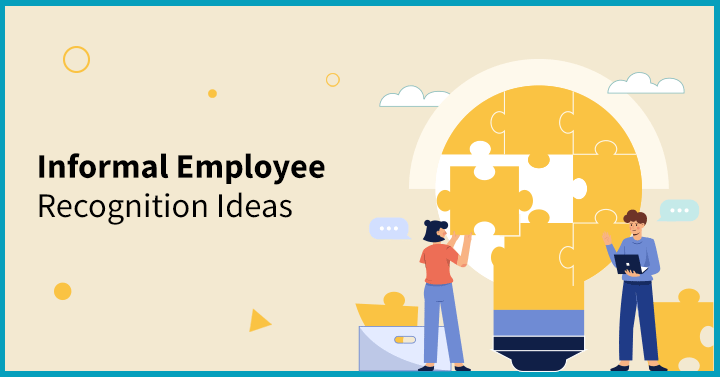 6. Send a "thank you" card
A thank-you card is thoughtful and simple (it can also be discreetly left at a desk for the person to find when they come in). You can either buy a card from any gift shop or create one online via Greetingsisland or Punchbowl. One of my colleagues sent me a Boss day card via Teams, which I didn't expect. And it made my Monday a lot nicer. If you're like me and prefer to give and receive appreciative gestures that are subtle, then go ahead and send out that thank-you card!
7. Surprise them with goodies
A gift basket containing a selection of items can uplift the recipient's spirits and make them feel appreciated. The budget for a basket can be decided beforehand in order to pick items that the company can afford and is also useful to the person. 
If you're looking for sites that ship worldwide, give these a try
https://www.aceofheartsgiftbaskets.com/
These also put together hampers for different occasions and holidays, such as Halloween or Diwali! 
8. Celebrate special days
Make a note of everyone's birthdays and work anniversaries so that you don't miss to greet them when another year rolls by. A team celebration in honor of someone's special day is one of the best employee recognition ideas to show individual members you care enough to remember!
9. Organize employee competitions 
Arrange for a little friendly competition with simple and engaging contests. If you wish to start small, go for a talent show or a show-and-tell where everyone shares their talents with the team. You can also organize a cosplay where everyone shows up to work in a favorite character or hold minute-to-win-it games that require everyday props lying around at work! 
Whoever wins can get complimentary vouchers to their favorite shopping outlets, amusement parks, spas or eateries!
10. Send out informal work desk gifts
Whether your office is online or in-person, our work desks speak volumes of ourselves as people. Personal effects set us apart, which is why gifting your employees work desk gifts is a great employee recognition idea. 
You can find out how your colleagues and employees keep their desks and confirm what they like before buying them anything. Ideas for work desk gifts that won't fail you include
11. The wall of fame
Turn one of the walls in your office into a literal wall of fame! Hang up a laminated frame featuring the employee of the week, or month. This way, anyone walking past that corridor will see who is featured and can look forward to their own turn in the future. The wall of fame boosts morale and makes the culture internally more collaborative, friendlier and honest. 
3.3 Employee recognition Ideas with Monetary benefits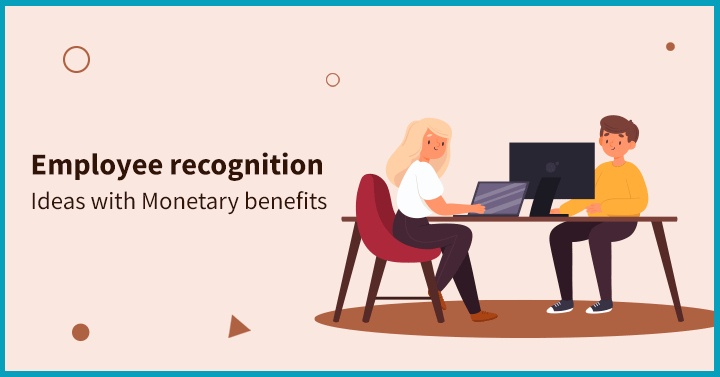 12. Gift cards and corporate discounts
Your office won't be the first to welcome online order packages belonging to various employees. Since that's where most of the day goes, many employees get their items shipped to a work address. Send your employees on a shopping spree with gift cards and business discounts to select stores. They can also start an account at their favorite outlets and use the points remaining on the card towards a purchase.
13. Bonuses and incentives 
Most customer-facing roles work on commission and profit-sharing. Every time a sale closes or the company lands a new account, the incentives and recognition go to the sales team. Create a tiered bonus system that awards the monetary perk based on the size of the account and the steps followed by the employee to manage the lead. 
Your employees will also appreciate monetized incentives because payouts add to their earnings.
14. Redeemable Points Value System
A points based-or value-based system scores employees on a scale (which you can set according to your performance metrics). The employee can convert these points into overtime pay or avail them for company-related expenses as part of their job. They can also use the PVS to reduce the number of LOP leaves as and when they take emergency leave. This is one of the best employee recognition ideas that benefit the employee because they have a safety net to prevent leave or cost imbalances.
15. Health, Housing, transport & other allowances
Did you know that 80% of workers would rather keep a job with benefits than work for a company that pays them more but offers no benefits? The cost to the company factors in housing rent, medical insurance, and travel allowances. It's also a good idea to revise this allowance periodically in accordance with the pay grade and seniority of the employee. 
Offering allowances to employees lets them know their well-being matters to the organization they're working for. In fact, Clutch's study found that 55% of employees consider health insurance as an important benefit key to their job satisfaction.
16. Food and grocery coupons
We all go out for grocery runs, but what if you could get your employees a better deal at their next pantry restocking quest? Grocery coupons are a practical employee recognition idea if you wish to help your staff out. 
They can save a few dollars on their bill or get a free item depending on the store's terms and the total value of the bill. You'd also be doing the chain a favor by getting them, regular shoppers!
17. Sponsored experiences
Send your employees to a company retreat or a sponsored event, such as a TED talk. You can also opt for something simpler and more easily available, such as virtual escape games, murder mysteries or tours of famous landmarks. 
3.4 Non-traditional employee recognition ideas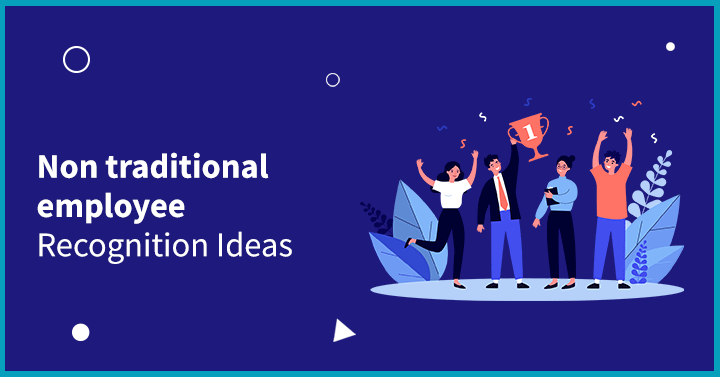 18. Flexible work arrangements
A 2020 Global Trends report by LinkedIn found that workplaces with flexible arrangements saw a 137% increase in headcount. This follows the heels of the pandemic disrupting business-as-usual. Companies that previously distrusted remote work as a viable option are now reconsidering their stance, having seen that it doesn't negatively impact office productivity. 
Offering your workforce flexible work arrangements is a solid strategy, particularly if you're employing working parents. Flexible arrangements also give parents a fair shot at being considered for promotions since they can do justice on both the home and work front.
19. Survey the employees for gifts of their choice
Use Surveymonkey or Google forms (or any other survey software of your choice) to find out what gifts your employees are wishlisting. Once the choices are matched against responses, you can surprise them by getting it for them!
20. Caricature on a plaque
Create a plaque and have it personalized with a caricature or photo of your employee. It can also be proudly displayed at their desk and will be a permanent keepsake!
21. Donate to charity of their choice
If any or all of your employees spend some of their free time in volunteering activities, consider participating at the next event, or making a contribution to a non-profit outfit. They'll love that you support their work outside of the office! 
22. Gift the tech deck
Ancillary gadgets are practical ideas for employee recognition that enable a worker to do their job, whether they're in the office or working from home. Items such as a laptop decal, glass cleaners, wireless earphones, memory cards, and hard drives can help your employees stay organized and focused when working.
23. Lessons to a hobby of their choice
Have any employees mentioned a new hobby they're thinking of starting? Encourage them and have a conversation about the classes they'd like to be signed up for. If there's a trial before committing, even better! You can even show your support by attending the first class with them or use the class as a way to develop your friendship and learn something while you're at it! 
3.5 Employee recognition wall ideas
24. Photo Timeline Wall
You can display photos of employees being recognized each month. As the months go by, the wall turns into a timeline showcasing the progression of achievements over time. To make it more attractive, you can use thematic borders for each month or season. For instance, snowflakes for December and flowers for April. Make sure to include a brief description of the reason for the recognition below each photo.
25. Interactive Digital Wall
Use a digital screen or series of screens where achievements are showcased. This can include videos, animations, or slideshows. Additionally, you can personalize the interface with the company's colors and logos. You can also have themed animations or icons. Integrate social media shout-outs or client testimonials for the recognized employee.
26. Tree of Achievement Wall
The idea here is to paint or install a large tree on the wall and place the employee's name or photo on a leaf or fruit for every recognition. You can decorate the tree according to the seasons. For instance, you can add blossoms in spring, green leaves in summer, golden leaves in fall, and snow in winter. Additionally, you can have a "golden leaf" for exceptional achievements.
27. Puzzle Piece Wall
This is another best employee wall ideas to motivate your employees in a unique way. Here, the concept is that every employee is a unique piece of the company's puzzle. Each time someone is recognized, they get to fill in a custom puzzle piece with their name, achievement, and date. As more and more pieces are added, a beautiful, interconnected image representing the company's mission or values could emerge. At the end of the year, the complete puzzle can be a representation of all the achievements combined.
3.6 Employee of the month recognition ideas
28. Storytelling Session
Host a monthly "Behind the Success" storytelling session where the employee of the month shares their journey, challenges, motivations, and insights. This allows team members to connect on a deeper level and can also serve as an inspirational and learning opportunity. To make it more impactful, you can pick any cozy corner of the office, perhaps with comfy chairs, snacks, and beverages. If employees are working remotely, this can be done via a video call with everyone encouraged to bring their favorite drink. Record these sessions (with permission) and create an archive. It can serve as valuable content for new hires or for the broader team during introspective moments.
29. Customized Artwork
Another idea is to commission a piece of artwork that represents the employee's essence or their contribution for the month. It could be a caricature, a personalized comic strip, or even a portrait. You could display the artwork in a common area for everyone to appreciate throughout the month and then gift it to the employee at month-end. Over time, a wall or corridor can be dedicated to this art, visually narrating the company's monthly champions.
30. Magic Box
Prepare a "Magic Box" filled with tokens and coupons, and give the employee of the month a chance to draw several items from this box. These could range from fun and quirky items like a "Skip a Meeting" pass, to a "Take Over the Office Playlist for a Day" token, or more traditional rewards like a spa day pass or a gourmet dinner coupon. You can involve other employees by having them suggest (and even contribute) new and innovative tokens or coupons to add to the box each month.
4 FAQs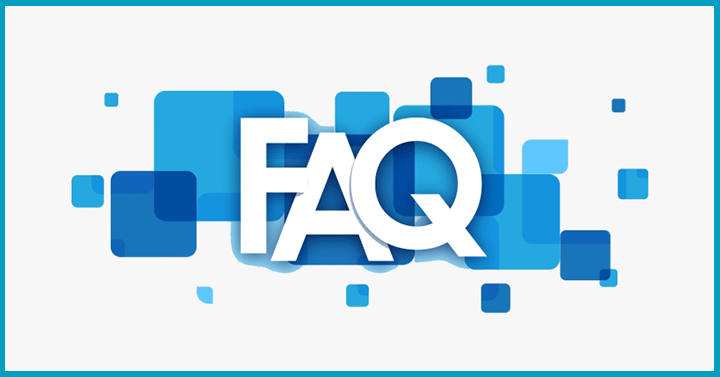 4.1 What are good ways to recognize employees?
Some ways to recognize employees include
A Gratitude or Kudos wall made on a meeting platform or on an actual wall

Public praise via employee recognition email and messaging

Giving them vouchers to avail discounts at select stores

Celebrating personal events such as birthdays, anniversaries or reaching a new work milestone

Investing in their training and development

Having a 1:1 catch up to give and receive feedback regarding how they feel about work and what can be done to help them bring their best to the table
4.2 How important is recognition in the workplace?
Employee recognition is vital to quantify the value and worth of every employee working in an organization. It lets employees see that their contributions and efforts aren't going unnoticed and that there are tangible results tying back to those efforts. 
Employee recognition leads to satisfied and engaged workers who feel more confident about themselves, giving them a reason to be productive.
4.3 How do you praise someone professionally?
Here are some phrases you can use to praise someone in a professional context;
1.'Thank you, reading your email made my day.'
2. 'Great colleagues like you make me realize why I love coming to work'.
3. 'I/We could not have done it without you. I/We appreciate everything you've done to make this happen'.
4.' I couldn't help but notice the effort you put in for the project and just wanted to thank you for being YOU!'.
4.4 How do you make employee recognition meaningful?
Employee recognition can be made meaningful by ensuring managers take the time to get to know their employees.When managers have established good rapport with employees and understand what motivates them, they can give recognition that is aligned with that, thus having more impact and meaning for the employee. 
Not only will an employee feel recognized but they will feel seen when you recognize them in the way in which makes the biggest impact for them. 
4.5 What is the difference between appreciation and recognition?
HBR explains the distinction between appreciation and recognition succinctly.
Appreciation is about who the person is, while recognition is about acknowledging what they do. Both are given on different occasions and for different reasons. Appreciation lets you connect with the employee on a social and personal level, thereby humanizing their actions. Recognition, on the other hand, praises them for doing something correctly or for surpassing expectations.