Typically held on the first Friday of March, Employee Appreciation Day provides an opportunity to commemorate individual achievements, forge team bonds and foster a social atmosphere where people can relax, connect and let go of some of that pent-up stress.  
There are lots of ways to highlight the hard work of your staff. Here are some Employee Appreciation Day ideas to inspire your own company's celebrations.
1 What Is the Purpose of Employee Appreciation Day?
Dedicating a specific day towards appreciating staff achievements shows employees that their contributions are being acknowledged and applauded by the company. This can have a tangible impact on overall engagement and, by extension, reduce churn. One piece of research found that individuals at companies with minimal recognition and rewards systems in place were four times as likely to leave compared to companies that had high levels of recognition combined with a rewards program.
2 Employee Appreciation Day Ideas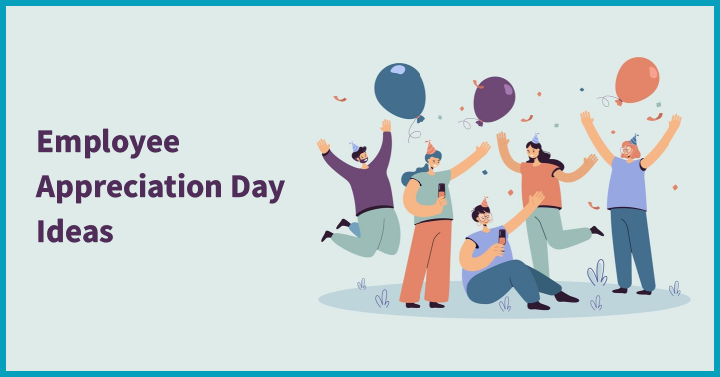 2.1 Create a Wall of Fame
A wall of fame salutes high achievers in the workplace by highlighting details of their accomplishments alongside their photos and sometimes a mini biography. Traditionally, walls of fame were physical spaces in real-world offices. Today, more and more companies are turning to virtual alternatives to achieve the same effect. This has kept them in step with the move towards hybrid and remote working.
2.2 Give Gifts
Company-branded apparel, stationery or water bottles are fairly standard when it comes to Employee Appreciation day ideas. You can also go more high-tech with items like webcam covers or radio frequency identification (RFID) blocking wallets to protect phones and cards. Alternatively, celebrate your employees with pampering items like bath bombs or moisturizers.
2.3 Provide Gift Vouchers
Gift cards give staff the option to choose their own rewards according to their unique tastes. For example, Amazon has a broad catalog of items, while Ticketmaster offers a world of musical, theatrical and comedic events. If you want to go down a more team-oriented route, you could provide vouchers for group experiences like a cooking class.
2.4 Introduce Fun Games
Games are a relaxing way to develop camaraderie. Activities like scavenger hunts, pub quizzes, office Olympics and escape rooms can all now be arranged digitally as well as in real life. You could also organize fitness challenges or bake-offs as part of your Employee Appreciation day ideas.
2.5 Reward with Certificates
Awards based on unique achievements or general milestones are another way to recognize employee contributions. For an Employee Appreciation day, you could also throw in a few comedic accolades to lighten the mood and instill a sense of fun into the proceedings.
2.6 Take Employees to Picnics
When the summer sun is shining, it's not uncommon to feel you would rather be outside than in an office. Hosting a company picnic combines free food, nice weather and the beauty of nature to create a sociable atmosphere in which employees can relax and get to know one another better.
2.7 Give Half Day Off
Employee Appreciation day ideas for large companies need to take into account the increased levels of organization and associated costs required. One of the easiest and most affordable ways to reward the hard work of staff is to give them a half day off to spend as they wish.
2.8 Offer Movie Tickets
As either a standalone gift or part of a company swag bag, you could offer movie tickets to your employees as a treat for their hard work. This can be upgraded with drink and popcorn vouchers if you want to add a little bit more to the experience.
2.9 Treat Them for Lunch/Dinner
Similar to a picnic, taking your department or team out for lunch or dinner combines the attraction of free food with an informal gathering that's ideal for forging closer bonds between staff.
2.10 Bring a Special Guest
Special guest speakers can add a learning and development (L&D) aspect to an Employee Appreciation Day. These invitees could be experts in your industry or people who focus on bringing out the talent and ambition in your company through inspirational talks. 
2.11 Host a Motivational Session
Speaking of L&D, a motivational session is another way you can unite employee recognition with workplace galvanization. Encourage staff to build on the past year's achievements by dedicating a day towards the exciting prospects and innovations coming to the company in the next 12 months.
2.12 Write Recommendations on LinkedIn
Take your praise public by giving staff the gift of a glowing LinkedIn recommendation on Employee Appreciation day. This kind of personalized feedback can be invaluable to boosting confidence and bolstering future career prospects within and outside the company.
2.13 Distribute Chocolates/Ice Creams
Sweet treats are a small but delicious way to congratulate your staff for their contribution. Cheaper to execute than other food-related Employee Appreciation day ideas, chocolates, ice creams, cup cakes or other dessert-themed dishes almost never fail to please and with the bountiful gluten-free and vegan options now available, no member of staff needs to be left out. 
2.14 Upgrade Their Workspace
Ergonomics has been shown to increase productivity and reduce injury in the workplace. By replacing office furniture, improving lighting or creating relaxation rooms, you can acknowledge staff successes with upgrades that benefit their wellbeing.
2.15 Provide Access to Online Learning Platforms
Some of the most productive Employee Appreciation day ideas for remote employees go beyond recreational activities to knowledge growth. Online learning platforms like Docebo have a gamification element that makes it more engaging, more competitive and more fun for staff to reskill or upskill.
2.16 Give One-on-One Guidance
Take the time to sit down with each member of your team and find out how they want their career to progress. You can then advise them on the necessary steps going forward and offer them opportunities to showcase their ambition.
2.17 Bring in a Stand-Up Comic
Employee Appreciation day can be about personal development, but it can also be about just having a good time. One of the best employee appreciation party ideas is to hire a stand-up comic for some laugh-out-loud fun.
2.18 Start an Office Library
An office library provides a shared knowledge base that can benefit all your employees and help them develop the skills they need to succeed. Stock it with books that deliver greater insight into your industry or that codify standard business practices This doesn't have to be a physical space: you can also create a digital repository of texts through platforms like Publica.
2.19 Take Honest Feedback
Offer staff the opportunity to express what they need from you to help them succeed. Employee Appreciation day doesn't just have to be about celebrating individuals, it can also be about listening to any concerns and adapting your work processes to improve team performance.
2.20 Allow Them to Select an Activity
Take the stress out of coming up with the perfect Employee Appreciation day ideas by asking your staff to select an activity. To keep the process streamlined, you can first narrow down several possibilities, then ask staff to vote using social media or free online poll software like SurveyMonkey.
3 What Are Benefits of Employee Appreciation Day?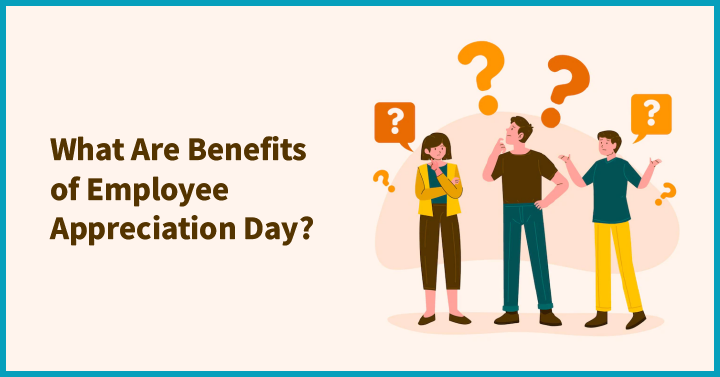 3.1 Connection with Individual Employees
Employee Appreciation days give managers the chance to interact with each member of the team and get to know them a bit better. This can be within an informal setting like a picnic or during a more formal situation like a one-on-one guidance session.
3.2 Boosts their Morale
Tackling workplace malaise has always been a challenge, but it has become even more crucial in the era of remote and hybrid working. Employee Appreciation day is a chance to lift the spirits of staff with awards, games and general recognition.
3.3 Encourages Them to Open Up
Whether you opt to organize recreational activities or motivational speeches, both inspire employees to express themselves more openly and raise any concerns they may have. Any issues can then be quickly addressed and resolved.
3.4 Reduces Job Stress
We all need to let off steam sometimes. Having a day devoted to staff recognition, enjoyment and well-being can be just the valve needed to release any pressure that has been building in the office.
3.5 Sense of Unity Increases
Fun games and team-bonding experiences are a great way to clear the air and pave the path for future successes. Particularly in companies where hybrid and remote working have become the norm, Employee Appreciation day brings coworkers together.
4 FAQs
How Do You Celebrate Employee Appreciation Day Remotely?
Many businesses now offer virtual team-building activities, from scavenger hunts to escape rooms. Plus, delivering gifts to the homes of your employees has never been easier.
How Do You Celebrate Employee Appreciation Day 2022?
Some of the most popular Employee Appreciation day ideas 2022 include gift vouchers, company lunches and mini awards ceremonies. You can mark the occasion with activities centered on professional growth or just encourage everyone to kick back and socialize.
Is Employee Appreciation Day a Real Thing?
Yes, Employee Appreciation Day is real! Take a look at the Employee Appreciation day ideas Pinterest has for some more creative and original ways to celebrate.