These days, no one is insusceptible to stress irrespective of the time of the year, across physical and occupational factors. A Gallup Report of Global Emotions said that 4 out of 10 in 2020 have experienced worry or stress, and nearly 190 million people experienced significantly higher stress in 2020 than in the past years. More and more stress coping mechanisms are being applied in all walks of life, and stress relief gifts for work and non-work functions have gained popularity.
In these testing times, it is crucial to stay alert and pay attention to our own stress triggers, and those of our peers and colleagues.
Here are some mindful stress relief gifts for work and stress relieving tips that you can get for those who deserve it, including yourself.
Still looking for more stress-busting solutions? We've got even more stress-relieving gift suggestions, employee appreciation day ideas, and gift cards for staff.
1. 20 Relaxing Gift Ideas for the Overworked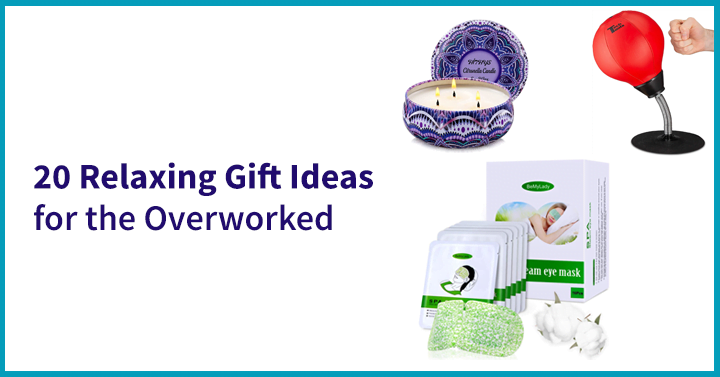 1.1 Handheld Electric Scalp Massager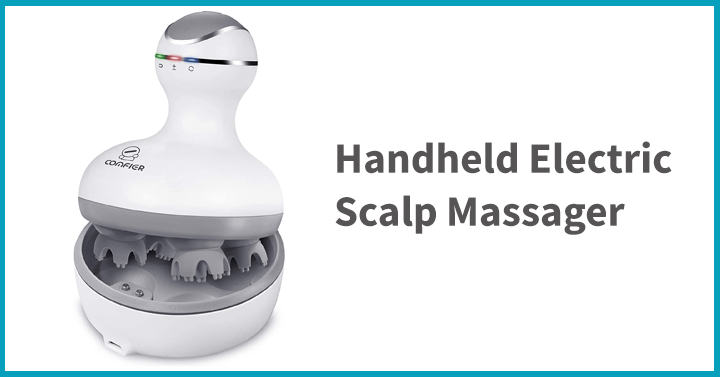 A warm bath or a shower before bedtime works greatly in literally washing away your stress. Follow it with a gentle scalp and face massage with this handheld waterproof electric massager. It has 21 individual nodes that rotate to give you deep, relaxing stimulation that helps relieve stress, improve blood circulation, release aches & sores, and improve sleep quality. It can also be used on any muscle in your body, which makes it a relaxing stress relief gift for work.
1.2 DIY stress relief gift basket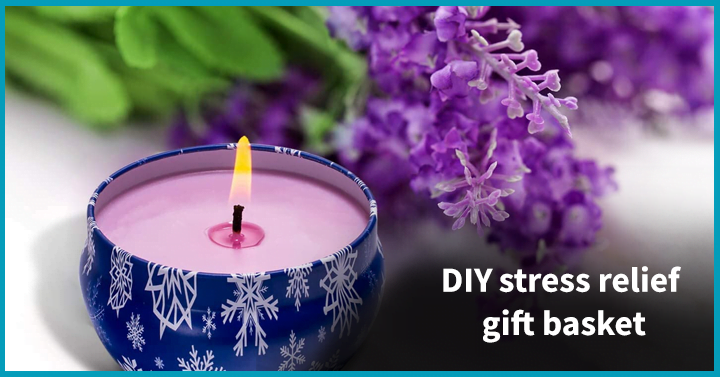 Treating oneself to a self-pampering session at home on a relaxing weekend is a perfectly acceptable response to reduce stress. Instead of buying a ready one, build a DIY gift basket as a stress relief gift for her to show how much you care. Present it to them, and follow up gently to make sure they indulge in a relaxing Sunday afternoon caring for themselves. You can include the below in your gift basket – 
1.3 Bluetooth Sleep Headband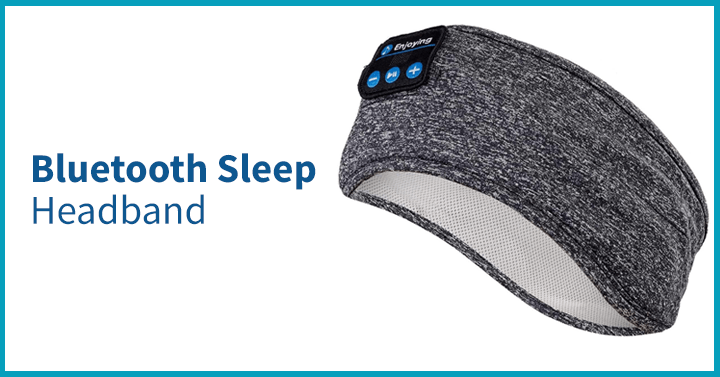 Listening to certain sounds will instantly calm you and help you sleep more peacefully – white noise, waves & ocean, forest sounds, rainfall, night sounds, etc. These Bluetooth sleep headbands are an ideal stress relief gift for work buddies who do not seem to be on the best terms with their sleep so that they can keep their phone away, and yet listen to calming noise.
1.4 Acupressure Mat and Pillow Set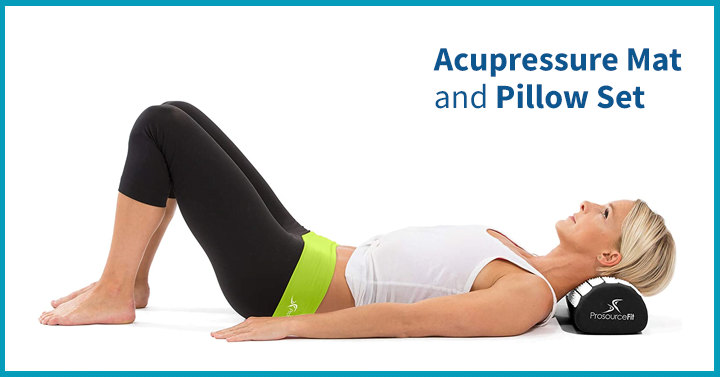 Acupressure is known to stimulate nerves and improve blood circulation. It also helps release endorphins that block pain and help relax the muscles in your back, neck, and feet. A personal massage with this acupressure mat and pillow set would be a soothing stress relief gift for work buddies and yourself. You can use it before bedtime to release tight muscles and improve your sleep.
1.5 Gratitude Journal + Coloring Book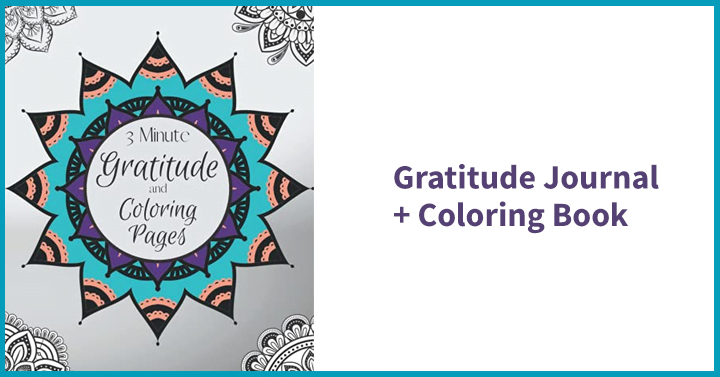 Stress overwhelms us and overshadows the little joys of life for which we have to be grateful. Writing down what you are grateful for everyday enables you to start or end your day on a more positive note. A gratitude journal combined with a coloring book will be the perfect stress relief gift for work buddies to bring in some gratitude, love, and color in their lives. You can choose between a gratitude + mandala coloring book, gratitude & inspirational + floral coloring book, or this 3-months mindfulness practice book with gratitude + virtues coloring book.
1.6 Daily affirmations card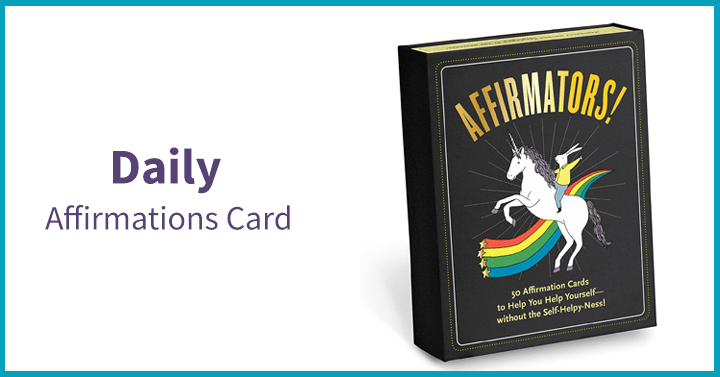 Affirmations are positive statements that can help you with overcoming self-disruptive and negative thoughts. This study shows that even a short affirmation exercise boosts the problem-solving abilities of "chronically stressed" subjects to the same level as those with low stress. Boost the confidence of your stressed work buddies or yourself with these daily affirmations cards as a boosting stress relief gift for work.
1.7 Scream Absorbing Jar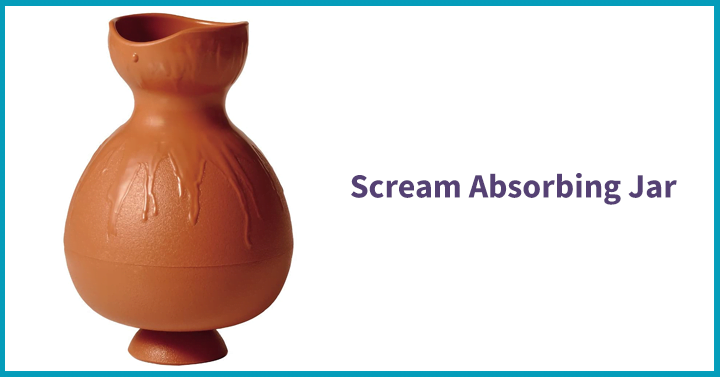 Screaming does relieve stress, just like how crying reduces sadness and punching reduces anger. This scream jar that changes even the loudest scream to a whisper would be the ultimate stress relief gift for work that enables the stressed one to scream out their frustration at any time, any place, without worrying about the surroundings.
1.8 Desktop punching bag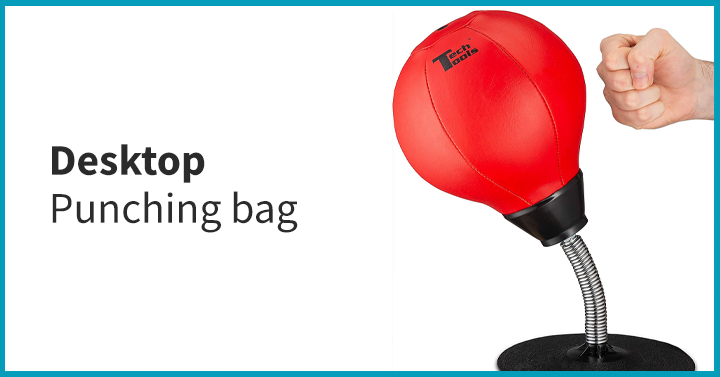 We just mentioned punching reduces anger. So it would only be appropriate to guide you to a safe outlet for your anger and stress. Additionally, workouts, no matter how short or lengthy, release dopamine, noradrenaline, and serotonin, making you calmer, happier, and stronger. Combine both with this desktop punching bag that can withstand your strongest punch too.
1.9 Heated/Chilled Eye Pillows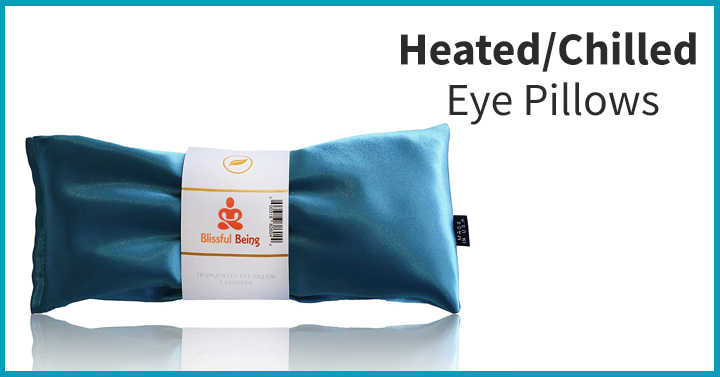 Insomnia or sleeplessness is a common side-effect of stress. Enabling them to sleep peacefully would be the best stress relief gift for work buddies or anyone showing the signs of burning out or even just sleeplessness. Aromatherapy is proven to relax your mind and soothe your senses. These weighted scented eye pillows are a great enabler in giving you the best of both worlds. They can be warmed up in a microwave and frozen in a fridge for hot and cold therapy.
1.10 Teabox subscription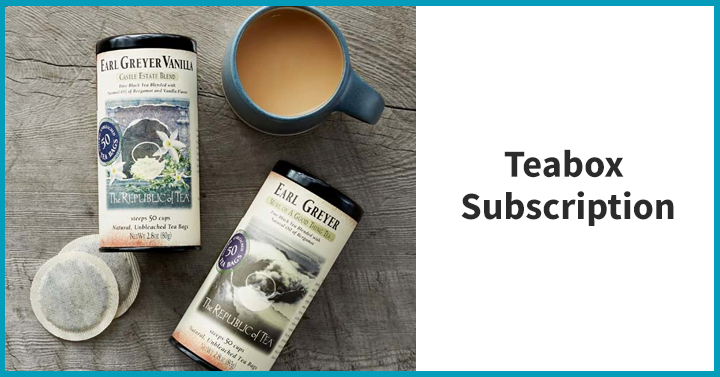 Herbal teas are caffeine-free and help significantly in promoting the Zen factor in your life. Herbal teas like mint, chamomile, rose, valerian root, lavender help you relax, slow down and unwind after (sometimes even in between) a long day. This tea box subscription allows you to select from their collections for "Tea of the Month."
1.11 Meditation app subscription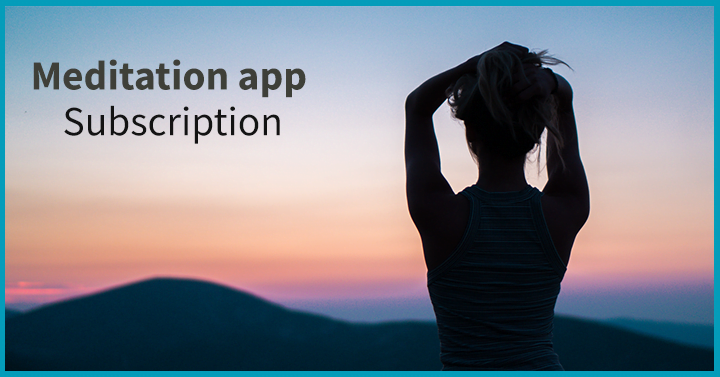 Meditation helps focus your attention and eliminate the clutter of stress causing thoughts. It can help create a deep state of relaxation and a tranquil mind. Helping to calm the overactive brain and grounding oneself to the center would be the optimal stress relief gift for work. Gift them with the subscription to Meditation apps like Calm, Unplug, or Headspace.
1.12 Foot Spa Massager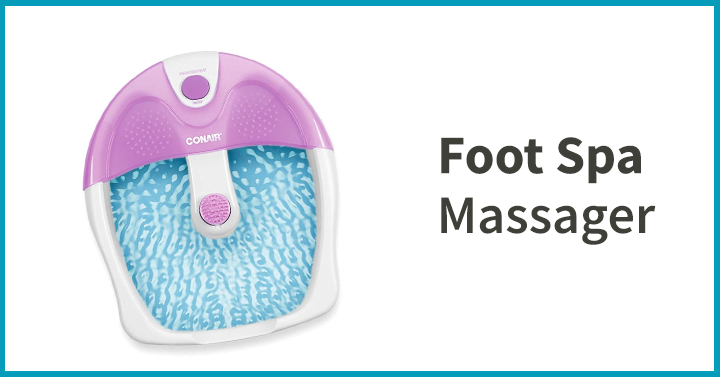 Reflexology says that the nerves that carry signals to and from different body parts have their representatives in the feet. Reflexive foot massages help alleviate pain and stiffness throughout the body using these nerve endings for each body part in the feet. This foot spa massager would be an excellent stress relief gift for work buddies and anyone who is stressed. Pour some warm water and add a mini bath bomb for an enhanced soothing experience.
1.13 Hammock Chair Swing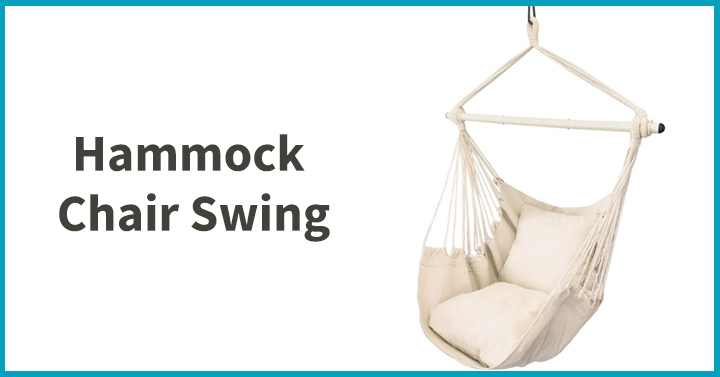 The back-and-forth motion of a swing releases endorphins and can have a soothing effect on the anxious and stressed. This hammock chair swing is sturdy, durable, and can be hung from anywhere. This XXL hammock chair swing allows you to lie down and swing for ultimate comfort and fit. 
1.14 Tabletop Water Fountain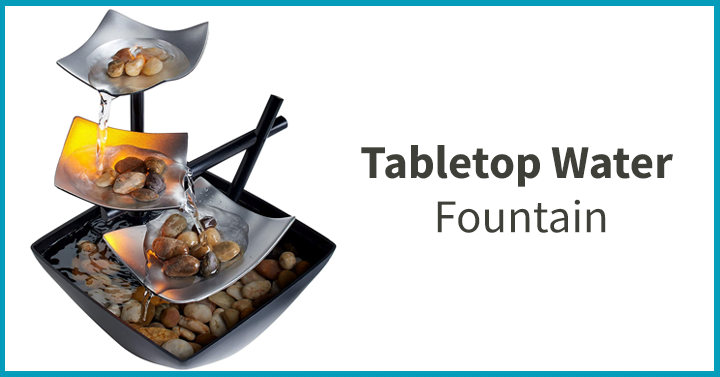 One of the most preferred methods to relax is to be out in nature, amidst greenery, chirping of birds, and besides the ocean, river, or waterfall. Recreating the ambiance and experiencing the soothing effect can be the perfect stress relief gift for work with these noiseless, artistic, and tranquil tabletop water fountains. 
1.15 Weighted Blanket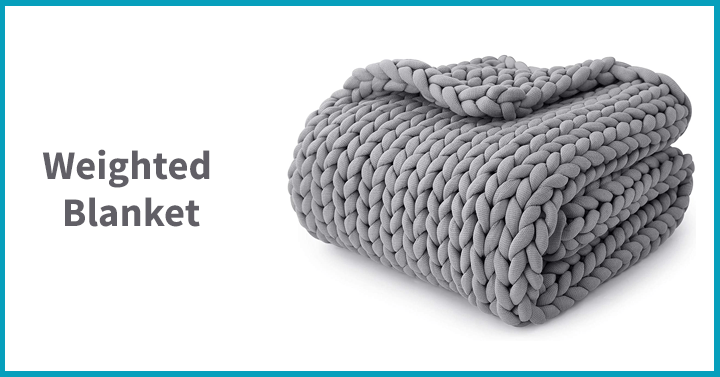 The added weight in your mind can be reduced by adding a weighted blanket on your body. They work using a therapeutic technique called deep pressure stimulation. It induces a feeling of calm by providing firm and controlled pressure. We certainly feel as snug and cozy as a swaddled baby while using a weighted blanket. They are available in two forms – duvet and knitted.
1.16 Aurora Night Light Projector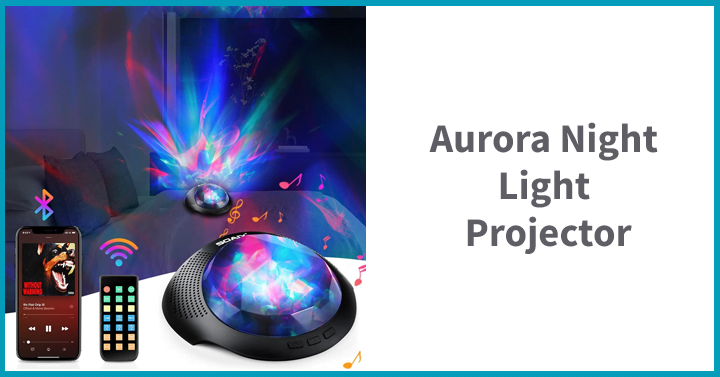 Like the tabletop water fountain, Aurora Night Light Projector also works on the principle of imitating nature within the confines of your room. Bring in the Northern Lights to your room, accompanied by sleep sounds like white noise, ocean waves, summer night, thunder, stream, and rain. It is remote controlled, has 7 light modes, 4 timer options, and 3 levels of brightness. 
1.17 Essential Oil Diffuser Necklace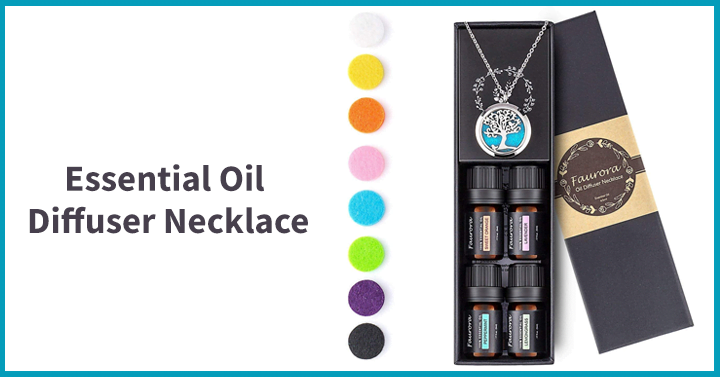 We have already established that aromatherapy greatly reduces stress, but scented candles and essential oil diffusers cannot be made available everywhere. Therefore, this essential oil diffuser necklace will be a perfect stress relief gift for her. Just add the oil to the refill pads, and you have your own aromatherapy assistant everywhere you go.
1.18 Tibetan Singing Bowl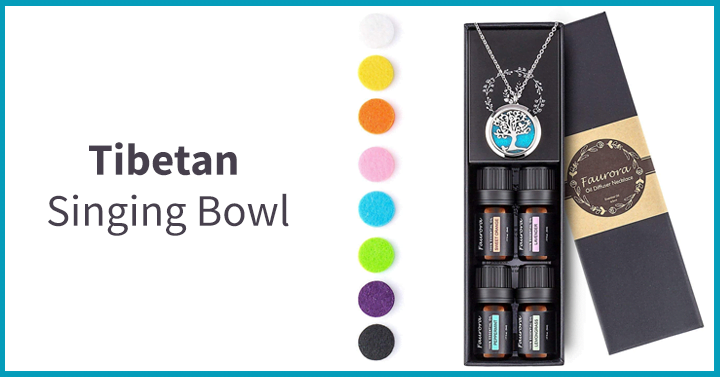 Many research papers prove that mindfulness meditation reduces anxiety, prevents and treats depression, and sometimes even improves cognition. The sounds generated by this Tibetan Singing Bowl is a type of energy medicine that promotes mindfulness and healing from stress disorders, pain, and depression. It fits in your palm, and the unique long-lasting tones create the perfect state for deep meditation and creative thinking.
1.19 Mandala Coloring Book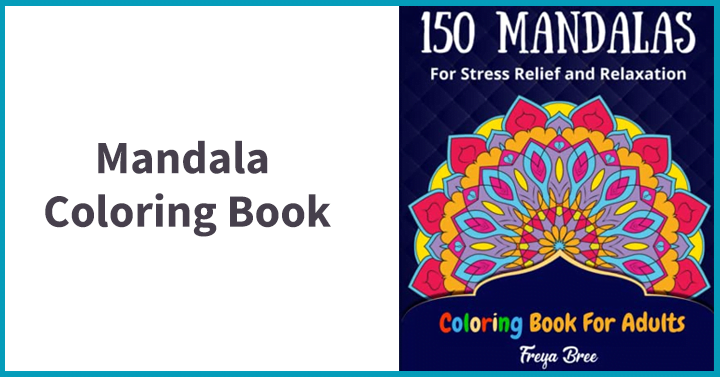 Often mandalas are used for meditation. Drawing circles brings us back to our center -  it brings stability to an unstable situation or mind. Once balance returns, the mind, and body can begin to function properly again. It combines the essence of art therapy and color therapy. Give this mandala coloring book as a stress relief gift for work buddy or anyone who wants to relax, find inner peace, and melt the stress away.
1.20 Your Time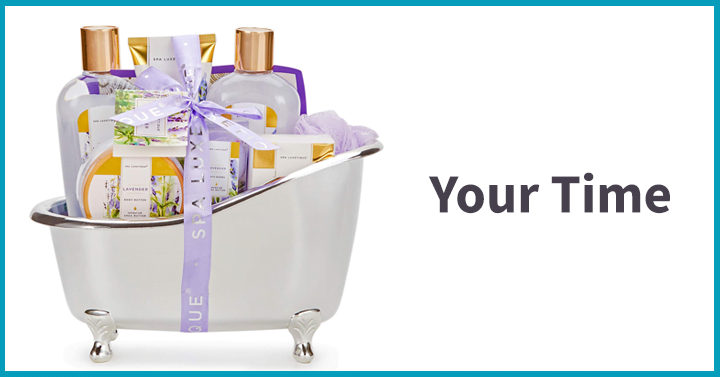 Sometimes all that someone needs is companionship – someone to talk to, a shoulder to cry on, an ear to listen to, a warm hug. Give the gift of time and show that you care. Go for a walk in the park with them, prepare meals for them, help them with coping strategies, reassure them… Just being with them can be the perfect stress relief gift for men, women, and everyone. It can make a huge difference.
2. FAQs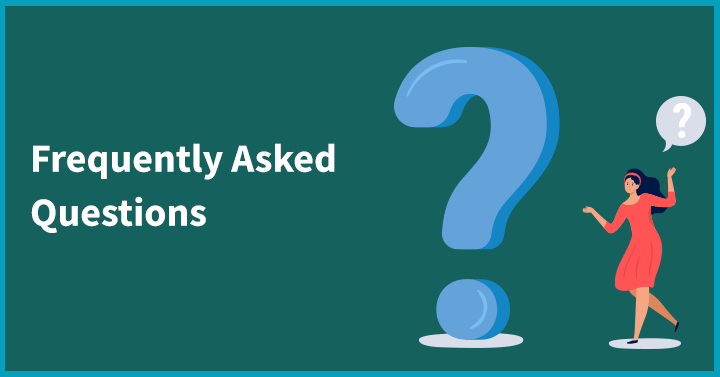 What to gift someone who is stressed?
Stressed people are quickly exhausted, and more often than not, lack the enthusiasm they had previously for something. Your gift to stressed individuals should help them relax and unwind. Talk to them, ask or pay attention to the triggers, gift them something that will rejuvenate and reset them, even if temporarily. You can look into the innumerable relaxing gift ideas for the overworked for inspiration.
What are the most stress-relieving things to do?
If you are the stressed one, self-care is by far the most crucial aspect. Here are some helpful tips for caring for yourself when stressed -
Exercise – in any form – go for a run, dance, swim, lift weights, and do yoga. 
Reduce caffeine intake
Meditate – go for guided meditation
Sleep. It is always under-rated. Get enough sleep
Indulge in a hobby – gardening, music, reading, traveling.
Seek help from someone close, or get in touch with a support group or a professional.