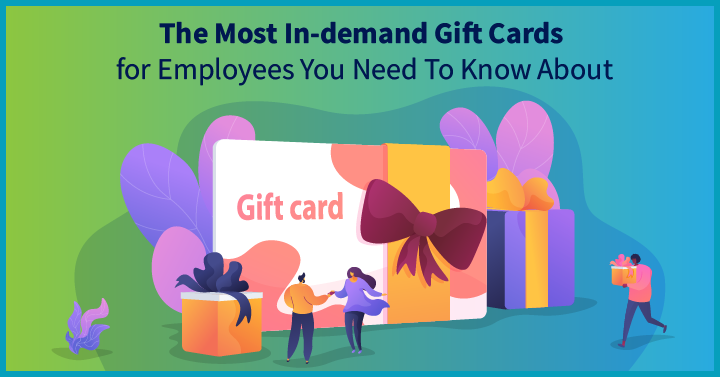 In this digital-first era of hybrid working, rewards for employees have shape-shifted in different ways, but one of the most popular choices for organizations are gift cards. Be it the old-world charm of physical gift cards or the cool quotient of digital gift cards for employees, these are never-fail options to reward great talent. Employees appreciate the simple, yet personalized feel of gift cards and companies find it both easy and convenient to share these across multiple levels to boost employee engagement, so it's a win-win.
In this article, we share some of the best employee gift card programs that offer excellent gift card programs for companies. 
1 What is an employee gift card?
An employee gift card is a cash or cash-equivalent card that can be used to make transactions at merchant outlets or online to buy items or services. These may be physical or digital cards and are typically given to employees at the workplace as employee recognition rewards.
2 Benefits of Gift Cards for Employees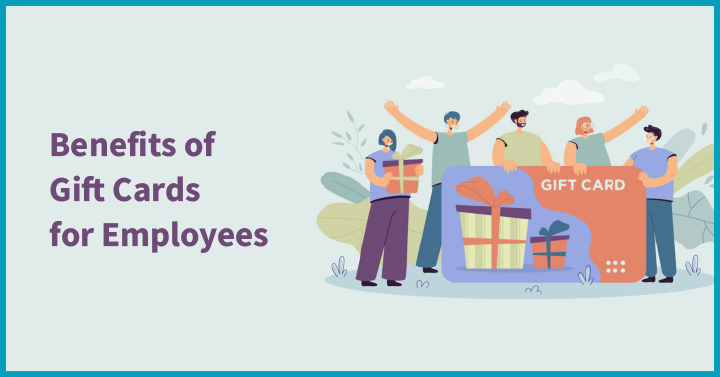 Since there's a huge competitive market for brands to promote themselves, online gift cards for employees are a great way to offer flexibility. They get to pick their favorites instead of others choosing for them, spend as much as they want to, and take advantage of offers or discounts.
Gift cards can be easily personalized and that helps in creating a more meaningful bond between employees and their managers. Most gift reward programs offer options to add personalized messages, customize them with company logos or align them with personal preferences in brands or product categories
The easy and streamlined disbursal system of gift card programs makes it easy to choose and distribute gift cards, doing away with hassles of logistics and other bottlenecks. Organizations can choose to give bulk gift cards for employees at a single time, using some of the enhanced features of specific reward programs. Some of these also have integrations that can add more incentives and value to the gift cards.
3 12 Best Gift Cards for Employees at the Workplace
3.1 Bucketlist
On top of our list of the best programs that provide gift cards for employees is Bucketlist. The platform provides tailored recognition that's specific to each employee and their preferences or achievements. Once the employee receives an award or recognition from the platform, he or she gets a notification. Through this employee gift and rewards program, employees can collect points and redeem them to pick and choose rewards or experiences to enjoy and strike off their bucket list.
The USP of the employee gift card program is that there are a wide range of rewards to choose from and they are customizable.
3.2 Kazoo + WorkTango
This employee engagement program is designed to create a happy and collaborative workspace through feedback and interactions. Employees have the choice to shop at the Rewards Catalog and specially curated Special Catalog to redeem their points and manage recognition milestones. The gift cards provide access to a wide range of popular brands worldwide, so employees have more freedom in making choices.
The gift card program also has a social feedback portal and corporate discounts that they can benefit from. 
3.3 Motivosity
Motivosity's gift card program aims to boost employee morale and create a positive culture of gratitude through this platform at every level. They have a wide catalog of employee gift cards that can be aligned with recognition awards, social media shoutouts, and internal appreciation messages. With the unique ThanksMatters Visa Card, which is a credit card that the platform offers, employees can use the card to redeem their points on purchases of their choice. They can clock in more points based on milestones, appreciation, and spot bonuses to increase their spending balance. 
The best part of the platform is the wide selection of customizable gift cards, personality profiles and interactive elements that promote more public appreciation between managers and employees or peer to peers. 
3.4 Awardco
Ideal for larger-sized companies, Awardco is a reward platform that uses its gift card program to increase connectivity and boost employee engagement at all levels of an organization. They have partnered with Amazon to offer easily customizable employee gift cards using notifications and points. With plenty of eGift card categories to choose from, employees have the freedom to spend their points as they like. 
The platform lets both managers and employees send recognition messages along with gift cards and vouchers for tickets, company swag outlets and even donations. Some of their notable brands are Pinterest and HertzStandout.
3.5 Bonusly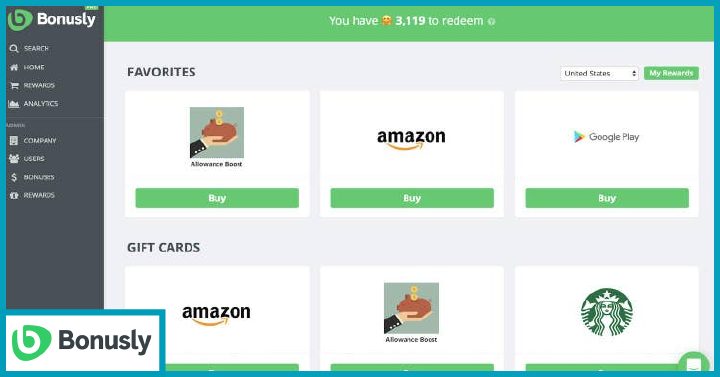 Bonusly has an employee incentive, recognition, and survey platform that's ideally suited for the dynamic needs of modern organizations.
Gift cards for employees can be automatically ordered through their catalogs by using redeemable points. These points are awarded based on recognitions or milestones that are integrated into their gift card programs. The ease and convenience of using this platform make it a popular choice for clients like ZipRecruiter, Toast, and Survey Monkey.
3.6 Guusto
By building a culture of positive engagement, Guusto's gift card platform recognizes and helps retain top talent. Unlike other gift card programs, this platform does not have a point system catalog lineup or any hidden costs. Employees can choose from a wide selection of gifts, rewards, and experiences using their gift cards.
Guusto's 60,000+ global network partners include restaurants, travel, OTT services, and retailers  These gift cards are redeemable at physical stores or online stores. Clients like Marriott, Levi's, and Fairmont Hotels are some of the big brands that engage with Guusto. 
3.7 Nectar
Nectar's reward and recognition platform can be easily integrated into HR systems to plug in recognition, milestones, and special moments for rewards. Their digital gift cards are available for spot bonuses and can be redeemed for a range of items, company swag, or health and wellness services through their extensive catalog of over 300 brand partners. 
Employees can easily track points, collect points for sale offers and review their spending patterns based on which they also receive specially curated brand offers. A few big mentions would be SHRM, Heineke, and Lasko.
3.8 Hoppier
Hoppier has a simple employee engagement platform that makes it convenient to send rewards using only email IDs. Their streamlined process and guardrails on card usage make it safe and easy to integrate with multiple vendor platforms such as UberEats and other outlets. 
It also offers 100% refund of unclaimed rewards and advanced personalization options as needed. Some of the must-mentions are Amazon, Google, Facebook and LinkedIn.
3.9 Empuls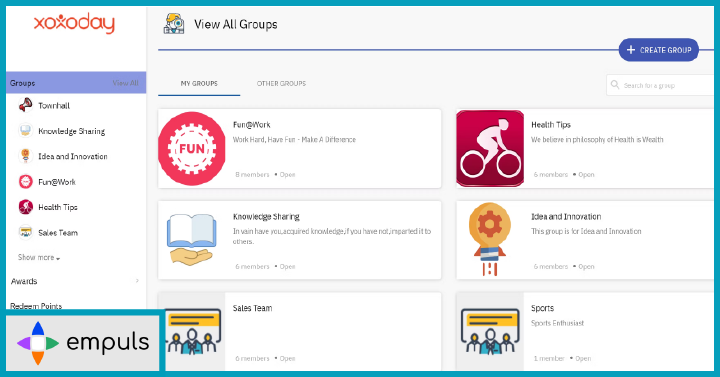 Empuls's employee reward platform includes over 21000 options in gift cards for employees across 20 categories in 75 countries worldwide. This gives employees a lot of freedom to choose gifts of their choice and redeem their points easily. 
These gift cards can be integrated into HR platforms for everything from personal milestones, professional achievements, and work occasions by HR professionals and managers to reward employees. A few of the big names that Empuls have on their list are Luminous, Rakuten, Brenntag and Signzy.
3.10 WeGift
WeGift's reward platform makes it easy to distribute gift cards at a large scale for any organization. With tie-ups with up to 1000+ major brands across the world, employees can choose their favorites across a wide range of categories through their extensively spread catalogs. Their corporate gift card program provides a flexible Visa eReward Card that can be sent out in bulk and redeemed across 30 countries in 168 currencies.
Gift cards can be sent across in minutes and employees get access to 24-hour customer service. Clients such as Apple, Uber, Debenhams vouch for their excellent gift card program.
3.11 Tango Card
Tango Card has a specially designed section, Reward Link that companies can use to send gift card links to employees so they can choose their brands from a list of options. The platform offers freedom to customize the rewards and add personalized messages for the rewards.  Tango's dashboard, Reward Genius, helps to track the sent number of gift cards for employees, reorder favorites and deliver bulk incentives at one go. 
Designed as a Reward-as-a-Service (RaaS) software solution, it supports a gift card API, that can be plugged in third-party platforms and apps to provide incentives and more reward options. The Reward Genius dashboard also allows users to order on-demand rewards and deliver worker incentives in bulk.
3.12 Giftbit
Giftbit's customer engagement web app enables companies to disburse and track digital gift cards to employees in bulk using personalized emails. Managers can customize the reward templates that are available using their company logos on an integrated platform. Employees also have the freedom to choose their choice of brands from catalogs.  
Their  API can be easily integrated with external workflows and HR systems to create personalized rewards and incentives using their wide range of digital gift cards. Giftbit's flexible delivery system makes it easy for companies of all sizes to use the platform conveniently to meet their employee engagement goals. 
4 FAQs
What types of corporate gift cards for employees are available?
There are different kinds of corporate gift cards for employees that they can use across retail, fitness, food delivery, mind wellness or even books. These are typically online or digital gift cards, but they can also be shared as gift certificates, vouchers or pre-paid credit cards.
Do employees appreciate gift cards?
Yes, since gift cards for employees give them the freedom to choose what they would like, instead of limiting their choices to a few brands or categories. 
When to use employee gift cards?
Gifts cards for employees are an excellent choice that can be used to recognize or reward great work and performance.