One great way to rejuvenate your team is to conduct team-building activities as it is proven to bring your team together and improve the quality of work and workplace. Team building companies in Australia bring in their expertise, knowledge, and years of research in developing a tailored team-building experience. .
To leverage the best of such experiences for your team, it is wise to hire an expert team-building company. So, if you are considering connecting with one such organization, go through our top 14 recommendations for team-building companies in Australia.
If your team is working from home or scattered across the country/world, check out this article for over 40+ virtual team-building activities. 
If you're living in a different part of the world and looking for team-building companies to help run your corporate events, check out our guides to businesses in the USA, the UK and Canada.
1. Top Team Building Companies in Australia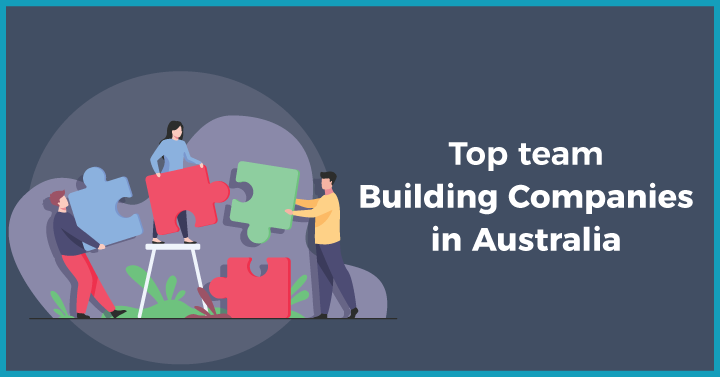 1.1 Team Days
Team Days, a branch of Buttoned Up Events, is an expert in providing quirky, party-themed corporate events by combining creativity, adventure, and fun. They're present in Melbourne, Perth, Gold Coast, Sydney, Cairns, Adelaide, Byron Bay, Brisbane, and Airlie Beach. 
They provide over 45 different gamified experiences for team-building that strengthen communication, time management, risk mitigation, delegation, leadership, and trust. If you are looking to host extravagant events, they also organize Christmas parties, social events, rewards & incentives, corporate retreats, events for universities and school groups, as well as virtual experiences for team building companies.
What we loved about Team Days among other team building companies Australia: The Hustle Scavenger Hunt and Amazing Race with Bars.
You can get a free quote by submitting a form through their website.
1.2 Urban Quest
When the event company's motto says 'Bring the buzz back in your office', stay rest assured to see your teammates getting back to work as busy bees. Urban Quest is amongst Melbourne's top and most rated team-building companies that can charge up our employees to the maximum. Inspired by the Amazing Race TV show, Urban Quest hosts an interactive race that takes you through a mental, physical, and emotional roller-coaster as you navigate the streets of Melbourne. Their race is also available as a virtual activity.
What we loved about Urban Quest among other team-building companies Australia: Paperless navigation! All we needed was their app on our smartphones to navigate through the race!
Fill out the form on the website, email them or call them to enroll your team into the race.
1.3 Team Building Made Easy
If you are looking for a comprehensive team-building activity portal, Team Building Made Easy is your one-stop-shop. They understand your needs and put you in touch with a wide range of providers that offer exactly what you are looking for. Even if you are uncertain or confused, their expert representative will interact and understand your team's goals and help select appropriate activities and suppliers. 
They get you multiple quotes and allow you to choose from a wide range of categories, such as - 
Cooking & Cocktails, 
Christmas Team Building Activity Ideas, 
Problem Solving, 
Creative, 
Charity, 
Games Shows & Trivia, 
Learning & Development, 
Amazing Races, 
Events On A Budget, 
Evening, 
Active & Adventure 
Custom packages.
What we loved about Team Building Made Easy among other team building companies Australia: Even though they act as middlemen, we didn't have to pay extra for their services. Just the price for the activities hosted by the actual company. They even provide a large selection of virtual team building activities Australia.
Call them, email them or fill out this form to choose from the range of activities.
1.4 Hidden Door
The core of any team-building activity is to engage and connect the team members. That's precisely what Hidden Door's goal is.They offer a host of events like Company Family Days, Energisers, Conference Activities, Xmas Party, Workshops, Evening, Wellbeing, Just For Fun for small and large groups alike. They also provide other team building activities like Remote Team Building, Amazing Races, Indoor, CSR/Charity, Outdoors, Food & Wine, On A Shoestring, etc.
What we loved about Hidden Door among other team building companies Australia: We have a team of sporty people, and we wanted to give them a truly memorable experience. So we chose a mix of sports such as soccer, volleyball, and basketball and a bunch of short games like archery tag, inflatable obstacle courses, and an invigorating VR zone. Those few adrenaline-filled hours left our team so spent that they drank champagne like water, but also it worked wonders. They were more close-knit than ever!
Call them or Submit form for a quick quote!
1.5 Team Building Australia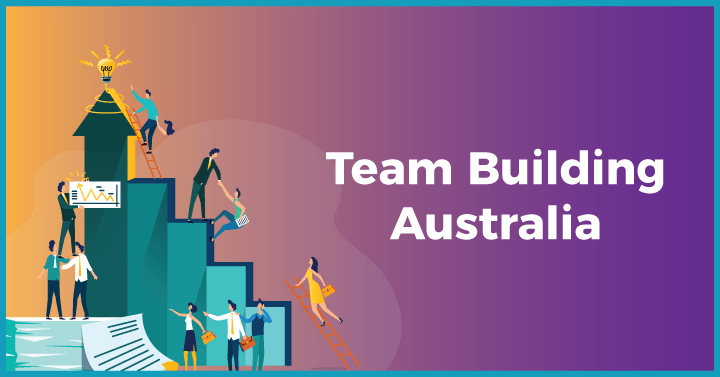 Team Building Australia has been the premier team building activities provider in the country for almost 20 years. They plan, manage, and execute team development and conference events, corporate training, and group experience services all over the country. They have pre-determined programs and are also happy to customize them to your requirements. You can organize your activity days, music & dance nights, themed parties, L&D workshops, fundraising programs, and more with their expert guidance.
What we loved about Team Building Australia among other team building companies Australia: Though we partook in multiple activities throughout the day, we especially loved the License to Spy, The Wild Goose Chase, and Brush Strokes.  
They can be reached via phone according to the city - NSW and Canberra, Victoria, NSW, Act, Queensland & NT, and International.
1.6 Thrill
If you want to motivate your team while helping them connect with each other, reach out to Thrill to design and facilitate motivational staff training and face-to-face exercises. You can choose from hundreds of team-building activities available across categories like amazing race, charity, creative, dance, themed activities, treasure hunts, competitive activities, outdoor, survivor, flash mobs, and games like minute to win it and trivia. 
We booked a 3-day fun training marathon (which the team cribbed about initially), but later none of them wanted to leave the location! The session held after each employee's MBTI (Myers-Briggs Type Indicator) Personality Assessment was the most enlightening one.
What we loved about Thrill among other team building companies Australia: Their set of unique games like Body Hack Challenge, Bubble Soccer, Kite Building, and Medieval Games.   
Just dial-in their number to book your slot! 
1.7 Catalyst Team Building
A wing of Catalyst Global, a recognized world leader in innovative team building, Catalyst Team Building has branches across all continents and is the industry leader in innovative team bonding events, design excellence, delivery, and industry relevance. If your team consists of WFO, WFH, and hybrid employees, this company has the perfect blend of activities for you. 
They provide myriad programs under Business Escape Games, Just for Fun, Music Events, Networking, Physical + Active Programs, apart from other Remote, Hybrid, and In-Person Team Building built to your needs. We combined our annual RnR program with a long weekend of retreat, and everyone was blown away by the out-of-the-box and never-done-before challenges and games.
What we loved about Catalyst Team Building among other team building companies Australia: The inclusivity! They indeed are the experts as they got even our most introverted colleague to spill a truckload of beans. Among all the activities, we had our brain juices flowing with Quickfire, Beat The Box, and Go Team.    
Get in touch with their team for a free concept development via enquiry form, call, or email.
1.8 Beyond the Board Room
If your time has had enough meetings for lifetime and wants a breather, Beyond the Board Room comes to the rescue. They have developed a specialized 5-step method to design and deliver a challenging and fun team-building experience. They bring in their decade-worth of expertise on -
COVID-friendly activities, 
Amazing Races, 
Outdoor, 
Indoor/Evening, 
Charity, 
Creative, 
Food & wine, 
Adventure, 
X-Mas, 
Workshops, 
Virtual events, 
Professional development and leadership programs 
What we loved about Beyond the Board Room among other team building companies Australia: Our team took the best advantage of the Blend your own Wine, Picasso Challenge (which they took to be a modified and fancy Sip and Paint), followed by Corporate Massage.
Reach out to their super-friendly advisors over toll-free or international number.
1.9 Glenworth Valley
This is the perfect team building company to connect if you have a team of nature- and adrenaline-junkies. Glenworth Valley was founded in 1969 as a small horse-riding center and has now grown to become the largest one (over 200 horses) in the southern hemisphere. 
They also host a wide variety of other adventure activities like kayaking, laser-skirmish, abseiling, and quad-biking. We hosted a launch party here for our employees and clients to add a rustic element to the fancy treat, and we were floored and mesmerized by the sprawling nature, majestic horses, luxurious eco-villas, and explicit horse-riding lessons.
What we loved about Glenworth Valley among other team building companies Australia: The sheer elegance and luxury! And the Axe throwing!
Choose from a wide range of packages they offer, book an experience, choose a date, enter details, and "come, do the amazing!"
1.10 Great Race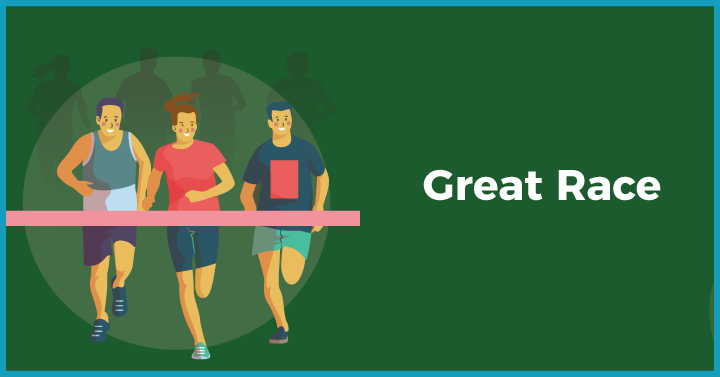 If you want to host just the Amazing Race as a team-building activity, Great Race offers the perfect solution. Their hosts are brilliant actors, comedians, directors, and performers. The other team building activities include Online, Outdoor & Indoor, and Creative Activities, and they host a plethora of corporate and social events. We are keen to try the Mars Race next time (hopefully). If you are looking at team building companies, you should for sure put them on your list.
What we loved about the Great Race among other team building companies Australia: Day 1, we had the Classic Amazing Race, followed by Survivor and Taste It to Win It. On Day 2, we participated in our Film Fest followed by Waterworks. We loved every activity, and it is nearly impossible to choose one or a few.
Choose the activities and enter your details here, or call / email them to book your own fantastic time of corporate life. 
1.11 Corporate Challenge
What can be better than a 2.5+ decades-old team-building organization providing In-Person and virtual team-building activities? Corporate Challenge Events host activities for both remote and in-person employees, as well as events like Charity, Christmas, and School group activities. Their Workshops are centered around two areas – FISH! (focus on transforming the culture in teams), and Belbin (empowers leaders to form a team with the right balance of employees).
What we loved about Corporate Challenge among other team building companies Australia: We were brimming with super-affirmative vibes after the Positive Teams Masterclass. We had a fair idea on how to make the workplace fun, but these activities made us realize how much more joy it can be!
They have individual teams for each of their verticals - 
You can also check their website to reach out to the local office in your city.
1.12 Creative Team Building
Creative team building, hands down, is one of the best team building companies Australia for the creative folks. Founded by VisualFunk, it is a creative training company that has been in existence since 2003. They provide creativity and innovation team-building programs, conferences, graphic facilitation to help creative minds communicate and thrive. Their creative morale building programs include art- both indoor & outdoor, icebreakers, interactive conferences, and corporate cooking. 
What we loved about Creative Team Building among other team building companies Australia: Our sculpture team was thoroughly spent, satisfied, and recharged after an evening at the beach sand sculpting, followed by the World Cocktail Hour.
Request a callback or call them to indulge your team in some creative jamboree.  
1.13 Team Bonding
"All I want for my team is some good old-fashioned fun and laughter." If this is your inner voice, Team Bonding would hear you loud and clear. They focus on building rapport and positivity through happy and interactive indoor, outdoor, and virtual games. They also organize Amazing Race in Sydney, Melbourne, and Brisbane. End of all the laughter and delight, some of us understood what core muscles are in the body!
What we loved about Team Bonding among other team building companies Australia: The Amazing Kombi Race, leading onto Beach Survivor and ending the day with Team Trivia blew our minds. Though these were separate activities, the way they blended felt like one lengthy scavenger hunt! 
Reach out to Team Bonding over email or phone to send your team into hysterics as they bond over some hearty giggles.
1.14 Holistic Services
If your idea of a wholesome team-building activity is a weekend wellness retreat, we recommend Holistic Services. They are Australia's leading one-stop corporate wellness provider and present in major cities. Their workplace wellness programs are designed to encourage joy, creativity, and wellbeing amongst employees. 
Their services include Corporate Massage, Workplace Wellness Workshops, Health Classes, Team Building & Corporate Events, Annual Health and Wellbeing Programs, Workplace Health and Wellness Expo, and Leadership Training and Development. We also attended an enlightening keynote address by leading wellness experts in the country.
What we loved about Holistic Services among other team building companies Australia: Their laughter yoga & corporate massage rejuvenated and reset us into entirely different personas. In addition, the ergonomic assessment was so precise that some of us will now be always conscious about how we sit at our workstations!
Submit form or Call them to set your team's wellness into action. 
2. FAQs
What are the best team-building activities in Australia?
Activities from team building companies Australia should ensure your team is rejuvenated at the end of the activity and bond better with their colleagues. These activities should include a lot of communication, teamwork, fun, and creativity. Activities like Scavenger Hunt, Escape Room, Clay making, Laser tag, Paintball, etc., help achieve precisely that.
What are virtual team-building activities?
Team-building activities are even more crucial for employees working from home as they are isolated from their colleagues. Here are 40+ virtual team-building activities that you can host for your team. Additionally, most of the team building companies in Australia, mentioned in this article also host virtual team-building activities.
 What are some great outdoor team building companies in Austrailia?
Some great outdoor team building companies in Australia are Team Building Made Easy, Great Race, and Thrill.