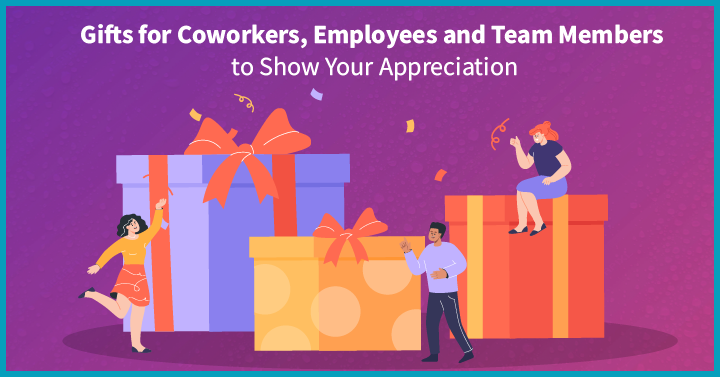 There's a reason, work mates become second to family and that's due to the long amount of time we end up spending at work. It's quite natural to create bonds that go a little above or beyond the office space. In order to express gratitude and appreciation, scoping gifts for coworkers is a great way to validate these bonds of friendship or kinsmanship.
If you don't know where to begin, explore all our wide range of categories in gifts for coworkers and pick one that suits.
1. Gifts for Remote Coworkers  
1.1 Home Gifts for Remote Workers
1.1.1 Noise-Canceling Headsets
A good noise-canceling headset is the perfect companion for a remote worker. Whether you need to drown out the traffic noises, pets wheedling for attention or the TV blaring, this one's a savior. The headphones will do a great job of minimizing the background babble so you can focus clearly on your work calls, presentations or video conferences. 
1.1.2 Under-Desk Elliptical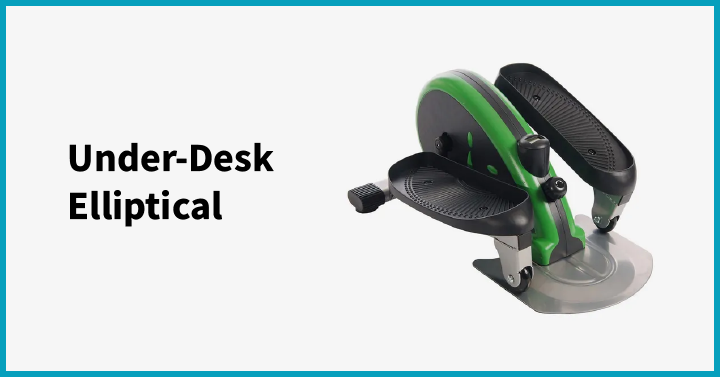 Consider this as a way to encourage fitness and boost productivity at the same time.Since this is not a one-size-fits-all solution,  an under-desk elliptical  is easier to fit into tight spaces and portable for storage. It's a great opportunity to enjoy some fun virtual buddy workout sessions or competitions and encourage team bonding. 
1.1.3 Snacks Subscription
When you're at work in full steam, it's a great idea to stock up on snacks to beat those hunger pangs. Opt for health snack package deliveries or sponsor monthly snack subscriptions for your remote employees as a healthy and caring work-from-home gift choice. With plenty of options out there to suit different health choices, you can choose a  vegan snacks subscription, keto snacks box or an international snacks subscription.
To read more about home gifts for your team, read our full article here.
2. Gifts for Work at Home Dads
2.1 Head and Neck Massager
The Shiatsu Resteck massager pillow makes the perfect gift for work at home dads and saves them from feeling like work is a "pain in the neck". This head and neck massager is designed with an efficient 3D kneading mechanism and settings to regulate heat. 
2.2 Anti-Fatigue Mat
For that much-needed break , choose the anti-fatigue mat from Autonomous.ai as a gift for work at home dads  so they can finally put their feet up. The mat provides a cushioning effect and helps reduce foot fatigue specifically for those who spend a lot of their time standing or stationed at their desks. 
2.3 Balcony-Railing Hanging Table
Who wouldn't love to infuse a bit of the outdoorsy feel into their monotonous work routine. Consider gifting your work-from-home Dad a portable hanging balcony or hanging table that can be mounted on a railing, wall or rack in your balcony or patio space. 
To read more about gifts for work-from-home Dads, read our full article here
3. Gifts for Work at Home Moms
3.1 Work-at-Home Planner
Being a working Mom is like doing double duty and with that comes a truck load of planning and scheduling. A creative and functional planner is just what a work-from-home will enjoy receiving as a gift. It's a great choice to center her thoughts, jot down notes, plan schedules, streamline activities and do more all at one place so she can be her efficient best. 
3.2 Smartwatch
Work-from-moms may find it very difficult to schedule in some me-time on a consistent basis and that often takes a toll on her health. Present a smartwatch with great features to help her adopt a more fit and healthy lifestyle. Most smartwatches are designed to monitor blood pressure, count steps and calories. They also work as nifty assistants with their reminders and notifications that can be personalized. 
3.3 Fitness Membership
Sponsor a fitness membership or present a subscription to a work-from-home mom to get her to step out of her sedentary zone and take the first steps to a more healthy lifestyle. Based on interests, this could be online Zumba classes, hourly yoga sessions or Pilates.
To read more about gifts for work-from-home Moms, read our full article here
4. Gifts for Work Travelers 
4.1 Smart Carry-on
One of the easiest and most functional gifts for a work traveler will have to be a smart carry-on suitcase that does it all. These are typically water and stain-resistant  and have USB charging points so you can work smoothly minus sudden interruptions like a dead battery.
4.2 Personalized Business Card Holder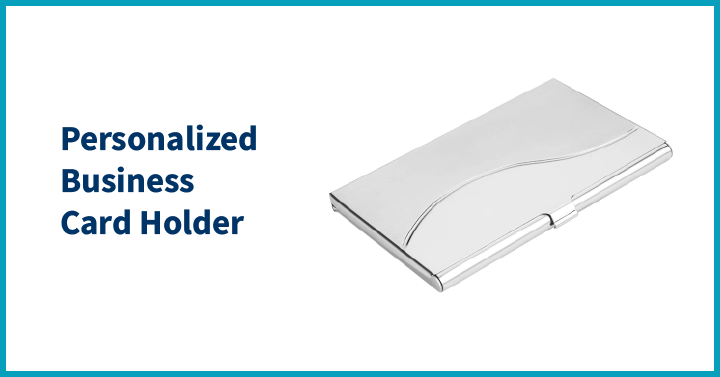 For work travelers on the go whose jobs require them to constantly interact and keep moving, a personalized business card holder is perfect. It can be used to store visiting cards, debit and credit cards and IDs. Something like these handmade and personalized wood business card holders will make great gifts for work travelers. .
4.3 Power Bank
A portable power bank is a traveler's best companion to stay connected and makes the perfect gift for work travelers. Opt for the Solar Power Bank with 50000mAh power that also has 2 input ports, 4 output ports and a flashlight.
To read more about gifts for coworkers who travel, read our full article here
5. Gifts for Coworkers to Show Appreciation 
5.1 Gifts for Work Anniversary
5.1.1 Personalized Gifts
Add a meaningful touch and present personalized gifts to mark a work anniversary or milestone. This could mean custom printed tees, jerseys or hoodies with names, images or logos to symbolize the anniversary. Another good option in gifts for work anniversaries would be mugs or headphones with printed messages commemorating the anniversary.
5.1.2 Gift Cards
Gift cards for popular brands or stores are a classic option to present as gifts for work anniversary or gifts for coworkers to celebrate a milestone. You can add names and a message with the gift cards and mail them across.
5.1.3 Tech Gifts
Tech gifts for coworkers are a smart choice since they are not just cool but also efficient devices that can help boost productivity. Choose from smart mugs, ear pods, headphones, or Bluetooth speakers and smartwatches.
To read more about work anniversary gifts for your team, read our full article here
6. Gifts for Coworker Leaving 
6.1 Office-in-a-Box
To let your coworker leave with some good memories of times spent at the office, let them take a slice of that home with a creative office-in-a-box gift. Pack in a framed pic of your coworker at work, a fun mug, some stationery items like post-its, pens, or stickers and a wireless mouse or headphones to go with it.
6.2 Photo Frame
You can't go wrong with a classic like this choice. Get creative and give a themed photo frame that can display a fun memory for posterity. There are plenty of ways to customize the frame and add a personal touch to it. You can add a photo or leave the frame blank for them to use as they prefer. 
6.3 Bobblehead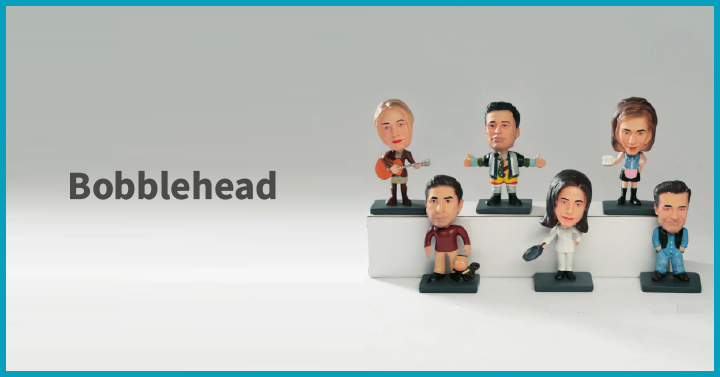 Your coworker is definitely going to love this one. Create a miniature replica bobblehead of your coworker and watch him or her beam. The collectible doll or Bobblehead can be customized in so many ways to match a theme if you have one. 
To read more about farewell gifts for your team, read our full article here.
7. Gifts to Welcome Coworker Returning to Work 
7.1 Temperature Controlled Smart Mug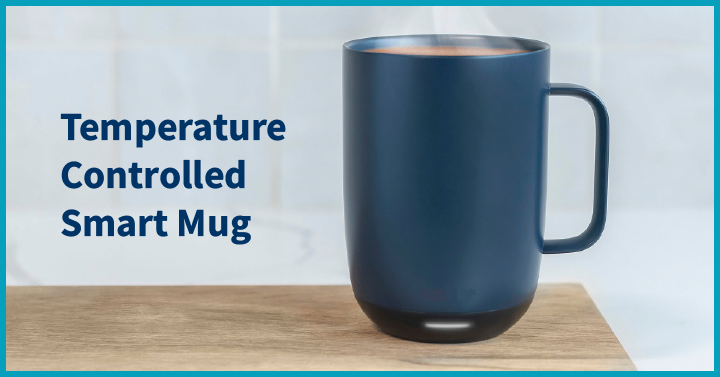 Your coworker may be inundated with work when he or she returns and it's easy to let time slip away as that mug of coffee gets cold. Choose a portable smart mug as a warm welcome gift that will truly be appreciated. The mug is designed to keep beverages at the exact temperature needed. Typically comes with a charging coaster and adapter. Simply use the smartphone to enter the temperature needed and time duration. It's definitely a smart addition to the desk and sure to keep you at your perky best. 
7.2 Footrest
A footrest is an excellent health gift to relieve the strain that arises due to prolonged sitting at a desk. For someone who's returning to work post a break, there might be an increased need to relax sore muscles even more periodically. The footrest usually has a foam base and adjustable height. 
7.3 Mindfulness Box
With all the mental notes to make on day one of return to office, it's quite natural to feel overwhelmed. Present the Mindfulness Box  that has a lovely tumbler, stress ball,  stone pocket journal, a gel pen and healthy snacks to keep those hunger pangs at bay.
To read more about welcome back gifts for your coworkers, read our full article here
8. Gifts for Your Work Bestie
8.1 Mug Warmer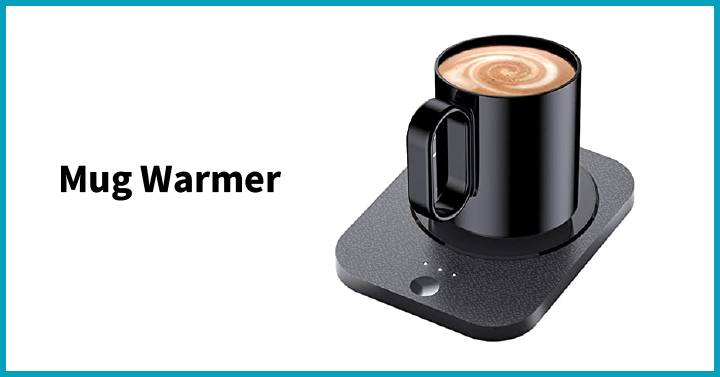 If you and your work bestie have a common grouse on how annoying it can be to make umpteen trips to get that piping hot cup of tea or coffee when you just nestled into your chair for work, then a mug warmer is just the reprieve. This portable  mug warmer takes up very little space on a desk and comes with a timer and light indicator for convenient use. Your bestie can thank us later!
8.2 Slothlife Hooded Blanket
There's something about a hot cup of chocolate and a warm blanket that spells cozy comfort. If you miss the warm camaraderie shared with your bestie, why not offer some virtual love with a hooded blanket. The "I nap periodically" hooded blankie from Etsy is super comfy and just the thing your bestie may need on one of those sloth-slow moving days at work.
8.3 Corgi Butt Pillow
This car neck pillow shaped like a Corgi's behind neck wll nip whatever is being a pain in the neck. This cheeky yet functional gift is sure to win smiles from your work bestie for both the comfort and humor it offers. The pillow  can also be put to versatile use as a side pillow or arm cushion wherever it can be placed. 
To read more about bestie gifts for coworkers, read our full article here.
9. Stress Relief Gifts for Coworkers
9.1 Handheld Electric Scalp Massager
To let off steam from a hard day's grind, opt for an electric scalp massager that works like a charm. This handheld waterproof electric massager comes with 21 rotational nodes that stimulate nerve endings and promote more blood circulation, reduce stress, and enhance the quality of your sleep.
9.2 Acupressure Mat and Pillow Set
We all know the benefits of pushing the right buttons when it comes to acupressure. Your overwhelmed work buddy is going to love the acupressure mat and pillow set that uses steady stimulation to promote more blood circulation and soothe taut muscles or nerves and improve blood circulation. Since it's not just restricted to one spot, it's akin to getting a full-body massage and is sure to be a mind-blowing stress relief gift for sure. 
9.3 Teabox Subscription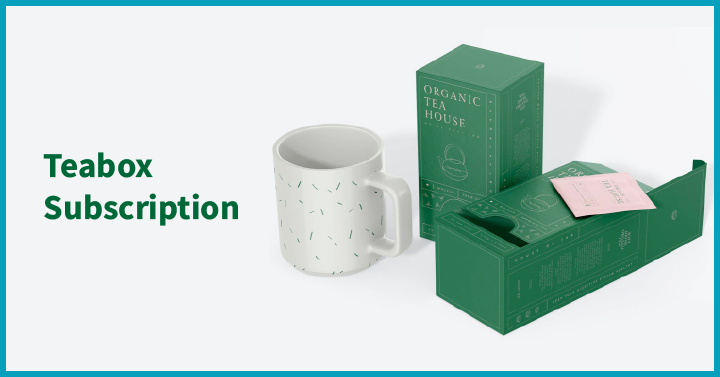 If your work buddy is a tea aficionado or someone exploring holistic living, then choose a fine selection of herbal teas to promote more Zen in his or her life. Gift a teabox subscription that  includes flavors such as rose, ginger, mint, rose or chamomile. With a wide range of Tea of the Month picks to explore, this tea box subscription is an excellent choice for a stressed out buddy.  
To read more about stress relief gifts for coworkers, read our full article here.
10. Valentines Gifts for Coworkers 
Consider gifting a basket of stress-reducing or aromatherapy candles such as the Farm-to-Aromatherapy soy candle jar that is fitted with a wooden lid. These are a great way to create a soothing ambiance and promote an air of calm. You can pair in an oil diffuser or tealight candles to make it a more interesting curated gift basket. 
10.2 Fuzzy Slide Slippers
Help to cushion the stress your coworker or buddy's been handling by gifting a pair of fuzzy slide slippers. They can slide right into the comfort of these soft padded or cushioned slippers and give their sore feet some much needed TLC. 
10.3 Motivational Wall Art
We all have that one motivational quote that does it for use. Create a framed work of art that showcases your coworker or buddy's favorite motivational message. It's a great way to encourage them and inspire the very best in them to beat the grind of daily work. 
To read more about Valentine's gifts for your coworkers, read our full article here
11. Gifts for Coworkers Based on Role
11.1 Gifts for Interns
11.1.1 Stationery kit / Office Supplies
With all the new information that an intern needs to soak up, keeping up to speed can be daunting without the necessary tools or accessories. Show some care for the new intern at the office with a stationery or office supply gift. This could include a variety of supplies such as storage files, writing instruments, memo pads, post-its, and more.
11.1.2 Charging Station
A USB tower power adapter, 4-in-1 wireless charging station, eco-friendly bamboo charging station, or even premium charging station is a great choice in gifts for an intern who's constantly on the move and needs an uninterrupted work zone. It's also a great way to promote a "green" space and promote sustainability at the office.
11.1.3 Desk Plants
Add a green touch to an intern's work space with a desk plant gift to make the new intern at work feel right at home. It not only adds an aesthetic element to the desk space  but also boosts productivity while at work. Take your choice from air-purifying varieties or low-maintenance blooms such as a snake plant, Chinese Bamboo, Peace Lily or succulents.
To read more about gifts for interns, read our full article here.
12. Gifts for Secretaries
12.1 Smartwatch
Your super-efficient secretary is definitely going to love a smartwatch that can factor in as her virtual assistant. Choose one with great features that can go a little above the usual to make your secretary feel all the more appreciated on a special occasion. From unwinding to some music, taking calls or setting fitness goals, this meaning gift is sure to be an excellent addition to his or her list of functional items.
12.2 Electric Lunch Box Food Heater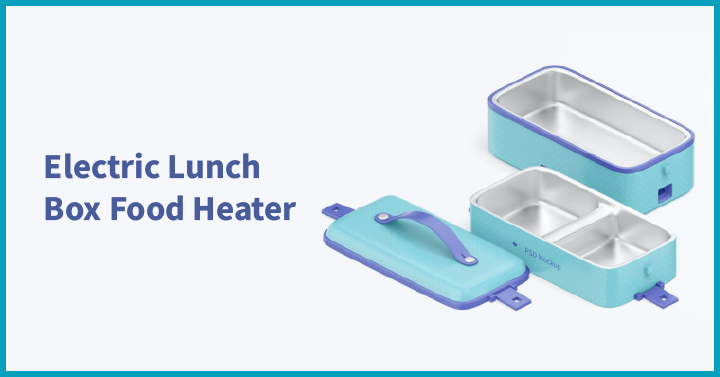 On those days when deadlines are looming or there's not not enough time to spare, there's nothing worse than eating a cold lunch at work. An electric lunch box food heater will make sure food stays piping hot when you need it to and  so it makes a perfect gift for your secretary. Now lunch menus need not be limited to wraps and rolls since the lunch box heater can be used to heat up home cooked meals. rice, pasta, soups, stews and gravies all through the year. 
12.3 Wireless Speaker
Carrying your mood wherever you go is so easy with a wireless speaker since you can keep the pep listening to your favorite music while on the go. It makes for a handy and functional gift that your secretary will enjoy using at the office or anywhere else.  These portable wireless speakers can also be paired with a fitbit in case you want to create a more elaborate gift to express your appreciation.
To read more about gifts for secretaries , read our full article here
13. Gifts for CEOs and Bosses
13.1 Executive Briefcases/Laptop Bags
Complement your CEO's powerful persona with a gift that makes a statement of its own. A never-fail classic would be a luxurious leather bag that's both efficient and stylish. To add a more personal touch and for added visual appeal, you can monogram their initials. 
13.2 Wine Decanter Set
If the CEO is a wine connoisseur, then you cannot go wrong with an elegant wine decanter set as a choice in gifts for CEOs. A stylish decanter set like the Nutriups Wine Decanter with Stopper will only add to the wine tasting experience besides being a conversation starter at any wine and dine event. 
13.3 Personalized Gym Bag
For the CEO who swears by his fitness routine, what can be a better gift than a personalized gym bag? Choose a custom printed and durable option that's roomy enough to accommodate gym gear and other accessories.
To read more about gifts for CEOs, read our full article here
13.4 Whiskey Stone Box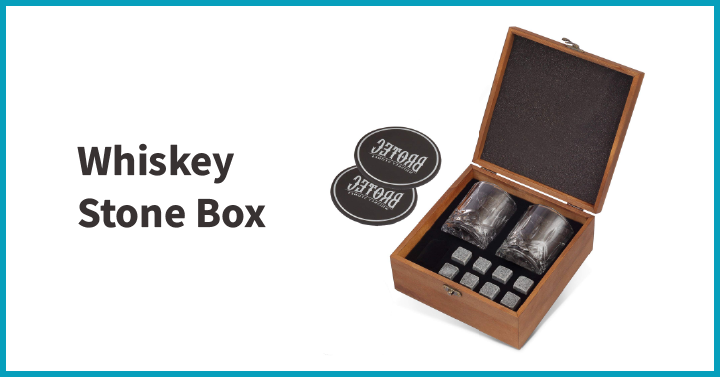 A true whiskey aficionado will know exactly how he or she likes her drink. Consider a fine whiskey stones gift set like this as a special  gift for the boss who loves their whiskey on the rocks. To add a more personalized touch, choose this personalized set of whiskey stones as a luxury gift that will make a perfect addition to a display of bar supplies. 
13.5 Subscriptions and Gift Cards
If you know your boss like the back of your hand, it will be much easier to choose a subscription or gift card instead of the traditional variety of gifts. Based on his or her likes and dislikes or personal preferences, you can create a curated selection of shopping gift cards, beverage subscriptions or fitness vouchers to present a unique gift for the boss. 
13.6 Vintage Wine
Go that extra mile and present a collection of premium vintage wines as luxury gifts for the boss. A collection like this has a great selection that you can even personalize as a curated gift along with a decanter set and some elegantly designed wine glasses. 
To read more about gifts for the boss, read our full article here
14. Gifts For New Business Owners
14.1 Portable Chargers
When it comes to gifts for new business owners, portable chargers make the perfect choice in gifts since these professionals need to carry work while on the go.  A portable charger is just the backup needed to ensure you can conduct your meetings and calls without any interruptions.  With plenty of options available, choose one based on speed and ports and pair it with a universal adapter.
14.2 Standing Desk
For those who are busy making big strides in their startups or new ventures, consider presenting a  functional standing desk that's both a fitness aid and work tool to help meet their health goals and business goals. 
14.3 Compact Coffee Maker
A budding entrepreneur will love a compact coffee maker as a gift to get the adrenaline running and ensure high energy levels for those marathon meetings.  This portable and compact mini espresso machine  can be used to concoct hot cups of espresso, latte, mocha and different other flavors.
To read more about gifts for new business owners, read our full article here
15. FAQs
Why giving gifts to employees is important?
Giving gifts to employees is a means of showing how much you value and appreciate their effort and commitment towards the company. It helps in fostering a positive work culture, promotes more company loyalty and in turn boosts productivity.
What does corporate gifting mean?
Corporate gifting involves exchange of gifts with prospects,  clients and customers as a way of building and  nurturing good business relationships from the long term perspective. This could include gift cards, corporate swag, personalized items or premium edible treats with the purpose of creating an interactive base.