Now is the best time to buy gifts for new business owners. Not just because there are so many accessible options, but also because almost everyone is starting a side hustle now in the current scenario.
This side hustle is a result of relentless efforts, countless hours of work, and unbeatable dedication of the business owners. Then why not celebrate it with some presents and mementos? Let's get started with choosing a gift for them!
Need even more gift ideas? We've got posts on presents for general coworkers, work besties, CEOs, secretaries, interns, workaholics, work mentors, retirees, people returning to work, work travelers, and staff who are leaving. Perhaps you have a specific category of gift in mind but haven't found the right item just yet. If that's the case, take a look at our lists of premium luxury corporate gifts, gifts you can buy in bulk, gift cards, stress-relief gifts, Valentine's Day gifts, and gifts for virtual white elephant parties. For presents that are perfect for remote workers, check out our articles on work from home gifts, gifts for work-at-home dads, and gifts for work-at-home moms.
Select The Best Gifts For New Business Owners?
First of all, ask yourself, what would a business owner prefer as a present? 
In our opinion, they enjoy something that is relatable, exhibits their status quo, or something they can put to use. Besides, anything that is personalized or speaks for their personality, never goes wrong. Also, if you know some of the details about their new business, be sure to select a gift that is relevant to their industry or niche. 
2. Practical Gifts For New Business Owners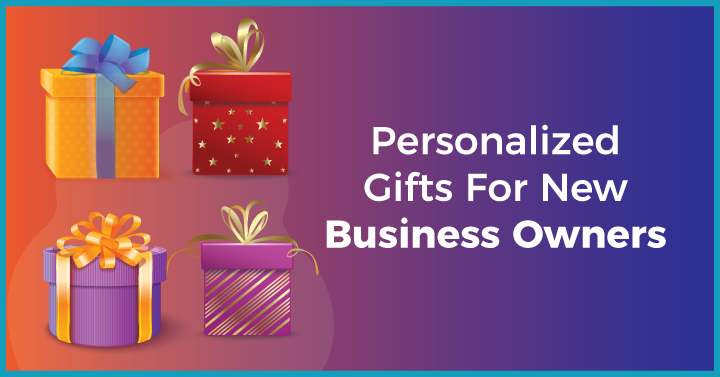 2.1 Magnetic Whiteboard And Markers
One of our favorites in gifts for new business owners is an organizational present! Business owners' minds are flooded with ideas! So, this one is perfect. This magnetic whiteboard can stick to any metal surface, making it a convenient way to take notes wherever you are. Its slim, frameless structure gives a sleek and beautiful look and the board wipes clean easily with low management. The set comes with markers and a dry eraser. You could also add more colored markers for organizational purposes along with the whiteboard.
2.2 Tech Gifts
Tech gifts are always well received. These are quite useful in everyday tasks and routines and can make your life easier. Some examples of the gifts could be a high-speed USB memory stick, or a home assistant such as Alexa or Google Home to add the smart touch, a pair of bluetooth headphones, a wireless speaker, a storage hard disk drive, or even a power strip for all those wires the new business owners are going to plug in into their office.
2.3 Moleskine Notebook
Want to impress a business owner and make them feel like a million dollars? Get them an authentic Moleskine notebook and personalize it with their initials. The top-notch quality and personalization will win their hearts. A Moleskine Notebook is perfect for taking notes, or can be used as a planner or a travel journal too. It comes with thick, ivory pages and has a binding with a hard cover. This durable notebook makes for one of the perfect gifts for new business owners.
2.4 Portable Chargers
Portable chargers mean the owners can take their work on the go. This is ideal for the ones who are just getting started and will be traveling frequently. A portable charger or a power bank can be helpful to charge your devices on the go when you have to travel for long durations. The chargers come with high-speed charging so that you can quickly use them after charge whenever required. You could also add in a portable universal power adapter to plug in their devices in countries with different power outlets.
2.5 Desk Organizer
Gift a desk organizer to a new entrepreneur and you'll make their work life so much easier. This is an essential and practical gift that will keep their lives decluttered. Gift a set which contains organizers for folders, files, pens, stationery, business cards, papers, and more! This is a real hack for new business owners with lots of incoming documents their way. Help them keep their desks organized, and eventually make their workflow smooth!
3. Healthy Gifts For New Business Owners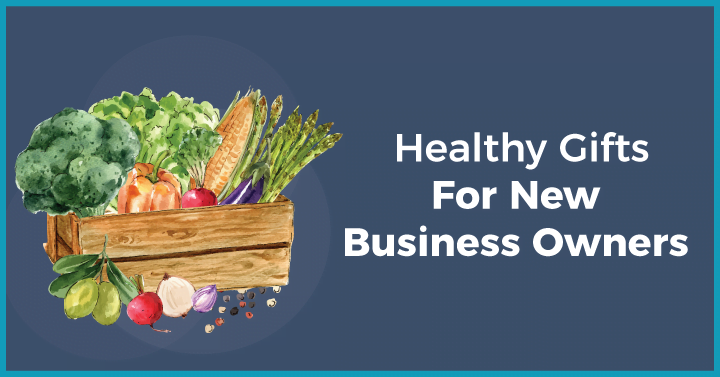 If you know a business owner who is a health freak or wants to lead a healthy lifestyle, then fitness equipment, supplements, and other health products make great gifts for new business owners.
3.1 Wellness Box
Give the gift of wellness through boxes packed with mindfulness, self-care, and joy. Subscribe or purchase as a one-off. Add in whatever suits the person - think matcha tea, bath salts, or mindfulness journals. You could add natural and organic products to the package. This also calls for aromatherapy items such as lovely scented candles and oils for that relaxed mind and to regain focus. You could also include some healthy treats like nutrition bars, dry fruits, healthy juices, and more.
3.2 Desk Plants
Nothing says peace, and calm like vibrant green desk plants. Did you know plants are also proven to regulate workers' moods and naturally clean the surrounding air? It's definitely the right time to give a desk plant! Having plants around your desk and workspace affects your mental health positively. It improves productivity and creativity, and makes you happy! You can even think of giving a good luck plant as they are beginning a new chapter of life. This is one of the best gifts for new small business owners.
3.3 Standing Desk
Business owners who enjoy updating their workspace or are fanatic to complete a stipulated steps count per day, would probably love to try out a standing desk or treadmills with desks. The ergonomic desk comes with adjustable height and wheels so that you can use it anywhere in your office or home office. It is easy to install and manage, and can hold upto 150 pounds. New business owners can use it comfortably and they'll stay fit while keeping up with their emails!
3.4 Meditation App Subscription
Why not pay for a subscription to a meditation app, to remind them about the importance of mental peace and well-being amid the chaos they will face? They can get a kickstart to the day with everyday meditation sessions or conclude the day at peace! You cannot go wrong with something that adds calm to the hustle. The app can help the entrepreneur unwind with sleep sounds and music, and also help them get into the focus zone.
3.5 Wellness Books
Your business owner friend is a bibliophile? Books make great gifts for new business owners. Give a book that will help their mental health and business at the same time. What could be more important than caring about your mental health? Gift a book that will give them tips to manage and relieve stress at work, control your thoughts and change your mental habits in a positive manner. It should help them unleash their potential and feel empowered at their new business.
4. Personalized Gifts For New Business Owners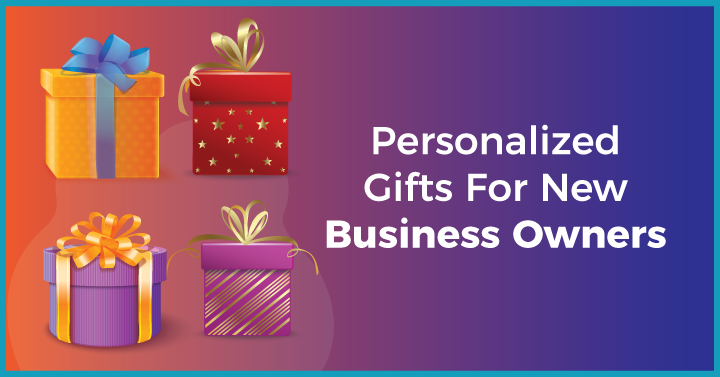 A personalized gift means the most to anyone, especially a new business owner. It lets them know how much thought went into choosing and customizing something, so that it's just right. 
4.1 Personalized Business Card Holder
This personalized business card holder can include their name to add a sense of ownership  or a small message that will remind them every day what they're working for. This business card holder can hold upto 15 business cards or 4-6 credit cards. It is made of high-quality wood and stainless steel. Its unique texture and appearance looks impressive in front of colleagues and clients, and makes it a good gift for new business owners.
4.2 Custom Backpack/Laptop Bag
Every new business owner needs something to safely transport their laptop, since it is the repository of all essential documents and information. Customizable with their name, a laptop bag like this will keep their device safe while adding a personal touch. The laptop bag is made from Neoprene, a durable material. It accommodates laptops and tablets of all sizes, and is lightweight.
4.3 Membership To Airline Lounge
Check out websites like Priority Pass to sign up for airport lounge memberships. This is a personal and thoughtful gift for frequent flyers who appreciate some calm and quiet before their flights. A Priority Pass gives you access to over 1300 lounges in more than 600 cities regardless of airlines or class of travel. The lounge provides you with a quiet, connected space to relax or work with some quick bites and complimentary drinks.
4.4 First Earned Dollar Plaque
Remember that first dollar you earned? It's a moment worth celebrating and also one of the best gifts for new business owners. Some personalized plaques can also contain their very own business card and company name too. It records the most important moment of their lives and makes it eternal. You can personalize it and include their business opening date and gift the plaque to them. This makes it one of the cool gifts for business owners.
4.5 Personalized Storefront Board
A beautifully personalized storefront board is a unique gift for someone who has recently opened a new bakery or hair salon. These standee-style boards are often an overlooked cost so receiving one as a new business gift would be a welcome surprise. These are specially designed for outdoors, so it has been wind-tested and is durable. You can send the business artwork to be put on the board, and gift it to the new business owner.
5.Fun Gifts For New Business Owners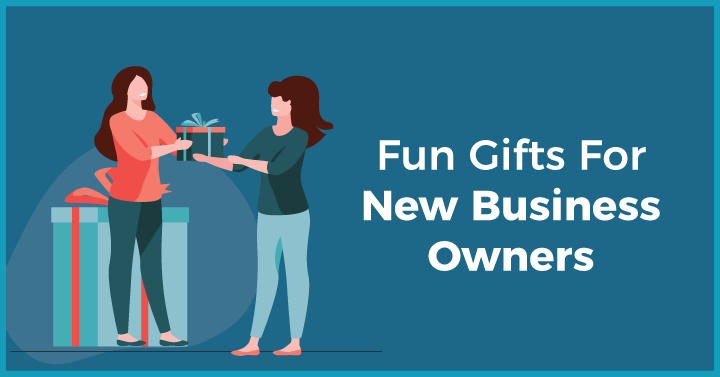 Every new business owner needs a break every now and then and so one of the most heartwarming gifts to get them is something fun! Help them unwind, rejuvenate, and  get more focused with one of these cool gift ideas.
5.1 Celebration Box
Show you really care with a corporate celebration box. What's in a celebration box? Filled with mugs, candy and thoughtful items, a celebration box is an exciting way to celebrate a special moment in business. Choose from curated boxes and even personalize them according to the entrepreneur's taste. The treats can be shared with the whole team, giving them a sugary hit for the rest of the day. It could truly work out as one of the Congratulations gifts for new business owners!
5.2 Gift Basket
Just like a celebration box, a gift basket contains all the small things a busy business owner might forget to treat themselves to. Fill it with chocolate selections, gourmet snacks, or even artisan sodas and beers. You could throw in some health drinks, and specialty coffee/ tea packets as well to make these delightful gifts for new business owners.
5.3 Evernote Subscription & Notebook
Evernote is an incredible online platform for business organization, note-taking, and project planning. Subscription to this tool would be invaluable as gifts for new business owners. This clever tool isn't just for work either. You can sync your notes to all your devices so they stay with you even if you're offline. They can use it to simplify everyday life tasks too. So see their glee when they declutter their life with this priceless present! This is one of the perfect gifts to get someone starting a business.
5.4 Decision Maker Paperweight
Ever heard of decision fatigue? Running a business means you have to make a lot of important decisions on a daily basis. A decision maker paperweight is a lighthearted way to make life easier.  Spin the ball and a random answer is selected, leaving it to chance. Its metal-bodied structure also doubles as a paperweight, making it a quirky toy to have around on your desk.
5.5 Essential Oil Diffuser
An essential oil diffuser gently adds soothing and inspiring scents to the room to de-stress and help employees unwind. They're also a stylish addition to most offices. With its simple ceramic design, it looks like a statement piece of art. Its slim build wont take up much room, and its steam's scent isn't too overpowering. You could include pleasing scents like lavender, eucalyptus, lemon, etc.
6. Creative Gifts For New Business Owners
A new business is nothing without a little creativity. 
Think about the business owners you know. Most of them are innovative by nature and always taking on new ideas and ventures. That's why creative gifts for new business owners will get you the most brownie points. 
6.1 Wall Art
Gift a wall art. Canvases and posters are the easiest ways to display a person's unique selling points and their personality behind a business. Make sure the art you choose is thoughtful and relevant to who they are and you'll definitely earn some brownie points. You can gift from the finest collection of art prints, choose a bespoke frame, and have it delivered to their door. Choose from collections of photography, vintage, contemporary, modern art, and more to make these impressive gifts for new business owners.
6.2 Compact Coffee Maker
A mini espresso machine like this is portable, compact, and a fast way to get you your caffeine hit. Gift this to an entrepreneur and you'll ensure their day always starts right. It is compact, light, and versatile- they can use any type of coffee bean or roast. You can grind your own beans and have control over the coffee preparation. Enjoy new flavors of coffee and bring joy to your fellow coffee aficionados!
6.3 Blinkist/Udemy Subscription
You can learn incredible and useful business skills with sites like Blinkist and Udemy. New business owners can also utilize Udemy as a portal to train their employees, so why not gift a subscription? Entrepreneurs are always looking to upskill themselves as their business grows, and this is a perfect opportunity to show them your support. They can choose from the various courses available and learn at their pace. This is one of the best congratulations gift for new business owners or even gifts to get someone starting a business.
6.4 Sunrise Alarm Clock
The sunrise alarm clock is trending for a reason. Wake up and smell success, entrepreneur! This Sunrise clock uses your natural circadian rhythm to make mornings less of a chore. Its simulation light will be on gradually before the alarm setting time. It also contains a snooze button and adjustable light and alarm tone settings. They can also use it as a night lamp if required.
6.5 Crockpot
Help the entrepreneur in your life to save time with a crockpot. They can simply leave this on and let the food cook while working on other things and have a delicious meal ready when they're done. With this crockpot, you can adjust the temperature to ensure the meals are never overcooked. Its digital countdown control screen lets you schedule your desired meal time and monitor progress, and also allows you to control your temperature manually. This is one of the cool gifts for new business owners.
7. FAQs
7.1 What Is A Good Gift For A New Business Owner?
A good gift for a new business owner is something that can be used or cherished as keepsake mementos. Try gifting quality stationery, personalized tech gifts, and curated gift baskets.
7.2 Do You Bring A Gift To A Business Grand Opening?
The answer is a resounding yes when it comes to gifts for new business owners. You do not want to show up to a grand opening event empty-handed. Choose something show-stopping like a celebration box to let the new business owner know you can see their hard work is paying off.