Do you share a great rapport with your colleagues at work? If you feel close to one or two in particular, you've also probably thought about what constitutes gifts for work besties that convey  how much they mean to you!
Considering the hours you spend interacting with different people on the team, having a work bestie who has your back (and you theirs) can influence how you feel about the office and organization, besides enlivening the monotony of routine.
Let's explore some gifts for work besties to surprise your colleague!
Read more on thoughtful work bestie gifts.
If you're looking to gift someone at the workplace for an occasion, don't miss our all-inclusive, fun article that covers different types of gift ideas for coworkers here.
1. Who is a Work Bestie?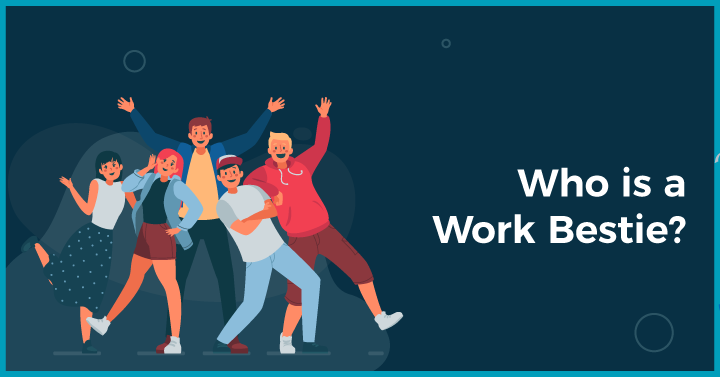 Put simply, a work bestie is a coworker-turned- friend. Like with any friend you've made back in school, university or through other mutual friends, this person is trustworthy, understanding and dependable. This is likely why you feel comfortable sharing both personal and professional concerns with them.They're likely to be upfront with you and give you the answer you need to hear rather than what you're hoping they would say.
The bond you share goes beyond just work-related conversations and extends to comforting one another when things don't go according to plan or cheering you on when you succeed at something. 
Naturally, you would know what they like and don't like and can get work bestie gifts that they'll truly love receiving. 
2. Gifts for Your Best Friend At Work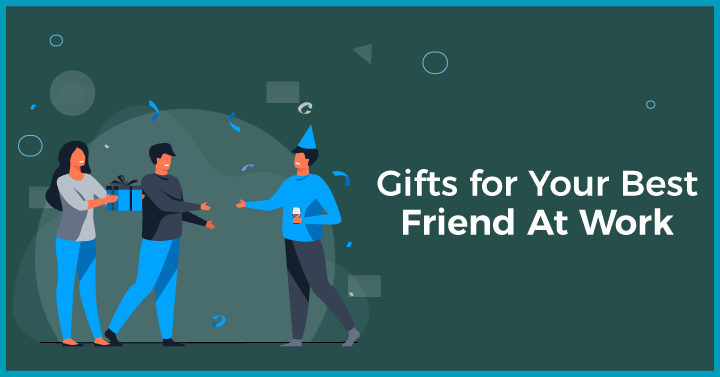 2.1 Award ribbon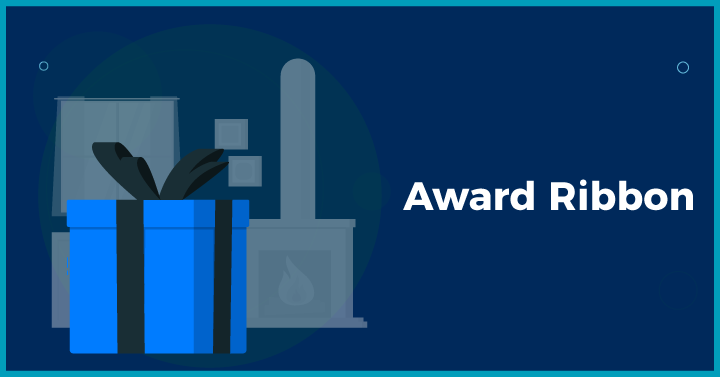 Come up with quirky titles to award your work bestie.Amazon sells the cutest ribbons for different occasions. And some contain witty quotes that are sure to make your work bestie grin.
2.2 Desk cactus humidifier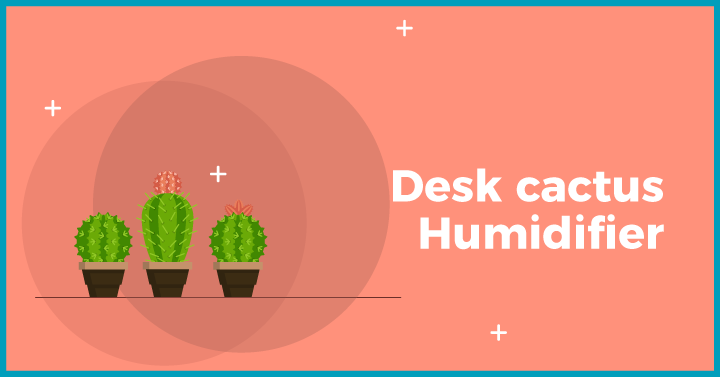 One of the best work bestie gifts that they'll get use out of would be this USB desk humidifier in the shape of a cactus. It's small and portable and will make a nice addition to your home office. You just need to connect it to your PC, laptop or screen with an USB outlet. It saves power by automatically shutting off after 4 hours.
2.3 Mug warmer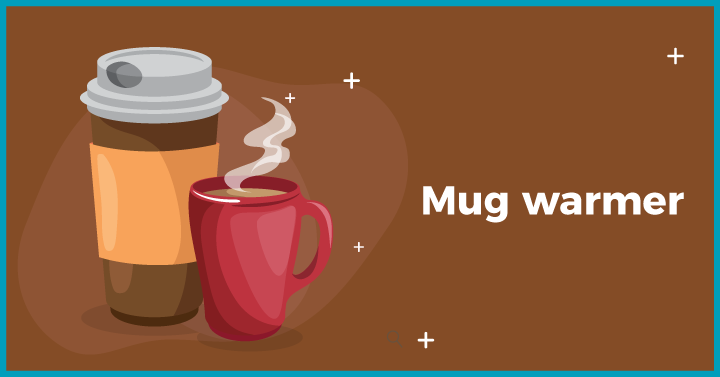 If you and your work bestie are guilty of repeat trips to the pantry to reheat that first mug of coffee or tea you made, then here's something you'll love! The mug warmer is a portable heater for drinks that keeps yours warm to sip throughout the day. You can have it at your desk and adjust the timer and use the light indicator to know when to turn it off. It costs anywhere between $11 and $28.
2.4 Unlikely friendships calendar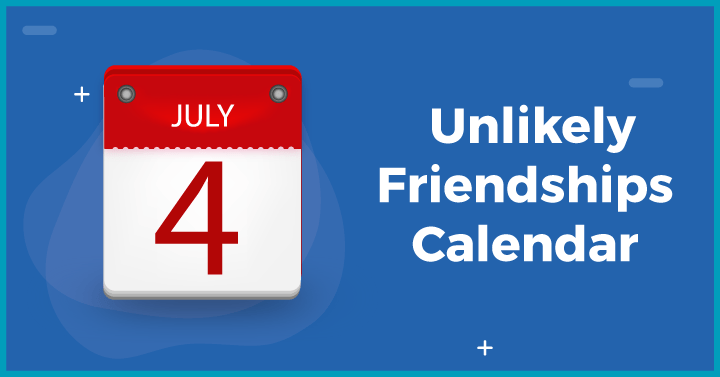 The unlikely friendships calendar is the most relatable work bestie gift for that one person at work you never thought you'd have so much in common with! It features the cutest (and sometimes, strangest!) photos and stories of animal pairings. 
Your work bestie will love putting up the calendar's latest version on their wall as a reminder of friendships that go beyond teams and last for life! It costs $7.49 and can be ordered annually.
2.5 A slothlife hooded blanket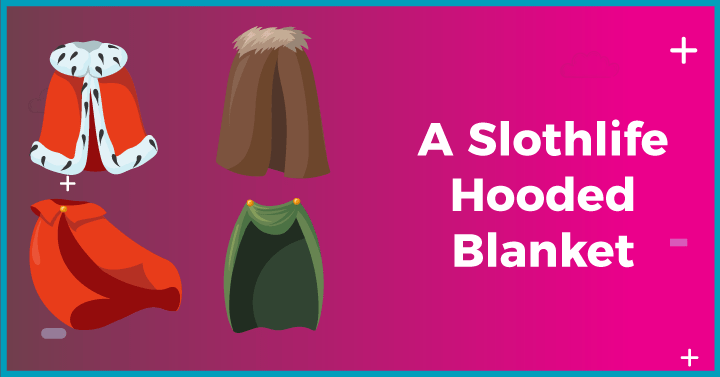 If you're working remotely and interact with your work bestie online only, why not send them a hug? The "I nap periodically" hooded blankie from Etsy is made of Polyester and Spandex and can keep your bestie snug (perhaps too snug?).  It costs $80 and is the perfect gift for those wintry days when you need inspiration.
2.6 Corgi butt pillow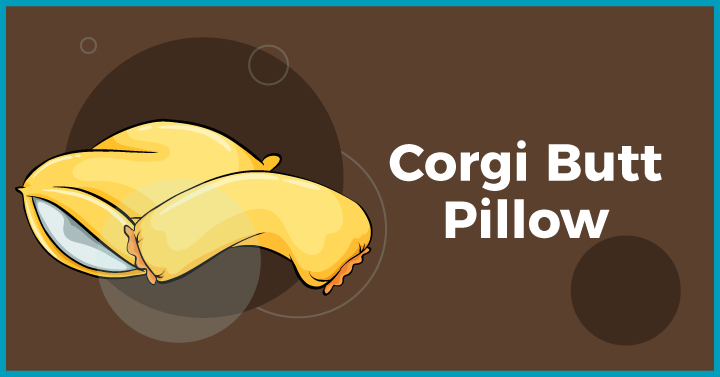 If your work bestie appreciates humor and comfort, this car neck pillow shaped like a Corgi's behind will make them smile. They'll find it useful if they endure long commutes to and from the office. The pillow can also be used at home when reading, or as an added cushioning to regular bedding. 
2.7 Water art board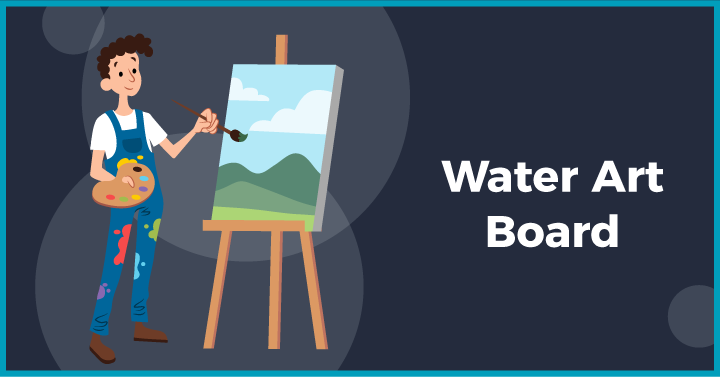 The water art board makes for a great work bestie gift for those work friends who have been undergoing stress or anxiety. All it requires is a dish of water. The bestie can dip a brush in this dish and paint away. The picture will disappear when it dries. 
The water art board costs $16.95 and is reusable, eco-friendly and mess-free, letting your bestie bring out their inner child. The more expensive models have a built-in water reservoir.
2.8 Affirmation cards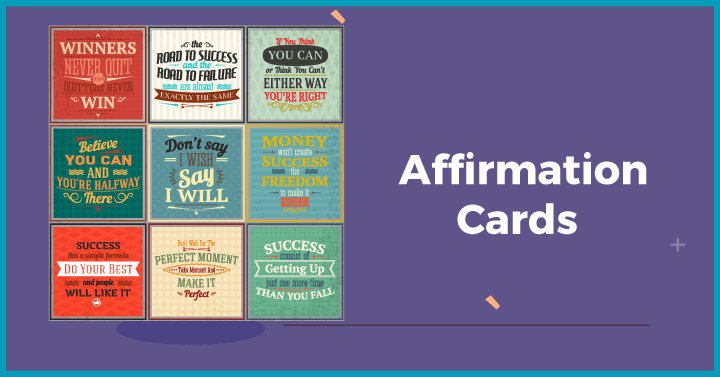 Don't want to pull off something too cheesy or sappy? Say it without saying it, using affirmation cards. These notes of positivity were designed and created by actor, writer and comedian Suzi Barrett. 
The pack of cards cost $15 on Amazon and contain cute, funny, inspiring and child-friendly messages that are uplifting and remind one of how much they're loved and remembered. If your bestie has been feeling down lately, this small gesture will bring their self-esteem back up again. 
2.9 Ceramic planters for mini succulents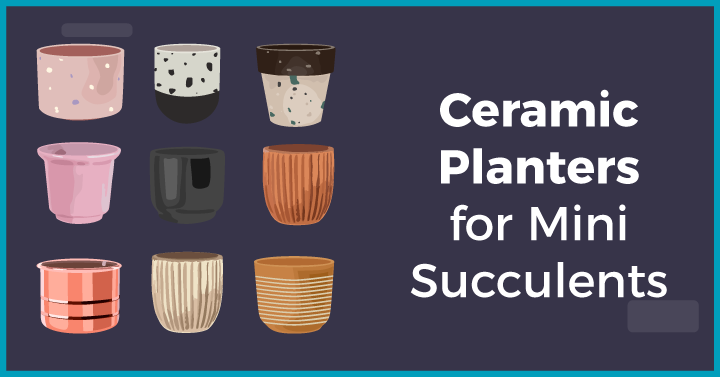 Having plants around the house is known to reduce stress, improve productivity and even purify the air you breathe in. If they already have the succulents, encourage your work bestie's green thumb by getting them this four-piece set of ceramic planters. If the bestie is new at this, get them their starter succulent from Fairyblooms or the succulentmarket. 
2.10 Fun kitchen towels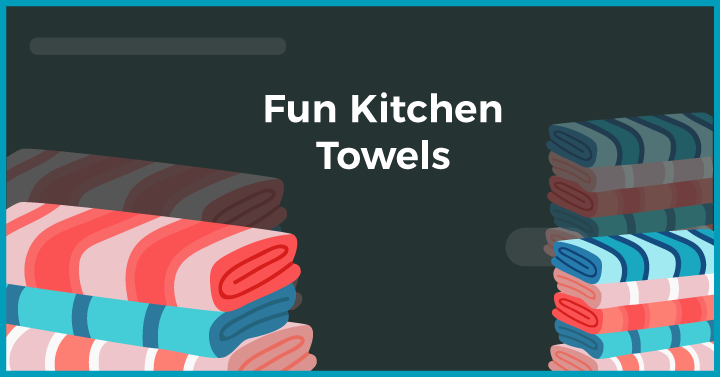 Wine lovers will enjoy reading up the pairing suggestions listed on these fun kitchen towels. I found the sayings very pun-ny, and the non-alcohol variety didn't disappoint, either. Your colleague will find cooking more enjoyable with something funny to look at from time to time.  No doubt this is another best gifts for work besties.
2.11 Temperature controlled smart mug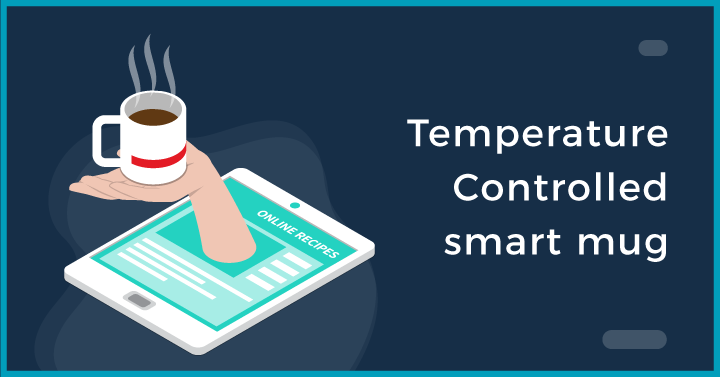 This Ember smart mug can warm your drink for upto 1.5 hours when it's fully charged. Your work bestie just needs to key in their preferred temperature settings ( ideally between 120 to 145 degree Fahrenheit). Costing $175.95, you can also control it through your smartphone and get notifications when your drink is at the optimal temperature. Now that's a living! 
2.12 Chocolate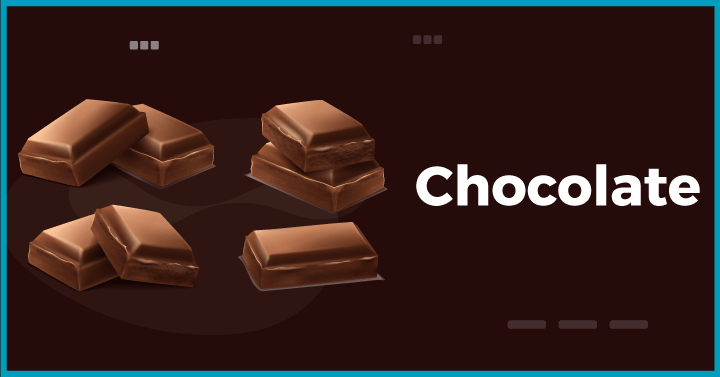 If a sweet tooth is what keeps besties together, get them a chocolate box. The best part? They can eat it all themselves (no judging here!) or share it with the family. 
I'm a huge fan of Lindt and would recommend ordering their dessert collection which costs $16.99. The box features exotic flavors such as creme brulee, Tiramisu and fondant chocolate. Talk about sweetening the deal!
2.13 Cord wrangler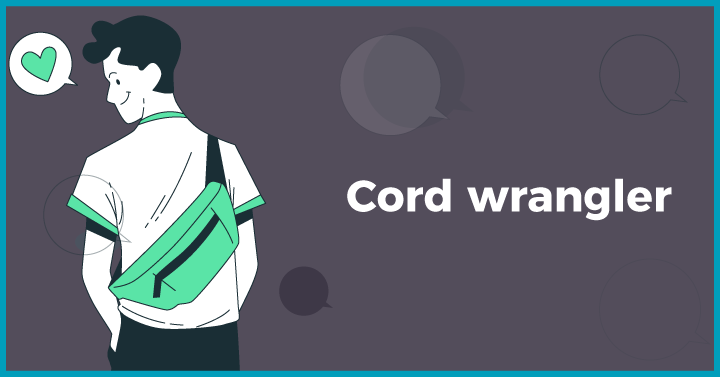 The cord wrangler is great for those work besties who like to organize their desk and charging cables. The wrangler separates cords and wires by device, making it easier to identify the ones you need and stow them away when not in use.
The cable wrangler is magnetic and snaps the cables back in place, where it stays until the next time you need them!
2.14 Favourite bitch wine glass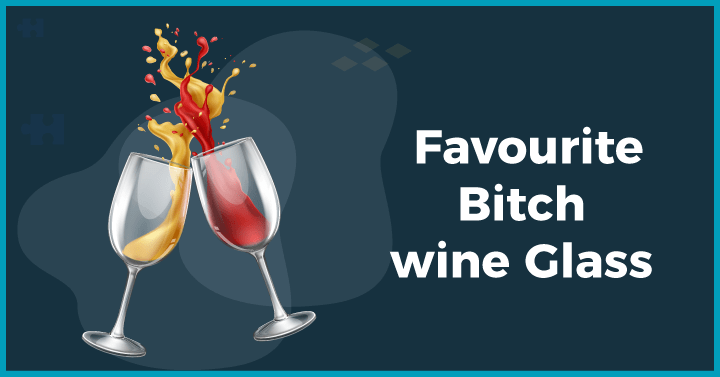 We all get information through the office grapevine. This stemless bitch wine glass  which costs $29 is something your homie will love. It's a witty reminder of those countless conversations you've had about work, home, family and everything in between! You can send it to their home address and pour out a drink of choice to toast to yet another year of being besties!
2.15 Made in the office
Made in the office is a recipe cookbook written by Rachel Maylor. There are about 70 recipes ,some featuring healthy dishes such as Avocado toast. This is one of the most convenient and affordable ($5) work bestie gifts to give your work friend to help them stay healthy. 
2.16 Take it one AYFKM at a time Candle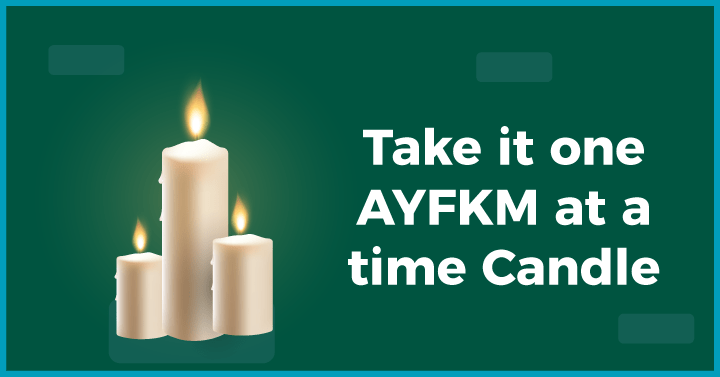 Who does not like aromatic candles, especially if they have sarcasm written on the cover? The AYFKM is a bit explicit so I'll avoid expanding it here (you'll understand what I mean when you click on this link). It's lavender-scented and is inside a recyclable glass jar with a lid. The candle wick is made of lead-free cotton and burns upto 55 hours.
2.17 Coffee gift card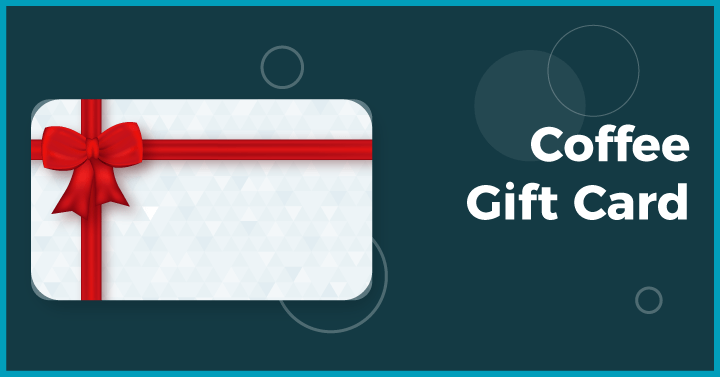 Gift your work bestie liquid gold in the form of a 90 to 120 day voucher to the cafe outlet or coffee brand of their choice. For Starbucks, you can top up the card with any multiples of 5, or add a custom amount before gifting the card to your friend. 
2.18 Daily journal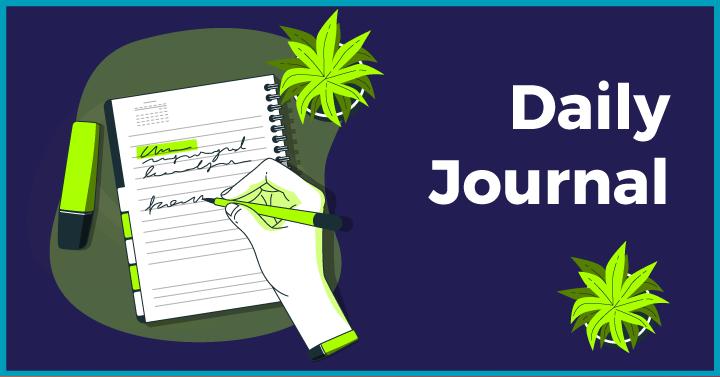 If your bestie maintains a diary, gift them a vintage leather daily journal and note planner. This journal contains premium thick paper that won't tear if you apply a little force or use Sharpies, ballpoint or gel pens. Your colleague can chronicle their daily events or document a recent trip or getaway. And each time they write something, they'll think of you! 
2.19 Card holder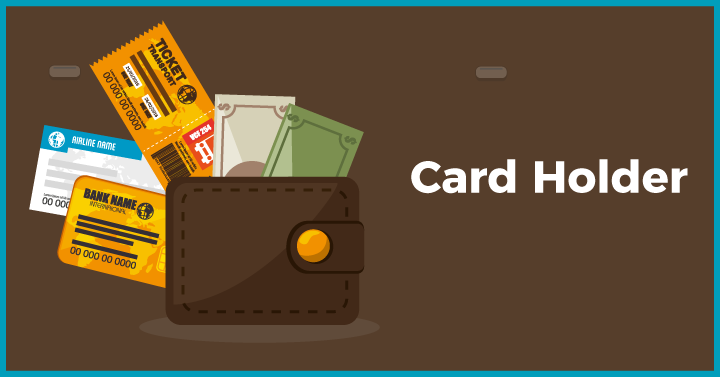 If you like gifting personalized presents, you'll love browsing through Leathorology's store! Besides business card holders, the store also sells binders,work bags, duffels and wallets, all of which can be customised with initials, dates etc.  You're likely to find something under $50 which will make for the best work bestie gifts!
2.20 Food theft funny stickers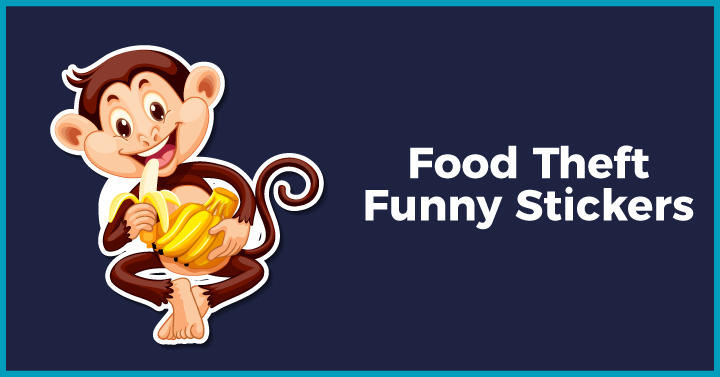 Make your bestie cackle with these rib-tickling stickers on protecting your lunch.  If you want to help your bestie get a message across passive-aggressively, get the roll from Amazon  or thingamagift. 
PS: I'd think twice too if a box I was reaching out for had a label saying "bacterial growth experiment" !
2.21 Work bestie keychain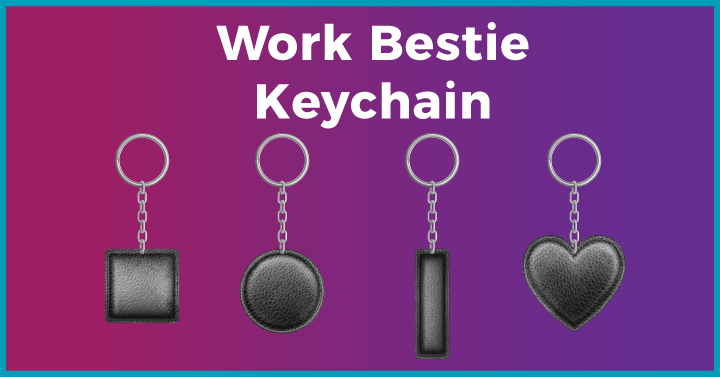 Keychains have lots of potential to convey a sentiment. We like the MAOFAED keychain on Amazon which is engraved with a funny message. You could even order a pair in matching styles so that you always carry a reminder of them around with you. 
2.22 Sriracha hot sauce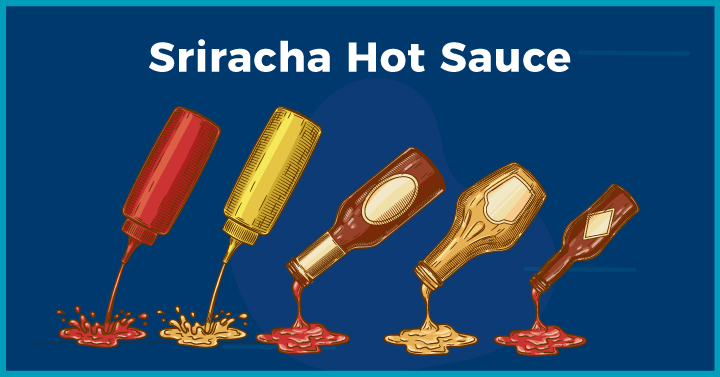 If your bestie still regards you as his or hers after gifting them a bottle of Sriracha hot sauce, then you really have lucked out in the friendship department! Famously hot and spicy, you can get this Thai hot sauce in a pack of 2 from Amazon if your palate can take the heat! 
2.23 Work bestie necklace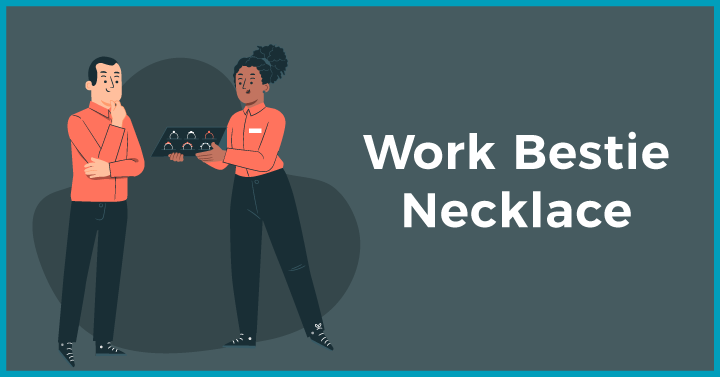 In addition to keychains, Amazon also sells interlock design work bestie necklaces. Women or men can gift this to colleagues who love jewelry and are often seen sporting minimalistic office-friendly patterns.  The chain is about 18 inches long and is at a length that will suit anyone. The two interlocked circles is a representation of work friendship but can also make a great gift for a boss,teacher or someone close.
3. FAQs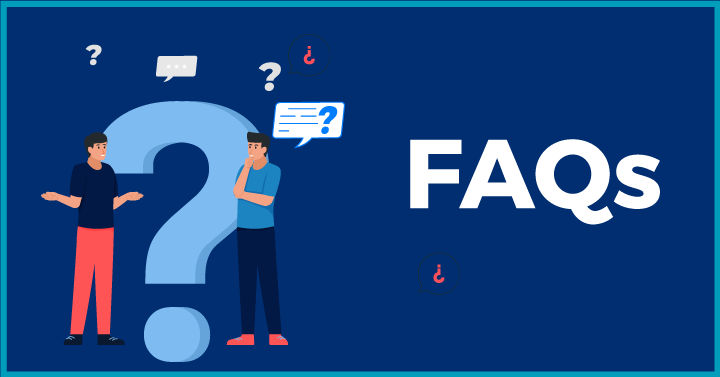 3.1 What are suitable gifts for your best friend at work?
Suitable work bestie gifts should be something they'll always value. It's about creating fond memories of how much you mean to each other, and the gift choices below highlight that;
Scented candles
Planters
Recipe books
Beverage warmer
Mousepad
Hooded blankets
Keychains
3.2 What are some gifts for work besties who are workaholics?
Some best gifts for work besties who are workaholics are - desk plants, mini-crockpot, anti-fatigue mats, anti-glare glass, and vacuum-insulated travel mugs.
3.3 What are some funny work bestie gifts?
Some funny work bestie gifts are - scavenger hunt vouchers, voodoo doll, face masks, chill pills, PooPourri,desktop skee ball game, jelly bean roulette, and pinching bag for a desktop.