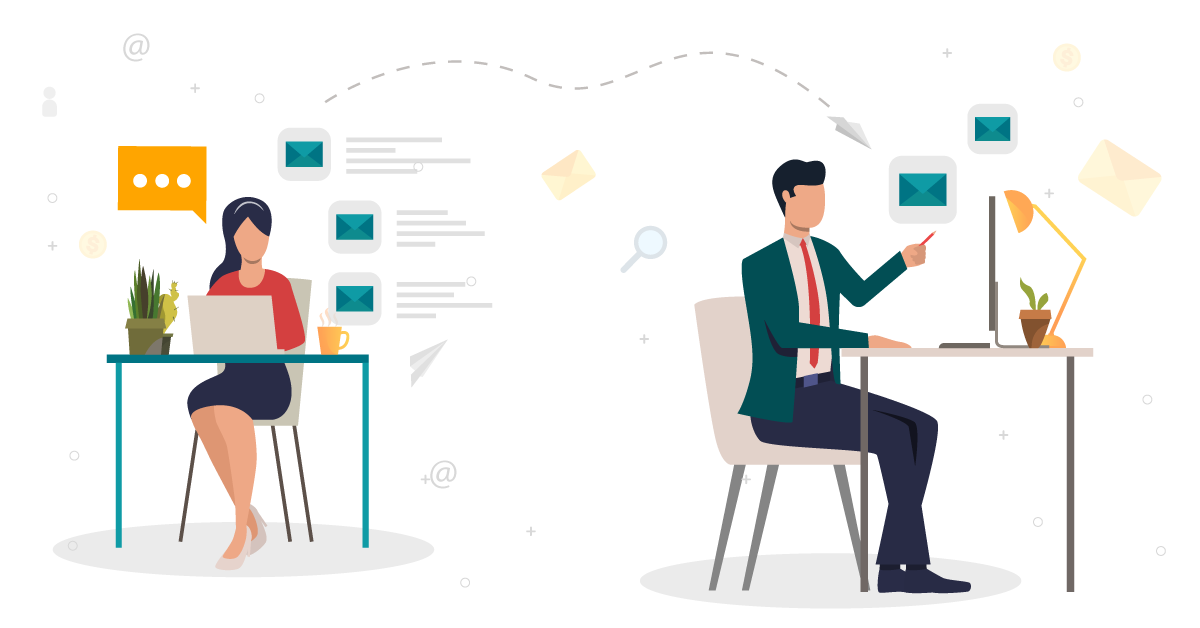 An Overview
Given the seismic changes, our work environments continue to see, the main change we are seeing is the shift from what is known as synchronous to asynchronous communication. It makes sense that the way we communicate also needs to adapt too.
The way we work is changing with more and more of what we do happening remotely.
In essence, synchronous communication is an exchange that happens in real-time, i.e. a customer calls you to enquire about a product. However, the same person dropping you an email would be an example of asynchronous communication.
As we move into a new way of working, our communication has to adapt. That's why it's a good idea to brush up on the difference between synchronous and asynchronous communication.
After all, communication is vital for every business transaction and client interaction, so it makes sense to get yours right. Here's everything you need to know to do just that.
1. What is Synchronous Communication
The clue to understanding synchronous communication is in the name, as it refers to exchanges that go in 'sync'.
An example is an instant messaging conversation where both people are replying at the same time. Or the communication could be happening at the same place, such as in an office.
There are times when synchronous communication is crucially important. Such as daily stand-ups, team meetings, or even a question and answer session with your team. If your company relies on breaking news or other information, then being able to deliver this through synchronous communication is critical.
But for the most part, it's impossible to complete tasks the second they arise. That's why synchronous communication isn't always compatible, especially with remote working. It is a drain on effort and concentration levels. It injects more interruptions into work that adversely impact its progress, mainly when there's no provision to preview the notification's relevance to determine its urgency. Some distinct disadvantages of all-the-time real-time communication include
Increased stress: The expectation that workers should be responsive and available at all times while still working against fixed deadlines amounts to raised stress levels, and pressure to deliver.
Engagement over productivity: The possibility of being left out of decisions creates the necessity for workers to be active in discussions. But when it crosses a line, such employees end up distracting themselves and the others, bringing down the overall productivity. It's all about balance, and synchronous communication isn't the best solution.
Underachievement: Employees are unable to stick to the schedule planned and end up with a backlog of work.
Unsuitable responses: Often, the pressure to respond first, and think later results in making potential unwise decisions. Instead of taking time to analyze what has been done so far and what remains, you work with half-cooked information that compromises your judgment.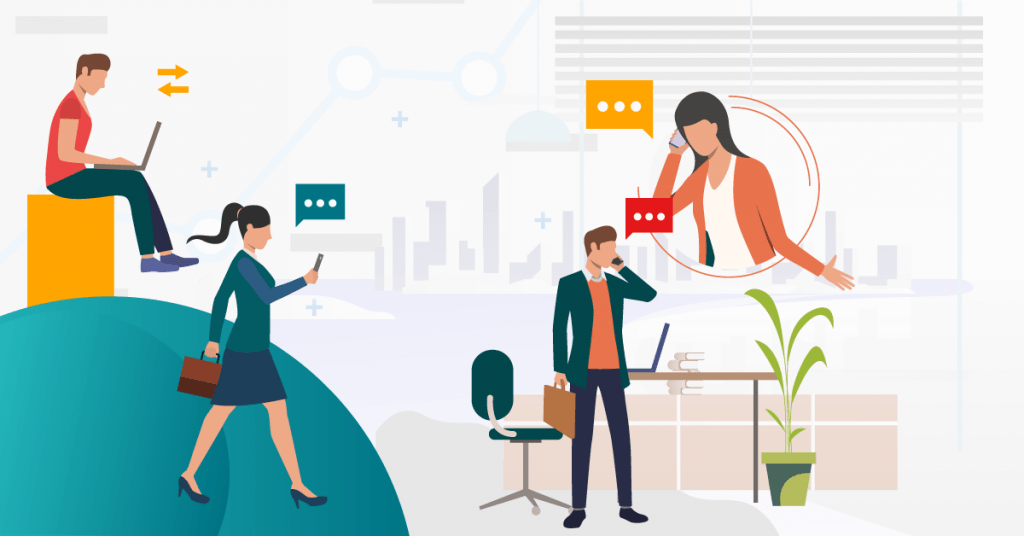 2. What is Asynchronous Communication?
Asynchronous communication, on the other hand, is an exchange that doesn't happen in real-time. It includes everything, from a slack post to an email. 
In today's world, everything is instant. Yet, being realistic, it's not always possible to do everything on the spot. 
One advantage of asynchronous communication is, it offers your business greater freedom.
With remote work, distance is becoming less of an issue than ever before. While there may be a slight lag because, in time difference, the message is still clearly relayed whether you're in New York or New Delhi.
The ability to use asynchronous communication means picking the best talent for your projects or even sourcing new clients from overseas. 
3. What is the difference between synchronous and asynchronous clock?
When teammates are in the same office space, it is easier to arrange meet ups due to them being in a collocated time zone. This is essentially what a synchronous clock is. It helps teams achieve and sustain cohesiveness by enabling everyone to know of their coworker's availability in real-time.
Asynchronous clocks, on the other hand, refer to offices in dispersed geographies, and across different time zones. As such, a particular team can have members all over the place and may not always be available for a quick call. When everyone is not in attendance at the same time, the clock is said to be asynchronous. Meetings happen either during a time slot that factors in time differences, or makes resources and material accessible for those who couldn't make it. Such teammates respond depending on the priority of the message and their schedule.
4. Why is Asynchronous Communication the Future of Work?
On the face of it, synchronous communication might seem like the better option. Contact is immediate and clear. The rise in mobile-friendly applications means that communication isn't restricted to work hours or workplaces. 
All of us are guilty of checking and responding to notifications when our devices ping. As a result, workers can never truly be off the clock and switch between taking up the task and returning messages on time. They'd have one eye on their device and the other half-distractedly seeing to work which ends with neither activity getting due attention. Also, employees would organize their schedules around meetings. This eats into what little time they have left to work on a critical priority.
The mode of communication (be it synchronous or asynchronous communication) you get into shouldn't pull your focus away from your priorities. 
Quite the opposite.
Only, if the communication is instantaneous- how do you consider your response in the best way? 
Or even come back to the information later should you need to clarify the details? 
In remote team management, asynchronous communication is hugely important for those reasons and more. 
For example, asynchronous communication is better when your team works across different geographical locations (and possibly time zones), and it simply isn't possible to only speak to people in real-time. Plus, if you were to wait until you could talk to them directly, there will be lost business hours in between. 
This time could have been spent working on the project because the information was instead sent over email, Slack, or a similar portal.
Moreover, by having asynchronous communication, the information only needs to be relayed once. People can pick up the work at a much more convenient time, and refer back to the details without having to schedule another call to do so.
It frees up resources and ensures everyone is on the right page. It's also hugely beneficial to onboarding new team members too.


Read More
22 Remote Team Management Tools BUILT For Remote Teams


5. Tips to Master Asynchronous Communication
The art of communication is one person relaying a message for others to receive. In the case of asynchronous communication, there are some points to consider to ensure you get it right in no particular order:
5.1 Research the available platforms
From Gmail to Slack, Notion to Trello – no two asynchronous communication tools are the same. That's why it's essential to do your research. Find the best solution for your team depending on your company and the requirements of your business output.
5.2 Train your team
Ensure everyone knows how to work your chosen platform(s) before you set them to work. There shouldn't be any delay in the setup process. More importantly, lay down expectations for the shortest time in which a member should get back with answers. Standardize a method for reminders, follow-ups, and escalations in case of continued absence.
5.3 Organize the platform
Platforms such as Monday, Notion, or Slack require users to create boards and assign tasks. Take the time to do this to avoid confusion about what everyone is doing. Restrict access to members by their role, experience, and relevance to the team so that the platform's workflows, dashboards, and conversation portals appear in the right format to the right people.
5.4 Enable notifications
Most platforms have a system whereby you can enable notifications. Ensure yours are switched on during working hours so tasks can be dealt with promptly. If your office is in different locations globally, notifications will default to asynchronous anyway, so it helps to plug in a world clock module that displays time zones worldwide. You can then set realistic hours to respond to notifications. What's more, you can figure out overlap in work hours that allow you to schedule virtual meetings or check-ins in that window between you and select members!
5.5 Don't forget synchronous communication altogether.
As amazing as Slack or email is, digital texts don't always communicate your message tone. If there's a serious issue or you are unsure about something, you can still give someone a call. It's not about synchronous versus asynchronous communication, it's more about finding the balance and being mindful of busywork and possible lulls so that you are sure to catch your colleague or manager on time!
6. Best Practices for Asynchronous Communication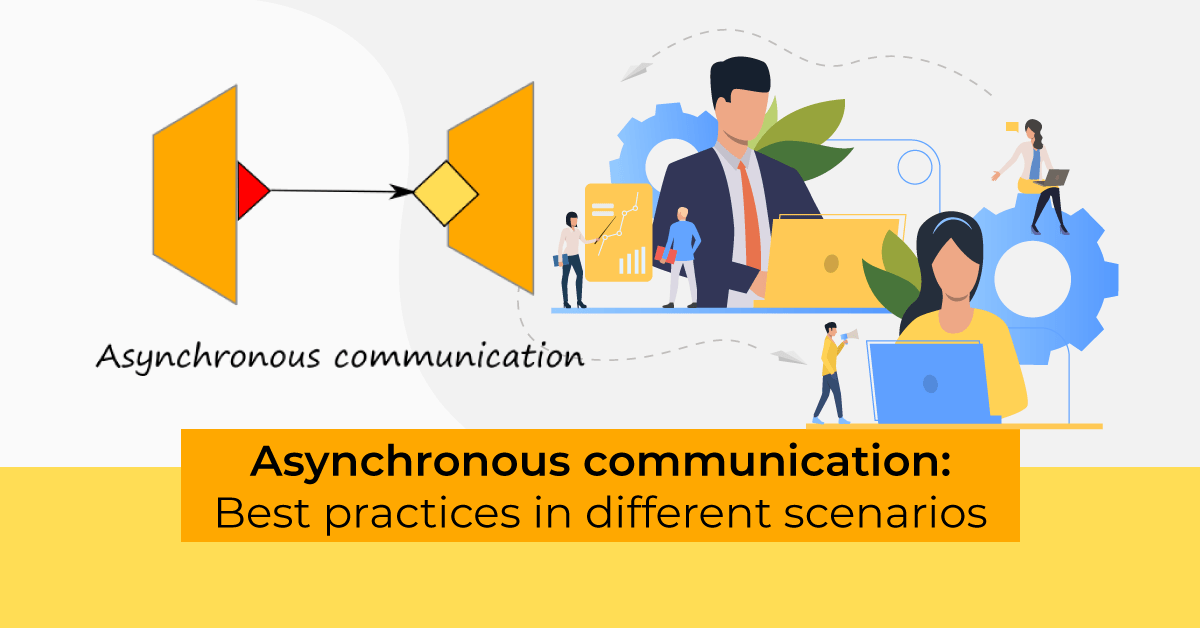 6.1 Asynchronous prep work before meetings
Remote work is synonymous to countless hours spent on meetings, some of which aren't even necessary but you are still compelled to show your face. These synchronous communications, as already mentioned, can invite distractions and lower your productivity. To make these meetings effective and on-point, doing some asynchronous prep work before the meeting initiates can help you a lot. Moreover, its about blending synchronous asynchronous communication perfectly.
For example, you get an invite from the stakeholder to discuss the new product development. To get the best out of this meeting and to answer the questions head-on, you can form a group on an asynchronous collaboration platform like Slack or Gitlab and jot down your points. The engineers can inform the team on the progress in detail, the sales team can clarify the clients' expectations, and so on.
After a meticulous discussion, the synchronous meeting will be more meaningful and will also give better clarity to the stakeholders. It will also create a 'source of truth' for the entire project team.
6.2 Team onboarding
The remote team onboarding process is the reflection of your firm, firm's values, and culture for the new joiners. The adage 'first impression is the last impression' holds true in every sense. Even though onboarding a new remote employee will include a lot of one-on-ones, video conferences, and training that all constitute synchronous communications, the new recruits should be supplied with a well-written onboarding plan that keeps them informed and well-planned for the sessions to come.
Asynchronous emails with a well-structured training agenda and other training modules will keep the new workers in the loop and simplify the onboarding process for them.
6.3 Convey Clear Intent and Expectations
Asynchronous communication does not take place in real-time. That's why it's all the more important to leave clear and precise offline messages. Written communication or audio files should be in a format and language that's comprehensible to the intended recipient.. Whether a private or group text, always make sure to run through the contents of your message, mail or voice clip before hitting 'Send'. It helps you make corrections and rephrase where required.
6.4 Differentiate Between Urgency and Importance
Determine what is urgent and what is important, because the two mean very different things. Urgent communication requires immediate action and prompt responses, while important communication can be marked and repeatedly referred to. An example would be a company's HR policies. Proprietary messaging platforms such as Slack is great for tagging coworkers with in-channel "mentions". This lets the person you're waiting to hear from look through the message threads that mention them by name.
It would help to have virtual sit down with your team so that everyone can go over which messages qualify as 'urgent' and 'important'.  This lessens the anxiety considerably, because teams are now prepared to recognize the urgency and /or importance of incoming asynchronous messages they get.
In the next section, we'll list out tools for asynchronous onboarding communications
7. Best Tools for Asynchronous Communication
7.1 Gitlab
Gitlab is a comprehensive tool that allows your team to plan and execute projects efficiently. Right from discussing issues to collaborating and sharing the progress of tasks, Gitlab has it all. So, when you and your team are doing the prep work, you can add the issues in the issues list and use the burndown charts to show your progress to your teammates. It will bring transparency and will keep you ready with the key points to discuss.
7.2 Slack
You can create channels on Slack and discuss the issues, other relevant project information with the entire team. Same as Gitlab, you will be well-prepared with the critical details to be shared with the stakeholders. If your team members are working across different time zones, they will be able to see the details you have shared and add their progress too.
7.3 Email & Calendar
Email channels that sync with the calendar automatically block the dates on the calendar so you don't miss out on anything. The best example is Gmail and Google calendar. Google has spared no efforts to make these automated bookings seamless.
7.4. Samepage or Fleep
Samepage and Fleep are collaboration tools for file sharing, task management, and more. You can create a group of new recruits on these channels and share the necessary training modules, agendas, and brochures to keep everyone on the same page.


Read More
How To Find The Right Balance For Tech When Managing Your Remote Team


7.5 Project planning
I am sure you must be thinking how can we possibly plan projects asynchronously? After all, it requires hours of brainstorming to form feasible workflows, decide the financials, and so on. Well, the plethora of project management tools and tools like Slab where you can share memos can make it just easy.
The major benefit of asynchronous communication is that it has everything recorded, and the documentation helps you present your thoughts and ideas with utmost clarity. In short, when you are asked impromptu about your opinions, it may take some time to get your thoughts together and convey them. However, when you have a crisp plan in hand, the synchronous meetings to finalize the plan become more productive and meaningful. Again, it's more about finding an ideal fit for asynchronous and synchronous communication.
Moreover, one of the most crucial steps of project planning i.e. resource scheduling can happen with the simplest drag and drop functionality. Resources will be informed in advance and it eliminates the need to constantly call them.
Let's see which tools can help us do so,
7.5.1 Avaza
Offering flexibility in view options, Avaza enables the users to toggle between Gantt charts and Kanban boards to plan the projects and create task dependencies or workflows. Project managers or any other specific team member can alter the plan adding notes making it easy for others to know the rationale behind it. Also, with a single source of truth, Avaza lets you book the resources for future tasks ahead of the curve with simple drag and drop.
7.5.2 Scoro
Scoro, similar to Avaza, is an all-in-one business management tool that lets you create tasks, assign projects, create project plans, and track its progress in real-time. These salient features eliminate the need to constantly communicate with employees over zoom or skype calls as all the necessary details are elucidated with a fine-tooth comb.
7.6 Content creation or editing
If you are a content writer and a part of the marketing team, you will know the pain of constantly communicating with your editors to make minute changes in the blogs, or email, or any other writing pieces. It kills your productivity and just adds on to already existing distractions. So, what should we do about it? Can these calls be replaced with a more productive and feasible option?
Yes, of course, we can! Content writers can use a tool or software that allows access to multiple users and lets them add suggestions to your work. It's a time saver and does not compel you to stay available round the clock. Besides, editing and making necessary amendments take a considerable amount of time. So, once you see the comments, you can resolve them without disturbing your current scheduling and deadlines.
The best and easiest tool that can be used is:
7.6.1 Google drive
Google Drive has everything you need to create documents, presentations, and excel sheets. Using google docs, you can grant access to multiple people at the same time and make real-time changes and edits to make the process effortless. The editor or content manager needs not to bother you with countless calls and can simply add his/her comments is the comments section. This altogether avoids the need for Zoom or skype meetings.
8. Conclusion
In the workplace, both synchronous and asynchronous communication have their own merits. It dictates how we exchange messages and ideas, especially in the workplace. However, given much of our work is now done remotely, asynchronous communication is becoming increasingly favorable. While synchrony isn't all that bad as it sounds, what makes it the remote worker's nemesis is that it fuels the perception that a worker is productive only so long as he or she is visible and responsive, which in real-life isn't the case.
The first step to embracing asynchronous communication is to do away with the notion that your employees are not as productive when they work independently of the physical presence of a manager. Next, understand that lapses in communication could very well be due to the said worker keeping their head down at work. It is more of an oversight than a sign of shirking accountability. And finally, it's about organizing schedules around realistic timelines and keeping the meetings for the essentials, so that no spare time goes to waste!
We hope you've found the above information about synchronous communication vs asynchronous communication helpful. Be sure to leave us a comment below with your best work practices for either the communication method!