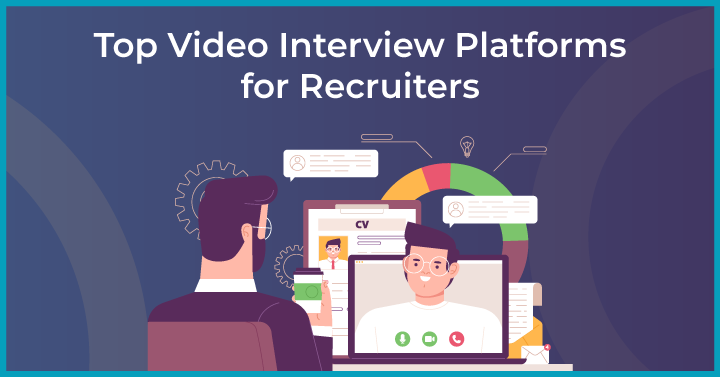 Global recruitment is rapidly becoming a staple of the post-pandemic workplace. Several factors affect the success or failure of remote hiring and subsequent workflow. But if we have to pick one, it would be communication. Communication for today's remote workforce is critically dependent on the best video interview platforms. 
Skype is ubiquitous, and Zoom has cemented its position on the market during COVID-19. But these are not the only options for HR professionals and recruiters. Here we review the 20 top video Interview platforms for recruiters in 2023. 
What are video interview tools?
Video interviewing tools include software or interview platforms that enable bosses and companies to conduct online video interviews with job applicants remotely. These can be two-way  or one-way video interview platforms. Most of these tools now use AI-powered technology for a more seamless online experience.
1. Overview of the 20 Best Video Interview Platforms
With so many options to choose from, we have short-listed these 20 best video interviewing platforms. Before we review each platform in-depth, here's a quick overview:
Vidcruiter – Best video interview platform for live and recorded multi-tiered interviewing 
Willo – Best video interview platform for high-volume screening/hiring
Hireflix – Best video interview platform with an intuitive UI for one-way interviews 
Myinterview – Best video interview platform with a candidate-first UI
Zoom Meetings – Best video interview platform with excellent free features 
Skype – Best video interview platform with unlimited time limit for Microsoft users
Harver – Best video interview platform for high-volume recruitment
Breezy HR – Best video interview platform  for start-ups.
Spark Hire – Best video interview platform with self-recording feature for enhanced usability
HireVue – Best video interview platform for use by recruiters on the go 
Recruiter.com Video – Best video interview platform with preselection and stock questions for recruiters
Modern Hire – Best video interview platform with built-in branding capabilities for tech recruiters
Interviewstream – Best video interview platform with scheduling features for seamless interviews 
Jobvite – Best Best video interview platform with built-in ATS for remote recruiters
Imocha – Best video interview platform with built-in skill assessments 
Talview – Best video interview platform with AI interviewing capabilities 
Workable – Best video interview platform with flexible  and scalable features
EasyHire.me – Best video interview platform for high-volume screening
Avature – Best video interview platform with intuitive user experience and scalability 
CodeSignal – Best Best video interview platform for coding jobs 
2. Comparison Criteria
2.1 User Interface (UI)
To start, both recruiters and candidates should be able to navigate the platform easily. The last thing you need is to lose a potential hire just because she or /he was unable to find controls for audio or record! So UI matters a lot when choosing a video interview platform.
2.2 Usability
Following the previous point, usability is also a critical criterion when choosing the best video interviewing platforms. Once again, you should emphasize the candidate as they should be able to access the platform fast and easy, without jumping through a lot of hoops. 
2.3 Integrations 
Integration is integral for an interview platform, simply because screening, hiring, and onboarding aren't isolated processes.  Among other factors, check if your video interview platform connects with third-party systems like Slack and your applicant tracking system for enhanced functionality. 
2.4 Value for money
Value for money just doesn't mean the interview platforms should be budget-friendly. It also means that the price should be clear and transparent, and you should be able to buy features and add-ons as the need arises. But simply, you should know what you're paying for, and whether it's valuable for your organization or not.
3. Must-Have Features of Video Interview Platforms
3.1 Provides One-way and Two-way Video Interviews
Don't limit yourself to free video interview platforms that only offer one-way interviews. At the very least, you should be able to pre-set questions for candidates who can record and save their answers for review. Once you screen and short-list, the same platform should enable you to set up a live interview. 
3.2 Availability of written and recorded questions
Stock questions and templates are a must. With minor customization, your platform should allow you to send questions and forms to multiple candidates at a time to test their knowledge and experience. 
3.3 Allows setting time-frame during an interview
When testing candidates, you need to set time constraints as well for certain questions. Once again, any worthwhile video interviewing software should have pre-set features for setting time frames for candidates. 
3.4 User-friendly set-up
While the contents of tests and interviews should be rigorous, the process should be as smooth as possible. The best virtual interview platforms make it easy for candidates to set up and log in easily. 
4. 20 Best Video Interview Platforms for 2023
4.1 Vidcruiter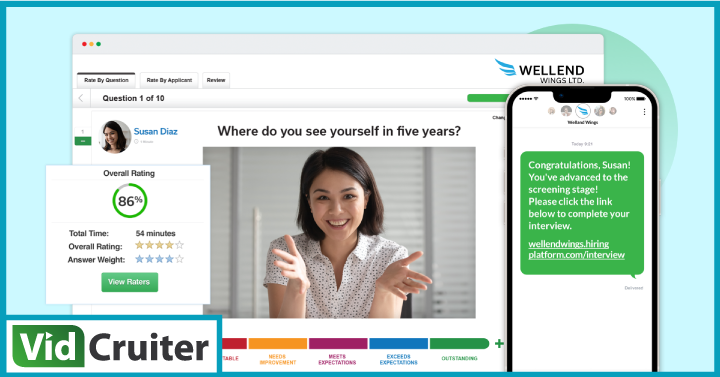 VidCruiter helps companies enlist the best talent without expending a lot of time and resources. It offers a cutting-edge and popular methodology empowering managers to screen out potential hires at a reasonable, quick, and convenient rate. At the same time, VidCruiter completely does away with conventional and obsolete meeting processes.
The platform is all about adaptability, whether you need large-scale hiring and need to short-list individuals, or you want to enable individuals to re-record meetings. Vidcruiter also has capabilities for setting time constraints, making it the perfect option for hiring managers and bosses who like to be in charge of every step of the process.
VidCruiter offers pricing information upon request.
4.2 Willo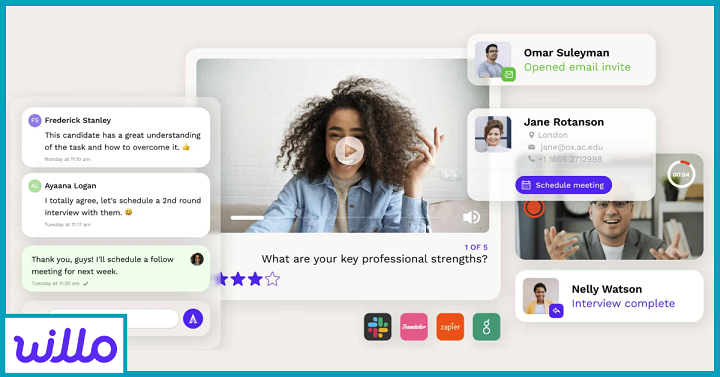 When there's so much to do but you don't have time, you need a video screening system that helps you meet the right people among hundreds of applicants. 
That's where Willo comes in, a welcome addition to the list of virtual interview platforms for any organizations hiring apparatus. This  is a browser-based tool that you can use on the go. Plus, it's scalable, making hiring easier as your business grows. The software is easy to use, especially for candidates using it for the first time. Among its functions, Willo allows you to send invites to multiple candidates individually, post new jobs, and automatically generate job-specific questions with the Intelligent Question Generator. Overall, it is highly adaptable software with solid branding capabilities. 
Willo offers a free forever plan, but it has limited features. Pricing starts at $42 per user per month.
4.3 Hireflix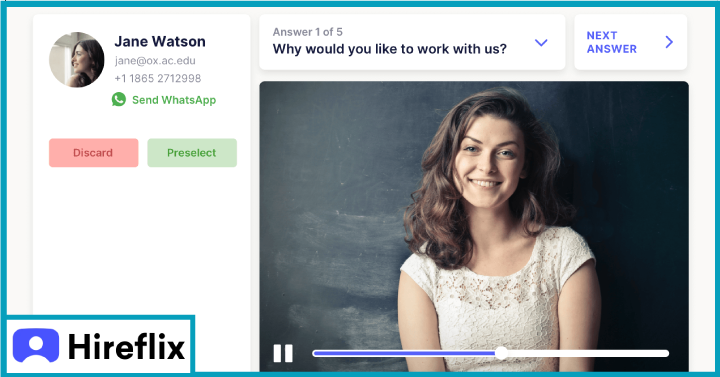 Many reviewers call it the Netflix of recruiters, but that's just lazy writing! Hireflix is on of the best video interviewing platforms  that is swift and handy. Focusing only on one-way video interviews, Hireflix makes hiring a breeze for companies and your candidates by doing away with lengthy implementations, or legacy systems. 
Featuring a minimalist design and a clean UI, this platform comes loaded with features that you can access via all browsers on all devices, no matter where you are. You can customize time, record any number of questions, and allow unlimited answers. Going through numerous iterations, Hireflix offers seamless integrations with ATS and other software. Overall, Hireflix helps recruiters to save hundreds of hours. However, it doesn't offer two-way communication. 
Hireflix prices start at $75/month.
4.4 myInterview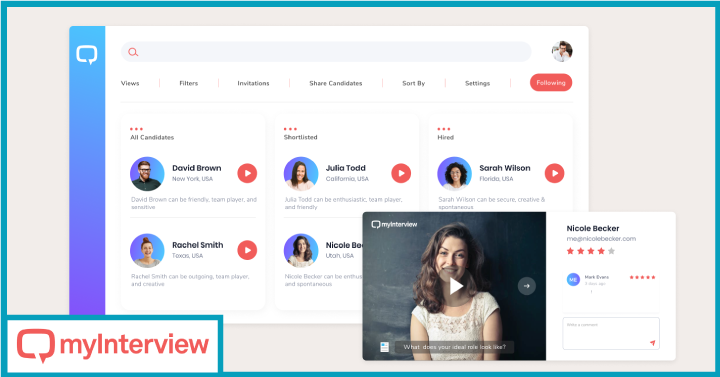 When you're running a small business or launching a start-up, you need scalable tools, whose features and pricing adapts to your needs. In this domain, myInterview is one of the best video interview software you can get, which lets you hire for one job at a time for free. And when you need to recruit for several jobs, you can start paying for added features.
Not to mention, the free version allows you to test this video interview platform before you pay for an upgrade. One of the best features of myInterview is the automated tool that reviews the details of each interview and selects candidates that are best for the job. Imagine that. Plus, each individual involved in the hiring process can easily exchange notes and feedback. myInterview also filters candidates based on personality traits and soft skills, which further streamlines recruitment in your company. 
myInterview is free for one job at a time, and pricing begins at $29/month.
4.5 Zoom Meetings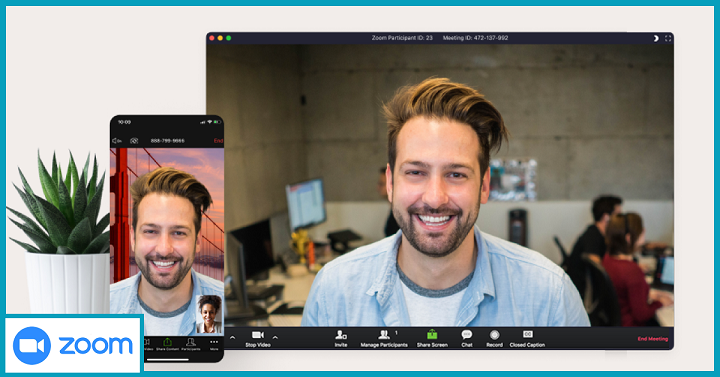 Considering its ubiquity, it seems redundant to review Zoom meetings. Its user-friendly and feature-laden UI makes it one of the best video interview platforms for recruiters today.
One thing recruiters and candidates love about Zoom as one of the video interview platforms is its smooth and easy set-up. Most of the time, you simply have to send the interviewee a link, and she can open it in a browser and join the call without even downloading the app. Zoom is also budget-friendly, and several SMEs have reportedly spent months using its free plan before shifting to the paid version. And why not? You can host up to 100 people with the free plan for a group interview (that's also why Zoom is the top choice for online classrooms). 
Pricing for Zoom Meetings starts from $149.90. 
4.6 Skype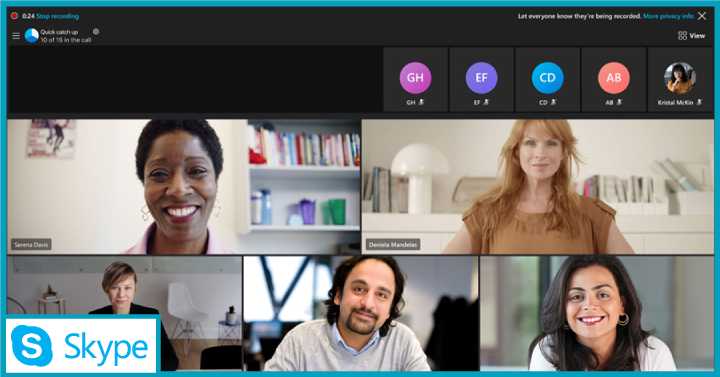 Even with so many of the best video interview platforms on the market, Skype manages to hold its ground. Microsoft users often use it as their default platform. Skype is scalable as it is free forever unless you switch to a paid plan to access additional features. 
Top features include no limit use, private chats for smooth collaboration, and free unlimited calls (unless you are calling a US mobile or landline number). Plus, its user interface is super-easy to use, 
Skype is completely free for audio/video calls with up to 100 members. It really is one of the best video interviewing platforms in the market today
4.7 Harver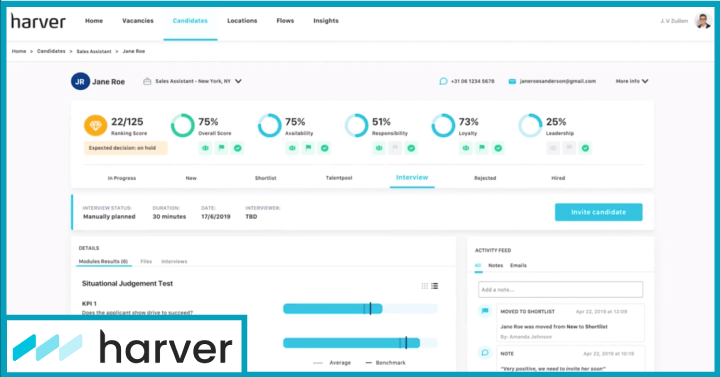 Harver claims to be 'built for volume hiring' and its features live up to the tagline. For instance, it weeds out potential candidates automatically. But what makes Harver unique is the personal touch it adds to its automated processes. With interactive experiences and visual content, the platform keeps candidates engaged on a human level. 
Other features of this interview platforms include situational judgment tests, tests for hard skills, and continuous feedback. Harver hired psychologists to create a hiring process that not only tests for personality and cognition but also removes bias so your company can steer clear of blind recruitment.
Harver offers pricing details upon request.
4.8 Breezy HR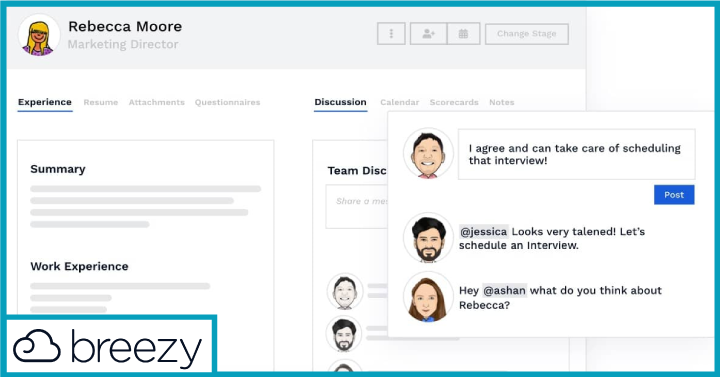 With Live Video Meetings and on-screen scorecards, BreezyHR makes online recruitment and applicant tracking "a breeze" (cliched, but true). But that's not all, for this platform also offers features like team collaboration, analytics, referrals and job posting, and candidate sourcing and management. All on the same platform. Their aim is to help make hiring easier for you by helping automate tasks like pre-screening and scheduling. With the ability to integrate with a number of programs, Breezy is one of the most user-friendly programs on this list. 
It is also budget-friendly, and the company offers a generous entry-level package, which unlocks unlimited features. This makes Breezy HR a great choice for small businesses and startups.  
Breezy HR has a free plan and pricing starts at $143 per month.
4.9 Spark Hire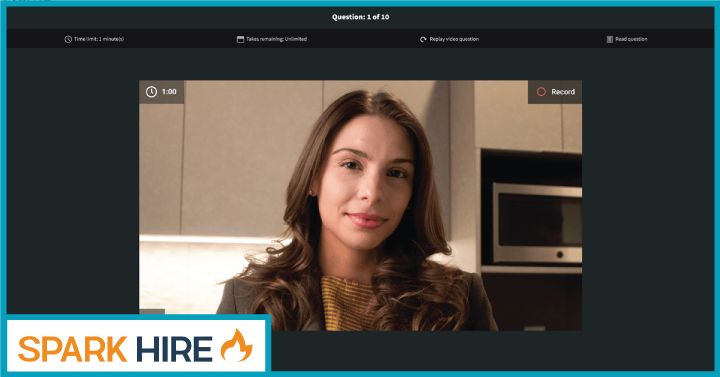 When reviewing and trying out different video interview platforms, we noticed that they were either suited to small businesses or large corporations. Spark Hire, on the other hand, is an all-encompassing solution for companies of all sizes. And you can try out the platform for free, even without entering your credit card details. 
With advanced analytics and automation features, Spark Hire is capable of processing candidates based on specific criteria on a deep level, without you having to meet them face to face. The platform also offers excellent integration with a complete suite of programs such as Office 365, iCloud, and Google. It also integrates with more than 40 ATSs.
Spark Hire offers a 14-day free trial, and prices start at $119 per month. 
4.10 HireVue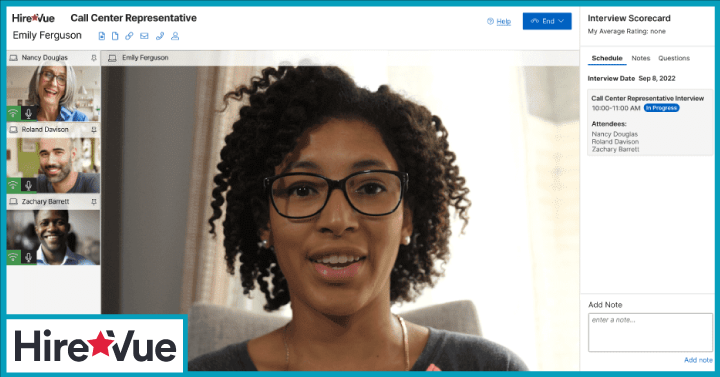 Remote recruitment means you need to keep track of applicants on the go. And for today's busy recruiters, HireVue offers an excellent mobile video solution. The sleek mobile app allows candidates to record video responses from their devices. This automatically increases the pool of candidates and also speeds up the response time. 
 This platform has been designed in a manner that helps automate workflows, thus helping you save time that would earlier be spent on repetitive tasks. They also have a data-first approach which ensures that you get to pick from a pool of diverse and qualified candidates for every job.
HireVue is free for candidates. 
4.11 Recruiter.com Video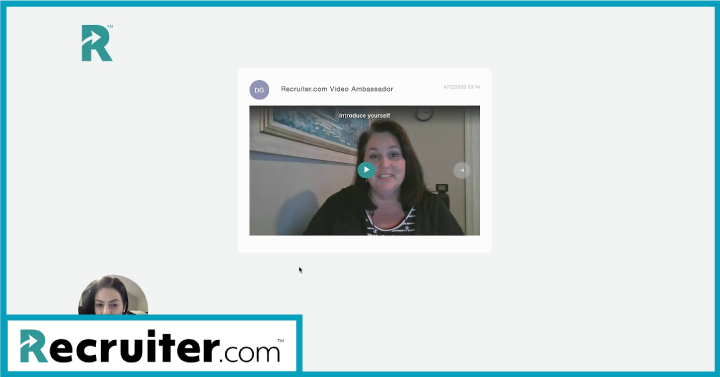 Efficient recruitment requires modern solutions, and that's exactly what Recruiter.com offers with its video platform. You can record and review interviews with candidates, and organize feedback to be shared easily with the hiring team. You can set as many questions as you want so you can test each candidate's mettle beyond the video screen. 
In a world where most of the hiring taking place is done virtually, Recruiter.com Video allows you to speed up the process. The platform itself is pretty straightforward to use as well. As you keep receiving applicants, you can move them through your hiring process with a simple drag and drop in real-time. 
Recruiter.com offers a free demo and pricing info is available upon request. 
4.12 Modern Hire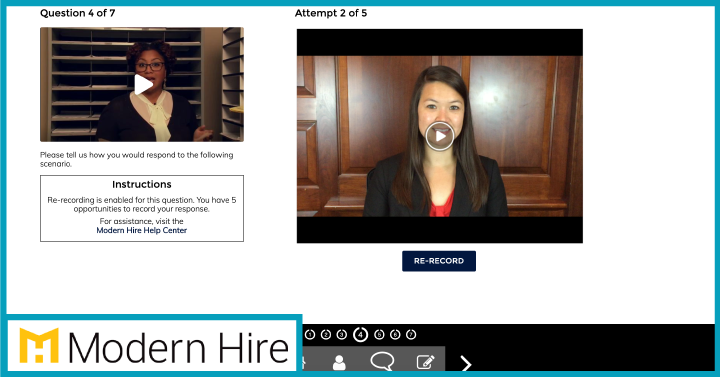 If you are vying for a candidate-first experience, Modern Hire is a must-try. It is designed in a way to offer a consistent experience to candidates, no matter how many you interview. Features include live and on-demand video interviews. And you can also offer a personalized, branded experience.
The platform is designed in a manner that combines easy-to-integrate tech with advanced selection science to provide a better overall experience to not just candidates but also to your team and the organization. 
Modern Hire's pricing model is quotation-based. 
4.13 Interviewstream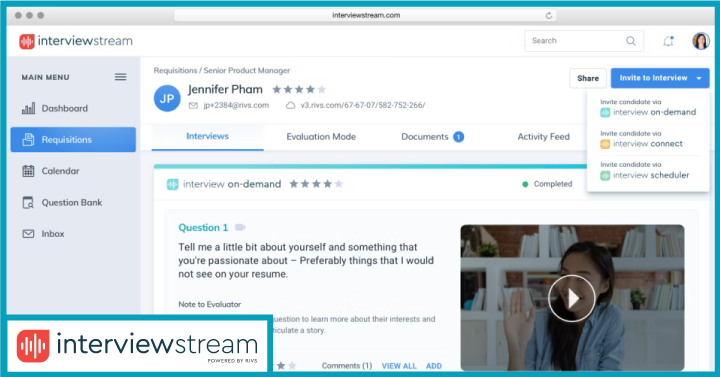 Interviewstream has some of the best features that make it a worthy option on our list. For instance, you have Interview Builder, where you can structure the interview process from start to finish. Likewise, you can schedule interviews automatically with an Interview Scheduler. 
Each solution is designed keeping in mind what top talent expects when they are looking for a job. So, not only do you manage to get better candidates but also remove the administrative hurdles associated with interviewing and scheduling. As a recruiter or hiring manager, you can then focus on the things that truly help your organization which is to ask the right questions, to the right candidate, every time. 
Interviewstream provides custom pricing.
4.14 Jobvite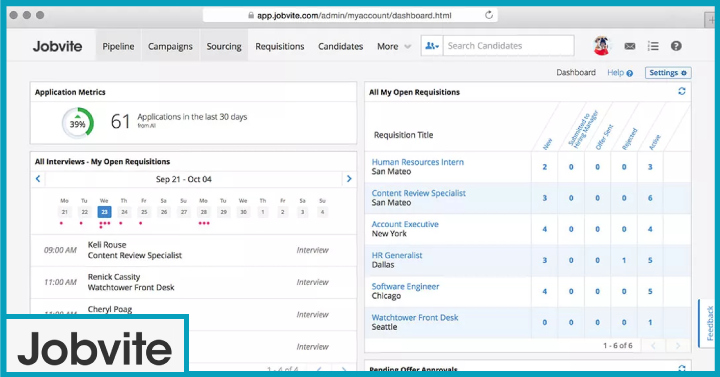 Jobvite does away with many problems that many video interview platforms suffer from. Primarily, it offers smooth integration with your company's ATS, unlike other products that are created by third-party vendors. Another handy feature is the collaborative screen that lets you share feedback with the hiring team. This feature ensures a speedy screening process while bringing out the best among the candidates. 
Their platform takes into account the entire TA lifecycle and helps you out at every step. Right from employer branding all the way to internal mobility. All you need is one suite and eliminate the concern to integrate multiple point solutions. This helps you deliver better results much faster. 
You can contact Jobvite for a quote.
4.15 Imocha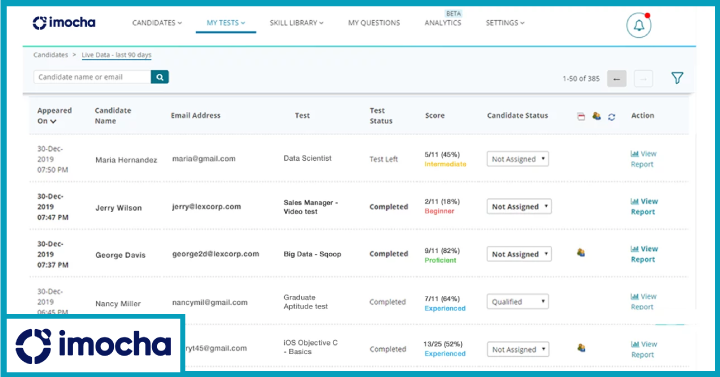 Imocha offers you a bucket load of skills assessments, regardless of your industry. So let's say you're hiring coders, you can conduct tests in real-time. In that respect, Imocha goes beyond the standard video interview platforms and can prove invaluable in today's remote environment. 
Their platform focuses on the skill aspect of each candidate. This way you are not only hiring for the present but rather the future. A good skill set allows you to overcome talent challenges as you can re-skill and upskill them to become a better fit for your organization. The three aspects that truly help them differentiate from the crowd are AI-powered skill assessment tools, analytics, and guidance to help build teams that are not just great now but also have the capability to scale up in the future.  
Prices start at $150 per month. 
4.16 Talview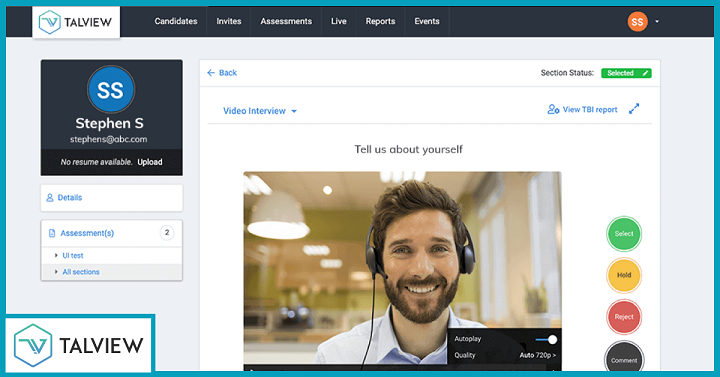 Here's another AI-powered platform that employs psychology and NLP to screen candidates not just for hard skills, but also for subtleties like body language and culture fit. How about that? Overall, Talview helps to cut down resources and time spent on recruiting talent.
The program helps you expedite the process and streamlines the entire recruitment process by reducing the amount of time that you spend on the screening process. Another aspect of this program is the emphasis that it places on collaborative hiring. It helps you get your team on one platform and then expedite the process. 
Talview pricing is available upon request.
4.17 Workable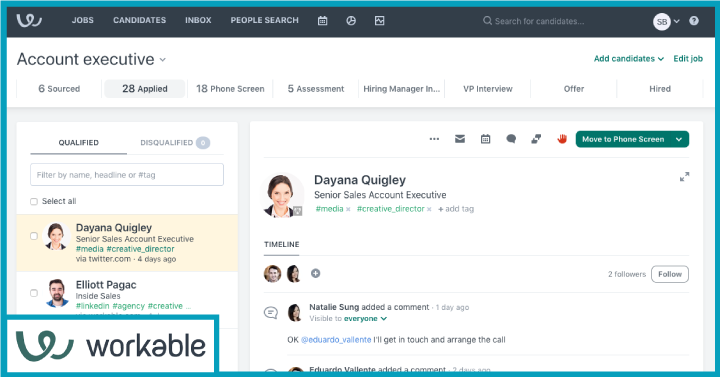 Workable offers an adaptable cycle, permitting workers to smooth out and accelerate the recruiting system. Along with this, employees can work together with groups effectively, leave feedback, and settle on informed choices. On-request video meeting devices additionally enable recording at any time zone or plan.
Workable allows you to bring your entire hiring cycle under one roof i.e. right from posting the job to the orientation of the candidate, you get all of it under one roof. They offer a free trial for 15 days that can help you understand the platform better and then make the decision of moving forward with it. 
Contact Workable for more details on pricing.
4.18 EasyHire.me
EasyHire.me can review both skills and feelings of candidates utilizing the most recent AI/ML that speeds up the selection process. It also permits clients to go with info-driven choices estimating the recruiting achievement, keeping the information in one spot, and comparing talent.
You have the option to save the interviews as well, this way you can go back and analyze the candidate better at a later stage. The whole process is pretty straightforward and the software also provides integration with a number of other platforms to make the whole recruiting cycle better. 
Contact EasyHire.me for more details on pricing.
4.19 Avature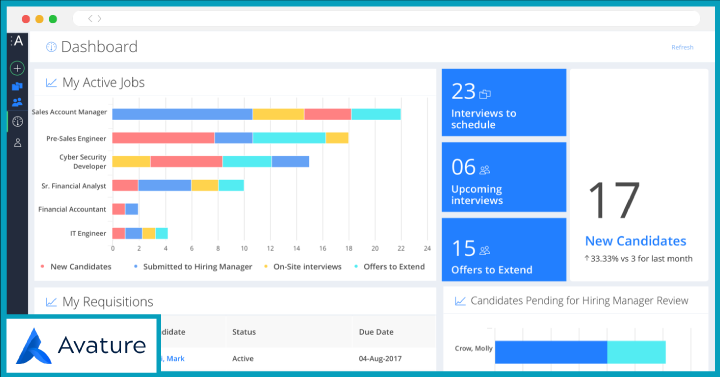 Avature helps competitors and managers to meet (without truly meeting) from its versatile improved, marked, and adjustable platform. The on-request video interview tools empower companies to audit recorded recordings.
The platform is flexible and deals with a lot more than just the workflow. You get custom APIs, tools, and a built-in portal builder that allows you to tweak the strategies as you move along the hiring cycle. Additionally, all your information is stored in a highly secure cloud to ensure that your data is safe at all times.
Contact Avature for more details on pricing.
4.20 CodeSignal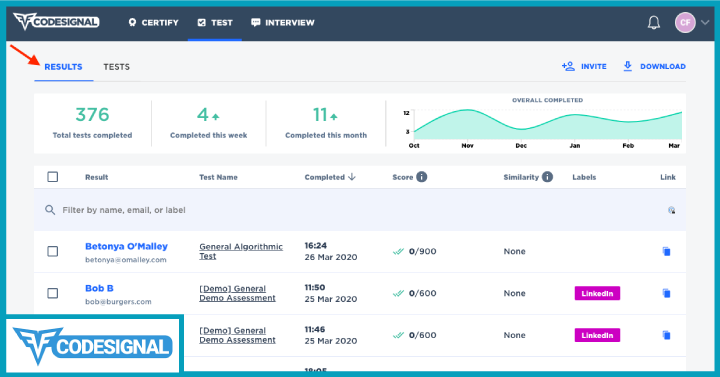 Utilize high-level IDE with CodeSignal for specialized interviews. CodeSignal offers precise abilities in an advanced coding climate to enlist the right candidates. The platform is all about adaptability, whether you need large-scale hiring and need to short-list individuals, or you want to enable individuals to re-record meetings.
This platform is designed as a comprehensive developer hiring platform and provides support for over 70 languages and tools to help you conduct interviews conveniently for developer candidates across the globe. They also have in-built tools like the plagiarism checker and keystroke playback to aid your hiring decisions. 
Contact CodeSignal for more details on pricing.
5. FAQs
5.1 Which platform is best for an interview?
The best interview platforms are scalable, offer flexible pricing, and integrate with the company's ATS. But that is not all, video interview platforms should also screen for factors that are crucial in face-to-face interviews, such as body language. 
Statistically, the most common virtual interview platforms are VidCruiter, MyInterview, SparkHire, HireVue, and Interviewer.