I'm sure I'm not the only one who can relate to the difficulty of staying away from the fridge when working from home full time. But instead of guilt-tripping yourself for finishing your weekend snacks ahead of schedule, why not use what's lying around in your kitchen as an excuse to sign your team up for virtual team building cooking classes? 
In this article, we've compiled some of the best virtual team building cooking classes to check out, so enjoy creating your own Masterchef episode!
Food is a great way to get your team to come together. Have a look at these lunch-and-learn programs to have a fun discussion while whipping up great food. 
If you are looking for a way to relax with your team we have also compiled a list of virtual mixology classes, cocktail kits, and some paint and sip options.
1 What are Virtual Team Building Cooking Classes?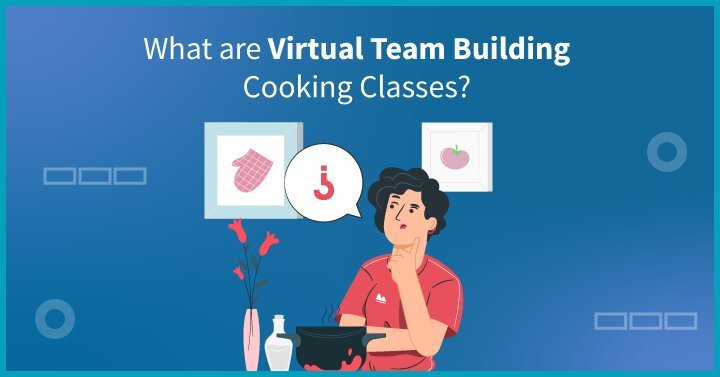 Virtual team building cooking classes are online culinary courses that take participants through the ingredients, cooking process, plating, and presentation, and tasting of the dishes prepared. They differ from traditionally hosted cooking classes in that the chef taking you through the course will instruct and demonstrate what he or she is doing via video rather than in person.
Scheduling different team-building activities keep staff on their toes because they have something to look forward to that's unlike the last session. Virtual cooking classes hosted online have a way of bringing employees together while teaching everyone how to create, or even perfect a dish!
2 Virtual Team Building Cooking Classes 2023
2.1 Hooray Teams 

About 
Hooray Teams is a virtual teambuilding platform where you can book fun and engaging cooking activities for your hybrid team. The pasta making class offered by Hooray Teams is a delightful culinary experience for anyone looking to explore the world of Italian cuisine from the comfort of their own kitchen. Led by the skilled instructor, this virtual cooking class offers a hands-on approach to mastering the creation of classic Italian Pasta.
Features of the Session
Once you book your session, you don't have to do anything. Pasta-making kits will be delivered to everyone's doorstep. This kit includes artisanal pasta, savory sauces, aromatic herbs, and all the fixings needed to create a mouthwatering pasta masterpiece.
What SIWOM likes about it
It is super convenient to book and have this activity. It is an all-inclusive activity where you receive all the required ingredients in the kit. The instructors help guide you through the process and there is not much room for anything to go wrong. This is the perfect class for beginners and seasoned cooks alike. 
Price per table/per head
$80/per person.
You also have an option to delve into their sauce making class, which is perfect for enhancing your culinary skills with a perfect side dish.  
2.2 TheChefandthedish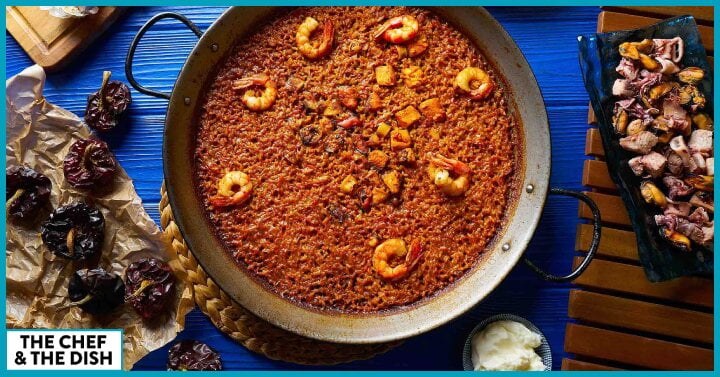 About
The Chef and The Dish were founded by Jenn Nicken, who previously headed Apple's Entertainment Marketing division in Canada. The platform has been bringing chefs, epicureans, and participants together since 2016. Their chefs hail from different parts of the world, such as Peru, England, Italy, and Hungary.
They offer online cooking classes team building on a variety of cuisines, some of which include Dominican, Caribbean, Basque, Brazilian, and Mexican.
Features of the Session
You can find a date and time and book your class from 70+ cooking classes. On their page, you can scroll through the list of classes to book, which features a picture of the dish, class timings, and a small description of what the class is about.
Once you click 'Book a Class', you'll be directed to a Booking form which the Chef should approve. After the chief approves your submission, you'll be sent a payment link that confirms your slot. 
You'll then get access to an virtual cooking event hub that contains your grocery and equipment list, the chef's bio, and a join-in link. 
What SIWOM likes about it
We like the promptness of their White Glove service, which we experienced first hand after booking ourselves in for their Hungarian No-Bake desserts. Acclaimed Hungarian chef Agnes Barath takes this class. Besides desserts, chef Aggie will also teach you more about Hungarian cuisine, including how to make a Goulash, stew, or cabbage rolls!
Price per table/per head
It starts at USD 450 for 3 devices and goes up gradually, costing USD 1850 for up to 20 devices. Devices refer to the individual kitchens. An expert will reach out to you if there are more than 21+ members. 
2.3 TheKitchenfire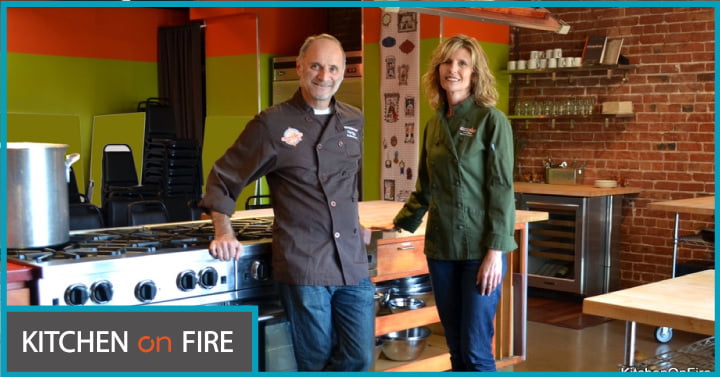 About
TheKitchenfire is based in the US in two locations, i.e. Berkeley and Oakland in California.  Since 2005, Chef Olivier and his set of professional chef instructors have been offering classes to corporations as part of team-building and wellness. Their cooking series lasts for 12 weeks. They also offer to host your event if you prefer to leave it to the experts! 
Features of the Session
Besides large group and team-building cooking classes, TheKitchenfire has also launched virtual group cooking classes which last for about 1-2 hours. The menu features 1 main and 1 side dish, dessert, or drink. 
If the team wants to go for a virtual demo instead, those are available too and last for about 45 minutes to an hour. You'll get to choose the menu's main course and sides, which you will see on the online menu.
The ingredients and equipment lists are sent ahead and in the session. You'll get cooking instructions from the chef. Post the 1.5 hours session, you'll get 30 minutes of eating time and QnA.
What SIWOM likes about it
The dishes being prepared to have vegetarian and gluten-free options, which is great if there's someone on the team with those personal preferences. The live demo features the chef taking participants through the steps of the dish. They can just watch, take notes and ask questions. You have the option of posting your attempt if you so choose to!
Price per table/per head
The virtual team cooking class costs $750 for up to 10 people, with individual logins. It's $25 per additional person. The virtual demo class costs $550.
2.4 TheChefupstairs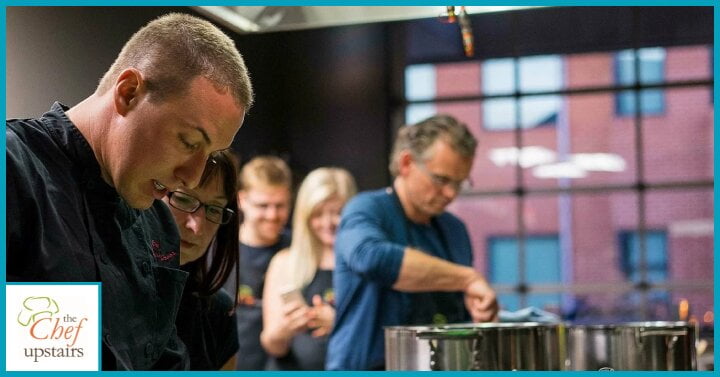 About
TheChefupstairs is a Canadian cooking class provider that opens up its venue and online portal for private dining, organizational team building, and programs for kids. Besides catering, they offer adults and kid/teen cooking classes virtually,
Features of the Session
Their adult cooking and virtual cooking classes corporate event are a great fit for remote and distributed teams.  The Head Chef supervises the classes for menus such as ' Full Meal' and 'Appy hours'. The Chefupstairs provides the recipes and even delivers the ingredients to the group based on size and geography (if requested).
 The virtual cooking class for team building are listed here based on the dates and seats left. 
You'll need to enter the Zoom link half an hour before the event if you want to ask the chef questions or require the meeting to be on another platform. The dates are shown up to January 2022, so better get a move on if you want a seat before they sell out! 
What SIWOM likes about it
We like that there's plenty of flexibility in the type of classes you're opting for. The number of classes and upcoming dates and information is all listed clearly, and you can always request additional information if you're undecided. 
You can even book a chef to cook at home for private affairs and intimate dinners making use of their full 3-course menu that serves between 2 to 100 guests. Those of you with nut allergies will be happy to hear that TheChefUpstairs is 100% nut and peanut-free!
Price per table/per head
Virtual Classes - $49.50 per household
Full Meal: costs between $990 to $2325 according to the number of guests.
Appy Hour: costs between $650 to $1495 according to the number of guests.
2.5 Tastebudskitchen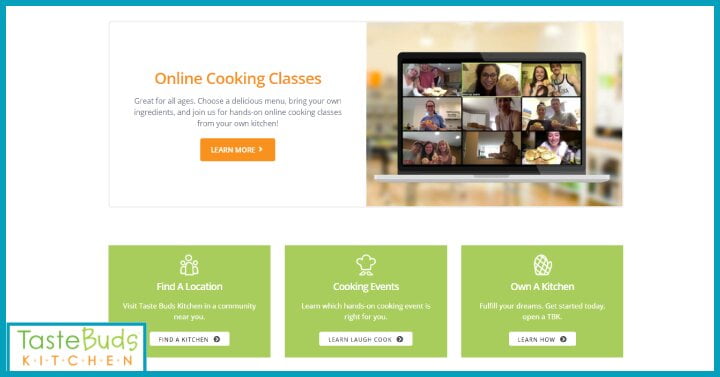 About
Tastebudskitchen was founded by Jessi and Jeff Brelsford. In 2007, it launched its first event at a Soho Loft in NY, USA. 6 years later, Tastebudskitchen franchised the concept of Epicurious experiences to a larger audience.
Features of the Session
Besides their kitchen studios located in over 10 different places, Tastebudskitchen offers virtual cooking class for team building that last for 90 to 120 minutes. The class accommodates people of all ages (working parents can involve their kids too on the call!).
The featured recipes are made from scratch and the class follows a BYO ingredients policy so you'll have to procure certain items independently. 
Tastebudskitchen will email you the shopping list beforehand. Similar to TheChefUpstairs, Tastebudskitchen has a class schedule posted up on their website which lists out the dates of the next few classes. There's a drop-down menu below the calendar to choose your class based on the cooking, from kids to dairy-free, gluten-free to adult, and vegan/vegetarian classes.
What SIWOM likes about it
Tastebudskitchen is very child-friendly and conducts classes for different age groups. You can reach out to them to include your children in the event if you so wish. Their studio kitchens are nut-free and the chefs do not use nut butter, flours, or oils containing nuts.
Price per table/per head
Adult corporate event cooking classes: $295
Kids cooking classes: $195
Fill out this form and enter your details to get a quote if you're hosting a virtual cooking class.
2.6 Littlefoxkitchen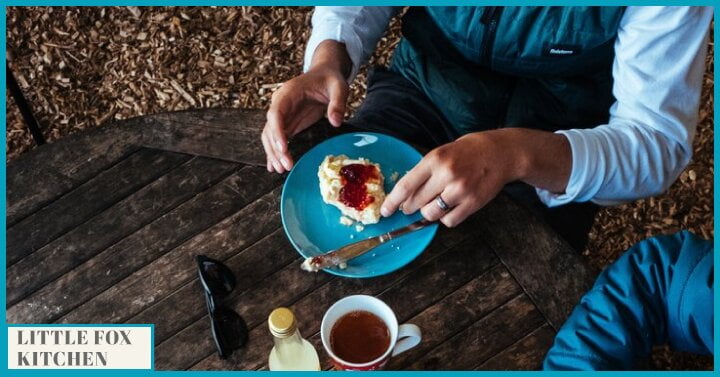 About
The Little Fox Kitchen is based out of New Jersey and gets its name from Roald Dahl's book, The Fantastic Mr. Fox. Melanie Cecilio is the Culinary Director of Littlefoxkitchen and brings prior experience with Kraft and Nestle to the dining table. 
Features of the Session
The Littlefoxkitchen has been closed for in-person sessions and conducts virtual cooking classes for team building instead. You'll need to email them or use the message form online to make inquiries. The classes offered in the past include virtual cooking and baking and virtual team building corporate events.
The team logs in for a live cooking or baking class with the chef. You'll get an email containing the recipe packet and cook list-  which comprises the ingredients and special utensils you will need. You also have the option of registering for a virtual Class and kit which gets shipped to the team.
Each kit contains portioned, non-perishable ingredients and in special cases, tools such as a ramekin for or board. You'll need to confirm you need these items 21 days beforehand to ensure it reaches you on time. 
They are currently taking bookings up to December 2021. Due to the rise in virtual event bookings, Littlefoxkitchen has mentioned that bookings will close by October 30th. 
What SIWOM likes about it
Although the exact details of each class weren't listed, we liked the diversity of the dishes being taught. We thoroughly enjoyed learning to make English scones to go with our virtual coffee break the following day! 
Price per table/per head
Contact The Little fox kitchen for a quote.
2.7 Cuiline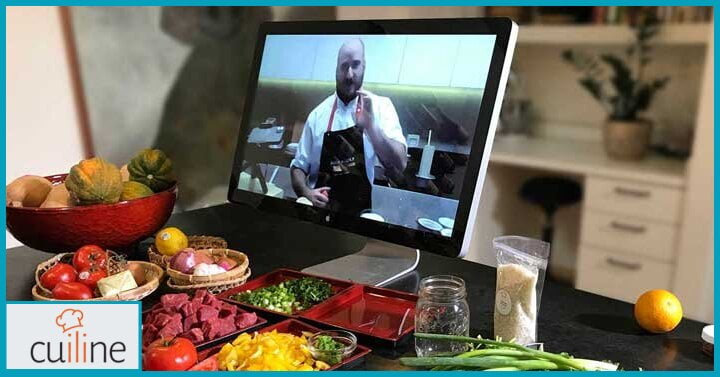 About
Cuiline (pronounced "kwi-leen") is a gourmet cooking class provider with over 20 years of experience. Cuiline was launched by Tamar and Thomas Lowell,  two entrepreneurial epicureans who promise a memorable afternoon interacting with chefs and participants from all over the globe. You'll also get to learn about the region's cuisine and chef's background.
Features of the Session
Cuiline offers two sessions- the 'favorites' which go on for 90 minutes and the 'gourmet experience' which lasts for 180 minutes. Besides these, they also offer family feasts, adventurous, vegetarian, and holiday meals.  
The 4 regional cuisines with dishes to sample are European, South Asian, Mediterranean, and Latin American. They also offer classes by cooking style and menu. In the class calendar section, you can see a list of classes by date. Once you click on one, you'll see a page containing further details of the class, such as the duration, tools, and ingredients.
You can book your class by selecting what kind of class you prefer. The options are
Class with the ingredient kit
This lasts for 60–90 minutes and comes with a kit for 2 people. It costs $195 per Zoom connection (minimum 10 devices/households) and $175 per Zoom connection (minimum 25 devices/households).
Authentic Cooking Class: 
This class also goes on for an hour to 1.5 hours and is sans the kit. You get a digitized shopping list instead. It costs $75 per Zoom connection for a minimum of 20 devices.
What SIWOM likes about it
We liked the website layout because it is well-organized. You can select a class based on filters such as cuisine, region, or event type. You can also learn a bit about your chef before class starts if you want to familiarize yourself with their style.
Price per table/per head
If you're getting your own ingredients, this virtual team cooking class costs between $55 to $75, and with the kit, the price is $195.
2.8 Teamdays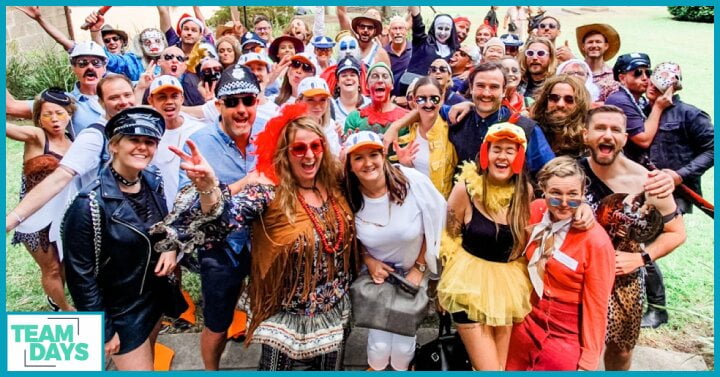 About
Team Days is an offshoot of Buttoned Up Events, an Australian event management firm founded in 2016 that creates bespoke corporate team building events. 
Features of the Session
Team days offers 'Cook with a Masterchef', which runs for 60 to 90 minutes. Classes run in the Australian, European, US, and Asia time zones. Team days will send you a shopping list ahead of the class and will host the session on Zoom, Teams, Webex, or Google Hangouts.
A professional hosts the class. Your booking comes with an event planner from Teamdays who will be on deck. A former contestant from the MasterChef show will make an appearance and introduce himself/herself to the team.
What SIWOM likes about it
You'll never know which former MasterChef Australia contestant you'll get to meet, which is exciting!
Price per table/per head
You'll need to fill out their form and specify the number of guests to get a free quote.
2.9 Kimuras kitchen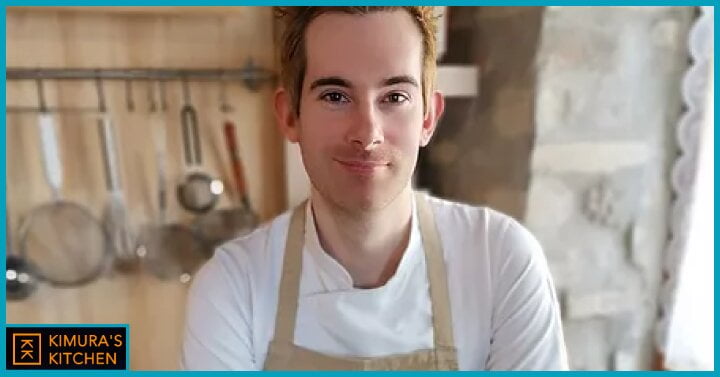 About
Kimuras kitchen is headed by Joe Kimura, a Danish chef with 15+ years of experience in the food and beverages industry. Joe founded the Oiran cooking school in Copenhagen where he teaches traditional Japanese cooking, specializing in Sushi, Udon, and Wagashi courses. Joe has also worked with chefs like Gordon Ramsay and Yoshihiro Murata, meaning that your food is in good hands!
Features of the Session
Kimuras kitchen takes you through 3 types of menus designed after the Kaiseki (seasonal haute cuisine) style of eating. Joe Kimura offers both online and team building cooking classes. Besides traditional Japanese dishes, Joe also offers classes on Vegan, French, Korean, Thai, and Jewish recipes. The form for team building cooking classes can be filled out here
You will need to email or contact him over Signal or Whatsapp to make bookings. You should book the Kaiseki dining experience 3 weeks in advance. This session can accommodate 4 and 12 people. 
You can select the cuisine and number of people and add these to your shopping cart. Make a note of the date and time you prefer. Once you make the payment, you will receive the grocery list via email along with a Zoom link. Joe will reach out to you to confirm your date and coordinate with an event organizer.
The classes take about 90 minutes to 2 hours, with some extra Q n A time with Joe.
What SIWOM likes about it
The experience is very tasteful (pun intended!) and takes you through traditional Japanese methods, from how to sharpen your kitchen knives to making use of the chopsticks and equipment correctly. We went into breakout rooms to dine together and used the time left in the session to know more about how Joe introduced Japanese cuisine to the Danish dining scene.
Since 70% of the SIWOM team are vegan or vegetarian, we opted for Wagashi (which looks almost too good to eat)! Wagashi are sweet confections made of fruits and Azuki bean paste. You can serve them with green tea, making them perfect for a guilt-free sweet treat!
Price per table/per head
The team building virtual cooking class costs £199 and lasts for about 90 minutes 
2.10 Otaokitchen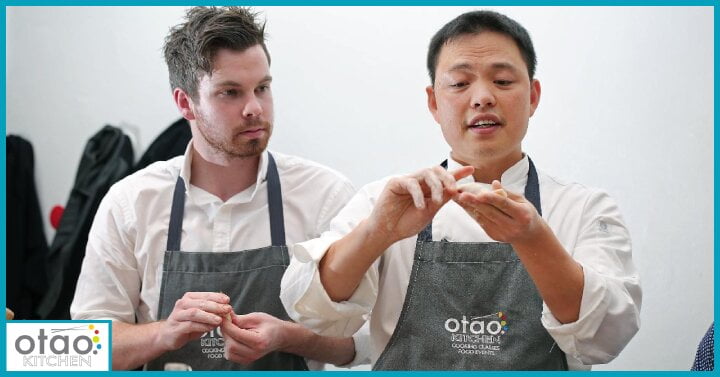 About
Otao Kitchen was launched in 2014 in Melbourne, Australia by chef Ha Nguyen, a Vietnamese chef originally from Hanoi. Otao is named after Ong Tao, who is reverentially regarded as the Vietnamese Kitchen God. Chefs EJ Butler and Dylan Wickers work alongside chef Ha to provide both offline and online cooking class events.
Features of the Session
Otao Kitchen offers a 1.5 to 2-hour virtual team building cooking class, called "A Taste of Asian Cooking". These classes let you prepare a meal at home with hands-on guidance via Zoom from an expert chef. 
You can access the recipe and notes before class and use ingredients that are easily available in stores near you. The cuisine includes Thai, Indian, Vietnamese, Korean, and Chinese. On their page, you'll see a picture of the dish and the cost of the class, which ranges from $49 to $295. 
You'll need to pay the minimum charge of $1,200 upfront for group bookings, and a small deposit of 4 seats to confirm the booking. The roster of both masterclasses and online classes is available on the website and can be accessed here.
You'll get a zoom link to your virtual classroom and will e-meet the expert chef of the day who will be giving you step-by-step instructions. Remember to confirm your booking two weeks ahead to allow time for your ingredient kit to reach you.
What SIWOM likes about it
The cuisines make use of fresh ingredients and replicate the authenticity of the households that the food originates from. OtaoKitchen was prompt in sending over the recipe and shopping list along with pre-recorded videos for us to watch before the class began. In the Cook along with classes, you can unmute yourself when the chef asks you to and ask him or her your questions, and they're all helpful and friendly!
Price per table/per head
Subject to the type of cuisine, starting from $32 onwards. 12 lessons cost $295. 
Booking charge: $1,200
2.11 Schoolofwok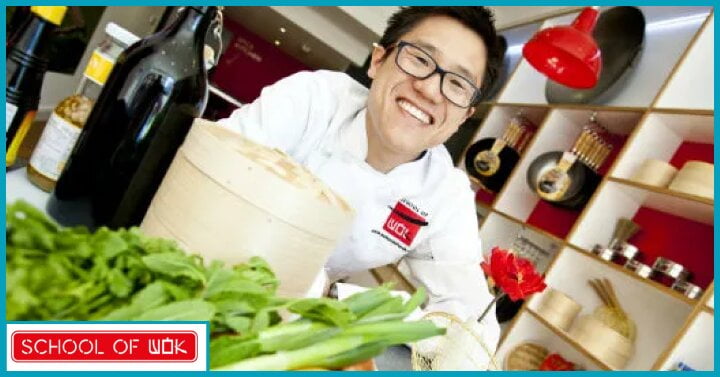 About
Schoolofwok is one of the best virtual team building cooking classes for your remote team to get in. The school's physical address is in central London, and it offers team-building and cook-along sessions.
Features of the Session
The Schoolofwok hosts both corporate events and classes, which their website lists based on upcoming events and the number of seats remaining.
Each class has different times and durations. For example, the Chinese Banquet lasts for 3 hours, while the Full-day Korean Street food class goes on for a minimum of 5.5 to 6 hours. Likewise, the price also varies by session.
Once you select the "Book Now" option for your preferred class, you'll be directed to the checkout page, which also lets you optionally enter any applicable voucher codes for discounts.
What SIWOM likes about it
What I find unique about Schoolofwok are the cooking and bakeoff challenges they issue under some very creative names, which include Operation Chinatown, the Ultimate chef challenge, and even some charitable events such as cooking for the homeless. There are filters to help you lock in on a class, such as duration, type of cuisine, and date.
Price per table/per head
£99 to £ 165
2.12 JeniusSocial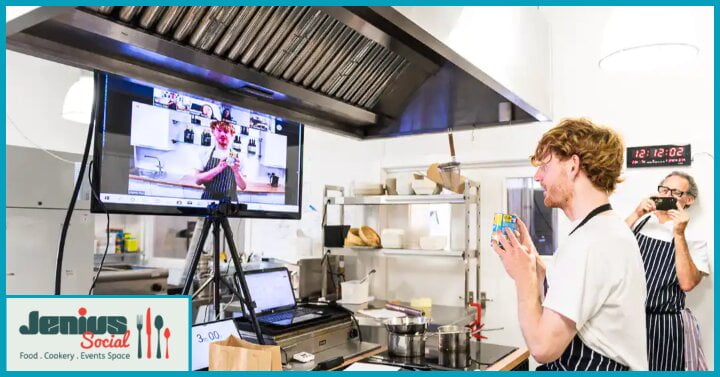 About
JeniusSocial is another UK-based virtual team building cooking classes provider.  JeniusSocial was founded by Jennifer Yong in 2014. As of 2021, they've hosted over 400 cookery events in-person and online. The virtual group cookery experience rose up in popularity after last year's pandemic outbreak.
Features of the Session
The session lasts for 2 hours, which includes 30 minutes of dining time. The chefs make it as interactive as possible with icebreaker activities at the beginning. The cooking classes accommodate both large and small groups (between 10 to 70 participants) on Zoom. 
JeniusSocial's top-voted challenge is the Maestro chef challenge which begins with an icebreaking activity and master class on cocktails. Teams are split up, with each given an ingredient box. The participants have to guess the contents of the dish they'll be preparing. 
What SIWOM likes about it
If you currently live in the UK, the ingredient boxes will be delivered straight to you so that you're saved from having to wait in long lines at the till of your favorite grocery store. Every challenge includes dessert and a complimentary (non-alcoholic) cocktail class. If you want to make use of all of their interactive online packages, definitely try out the 3-course cuisine on Thai, India, Mexican, Japanese, and Pizza making.
Price per table/per head
Contact JeniusSocial for a quote.
3 How Do Virtual Cooking Classes Work?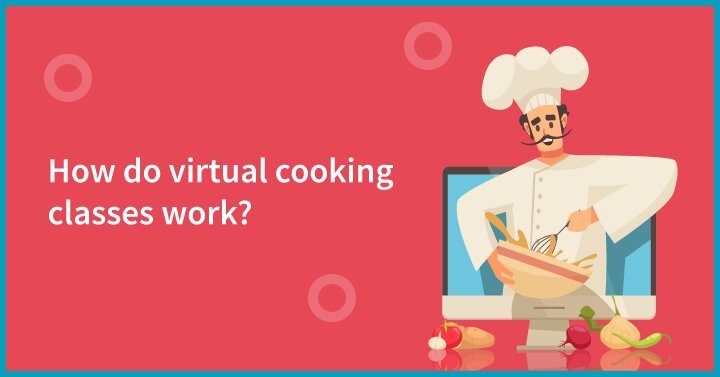 Virtual cooking classes are conducted online as a webcast or over a conference call on platforms like Zoom, MS-Teams, or Google Meet. 
The duration of the class depends on the dish you're going to learn about and the provider's slots. Usually, the team building virtual cooking class goes on for a minimum of 40 minutes to an hour and a half. Sometimes the chef himself or herself hosts the session, or there will be a host to break the ice, offer help, and keep the event interactive, while the chef instructs.
You might be sent a grocery list ahead of time so that you can get ingredients, utensils, and measuring aids. You'll be cooking to match the movements and instructions of the chef, and can unmute yourself to get a question clarified. 
Virtual cooking classes let everyone take part, regardless of whether you're a beginner or the resident chef-at-home. So don't worry if your cooking skills are limited to microwaved meals. You'll even learn some history or trivia about the dish you're making, which will be a story to tell at parties!
4 FAQS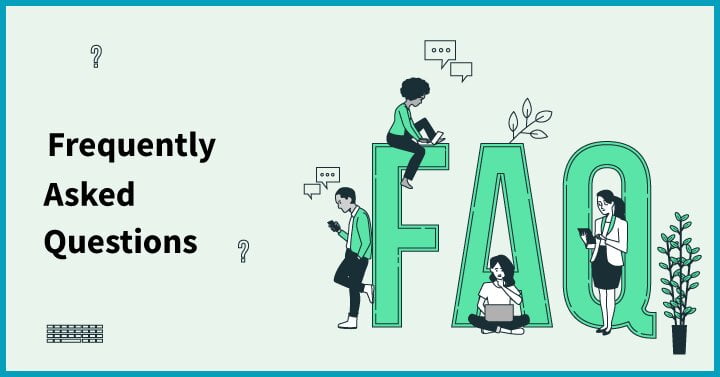 4.1 How do you cook virtually together?
Most online team-building cooking classes start by confirming the number of participants in attendance.
Attendees will get a Zoom link in their inbox before the event, along with a shopping and equipment list, if needed. Once you're join the meet the master chef will introduce himself/ herself. Depending on the cuisine, you'll get step by step instructions and can mimic your movements according to how the chef demonstrates on video. 
4.2 What to expect in a virtual cooking class?
In virtual team building cooking classes, you can expect to learn culinary techniques, recipe preparation, and hands-on cooking experience under the guidance of a chef or instructor.