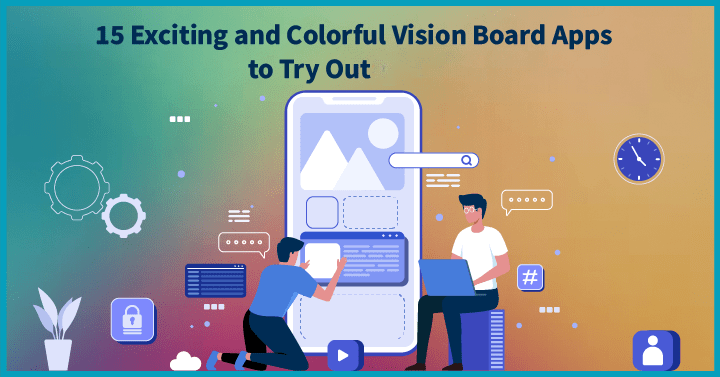 Being a productive person is all about how well you utilize 24 hours in a day. For this purpose, people use several kinds of methods and tools to stay organized and envision goals in their life. These tools can leave an impact when leveraged correctly and help in setting and achieving a goal. One such tool that helps to turn dreams into reality are vision board apps. It is a very empowering tool that prompts us into action and allows us to stay focused on future goals. 
In this post, I'll cover some of the best colorful vision board apps that will envision goals and inspire to work on manifesting them. Let's get started:
1. What is a Vision Board and how does it work?
A Vision Board is popularly known as a dream board. It is a manifestation tool that helps to accomplish your life's goals. It typically consists of visuals, phrases, images, etc which when aesthetically arranged gives a gentle reminder of where you're heading.
Traditional vision boards are made by gluing cutout images and texts from magazines and posters onto a corkboard or any sturdy backing element. An online vision board is a more accessible and easier solution that saves you from the hassle of manual clutter. All you need to do is pick either a vision board software or a visual board app to begin. 
The Vision board that you've mapped out for yourself amplifies the law of attraction. It tricks your mind into making it happen, thus actualizing your vision. In the past, I read a book named "The Secret" that explains that the law of attraction is forming your entire life experience is doing that through your thoughts and visualization.

2.5 steps to create a Vision Board
Rosabeth Moss Kanter once said, "A vision is not merely a depiction of what may be better in the future; it's an appeal to our better selves, a call to become something greater."
This adage proves its relevance today. No matter what your goals are- to travel more, to find a new job, to improve your relationship, to start with routine exercises, to become a millionaire, or to simply be kinder to yourself- a vision board is a great tool that brings your dreams closer to reality. 
Creating a vision board is a unique and customizable activity, so there's no right or wrong way to do it. Having said that, here are some steps you can follow to create an effective vision board.
2.1 Set and prioritize your goals
Begin by asking yourself, "What do I wish to manifest in my life?" For example, your aim may be to buy a house, or it could be to improve a personality characteristic (positivity, motivation), It could also be to reach a career milestone, etc. 
There are no definite rules to be followed when you create a vision board. It should just be specific, easy to track progress, and inspires you to achieve your ambitions. Even the best vision board can't help you unless you have a specific goal in mind.
2.2 Select a platform
Selecting a platform (Apps/website) to create the best vision board is one of the most essential and difficult steps. Some of these digital vision board apps and sites include a library of pictures and quotes that you can drag and drop onto your board. 
Make sure the vision board apps or website you choose is compatible with your preferred devices before downloading it. You should also compare all the features and unique functions (slideshow, add music, editor) to zero down on the best vision board website.
Note: We've included a list of digital vision board apps/websites covering all the features it provides so that you can have a look before you settle for one. 

2.3 Find images and words for the vision boards
As soon as you've prioritized your goals, it's time to create a layout and add pictures and objects that reflect your goals. This could be adding magazine clippings, photos, a quote, or anything that resonates with you and your goal. 
Objects from nature such as feathers, seashells, etc. would also totally work here as the options are limitless. For instance, If you're looking to travel more, consider adding postcards, photos of your favorite destination, its culture, people, and food. 
Note: The trick is to use short words, vivid, and attractive images so that the vision board regularly catches your eye.
2.4 Create your goal board
This is the most fun phase! Work on organizing your board using the photos you collected. Rearrange the items in your workspace so that they represent your short and long-term goals. I also recommend you mention the creation date on your vision board to track the progress later. 
In addition, you would also need to update or revamp the board or do goals check once in a while. I mostly do it annually like what I already achieved and what I want to achieve before the year is done. But I would say it's totally up to the creator as only you know the perfect time to refill or rearrange the desires and intentions. 
2.5 Bring the vision board to life
Once you're pleased with the final edits and arrangement, find a perfect place for your board, depending on the platform. For example, If you have created a traditional vision board, choose a place in your room/ home workspace for inspiration. 
But if you've chosen a digital vision board, you'll find that it's incredibly user-friendly and accessible using a tablet, smartphone, or computer. You can also set your digital vision board as your laptop's backdrop or your phone's home screen. No matter which route you choose, vision boards only work best when you continue to view them each day. The power of visualization grows as you spend more time envisioning your future.
The ideas mentioned above will help you get the wheels of your goals moving. Let the board serve as a reminder to take small steps toward your goals regularly.

3. Top Vision Board Apps and Websites 
3.1 Canva
Canva is a popular design tool known for creating professional-looking graphics. It is also a great platform for creating an online vision board, as it is very user-friendly. You can also upload your own photos, alter the design, and use the customization options to personalize your board. Finally, you can download your vision board and use it as wallpaper for your computer or phone. What I like about Canva is that it's easy enough to use, making it great for users with any level of expertise. 
Key Features: 
Huge library of images, stickers, etc to visually depict your goals.
Several sized template layouts to choose from.
The ability to download your design as a png, pdf, jpg, SVG, even MP4 video or gif.
Pricing Model: Canva is typically free for all users. But the graphics, templates, and images can cost you some dollars. It also provides Canva Pro and Enterprise versions that can cost you 54$ and 148$ per year respectively. 
3.2 Mindmovies
Mindmovies is a popular virtual vision board app with nearly 6 million users. It lets you create video vision boards that contain phrases, eye-catching images, and inspiring music.
I was using other vision board platforms, but I heard so many great things about Mind Movies that I definitely wanted to check it out. Good thing I did, because, it turned out to be the best vision board app I had seen in a long time. Through its features, the app provides easy-to-use, convenient, and plenty of transition functions. 
Key Features: 
This is a dynamic visual board app that is bifurcated into 9 categories (Lifestyle, wealth, business and career path, health, family & friends, spirituality, contribution, relationship & partner)
Browse through a variety of images by clicking on more action in the picture section.
Ideal for people who are huge fans of affirmations like me. 
Pricing Model: It offers a 30-day free trial of the membership. After that, it can be renewed with a $27 per month plan.
3.3 Desygner
Desygner provides a platform for users to create a professional-looking vision board. From their large collection, you may choose the most appropriate template, and select from millions of photos to customize your board. The vision board may also be downloaded in PDF,.png, or.jpeg format, or printed at high quality using the PDF editor.
Key Features: 
Drag and drop elements
Professionally designed templates
Huge repository of 100% royalty-free resources(Images, fonts, banners, etc)
Pricing Model: Desygner offers a free basic model and Pro+ model which start at $5 monthly. By upgrading to Pro+ or Desygner Business, you get immediate access to up to 100 million Shutterstock images to use as much as you need.

3.4 Perfectly Happy App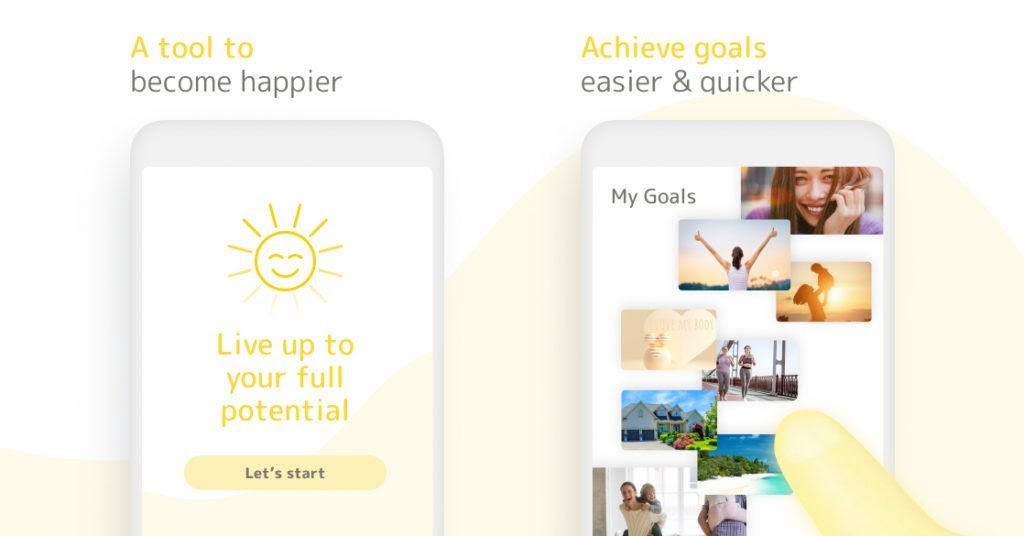 If you believe in spirituality and the power of manifestation like we do, then the Perfectly Happy Vision Board , Affirmations & Gratitude Journal app is the right choice as a virtual vision board app for you! It is a powerful way to visualize and manifest your goals and dream life. We particularly fell for the seamless experience the app offers- the ease of customization for everything, from affirmation to gratitude journal; you can make it your own happy place!
Do you know that this digital vision board is the first to combine inspiring, moving images (visualization), positive, spoken affirmations, and emotional music? All you have to do is choose the content that speaks to you, and the dream board app immediately builds the vision board of your dream life. To give you an example, one of our teammates chose to be in a mansion with a dream car, and the app just created the same vision with motivating music! Wait, there's more. You can opt from eight categories: wealth and lifestyle, health, body positivity, etc.
If you have read "The Secret- by Rhonda Bryne" and are aware of the infamous law of attraction, then you will relate to this app for vision board almost instantly!
We have also compiled the key features here:
Key Features:
You can put your favorite affirmations & motivational quotes on your home screen (widget) to stay positive throughout the day.
At the end of each day, you can use the personal GRATITUDE JOURNAL to reflect on your progress. It helps to focus your attention on the positive things surrounding you and attract more of them.
The app combines your images and affirmations and creates an inspiring, personalised vision board video clip for you with the right emotional music. The more vivid your vision, the easier it becomes to manifest. It helps you grow beyond your current life circumstances.
The app offers eight categories: health, body positivity, sleep, and inner peace, work and career, wealth and lifestyle, family and friends, partner and relationship, and spirituality and welfare.
Pricing Model: The Perfectly Happy app is available for both iPhone and Android users! It has a 7-day FREE trial period. After the 7-day FREE trial period, it's $5.- a month billed annually!
3.5 Visuapp
Visuapp is an easy-to-use online vision board creation application. It allows you to add images from your device gallery and create both short-term and long-term goals boards. However, all online vision boards in the app are private by default. One of the finest features I liked about this platform is that it provides music for visualization feature i.e, users can enjoy melody music while creating or accessing the vision board.
Key Features: 
Feng Shui 9 section vision board functionality that allows categorizing goals into nine different areas. (family, health, career & travel, wealth (money), fame, and creativity.
Dream board sharing features
Notification/daily reminder features    
Pricing Model: The Visuapp is a free vision board app and can be downloaded from the Google Play Store and App Store. But to get the gratitude journal access users will need to pay.  
3.6 Subliminal Vision Board 
The subliminal Vision Board is a powerful visual board app for creating vision boards. With the ready-made templates, tons of phrases suggestions, font and color options, and other functions, you can get a lot more creative. With the app's handy sharing tool, I could easily share with others via email or social networks. However, I experienced some lag in tracking the progress with my goals. Overall, it is an excellent vision board app. You can also download the app from the Google Play Store and App Store. 
Key Features: 
Easy-to-use application
Customizable boards 
Notification set-up feature 
Pricing Model: This one is a free vision board app for 14 days after which users are required to pay $50 per year. 
3.7 iWish
iWish features attractive posters, quotes, and other creative items that help you create a vision board. Another remarkable feature is the collection of over 1000 ideas and themes which you can use to create a unique vision board. Plus, you can also use the slideshow feature to visualize the life you've always dreamed of.
Key Features: 
Thousands of unique board ideas that cover different categories.
Multi-purpose app to create a to-do list, post images and add inspiring quotes.
Intuitive interface for beginners
Pricing Model: The free vision board app is available to download from the AppStore and Google PlayStore. 

3.8 Corkulous
Corkulous was originally developed as a tool for collecting and organizing ideas. Now it is regarded as one of the most versatile vision board apps with a corkboard background. The platform allows users to add a wide range of graphical content such as photos and text, sticky notes, contacts, emojis, and bookmarks. There is also reliable VA assistance if in case you need help with image and quote research. 
Key Features: 
The app even includes a sub-board feature, giving you the option to break down your goals into achievable steps.
Provides hundreds and thousands of visual elements such as stickers, phrases, etc.
Option to add sketches, documents with portrait or landscape layout features
Pricing Model: Corkulous is available as a free vision board app or paid download for iOS devices, including iPhones and iPads. 
3.9 Picmonkey
PicMonkey offers everything you need to create purposeful, elegant vision boards online.  With PicMonkey, you can enjoy access to your vision board anywhere you are. With this software, you can also store your board in the cloud and access it from any computer or mobile device. It's also possible to print out your board and place it in a spot where it catches your eyesight every day.
Key Features: 
Cloud storage feature
Templates designed specifically for vision board creation
Huge repository of PicMonkey's filters and effects.
Pricing Model: The is another free vision board app that you can download from the App Store and Google PlayStore. 
3.10 Dreamitalive
DreamItAlive is a free online vision board with an intuitive interface. Users can both upload custom images or select some from the website's library. The board also makes it easy to add inspiring quotations and texts that provoke motivation. It is a web-based platform, so you can access this board from any Internet-connected device, including your home computer or laptop.
Key Features: 
One of the unique options of DreamItAlive is Dream Funding or crowdsourcing funding. 
The website includes a guided wizard to walk you through the process of creating your first board. 
Provides features to find mentors or motivational support.
Pricing Model: The website is free to use. However, DreamItAlive has a variety of optional products available for purchase. 

3.11 Hay House
Hay House vision board was established by motivational speaker Louise Hay. There are many configurable features within the app that help you envision your objectives and ambitions. To create a vision board, you can either browse through the library or upload your own. Then, you can choose from a list of affirmations written by Hay House's own writers and presenters, or add your own.
Key Features: 
Robust visualization features
Voice recording and built-in affirmations options are available
Great customizable functions are available
Pricing Model: It is a free vision board app accessible for all iOS devices and can be downloaded from the App Store. 
As time pass by, your dreams will begin to become reality. You will look back at the images that represent your achievements, and feel gratitude for how wonderfully the Law of Attraction is functioning in your life. I hope I've encouraged you to construct a vision board of your own. Not to mention, your ability to visualize your dreams will transform them into reality.
3.12 Visions 2 Board
If you need a vision board app that helps you stay positive and assists you with focusing on your goals, Visions 2 Board is your go-to app. It allows you to create any type of vision board, choose board styles from various options which will spark creativity and inspiration. The app's interface and features are simple to use and you can enjoy designing and creating your vision board.
Key Features: 
Create unlimited vision boards of any kind – Travel, family, career
Easy to upload images and stock photos
Can add QR codes so share vision boards with your guests
Pricing Model: The app is available for all Android devices for a monthly fee of $1.99 and can be downloaded from the Play Store. 
3.13 Personal Vision Board
Personal Vision Board is a vision board app that is simple and easy to use. This tool helps the user to create the best vision board for different categories like wealth, career, family, etc. and even add images and captions for the same. The user can organize their vision board in a creative, straightforward, and colourful manner!
Key Features: 
Unlimited Vision Boards
Add images and short descriptions under each category for convenient tracking
Organized goals and dreams
Pricing Model: This app is available for free to download from the Play Store for Android users. 
3.14 My Goals
MyGoals is an excellent vision board app that comes with inspirational ideas and examples. It comprises a Life Purpose section and a gratitude journal to help you develop the habit of being grateful as you record your progress. Improve your long-term outlook for life with the affirmations they have so you can achieve set goals. All you have to do is to fill in basic details along with dates and images and the app can help you organize them. 
Key Features: 
Additional affirmations
Five year goal plans for convenient planning
Categories for completed and pending goals
Pricing Model: This app is available for free to download from the Play Store for Android users.
3.15 Sparkello
With a simple and smooth interface, Sparkello is the best vision board app for anyone who wants to design one quickly and conveniently. All you need do is list down your goals and dreams, add your own images,  select from the image gallery or use keywords to search images. It's that simple!
Key Features: 
Hundreds of  Sparks that can be used to add to dream board
Features links and articles on how to begin one
Pricing Model: This app is available for free to download from the Play Store for Android users and on the App Store.
As time passes by, your dreams will begin to become reality. You will look back at the images that represent your achievements, and feel gratitude for how wonderfully the Law of Attraction is functioning in your life. I hope I've encouraged you to construct a vision board of your own. Not to mention, your ability to visualize your dreams will transform them into reality.
4. FAQ
4.1 What are the best vision board apps?
Whether you're an iOS or an Android user or want a web-based platform, there are many vision board apps that are perfect for you. Some of the best vision board apps are Corkulous, Dream vision Board, Hay House Vision Board, Dreamitalive, and more. All of the applications offer multiple customization options that help you gather your goals under one roof and track progress.
4.2 How do I make a free vision board online?
To make a free vision board online, you would first need to select a digital platform. These online platforms allow you to pull images from Pinterest, Instagram, etc. Some vision board apps such as Hay House and dreamitalive enable users to create free vision boards online. 
4.3 How do I use a vision board?
Once you select the best vision board website for yourself, the next step is to create a game board using the functionality and features of that specific app. You can add images with pre-defined templates using the resource repository, mention the dates, customize it to your preferences, and work towards your goals.