While it might be a mouthful to say, a unified communications as a service (UCaaS) platform is designed to simplify your ability to deliver such features as enterprise telephony, real-time instant messaging, and video and audio conferencing. As with most modern technology today, this is all delivered via the cloud for greater convenience and security.
Market intelligence company Gartner predicts that spending on unified communications providers will rise at 4.1% CAGR to reach $50.8 billion in 2025, while cloud-based options continue to steal share from on-premise solutions. Here is a UCaaS provider comparison list of some of the top options available today. 
As businesses increasingly adopt Unified Communications as a Service (UCaaS) platforms, the choice of tools becomes even tougher. To understand this better, you can explore our comparative analysis of Skype vs. Zoom, as well as our recommendations for the best helpdesk software.
1. Overview of UCaaS platforms
Zoom – Best for ease of use
Microsoft Teams – Best for integrating with the Microsoft suite
Nextiva – Best for an out-of-the-box UCaaS solution
GoTo Connect – Best for easy app access
8×8 – Best for omnichannel communication
Vonage – Best for global compliance and support
Dialpad – Best for AI-enabled unified communications
Cisco Webex – Best for enterprise-level UCaaS
RingCentral – Best for customizable integrations
Ooma Office – Best for small businesses
Google Meet, Chat and Voice – Best for Google integrations
2. Comparison criteria
2.1 Services offered
One of the first things to assess in a UCaaS provider comparison is the range of services offered, as some will come with additional features like screen sharing and real-time document editing.
2.2 Usability
UCaaS solutions can be complicated to use, but it's important to make sure you select a system that your employees can learn to use as quickly as possible.
2.3 Security
Data encryption and fraudulent activity reports are just a couple of the features that are useful when it comes to making sure your unified communications as a service platform is secure.
2.4 Price
Selecting the product and price bracket that's right for your company needs will depend on the size of your business and the number of features required, which can be assessed via a UCaaS provider comparison,
3. Features of UCaaS Platform
3.1 Voice calling
Some people wonder what is the difference between UCaaS and VoIP. In essence, VoIP (voice over IP) is just one part of UCaaS functionality, providing telephony to businesses.
3.2 Video meetings
In addition to audio, video is a cornerstone of a unified communications company, enabling visual conferences with people around the world.
3.3 Instant and SMS messaging
The third core feature of all the top UCaaS providers is the ability to message colleagues, either via instant or SMS messaging.
4. 15 Best UCaaS Platforms List
4.1 Zoom – Best for ease of use
Arguably the most widely used unified communications as a service platform, Zoom is utilized by more than 300 million people a day for meetings.
While the service is principally known for its video chat functions, it also offers an integrated instant messaging service and VoIP as part of its app, as well as the option to host webinars for up to 50,000 people with 100 active participants. Zoom now has 256-bit AES-GCM encryption for its data stream, so that communication is more secure in transit.
The free version includes meetings for up to 100 attendees (40-minute time limit), group chat, file sharing and three whiteboards for digital collaboration, while the cheapest paid version is $149.90 per year per user and tacks on 5GB of cloud storage and no time limits on calls to the complementary features.
4.2 Microsoft Teams – Best for integrating with the Microsoft suite
Another piece of software that is a very familiar name, Microsoft Teams offers all the standard voice, video and messaging services, as well as webinars, screen sharing and file sending. Security features such as organization-wide two-factor authentication, single sign-on and encryption of data while in transit and at rest are included as standard.
Microsoft Defender, SharePoint and OneDrive all integrate with Teams for content management purposes, as do Twitter, Trello and many more platforms.
The free version includes unlimited group meetings (60-minute time limit), 5GB cloud storage and file sharing, while the Essentials package costs $4 per user per month and includes 10GB cloud storage and unlimited 30-hour group meetings.
4.3 Nextiva – Best for an out-of-the-box UCaaS solution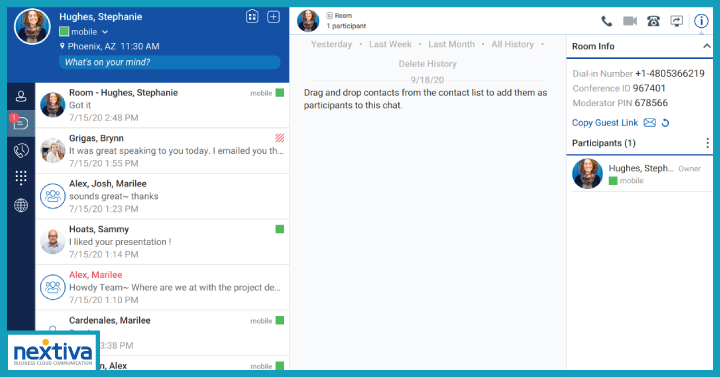 Clean user interface and excellent usability make Nextiva a good option for either customer communication, in-company use or both. Calls, video and chat are all available through separate tabs, with the added ability to see basic client information such as account value at a glance. Video conferencing does not come with the basic package, though the call services are more advanced than Teams and Zoom, with call routing, advanced voicemail and caller ID features.
The company offers 24/7 live support as standard, which extends to round-the-clock security monitoring of its network. TLS and SRTP call encryption exists between end points.
The essential business communication package costs $18.95 per user per month and includes unlimited voice and video calling, voicemail and email integrations.
4.4 GoTo Connect – Best for Easy App Access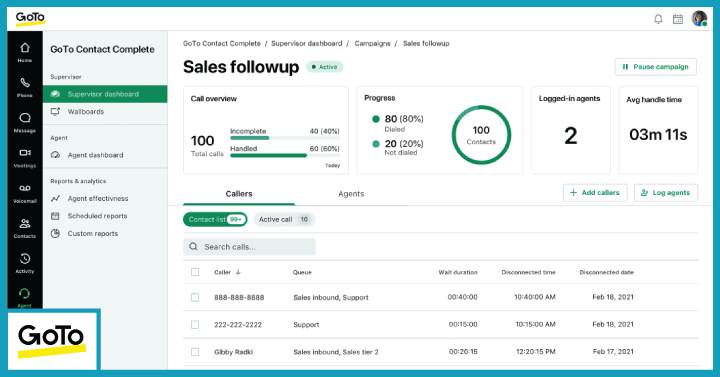 GoTo Connect's unified communications as a service app is available both as a download or through web browsers for ease of use. Call holding, virtual voicemail, number porting and video conferencing with screen sharing are all available, as are customer service specific features such as customized auto-attendants and call center analytics. The company conducts regular SOC 2 audits to ensure data compliance.
At $29 per user per month, the standard package includes phone, chat and video services with unlimited meeting duration (basic is cheaper but does not include any video communication).
4.5 8×8 – Best for Omnichannel Communication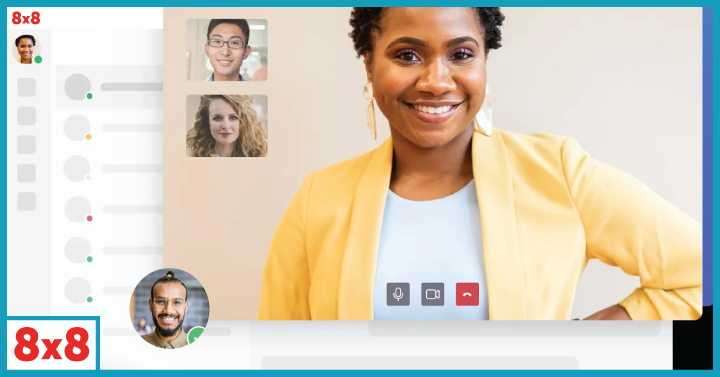 8x8 is another unified communications as a service offering that caters to both employees and/or customers through its cross-platform software. It's recent purchase of competitor Fuze has seen it expand into more geographies and increase functionality.
Phone, messaging and video communication are delivered alongside analytics to track things like volume of calls and integrations with Google Workspace, Microsoft Teams, Salesforce and other common work programs. The service promises 99.999% uptime and 24/7 expert technical support, and also offers 8x8 courses and webinars so users can get the most out of their subscription.
Prices start from $12 per user per month, including unlimited local calling, auto-attendant, call routing and voicemail.
4.6 Vonage – Best for Global Compliance and Support
A subsidiary of Ericsson, Vonage Business Communications has a global reach, supporting more than 40 countries as well as 96 world numbers for local inbound calling.
Powered by AWS cloud, the platform offers maximized efficiency, eliminating call drops, data loss and static through multi-level fail sages. Its cybersecurity measures are designed to fulfill the requirements of leading regulatory standards frameworks. Up to 200 attendees can take part in webinars and training via Vonage's meetings service, which is available for desktop and mobile, with in-built recording and sharing functions for staff that can't make the scheduled time.
Prices start from $19.99, including mobile and desktop apps, unlimited calls, SMS and team messaging, and access to the app center with its 30-plus integration options.
In case this does not meet your specific requirements, you can also choose Plivo, an alternative to Vonage that's a dynamic cloud collaboration platform.
4.7 Dialpad – Best for AI-enabled Unified Communications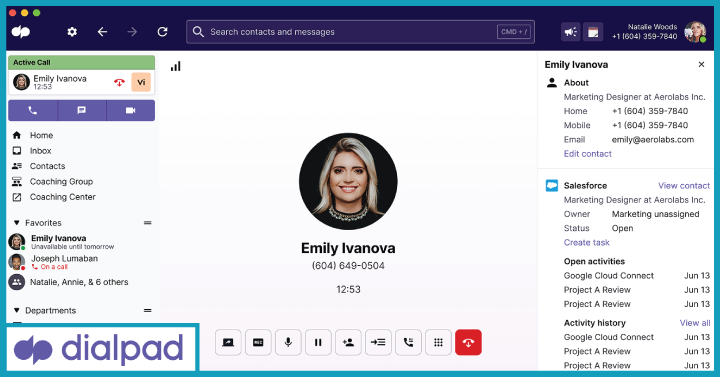 Founded in 2011, Dialpad's unified communications as a service platform allows for collaborations before, after and during voice or video calls with its messaging features.
The company's most sensational aspect, however, is the ability to transcribe meetings in real time thanks to its AI technology. You can also track keywords in conversations and automate post-call summaries. Dialpad sells itself as having 100% uptime, with analytics to track adoption and integrations with Salesforce, Zendesk and Google Workspace.
Prices start at $15 per user per month, including unlimited voice, video and messaging, basic integrations with Google Workspace and Microsoft 365, and web support.
4.8 Webex – Best for Enterprise-Level UCaaS
The UCaaS solution from Cisco Webex comes with an array of features designed to make it easier to collaborate globally on the enterprise level.
Background noise removal and speech enhancement improves the quality of communications. In addition to the standard calling, messaging and meeting functionality, Webex can translate more than 100 languages in real time and provide post-meeting transcriptions. Custom meeting views and innumerable ready-to-use integration add-ons are just some of the other capabilities, which also include video messaging supplied by Vidcast and breakout rooms as standard.
Prices start from $25 per user per month with meeting limits of 24 hours, capacity for 200 attendees and 10GB of storage. There is also a free version that includes standard calls, messaging and meetings.
4.9 RingCentral – Best for customizable integrations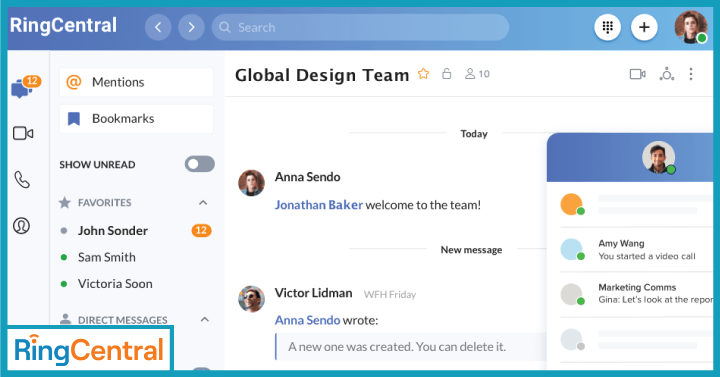 RingCentral is a provider of global enterprise cloud communication products. Its unified communications as a service solution, RingCentral MVP, integrates message, video and phone into a single cloud-based offering.
File sharing, task management and one-click video are all contained within the platform. Present in over 110 countries and boasting 7 layers of protection, RingCentral comes with the option for more than 250 app integrations, no matter if you are on your desktop, mobile or tablet. It also supplies a webinar add-on, designed specially to facilitate sessions for up to 10,000 participants, with accompanying reports on engagement and quality.
Prices for the full video, phone and messaging UCaaS start from $27.99 per user per month, with unlimited audio conferencing, video meetings of up to 100 participants and quality-of-service reports.
4.10 Ooma Office – Best for Small Businesses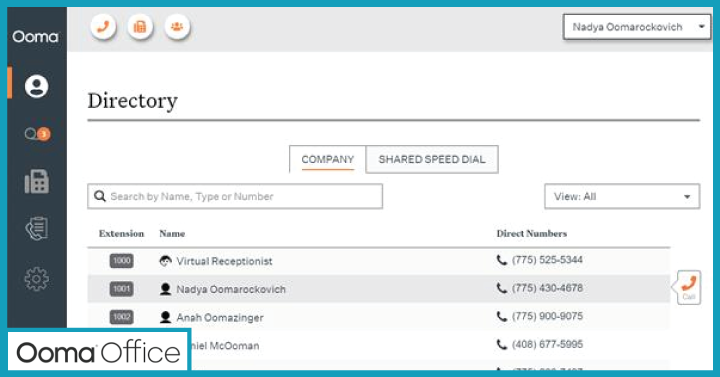 Originally specializing in VoIP, Ooma Office has more recently added messaging and video functionality to its arsenal.
The company has designed its desktop and mobiles interfaces to cater to the needs of small businesses that don't need a lot of customization or integrations. Having said that, Ooma Office Pro still has features like call recording, screen sharing and voicemail transcription. It also has services designed for client facing, such as call queuing, call analytics and call info match, which accesses your customer relationship management system to provide information on existing clients.
Prices for the Ooma Office Pro are $24.95 per user per month, though there is a cheaper version for $19.95 that doesn't include video conferencing.
4.11 Google Meet, Chat and Voice – Best for Google integrations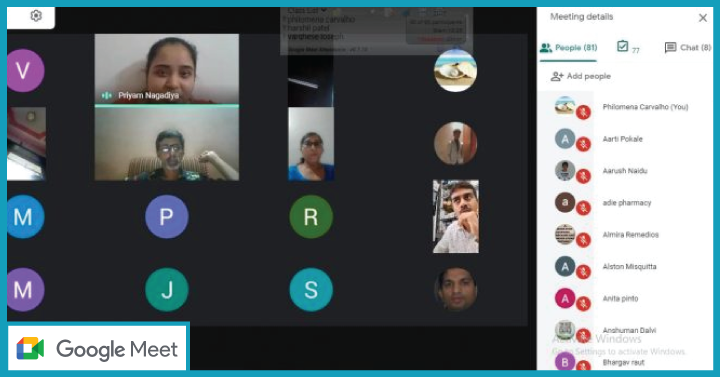 While Google doesn't offer unified communications as a service per se, it does have three tools that can provide you with the same basic functionality.
Google Meet is free for everybody and provides video conferencing; Google Chat is a complementary part of Google Workspace and provides messaging; Google Voice is an added paid subscription service for phone calls. All of these can be integrated into the single Google platform. While Meet and Chat are the epitome of simplicity, Voice has a few more sophisticated features, such as blocking spam calls and transcribing voicemails, though it remains one of the most pared-back calling services on this list.
Prices for Google Voice start from $10 per user per month, while Google Workspace starts at $6 per user per month for the bare minimum.
5. FAQs
What is a UCaaS platform?
Essentially, a Unified Communications as a Service (UCaaS) unites all your communication needs in one place via the cloud.
What are the benefits of UCaaS?
Limited (if any) hardware costs, scalability, reduced IT workload and managed security are just some of the benefits all 'as a service' (i.e., cloud) solutions offer. Unified Communications as a Service (UCaaS) specifically enables calling, messaging and video conferencing via web-based apps for faster, easier utilization.