1. Why Should You Select Corporate Planners to Organize Your Retreats?

A corporate retreat planner will take the effort out of creating a professional company getaway. Once you've discussed a budget and any requirements for the event, you can leave the planner to deal with the time-consuming jobs, such as booking venues and arranging activities. They will already have the contact network and experience to put everything together smoothly, saving you the effort of having to do your own detailed research.
2. 10 Best Corporate Retreat Planners in 2023
2.1. Freeman

With outposts spread across North America, corporate retreat planners Freeman are able to cover most major cities with their services. In the wake of the Covid pandemic, the business has pivoted to offering more hybrid and virtual setups, in addition to more traditional in-person gatherings.
Freeman is a specialist in exhibitions rather than a corporate retreat planner, though they have the capabilities to handle daylong company events, overseeing the overall creative vision, audiovisual requirements, health, and safety, as well as any technology required to make everything run flawlessly.
Pricing is bespoke to your individual event.
2.2. Moniker Partners
Moniker Partners are very experienced corporate retreat planners based out of Ontario. While it may be headquartered in Canada, the company has organized getaways across the world, from New York to Dubai. As a sideline, they also have a number of virtual team-building games, including escape rooms and trivia contests.
Moniker's particular niche is bringing distributed teams in different geographies together in one place for team building. As part of that mission, they are particularly skilled at handling travel logistics, global property selection, and itinerary planning. Their staff travels with your team to ensure everything runs smoothly from start to finish.
Pricing is bespoke to your individual event.
2.3. The Offsite
A relatively young company, the Offsite has been creating custom retreat itineraries for just over 5 years. Their getaways have ranged from a lake day in Austin, Texas, to two nights of camping in the Catskills, to a resort escape in Madeira, Portugal.
The company charges a flat fee for its services, which includes all vendor management, venue hire, itinerary planning, and logistics, allowing you to budget accurately from the start. In addition to the in-person excursions, they also have virtual team-bonding options, including games set in space and lip-sync karaoke.
Average pricing is estimated at $175 per person, though this can vary greatly depending on your individual requirements.
2.4. B Line Events

The Californian team at B Line Events has worked with large corporations like Google, Adobe, and AirBnb to pull off tailored conferences, galas, and retreats.
Set your budget, explain your prerequisites, and B Line will do the rest, coming back with a proposal that details the choices for the venue, catering, branding, transportation, and any other additional aspects you might want, such as activities and/or gift bags. The company can also help you set up a virtual event, with technical experts on hand to answer any qualms or queries you have about the practicalities.
Pricing is bespoke to your individual event.
2.5. Event Solutions
A no-nonsense name for a no-nonsense company, Events Solutions has worked with P&G, ADP, Samsung, Amazon, and many other huge multinationals to deliver conferences, parties, and retreats.
The company offers a range of different types of retreats, from mountain hideaways and fitness-themed activities to fun-filled weekends in Las Vegas or even entertainment-fueled parties in your local neighborhood. Event Solutions manages the whole shebang, from providing destination options and suggesting themes to the nitty-gritty of transportation, catering, vendor negotiation, entertainment, and any custom installations and audiovisuals you might want on-site.
Pricing is bespoke to your individual event.
2.6. Thriver
Thriver is a platform where a range of company culture service providers is gathered together, making it easier to browse everything from full-service caterers to corporate gift bag manufacturers in one place.
The corporate retreat planners on the site have all been pre-vetted by Thriver, so you can feel secure in the knowledge that you are working with professionals. Though what they offer varies depending on the individual company, the companies can typically cover venue booking, agenda setting, vendor management, activity bookings, and meal planning.
Pricing varies according to the retreat planner.
2.7. TeamOut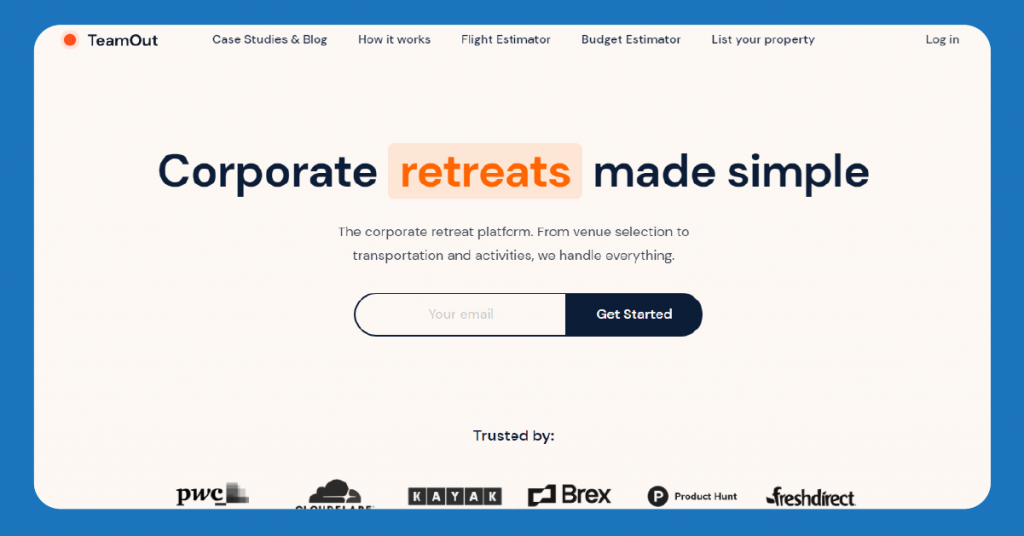 With more than 2500+ venues to choose from TeamOut has a wealth of corporate retreat partners at its disposal. In consultation with one of the company's trip designers, you can browse the various getaways, request quotes and build a bespoke itinerary that meets your precise needs.
Throughout this process, your personal trip designer will make recommendations, as well as handle all the nitty-gritty business of transportation and negotiations with the vendors.
TeamOut offers several tiers for its services, from a free option that mainly includes venue sourcing to $149 per person for more personalized service that covers venues, logistics, and more.
2.8. Flok
Describing itself as an end-to-end company event planning business, Flok helps businesses find the ideal venues for their corporate retreats all over the United States. Meal catering, activity planning, transportation, audiovisual requirements – all of those details are taken care of by the company, which has long-standing partnerships with vendors so you get the best deal possible.
Using Flok's software, you can build your own unique event landing page to detail the itinerary, manage employee registration and oversee all the components of the trip that need to be finalized.
For venue sourcing, Flok charges a one-time $400 fee, which includes a dedicated account manager, curated hotel recommendations, and venue proposals. For more in-depth event planning, the company charges $200 per person, which includes arranging meals and activities, a Flok dashboard, transportation coordination, and managing employee attendance.
2.9. Midstay
Midstay helps remote workers feel connected, whether that's with remote workers at other companies or with their own distributed team that's spread across the globe. As part of their offering, they can organize exotic getaways to locations throughout APAC, including Thailand, India, and Australia.
Midstay specializes in booking venues that combine relaxing environments with work-ready meeting spaces. Even if you're in the middle of the Indonesian jungle, their curated getaways will ensure you have access to AV equipment and reliable internet. They can also arrange for a number of add-ons, including business workshops (e.g., design thinking, digital transformation, agile methodology) and outdoor activities (e.g., yoga, volcano hiking, and waterfall hikes).
Pricing starts from $399 per person.
2.10. WorldTravelService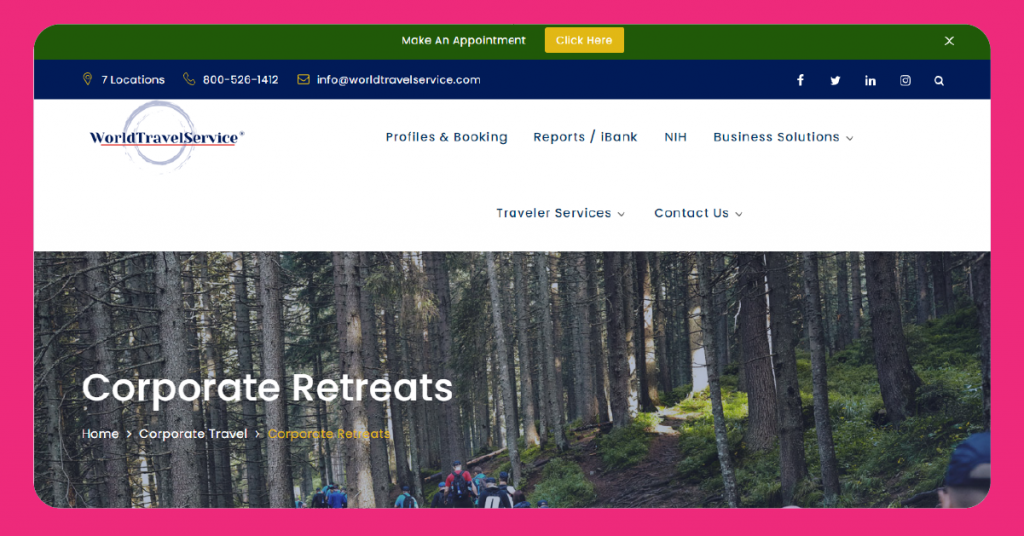 Working with companies based in Washington D.C., Virginia, Maryland, and the surrounding states, WorldTravelService sources venues, reserves hotel rooms, streamlines air travel, and arrange ground transportation. All this information can be followed by your in-house team via a dedicated portal.
The company will also help you book and coordinate workshops, training sessions, meeting spaces, meals and team-building events for your getaway, ensuring everything runs smoothly once you arrive at your venue.
Pricing is available upon request.
3. FAQs
3.1. What is the hourly rate for a corporate event planner in the US?
The average event planner's salary in the US is around the US$29 per hour mark. That equates to around US$62,945 per year.
3.2. How do you plan a corporate retreat?
To organize a memorable corporate retreat, you should first set clear objectives and select a picturesque venue that fosters team bonding, curating engaging activities tailored to your team's interests.
3.3. How much does a company retreat cost?
The cost of a company retreat varies widely based on factors like employee count, duration, location, activities, and services. On average, it can range from a few thousand to tens of thousands of dollars.