2653 words Human resource management is a complex process, and it's becoming more demanding with the challenges that the modern workplace presents. It's no wonder that over 58% of HR leaders worldwide are integrating AI tools for HR professionals to streamline their workflows.
To know about the latest advancements in HR technology, check out the articles on the best cloud HR software, open-source HR software for 2023, HR software for payroll, and HR software for onboarding.


Want to discover current HR trends for small businesses? Read our articles on free HR software for SMBs on a budget and HR software for small businesses.

If you're exploring options for the best HR software, check out our featured article detailing alternatives to employment hero.
But how does AI help HR professionals with their tasks? What value do the best AI recruiting tools add? And how do you find the right AI tool for your needs? In this blog, we share some of the best  AI tools for HR professionals and how they can influence modern recruitment processes.
1 What are the AI Tools for HR Professionals
AI tools in HR refer to the use of AI-based software solutions to automate, support, and simplify processes in human resource management, including recruitment, performance management, employee engagement, and diversity and inclusion initiatives. These tools help HR professionals make data-driven decisions and optimize their workflow, ultimately improving the employee experience and organizational outcomes.
2 What are the Benefits of AI Tools for HR Professionals?
2.1 Enhanced Accuracy
AI tools for HR professionals reduce errors and enhance accuracy on manual tasks, such as organizing records, maintaining internal databases, and updating employee data.
2.2 Improved Efficiency
When HR professionals can concentrate on more complex tasks, overall efficiency is directly improved.
2.3 Bias Elimination
By reducing bias with AI tools, organizations are sure to hire the most talented employees that are the best fit for the roles.
2.4 Enhanced Employee Engagement
AI software systems are tailored for performance evaluation, employee recognition, enhanced communication, improved onboarding, and more. Improved HR processes engage employees and cater to their needs.
2.5 Predictive Analysis
AI can perform predictive analysis with high accuracy and speed. It reads data across the company's various departments and adds value by doing the following:
 

Anticipating potential flight risks

 

Identifying dips in productivity

 

Targeting employees for growth




2.6 Better Decision-Making

With all the data that AI tools collect, HR teams can easily access all the information they need during critical decision-making processes. And because all the tedious tasks are taken care of, HR professionals have more time for strategizing.

AI algorithms and software analyze data much more quickly and accurately than humans. They generate crucial insights within minutes.

3 Overview of the 15 Best AI Tools for HR Professionals
| | |
| --- | --- |
| Pymetrics | Best AI tool for Gamified assessment for 5000+ candidates |
| iCIMS Talent Cloud | Best AI tool to aAttract, hire, and retain top talent |
| Skillate | Best AI tool to optimize your recruitment operations |
| Fetcher AI | Best AI too for sourcing diverse and top talents in no time |
| Oracle Recruiting | Best AI tool for streamlining recruiting processes |
| Textio | Best AI tool to make job descriptions and brand content more inclusive |
| Eightfold.AI | Best AI tool for hiring better candidates with AI-driven analytics |
| Talenture | Best AI tool to boost recruiting efficiency |
| HireVue | Best AI tool for scaling hiring for large companies |
| iMocha | Best AI tool with largest skill library for tech, non-tech, and coding skills assessments |
4 Criteria for Selecting the Best AI Tools for HR Professionals
4.1 User-Friendliness
One of the most critical considerations is the ease with which HR professionals can access and use AI software. They must be easy to navigate and provide user-friendly yet advanced features like data visualization.
4.2 Configurability & Scalability
Organizations are constantly evolving, and the best AI recruiting tools are designed to adapt to these changes. Whether it involves accommodating larger teams or adding new configurations, AI tools for HR professionals must do it all.
4.3 Analytics
Analytics is an essential feature of AI tools for HR professionals. The best AI recruiting tools provide real-time, actionable insights for your business ecosystem.
4.4 Integration Capabilities
Companies use multiple applications to communicate, collaborate, and complete tasks across various departments. Whether it's a data visualization tool or a data collection tool, you want to ensure your AI tool integrates with your existing business infrastructure.
4.5 Customer Support
Even the most user-friendly and advanced AI tools will require occasional troubleshooting. Your software provider must be ready to provide prompt and reliable customer support as long as you use their tools.
4.6 Pricing
With so many of the best AI recruiting tools hovering around the same price range, the best choice must provide the best possible value for money.
With free demos and trials, you can evaluate the software before you make a commitment. You can also try free AI tools for recruitment to see if they will suit your company's workflows and requirements.
5 Top 10 AI Tools for HR Professionals
5.1 Pymetrics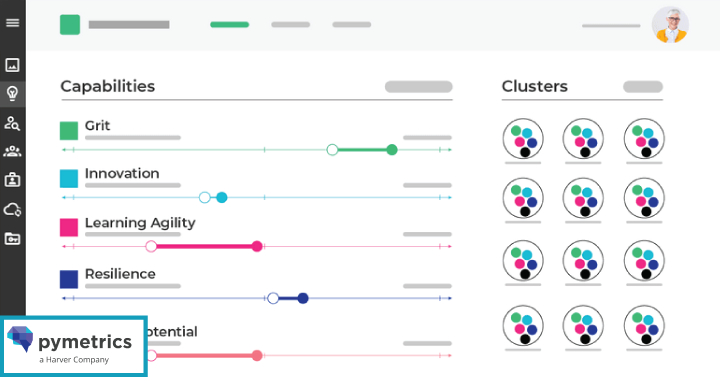 Pymetrics is a career assessment and recruitment platform that uses neuroscience games to match job seekers with careers and companies.What makes Pymetrics special?
What makes Pymetrics special?
Pymetrics makes assessments more fun and engaging, resulting in better-matched employees and a high retention rate. It is ideal for companies that want comprehensive candidate assessments.
Their games were designed based on behavioral research and provided a comprehensive assessment of a candidate's skills. The platform also lets candidates record video interviews for recruiters to evaluate at their pace.
Key Features: 
Video interview recording
assessments to measure cognitive and emotional attributes 
numerical, and logical reasoning
Pricing: Pymetrics does not disclose pricing but provides demos for interested customers.
Pros:
Cons:
Potential for cultural bias in the games
Pymetrics does not disclose pricing but provides demos for interested customers.
5.2 iCIMS Talent Cloud
iCIMS Talent Cloud helps companies build a winning workforce by simplifying various tasks in their HR cycle. Features include site-building features, applicant tracking and management systems, onboarding solutions, and text engagement.
What makes iCIMS special?
iCIMS offers a wide range of features that cover multiple processes across the HR cycle. It is ideal for companies looking to hire and develop top talent. Companies can use this software to generate engaging content that attracts diverse talent. The platform also enables recruiters to assess and promote employees internally.
iCIMS is rated highly for its seamless integrations, ease of use, and variety of support options.
Key Features:
Pricing: Software plans start at $1700 per month. Interested customers can also book demos.
Pros:
Variety of customer support solutions
Cons:
5.3 Skillate
Skillate is an AI-based global platform that enables companies to enhance their recruiting cycle and make better decisions throughout the hiring process.
What Makes Skillate Special?
Skillate improves the overall candidate and employee experience with its comprehensive range of HR features and an easy-to-use interface. Skillate uses people analytics, candidate management, chatbots, and automated reporting.
It automatically schedules interviews and provides data-supported insights to help HR teams make well-informed decisions. It also has a very responsive and prompt customer support team.
Key Features:
Automated reporting and analytics
Automated interview scheduling
Smart job description assistant
Pricing: Skillate has a flexible pricing model and also provides demos.
Pros:
Quick customer support turnaround
A comprehensive range of HR support features
Cons:
May be expensive for small businesses
5.4 Fetcher AI
Fetcher AI is a talent intelligence platform that was derived from the mobile app Caliber. It is one of the best AI recruiting tools that delivers customized and automated sourcing and outreach solutions.
What Makes Fetcher AI special?
Fetcher AI makes it much easier to source top-quality candidates from large databases. It's ideal for companies that want to increase diversity across departments.
The software curates diverse batches of top talent based on specific criteria. It generates full recruiting analytics so HR teams can track and analyze performance metrics based on certain demographics.
Key Features:
AI-powered automated sourcing and outreach
Customizable job templates
Pricing: Plans start at $700 per position per month. There's also a free trial.
Pros:
Inclusive and diverse candidate pool
ATS, CRM, and email integrations
Cons:
Minor glitches in software
5.5 Oracle Recruiting
Oracle Recruiting is a recruitment solution from Oracle's Cloud HCM. Users can build branded career pages and use chatbots to deliver a better candidate experience.
What makes Oracle Recruiting special?
Oracle Recruiting simplifies processes for HR leaders and teams with complex hiring processes. Its key offering is multi-channel sourcing, which can be used to build a single recruitment pipeline and track its performance.
Other valuable features include a mobile-first user interface, chatbots, and a wide range of customer support solutions.
Key Features:
Mobile-first functionality
Pricing: Quotes are available upon request.
Pros:
Mobile-first user interface
Multiple customer support options
Compliance with hiring and regulatory laws
Cons:
Select features are only accessible via third-party integrations
5.6 Textio
Textio is a writing platform that helps companies refine their brand's language using big data and machine learning.
What makes Textio special?
Textio creates branded content that's also inclusive. It is the best choice for brands that want to attract the best talent with their unbiased content.
Textio scores brand texts and suggests improvements while compiling a content database to create new posts. It also has scalable bias interruption solutions that evolve daily. It is the best tool for reducing bias in job postings and internal evaluations.
Key Features:
Pricing: Pricing isn't disclosed publicly, but you can request a demo.
Pros:
Cons:
Limited to the English language
Inconsistency in some suggestions
5.7 Eightfold.AI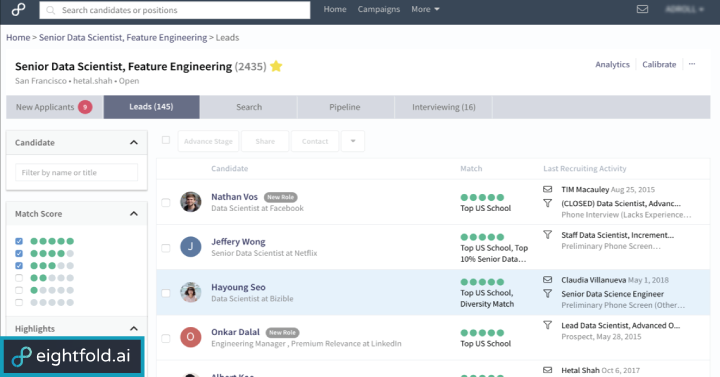 Eightfold Talent Intelligence Platform is a one-stop solution for AI-driven recruitment and employee retention solutions.
What makes Eightfold.AI special?
Eightfold.AI improves the candidate experience and thus increases overall retention. It is best suited for companies looking to hire 100+ candidates a year.
It comes equipped with advanced candidate filters to reduce bias during the hiring process, thereby improving the employee experience.
It also automates portions of the talent acquisition process. It includes employee coaching and skills development to prepare candidates for internal promotions. The software has a built-in CRM for employers and recruitment teams to seamlessly manage candidate data.
Key Features:
Advanced candidate filters
Pricing: There is no free trial for this tool. Pricing is not publicly available.
Pros:
Advanced candidate filters
Employee development features
Cons:
Some features are missing from their online software and mobile app
5.8 Talenture RS
Talenture RS helps organizations improve their recruitment processes with AI-driven automation and candidate management tools. Its features include universal candidate sourcing, performance analysis reports, customized brand communication templates, and task collaboration solutions.
What makes Talenture special?
Talenture supports universal candidate sourcing. It is ideal for companies who want to make their recruitment process more cost-efficient.
It uses AI and ML to rank candidates based on various employability factors while monitoring job processing.
Key Features:
Universal candidate sourcing
Interview and workflow management
Performance analysis reports
Customized brand communication templates
Task collaboration solutions
Pricing: Users can choose from three packages charged at $19, $29, and $39 on a per-user, per-month basis.
Pros:
Cons:
Customer support is limited to email
5.9 HireVue
HireVue is a pioneer in video interview software solutions. Its primary offering is the ease with which it allows employers to schedule on-demand interviews.
What makes HireVue special?
HireVue is one of the highest-rated AI tools for HR professionals for reducing bias during initial screening. It is perfect for companies with more than 2500 employees who have regular hiring needs.
HireVue also provides employers with structured recruitment processes to help them reduce bias during hiring.
Key Features:
On-demand interview scheduling
Structured interview guidelines
Simplifies initial screening
Pricing: HireVue's entry-level Essentials package starts at $35,000 per month. Its Enterprise package has custom pricing.
Pros:
Cost efficiency reduces bias during the initial screening
Cons:
Limited range of integrations
5.10 iMocha
iMocha is a leader in intelligent skill assessment software and helps companies make the best possible decisions when hiring talent.
What makes iMocha special?
iMocha enables automated proctoring of live coding interviews. It is great for tech companies that want to assess dozens of candidates daily.
It enables role-based access control and provides insights into automated proctoring of the interviews. Overall, iMocha is an excellent tool for HR teams looking to assess candidates more thoroughly while supplying their employees with upskilling initiatives.
Key Features:
Automated proctoring insights
Role-based access control
Pricing: Paid plans start at $5,000 per year and can be assessed with a free trial. Customized packages are also available at custom prices.
Pros:
Outstanding customer service
Enhances employee experience
Cons:
Lack of psychometric assessments or background checks
6 FAQs
6.1 How can we use AI for HR?
 Enhancing employee engagement and communication
Deploying training and skill development
Reducing human errors and biases
Enabling data-driven decision-making
Managing candidate and employee data
Conducting performance evaluations
6.2 What's one AI recruitment tool that HR should consider in 2023?
Fetcher AI can help HR professionals create a diverse talent pool and place all candidates in the best possible positions.
6.3 What are the different types of AI tools?
There are six types of AI tools based on their real-world applications:
Natural language processing