The best freight software will help with all of your logistical needs. Freight software benefits companies that need to organize the delivery and transport of goods efficiently. This software type helps businesses decide on the most appropriate transport to suit their individual needs. If you work within a company that doesn't have an in-house or company-owned fleet of drivers, then this list will be most helpful to you. Freight management software will help you choose the freight service that will work best for you.
Collecting all the necessary information on freight service providers can be a tricky and time-consuming process, but this type of software makes it all simple. You can easily and quickly compare your freight options all in one place. That's why we've brought together this detailed list of the best freight software providers. Let's get started!
1. How To Choose The Best Freight Software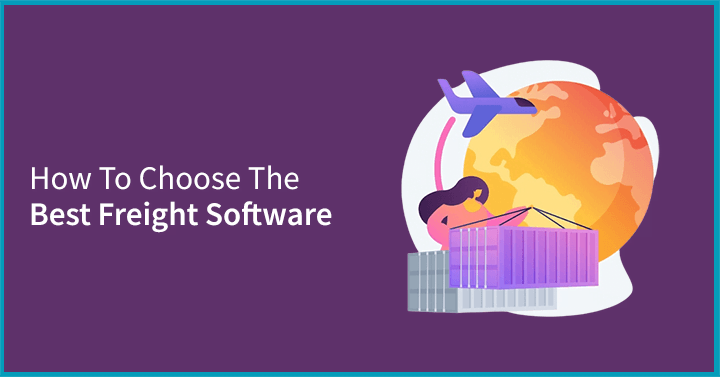 Freight management software is usually available as a single product or within a larger solution for supply chains. To choose the one that's suitable for your company, consider a few aspects such as whether the freight management software meets the parameters set.
Freight management software can be integrated with your other shipping or supply chain software. It includes customer update features for shipment info, contains performance analytics, and aids in choosing the best carrier and freight mode. You can define freight modes and use the management features to increase productivity and stay organized.
Ensure that your freight management software contains these elements and you will quickly be transporting goods efficiently and effectively. 
2. 20 Best Freight Software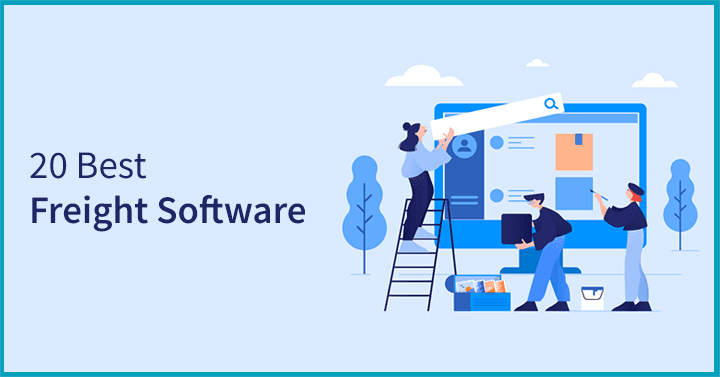 So, what is the best freight broker software? Some of the best freight broker software includes features like:
Document management for smoother processes
Data analytics to help you improve your shipping data
Cloud-based records to keep your data safe, secure and accessible
A customer-facing portal that looks professional
We have compiled some of the 2022's best freight software solutions with their key features and pricing or you to consider. 
2.1 AscendTMS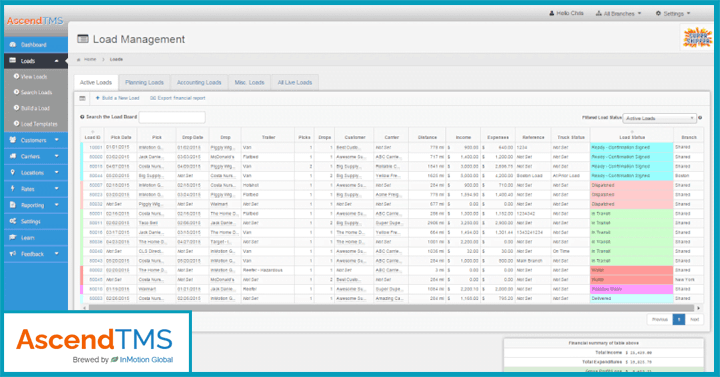 AscendTMS is a highly popular option for freight management software. This software is suitable for trucking operators, freight companies, and 3PL's. They offer full carrier management, streamlining your processes.
Key Features: 
Billing, invoicing & accounting to keep all of your payments in one place, reducing workload and minimising confusion between platforms
CRM to support the customer side of your business, giving you a quick and simple user interface with a branded appearance
Container shipping options for flexibility and to ensure you get the best shipping rates for your particular business
Pricing Model:
AscendTMS operates on 2 main pricing plans. The basic plan is free and allows up to 3 users. The premium plan starts at $79 a month per user, and also features a 30-day free trial which you can cancel at any point.
2.2 Kuebix TMS
KeubixTMS prioritizes analytic optimization and overall control. If you're looking for modular control and the best freight software, then this software is capable of integrating into any growing and changing business.
Key features:
CRM with customer portal to give your customers a central and functional place to make orders and choose shipping options
3PL management to support the use of a third party's services, increasing productivity and workflow through simpler organization
Rapid onboarding means fast and seamless integration with all of your 3rd party systems
Pricing Model:
KuebixTMS offers a free trial and free version, with the option of getting accurate price quotes for Pro or Lite licenses.
2.3 Freightview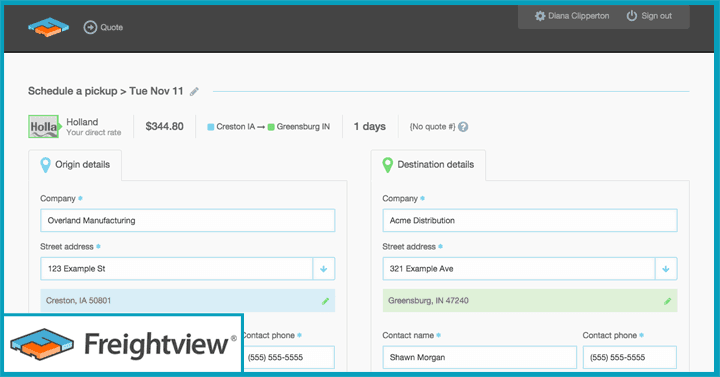 Freightview  simplifies LTL freight through its freight management software. You can quickly compare all of your parcel or LTL rates in one spot with the rate comparison tool, as well as track drivers, deliveries and payments. 
Key features:
Bills & invoicing are all built into the software, minimizing our workload and automating the payment processes
Live track your drivers so you always know where your goods are
Delivery estimations so you and customers both know when to expect delivery
Parcel shipping for simple delivery to your customers
Pricing Model:
Depending on your volume, Freightview's pricing may be more affordable for large companies. Their lowest tier starts at $99 a month.
2.4 Freight Club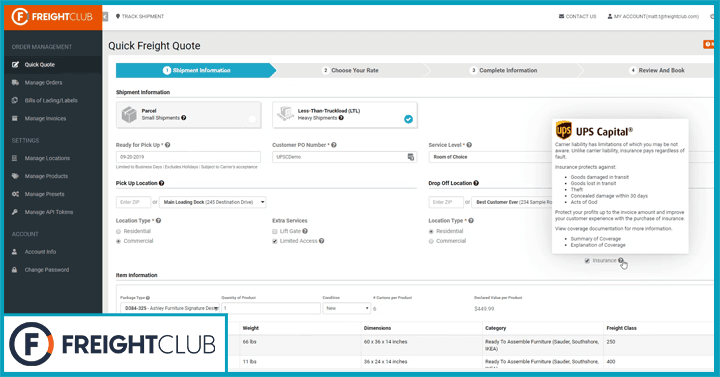 Freight Club is the best freight software for integration into an existing shipping system. This is an ideal option for small to medium companies needing easy-to-use logistics software.
Key features:
Instant access to a carrier network so you have the benefit of a large team of drivers available at various times and locations, even when you don't have your own drivers
Get analytics quickly and easily for your freight data, accessed through the software directly, so you can optimize and make good decisions for your company
Full customer support so your customers have help at every step of their purchasing and receipt of their delivery
Pricing Model:
Freight Club requires you to contact them for a shipping software quote, but they do offer a free trial to users.
2.5 Tai TMS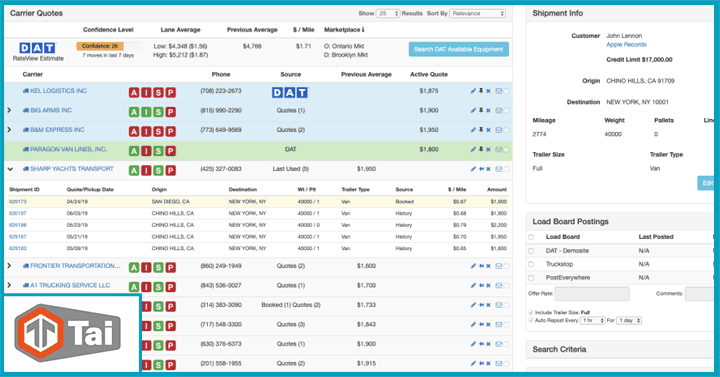 TaiTMS boasts a 15-year track record of supporting freight businesses. This is an all-in-one program built for automation and optimization, making it one of the best freight software on the list. 
Key features:
500+ integrations so you can begin using this software and its tools without a hitch, continuing to utilize your existing software
Operational visibility by connecting all of your other tools, so that you have a clear picture of your internal and customer-facing processes
Intuitive client portal, with a branded customer interface that gives the professional effect
Pricing Model:
You need to contact Tai for their full pricing, but general pricing starts at $650 a month.
2.6 Tailwind TMS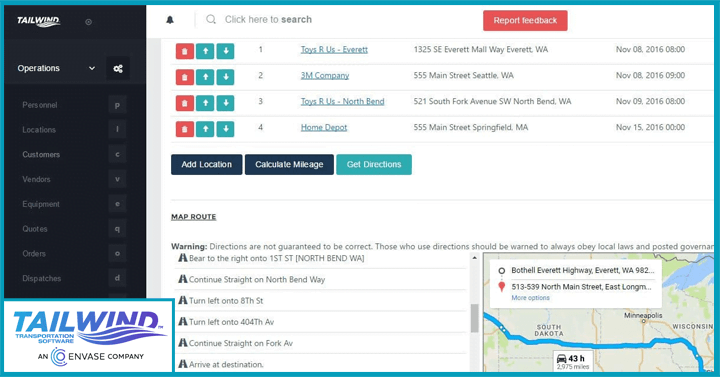 Tailwind TMS is one of the best freight software options for smaller trucking companies wanting a fully online solution for their shipping logistics.
Key features:
Fully web-based so that every member of your team has instant access to this software wherever they're based
A complete system that brings together quoting, ordering, dispatch, driver tracking, and billing. 
Driver mobile app to ensure your drivers are reachable and providing consistent updates
Pricing Model:
Tailwind operates on three plan structures.
Pro: $99/user/month - Free Trial
Tailwind Enterprise: $149/user/month - Free Trial 
Tailwind Unlimited: $199/user/month
2.7 Logi-Sys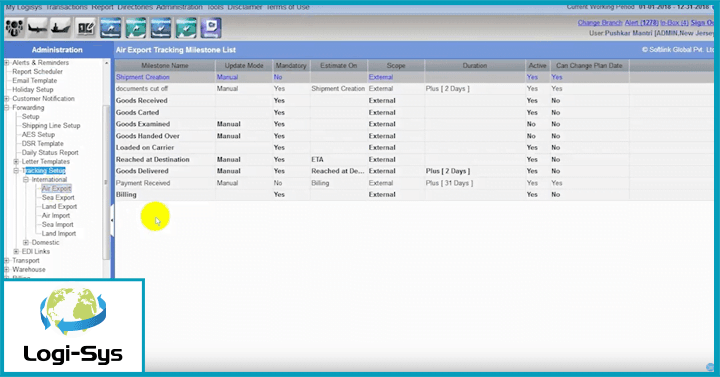 Logi-Sys focuses on simplifying global freight shipping management. Wondering what software is used in logistics? This is the best freight software for any mid-sized trucking company looking for web-based software.
Key features:
Integrates with your company website to provide up to date and cohesive information to customers and partners alike
Accounting system included so you don't need to swap between more than one program or waste time exporting payment data
Order, rate, and shipping management so you have complete control over your entire process
Pricing Model:
The pricing for Logi-Sys is by contact only, but the software does offer a free trial for users.
2.8 GoRamp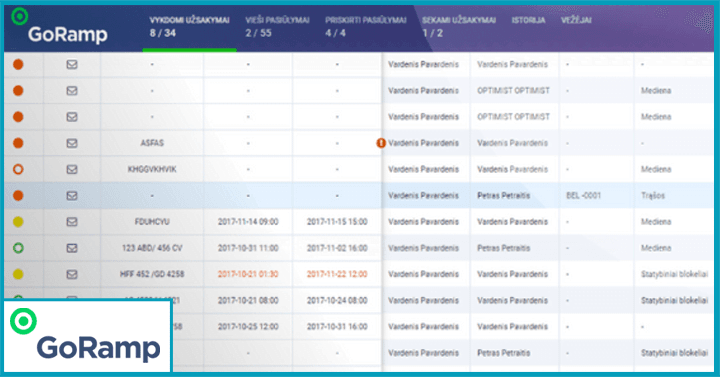 GoRamp is a transport management system designed for usability. This is the best freight software to choose for its cloud-based technology, meaning your team can work from anywhere and access the software whenever needed.
Key features:
Reduces driver waiting times by organizing freight assignment and providing online instant communication 
Track and analyze warehouse KPI so you always know how your business bottom line is performing
Decreases transportation costs by up to 20% by giving you a more varied selection of carriers with a range of pricing
Pricing Model:
GoRamp's pricing tiers aren't available online, but you can get started with a free demo. 
2.9 NextBillion.ai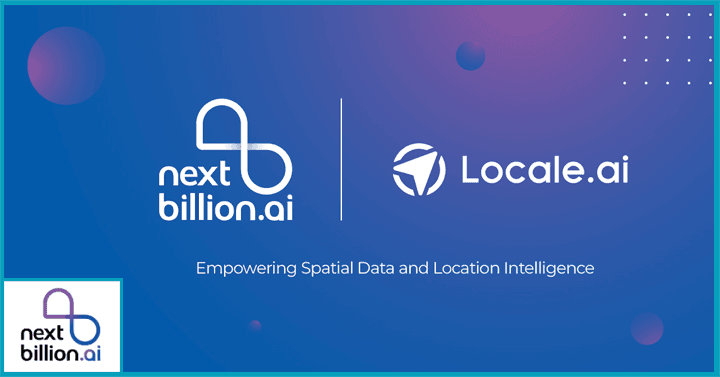 NextBillion markets itself as the leading mapping platform for a world that prioritizes location. This is accurate because NextBillion uses the power of AI to pull all of your trucking and shipping information into one manageable place.
Key features:
Leverages third-party data to give you more information about how your freight service is performing, so you can make informed decisions going forward
Data augmentation using custom map data layers, giving you the ability to Navigate or Geocode your data
Customizable APIs, tailored to your carriers and locations, giving you flexibility with SDKs, Routing, and Places APIs.
Pricing Model: 
This software offers a free trial and pricing starts at $1 per user per month.
2.10 KeepTruckin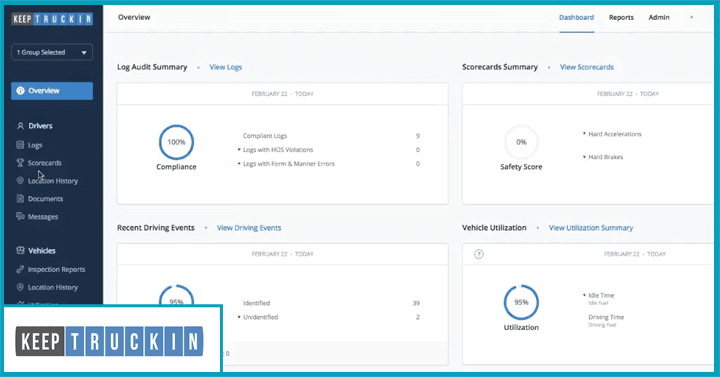 The KeepTruckin fleet management system is an integrated platform built for mid-size companies as one of the best freight software.
Key features:
GPS tracking to give you peace of mind over your fleet and constant updates on your goods
Reduces costs and consumption with intelligent analytics, so you can improve and optimize your processes continuously
Driver insights to give you valuable data on which drivers and fleet options are the most efficient for you
Pricing Model:
KeepTruckin starts at $25 monthly with an upfront fee of $150. Pricing depends on your unique needs and the size of your fleet.
2.11 Samsara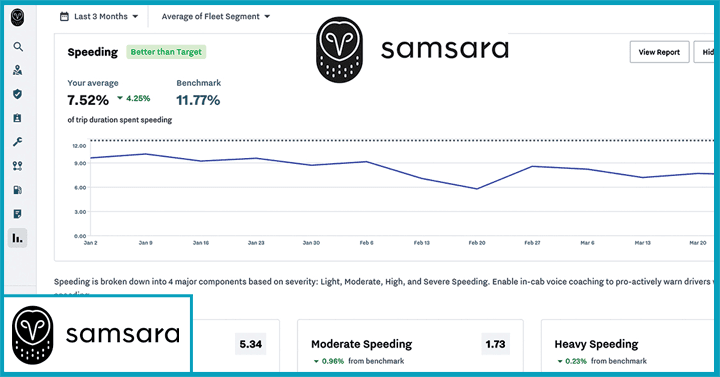 Samsara is a popular freight management software that features real-time fleet tracking to ensure your deliveries are always on time and updated to the customer. 
Key features:
Gives you real-time visibility over assets, facilities, and customers for a 'big picture' view of your business
Actionable data that you can analyze and use to make decision based on reliable information
Run your company through one simple system, to reduce costs and keep your operations streamlined and predictable
Pricing Model:
Samsara pricing is available by contacting them directly only.
2.12 TruckingOffice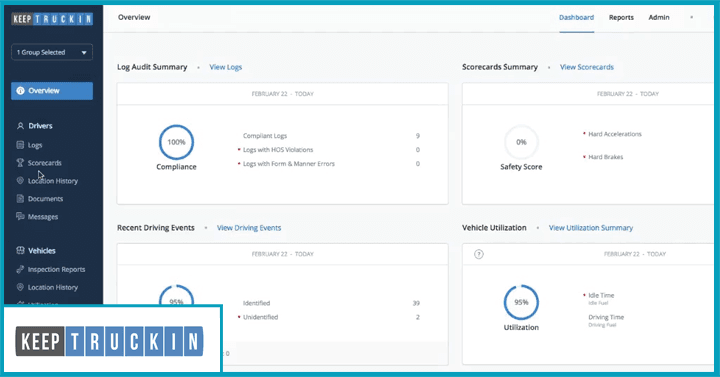 TruckingOffice offers functional management with optimization at its heart. What is the best accounting software for freight brokers? TruckingOffice makes accounting easy.
Key features:
Pricing Model:
A free trial is available, and pricing starts from $20 a month with 2-3 trucks. 
2.13 Dossier Fleet Maintenance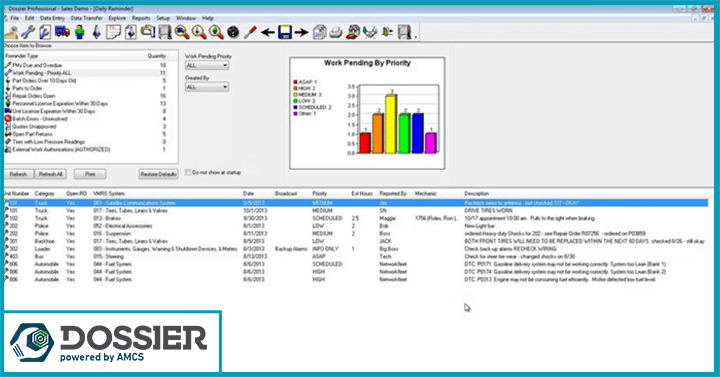 Dossier's fleet management is an interesting addition to this list because they also include maintenance as a primary selling point.
Key features:
Predictive scheduling and maintenance keeps your fleet performing at the peak of their abilities. Automated reporting and data-based decision making means vehicle downtimes are reduced and delivery rates maximized
Daily dashboard gives you useful and vital updates so you're always in control and able to prioritize where you spend your time
Implement easily with an easy to use interface that you can get up and running within days. Your team will find this software simple and intuitive no matter their computer fluency
Pricing Model:
Dossier is better suited to large fleets, with pricing starting at $1500 a month per user. 
2.14 ShipperHQ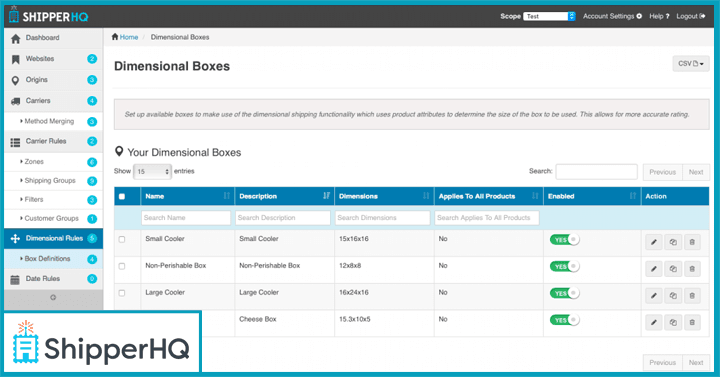 ShipperHQ is a customer-experience-focused freight management software.
Key features:
Amazon-style checkout for customers, giving you a professional branding and encouraging higher conversions
Streamline the shipping process with instant freight rates for LTL. With 30+ carriers, you can ensure customers are getting the correct fee for their address type
Pricing Model:
ShipperHQ pricing depends on which solutions you want to use, but plans include:
Essentials: $46 a month
Basic: $92 a month
Standard: $230 plus free trial
Advanced: $370
2.15 Cario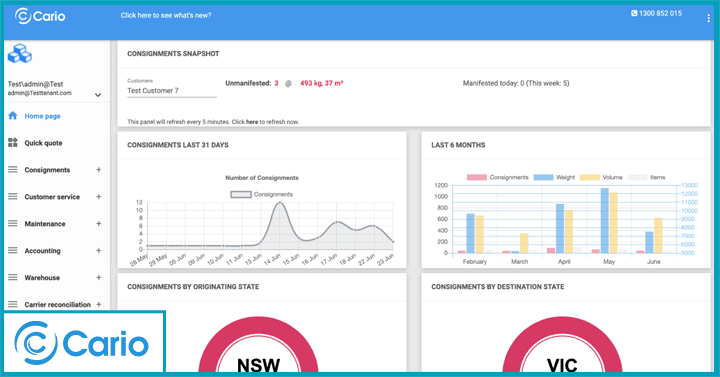 Cario is one of the best freight software option if automation is the key to your freight shipping business, and it is best suited to Australian companies, as it has local offices in Melbourne and Sydney.
Key features:
Bring your own freight rates to the shipping options, while comparing other freight carriers. You can automate the whole rate decision process by determining lowest cost or other rules
Easy set-up so you can start saving driver time and reducing freight costs as soon as possible, ultimately improving your business
Simple integration to bring freight shipping into your environment seamlessly. Begin automating and integrating the shipping processes without the need for a total overhaul of your systems
Pricing Model:
Cairo pricing is available following a demo request.
2.16 GoFreight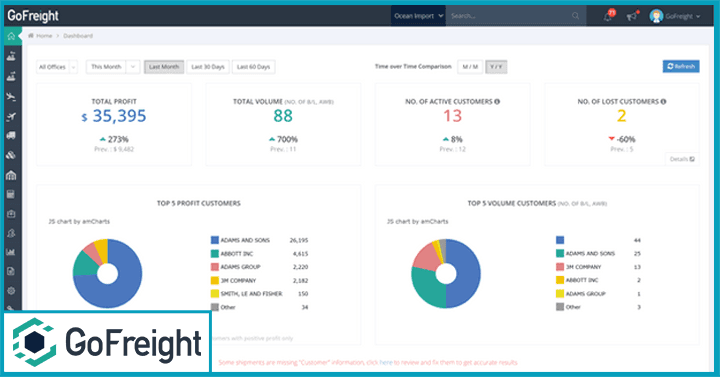 GoFreight is the management software for freight forwarding and NVOOC's of any size. 
Key features:
Complete freedom of shipping options, with air, rail or ocean shipping. This is a flexible software that can cater to a huge variety of freight forwarding companies
Streamline workflows for all of your departments by integrating different departments into one connected system
Fully web-based so you can access your freight software from anywhere at anytime, with no installation process required
Pricing Model:
GoFreight pricing is available by request only.
2.17 Magaya Supply Chain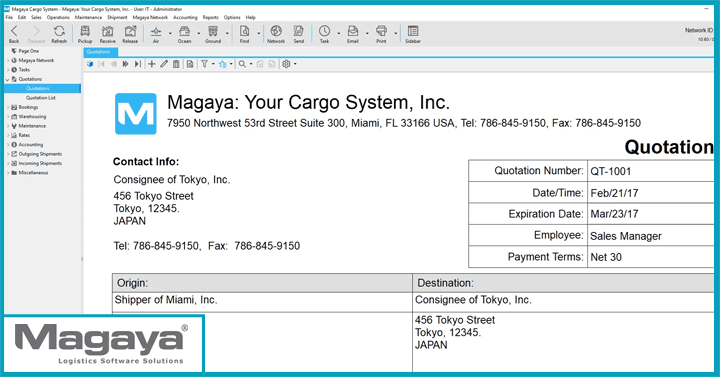 Magaya puts digitization first, making it one of the best freight software options, helping to propel your business into the future.
Key features:
Branded portal for customer bookings, allowing customers to book in their own shipments fuss-free
Integrate with trading partners as well as your existing back-office programs, using API and EDI
Automation tools to free up your resources from labor-intensive tasks
Pricing Model:
Magaya's pricing is available by request only.
2.18 Logistically TMS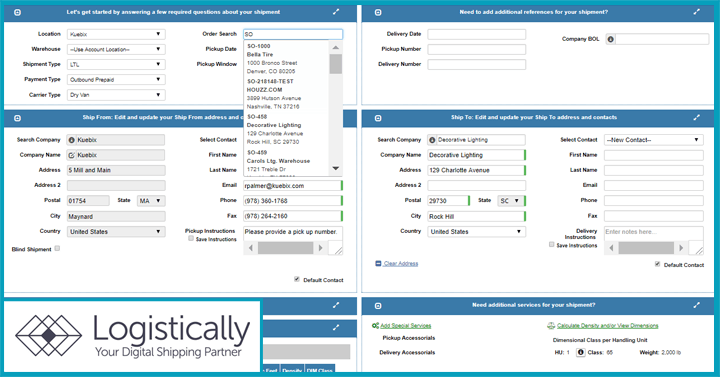 Logistically is the best freight software for maximizing your trucking efficiency if you're a smaller freight forwarding startup looking for an all-in-one system. 
Key features:
Full shipping management that covers every step of your process from ordering to invoicing
Monitor the final impact of your freight management tactics, ensuring that shipping rates aren't negatively affecting your profit margin
ENjoy supply chain visibility with a patent-pending process tracker for LTL shipments. With nothing more than an internet enabled device you can cut out Check Calls altogether
Pricing Model:
Starts at $300 a month, with customizable packages.
2.19 ShipHawk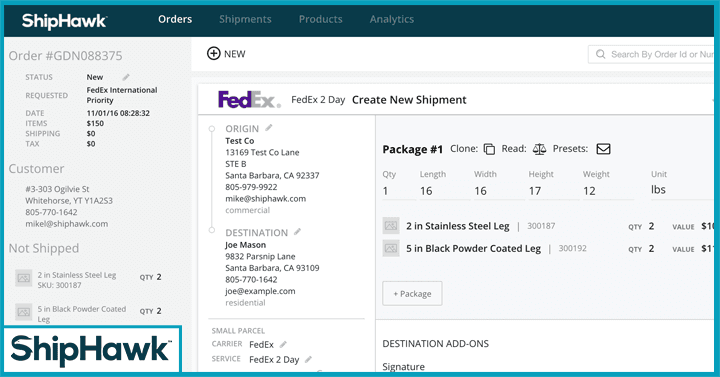 ShipHawk as one of the best freight software is designed specifically for eCommerce companies that want to expand.
Key features:
Highly scalable so that your management system grows with you, adding to your infrastructure as you progress
Multi-carrier suitability with customized business rules, which means you always get teh best rates for your freight shipping variety
Process orders up to 5x faster with automatic shipping selection according to your rules, automate manual warehouse tasks, and process parcel and LTL shipments from one platform
Pricing Model:
Enterprise plans start at $1500 a month. 
2.20 Pirate Ship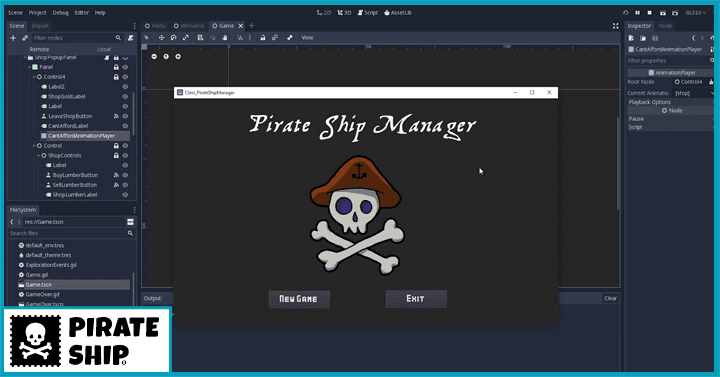 Pirate Ship is one of the cheapest freight management software options on the market. It's designed for small businesses with lower volumes to ship. This is one of the best freight software options for small teams or even ventures run by the business owners alone.
Key features:
Competitive shipping rates for any budget with a wide variety of USPS and UPS shipping options
A simple 3-step process makes shipping your package easy. Measure and weigh, buy your shipping label, and hand to your UPS or USPS driver.
Optimized for businesses that provide subscription boxes
Import your ecom orders faster by integrating stores like Etsy, Ebay, and Shopify
Pricing Model:
Pirate Ship's free version is highly popular as it gives you access to the cheapest shipping rates available to you.
3. FAQs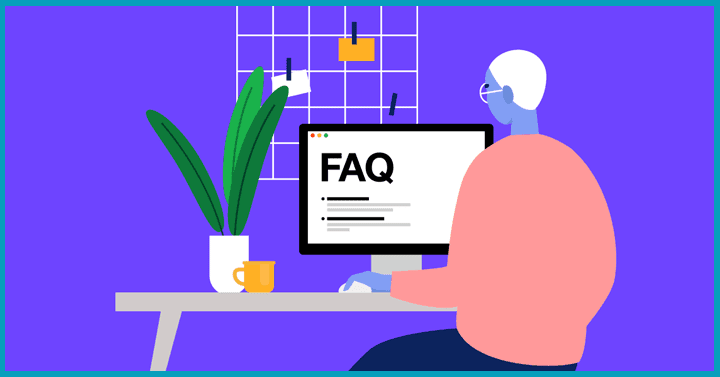 3.1 What software is used in logistics?
Only the best freight software should be used in logistics. Examples of good software options include:
3.2 What is freight forwarding software?
Freight forwarding software supports companies in transporting cargo and goods to their destination or customer. Additional functions within this system help to make the shipping process faster, more efficient, and safer, making them some of the best freight software.